Our site is currently being upgraded with new features. Editing, adding, and deleting functionality has been temporarily disabled.
Travel Specialties
Interests
Family Travel
Food & Wine
Culture, History & Arts
Sports & Outdoors
Safari
Destinations
New Zealand
South Africa
Australia
Selling Travel Since
1973
My Background
I bring a lifetime of travel to my role as advisor, from safari adventures while growing up in South Africa, to golf on a breathtaking New Zealand peninsula as a Virtuoso agency owner, to exploring Irish castles as a parent, with children in tow. For destinations I have not experienced, I draw on the vast knowledge of my co-advisors to learn more - together we have over 100 years of advising history. In addition, my affiliation with Virtuoso grants me access to local experts around the world who arrange exclusive tours and excursions for my clients.
Whether you desire over-the-top luxury or something more scaled back, I listen to what you want in designing the trip of your dreams. I am focused on every aspect to ensure your time and money are well spent. This attention to detail even includes the advising environment - our open and welcoming office includes a beautiful conference room with woodland views and wine on Friday afternoons. Let your journey begin here!
Places I Have Traveled
Reviews and Recommendations for Jane Essenburg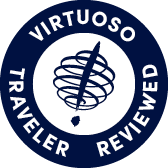 Virtuoso Verified Traveler
All reviews are from confirmed guests sharing exclusive insights
Sort reviews by
Recommended
Friendly and responsive service
By: Megan
Reviewed on: 20 Oct 2014
Jane helped plan a trip to Rome and a cruise to Turkey, Greece & Italy. She was very friendly and responsive to all of our questions and needs.
Recommended
Very friendly and knowledgeable!
By: Stevie&Kevin
Reviewed on: 26 Oct 2014
Jane went above and beyond the call of duty when it came to planning our Europe trip. We got married in Greece and she put us in touch with the right people and the best hotel accommodations. Each place we stayed at was already altered to our honeymoon travels and we were either upgraded or brought a bottle of wine to help us celebrate. Jane emailed us multiple times throughout our 6 months of planning and always got back with us promptly. She also was available to us as we were traveling. She met with us face to face to go over our travels and found wonderful and exciting excursions for us to go on. We will use and recommend Jane to anyone whom is planning any kind of trip. My husband and I continued to say throughout our entire trip how this wouldn't be has amazing without the help of Jane.
Recommended
Helpful assistance with all facets of trip
By: sjv
Reviewed on: 06 Jan 2015
Through all of the facets of my recent trip ( cruise/land ), Jane worked efficiently and effectively. She was on top of all the arrangements and was quick to point out changes which would be advantageous to my experience. The Charleston Place was one of the loveliest hotels I have ever stayed. The location of the hotel, the room, and the amenities were all top shelf. I look forward to returning to this city. Jane has assisted me with several trips and I find her helpful, considerate, and knowledgeable. I look forward to working with her on future trips.
Recommended
Another Great Trip!!
By: Traveling Nancy
Reviewed on: 09 Jan 2015
New Year's trip to Las Vegas was great, as are all trips that Jane plans. Hotel and restaurants were just what wanted, and the shows were fabulous with great seats. Jane has been planning trips for me for many years, and I have never been disappointed. She is so knowledgeable, professional, and attuned to my needs and preferences. Looking forward to exciting travel in 2015.
Recommended
New Zealand holiday
By: Bill and Liz
Reviewed on: 08 Jan 2015
Jane planned the perfect 10 day getaway to New Zealand for our family of 5. It went seamlessly from our flights to airport pickup to hotels to sight seeing. We had scheduled tours/events as well as down time. We appreciated the restaurant recommendations and points of interest along the road. Truly the trip of a lifetime. We have complete faith in Jane's abilities and highly recommend her!
Recommended
Always expert friendly service
By: Mark
Reviewed on: 15 Feb 2015
Outstanding trip and always dependable expert service. I appreciate Jane's help very much. She is my "go-to" person for travel questions and help.
Recommended
Wonderful Experience!
By: Dick
Reviewed on: 23 Feb 2015
Great accommodations, well-planned and lots of variety
Recommended
Wonderful Service~
By: Sharon46
Reviewed on: 08 Mar 2015
As always Jane thought of everything! Let us know what our options were and paved the way to a relaxing trip. The service Jane gives is always Expert and top of the line. She thinks of everything and makes sure our trip is wonderful. Jane has planned many trips over the years all expertly planned and executed.
Recommended
New York made easy!
By: Nancy
Reviewed on: 30 Apr 2015
As always, Jane made the trip as enjoyable and hassle-free as possible. Nice hotel close to theatre and restaurants, good restaurant recommendations, and great theatre seats. Jane is experienced, knowledgeable, and delightful to work with when planning travel.
Recommended
very helpful and knowledgeable
By: sjv
Reviewed on: 29 Apr 2015
Jane's scheduling of our trip was first rate. We had great seats at the theatre and enjoyed the hotel she booked for us.
Recommended
fantastic memories
By: jw
Reviewed on: 13 May 2015
What a fabulous time we had on the Silver Spirit, Barcelona to Civitavecchia! The Silver Spirit was really lovely. The rooms were spacious and comfortable. Even TV's in the mirrors, thus saving more space. The food was out of this world. Varied menus kept the meals interesting and the specialty restaurants were very nice. We ate at Seshin and La Terrazza, both had interesting menus and food that was delicious. The waitstaff was attentive but not intrusive. The staff on the ship were wonderful. Very accommodating and quick to help passengers with whatever was necessary. Never had to ask twice for anything, prompt and efficient. The nightlife on this cruise was hopping. The Panoramic bar was had to get into in the evening with so many dancing and having a great time. We really liked the Jazz club, singer and pianist were wonderful. Jane Essenburg, our travel advisor, made this trip a breeze to schedule and walked us through the decisions we needed to make. Her advice was spot on!!
Recommended
Attentive, accommodating, responsive and professional
By: Jim #56
Reviewed on: 09 Jul 2015
Alerted us to the details of the trip and anticipated and addressed concerns we might experience. All done in a most pleasant and professional manner
Recommended
She did it again!
By: Nancy
Reviewed on: 01 Aug 2015
Once again, Jane arranged the perfect trip. This time, it was for my entire family - 14 of us ranging in age from 5 to 67. She chose the ideal cruise ship, selected the perfect staterooms, facilitated the booking of restaurants, shipboard activities, and shore excursions that were just right for us. Jane's time, efforts, follow-through, and attention to detail made this Caribbean cruise a vacation my family and I will treasure always.
Recommended
Expert Friendly Service
By: Mike58
Reviewed on: 11 Aug 2015
Jane worked many hours to plan every detail of this trip and to make sure that we knew all the exactly where we were to be and who would meet us. She is an expert with details and making sure that every thing we need to do and know that we are prepared. She goes the extra mile during our trip to get us help when we need it. She has been our travel agent for years and we would never think of using anyone else. top of the line service!!!!
Recommended
Jane is the best!
By: CMac68
Reviewed on: 13 Aug 2015
We had a wonderful vacation. I was not involved in the planning, but everything went off without a hitch, including some unique travel challenges. I would highly recommend Jane for anyone wanting a stress free vacation!
Recommended
Jane is the best travel agent!
By: Grant
Reviewed on: 08 Sep 2015
Jane is the best travel agent! She was very helpful during the entire process... from flights.... to hotel.... to dinner recommendations... etc. I would recommend her to anyone and my wife and I will be using her on our next trip!!!
Recommended
Jane's the best!
By: Paula
Reviewed on: 17 Oct 2015
Jane did a wonderful job planning our trip to Normandy and Spain. The hotels were just what we were looking for and the tours were perfect. Very informative and engaging tour guides! Thanks, Jane!
Recommended
Outstanding Trip !
By: Johnny
Reviewed on: 06 Nov 2015
Our China vacation was outstanding--great weather, excellent tour guides, fun fellow travelers, very exciting sites in China, learned lots of cool history, and generally had a wonderful time !
Recommended
great trip, eager for another
By: Spotty
Reviewed on: 23 Oct 2015
Everything was in order, it was a great trip and I am eager to return to New York City.
Recommended
Every detail considered!
By: CarrieL
Reviewed on: 06 Jan 2016
Our (adult) family trip to New Zealand was fantastic. The itinerary and accommodations perfectly suited our interests and in many cases exceeded our expectations. Not having to worry about daily logistics freed us to enjoy every moment of the trip. Thank you, Jane!
Recommended
Over The Top!!
By: Lynn38
Reviewed on: 10 Jan 2016
Jane: The Buccaneer Beach House was spectacular, wonderful, awesome!! The pictures on the website speak for themselves, except us enjoying the pool, beach, and all amenities. Service and staff were exceptional; the courtesy rental van was perfect for our stay and much appreciated. Your airline arrangements were perfect beginning to end....unlike one of our families who missed a Jet Blue flight out of St. Croix and had the trip from hell home = connections were much too short! Weather was great with some brief showers each day (no biggie) and the "Christmas winds" with little interruption of play time. The hotel and house are close to Christensted town where all activities begin and end on the "boardwalk". We cooked in the house kitchen (very well appointed) some nights and went into town some nights = a perfect blend of in and out. I would recommend this beach house to anyone who has found thousands of dollars; however, the cottages on the resort property looked great. YOU = the best
Recommended
The best for New Zealand
By: Carol147
Reviewed on: 19 Apr 2016
We appreciated Jane's responsiveness and expertise as we planned our New Zealand trip, especially because we made the bulk of our plans during the holidays. The itinerary was perfect and Jane was able to make last minute changes for us without a hitch. We especially loved learning about Maori culture and the hot spots and geysers around Rotorua were just what we imagined. We would do it again, but stay on the north island for more than five days.
Recommended
Best of the best
By: SHP
Reviewed on: 11 Mar 2016
Absolutely the best I've ever worked with....and worked with many throughout the years!!!! AND I will never use anyone else again other than Jane !!!! It's as if she has known me since childhood...likes, dislikes, preferences, etc - It literally feels as if she can read my thoughts when planning an upcoming trip - She is second to none !!!! I would recommend (and do) Jane to anyone !!! She is absolutely perfect !!!
Recommended
another wonderful trip a la Jane
By: SallyJo32
Reviewed on: 28 Apr 2016
Jane takes care of everything. She is very helpful and a joy to have as my travel person
Recommended
wonderful trip, recommend it highly
By: sjv32
Reviewed on: 14 Jun 2016
Jane did a fabulous job with the arrangements. I was able to enjoy the wonderful scenery. Great trip!!!
Recommended
Loved the Lake District
By: Happy HIker
Reviewed on: 10 Jun 2016
Our time in the Lake district was just what we had hoped for and dreamed of. The country houses we stayed in and we magnificent and the service was perfect. We appreciate Jane's expertise and prompt work for you trip!
Recommended
Expert friendly service - very good
By: PB
Reviewed on: 19 Jun 2016
We took a cruise from Barcelona to Lisbon. Everything Jane did for us worked exactly as it should have. Can't ask for more than that. Also, she got us an excellent deal on business class airfare. Much appreciated. Highly recommend.
Recommended
Will never disappoint you
By: Extreme traveler
Reviewed on: 06 Oct 2016
Very detailed oriented, consistently reliable, extremely helpful. She knows her business and has never let us down. We could not find a better travel consultant. The trips she has put together for us are outstanding. We look forward to many more from Jane.
Recommended
Well planned and executed
By: drummerden
Reviewed on: 19 Oct 2016
Overall, the trip was excellent. We saw quite a bit of the best of France. The cruise was exceptional as was the private driver experience after the cruise. The only thing I would consider changing is the last couple days in Nice and Monte Carlo. Too crowded; average accommodations; limited touring highlights. But all in all, Jane did her usual exceptional job in the planning and execution. Can't wait to work with her again.
Recommended
Great planning
By: WmDuke
Reviewed on: 14 Nov 2016
Jane gave us a detailed itinerary but allowed time for us to go at our own pace.
Recommended
Perfectly planned trip!
By: PJ
Reviewed on: 02 Dec 2016
Great trip. Jane is so organized and knowledgeable. Saw and did so much thanks to her planning. A plus plus!
Recommended
wonderful trip to Bermuda
By: happy traveler from Muncie
Reviewed on: 02 Jan 2017
Another great trip coordinated by Jane. Can't wait to return to Bermuda, really enjoyed the trip
Recommended
Aussies and Kiwis
By: Exy
Reviewed on: 28 Feb 2017
Wonderful. As we send pictures home, people ask us for our agent's name. Each accommodation is lovely and those with hosts are welcoming and informative. Great excursions and intros to larger cities. A job well done!!!
Recommended
NZ/FIJI
By: JGP
Reviewed on: 08 Mar 2017
Jane was easy to work with! She gave us great suggestions about routes, airfare, lodging and travel for our trip. We followed her recommendations. She gave us ample time with deadlines & payment so we were prepared for those aspects of the planning process. She handled some extra details for us & provided background material about our destination. Have used her before and will again without hesitation!
Recommended
Hawks Cay
By: liz
Reviewed on: 26 Mar 2017
Easy as can be. She found a terrific resort and worked within our budget. Our flights, rental car and accommodations were scheduled perfectly!
Recommended
trip to the 90th
By: sjv
Reviewed on: 17 Apr 2017
Jane was helpful, informative, and kept me up to date with airline changes. The trip went smoothly and I had a great time celebrating a 90th birthday with my aunt!
Recommended
Eastern Europe
By: Roopali
Reviewed on: 24 Apr 2017
Jane has made traveling SO very easy and stress free. Once you communicate your vision for the journey, she brings it to fruition! You just pick up your "packet" and be in your way !
Recommended
Jane does a great job
By: Peggy
Reviewed on: 05 May 2017
Every arrangement Jane made worked perfectly. Tours were booked and transportation arrived on time. I have recommended Jane several times and will continue to do so.
Recommended
The Best
By: woodlawn11
Reviewed on: 30 Apr 2017
A very good experience--the fact that it was our second experience with her tells you how much we enjoyed the first. We would have no problem recommending her to anyone who wants to have an enjoyable experience.
Recommended
Review
By: Bill
Reviewed on: 14 May 2017
Jane is great. Always helpful in finding the best bang for your buck.
Recommended
UK Trip 2017
By: SDuncan
Reviewed on: 19 May 2017
Terrific, as always. Jane is well-traveled herself and has created a network of professionals around the globe. She asks a lot of great questions to get a feel for how we like to travel and the pace we would like to set. She offers alternatives if we might want to try something different and is available during the trip to help as needed. I have recommended Jane to several family members and friends and will continue to use her!
Working with Jane Essenburg, you will have access to:
- An experienced travel guide whom you can rely on before, during, and after the trip
- Exclusive luxury resorts and properties
- Once in a lifetime experiences
Explore with the Best
Virtuoso Advisors are constantly pushing the boundaries in unique travel experiences.
Alliance programs are unique tailored experiences exclusive to travelers working with Virtuoso Travel Advisors.
learn more
New Zealand
South Africa
Australia