Travel Specialties
Interests
Adventure
Beach & Sun
Family Travel
Honeymoons
Safari
Selling Travel Since
1999
My Background
In 1999, after having worked for a Fortune 500 company in an international sales capacity, I joined my mother in the family business. I would have to say I share my mom's desire to explore the many corners of the world. Although I was born in Madrid, my main childhood memories are from the many years in Venezuela and Peru and South Africa. After college I resided in Milan, so being a specialist in Italy is natural but I also enjoy counseling travelers seeking experiences in other European countries, South America, and Africa. I explored China last year, having been invited by Virtuoso Chairman's committee. This trip was amazing as I never expected to witness a new world on the other side of the globe grow so fast! I visited South Africa once again in January, exploring quite a few new properties (Mateya Safari Lodge) and breathtaking landscapes, and enjoying culinary venues such as in the Tasting Room at Le Quartier Francais in Franschhoek. And most importantly, I relish in meeting the locals be it in Capetown or in the bush country. And just recently, I experienced the Thai lifestyles in Bangkok, bike rode in the country side of Chiang Mai to meet the locals of the hill tribes, and trained to be a mahout at the Elephant Camp at the Four Seasons outside of Chiang Rai. And to surpass this experience, I also celebrated with the legendary Mandarin Oriental's Hong Kong its 50th anniversary of its opening!
One new life goal is to pass on my passion for travel to my toddlers, Sofia and Gabriela – as soon as they are old enough to appreciate flight travel!
Places I Have Traveled
Reviews and Recommendations for Monica Varri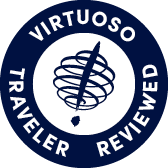 Virtuoso Verified Traveler
All reviews are from confirmed guests sharing exclusive insights
Sort reviews by
Recommended
Highly Recommended
By: DJV
Reviewed on: 06 Jun 2014
Monica has been planning the trips for our family for years.  We have been extremely happy with her expertise as well as that of her staff. 
Recommended
Highly Recommend
By: Barb
Reviewed on: 07 Jun 2014
Monica was very knowledgeable and made excellent recommendations for our trip to Italy. Her first hand experience came through in the hotel and restaurant recommendations. Everything was first-class. She handled everything for us -- hotels, tours, tranportation, and restaurants. She also gave us some advice on free-time activities based on her experiences. Outstanding!
Recommended
Graduation
By: Chuck the Hawk
Reviewed on: 26 Jun 2014
The trip was exactly as planned from the first.No changes were needed as a result of questions asked when the trip was planned.  All recommendations were right on target.
Recommended
Highly Recommended
By: Pat
Reviewed on: 07 Jul 2014
Monica did an outstanding job in staying within our budget and finding accommodations that were just to our liking. She was extremely attentive to detail and responsive to our travel inquiries both before and during our trip. I would definitely use Monica and LFTB for our future travel plans both at home and abroad. 
Recommended
Follow up expert
By: Chuck the Hawk
Reviewed on: 12 Sep 2014
Her help in planning the trip and follow up to make sure that all the details were taken care of, sows a dedication to the little things that make a trip great.
Recommended
Cruising the Baltic
By: RM
Reviewed on: 15 Sep 2014
We have used Monica as our agent for a number of years. She is a true professional - provides sound advice and helped make our recent Baltic cruise on SilverSea a wonderful vacation. No hesitation in recommendin her.
Recommended
Smooth Sailing!
By: Vicki
Reviewed on: 26 Sep 2014
Two couples went to Montreal and Quebec. All the plans were exactly as we wanted them. The dinner reservations were made in advance and we never had a problem when we arrived at either the hotels or restaurants. The tours were as promised - our driving tour in Montreal was particularly good. Lake Forest Travel did an excellent job! Vicki
Recommended
Knowledgeable, Thorough, Responsive
By: Kevin
Reviewed on: 05 Nov 2014
Monica listens well to our interests, offers options, helps us to select hotels, itineraries, tours. All have been excellent experiences. In addition, her attention to detail in compiling our travel materials--costs, times, accommodations, tours-- has made our trips easy and enjoyable. All arrangements proceed as planned, smoothly and well executed. She's like a invisible guide as we travel, ensuring that all is good. I have recommended her many times to friends.
Recommended
accurate and prompt
By: Robert
Reviewed on: 07 Nov 2014
Efficient, thorough and great to work with.
Recommended
Wonderful
By: Carol
Reviewed on: 19 Nov 2014
Monica is superb
Recommended
Review
By: Jim
Reviewed on: 18 Dec 2014
Outstanding service in all respects.
Recommended
Excellent travel agent
By: Bob
Reviewed on: 10 Mar 2015
Monica is a super travel agent. She most recently planned our trip to Antarctica. She was knowledgeable, responsive and efficient. The trip involved a number of complications (including substitution of one of the travellers, travel delays due to fog in Antarctica, and other issues). Monica successfully navigated through all of these issues and produced for us the trip of a lifetime. We are very grateful to her and we can now add this recent trip to a growing number of trips that we have made with Monica. We plan on using her as our regular agent.
Recommended
Works Hard and provides amazing service
By: laura12
Reviewed on: 09 Mar 2015
Monica always works hard to make sure my family has a wonderful vacation. She always spends time helping us stay at the best hotels and then works hard to get us room upgrades and more to enhance our vacations. She is wonderful!
Recommended
Outstanding travel advice
By: Sean
Reviewed on: 26 Feb 2015
Trip was planned perfectly. Was able to get the best room on the location with many additional amenities. Booked the same trip again a week after the return.
Recommended
SO wonderful to work with!!!
By: Ashjoy
Reviewed on: 26 Feb 2015
We have worked with Monica over the last 10+ years from our honeymoon in Italy, to family getaways in the States. Monica is wonderful to work with, has so many great suggestions, unique experiences and always has great food recommendations!
Recommended
Completely understands our needs
By: Kevin
Reviewed on: 22 Apr 2015
Monica listens to our objectives and interests for our trips and offers detailed recommendations that meet them. Her communication and follow-up are outstanding. She is a pleasure to work with during the planning process. And during the trips, I know that everything will go smoothly because of her meticulous planning.
Recommended
Fantastic trip
By: djve
Reviewed on: 01 Apr 2015
As always, Monica created a memorable trip with great tours and the perfect hotel for our needs.
Recommended
Expert friendly, knowledgable service!
By: Jennifer
Reviewed on: 12 May 2015
Monica and her team are amazing! Always over deliver. Love working with them, and will continue to have them help with my travel needs! Smart, kind, responsive, understanding of our needs, etc, etc.
Recommended
Love the Virtuoso Amenities!
By: S&E
Reviewed on: 26 Jul 2015
We have traveled with Virtuoso many times in the past, but this was the first time we were given a room upgrade- Very Nice!. As always enjoyed all other amenities that comes with booking with Virtuoso (hotel credits, breakfast, late check-out, etc.).
Recommended
Fabuous Family Trip!
By: sheri75
Reviewed on: 31 Aug 2015
Our trip to The Ritz Reserve in PR was A-Mazing!!!! Thank you Monica for helping to make our trip so fabulous! All 12 of us agree - the BEST trip ever... The resort is the nicest I've ever been to in the islands....the service is impeccable...can't wait to go back! -sheri
Recommended
Helpful in every way
By: CSRS103
Reviewed on: 02 Oct 2015
Monica's organization and wisdom of travel and accommodations made our European trip absolutely effortless! It was perfectly planned and we felt welcomed and pampered everywhere we stayed! A+
Recommended
Always responsive and plans an excellent trip for my family
By: laura12
Reviewed on: 06 Oct 2015
Monica and her staff always provide me with excellent service. Monica knows how my husband and I like to travel and always finds us the perfect spot. I can often times be indecisive, but she always is patient and very responsive with my requests for pricing, etc.
Recommended
Total relaxation just a short plane trip away
By: Sarah B
Reviewed on: 20 Oct 2015
Our Belize trip was beyond wonderful. Weather was incredible, water was warm and crystal clear, and seafood was unreal. I highly recommend staying at Mata Chica if you want to disconnect from your digital devices and enjoy resort life. Staff called us by name and always made sure we had everything we needed. Snorkeling is a must. Affordable pricing and just a short plane ride away.
Recommended
Equal Excellence for Small or Large Trip
By: KJ
Reviewed on: 07 Nov 2015
While we usually book our domestic, short, business and pleasure trips ourselves, this time I asked Monica if she could help a quick weekend trip. She was as prompt, thorough, and helpful as with our longer, more complex, international trips. I am so appreciative of all that she does to make our travels easier and enjoyable.
Recommended
Complete, professional, top-notch
By: KJ and family
Reviewed on: 11 Jan 2016
Once again, Monica has exceeded our expectations for a terrific trip to Thailand and Hong Kong. During the planning process, she presents good options promptly and specifically addresses our needs and interests. She always has good suggestions and recommendations. Once the trip is booked, Monica puts together a package for us with all travel materials and confirmations. We know as we set off on our trip that everything will go very smoothly. She has checked and double-checked all the arrangements and details before we depart, so that when we're on our trip, we can focus on travelling, not logistics.
Recommended
Great trip
By: Raydee42
Reviewed on: 29 Feb 2016
Great trip. All the details were taken care of. Food,accommodations and logistics were terrific. Would highly recommend this to anyone looking to do an African Safari
Recommended
Perfect Selections
By: MJ
Reviewed on: 30 Mar 2016
For this trip, we had different specifications for our hotels from previous trips we booked with Lake Forest Travel. We thought it would be a challenge to find the right hotels, because we traveled to Switzerland, where everything is quite expensive. Monica found us terrific accommodations at good prices and in great locations. I couldn't have been more pleased with her suggestions and follow-up with details.
Recommended
Great follow-up
By: KJ
Reviewed on: 17 Jun 2016
Monica understands and remembers what's important to us and always has good suggestions. Her follow-up with details and responses to questions is quick and thorough.
Recommended
very helpful
By: L and K
Reviewed on: 30 Jun 2016
Monica was very helpful both in booking our trip and helping us with our flight itinerary.
Recommended
Perfect Service for a Perfect Trip
By: Cbrady21
Reviewed on: 05 Sep 2016
Monica helped me set up my honeymoon to Croatia and the Amalfi coast. Private tours, car transfers, and 5 star hotel bookings were all handled by Monica with perfection. Not a single thing went wrong the entire trip. I didn't have to stress or worry at any point. Would highly recommend and will absolutely use Monica's services again.
Recommended
Perfect planning
By: MFG
Reviewed on: 25 Sep 2016
Our recent European trip was outstanding from star to finish. The hotels in Amsterdam and Paris were elegant, well located with spacious rooms and the Virtuoso amenities were abundant and much appreciated. Our trains bookings were perfect, good schedule, good connection time and excellent value to cross through three different countries . Monica always plans the perfect trip!
Recommended
Any Size
By: KJ
Reviewed on: 15 Sep 2016
Monica is always gracious and helpful regardless of the length and complexity of the trip. She attends to every detail even for an overnight stay.
Recommended
Perfect Trip!!
By: JB
Reviewed on: 26 Sep 2016
Our 14-day trip to Italy was meticulously arranged by Monica. And, Monica was very accommodating and responsive with the changes that we requested during the planning process. The flights, hotels, guides, drivers - everything was perfect. It was truly the trip of a lifetime! LF Travel and IC Bellagio exceeded our expectations. Grazie mille!!
Recommended
Top flight, start to finish!
By: Deb52
Reviewed on: 05 Oct 2016
Monica did a terrific job helping plan our trip to Prague! Her local contacts there proved to be wonderful, extremely knowledgeable. With our changing days, times and numbers of participants, I know we tested her patience. But she was always attentive and responsive and we ended up seeing everything we wanted. I hope to be able to use her skills again for some future adventure!
Recommended
Very Nice Cruise
By: papi
Reviewed on: 10 Oct 2016
The Viking cruise was very nice, but I prefer their river cruises. They did not seem quite ready for a trans-Atlantic cruise. But the ports were interesting and service etc. was very nice. Your associates that set up a pre-trip to Oslo-Bergen did an excellent job with hotel selections and locations, with good tips for airport transfers etc.
Recommended
Always Great
By: Chuck the Hawk
Reviewed on: 09 Nov 2016
Expert planning and ability to make the changes I requested during the trip. I was completely satisfied.
Recommended
Historic Hotel
By: elk
Reviewed on: 04 Jan 2017
We have aways wanted to stay the historic Biltmore inC/oral Gables and it did not disappoint! We had a lovely King Junior Suite overlooking the pool and throughly enjoyed our too short stay, . Our only regret is that the hotel is not wise enough to be a Virtuoso Property member! we always enjoy the fantastic added features of those special hotels.
Recommended
great accomodations and view
By: ttarie
Reviewed on: 16 Jan 2017
Dyane is a fantastic agent. I would not use anyone else. She has planned some very important events for me and my family and the amount of care and detail she employs is amazing. Round Hill is a great property. The service is good, not great like Rosewood Mayakoba for example but solid. The property is beautiful, the villas are so well kept. The grounds are stunning. You don't have to leave this property. Be sure to share that there are complimentary events and outings - glass bottom boat ride, Jamaican show that we super entertaining.
Recommended
So great!
By: Mary
Reviewed on: 15 Feb 2017
Working with Monica is always great. This time she managed to get my group connecting rooms at the beautiful St. Regis resort in Punta Mita Mexico. The tricky part is we planned the trip only two days before. As always, everything was great. The special touches are greatly appreciated. I always plan my travel with Monica.
Recommended
An advisor that anticipates and exceeds
By: Marilyn
Reviewed on: 25 Mar 2017
Our trip to Tanzania and Uganda was long awaited, and exceptionally well planned by our travel advisor. We had "vague" notions of seeing gorillas in their habitat and big game in the Serengeti; Monica and Erica interpreted our vision and put it into detailed action. Each day we were amazed and delighted with the itinerary and attention to detail in planning - the travel routes, hotels selected, arranging for air when it made sense - details I would not have anticipated had I tried to arrange the trip myself. Of particular importance to us is that we met local people- through guides arranged by Monica & Erica- and felt a deeper connection and understanding of the people and communities we visited- we didn't simply observe through a car- we met, interacted, and got to know the locals. Monica made our dream trip come true!
Recommended
Excellent
By: TravelBug
Reviewed on: 24 Mar 2017
Monica is an excellent advisor and actually listens to the customer. In addition, she has an outstanding amount of travel experience.
Recommended
Fabulous
By: Audrey
Reviewed on: 07 Apr 2017
Monica is excellent - so helpful and responsive on all the details of our trip, visas, and everything else. She made us feel like her most important customers.
Recommended
Awesome
By: David.VanEekeren@landofrost.com
Reviewed on: 08 Apr 2017
We had an awesome time!! Thank you so much for setting up the trip.
Recommended
reservations
By: robert
Reviewed on: 05 May 2017
Gets it right every time quickly and with courtesy when changes are required.
Recommended
Great Agent
By: ChucklTheHawk
Reviewed on: 28 May 2017
Always anticipates my wants and makes sure they happen. Great follow up.
Recommended
Well Done
By: Chuck the Hawk
Reviewed on: 16 Jul 2017
From start to end every detail of the trip was exactly as advised. All requests were taken care to perfection.
Recommended
London July 2017
By: Team Smith
Reviewed on: 17 Jul 2017
Monica is a seasoned professional with international contacts. We have been planning trips with Monica for many years. She has never failed to recommend the best in transportation, accommodations, tours, restaurants and anything else that makes a trip memorable and enjoyable.
Recommended
Great Trip
By: Chuck the Hawk
Reviewed on: 15 Aug 2017
Easy is the best way to say working with Monica. She always seems to anticipate my needs before I know them myself.
Recommended
European Cruise
By: Vicki & Ed
Reviewed on: 28 Aug 2017
EXCELLENT!! We had some last minute changes made to our scheduled vacation and she managed to take care of all of them. Her recommendations are spot on. She is an excellent travel agent.
Recommended
Jackson Hole
By: ngd1437@comcast.net
Reviewed on: 07 Oct 2017
Monica was very responsive in taking over our reservation at the Four Seasons and providing perks!
Recommended
Eguypt & Israel
By: Chuck the Hawk
Reviewed on: 02 Oct 2017
What I great trip. I did not have to do anything. Every upgrade was done without me even to having to ask for it. When you work with a travel agent, such as Monica, for a long time, she gets to know your preferences. The changes she made, made the trip so much more enjoyable and easy for my wife and myself. Her suggestions for additional side trips were perfect for us.
Recommended
Monica Varri
By: KBP
Reviewed on: 06 Oct 2017
Monica took over from another agency when the advisor was not responsive to questions and issues. Monica was helpful and responsive which was much appreciated. We were pleased and are using her, and her expertise, for future trips.
Recommended
Monica is consistently terrific !
By: Traveler
Reviewed on: 06 Nov 2017
Excellent! Monica has great advice and does a wonderful job!
Recommended
Excellent
By: Ramona
Reviewed on: 10 Dec 2017
Monica is great - very responsive and helpful, nothing too big or too small for her to address for us.
Recommended
Took Care of Everything
By: Daniel K
Reviewed on: 23 Dec 2017
Thank you so much for all of your help. Monica provided us with a detailed itinerary tailored to our specifications. When something needed to be added, subtracted or adjusted, Monica worked with us until we ultimately got exactly what we wanted. Every detail was thought out. We look forward to working with Monica again!
Recommended
London
By: Michelle
Reviewed on: 05 Jan 2018
Working with Monica is always a pleasure. I trust her guidance and her recommendations for trips I have taken in Europe.
Recommended
East Africa
By: Lorelle
Reviewed on: 03 Feb 2018
We worked with Monica's associate, Sue. All our deadlines and travel requests came to us in good time and thus the trip went smoothly. Sue answered all our questions, provided us with additional contacts for a supplement tour and we were at ease every step of the way. Thank you Sue.
Recommended
Trips planned with Monica
By: kb
Reviewed on: 01 Mar 2018
Any trip with Monica is of the highest quality as she clearly is an outstanding expert in her field. Furthermore, she is a pleasure to deal with.
Recommended
Advisor review
By: Amy O
Reviewed on: 13 Mar 2018
Very professional and knowledgeable. Good turnaround.
Recommended
Excellent
By: JRM
Reviewed on: 28 Mar 2018
For a number of years, we have travelled around the world with Monica. Most recent trip was 25 days (mostly in India but with extensions in Nepal and Dubai). Monica is an experienced professional, knowledgeable, timely, responsive and practical. We intend to continue to use her. She is excellent.
Recommended
My trusted travel advisor.
By: Donna
Reviewed on: 26 Mar 2018
As always, knowledgeable, efficient and a delightful person. She has chosen her team well and they too do a good job of meeting my needs.
Recommended
our latest trip
By: L&K
Reviewed on: 19 Mar 2018
She was helpful and knowledgeable.
Recommended
Santa Fe
By: Vicki
Reviewed on: 26 Mar 2018
As usual, Monica is very good giving options and reviews following the guidelines we give her. She is good with details as well. Has a lot of experience.
Recommended
Does it right.
By: Chuck the Hawk
Reviewed on: 17 Apr 2018
Monica knows what I want and does it before I think to tell her. Trip was as smooth and easy as could be.
Recommended
Amazing Vacation
By: Amie K.
Reviewed on: 22 Apr 2018
Monica listened to what was important to us and planned one of the best vacations we've ever been on. Her ground contacts and intimate knowledge of the country made our trip special and flawless. From air to ground transport to tours to hotels, her expertise enabled us to relax and enjoy our vacation knowing all the details were taken care of. I highly recommend her services to anyone who wants to make their next vacation the most special it can be, beyond your belief!
Recommended
My trip.
By: Jim
Reviewed on: 13 May 2018
Fantastic. She's so reliable.
Recommended
Perfection
By: Chuck the Hawk
Reviewed on: 20 May 2018
As always Monica got us the best flights and best times at very reasonable price.
Recommended
Monica is excellence personified...
By: kb
Reviewed on: 03 Jun 2018
Monica Varri recommended a resort that provided a relaxing and enjoyable experience for both adults and children. Although Tropical Storm Alberto rained one morning, the rest of the time was pool for the children and spa experiences for some of the adults who needed the time to decompress. Monica was spot on for what was needed for an fun family weekend.
Recommended
Trip 2018
By: Camille
Reviewed on: 14 Jun 2018
Monica, was extremely knowledgeable and very patient.
Recommended
Monica is the best!!!
By: Lisa
Reviewed on: 17 Jun 2018
Monica is a top notch travel agent. She helped me find a hotel room in Chicago on a Saturday night at a reasonable price which is not easy to do. She was so fast with her call backs etc. A true professional. I would recommend Monica to anyone.
Recommended
Always Better than Expected
By: K&J
Reviewed on: 10 Jul 2018
As always, Monica meets our criteria for accommodations and travel, but exceeds them with special thoughtful arrangements. Whether it's a brief hotel stay or entire foreign travel itinerary, she ensures that our trips are always very special.
Recommended
N. Europe Cruise
By: Ed & Vicki Salas
Reviewed on: 19 Jul 2018
Monica is excellent!! She knows what we like and suggests various type of trips/cruises we could take.
Recommended
Panama
By: kbp
Reviewed on: 18 Jul 2018
Monica was terrific as she had representatives in Panama who, with Monica, planned the few days there before we went to a longer trip in South America. She was able to incorporate the attractions we were interested in and a hotel that had been recommended by friends into what was an interesting experience, without actually having to spend the time going through the Canal. She does an excellent job.
Recommended
Scandanavia
By: Bob
Reviewed on: 08 Aug 2018
Our most recent trip was through Scandanivia followed by a cruise up thru the Arctic Circle into the midnight sun. Was terrific. As a travel agent, Monica is excellent. She plans with attention to detail. Offers helpful hints. Is very accessible. With her help, we have traveled throughout the world over a number of years. We plan to continue to use her travel services.
Recommended
Another Great Trip
By: christine
Reviewed on: 05 Aug 2018
Monica was great, very knowledgeable about the area we visited and gave great recommendations .
Recommended
Well Done
By: Chuck the Hawk
Reviewed on: 07 Aug 2018
As always every detail was done so that the trip went perfectly.
Recommended
Monica Varri
By: Ron
Reviewed on: 18 Aug 2018
Monica did an outstanding job of planning our trip to Italy. She was respectful of our budget and picked first rate, but generally not extravagant properties for us to stay. She arranged transfers from airports and train stations which substantially decreased the pressure of getting around in a foreign country. Monica also arranged for outstanding tour guides in the cities where we requested them. It was a pleasure to deal with Monica. I recommend her without reservation.
Recommended
Italy 2018
By: Michelle
Reviewed on: 09 Sep 2018
My experience with Monica has been exceptional, which is why I have engaged her for over 10 years. Her knowledge of the locations, the history, the tours, lodging, logistics - AND (most importantly) me and my tastes / preferences is invaluable.
Recommended
Great Travel Advisor!
By: MPB
Reviewed on: 16 Sep 2018
Monica Varri and Lake Forest Travel is our go-to travel agency. They are very helpful, have a sense of our preferences and tastes, and always follow-up in a timely manner. I will only take a big trip when they are involved.
Recommended
Ireland/Scotland
By: Tony
Reviewed on: 20 Sep 2018
Easy and a true pleasure to work with a knowledgeable professional.
Recommended
Excellence Personified
By: kb
Reviewed on: 01 Oct 2018
Monica goes the extra mile and is very responsive. She's excellent and would recommend her in a minute.
Recommended
Alway wonderful
By: AR
Reviewed on: 16 Oct 2018
Great very efficent, and prompt
Recommended
One stop shopping
By: Richard
Reviewed on: 22 Oct 2018
We decided to go on a cruise, but were unsure of cruise lines and destinations. Monica's agency found the Seabourn line for us, which turned out to be the perfect ship for our needs. We hadn't traveled before using a wheelchair; this ship accomodated our needs extremely well- from the suite, to lounges, and boarding the ship - all allowed us to enjoy all services offered on the ship. We chose not to leave the ship at ports, yet had plenty to do onboard.
Recommended
Botswana safari
By: Amanda
Reviewed on: 14 Nov 2018
I have worked with Monica for some years now. She always listens to what we want and gets us the most interesting, highly enjoyable vacations. She gives us a choice in terms of price and variations and we know whatever we choose everything will run smoothly from our point of departure until we get home again. We know we will not have any worries. Our accommodations in Botswana were impeccable and luxurious, the safaris amazing, the staff most attentive. We added on a couple of extra things before and after the safari and it all linked up beautifully. No matter where we live I will always use and be guided by Monica.
Recommended
Bora Bora
By: Jack
Reviewed on: 12 Nov 2018
Excellent experience.
Recommended
Asia trip
By: ST
Reviewed on: 19 Dec 2018
Monica and her team arranged all aspects of our trip. Great advice, seamless arrangements, and nice to work with. Really easy to recommend her for travel support...
Recommended
Pure Relaxation
By: friedkara
Reviewed on: 01 Jan 2019
I absolutely love working with Monica and her team at Lake Forest Travel. She has all the best kept secrets and she shares them with me! All of the accommodations we have booked with her have been excellent and I can't wait for the next adventure! Where to, Monica?????
Recommended
Monica is the epitome of excellence
By: Kb
Reviewed on: 09 Jan 2019
Monica Varri, and her support team at the Lake Forest Travel Bureau, have provided our family with exceptional service and ideas that are based on her first hand knowledge. Consequently, each trip has been a success. She deserves more her high reputation.
Recommended
Review
By: Floridabound
Reviewed on: 09 Jan 2019
We worked with Dyane Shanahan not Monica Varri. I dont know Monica Varri
Recommended
Laguna Beach, California
By: Todd Szwajkowski
Reviewed on: 17 Jan 2019
As always, Monica surpassed my expectations. I was looking for something other than a typical waterfront property in Laguna Beach. The Ranch at Laguna Beach hit the mark. It was exactly what I expected based on everything she told me. Looking forward to my next get-away perfectly curated by Monica!
Working with Monica Varri, you will have access to:
- An experienced travel guide whom you can rely on before, during, and after the trip
- Exclusive luxury resorts and properties
- Once in a lifetime experiences
Explore with the Best
Virtuoso Advisors are constantly pushing the boundaries in unique travel experiences.
Alliance programs are unique tailored experiences exclusive to travelers working with Virtuoso Travel Advisors.
learn more