Travel Specialties
Interests
Escorted Tours
Ocean Cruising
River Cruising
Destinations
Czech Republic
France
Greece
Italy
Russia
Selling Travel Since
1976
My Background
My passion is cruising. My expertise is travel experiences.
I thoroughly enjoy working with my clients to build cruisevacations with a pre or post component and customized shore excursions. It is all about experiencing the destination, culture and peoplewhile travelling in comfort and luxury.
I started my travel career planning special custom itineraries fortravellers to Europe, predominantly in Greece, Italy, Spain & theSwiss Alps and I had the opportunity to escort quite a few groups tothese destinations.
I have personally been on over 60 cruises and can consult on theintimate differences of each cruise line.
My most recent focus has been on Exotic Cruises to Asia, SouthAmerica and particularly Around the World cruises.
Let me be your Wikipedia of cruising.
Ocean Cruising: Azarmara, Celebrity, Crystal, Cunard, HollandAmerica, Oceania, Princess, Regent, Seabourn and Silversea.
River Cruising: AmaWaterways, Avalon and Viking
Adventure Cruises: Lindblad and Expedition ships.
Places I Have Traveled
Reviews and Recommendations for Maria Karmiris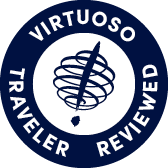 Virtuoso Verified Traveler
All reviews are from confirmed guests sharing exclusive insights
Sort reviews by
Recommended
Highly recommended
By: MMM
Reviewed on: 13 Aug 2013
We were very pleased with our trip to NY. The hotel was excellent and the flights worked out very well. I have been very happy with Maria as a travel agent and have recomended her over the past five years, to five other persons who have also used her efficient and knowledgeable expertise. Maria has organized ten cruises for me and I would not switch her for any other travel agent. I feel very fortunate to have found her through a Vision2000 advertisement in the Globe and Mail
Recommended
Definitely Recommended
By: Happy Cruisers
Reviewed on: 16 Sep 2013
We have just returned from a wonderful 14 day cruise on the Holland America Veendam to Canada and New England. The ports were breath-taking, the service on the Veendam was just as great as we have come to expect from Holland America and Maria was a treat to deal with. She never appeared to get annoyed at my silly questions and followed up on every one of them. She also worked hard to make sure we were getting the best deal we could. I look forward to working with her on our future travels.
Recommended
Highly recommended
By: Foof
Reviewed on: 22 Sep 2013
Maria advised me well. She organized our trip in such a way ,that our time was fully maximised, and that everything ran smoothly. She returned emails and phone calls promptly
Recommended
highly reccomend
By: Joan P.
Reviewed on: 10 Nov 2013
Our trip was well planned by Maria with great attention to every detail. The cruise on the Pacific Princess was wonderful, enjoyed the smaller ship and really good itinerary,many ports I had not visited before. Thanks Maria for another great travel experience!
Recommended
Very efficient and thorough
By: MMM
Reviewed on: 20 Nov 2013
I love to recommend Maria to my friends as they have been so pleased with the travel arrangements that she has done. She researches the best prices , whether it be a car rental with insurance, airline ticket or cruise. She had even Sorted out proof of payment on a transfer dispute with a cruise line while we were at sea. Just the best.
Recommended
Exceptional tour with no hitches
By: Perry
Reviewed on: 21 Nov 2013
The privately guided tours to Turkey and Israel were excellent. Our travel advisor, Maria tailored the 20 day trip exactly as to how we envisioned it. The hotels were clean, convenient and at the right "star" level for our taste and budget. The tour itinerary for both countries was explained clearly so we knew what we should see and do on a daily basis.
Recommended
Highly recommended
By: Paul
Reviewed on: 20 Nov 2013
We have used Maria Kariris as our agent for many years. Maria is wonderful to deal with. She goes the extra mile with the result that we always feel secure prior to departing on a holiday. We are batting 100% with our satisfaction thus far.
Recommended
Very highly recommended
By: Ralph
Reviewed on: 20 Nov 2013
Typical of the care and attention Maria gives to clients, when a winter storm was threatening to affect our flight departure plans from Ottawa via Toronto last year for a cruise out of Florida, she called me to offer tips on what to do if my flight were to be weather-delayed or cancelled and assured me she would be available by phone or e-mail to assist if needed. Her attention to detail and her excellent advice on all of our vacation trips planning has been first-class.
Recommended
Terrific Trip to Yukon and Alaska
By: carygrant
Reviewed on: 20 Nov 2013
Every minute was well used in this boat/train/coach trip from Vancouver to Anchorage. The most interesting stops were Skagway and Dawson City, so well preserved from the Gold Rush days. The ship was the usual satisfying Holland America experience. The land portion was accompanied by a sensationally efficient, kind, and funny young lady. Bravo to everyone.
Not Recommended
Disconnection
By: Dd
Reviewed on: 29 May 2017
First, the agent got the departure place wrong, then invoice was wrong, then missed our payment date; was rude to customers; experience was bad.
Recommended
Fred Hur/ Baltic Cruise- Princess
By: opt
Reviewed on: 09 Jun 2017
Good, Fred Hur referred us to Maria for the booking and every thing was great. Fred was on the same cruise and he was a great representative for Maria and Vision Travel;
Recommended
Knows her clients
By: Jdub
Reviewed on: 25 Jun 2017
Maria is a very experienced agent who takes the time to learn her clients tastes, needs and wants. She really goes to "bat" for her clients. We were able to get a great deal on this trip because Maria worked with the cruise line. Maria is not afraid to make suggestions or to encourage you to try something new. I have recommended Maria to many friends and they have all been very impressed.
Recommended
arranged trip to Winnipeg
By: caroline
Reviewed on: 18 Jul 2017
Maria is warm, friendly and competent. Whenever I go on a trip I immediately contact her and know that her advice and expertise are prime. I appreciate her and thank her for arrangements that take the pressure off me.
Recommended
the best advisor
By: happy cruisers
Reviewed on: 16 Aug 2017
Always a pleasure
Recommended
Best Travel Counsellor
By: A&P
Reviewed on: 21 Aug 2017
Maria is Awesome. Very easy going and an expert with booking cruises. We booked the Harmony of the Seas for our Honeymoon and had the best trip.. I always book with Maria for Air, Hotel or any type of Packages or Cruises. I never book without Maria as she's there for her customers in need of an emergency or for any information. Thank you so much for booking our Honeymoon Maria. <3
Recommended
Amazing Service
By: Jennifer
Reviewed on: 29 Aug 2017
Maria catered our tour with a Chinese tour company she uses (that comes highly recommended, and definitely lived up to their reputation) to exactly what we wanted. She also dealt with a last minute flight booking emergency in a professional and helpful manner.
Recommended
Newfoundland with globus
By: Elizabeth
Reviewed on: 28 Aug 2017
Maria always has the inside track on travel. She has traveled so much herself that she can speak directly to almost any destination. Maria always finds us the best price and any discounts we can take advantage of. She is knowledgeable, hard working and we have worked with her on many trips around the world. And we just booked our next trip to Europe with her...
Recommended
Expert assistance
By: Valerie
Reviewed on: 01 Sep 2017
Maria is a gem. She is extremely knowledgeable about so many facets of travel, specifics that have never occurred to me like managing time needed to connect with ongoing flights or changing airports within a city. Maria is unfailingly helpful and goes that extra mile.
Recommended
Cruise booking
By: DrJ888
Reviewed on: 27 Aug 2017
Maria always does a great job, stays on top of things and provides a great experience overall.
Not Recommended
Review of travel advisor
By: Awesome traveller
Reviewed on: 16 Sep 2017
Always challenging to get info. Maria is more of an order taker so if i know specifically what i want she can book it. However if i am looking for info seldom get the answer. She does not seem to be readily available?
Recommended
Maria
By: SenorG
Reviewed on: 10 Sep 2017
Maria has been our travel advisor for many years. We highly recommend Maria. You can conclude that we are happy campers with Maria as our advisor.
Recommended
Trip
By: Paris
Reviewed on: 11 Sep 2017
It was excellent working with Maria. She was very organized.
Recommended
Western European Cruise
By: KC
Reviewed on: 07 Aug 2018
It was a pleasure to work with Maria. Also got an opportunity to meet with her
Recommended
Silversea Cruise around the Gulf of Bothnia
By: jdub
Reviewed on: 09 Aug 2018
Maria has been our travel agent for many years and has always been exceptional in both making arrangements and recommendations. This trip was perfect for us. Thank-you Maria.
Recommended
South Africa
By: Seagull
Reviewed on: 24 Sep 2017
Excellent trip arranged for four women to South Africa. Every day was a new adventure. Game reserves were well picked. Saw all the animals. Interesting tours Cango Caves, Shark Cage Dive, Cape Town and Cape of Good Hope, wineries, bird and monkey/ ape sanctuaries, history around Johannesburg, Soweto and Victoria Falls. Our private guides were outstanding. Very knowledgeable and kept us safe. Never a glitch in our trip. Only thing I would change is when we finished at game reserve in Kruger, fly directly to Livingstone instead of back to Johannesburg overnight.
Recommended
A wonderful Travel Advisor!
By: BAS
Reviewed on: 30 Sep 2017
Maria did it again! She works very hard to put together a vacation. She is accessible to answer any questions you may have and follows through with really good suggestions. Our trip went without a glitch! Thanks Maria.
Recommended
Wonderful experience
By: Gill
Reviewed on: 08 Oct 2017
Maria Karmiris was perfect. She understood what we wanted and did everything she could to accommodate us as well as add other important details that we didn't think of. She was also always available to answer our questions. I had worked with Maria before so I knew how good she was but my friend was very impressed with her first experience with Maria.
Recommended
First trip planned, friend recommended Maria
By: Bettster
Reviewed on: 05 Oct 2017
Great, made good recommendations regarding trip ideas. Carried plan through to an excellent trip.
Recommended
A fabulous trip to Australia
By: Sooz1304
Reviewed on: 19 Nov 2017
I am SO glad I ask Maria to help with my travel plans. After trying for ages to book my own flights online, I was getting stressed out as I needed to include my daughter for some but not all of the flights and was worried I would not be able to do this by booking us separately online. Not only did Maria solve that problem, but she managed to get flights that left directly from Canada with minimal flying and transit times compared to what I was looking at online, and the cost was very competitive. Thank you Maria, we had a wonderful time and the flights you booked were perfect for us!
Recommended
Tank
By: Tank
Reviewed on: 26 Nov 2017
Very good. That is why we continue using her as a trip planner and adviser. She is very proactive and delivers a quality product on time.
Recommended
Cruise booking
By: How
Reviewed on: 27 Nov 2017
Maria had been great in making reservations for cruises. Very helpful in following up all stages including visa and vaccination requirements.
Recommended
Extraordinary Service
By: J-Dub
Reviewed on: 30 Nov 2017
Maria is a very capable travel agent who has the ability to understand what the client is truly looking for - even if they don't know themselves. I trust her completely.
Recommended
Organized
By: K
Reviewed on: 16 Dec 2017
Maria was able to get everything I wanted, but I would have liked it to be a little more organized.
Recommended
an agreeable experience
By: anonymous
Reviewed on: 20 Dec 2017
Maria is great. Patient. Thorough.
Recommended
Maria
By: LUVLAW
Reviewed on: 31 Jan 2018
It was a pleasure as before working with Maria as previously. She is very knowledgeable of this cruise line and works efficiently and professionally. When we had a travel problem unrelated to the cruise she was quite helpful.
Recommended
excellent service as always
By: Mike
Reviewed on: 04 Feb 2018
We have been working with Maria for over 10 years and her service and knowledge are always topnotch.
Recommended
Review of Maria Karmiris
By: John
Reviewed on: 06 Mar 2018
Maria was terrific! We contacted her on very short notice so we could join our son's family on a trip to Mexico. Maria leaped into action and secured the very last flight tickets available together with a booking at the desired resort. Maria is friendly and very efficient. We would highly recommend her.
Recommended
Peru
By: Son
Reviewed on: 08 Mar 2018
Was able to find a great tour in Peru last minute for my family and I! Was very quick with email replies! Very professional and courteous! I was not disappointed!
Recommended
varadero
By: GC
Reviewed on: 16 Feb 2018
exelend friendy servis
Recommended
Consciencious Travel agent
By: MaryG
Reviewed on: 05 Mar 2018
Maria is always willing to answer any concerns and look for the best deals for her clients. She even works after hours to ensure you have all the info you need for your vacation.
Recommended
Solving any problem with Maria!
By: PJ
Reviewed on: 12 Mar 2018
A delight! Fancy being totally spontaneous, which translates into trying to book everything last minute and Maria being totally accommodating in response. Her recommendations for locations, day trips and hotels have been spot on. Finally, she follows up to see how the trip went and if anything could be done to improve the experience.
Recommended
Excellent Agent
By: Jen
Reviewed on: 25 Mar 2018
As always Maria offered us excellent choices for our holiday and we were more than impressed (with her and with the location).
Not Recommended
Not what I expected.
By: Cruise guy
Reviewed on: 02 Apr 2018
I had done a lot of research on this cruise and was very informed when it came to ammenities, features, etc. Maria was not able to answer some of my questions and she instructed me to call Royal Caribbean myself. I felt like I knew more about the cruise than she did. In my mind, the travel agent is supposed to save me from having to talk to the cruise company at all. Not sure if I would use her again.
Recommended
review my travel advisor
By: ohannes
Reviewed on: 09 Apr 2018
excellent,she knew her job very deeply and doing fantastic solution.That is my opinum.
Recommended
Maria is a fabulous travel advisor
By: HH
Reviewed on: 11 Apr 2018
Maria was just wonderful - we could not have had such an unforgettable vacation without her guidance and advice. This is the second time we've had Maria's help with a cruise and we will definitely be back a third time! Thank you, Maria!
Recommended
Flight to New York
By: Bee
Reviewed on: 27 Apr 2018
She was very professional , Got me a good price very quickly. Would recommend her to my friends.
Recommended
April 15, trans atlantic
By: retiree2001
Reviewed on: 09 May 2018
she was very responsive to any of our concerns
Recommended
Our Travel Guru
By: Cruise Lover
Reviewed on: 12 May 2018
Maria always has our backs. We count on her for great advice and service and this trip was no exception.
Recommended
Maria Karmiris, Vision Travel, Toronto
By: James M.
Reviewed on: 01 Jun 2018
Absolutely fine! Generous with her time and counsel, very helpful with all arrangements, and continuing helpful with post trip follow-up. Highly recommended...and not our first time having her cruise planning help.
Recommended
Trip to Italy and Greece
By: Lynn
Reviewed on: 07 Jun 2018
Maria's expertise was incredible. The hotel she suggest in Rome was wonderful and the trips she organized were perfect for us. The cruise was fabulous and her advice about Venice was dead on. This is our third trip booked through Maria and I highly recommend her to anyone travelling.
Recommended
Great trip to Europe thanks to Maria!
By: Sooz1304
Reviewed on: 14 Jun 2018
After trying to book a complex travel schedule for two people with different itineraries on line, and finding it overwhelming, I turned to Maria who had helped us in the past. She waved her magic wand and our trip was booked. She reserved perfect hotels for us, got our train tickets between four different European cities, got us flights that got us to the same destination from two different points--in short, she made it all happen. Thank you Maria!
Recommended
BarbadosRob
By: BarbadosRob
Reviewed on: 06 Jul 2018
Effortless. Maria is very through. Everything fell into place. She straightened out a few issues with the airlines successfully
Recommended
Maria
By: Stacer
Reviewed on: 18 Aug 2018
Excellent. She listened to our wishes and gave us great options eleven though we were really last minute. Always prompt and courteous.
Recommended
Another Successful Trip.
By: Chaitas Family
Reviewed on: 27 Aug 2018
Maria has always booked our vacations. This time was my parents trip to Greece. Everything was booked perfectly. Thank you again.
Recommended
A+++
By: Aviatrix
Reviewed on: 26 Sep 2018
Maria is an exceptional travel professional. She can always be relied upon to deliver expert advice combined with excellent value. She's also a thoroughly lovely person.
Recommended
Britain and Ireland grand tour
By: Dougr
Reviewed on: 05 Oct 2018
Excellent service from Maria
Recommended
A Wonderful Travel Advisor!
By: BAS
Reviewed on: 09 Oct 2018
I have used Maria many times because she listens to what you would like to do on your travels and puts together wonderful packages. She always answers any questions I have and will give me the advice I need to make travel decisions.
Recommended
With gratitude
By: Patricia
Reviewed on: 13 Nov 2018
Because of the recent death of a close friend in the west Maria once again rose to her usual professionalism and quickly arranged my flights. I appreciate her competence , understanding and empathy.
Recommended
latest trip...Mexico all inclusive this time
By: Mike
Reviewed on: 15 Nov 2018
We have been working with Maria for approximately 15 years and have always been happy with her work. She recommmended our most recent resort when we decided to go all inclusive and gave her list of our requirements...and she nailed it. A great vacation at a resort that met our needs and exceeded our expectations.
Recommended
Excellent!
By: Anonymous
Reviewed on: 14 Nov 2018
Easy! Friendly and she was quick to respond to any and all questions with patience
Recommended
Wonderful trip to India and Dubai
By: JennyPenny
Reviewed on: 27 Nov 2018
Working with Maria, as always, was very good. She helped us plan our trip, was excellent with suggestions and advice. Our trip went smoothly, the accommodationis arranged were excellent as well as the transfer arrangements and tours. Another fantastic trip. Thank you Maria!
Recommended
Another great cruise experience
By: Faye
Reviewed on: 28 Dec 2018
It is always a pleasure to work with Maria. She is concerned with making every trip better than the last and follows up with any schedule changes and amendments.
Recommended
Great work!
By: Nick Gizzarelli
Reviewed on: 08 Jan 2019
Excellent as usual
Recommended
Excellent Experience
By: Roving Retiree
Reviewed on: 22 Nov 2013
We recently did a 14 day round trip to Quebec city cruise on Holland America's Veendam. Maria was a wonderful advocate on our behalf, going to bat several times so that we got all of the amenities to which we were entitled. She was always quick to respond to any questions and concerns with good nature and a sense of humour that I especially appreciated. We are already working on two more trips with her help
Recommended
Highly recommended
By: fkert
Reviewed on: 21 Nov 2013
Maria has organized several cruises for me as well as both pleasure and conference trips and her knowledge, assistance and good-natured service has been OUTSTANDING. On numerous occasions she has gone above and beyond to ensure a connection or a service that has made a real difference to my travel experience. She is s pleasure to work with.
Recommended
Great Job!
By: nick
Reviewed on: 21 Nov 2013
I have booked many trips with Maria and once again she has delivered a perfect client experience. Please keep up the great customer service.
Recommended
Highly recommend
By: PJ
Reviewed on: 25 Nov 2013
Every time I've contacted Maria, she has enthusiastically responded in a timely manner no matter how last minute the request. Her calm, flexible, reassuring and professional manner is so appreciated. She commiserates when flights or hotels unavailable, finds better alternatives and rejoices with you when everything falls into place. And my favourite thing is when she charmingly upsells, she's always right!
Recommended
Highly recommend
By: Happy traveller
Reviewed on: 20 Nov 2013
Maria has been a very conciencious travel agent. She seeks the best for her customers. I have dealt with her for many years, and have never had any problems. If there are any additional features to a trip we are planning, she does not hesitate to recommend them to us. We did have a great added Virtuoso experience on one of our Carribean cruises, which Maria ensured we were part of. A great travel agent that we will continue using as long as we are able to travel.
Recommended
Highly recommended
By: Valerie
Reviewed on: 22 Nov 2013
Maria is the consummate professional. Her expertise and pleasant manner made her a joy to work with. I had the opportunity to get to know her more personally and found her to be a thoroughly nice person and a pleasure to be with. I will return to her for her guidance for future trips and recommend her to my friends and family.
Recommended
Absolutely best cruise so far
By: Harry129
Reviewed on: 24 Nov 2013
It was a wonderful trip in all respects. The ship and help could not be faulted. Over 28 days you meet a lot of people and some we now consider close friends. I cannot come up with words to describe the scenery. Donna got to go back and visit the beach Honolee where she camped for months as a teenager. Many thanks Maria it could not have been more perfect.
Recommended
Best Vacation EVER!!!
By: Jdub11
Reviewed on: 16 Dec 2013
We don't plan our travel without the assistance of Maria Karmiris. Sometimes I think Maria knows us better then we know ourselves. In July we did a 3 week trip which included London for 4 days and the Land of the Midnight Sun cruise with Oceania. The flights hotel and cruise were perfect. Maria is one of the most experienced travel agent's I have ever dealt with. She cares about her customers and I wouldn't travel without her.
Recommended
Would highly recommend.
By: Andre
Reviewed on: 17 Dec 2013
Maria was instrumental in the successful outcome of our vacation. Everything was prompt and accurate. Thank you, Maria.
Recommended
Fantastic Trip Planner/Organizer
By: Vanessa
Reviewed on: 05 Jan 2014
Maria has planned several trips for me, my family and schools I work for. She is excellent, organized, keeps in mind priorities for budget and locations, and, all in all, is terrific.
Recommended
Caring Travel Advisor
By: George
Reviewed on: 11 Jan 2014
Maria Karmiris has looked after my wife and I for over 10 years. We have cruised and traveled around the world and she has taken great care of us. She is a genuinely caring lady very sensitive and highly responsive.
Recommended
RE: Varedero Cuba - Las Americas Golf Resort
By: Nick Gizzarelli
Reviewed on: 20 Jan 2014
The resort was very average as compared to others I have been to in Mexico. Golf was very nice and exactly what was promised was delivered. Overall Cuba is not up to the same standards as other destinations in the Caribbean.
Recommended
Our best travel resource
By: Mr. G.
Reviewed on: 29 Jan 2014
We recently completed a 10 day cruise in the eastern Caribbean. Maria booked our flights, pre-cruise hotel, and cruise. Our bookings all worked flawlessly. Maria can assist you with all aspects of your vacation, including the hiring of excellent guides. We highly recommend Maria.
Recommended
Best Ever for Cruise Vacations
By: D&H
Reviewed on: 02 Feb 2014
We were lucky enough to have Maria recommended by a friend on our very first cruise. We have now been on 9 cruises and Maria has come thru with flying colours every time. We would not plan a vacation without her. Thank you Maria.
Recommended
Great Getaway!
By: Travel Fanatic
Reviewed on: 11 Feb 2014
When we retired last year we decided to treat ourselves to a vacation in Cuba with our adult children and their significant others. Maria was with us all the way. She conferred with her colleagues and came up with 5 great options for resorts in Varadero. We chose the deluxe (adult only) section of the Riu Varadero and it met our expectations brilliantly. The rooms were large, comfortable and very clean. The grounds and facilities were also beautiful and well maintained. The beach was outstanding. One thing though - both at the pool and beach, there were never enough lounge chairs. I guess that is not uncommon in resorts. The service was friendly and attentive at all times. The food was adequate although not particularly to our liking. I would definitely recommend this resort. Maria took care of everything in her usual efficient and friendly way. We look forward to our next trip with her guidance.
Recommended
Very, very highly recommended
By: Valerie
Reviewed on: 20 Feb 2014
Maria is a great pleasure to work with. She delivers as promised, promptly, and with a genuine desire to please. Her customer service is exceptional. 
Recommended
Highly Recommended
By: Paddy-Jo
Reviewed on: 26 Feb 2014
Recommended
Highly Recommended
By: Lainey
Reviewed on: 10 Mar 2014
I have been using Maria's services for  over 10 years and I have found her to be excellent,   Her knowledge and advise has been very helpful and when we had to cancel a trip due to a medical issue, Maria was very helpful in assisting us to recover our money.
Recommended
she's fabulous
By: BW
Reviewed on: 02 Apr 2014
All arrangements made are thorough and accurate. Great ideas for young and old(er).
Recommended
highly recommended
By: jimmy
Reviewed on: 04 May 2014
She did an excellent job of handling the trip for me and my wife. Everything was expected and more. We got everything we needed for the trip. Everything promised to us before the trip was delivered. Thanks and job well done.
Recommended
Incas and and Islands: an extraordinary experience
By: travelling professors
Reviewed on: 14 May 2014
The 23 days consisted first of a cruise from Tahiti to Lima, Peru via other Polynesian islands, Pitcairn Island and Easter Island.  The Oceanic Marina passengers, like most ships¨passengers, could not visit Pitcairn, but the descendants of the Bounty mutineers boarded the ship to speak to us.  Bora Bora was magical and Easter Island fascinationg.The cruise was followed by a five day tour of Lima, the Sacred Valley, Custo, and Machu Picchu with a guide at almost all times.  Perfectly programmed by Maria and her Vision associates.  All the details were attended to.  A marvellous and sometimes strenuous voyage.
Recommended
Highly Recommended
By: Laura
Reviewed on: 16 Jun 2014
Maria did a wonderful job of planning this cruise.  The boat was gorgeous.  Food fabulous.  Rooms with balconies marble bathrooms with both tub and shower.  The ports were amazing where we stopped.  Started in Barcelona ended in Venice.  Cities were spectacular and easy to go on your own if you chose that route.  We did two tours Rome and Florence and were happy to do the rest on our own as Maria suggested.  The hotels in Barcelona and especially Rome was fantastic as we extended our trip.  Could not have asked for a better vacation and I have travelled extensively. 
Recommended
Highly recommended
By: Patricia
Reviewed on: 25 Jun 2014
Maria kept us well informed and started working on the arrangements immediately as we had made our decision only in late March to take this particular cruise.If we had any questions or concerns she handled them either by mail or phone and for our visa application we met with her in Toronto  to ensure it was done accurately.We are grateful for her assistance and advice about travelling in Russia. .
Recommended
Highly recommended.
By: Zoji
Reviewed on: 19 Jul 2014
Recommended
Excellent !
By: Migs
Reviewed on: 26 Sep 2014
Reliable in all aspects of the trip. No surprises and as usual I always have confidence in Maria's advice.
Recommended
Fantastic Trip
By: Vanessa
Reviewed on: 09 Oct 2014
Maria worked with my husband to create a 20th anniversary surprise cruise trip. The cruise was wonderful; the arrangements were excellent; the complementary excursion was superb. Maria also used to make all of the travel arrangements for my mother and was flexible, creative, thorough, and very easy to work with. I highly recommend Maria to anyone who wants an expert travel agent.
Recommended
Above and Beyond!
By: Cruise Addict
Reviewed on: 10 Nov 2014
Our Holland America cruise to the Holy Land was amazing despite a horrific start. Due to a pilots' strike at Lufthansa our flight from Toronto was cancelled and we were not able to get out in time to meet the cruise in Athens. Maria spent the better part of two days working on getting us out in time to pick up the cruise in Alexandria. She arranged for an escort from the airport in Cairo to the Fairmont Nile Hotel and then to the port in Alexandria where we boarded the ship. The rest of the cruise was smooth and wonderful The places we visited in Israel were very moving and interesting. We enjoyed ourselves immensely. One thing we definitely learned was the value of going a day or two early to avoid the trauma we encountered this time. Maria has been telling us this for a long time and we should have listened!
Recommended
Excellent
By: Bobby36
Reviewed on: 08 Feb 2015
Hotel was first class. Room decor, grounds and food offered were all above average. Only drawback was long bus ride from airport to hotel.
Recommended
Expert friendly staff
By: Ron
Reviewed on: 16 Feb 2015
We had an excellent trip! the cruise was great and the Marriott was a fine hotel. Thank you for putting it all together for us. ( also, the weather was perfect).
Recommended
Very helpful, great advice
By: NeilW
Reviewed on: 24 Feb 2015
Maria is very helpful and knowledgeable and will continue to be our go-to person for travel.
Recommended
Excellent Adventure
By: Cruise Addict
Reviewed on: 01 Mar 2015
Our trip was a cruise through the Panama Canal and it was amazing. Maria helped us plan every detail. The weather was perfect (how did she do that?). We had a half a day to get a taste of San Diego (beautiful city - would definitely go back) before boarding the Veendam. Our cruise took us through Mexico, Guatemala, Nicaragua, Costa Rica, the Panama Canal itself and Columbia prior to disembarking in Fort Lauderdale. We have found Maria to be helpful and knowledgeable in planning cruises, resort vacations with family etc. I would definitely recommend her to anyone planning a trip. Indeed, we have recommended her to family and friends.
Recommended
Professional, courteous, eager to make our vacation the best it could with last minute upgrades
By: RS
Reviewed on: 20 Jun 2015
Maria was very good in making changes to our cruise within 2 weeks of sailing (stateroom upgrade). Maria also surprised us with a free dinner in the pinnacle grill for my birthday, the 3 free wine bottle and soda cards were perfect. the added touches made the trip amazing when we boarded the ship, Thanks
Recommended
Patient and Prompt
By: Cassis C
Reviewed on: 19 Aug 2015
Maria was always available before and during the trip to answer questions that came up, and made every booking promptly and correctly. Maria also has the know how from years of experience to say what the best way is to get from, say, Toronto to the Queen Mary 2 to London to Paris. I really appreciated having all the bookings printed and so carefully organized for the whole trip ahead of time. I will use Mary for my future bookings. I don't know why anyone wouldn't, it's so much easier and costs no more than booking solo.
Recommended
Amazing!
By: CE
Reviewed on: 08 Sep 2015
Maria did it again! Knowledgeable, courtesy and very patient, Maria planned our trip with us (for us...) and we know from past experience, her suggestions will be amazing! It is so reassuring to know you are dealing with a professional that cares about her clients and listens to what you are looking for. She isn't satisfied until you are and that's what makes the difference. Thanks Maria - we know our upcoming trip will be very memorable!
Recommended
Viking River Cruise
By: BJ
Reviewed on: 13 Sep 2015
In a word-Excellent. The hotel in Prague was centrally located and contained all the amenities one could wish for. The Viking ship was well appointed and clean. Food and service were great. Excursions were well planned and the guides very knowledgeable. The stateroom was very small but I understand that is to be expected. Many lasting memories.
Recommended
Great Service
By: Roula
Reviewed on: 14 Sep 2015
Maria was really quick to get back to me and helped me pick a good resort for our family vacation. Thanks again Maria!
Recommended
fabulous!!!!!!
By: Dana
Reviewed on: 21 Sep 2015
Thank you so much Maria. The cruise was fabulous and we all thoroughly enjoyed ourselves.....we were especially impressed how you kept the rain away from us. The cabins were super and the service amazing. Thanks so much for all of your help. Dana
Recommended
Outstanding Advise!
By: NAH
Reviewed on: 29 Sep 2015
Maria provided the best advise for a novice cruiser! She kept a look out for upgrade offers and got us a window cabin which made our stay on the ship so much better. Without the window we would have never been able to enjoy breakfast in our cabin. Thank you again Maria!
Recommended
Prompt friendly service
By: Foof
Reviewed on: 02 Oct 2015
As usual Maria took care of every thing. I am always confident we will have a well planned trip Expert friendly service
Recommended
Professional Excellent Service
By: Radar
Reviewed on: 05 Oct 2015
Great service - answered all questions and responded to e-mails quickly. Provided all necessary documentation quickly and all new requests quickly. Great service. Thanks Maria!!
Recommended
Israel and Jordan
By: Jack S
Reviewed on: 16 Nov 2015
We booked a trip to Israel and Jordan with Maria. In Israel we were part of a small group tour (approx. 20 people). In Jordan we had a private guide and driver. The guides and drivers were excellent. Our hotels were tops, particularly the King David in Jerusalem. Transportation was great. We were picked up in Tel Aviv airport and transported to our hotel. After the tour in Israel we were picked up at our hotel in Jerusalem, driven to the border, crossed through a VIP service and met by our Jordanian team on the other side. Very smooth. We were very impressed with all the arrangements and the local tour company support
Recommended
Excellent
By: Nicol
Reviewed on: 06 Dec 2015
Everything went as we hoped it would.... no problems.
Recommended
A royal trip!
By: Movie junkies
Reviewed on: 21 Oct 2015
This was a crossing on the Queen Mary 2 from New York to Southampton. Our travel agent wisely booked us on a flight from Toronto to La Guardia at a time that allowed us to arrive at the ship at a perfect hour for boarding. Totally stress-free. From then on, everything was smooth-sailing, both literally and figuratively for a whole week. The on-board service was exemplary. The activities were countless. We especially liked the lectures, the entertainers and the films. Though the ship is considerably larger than some of the other Oceania and H-A ships we have sailed on, it never felt too crowded. We were in a Deck 5 stateroom, which is not one of the classiest. But it was tasteful, comfortable and boasted s verandah. We felt that the price for all of this was very fair. Dinners in the luxurious Britannia Dining Room were excellent, but the cafeteria style King's Court could have made their offerings more appetizing.But how can one complain when there is Afternoon Tea!
Recommended
expert friendly service
By: Maggie
Reviewed on: 26 Oct 2015
We enjoyed our trip! We did not have to worry about our many connections, ships, trains, air flights and hotel bookings as all were pre booked,so everything went smoothly.
Recommended
Another Great Experience with Maria
By: River Cruise Rookie
Reviewed on: 29 Oct 2015
This was our first time on a river cruise and our first time in Paris. As usual, Maria was a great help from the first contact. When our friends asked us to go along on the Viking cruise "Paris and the Heart of Normandy" I contacted Maria and she went to work immediately securing the last cabin in our preferred category. I had some trouble navigating the Viking website and she helped me through that. We had a miscommunication about the date we wanted to leave but Maria fixed that for us as well. She went to bat for us with Viking in regard to the flight. She procured a Paris Pass for us which was useful for the couple of days we spent in Paris before the cruise. Maria's expertise makes her a vital part of all our travels. Thanks, Maria!
Recommended
Excellent customer service
By: Cecile
Reviewed on: 05 Nov 2015
Maria is a very professional and experienced travel agent, she is also very helpful and solve the problem before we even know : for example requested a direct return flight back to Canada for us because of my friend's handicapped condition. We didn't even know there is a direct flight available and this saved us a lot of problem. She followed up a few times with us before our trip to make sure everything is OK. We love working with her and look forward to another trip arranged with her again! Thanks Maria for helping us!
Recommended
Steamboating
By: Jean
Reviewed on: 16 Nov 2015
Boarded the American Queen in Clarksville TN, Our cabin was comfortable, opening onto Deck 3, right around the corner from the alternate dining Front Porch, where cookies, ice cream, and popcorn were available 24 hrs. a day, in addition to buffet breakfast, lunch and dinner. We had most meals in the J M White dining room and the service was excellent, free wine and beer with dinner, and a choice of 5 delicious entrees as well as two soups and salad starters, and at least 5 desserts. Ports included Dover TN, steamboating for a day, Henderson and Paducah KY, New Madrid, MI. and Memphis TN after traveling a total of 736 miles through 6 states on 4 rivers. The hop on/hop off bus is unique. Entertainment was exemplary, including country, blues and soul music by outstanding artists and crew members. The boat is delightfully appointed, the saloon a replica of the Ford theater where Lincoln was shot. The crew was most accommodating. Truly an unique cruising experience.
Recommended
travel service
By: lady Re
Reviewed on: 28 Jul 2016
It was amazing, well organized, excursions were good, there were less entetainment on the big new ship than the older ones.
Recommended
Exemplary Service!
By: iguy
Reviewed on: 01 Jan 2016
Overall, we were highly impressed by the top-notch condition of the ship. The food was consistently excellent. Service levels were also extraordinary, and even a level above past cruises. The staff was consistently friendly and helpful. The clientele is older and the pace is generally slow. The evenings end relatively early. This cruise was heavy on seas day. which we love. This is absolutely perfect for us; it may not be perfect for you. The pre-cruise safari option at the Botlierskop Private Game Reserve was an unexpected highlight of the whole trip. Excellent food and accommodations (in an air-conditioned a luxury-appointed tent away from the main lodge), knowledgeable and friendly guides, and an up close chance to see many animals in the wild. The Virtuoso tour of the Namibian desert was magical! Much better than the standard free excursion. We fully enjoyed this cruise on the Mariner and look forward to visiting her again soon.
Recommended
Professional as always
By: Lois
Reviewed on: 04 Jan 2016
It was a great trip, thank you Maria for taking care of my plane reservations. You sure are a very knowledgable travel agent, and I appreciate that.
Recommended
All the answers to all our questions
By: ChantaleM
Reviewed on: 02 Feb 2016
Maria was very patient. She took the time to explain everything to us. She felt our insecurities and made sure we had all information to ease our minds. She handled our booking as per our requests in a very profesionnal manner. I keep Maria as my contact for future vacation bookings. Thank you Maria!!
Recommended
did a superb job and very friendly offering good advice
By: marco
Reviewed on: 03 Mar 2016
Maria did an excellent job again with our small group of 8. We will use her next time for sure
Recommended
Friendly and helpful...
By: farnsy012
Reviewed on: 10 Mar 2016
Maria was friendly and helpful and answered my questions. I would only suggest she provide some additional "advice" on what to expect at the airport. I was provided many on-line receipts and wasn't sure what i needed to take with me, so i printed everything and brought it with me. I hadn't travelled for 6 years and found that I was researching more info on line. Many things have changed at the airport..kiosks for checking in, scanning passports etc. I learned on line that I could check in to Air Canada 24hrs prior to my flight..this was told to me by a friend! Little things like this could have really added to the experience. I would definitely use her services again.
Recommended
High standards & friendly staff
By: eieio
Reviewed on: 26 Apr 2016
Comfortable accommodations, friendly staff...as well as the usual high standards in dining, atmosphere and entertainment on board. Our Corsica guide was excellent...very knowledgeable. For us, our Capri excursion should have included the Roman presence/ruins on the island.
Recommended
Clients come first
By: Happy travellers
Reviewed on: 29 Apr 2016
Maria is a customer caring expert. We have dealt with her for about 20 years when planning much of our travels & all our concerns have been addressed with satisfaction. We just completed a 12 day cruise & loved every aspect of the cruise. The airports can be a hassle but Maria has no control over that. We thank & appreciate her continued service.
Recommended
Friendly, efficient, and accurate
By: Michelle
Reviewed on: 03 Jul 2016
Maria was friendly, efficient, and accurate...everything that you need in an agent. Everything went exactly as she represented it, and our vacation was fantastic. We will definitely contact her regarding our next booking.
Recommended
no pick up at Jeju airprt
By: yk616
Reviewed on: 04 Jul 2016
it was nice until at time we landed jeju island , no body come to picked us at airport and called head office 4 time , was told some one will come to pick up about 10-15 minutes, we waited about 1 hour, then take taxi to hotel , was told will reimbursed , but hear nothing from Hana tour
Recommended
Train tickets - Venice to Rome
By: Ken
Reviewed on: 31 Aug 2016
This is Deborah Osmond on behalf of Ken Rotman. Maria booked 5 train business class tickets from Venice to Rome on August 26, 2016 for the Rotman Family. Ken said everything was smooth and he was very appreciative of having the tickets in advance. Maria's customer service was superlative. She helped me a great deal in explaining the travel in Italy and the best options. I will seek her counsel again! Maria is a travel professional with a great personality - she is in the right business.
Recommended
Always Has Your Back
By: EdieD
Reviewed on: 05 Sep 2016
It was Maria who brought this trip to our attention and she helped us every step of the way. I have recommended Maria to several of my family and friends as an agent who really goes the extra mile to help and always answers any questions or concerns.
Recommended
Awesome
By: Wayne
Reviewed on: 14 Sep 2016
The ship was beautiful. The meals were fabulous. The staff were amazing & very attentive. The day trips were great - very knowledgeable guides in small groups. Our state room was superb. Nightly entertainment was fantastic. We would go again with Regent in a heartbeat.
Recommended
Friendly, knowledgable, professional service
By: Parksville adventurers
Reviewed on: 12 Sep 2016
We appreciated Maria's Care-Full attention to detail as we lived the experience of our first River Tour and tagged on small group exploration of Ireland. The "on your own" days in between even turned out as a memorable change of pace. This lady knows her stuff. Thanks Maria
Recommended
Avelon River Cruise
By: Gtrotter
Reviewed on: 15 Sep 2016
One of our best holidays, beautiful ship,friendly helpful staff, fantastic scenery.
Recommended
Weekend In Milan
By: Wesley
Reviewed on: 16 Oct 2016
Great visit to Milan from Toronto for 3 nights. Connections worked..BA tourist plus seats like business class..train from airport good.. Four Seasons super and in centre of fashion district. Maria did a great job.
Recommended
A Queen Remastered
By: Two retired academics
Reviewed on: 23 Oct 2016
This was our second crossing on the Queen Mary 2, but the first since she has been "remastered". Once again, everything was perfect. The stateroom was the cheapest you can get - on the lowest deck. But it was spacious and had a verandah that the October weather kindly allowed us to use a few days. In spite of its attractive pricing, the cabin felt luxurious. The service throughout the ship is outstanding. Excellent lectures on board. The seven days just sped by. The dinners were imaginative and delicious. What was there not to like?
Recommended
First travel advisor experience
By: DrJ
Reviewed on: 02 Nov 2016
We have been booking our own travel, mainly online, for several years now. With Maria, we discovered the benefits of working with a talented travel advisor. She did a great job of lining up our trip, provided great money-saving options, and even got us a fantastic unexpected upgrade. Great work Maria, and Thanks!
Recommended
Very knoweldgeable and accomodating.
By: M
Reviewed on: 13 Nov 2016
Maria is a very knowledgeable travel agent. She is able to individualize according to your needs and wants. With her help and guidance, we have had two wonderful vacations. We are looking forward to our next trip and will certainly contact Maria for her expertise.
Recommended
Help getting us great NZ Air seats
By: NH
Reviewed on: 17 Jan 2017
Just a thank you again to Maria for securing us great seats on our Air New Zealand flights. Premium Economy was full and Maria secured us the perfect seats for our long 14 hour flight home. Thanks, Maria
Recommended
The best travel advisor
By: Happy travellers
Reviewed on: 23 Jan 2017
Maria is a hard working travel advisor. She ensures that her clients get the best prices on their travels. If you have any concerns, she is willing to get an answer for you as soon as possible.
Recommended
Flights and information re Puerto Vallarta Mexico
By: Don
Reviewed on: 02 Feb 2017
Maria is always a professional and makes no errors as she checked everything three time. Its a pleasure dealing with someone that knows what they are doing. Ask her a question that she does not know and bingo -she immediately gets the requested information back to her clients right away.
Recommended
Panama Canal Cruise
By: Ron
Reviewed on: 10 Feb 2017
We like working with Maria. We have booked two cruises with her. She is very good and comes up with different options very quickly. She answers any questions very quickly We will book our next trip with her.
Recommended
Excellent
By: Wayne
Reviewed on: 18 Feb 2017
Maria is an excellent agent. She has planned many trips for us & we have been extremely happy with everyone. She always goes above & beyond to ensure your travel plans are perfect.
Recommended
Australia and New Zealand
By: Fritz
Reviewed on: 20 Feb 2017
Maria has always done great job in planning our trips and making solid recommendations. She also presents alternative which give us a choice at different price levels.
Recommended
Maria
By: Sharon
Reviewed on: 21 Feb 2017
It's always a pleasure She is very thorough and gives helpful information
Recommended
Mexico
By: Gizzoo
Reviewed on: 04 Mar 2017
Maria is a complete professional in every aspect of her position and her overall knowledge of the packages presented is second to no one.
Recommended
Excellent Service
By: MB
Reviewed on: 28 Mar 2017
Maria was amazing booking a cruise for our group. She always has better offers/options than other companies. She answers all our questions efficiently and in a timely manner.
Recommended
Hawaii trip
By: Hawaii bound
Reviewed on: 27 Mar 2017
She is very quick to respond and even made calls on the weekend.
Recommended
Fantastic travel advisor
By: Ralph
Reviewed on: 24 Apr 2017
Maria Karmiris is wonderful to work with. I recently wanted to attend the centennial ceremonies for the Battle of Vimy Ridge in France and also combine it with a small holiday for my wife and me in Nice on the Mediterranean. I gave Maria an outline of what I wanted to do and she not only turned it into reality but also improved it through innovative suggestions which I readily agreed to because they were so excellent. She is fast, efficient, very knowledgeable and thorough and I highly recommend her to anyone planning a trip.
Recommended
Fabulous Oceania Caribbean Cruise with the Family
By: JDub
Reviewed on: 16 Apr 2017
Maria has been my travel agent for many years and she never disappoints. This was a very special cruise for us as we were taking the entire family. Maria knows us so well that her choices and suggestions are amazing and perfect. Seven of us, in three concierge balcony cabins, sailed on Oceania Marina through the western Caribbean including Havana. This choice was excellent and well suited for all ages. Maria also arranged private tours for us that we really enjoyed. I recommend Maria to both friends and family all the time.
Recommended
China by land and river
By: Faye
Reviewed on: 28 Apr 2017
Maria is the most helpful, pleasant agent to work with. She understands where I am going and the type of travel I enjoy and ensures that the itinerary matches my interests and accommodation preferences. She follows up and ensures that what we plan is what we get. She is always ready to answer questions and goes that extra mile to make a trip memorable.
Recommended
Awesome Travel Agent
By: Agnes C
Reviewed on: 05 May 2017
Maria is very polite and very knowledgeable with booking all my vacations. All her recommendations were perfect and we always book what Maria recommends. All our trips that have been booked were perfect. We just booked our honeymoon for this summer and can't wait. She takes the time to know you, to perfect your trip. Thank you so much Maria for everything.
Working with Maria Karmiris, you will have access to:
- An experienced travel guide whom you can rely on before, during, and after the trip
- Exclusive luxury resorts and properties
- Once in a lifetime experiences
Explore with the Best
Virtuoso Advisors are constantly pushing the boundaries in unique travel experiences.
Alliance programs are unique tailored experiences exclusive to travelers working with Virtuoso Travel Advisors.
learn more
Czech Republic
France
Greece
Italy
Russia
Spain
Turkey