Travel Specialties
Interests
Culture, History & Arts
Safari
Independent Tours
Ocean Cruising
River Cruising
Destinations
Belgium
Chile
United Kingdom
Argentina
Brazil
Selling Travel Since
1987
My Background
I was born and grew up in Santiago, Chile. I came to Canada in 1971. Graduated from University of Toronto and worked in I.T. for 7 years. I lived in Belgium and Germany for 2.5 years with my husband and young family. Visited many new places and immersed ourselves in the local culture. Once back in Canada I started in the travel business when our children were in school.
Travel is all about the experience, what you can't google. I try my best to match my clients wishes and budget, to give them great value and honest advise. My best reward is a positive feedback from my clients.
Places I Have Traveled
Reviews and Recommendations for Sylvia Kortan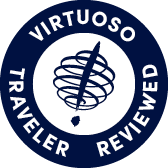 Virtuoso Verified Traveler
All reviews are from confirmed guests sharing exclusive insights
Sort reviews by
Recommended
Highly recommended
By: Jim12
Reviewed on: 30 Sep 2013
Sylvia has arranged a couple of trips for us and we have been completely satisfied with everything she has done for us. We have already referred friends to her and they have also been pleased.
Recommended
Such great work
By: Janey62
Reviewed on: 15 Oct 2013
Sylvia is a consummate professional and organized a complex 3 week trip to Florence, Rome, Sicily and London for us. She is very knowledgeable and experienced. A month before leaving I found myself requiring an urgent heart procedure and was forced to cancel the trip. she made all the arrangements for my companion to go with someone else in my place at the last minuteand was very helpful dealing with my refund and travel insurance. would highly recommend this agent,
Recommended
By: Winger14
Reviewed on: 17 Oct 2013
Sylvia organized our trip with great attention to detail and to suit our particular needs and interests. She gave us good advice and was patient with us in planning our trip. We have recommmended her highly to many of our friends. She is a treasure!
Recommended
Highly recommended
By: Alex
Reviewed on: 21 Nov 2013
I have been knowing Sylvia for over 10 years and she was always exceptional in regard to knowledge, speed, thoughtful suggestions and reliability. She is well versed in many travel destinations and able to think of every detail and share her suggestions. I would highly recommend her.
Recommended
Highly recommend
By: Momo
Reviewed on: 21 Nov 2013
Very personable and thorough in detail planning. She is also a delight to travel with.
Recommended
Highly recommended
By: Anita
Reviewed on: 23 Nov 2013
Sylvia has been the most knowledgeable and efficient travel agent I had to deal with so far. She is very thorough and all information is at her fingertips and up to date. She always finds the most cost effective ways for our travels. I have recommended Sylvia to a number of our contacts and friends, knowing that they will be fully satisfied with her travel arrangements.
Recommended
Highly Recommended
By: Raf2112
Reviewed on: 26 Dec 2013
Sylvia is an extraordinary professional in the travel industry. She has assisted my family and I in our travel for years and most recently booked a cruise for us. Sylvia is extremely knowledgeable and anticipated our every need making sure that our cruise experience was excellent, and indeed it was. I recommend Sylvia wholeheartedly and without reservations (no pun intended.)
Recommended
highly recommend
By: sn
Reviewed on: 05 Feb 2014
Sylvia has planned several amazing adventures for us over the past couple of years and each time she has come up with an unforgettable trip.  she is very knowledgeable about our destinations and takes care to 'think of everything' for us.  our trips have been fantastic as she really tries to individualize the trips to our needs.  we always feel well taken care of in our destination countries and I know that is because Sylvia has taken care of it all. 
Recommended
Excellent service
By: Silvia
Reviewed on: 10 Feb 2014
I recently had the pleasure of arranging a vacation through Sylvia Kortan. She was a great resource, very knowledgeable and came up with good suggestions based on the information I provided her as to what we wanted, our needs, likes and dislikes and our budget. She recommended a vacation that met our needs and we had a wonderful time! I will definitely engage her next time I'm planning a trip.
Recommended
highly recommended
By: paul
Reviewed on: 12 May 2014
Recommended
Excellent experience, excellent service
By: AlexK
Reviewed on: 22 May 2014
This was our first river cruise, so our expectations were  uncertain. The trip turned out to be very enjoyable, both from the ship experience and the itinerary.Sylvia was very helpful throughout the trip selection and booking . When a small problem arose from the tour operator she went well beyond our expectations to rectify it.We highly recommend Sylvia to anyone wishing excellent service and  knowledgeable professional advice.
Recommended
Recommend Unconditionally
By: JAO
Reviewed on: 17 Jul 2014
Ms Kortan was there for us from our first contact to assist in arrangements for our trip. She assisted in making important choices for the trip and contacted us on our return for our comments about our experience. Ms Kortan will again be our first call when we decide to to take another vacation.
Recommended
Professional and reliable
By: Grateful
Reviewed on: 22 Jul 2014
Sylvia helped us to plan and execute a month long trip that included 6 locations in Europe and as many or more in Israel. She interviewed us about our destinations  and helped us to streamline our schedule in order to be most efficient.  We asked her to assist us with trip cancellation and interruption insurance. She advised us as well about car rental in Austria and Israel.Sylvia made sure to accommodate our needs.Our trip was amazing and a lot of credit goes to Sylvia. We would most certainly recommend Sylvia.
Recommended
river cruise
By: song
Reviewed on: 10 Oct 2014
trip was excellent except for the budapest airport transfer and Warsaw tour which did not happen.
Recommended
amazing service provider
By: Mike
Reviewed on: 18 Nov 2014
Sylvia helps us plan an extravagent trip to Europe that had to not only cover the trip but special circumstances of an anniversary. thanks so much
Recommended
Terrific Service
By: Bob
Reviewed on: 24 Dec 2014
Sylvia recommended business class for our long trip to India. We were very happy that she had advised us to travel business class. It made a huge difference to our enjoyment of the trip. We loved working with Sylvia. She is so thorough and organized. Sylvia is a delightful person with whom to do business.
Recommended
Friendly, supportive and efficient service
By: CarolaN
Reviewed on: 21 Mar 2015
As has been the case for many years, Syliva provided wonderful service for our most recent trip to Florida. She responded promptly and offered various sensible options of accommodation and insurance to consider. Sylvia is always friendly and personable and a pleasure to communicate with. Our trip went very smoothly as a result of Sylvia's preparations. Thank you!
Recommended
Wonderful Trip!
By: Sisi
Reviewed on: 17 Sep 2015
We went on a wonderful Baltic Cruise in June 2015. We first spent 5 days in London, then embarked on our Oceania Marina ship, then spent three days in Stockholm at the end. We enjoyed the amenities of the ship very much, wonderful service, great food and friendly atmosphere. We had a busy schedule, with many shore excursions, some from Oceania and others via private tour operators. All were very good. The private tours, especially in St. Petersburg were especially good, as our tour guide was extremely knowledgeable in art and architecture, and was able to get past the crowds in the museums to give us the best possible experience. I would highly recommend Ulko Tours. And I would highly recommend our travel agent Sylvia Kortan, whose expertise and attentive service is second to none! Thank you Sylvia
Recommended
Professinal friendly expert
By: Jackie O
Reviewed on: 29 Jun 2015
I have used Sylvia numerous times and every vacation was fantastic!
Recommended
Perfection!
By: JP
Reviewed on: 25 Sep 2015
Sylvia's advice regarding our recent stay at the Taj Hotel in London, England was "spot on!" She couldn't have chosen a better accommodation for us. We have come to trust Sylvia's expertise with all our travel arrangements and have recommended her to many friends
Recommended
Surprises everywhere we went!
By: Ken
Reviewed on: 02 Nov 2015
We loved Sicily. The hotel locations are excellent, though we would not return to the hotel in Taormina. The restaurant, on the other hand, we would go visit again. We loved the people at out monastery in Ragusa Province. They really helped with our daily itinerary and the food and service was special. We also loved the location of our hotel in Agrigento. If we had to do it again, we would spend one less day in Ragusa and one more in Agrigento. One suggestion is to have handy an exact description as to where the hotels are located. Their signage is small, which made it challenging in every case to find them. Teresa and I are experienced travelers and we found Sicily to be one of the most interesting places to visit, from a food, history, architecture and fascinating sites to visit perspective. We would recommend it to anyone as a destination.
Recommended
Service above and beyond
By: Doug
Reviewed on: 22 Nov 2015
With a Lufthansa strike looming, Sylvia went out of her way to have contingency plans in place for a business trip to Germany. Bravo! As it was, everything went smoothly, as it always does with Sylvia's planning.
Recommended
Professional, reliable and friendly service
By: Carola111
Reviewed on: 04 Jul 2016
Sylvia has been my travel advisor for many, many years. She is always friendly and personable, yet very professional. She responds promptly to inquiries and provides expert recommendations. I have never encountered any glitches with the trips that Sylvia arranged for me. I can highly recommend Sylvia as a travel advisor.
Recommended
Trip to Italy 2016
By: Ronadlo
Reviewed on: 06 Jul 2016
This lady is outstanding !!!! I love her suggestions for tour guides, accommodations, limos, etc, First class lady !! Can't say enough. Thank You Sylvia.
Recommended
A wonderful unique experience , excellent
By: JR
Reviewed on: 24 Aug 2016
More than I had hoped for . A great setting with 5 star service and helpful staff.
Recommended
Tulum Mexico
By: Ronaldo K
Reviewed on: 19 Feb 2017
Over the top!!!! Great place, good call, the family loved it.
Recommended
Equator and Galapagos
By: Sandy N
Reviewed on: 07 Sep 2017
Sylvia once again organized an amazing trip for our family of 4, this time to the Galapagos. The travel itinerary was well thought out and well organized. Our accommodations were perfect for our family, especially as we have two children. The tour operator in Equador, recommended by Sylvia, took very good care of us and made everything easy. I know Sylvia listens closely to our needs as we travel and has always made wonderful suggestions. I look forward to our next adventure Sylvia! Thank you.
Recommended
She's the best!
By: Silvia
Reviewed on: 25 Oct 2017
Sylvia is a pleasure to work with. She has planned a number of trips for us in the past, always a great success. The trip we just completed was probably the most complex: A trip to South Africa and Botswana, combining city, countryside and three safaris. There were many flights and transfers involved, and several hotels and lodges we stayed at. Everything worked like a charm. Things were organized perfectly, the accommodations were just right, transfers were on time, flights pre-arranged properly etc. We had a courtesy call from the local agent in South Africa while we were on our first game reserve just to see how we were doing. Overall, I would not hesitate to recommend Sylvia to anyone wishing to travel in style and comfort anywhere in the world! Thank you Sylvia for making our trip so memorable.
Recommended
the best agent ever
By: gitte bechsgaard
Reviewed on: 27 Feb 2018
It was the best experience I have ever had with a travel agent and i felt completely taken care of at a time where my work schedule was most stressful. Sylvia is polite, generous with her time and expertise. I can highly recommend working with Sylvia Kortan.
Recommended
Ecuador and the Galapagos
By: Iole
Reviewed on: 19 Mar 2018
Amazing. Provided great advice. Organized and detailed. Answered all our questions. A pleasure. We feel very fortunate to have had her organize our trip. Thank you Sylvia! Would recommend her services to others.
Recommended
Superb customer service
By: Alex K
Reviewed on: 10 May 2018
It has been a pleasure to work with Sylvia for the past few years. Her wisdom and experience in recommending the best trip that matches our interests has resulted in very enjoyable and memorable trips. On our last vacation, while we were stranded in Frankfurt Airport due to a missed connecting flight, Sylvia set up everything to get us home before the Lufthansa customer service did. That is what we consider superb care and service.
Recommended
A wonderful trip
By: Tom
Reviewed on: 05 Jul 2018
Working with Sylvia Kortan was fantastic. She was helpful, extremely well informed, patient when we changed our minds, efficient and charming. We would recommend her without hesitation to anyone planning a trip, particularly a complicated trip with many parts. With Sylvia everything was well planned and all the bookings and plans worked perfectly. We are extremely grateful.
Recommended
Working with Sylvia Kortan
By: Evie
Reviewed on: 26 Jul 2018
She was wonderful to work with. Sylvia planned every aspect o our trip in a very efficient and timely manner . I look forwRd to working with her on my next trip.
Recommended
The Best!!!
By: Strathroy
Reviewed on: 23 Aug 2018
She is so great to work with, I thing that was our 5th or 6th trip. We did one on our own, never again. Sylvia is my hero!!
Recommended
Baltic Sea Cruise
By: Judy Bloink
Reviewed on: 14 Sep 2018
Sylvia came through for us on everything we asked. She responded quickly and always provided excellent service
Recommended
Bordeaux cruise
By: Pam
Reviewed on: 26 Sep 2018
She is excellent to work with
Recommended
Best travel advisor ever
By: Silvia
Reviewed on: 11 Oct 2018
We love Sylvia. She has planned trips for us before, always excellent. She is very knowledgeable and will advise us appropriately on every detail of our plans. We trust and rely on her completely to plan our trips for us.
Recommended
Sylvia kortan
By: Letty Colaljo
Reviewed on: 08 Jan 2019
Very good excellent service
Recommended
Best travel advisor!
By: Val
Reviewed on: 23 Jan 2019
Sylvia is so lovely to work with and I can always confidently rest back knowing that she is taking care of my travel details. High recommend!
Recommended
She's simply the best!
By: Val
Reviewed on: 04 Mar 2019
Sylvia is so lovely to work with. She is thoughtful and responsive. She takes care of things that I would not be able to figure out on my own and takes the stress out of booking a flight. Even though I am relatively young (30) I still prefer to go through Sylvia than to book tickets myself online. Highly recommend.
Recommended
Excellent travel planner
By: Silvia
Reviewed on: 02 Apr 2019
We love Sylvia! She is knowledgeable and very detail oriented about everything, making our travel always a pleasure.
Recommended
Trip south
By: Hazel
Reviewed on: 06 May 2019
Sylvia was great. She listened to what we wanted and was interested in yet challenged us. Her recommendation was our favourite spot. Would definitely use her again
Working with Sylvia Kortan, you will have access to:
- An experienced travel guide whom you can rely on before, during, and after the trip
- Exclusive luxury resorts and properties
- Once in a lifetime experiences
Explore with the Best
Virtuoso Advisors are constantly pushing the boundaries in unique travel experiences.
Alliance programs are unique tailored experiences exclusive to travelers working with Virtuoso Travel Advisors.
learn more
Belgium
Chile
United Kingdom
Argentina
Brazil
Czech Republic
France
Germany
Italy
Netherlands
Peru
Portugal
Spain
Austria