Travel Specialties
Interests
Adventure
Culture, History & Arts
Sports & Outdoors
Spa Vacations
Independent Tours
Destinations
Ireland
Costa Rica
Greece
Portugal
Selling Travel Since
2007
My Background
As a Virtuoso Advisor who has worked in the travel industry for over 13 years, I work collaboratively with clients and their families to create unique vacation experiences. Interests include culture & the arts, health & wellness, outdoor adventures, and nature-based travel. Some of my favorite activities are yoga, meditation, hiking, kayaking, snorkeling and SUP. I also lead an annual group to Canyon Ranch in Lenox, Mass...let me know if you'd like to join!
Places I Have Traveled
Reviews and Recommendations for Georgia Smith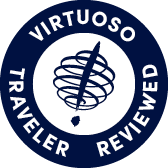 Virtuoso Verified Traveler
All reviews are from confirmed guests sharing exclusive insights
Sort reviews by
Recommended
Highly recommended!!
By: Maria G
Reviewed on: 01 Oct 2013
Working with Georgia on our trip to Greece was a wonderful experience. She answered all of our questions in a timely and complete manner and was always free to bounce new ideas off of for tours. we have planned a trip with a number of different flights and 4 different properties in Athens and Santorini and all went smoothly. All the transfers, reservations, tours, and accommodations blended together flawlessly.
Recommended
Highly recommended!
By: Pat
Reviewed on: 30 Jun 2014
Georgia takes a warm personal approach to making sure all is well with your trip. I highly recommend her! I appreciated her follow-up after we returned. Thank you, Georgia!
Recommended
excellent service
By: john
Reviewed on: 21 Sep 2014
Everything worked out as planned--- airlines, car etc. Will definitely call you the next time.
Recommended
Friendly service and strong Caribbean knowledge
By: Mary G
Reviewed on: 05 Jan 2015
Georgia was very helpful and knowledgable in arranging our trip to St. Thomas. She in contact with the resort many times to assure that all of our questions were addressed completely. Her knowledge of the US and British British Islands was key in our decision to take certain day trips and plan activities while in St. Thomas. The reservations coordinator made a point to speak to us about how wonderful it was to work with georgia in setting up our vacation and insisted that georgia come down to St. Thomas to say hello!
Recommended
On the money!
By: David
Reviewed on: 16 Apr 2015
Helpful, as always. Made best available air reservations subject to our guidelines, as well as Hertz rental. Also made reservation for us for two hotels we chose after doing our own research. Everything worked out well, including timely travel and pretty good weather. Thanks.
Recommended
Had great ideas to help with day tours
By: manne
Reviewed on: 22 Apr 2015
We had a great trip And Georgia was very helpful with our hotels and day trips. Could not have done it without her!
Recommended
Great cruise and add ons
By: diesel314
Reviewed on: 05 Jul 2015
We had a rather complicated itinerary with a few days in London, then a cruise from Athens to Venice and finally a few days in Venice. Everything came off without any difficulties. It turned out to be cheaper to book the airfare as two different trips (RT to London) then Open jaw London/Athens, Venice/London which only made checking luggage in Venice a little complicated but we saved a ton as a result. The cruise was very nice, especially the stops in Montenegro and Croatia. Georgia arranged tours through someone in Venice and they did a great job taking us around the city after the cruise.
Recommended
Responsive service
By: MaryMidge
Reviewed on: 10 Jul 2015
Georgia made excellent choices for our hotel stays in Athens and Venice. The related transfers, private tours, and restaurant recommendations were perfect for our family group. During the trip's planning phase, Georgia responded quickly to all my questions. The result was an amazing vacation with no anxieties.
Recommended
Great trip, successful bookings
By: S&J
Reviewed on: 02 Nov 2015
Georgia Smith set up a wonderful trip for us, with comfortable timing and good seating on many flights through several countries: US, Tokyo, Vietnam, Indonesia, and Hong Kong. She arranged the visas (we did our own hotels, and some shorter flights ourselves) and got upgrades on seat locations for the long flights. She did it all quickly, and checked with us on each part of the journey as she arranged the flights, and also timed them so there was never any rush to make the next connection. There were no problems at any point along the way about ticketing or seating.
Recommended
Baltic Trip
By: Ed Railrover
Reviewed on: 12 Nov 2015
Georgia did a first rate job .. Lots of research ! Hotels all 4 were excellent as well as the guides. There countries we visited ( Estonia, Latvia and Luthuvania) are not yet major destinations for Americans .. Georgia was in constant touch with us until we finalized the trip. She immediately followed up upon our return as to how it went. She is a true professional! Ed and Chris McCabe
Recommended
Efficient, Fantastic and professional attention
By: Artie 3
Reviewed on: 06 Nov 2015
Georgia has helped us several times during the past 5 years. We ask for her because she is attentive, courteous, efficient, and creatively professional. We plan to give her more business.
Recommended
Friendly Travel Expert
By: Bud
Reviewed on: 07 Nov 2015
Great job co-ordinating multiple clients' schedules.
Recommended
HIGHLY RECOMMENDED!
By: Kim
Reviewed on: 30 Jan 2016
When I decided to celebrate a milestone birthday with my sister, I contacted Georgia for her expertise. Georgia helped us plan our trip to Canyon Ranch, Lenox, MA. Having been there herself, she advised us on the facility, dining options, and overall programs offered. Upon our arrival, there was a little gift for me in my room acknowledging my celebration - thanks to Georgia! Georgia is the most conscientious and professional travel agent I've worked with. She immediately followed up upon our return to see if we enjoyed our experience. We had a wonderful time at Canyon Ranch and can't wait to go back! I highly recommend Georgia to anyone planning a trip.
Recommended
Exceptional Experience
By: Lucy
Reviewed on: 13 Apr 2016
Georgia created an exceptional experience for us at the Mayflower Hotel. We would not have found the Mayflower without her time and guidance. Georgia took the time to understand our travel requirements and the dates that we could not change. She found us a property that we could not have found without her recommendation. Georgia also got us an upgrade to a truly outstanding room. Starting with Georgia's planning to our departure we had an exceptional experience. The Mayflower property and location was just beautiful and the spa was amazing with unique offerings. Georgia is a very talented and a thoughtful Advisor. We will book all our trips with her based on this fantastic experience. We are grateful for her support. She is listens and takes the time to create a world class experience. Five stars to Georgia.
Recommended
Awesome trip
By: Jeff
Reviewed on: 06 May 2016
She found the best hotel in the best spot for a family! We had a wonderful trip to St Croix at the Buccaneer Hotel.
Recommended
made our dream come true
By: kmccoll
Reviewed on: 10 Aug 2016
Georgia arranged the most amazing trip for our family. With just a few weeks notice she put together a trip that allowed us to enjoy the authenticity and diversity of Belize. We were thrilled with the properties where we stayed for their natural beauty and outstanding service and the transfers and helpful tips along the way were invaluable. An amazing vacation full of wonderful family memories. Thank you!
Recommended
expert friendly service!!!
By: happygolucky
Reviewed on: 27 Sep 2016
Georgia is a superb travel planner and does excellent follow up. I have worked with her many years and received the same consistent top professional results.
Recommended
great ideas
By: Sus
Reviewed on: 06 Oct 2016
We had a great trip through the Canadian Rockies. Georgia was very helpful with planning the train/car road trip portion
Recommended
Magnificent, professional and courteous
By: Art
Reviewed on: 06 Oct 2016
Our trips take place in November. I'll write again after we land and get home safely. Thus far, however, we intend to use Manchester Travel to schedule all future flights. Georgia was particularly attentive and efficient,.
Recommended
Great trip!
By: Christy
Reviewed on: 06 Oct 2016
Wonderfully planned trip to Ritz Carlton in Marina Del Ray!
Recommended
Geogia is great
By: i am who i am
Reviewed on: 10 Jan 2017
Georgia does an excellent job with complicated travel plans that sometimes have moving parts, her expertise, professionalism and personal warmth have me so spoiled that I can no longer imagine travel without her help.
Recommended
Another exceptional trip...
By: Lifetime Client
Reviewed on: 05 May 2017
Georgia is an extremely talented advisor. She takes the time understand our family needs and then locate a hotel that exceeds all expectations. She did this once again at The Towers at Lotte New York Palace. The view of St. Patrick's Cathedral was breathtaking from our hotel window. The hotel was lavish and the room exceptional. The staff at the hotel ensured everything was just perfect. We will only book our vacations with Georgia as she always creates the most memorable experiences. Thank you!
Recommended
thumbs up
By: sus
Reviewed on: 10 Aug 2017
Always a positive where I change my mind along the way Georgia is there with the answers
Recommended
Very nice and organized
By: Christy
Reviewed on: 22 Oct 2017
Easy and efficient!
Recommended
London and Greece
By: Maria G
Reviewed on: 26 Nov 2017
Georgia's planning of the trip to London and Greece was wonderful. We saw so many amazing historical and royal items in London and the tour company guide she planned was so nice and knowledgeable! We spent eight hours touring London and it was a great day. Georgia's planning and arrangements in Greece were also spot on. Everything went off without a hitch. Working with Georgia is so easy and comfortable and it makes my traveling abroad so much better - without stress of worry
Recommended
Palm Beach
By: Christy
Reviewed on: 10 Dec 2017
Lovely , very professional, competent!
Recommended
Chile
By: Ana
Reviewed on: 20 Dec 2017
Georgia is amazing to work with. She gave focused attention to every detail and exhibited great patience answering my many many questions.
Recommended
Awesome
By: 33
Reviewed on: 04 Mar 2018
A great experience! On short notice she made the trip an amazing time!
Recommended
vacation
By: sus
Reviewed on: 21 Apr 2018
Working with Goergia is always great. Whenever we come back she likes our feedback of our trip-things we did where we ate etc.
Recommended
Memories Made with Georgia
By: Happy Client, MA
Reviewed on: 29 Apr 2018
Georgia Smith truly takes the time to truly understand and assist the needs of her clients. I had some last minute changes with my schedule and needed a wonderful retreat with very limited notice for Georgia. She took control and found the best options including all the requested details plus more. She exceeded all my expectations and created a truly memorable experience. Georgia fully understands her clients requests and matches them with the Virtuoso properties. Georgia is a true professional when it comes to travel and leisure. I am so appreciative of her many skills and her care and concern for my interests. Anyone that works with Georgia will have an experience of a lifetime. I am truly grateful to her!
Recommended
Delighted Client
By: Delighted Customer
Reviewed on: 11 Aug 2018
We are so appreciative of Georgia and her many skills. We connect with Georgia for all levels of trip guidance and booking. Georgia once again created and booked a memorable experience at the Fairmont La Chateau Frontenac in Quebec, Canada. She worked with the Fairmont staff to help us fully experience a week of adventure and fond memories. She found a room that was perfect for our family of four. We have referred Georgia to many of our friends and they have reported exceptional experiences with her. Georgia is a trusted advisor who truly cares that we create the most memorable travel and family experiences. We are so grateful! Thank you Georgia!
Recommended
Georgia Smith Works Miracles
By: casbah
Reviewed on: 09 Aug 2018
I am a travel agents nightmare. I am neurotic about my seat and it's placement. Close physical proximity to strangers gives me severe anxiety. Physical problems require an aisle seat. I cannot afford first class. Recently due to a death in the family I needed to travel over seas in the peak of vacation season. Georgia not only got me seats that I could tolerate at absolute last minute but she was able to change my return trip with no extra fee. All this while her office was in the middle of being moved. Through it all she was kind, patient, compassionate and efficient. My connections ( which require me more time then most ) were all flawlessly executed. You could not do better than Georgia. I hope her boss sees this.
Recommended
college trip
By: sus
Reviewed on: 23 Aug 2018
Working with Georgia was great. We are college touring and she has been very helpful
Recommended
Tops
By: ootlooseandfancyfree
Reviewed on: 14 Oct 2018
Georgia is an excellent travel consultant...very detail oriented. We have worked together for many years.
Recommended
Trip to Peloponnesus, Greece
By: Maria G
Reviewed on: 14 Oct 2018
It was wonderful working with Georgia to plan my trip to Greece. This was my fourth trip to Greece planned with Georgia and I could not recommend her more. She planned an itinerary for things to do in Athens, Sparta, and Monemvasia. Her knowledge of Greece made our trip successful.
Recommended
her excellence georgia smith
By: me again
Reviewed on: 07 Nov 2018
if everyone that I work with at my job was as Great as Georgia Smith I would be the happiest person on earth. People like Georgia are hard to come by, seriously, she is one in a million.
Recommended
Fantastic trip
By: My island adventure
Reviewed on: 02 Mar 2019
Georgia invited us to consider Bermuda in November. We trusted her and experienced a tropical paradise. Since we are from the East Coast, this was a welcomed change from the cold temperatures. She selected the Fairmont Southampton and it was a delightful place with a breath taking private beach. We encountered a Rugby Tournament and enjoyed meeting so many people from around the world. Georgia created another adventure that we will never forget.
Recommended
Great travel advisor- Georgia Smith
By: Mary G
Reviewed on: 13 Jan 2019
It was such a pleasure to work with Georgia Smith, she was helpful, friendly, and instrumental in organizing a wonderful weekend at Canyon Ranch. She was available to answer all our group's questions both before and during our trip - making our weekend flawless and fun.
Recommended
Wellness Resort Expert
By: Amazing Experience at Canyon Ranch
Reviewed on: 02 Mar 2019
Georgia has opened my eyes to the Wellness Resort lifestyle. We had our first trip with Georgia at Canyon Ranch and we loved it. It was like a Disney experience for adults. Each day was filled with adventure, great food and new friends. Georgia has the pulse on the Wellness Resort offerings. We are already planning our next year event with Georgia. It exceeded all my expectations!
Recommended
Excellent service
By: Relaxed traveler
Reviewed on: 14 Jan 2019
Georgia was extremely attentive to the groups needs and made sure we had everything we needed to maximize our stay at Canyon Ranch.
Recommended
Colorado
By: Sus
Reviewed on: 24 Feb 2019
Georgia is always great to work with She recommended a specific room for our trip and it was perfect
Recommended
Another memorable experience
By: A very happy client
Reviewed on: 02 Mar 2019
Georgia is a truly talented in her role. Georgia takes the time to understand what our family wants and finds a way to meet and exceed our expectations. She has done it again by helping us create a truly memorable San Francisco experience. We work exclusively with Georgia and the Virtuoso locations. We value and appreciate all that you do to help us make memories!
Recommended
Highly Recommended!
By: Kim
Reviewed on: 05 Jul 2019
Georgia was very helpful in arranging our wonderful trip to The Reef in Atlantis, Bahamas. She is knowledgeable, patient, and guided us with all our questions. The Reef hotel was picturesque, clean, quiet and had a beautiful private beach. Being a Virtuoso client, we enjoyed a complimentary daily breakfast buffet and food credit which was much appreciated. We had a great experience at Atlantis resort. Georgia also arranged our round trip transfer with private transportation. We had the same woman driving us to and from the airport. She was prompt and very sweet. We can't thank Georgia enough for the time she spent arranging our trip and her thoughtful follow up. We are repeat customers and will use Georgia for all our future travel needs.
Recommended
Exceptional Traveler Experience
By: Exceptional Travel Experience
Reviewed on: 15 Jul 2019
Georgia is an exceptional travel professional. She takes the time to fully understand the needs of our family and then finds the perfect destination. Travel is complicated these days and Georgia handles on the details for her client. All our family trips are planned by Georgia. We would not consider any other way! She takes a world view and creates the most exciting and memorable experiences. Thank you!
Recommended
West coast
By: Sus
Reviewed on: 23 Aug 2019
Working with Georgia was great. We had a great time on our recent vacation. And Georgia picked nice hotels for us
Recommended
Exceptional Travel Advisor, Georgia Smith
By: Stephanie
Reviewed on: 26 Aug 2019
Georgia has been an exceptional travel advisor for my family over the past several years ... Her knowledge of premier destinations around the world coupled with her focus on "the right fit" vacation experience for her clients has made our family vacations some of the most memorable experiences we've had. I highly recommend Georgia!
Recommended
Grateful Client
By: Grateful Client
Reviewed on: 16 Dec 2019
Georgia introduced our family to Amelia Island. She worked diligently to find the perfect location with our many family requirements. We had a wonderful experience. It was the perfect get away! The location was outstanding, weather perfect and we created many family memories. We plan exclusively with Georgia for our vacations. We all know we will have a fantastic trip if Georgia plans it. Thank you Georgia for all you do!
Recommended
Exceptional Travel Advisor
By: The Donnelly's
Reviewed on: 11 Jan 2020
Georgia has been planning our family trips for many years now. Every trip she has planned has been an exceptional experience for my entire family - the accommodations, locations, service, food, etc ... Georgia always recommends virtuoso properties for our trips and inevitably we are always so pleased! A big thank you to Georgia from the Donnelly Family for introducing us to The Virtuoso experience!
Recommended
Great advising and help on Canyon Ranch trip
By: Mary G.
Reviewed on: 11 Jan 2020
Excellent! Georgia was most helpful in planning the trip. She was very knowledge about the property, the rooms, the activities, and the lectures/presentations at Canyon Ranch.
Recommended
Outstanding trip
By: Liz
Reviewed on: 20 Jan 2020
Georgia did an outstanding job of taking care of all of the details and kept me informed.
Recommended
Excellent support
By: Nana
Reviewed on: 03 Feb 2020
Manchester Travel Company was very responsive to our questions and what we were looking for.
Recommended
Georgia went above and beyond!
By: Maura Allard
Reviewed on: 06 Feb 2020
Georgia's communication with the group was informative, professional and genuine. She arranged an amazing weekend for the group.
Recommended
Great advise!
By: Christy
Reviewed on: 07 Mar 2020
Terrific, very professional and helpful!
Recommended
we had to cancel
By: sus
Reviewed on: 20 Mar 2020
Working with Georgia was great. We had to cancel and rebook and she handled everything. And she was able to get a credit for a future flight on a separate issue
Recommended
Excellent Advisor
By: Christina
Reviewed on: 24 Oct 2020
Georgi Smith was a pleasure to work with and I would highly recommend her. Georgia was not only professional and knowledgeable but she offered great insight to the pathways and programs that would best suit me during my stay. Her vast knowledge on Canyon Ranch and their philosophy to wellness helped me decide to go there. She was also able to give great detail and guidance on pathways and services through both her personal experiences and of those of her clients. Georgia greatly assisted in planning one of the most memorable and meaningful experiences in my life!
Working with Georgia Smith, you will have access to:
- An experienced travel guide whom you can rely on before, during, and after the trip
- Exclusive luxury resorts and properties
- Once in a lifetime experiences
Explore with the Best
Virtuoso Advisors are constantly pushing the boundaries in unique travel experiences.
Alliance programs are unique tailored experiences exclusive to travelers working with Virtuoso Travel Advisors.
learn more
Ireland
Costa Rica
Greece
Portugal