Rebecca Falkenberry
ATC, CTA
St. Petersburg, FL United States
Travel Specialties
Interests
Adventure
Sports & Outdoors
Safari
Destinations
Panama
Canada
Belize
United States - All
Selling Travel Since
2008
My Background
Rebecca Falkenberry has been involved in the travel industry since 1994. She spent the first part of her career working for International Expeditions, helping plan Amazon Rainforest Workshops and taking large groups to Peru and Machu Picchu. Rebecca has traveled widely! Her incredible experiences include riding elephants in Nepal; walking through the Dali Lama's winter palace in Tibet; whale watching in Sea of Cortez; two month-long European vacations, driving from Sweden to Italy; spending six weeks in Greece; snorkeling in Hawaii, Costa Rica, Galapagos, and Tahiti; walking on glaciers in Alaska and Patagonia; biking in Tuscany and Switzerland; and driving the Pacific coast highway from San Diego to Canada, to name a few!

Rebecca is passionate about preserving natural areas of the planet through ecotourism, while still allowing visitors to view places they only dreamed of. She volunteers with conservation organizations, which helps her focus on nature/wildlife and adventure ecotourism travel. Rebecca wants to help her clients see the last remaining undeveloped places on the planet before they are gone.
Rebecca loves both the big picture and the small details of travel, and helping her clients enjoy their well-deserved vacations by taking care of their plans. Her favorite types of travel include small ship cruises to the world's most exotic places and combining luxury with adventure. She loves to advise clients on how they can experience a big city and also get some activity and nature in the mix, like biking across the Golden Gate Bridge in San Francisco.
Places I Have Traveled
Reviews and Recommendations for Rebecca Falkenberry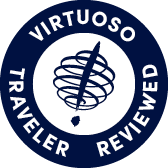 Virtuoso Verified Traveler
All reviews are from confirmed guests sharing exclusive insights
Sort reviews by
Recommended
The importance of a travel consultant
By: Patti
Reviewed on: 30 Nov 2013
As a Virtuoso travel consultant, Rebecca is outstanding. She was always available to answer my questions and she helped make all of our arrangements. This is the second trip that Rebecca has helped me with and I will continue to use her knowledge and talent for my travel needs.
Recommended
Super travel agent!
By: Elwood
Reviewed on: 30 Jan 2014
Rebecca is just what I want in a travel agent. She is knowledgeable and helpful but does not push any particular destinations or companies. She knows what we like and helps us find just the right trips, ranging from package tours (the recent Viking trip) to individually planned outings (last spring's trip to Bologna). And when she is needed she has been most helpful in sorting out problems. The kind of thing only a travel agent can do.
Recommended
Highly Recommended
By: Lisa
Reviewed on: 09 Feb 2014
We have been working with Rebecca for over five years and keep coming back for more. She is organized, professional, responsive and has given us some great suggestions for trips we might not have thought of on our own. 
Recommended
Rebecca is fabulous!
By: Muriel
Reviewed on: 06 Mar 2014
We have worked with Rebecca for years and cannot imagine trip planning without her.
Recommended
Very Highly Recommended!
By: Teacher Tim
Reviewed on: 10 Mar 2014
We have found Rebecca to be a splendid travel consultant for 20 years.From the engagement of excellent professors to be our personal guides in Russia and the Vatican, to a meticulously planned trip for a climb to Macchu Picchu, along with many European and South African trips as well, she has patiently and most professionally planned our business and pleasure travel, and then followed up to ensure that all went as desired.Rebecca is the embodiment of what Virtuoso travel means-excellence, luxury and commitment to the clients' pleasure and safety.
Recommended
By: Not provided
Reviewed on: 12 Jul 2014
Rebecca is always helpful and willing to go to great lengths to help insure there are no major problems or issues with travel plans.  This is my third trip she has helped us with and I will continue to use her services.
Recommended
We highly recommend Rebecca.
By: Nancy
Reviewed on: 21 Jul 2014
We began using Rebecca in 2000 and have used her for all our trips since.  She has been outstanding in the service she provided.  She always has everything organized and the sub-contractors (guides, drivers, etc.) have always met our high expectations. Working with her through e-mail has been easy, and if needed, she has been just a phone call away. If we just "want to get away" Rebecca has had some wonderful trip suggestions for us.  We have recommended her to many folks and we look forward to planning our next trip with her.
Recommended
Wonderful Trip
By: Renee
Reviewed on: 20 Oct 2014
My trip to Russia planned by Rebecca was terrific! All went off without a hitch and we enjoyed ourselves immensely. Especially appreciated that she booked us on special tours that I would not have known to do. She was also very reassuring about any qualms or worries we had. Very helpful and professional!
Recommended
SAVOY
By: TONY
Reviewed on: 17 Oct 2014
Savoy was great they upgraded us to a full suite and treated us like royalty. Ryder Cup was a disappointment as 50,000 fans crowded four holes. Tmp 49 and windy. We had bot a space in a luxury tent and spent the whole time watching TV and eating and drinking--never saw a golfer. All our drivers were great
Recommended
Awesome...yet again!!!
By: Membuttsnguts
Reviewed on: 05 Feb 2015
Yet again, Rebecca has planned a seamlessly flowing, well organized lifetime event for me. The properties for my stay were absolutely wonderful to include the Virtuoso amenities. Qualia and Southern Ocean Lodge are undoubtedly two of the best properties I've ever had the pleasure of encountering. Both properties allow for amazing guststory and visual experiences that will blow a travelers mind. My transfers were very professional and typically punctual. I am grateful, once more, to Rebecca for all of her hard work.
Recommended
Excellent
By: Blaine
Reviewed on: 22 Mar 2015
This is the third cruise we have booked with Rebecca's assistance. In every case, she has been attentive, informative, and knowledgeable. She has also arranged for special amenites and discounts, and kept us notified of upgrade and post-cruise options and opportunities. Most notably, she has been almost instantly responsivle when a problem or question has arisen, especially as the cruise sailing date approaches. She is a conscientious travel partner and counselor, and we plan to ask for her assistance in the future.
Recommended
The tour escort makes all the difference
By: Elwood
Reviewed on: 23 Apr 2015
The sights were great (Great Wall, 3 gorges, Terra Cotta army, etc.), the food was always good with many choices at every meal, and being on the boat for most of the trip was very convenient. But it was the personal service of the tour escort that made the trip out of the ordinary. "Chuck" was there at the airport when we arrived and saw us to the check-in counter when we left. In between he was always there to answer questions, provide directions, and most important, just see that everything went like clock-work. We had to worry about nothing, just sit back, learn about China and enjoy the trip. But equally important, he shared many of his personal experiences with us. He explained the ins-and-outs of buying an apartment in Beijing, his experience as a child during the cultural revolution, and the fact that that he was in Tiamanmen Square during the demonstrations. It just made the whole experience of being in a different culture so much more meaningful.
Recommended
wonderful service!
By: Drexey
Reviewed on: 21 Sep 2015
I called Rebecca and she had the information to us the next day. She was right on top of everything and most helpful even when I was changing things around (we took off on our own after the planned trip). I recommend her to everyone!
Recommended
Everything went perfectly
By: Patti
Reviewed on: 13 Sep 2015
As our advisor, Rebecca took care of all our needs. Our train tickets were delivered to our B &B in Edinburgh, our B&B in Inverness was perfect, our transport to the airport in Inverness was on time. Everything happened just as promised.
Recommended
Did more than expected.
By: Karen and Mike Yodel!
Reviewed on: 05 Nov 2015
Rebecca put together a marvelous European vacation for us, a group of 8. We were four couples from two states and all of us had certain requests. Rebecca was able to assemble the necessary transportation, hotels and tours for Austria, Italy, Switzerland, all within a two week span. She did wonders! Thanks, Rebecca!
Recommended
Expert professional service
By: LEW
Reviewed on: 03 Dec 2015
Rebecca has always done a great job for us, but she really pulled it out of the hat on our last trip, when for some reason the condo unit we had booked in January at Plantation Residences in Puerto Rico for the Thanksgiving week was pulled the day before we were to arrive. We were told the unit owner wanted it back and they initially offered us $250 in compensation. Five people had booked flights and taken time off from work for this. We couldn't believe it and told Rebecca that offer wasn't even close. She went back to the land operator and, although the error does not appear to have been on their end, negotiated a much more acceptable settlement. We went, really enjoyed our time and while we're not sure we would return to that particular facility, ended up feeling that we had been taken care of.
Recommended
Excellent Planner
By: Nctraveler
Reviewed on: 05 Jan 2016
I called Rebecca to help with a family gathering on Royal Caribbean. We had 12 cabins in total with various pre- and post-cruise arrangements. We also requested private excursions for our cruise. Rebecca was very helpful with all of our needs. She even saved us nearly $12,000 when the cruise dropped its prices after our bookings! Rebecca was very attentive to our trip and even checked in with me while we were cruising. The problems we encountered on board had to do with Royal Caribbean itself. They do not have all the right systems and processes in place to manage large groups.
Recommended
Attention to Details
By: mdtd111
Reviewed on: 07 Mar 2016
Rebecca is excellent with attention to details. She always reminds me of things to consider for the trip and items to remember. Rebecca would also send me an email during a trip to ensure that all is going well, and then follows up with me once I have returned from the trip. This monitoring is much appreciated in case some thing goes awry, Rebecca can then immediately address instead of waiting until the trip is finished.
Recommended
Takes care of all the details
By: danders21
Reviewed on: 31 May 2016
The recent trip that my wife and I took to Cuba may be one of the last before the situation changes radically and you will no longer be able to get a real feel for Cuba. Rebecca did all the arrangements for the tour once we had chosen our tour date. She knew just how to get all the details done so that we had little to do except enjoy the trip. In my view, the reason to use a travel agent is so that you don't need to be concerned with the details. Of course, that means that the travel agent must know what you want in a trip as well as know the details of travel in a particular country. Rebecca fits both needs very well. We have never been disappointed in any trip she has arranged.
Recommended
Turks and Caicos
By: nctraveler
Reviewed on: 22 Feb 2017
Rebecca took care of our airport transfers, dining and spa reservations, and excursions prior to our arriving at the hotel (Grace Bay Club). On the day of travel, Rebecca was available to manage last minute changes due to a missed connection that delayed our arrival at the hotel by a day. She got right on the phone with the hotel to inform them of the changes as soon as I contacted her and was able to get the hotel to honor our prepaid trip in full even though we arrived one day later. Rebecca also emailed me the day of our arrival to check in with me to ensure that all went smoothly. I truly appreciate her care and concern for her clients.
Recommended
Thumbs Up
By: Cara
Reviewed on: 06 Mar 2017
She is great at trip planning. I always felt comfortable that I didn't have to worry about the details. She had all under control.
Recommended
Travel in style and class with Rebecca!
By: Travel duo
Reviewed on: 23 Apr 2017
Working with Rebecca has been off the charts! Consistently. My wife and I have planned trips to Rome, South Africa, Peru, Ireland, London, Paris, St. Petersburg and more with Rebecca Falkenberry for over 20 years. As an admittedly picky traveler with definite choices on which Virtuoso property and exactly which historical itinerary will suit, she brings it! She has also fulfilled the exacting desires of a clutch of our friends whom we connected to her. The consistent response, "Rebecca rocks!" She is the consummate travel consultant.
Recommended
Cruise the land of the rising sun
By: danders1
Reviewed on: 06 May 2017
This was a great combination of both a great tour company (Tauck) and a great cruise company (Ponant). The guides were great and we learned a great deal not just about the history of Japan but the people who live there today. Food was very good and the comfort of being the in the same be every night was outstanding.
Recommended
First post-stroke trip
By: Maria
Reviewed on: 16 Jun 2017
All details thought through. Wonderful decisions and I'll travel again with Rebecca's help!
Recommended
Europe vacation
By: Europe
Reviewed on: 23 Aug 2017
Working with Rebecca was a delight she's very knowledgeable and patience,thoughtful Our family love her!!!!!
Recommended
Advisor
By: Lynn
Reviewed on: 10 Sep 2017
Great, attentive to details, very heloful when we needed answers. Will continue to use Rebecca.
Recommended
Great river trip
By: Danders
Reviewed on: 05 Oct 2017
This is our third trip with Viking and I am still impressed with the level of service that they provide. Rebecca made all the arrangements, including both a pre-cruise and post-cruise stay. Having her do the contact with Viking makes these trip so much less stressful. You know that things will be done right and if there might be a problem, she is right there to take care of us.
Recommended
Wonderful advice
By: Cara
Reviewed on: 12 Dec 2017
Rebecca is awesome. She really knows her way around travel.
Recommended
BBF
By: Yoda
Reviewed on: 15 Jan 2018
Amazing as always
Recommended
Celebrity Eclipse Jan 2018
By: TDNC
Reviewed on: 10 Feb 2018
Rebecca was informative with our reservation and provided all needed information prior to our departure to ensure a smooth sailing.
Recommended
Rebecca
By: Hate Reviews
Reviewed on: 21 Feb 2018
We've been working with Rebecca for almost 10 years and she always does an outstanding job. She's knowledgeable, efficient and responsive.
Recommended
Great cruise
By: danders
Reviewed on: 26 Mar 2018
Rebecca is easy to work with. She knows the important facts about how I like to travel and makes it easy to get just the trip I want. When I have a question she is right there will the answer.
Recommended
Very Helpful Travel Advisor
By: TravelNC
Reviewed on: 28 Mar 2018
Rebecca was very helpful in planning the trip for us since it was a bit more complicated than most of our trips. We had major issues with cruise while traveling and Rebecca helped escalate the issue with the cruise line. Due to the issues with the cruise, we decided to make some travel plans and Rebecca was readily available and worked with the cruise, hotel and airline to adjust our travel arrangements. Without Rebecca's assistance from the time of pre-, during, and post-travel, we would have to waste much of our time managing the issues and changes instead of truly enjoying our vacation.
Recommended
Perfection
By: MBD
Reviewed on: 08 Apr 2018
Long distance but she made it easy!
Recommended
Fabulous trip advisor
By: Mimi
Reviewed on: 13 Apr 2018
She's a treasure!
Working with Rebecca Falkenberry, you will have access to:
- An experienced travel guide whom you can rely on before, during, and after the trip
- Exclusive luxury resorts and properties
- Once in a lifetime experiences
Explore with the Best
Virtuoso Advisors are constantly pushing the boundaries in unique travel experiences.
Alliance programs are unique tailored experiences exclusive to travelers working with Virtuoso Travel Advisors.
learn more
Panama
Canada
Belize
United States - All