Travel Specialties
Interests
Beach & Sun
Honeymoons
Sports & Outdoors
Ocean Cruising
River Cruising
Destinations
United States - All
Australia
New Zealand
Croatia
French Polynesia
Selling Travel Since
1995
My Background
A luxury travel advisor for twenty years, Valerie has had the opportunity to create many lasting memories for her clients by offering exclusive amenities, access and experience available only through Virtuoso, the leading luxury travel network.
Places I Have Traveled
Reviews and Recommendations for Valerie Rooney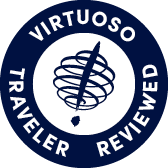 Virtuoso Verified Traveler
All reviews are from confirmed guests sharing exclusive insights
Sort reviews by
Recommended
Lady speaks truth
By: Special Ed
Reviewed on: 04 Jul 2015
The Tauck tour we just returned from was as advertised, very well done, with some extras we were not expecting.
Recommended
All went well.
By: Jim
Reviewed on: 28 Jul 2015
This time Valerie Rooney just set up airline travel for us. Since we flew from NM to Spain, then returned from Venice to Seattle and then finally back to NM it was difficult to set up at the dates we wanted. All went very well. All parts of the journey were as good as possibly could be. Great job.
Recommended
The service and professionalism is A one!
By: Deb H
Reviewed on: 26 Sep 2015
Unfortunately our trip had to be canceled do to an injury but the booking and all that went with it was done perfectly. We have since booked several more trips and look forward to them.
Recommended
Excellent Service!
By: RussandKathy
Reviewed on: 09 Oct 2015
Valerie was extremely helpful in setting up our cruise and land program. Everything she set up went perfectly. We are happy to recommend her to anyone else who is traveling.
Recommended
DISNEY 2015
By: DISNEY DAD
Reviewed on: 28 Nov 2015
EVERYTHING FROM FIRST IDEA TO THE FINAL TOUCHES WAS AS EASY AS IT HAS EVER BEEN. THANKS TO VALERIE AT CAMELBACK TRAVEL SHE IS A TRUE ASSET TO THAT TEAM. WILL DEFINATLY USE HER AGAIN FOR FUTURE TRAVEL PLANS. THANKS FOR YOUR EFFORTS YOU MADE IT EASY.
Recommended
great resort
By: larry
Reviewed on: 30 Dec 2015
great stay. very dog friendly. everyone loved our dog and other dogs. great service and great food. amenity was great.
Recommended
First Cruise for Granddaughter
By: Mary14
Reviewed on: 17 Mar 2016
If a five star review is dependent only on our granddaughter's enjoyment of Royal Caribbean's kids'club, Adventure Ocean, I could end right here with smiles, rainbows and fireworks! But beyond that, our five day cruise on the Independence of the Seas was wonderful. It was a joy to watch both our granddaughter and son-in-law experience their first cruise. The highlights were our most attentive waiter and assistant waiter, the amazing ice show, the best beach day ever at Labadee, Haiti and Dunn's River Falls in Jamaica. Just watching the ocean roll by from our balcony was also very special. Without our travel consultant, Valerie Rooney, the planning would not have gone so smoothly. Her prompt responses and suggestions were truly appreciated. We are looking forward to our Amazin cruise next year and working with Valerie again.
Recommended
Voila!!!!
By: Sue and John
Reviewed on: 28 Apr 2016
We had a wonderful experience working with Valerie. She provided us with all of the information required, including the smallest of details. We highly recommend her and wouldn't hesitate to collaborate with her in any future travel plans. Thank you so much!!!!
Recommended
Top notch in every way.
By: Laurel and Jim
Reviewed on: 15 Jun 2016
Every detail of the trip was perfectly arranged with no issues. Valerie was a pleasure to work with.
Recommended
Friendly and efficient service.
By: Sue42
Reviewed on: 18 Jun 2016
Excellent service - lots of help in planning our trip. Only 2 items were not up the usual Crystal standards. The choices in the Lido and the main dining were not as extensive as previously and there was a lot of confusion at embarkation. The speakers were outstanding and we really enjoyed Prego.
Recommended
Very friendly and professional service
By: Magne
Reviewed on: 08 Jul 2016
Very good service in all respects. Valerie is very easy and very pleasant for us as foreigners to communicate with. Everything well arranged, well in advance. We experienced absolutely no stress in the planning or during the entire travel.
Recommended
Wonderful service
By: Sandy
Reviewed on: 28 Sep 2016
Answered all our questions quickly and efficiently.
Recommended
great place need help with tech support
By: larry
Reviewed on: 06 Oct 2016
we have been to l'auberge many times. they upgraded us to creekside cottage which was great. last year they upgraded us to vista suite. both great but different. everything good except they could not get my internet to work after numerous attempts. had to ask them several times what they would do for me because i needed it for work. after several calls they gave me a 100 credit. should not have had to ask and not sure why they could not figure it out. would go back. great food and service.
Recommended
Friendly, knowledgeable, and extremely helpful.
By: Onorio
Reviewed on: 13 Oct 2016
Valerie goes out of her way to help. She is extremely helpful, and very dependable. She would be my first choice for any travel needs.
Recommended
Terrific!
By: Thib
Reviewed on: 26 Oct 2016
Valerie was terrific. Very professional and answered questions promptly. Communications with Valerie was always a pleasure. Great job.
Recommended
Excellent, Expert, Full Friendly Service
By: Jim and Jac
Reviewed on: 22 Nov 2016
Valerie Rooney provided super service. She provided complete, friendly and expert advice and help throughout the entire process. She always answered all our questions even though they may have been beyond what she was responsible for. She brought to our attention all deadlines and was always on top of the latest changes. We almost feel like she is part of our family. What a privilege to work with her. Our trip was fantastic.
Recommended
Works hard and super nice
By: Special Ed
Reviewed on: 27 Nov 2016
Valerie answered all our questions and researched anything she didn't know. It has been a pleasure working with her. I hope to continue our relationship in the future.
Recommended
Value-add service
By: Karen S.
Reviewed on: 09 Dec 2016
Valerie did a great job with planning our cruise vacation. She really added value to the experience by booking a great pre-cruise hotel that fit our preferences and finding great shore excursion providers. Also, the information she gave us helped to make the trip a better one. Look forward to continue to working with her in the future!
Recommended
Another great trip
By: LS California
Reviewed on: 14 Dec 2016
Once again a great trip perfectly planned. Valerie and Camelback Odyssey Travel are quick to respond to any questions.
Recommended
An awesome trip advisor
By: Maxi
Reviewed on: 23 Jan 2017
I love working with Valerie. I can't say enough about her, she is attentive, patient, kind and thorough. On our recent trip American Airlines changed our flights a week out, she called me and had other options available. I would have panicked but she was calm and through. She is a gem, and gets results. I hate to tell people about her because then she will get too busy , I won't be able to work with her!!! I highly recommend her!!!!
Recommended
Amazon Adventure
By: Mary
Reviewed on: 11 Apr 2017
I can rely on Valerie's thorough and timely updates and reminders. Her suggestions have proven to be valuable to the enjoyment of our travels. We are fortunate to be in her good hands.
Recommended
Great trip planner
By: Max
Reviewed on: 13 May 2017
Excellent, Valerie is friendly, thorough, knowledgeable and fantastic to work with. I highly recommend her
Recommended
Professional
By: Bill
Reviewed on: 16 Jun 2017
A good experience, responsive, informed & professional.
Recommended
Thumbs Up Again for Valerie!
By: Mike
Reviewed on: 30 Jun 2017
Fantastic--Everything worked as planned and her work to find the right hotels and drivers kept us in the best of hands--We will always come back to Camelback Travel and Valerie Rooney!
Recommended
Valerie Rooney
By: Sue Goodman
Reviewed on: 26 Aug 2017
Great, as always
Recommended
Paris to Normandy River Cruise
By: Ed
Reviewed on: 24 Aug 2017
She is wonderful to work with. She is extremely knowledgeable and very attentive to detail. Everything about our trip was perfectly planned and was executed wonderfully.
Recommended
Tauck Grand New England Tour
By: Grandma
Reviewed on: 13 Oct 2017
Excellent in all ways. Also checked to see if we needed anything right before we left for our trip. Checked on us when we got back from our trip.
Recommended
Camelback Odyssey Travel Experience
By: Mary
Reviewed on: 14 Oct 2017
It was fantastic! She is a true professional and offers deep knowledge of the industry along with utmost concern for the details of a trip to be beyond expectation. I loved working with Valerie.
Recommended
India
By: Merri
Reviewed on: 20 Nov 2017
Always available and very helpful
Recommended
Valerie Rooney
By: Moneywatch
Reviewed on: 23 Feb 2018
Valerie always meets my high expectations and then some. She has a good sense of timing with her communications. Provides details and follows through. The measure of a professional is not when things goes right (which is always nice) but when things goes awry. During these situations, Valerie has come thru for us even when it's a situation out of her control. I feel confident enough to refer Valerie to my friends and clients. As a matter of fact, during a dinner cruise in Bangkok, I praise the work that my travel professional has meant to our family. The two couple on our table asked if I can get them Valerie's contact info--done.
Recommended
Great co-operation with Valerie.
By: magne
Reviewed on: 24 Feb 2018
It has been a great pleasure from first day. Very fast response to all our queries.
Recommended
A 48 hour trip to New York
By: Bill
Reviewed on: 21 Mar 2018
Easy, because she is a real Pro!
Recommended
All Good
By: waiting for Godot
Reviewed on: 28 Mar 2018
Just fine. Helped get us moved at the disaster known as Grand Velas.
Recommended
Valerie
By: Magne
Reviewed on: 03 May 2018
Very good in all respects.
Recommended
Trip review
By: Seaside Sojourn
Reviewed on: 21 May 2018
Very easy and professional
Recommended
Crystal Cruises Mediterranean Cruise
By: Lovetocruise
Reviewed on: 06 Jun 2018
Valerie Rooney did an excellent job in planning my cruise on Crystal Cruises. She also arranged my airline and hotel reservations. The Hotel Eden was the best hotel I ever stayed in. It is in a central and very good location in Rome.Crystal Cruises is fantastic with great food , entertainment, services, etc. Anytime I had a question Valerie would promptly call me and help me make some decisions. She is a very pleasant articulate woman who made my trip memorable. I would recommend her without hesitation.
Recommended
Advisor Val
By: Lucky
Reviewed on: 14 Jun 2018
Valerie is excellent! She gave us great advice on how to make our trip more enjoyable!
Recommended
7 DAY MEXICAN CRUISE
By: 7 DAY-MEXICAN CRUISE
Reviewed on: 22 Jun 2018
Valerie was great! Carnival Cruise -Splendor was horrible...floated the ocean for 5 days of the 7 never getting off the boat to port due to numerous issues medical emergency,hurricane bud and logistical issues trying to port in another location (catalina island). We ported in san diego and bused over 2 hours to long beach terminal to get our car. Trip over Again Valerie was great! Thank you
Recommended
Mexican Riviera cruise
By: Jeanne
Reviewed on: 23 Jun 2018
Valerie was very helpful in scheduling our trip. Made recommendations I didn't think about. Appreciated her follow up and packet with our info, boarding passes and tags for the cruise ship.
Recommended
God bless Valerie!
By: Sandy B
Reviewed on: 03 Jul 2018
Valerie is absolutely the best choice for trip advisor. She was knowledgeable specific and able to offer me choices on tha various elements of my trip. She took care of everything I needed. She even went out of her way to help my daughter with a problem my daughter was having with her plane tickets and Valerie had not even arranged the flight. I feel very lucky to have found her!!!!
Recommended
Rocky Mountaineer
By: Mary
Reviewed on: 01 Jul 2018
It is a pleasure working with Valerie. We appreciate her detailed approach, knowledge, and careful consideration of what is important to us.
Recommended
Baltics 2018
By: Mike
Reviewed on: 05 Jul 2018
Valerie is superb--A total and committed travel professional who has the ability to match my wife and I with the experiences that we most enjoy--She is a delight to work with and we would never consider working with anyone else! We have been using Camelback Travel since 1991 and will never go anywhere else--Valerie is simply the absolute best!
Recommended
Alaska cruise
By: Mary
Reviewed on: 05 Jul 2018
Valerie was, as usual, efficient, thorough and timely. Communication with her is always prompt and accurate.
Recommended
Relationship Mgr
By: Pat
Reviewed on: 19 Jul 2018
Val did an exceptional job- she planned and organized a wonderful trip for my wife and me.
Recommended
Thanks Val!
By: Tina
Reviewed on: 27 Aug 2018
Very thorough, answers all my questions so patiently. And always so pleasant! She always manages to keep all the details/deadlines straight.
Recommended
Cruise Review
By: Russ
Reviewed on: 27 Sep 2018
Working with Val is easy. She is very thorough and a big help in planning your trip.
Recommended
California - Birthday Trip
By: Pat
Reviewed on: 05 Oct 2018
Fantastic - Val added a personal touch that can only be gained by working with an experienced professional
Recommended
Honolulu
By: Pete
Reviewed on: 08 Oct 2018
Very accommodating. She planned a seamless trip. Very easy to deal with and very responsive to emails.
Recommended
Outstanding Travel Advisor
By: Jim and Jacque
Reviewed on: 02 Nov 2018
Valerie has always been great to work with. She learns our desires and special needs and then provides excellent help and advice. This last trip she really went over the top. We traveled to Europe early prior to a planned river cruise. We were already in Europe when we received an email from the cruise line changing the complete itinerary for the 16 day cruise due to low river water. She called us while we were still reading the email. She went to work and got helped us with the remainder of our trip including getting airline reservations for us, arranging for cruise ship transportation, etc. We were completely rescheduled by the very next day. She was absolutely on top of it.
Recommended
Trip that did not happen
By: Deb
Reviewed on: 15 Nov 2018
Always a pleasure! But unfortunately we had to cancel our trip due to illness
Recommended
Churchill Polar Bear Adventure
By: Mary
Reviewed on: 17 Nov 2018
From start to finish, our trip was handled professionally. We are always in good hands with Valerie. Another "trip of a lifetime".
Recommended
Jody Davis
By: JODY
Reviewed on: 17 Dec 2018
We got caught with a flight cancellation due to a midwest blizzard. Val definitely went above and beyond to get us rescheduled!
Recommended
Valerie at Camelback Odyssey Travel
By: LS
Reviewed on: 21 Dec 2018
We have worked with Valerie for several years and every detail has been perfectly and professionally planned. We highly recommend.
Recommended
Cruise from Fort Lauderdale to LA
By: laka
Reviewed on: 15 Dec 2018
Excellent as always. She is second to none.
Recommended
AMA Waterways Vietnam
By: Jim
Reviewed on: 07 Jan 2019
She was responsive to our questions and needs. Very pleasant to work with.
Recommended
Travel agent for Amawaterways
By: Sherdnerd
Reviewed on: 30 Dec 2018
She was readily available whenever questions were asked. We did not receive packet until three days before departing though.
Recommended
trip to Caribbean
By: Morris
Reviewed on: 11 Jan 2019
Valerie is great! She is very competent and goes out of her way to be helpful.
Working with Valerie Rooney, you will have access to:
- An experienced travel guide whom you can rely on before, during, and after the trip
- Exclusive luxury resorts and properties
- Once in a lifetime experiences
Explore with the Best
Virtuoso Advisors are constantly pushing the boundaries in unique travel experiences.
Alliance programs are unique tailored experiences exclusive to travelers working with Virtuoso Travel Advisors.
learn more
United States - All
Australia
New Zealand
Croatia
French Polynesia
Italy
Mexico