Travel Specialties
Interests
Adventure
Honeymoons
Sports & Outdoors
Safari
River Cruising
Destinations
Switzerland
Italy
France
Czech Republic
Canada
Selling Travel Since
1978
My Background
I have always been intrigued with travel and what there is to explore and experience all over the world. My father was in the Air Force so we traveled back and forth many time across the US. I enjoy helping my clients have the most memorable travel experiences. Hawaii is one of my favorite destinations-each island is different from the other. Being a member of Virtuoso we have so many wonderful places for you to experience. From relaxing on the beach to cruising the Danube to trekking the Swiss Alps or just about anything that suits your desire- I would love to help you with your travel adventure.
Places I Have Traveled
Reviews and Recommendations for Kim Davis-Smith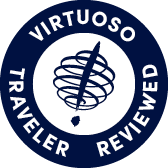 Virtuoso Verified Traveler
All reviews are from confirmed guests sharing exclusive insights
Sort reviews by
Recommended
By: SK
Reviewed on: 29 Sep 2013
Where ever we go, she does a superb job handling EVERY detail !!!!
Recommended
Love our Trip
By: Ahlin
Reviewed on: 21 Nov 2013
We always love working with Kim she has been our go to travel agent for a long time we have recommended her to lots of friends and colleges Great Job Kim!!!! Thanks for all you do !!!!
Recommended
Highly recommended
By: Nook
Reviewed on: 21 Nov 2013
Kim was extremely helpful, timely and diligent in helping us prepare a complicated family trip.
Recommended
She's great
By: Not provided
Reviewed on: 23 Nov 2013
Recommended
Highly Recommended
By: Irv
Reviewed on: 22 Nov 2013
Kim has tremendous energy in finding the right hotel locations and will exhaust all possible flight combinations to find the best opportunities. Endless energy and a very professional way in conducting her business and keeping the client informed. Has a wealth of knowledge in terms of locations and ideas. Very well traveled with first hand knowledge. Have known Kim for many years and have recommended her to others. Outstanding at what she does.
Recommended
Excellent
By: party of six
Reviewed on: 10 Feb 2014
She knows exactly what we want and we are never disappointed.
Recommended
Very highly recommended
By: Louie & Illona Johnson
Reviewed on: 10 Feb 2014
Kim  recently planned a beautiful trip for our group of 3 couples to the Riviera Maya in Mexico. Upon our return, our flight from Charlotte, NC. To Boston was cancelled due to a snow storm. We had no sooner found out, when our cell phone rang and it was Kim calling from Greenland to advise us as of what to do.  We spent the night in a Motel, and the next morning she advised us to go back to the Airport and check in because she was tracking our flight and assured us we were going to get to Boston that day. She was absolutely right. Because of her advice, we were able to get on an even earlier flight back to Boston. We highly recommend Kim for any and all of your travel plans. She goes above and beyond expectations.
Recommended
The Best
By: Not provided
Reviewed on: 25 Feb 2014
Recommended
Perfect vacation!
By: Betsy
Reviewed on: 11 Mar 2014
Thanks to  Kim for arranging the perfect exotic vacation for our family!Everything exceeded our expectations! 
Recommended
She's the best!!!!
By: Party of 4
Reviewed on: 23 Mar 2014
She knows just what we like and always fills our wishes. Even the ones we don't even know about!
Recommended
We highly recommend Kim Davis-Smith for all of your trip planning.
By: Louie & Illona
Reviewed on: 23 Mar 2014
Please write at least 15 charactersWe've used Kim Davis-Smith for all of our trip planning, and highly recommend her. She goes above and beyond for her clients.
Recommended
By: Not provided
Reviewed on: 05 May 2014
Excellent service!!!
Recommended
Highly Recommended
By: Happy Traveler
Reviewed on: 01 Jun 2014
Kim Davis has been making my travel arrangements for 20. years she has experience, knowledge, savvy, and reliability. I would not go anywhere without her assistance. 
Recommended
Unrivaled Expertise
By: FredA
Reviewed on: 03 Jul 2015
Kim is as good as it gets, always sorts out all the details, her advice is spot on and timely. Look no further, if you wnat help planning travel call Kim.
Recommended
Perfect 25th anniversary celebration!
By: Texas Two
Reviewed on: 29 Sep 2015
We started working with Kim about 10 months prior to our dates for ideas. We decided on a Mediterranean cruise on Azamara, as we have cruise with them before and enjoy the small ships and interesting itineraries. We started with a few days in Rome, train to Venice, then cruise to Athens. Kim arranged all the transfers, hotel, train transfers and in Venice a "foodie" tour of the bars and a private gondola ride. We had one issue with a flight that was delayed, so we missed our connecting flight and arrived after the transfer was arranged. A call to the local contact was not helpful, so Kim (via text) told us to take a taxi, keep the receipt, and she would handle the rest. We had a refund on our pre-paid transfer before we returned home! She had also informed everyone of our anniversary, so we had champagne waiting in all the hotel rooms, and even got us an upgrade to the Owner's suite on the ship! Everything was wonderful, and can't wait to work with Kim on our next vacation!
Recommended
Every Perfect as Always
By: Kathryn
Reviewed on: 08 Dec 2015
I would highly recommend Kim for any of your travel needs ! She is always available and accurate We use her two to three times a year And have recommended her to LOTS of friends Thanks Kim !
Recommended
Perfect vacation
By: Therese12
Reviewed on: 08 Sep 2016
The trip was excellent! All the details were met and everything went great! Could not ask for more. Thank you so very much.
Recommended
Wonderful all the way around
By: Doug
Reviewed on: 02 Oct 2016
Our Globus tour of the National Parks was a success. On a scale of 1-10 our tour director, Todd Aspberger, was a 10+. Small group (39) and we all connected so well. Would definitely do a Globus tour again. Only criticism we had was that there was no variety in the breakfast buffet. Only choice of eggs each morning was scrambled. Would have liked to have ordered off the menu. Also, the Globus itinerary stated we would have a tour of Salt Lake City and that didn't happen.
Recommended
Great service from our Advisor
By: Bill and Candy
Reviewed on: 04 Oct 2016
Thank you for all of the help getting us rerouted when our flight was canceled. The rest of the trip went very well.
Recommended
Kim Thanks !
By: Kathryn & Philip
Reviewed on: 22 Nov 2016
Key West was a blast Great time would go again. Jet Blue had some delays but all is well thanks KIM !!!!
Recommended
Jamaica
By: Kathryn
Reviewed on: 20 Mar 2017
As all ways Kim goes above and beyond ......we got displaced due to a nor Easter storm back home which resulted in our flights being cancelled and a extended stay where we were and Kim was pro active and got it all set up!!!!! This is not the first time this happened 3 years ago she did the same thing but not only did she get us re routed but our new puppy as well.....would never plan my own trip without using Kim she makes it a worry free vacation always.....thanks Kim!!!!!
Recommended
Great advisor
By: mari
Reviewed on: 06 Jun 2017
Kim is knowledgeable, patient, and efficient.
Recommended
Avalon Danube Cruise
By: Mich
Reviewed on: 11 Jul 2017
Simple and efficient.... She knows us.....and appreciate her expertise
Recommended
Great trip
By: TexasTraveler
Reviewed on: 16 Aug 2017
Multi faceted trip with 5 days in Edinburgh before a 12 night cruise. Kim booked our pre-hotel stay, and helped with transfers on day of boarding. Then transfers at end of cruise to airport. Everything efficiently done.
Recommended
Perfect
By: Ken
Reviewed on: 03 Oct 2017
If you want white glove attention...this is your new travel agent.
Recommended
Avalon Expression
By: Popcorn
Reviewed on: 27 Oct 2017
Kim was outstanding! Very personable, efficient, knowledgeable and a great help!!
Recommended
Kim
By: Kane
Reviewed on: 01 Nov 2017
Very easy. She is knowledgeable of all facets needed to plan a successful trip. She suggests ideas that add those little things that make a trip truly memorable.
Recommended
trip
By: Bill
Reviewed on: 06 Nov 2017
Great,as usual. Very helpful
Recommended
Scotland trip
By: Ronnie
Reviewed on: 13 Nov 2017
Kim is helpful &resourceful -as always, planned a great travel experience
Recommended
Las Vegas trip
By: Fishyfrank
Reviewed on: 24 Nov 2017
Outstanding.....Couldn't have been better
Recommended
Amazing Sedona
By: Love To Travel
Reviewed on: 02 Dec 2017
As usual, Kim plans the best trips! She makes everything so easy for us and we are a big family. From flights, to car rentals, to hotel and day trips and activities, everything went very smoothly! Our latest trip was to Sedona, AZ and it was perfect!
Recommended
Trip to Dominican Republic
By: Louie
Reviewed on: 03 Feb 2018
It's always a pleasure to work with Kim. She's always very helpful.
Recommended
Consistently Amazing....
By: Ken
Reviewed on: 14 Apr 2018
She manages every detail, of EVERY trip!
Recommended
Service
By: Shel
Reviewed on: 11 May 2018
Excellent Yes Yes Yes
Recommended
KIM
By: dk
Reviewed on: 07 May 2018
Kim was a big help in setting up our vacation and followed up before, during, and after our vacation to make sure everything was going OK.
Recommended
Kim is the best!
By: Tilley
Reviewed on: 16 May 2018
Kim is fabulous. She listens intently and makes perfect plans.
Recommended
Bermuda
By: Bermuda babies
Reviewed on: 27 May 2018
Very good...always thorough & informative
Recommended
Crystal Serenity
By: Laurie
Reviewed on: 05 Jun 2018
Kim is a wonderful travel advisor. She is well organized, efficient, knowledgeable, and so easy to work with. I highly recommend her to anyone seeking travel advise/help. I look forward to working with Kim again in the near future.
Recommended
Another great trip
By: Betz & Phil
Reviewed on: 27 Jun 2018
We were celebrating my husbands retirement with an extended trip to Tuscany, then catching the Azamara Quest for a 10 day western Mediterranean cruise. Kim organized the trip, and coordinated for us to be included with the Virtuoso private tour and luncheon in Malta. At the end of the cruise, we stayed 4 nights in Barcelona. Everything went great. We were gone a total of 28 days-and it was the perfect retirement celebration!
Recommended
Last minute Backroads Trip to Normandy - Brittany
By: Kevin Thomas
Reviewed on: 27 Jun 2018
In March, friends had registered for a June cycling trip to France and asked if we would be interested. I contacted Backroads a few days later and found there were no more hotel rooms available for this trip. On June 1, Backroads called advising a cancellation but the trip would begin on June 10th. We were excited but I was feeling overwhelmed about last minute travel plans. Fortunately, I had come to know Kim Davis-Smith from spin class and I called her. I explained the situation and my panic. She graciously took on the task and spent the better part of a week coordinating flights, trains, hotels and transfers. She would email late at night with various options and even emailed after we had arrived in France with updates and to check on us. She took care of so many things that I would not have considered and recommended a fabulous boutique hotel for our last 2 nights in Paris. Kim made our trip a wonderful experience rather than a disaster (had I been in charge).
Recommended
Kim Davis review
By: Ted
Reviewed on: 08 Aug 2018
Kim has been terrific on the many trips we've taken, including this last one to Hawaii. Very responsive, prompt, and willing to work with you on special requests. Extremely able agent.
Recommended
It's always great working with Kim!
By: Cellissa
Reviewed on: 08 Aug 2018
Kim really listens to what I am looking for, and she is responsive and quick! I can't imagine ever working with someone other than Kim for all my travel plans!
Recommended
Girls Getaway!
By: CK
Reviewed on: 22 Aug 2018
Kim was great and met our every need, planning & coordinating all details carefully for eight of us!
Recommended
Kim is great!
By: ronnie
Reviewed on: 14 Sep 2018
Have worked with Kim on many trips over many years. She is thoughtful & resourceful & gets exactly what we need/want --she is ever helpful as we continue to h
Recommended
Always Outstanding
By: Jim
Reviewed on: 15 Oct 2018
Once I explained to Kim what I wanted, she covered every possible angle for me. The rest was just deciding to choose from a bunch of well researched selections. On my own I would never have been able to do the same in as little time as Kim. Thanks again Kim!!
Recommended
Good Experience
By: Ralph
Reviewed on: 24 Oct 2018
Very efficient and knowledgeable
Recommended
trip
By: 1
Reviewed on: 27 Oct 2018
Kim was Great - very responsive, great follow up, came up with good suggestions and alternatives... very good experience...
Recommended
Oregon
By: PJ
Reviewed on: 30 Nov 2018
She was very attentive to all details. I would recommend her to friends and colleagues.
Recommended
Professional with a smile
By: Patty
Reviewed on: 01 Jan 2019
Kim was very helpful and even though contact was by email her smile shone through. She had good suggestions for trip and adjusted to our needs.
Recommended
Perfection
By: Ken
Reviewed on: 08 Feb 2019
Having Kim prepare our trips for many, many, years has been a privilege. Could not be happier with her professionalism and extensive knowledge. You would be well advised to have her in your corner!
Recommended
Great Advisor Great Trip
By: Dott F
Reviewed on: 19 Feb 2019
I wanted to plan a trip to the Caribbean and I was not familiar with all the islands. I called Kim and within hours she had found me a fabulous all-inclusive resort well within my budget. Her knowledge of the area was very helpful in deciding which island would best suit us. Our flight home was delayed with bad weather and Kim contacted me to check on us. I was very happy with the service Kim provided and would definitely use her again and refer her to friends.
Recommended
Praise where it belongs
By: Fred Armbruster
Reviewed on: 26 Mar 2019
Knowledgeable, creative, experienced, dependable, friendly, it oes not get any better than Kim
Recommended
AMA Waterways Rhine
By: Sue
Reviewed on: 23 Apr 2019
Kim is great to work with planning vacations! She's organized and looks out for the clients interest.
Recommended
Our Globus Travel booker
By: J & S Bauer
Reviewed on: 13 Apr 2019
Kim knows her stuff and is detail oriented. She makes sure all the little things like transfers and excursions are taken care. Booking flights has been very complicated to do as airlines are changing procedures, etc. We sometimes struggle to get the flights and seating we want, like extra leg room. Kim has for the most part got our flights how we like them. This process takes numerous phone calls and emails to complete. We have not always used a travel agent before and it takes a bit longer to book tours, etc. Kim's help is greatly appreciated.
Recommended
Another great trip by Kim!
By: Dastardly Doug
Reviewed on: 28 Apr 2019
We have had Kim arrange a number of trips over the last 15 years. All arrangements have been well put together, and her broad experience has been extremely valuable to us . without Kim the trips would never have been so enjoyable and stress free. Five stars for Kim!!!
Recommended
Great advisor!
By: BetzR
Reviewed on: 27 Apr 2019
Have been working with Kim for years and also have recommended her to many friends and colleagues. She always has great ideas and resources and is very detail oriented. She listens to what we want, and works with our budget.
Recommended
Perfect
By: Bill B
Reviewed on: 26 Apr 2019
Our trip was just perfect. We would not hesitate to engage Kim and recommend her to our friends.
Recommended
Amsterdam the Rhine and Lucern
By: Travel Dude
Reviewed on: 07 May 2019
Kim was great, the plans went well and we never had to look for anyone else to assist us.
Recommended
AMA Rhine River Cruise
By: Legs
Reviewed on: 30 Apr 2019
Delightful. She was very thorough and followed up on all our plans. Everything went like clockwork. She is also a lovely person.
Recommended
Italy trip
By: Catfish
Reviewed on: 22 May 2019
Fantastic...best travel agent I've. Ever experience
Recommended
Still a fan!
By: Ken
Reviewed on: 30 May 2019
Have worked with Kim for a very many years...dozens of trips..she is always on top of everything! Don't leave home without her (phone #) in your suitcase!
Recommended
London Trip
By: MJ
Reviewed on: 05 Oct 2019
Very good ! Questions were answered as my trip progressed. An office visit confirmed appropriate documents needed. A follow-call after returning home was much appreciated. Thank you !
Recommended
Kim
By: Nick
Reviewed on: 21 Oct 2019
Very good. She gave great ideas and wasn't afraid to challenge my bad ideas. Very happy with her!
Recommended
As usual everything was as requested!
By: Skip
Reviewed on: 23 Oct 2019
I rely on Kim for any travel plans I contemplate. She is quick to respond- listens to my request - offers great suggestions - and makes things happen with a minimum of hassle. She's great to work with!
Recommended
Costa Rica
By: Julee Sanderson
Reviewed on: 19 Dec 2019
Always easy working with Kim. I tend to change my mind alot and she is always accommodating to my changing whims...
Recommended
Travel
By: Kathryn
Reviewed on: 08 Jan 2020
Always a pleasure to work with Kim we have referred her to several friends as her attention to details have always made for a great trip Thanks Kim
Recommended
Kim Davis Smith
By: Kathleen
Reviewed on: 04 Mar 2020
It was so easy! All our needs were met and Kim was there when we had questions. I cannot thank her enough. This was the second Kim planned for us. More vacations to come and we will be calling.
Recommended
Working with Kim Davis.
By: Lona
Reviewed on: 21 Mar 2020
Kim is always excellent to work with. We wouldn't dream of going through anyone else when planning any travel. We recently had to cancel a trip to a wedding that's been postponed. She got all our plans cancelled and our points we had used recovered.
Recommended
Travel planning
By: Teddy
Reviewed on: 14 Mar 2020
Kim works very hard to ensure that my needs are met in regard to all aspects of my travels
Recommended
Australia and New Zealand
By: Mag
Reviewed on: 23 Mar 2020
She was responsive and made every effort to answer questions and find excursions that fit our desires.
Recommended
Once again, a great trip!
By: BetzR
Reviewed on: 23 Mar 2020
We have worked with Kim numerous times over many years. This trip was great, and everything was arranged perfectly. Tours, transfers and hotels all went well. Looking forward to our next trip!
Recommended
Jamaica
By: Kathryn
Reviewed on: 18 Mar 2020
Kim has been our travel agent for years I would recommend her to anyone and have over the years sent her lots of referrals... Even in this busy world we live in Kim always makes you feel your her main concern even though we all know she is a busy person with her job, travel and all the organizations she supports and volunteers with!!! As always we had the perfect trip! Thanks Kim, K &P
Recommended
Cliff House stay
By: Cookie
Reviewed on: 18 Oct 2020
Kim did a fabulous job! From the time I asked for her help with a weekend getaway she did the research on availability and kept me informed of the possible locations. Once we focused on the Cliff House, she was able to get us a two night special with an ocean side view, continental breakfast & late checkout. She knew we wanted both indoor & outdoor pool & hot tub & they were perfect. Kim followed up on every request & stayed in contact thru our stay. Great job!
Working with Kim Davis-Smith, you will have access to:
- An experienced travel guide whom you can rely on before, during, and after the trip
- Exclusive luxury resorts and properties
- Once in a lifetime experiences
Explore with the Best
Virtuoso Advisors are constantly pushing the boundaries in unique travel experiences.
Alliance programs are unique tailored experiences exclusive to travelers working with Virtuoso Travel Advisors.
learn more
Switzerland
Italy
France
Czech Republic
Canada
Bermuda
Egypt
Israel
Costa Rica
New Zealand
United States - All