Travel Specialties
Interests
Adventure
Independent Tours
LGBT Travel
Ocean Cruising
River Cruising
Destinations
United States - All
Australia
New Zealand
Greece
Italy
Selling Travel Since
1993
My Background
My background in travel began in cruising, working for Holland America Line as an Assistant Cruise Director for a number of years, including a summer in Alaska and visiting exotic ports "Around the World in 99 Days" on a World Cruise.
I also toured with Walt Disney World to the United Kingdom and across the U.S. as "Professor Mousecellaneous", instructing travel agents on all things Disney, side by side with Mickey, Minnie, Goofy, and Roger Rabbit (remember him?).
For the last 20 years I've been helping many individuals, couples, and families make their travel dreams come true here at Platinum Travel. Let's work together to make YOUR travel dreams a reality!
Places I Have Traveled
Reviews and Recommendations for Russ Dunlap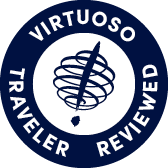 Virtuoso Verified Traveler
All reviews are from confirmed guests sharing exclusive insights
Sort reviews by
Recommended
By: Robert1234
Reviewed on: 09 Oct 2013
Organized, would definately use who he recommended for private tour in Rome, and very helpful and all areas.And would use him again.
Recommended
Travel Expert Extraordinaire
By: Leigh
Reviewed on: 17 Oct 2013
Russ is knowledgeable and professional and intuitive about our travel desires/needs. He has a wealth of knowledge from his own travel experience and his professional work. He has helped us arrange many exceptional journeys!
Recommended
By: Dave, Karthy and Eleonora
Reviewed on: 12 Oct 2013
We Have Recommended Russ Dunlap for his Excellence in Planning and Booking Our Travel Programs, and we will continue to do this. The Biltmore Hotel experience was excellent. It was the principal event of the trip. The non-stop air service also helped to make the tour most memorable.
Recommended
Smooth sailing
By: Paul
Reviewed on: 12 Oct 2013
Everything went smoothly as planned. Russ is a true professional.
Recommended
Peace of mind!
By: Mrbittermn
Reviewed on: 24 Oct 2013
It is easy to use the Internet to be your own travel agent. I still like using Russ because of the confidence it gives me that my trip is going to go smoothly. I booked my recent cruise through him, but more importantly having him make arrangements for my independent land travel beforehand helped me start my trip hassle-free.
Recommended
trip cancelled due to death in family
By: Not provided
Reviewed on: 16 Oct 2013
Recommended
highly recommended
By: jbayer0003
Reviewed on: 28 Oct 2013
He gave us a great vacation! He was awesome! Thanks!
Recommended
Highly Recommend
By: Mmac26
Reviewed on: 29 Oct 2013
Russ did an amazing job planning our recent trip to Punta Cana. He was able to find a great place for 22 friends to vacation and relax. He made sure everything was taken care of start to finish. The resort welcomed our group with a big sign and hosted a private cocktail party just for us. When can we go again?!
Recommended
highly recommend
By: tony
Reviewed on: 28 Jan 2014
Russ has organized multiple trips for us---all of which have been highly satisfactory----actually---exceptional! We have complete confidence in him and look forward to future trips.
Recommended
Reliable and helpful
By: Mexico traveler
Reviewed on: 14 Feb 2014
Russ was very helpful and extremely dependable when I needed info on flight info and changes .. Russ made himself accessible when needed for last minute travel plans.. I would recommend Russ to anyone traveling within the US or abroad. 
Recommended
Awesome Agent!
By: LDV
Reviewed on: 24 Feb 2014
Russ worked very hard to give us a variety of vacation options to meet our criteria.  He provided vital information that we could not find otherwise, and once we decided on our location, he took care of everything!  One of the best vacation experiences we have ever had.  Thanks Russ!!
Recommended
Highly, without question, recommend...
By: Tony can,t get review area to work
Reviewed on: 05 Mar 2014
Recommended
Excellent in all respects
By: Cubbie
Reviewed on: 20 Mar 2014
We went to Russ in order to get plane tickets for a trip to Morocco in October.  He went right to work, secured us a very good fare and insurance, and we had the problem out of our way within a day.  And he's a really nice guy as well!
Recommended
Highly Recommended
By: Happy Traveler
Reviewed on: 29 May 2014
Russ is a professional travel agent.  He is knowledgeable and makes great suggestions.  He is willing to listen to what you want and he will give you his ideas as well.  
Recommended
Worked with us on a budget and short timeline
By: Mmac26
Reviewed on: 09 Jun 2014
Russ recently helped us plan our honeymoon to the Riviera Maya. We waited longer than we should have to book the trip but Russ was able to find us a great vacation within our limited budget, on the beach and all-inclusive. He made sure we had everything we needed before leaving and even was there for international moral support over the phone when we had a hiccup during check-in at the resort. Thank you Russ!
Recommended
Awesome trip as always.
By: Toddy
Reviewed on: 08 Sep 2014
From the planning to the trip itself, I always know Russ will think of everything I may need.
Recommended
trip to Morocco
By: John
Reviewed on: 11 Nov 2014
The flights you arranged went off flawlessly. The time in Morocco was excellent, thanks to the tour arranged by Journeys Beyond Travel, a small agency that works only in Morocco that we'd really like to tell you about. Perhaps we could come out to Platinum sometime soon and tell you in some detail what our trip was like. Let us know!
Recommended
Well-planned Air Travel!
By: Lois went to Morocco
Reviewed on: 25 Oct 2014
It was a wonderful trip and the airline connections all worked well. We had time to change planes without having to wait around for hours. Russ did a great job.
Recommended
Fantastic to work with!
By: MMJM
Reviewed on: 16 Dec 2014
We loved working with Russ! He compiled the perfect vacation for us and we will be booking again in the near future! This was our first time to Europe and because we worked with Russ everything was set up and there was little anxiety about getting from place to place! What a fantastic experience for us!
Recommended
Nothing to worry about - ever
By: MTodd
Reviewed on: 21 Feb 2015
Every detail of a trip planned by Russ is taken care of and I never have to worry about anything. From the plane tickets to hotel to boarding the ship, all the documents are in order and ready to go well before I leave. Even for weekend get-a-ways, I use Russ to help book a hotel room. It is so simple and stress free!!! Thanks Russ for another great vacation on the high seas!
Recommended
Great Cruise
By: Jean N
Reviewed on: 06 Apr 2015
The Viking cruise was wonderful. Sad note was that we did not get to dock IN Paris. Received the news less than a week from the start of the cruise. That said, the program director did everything possible to make the best of things, even to the point of changing the order of stops so that we could see Monet's home on the first day it was open for the season. The Viking experience was exceptional. The international section of the trip was on Air France (booked by Viking). Seats were rearranged on both flights, but they did finally seat us together. The return plane still had ash trays in the arm rest, the seat cushion had no cushion and the light rail glass along the side of the plane had mold and dirt in it. I will never book Air France again if given the choice. Platinum Trave, and especially Russ Dunlap made booking and getting two people matched up from two different cities a breeze. Thanks again Russ.
Recommended
Superb time and accommodations.
By: Michael
Reviewed on: 19 Jun 2015
Best time for my first time trip. And great shows and restaurants. Russ always comes through.
Recommended
Eastern Med. Cruise with Celebrity Cruise Line
By: Stuart
Reviewed on: 06 Jul 2015
We had already chosen the cruise, but Russ was extremely helpful in deciding which shore excursions to take and in arranging a private tour of Ephesus. He also made our airline reservations which worked out very well. The luggage tags needed to be downloaded and printed on line and Russ took care of that and also had them laminated. We have used Russ and Plantinum Travel several times and are pleased with the service and will certainly continure to rely on Russ for future travel.
Recommended
train trips of the old west
By: Bill
Reviewed on: 15 Sep 2015
Really enjoyed the trip. The train rides were great You will always remember the ride up to Pike's Peak Colorado is a beautiful state. Santa Fe is an art lovers paradise Book this trip now
Recommended
Great planning for an indepdent trip to Spain!
By: CraigLes
Reviewed on: 12 Sep 2015
Russ did a fabulous job of planning our independent trip to Spain. Monogram travel was the perfect fit to keep airport and train transfers very easy and hassle free. The Monogram agents at each hotel made excellent recommendations on places to dine, and saved us a lot of time and hassle. As usual, Russ to the rescue! Thank you!
Recommended
Pants On Fire
By: 2016now
Reviewed on: 09 Jun 2016
Russ did a nice job coordinating the Central Europe Tour. Informative and and accessible. Provided great optional tour suggestions and dining opportunities. Very good at keeping diverse group engaged.
Recommended
Only the best
By: Leigh
Reviewed on: 25 Sep 2016
Russ is only the best....smart and efficient and intuitive. He knows travel; Knows the ins and outs of it; masterfully puts things together so the trip is a smooth and extraordinary experience,
Recommended
Peru trip
By: Drob
Reviewed on: 07 Oct 2016
Fully enjoyed the trip. Saw things we did not even know about like the floating islands. Russ did a super job.
Recommended
Greaqt trip
By: JIM
Reviewed on: 14 Oct 2016
We had a great trip, with the exception of the Stanley Hotel. Also, the Advantage Car Rental agency tried very hard to rip us off. They said that for "only" $10 per day or $130 for our trip we could get a toll pass. We spent -0- zero in road tolls. aLSO THEY WANTED US TO UPGRADE TO A SIX CYLINDER, in that the 4-cylinder would have a difficult time getting up the hills in Colorado. This nonsense, along with a car that was a piece of junk, was almost too much to take. We will never use them again.
Recommended
Virtuoso review
By: Joanne
Reviewed on: 16 Oct 2016
Virtuoso was great and provided unique amenities at our wonderful hotels.
Recommended
Professional service from start to finish
By: traveler 2016
Reviewed on: 16 Oct 2016
Russ did a wonderful job helping us plan a memorable trip! We loved our hotel accommodations and their locations . When our flight was cancelled the day before we were scheduled to leave, Russ went above and beyond to make sure we had everything sorted out and he really put us at ease . We highly recommend Platinum Travel!
Recommended
Super good service on short notice
By: cubbie
Reviewed on: 14 Nov 2016
We had to go to Tallahassee for a family medical emergency on 48 hours notice, and Ilene Griffy made the arrangements (both going and coming home) efficiently and most satisfactorily. Additionally ,for the return flight, she got us a steep discount because of the medical emergency nature of our trip. Everything went very smoothly, which was important, given all the other stress we were under. Thanks so much!
Recommended
PERFECT in every possible way!!!
By: Pottie Wattie
Reviewed on: 26 Nov 2016
We would never, ever go on any trip NOT planned by Russ. He is patience personified; wonderfully creative; incredibly hard working; completely trustworthy; friendly and loads of fun. (Have run out of adjectives to try to explain why we absolutely LOVE him! ) We cannot even imagine any trip without Russ's ideas, check-outs, follow-ups, and itineraries. He is the irreplaceable jewel in the crown of travel. Russ retires and we stay home. Simple as that .
Recommended
Always friendly customer service
By: ROBIN
Reviewed on: 20 Dec 2016
I know when we book with Russ- everything is taken care of. We have probably booked 10 cruises with Russ and we have never had any problems! He does an excellent job!
Recommended
Cruise
By: Mike
Reviewed on: 18 Feb 2017
Russ is amazing! He goes above and beyond to make sure that his clients have everything they need before, during, and even after the trip. He never stops working for his clients. I couldn't be happier with the vacation that was planned and will use Russ and Platinum Travel again in the near future.
Recommended
Better Call Russ
By: Levi
Reviewed on: 18 Feb 2017
Working with Russ is easy and carefree. Everything is taken care of and thought about before the trip ever begins!
Recommended
Planned by the Master and Perfect as Always!!!
By: Popo
Reviewed on: 31 Mar 2017
Fun as it always is! Russ is the sole of patience, creativity and detail and does all the work while we get all the reward of a PERFECT trip.
Recommended
Russ does a great job for us every time!
By: Fred L.
Reviewed on: 14 Apr 2017
We have used Russ for many trips, all memorable and professionally arranged. I have recommended him to many friends. I wouldn't think of taking a vacation without his guidance.
Recommended
Russ Dunlap
By: Darrell E Spurgeon
Reviewed on: 14 Apr 2017
I have worked with Russ Dunlap several times during the last ten years, he has booked many vacations both pleasure and business for myself, my company and my family. Russ has always been very meticulously very detailed very professional and has always met our expectation and our experience has been fantastic on every vacation and trip that he has planned and booked for us. I would highly recommend Russ Dunlap and his organization for all of your travel needs, business or pleasure. Darrell E. Spurgeon
Recommended
Alaska cruie
By: ky
Reviewed on: 28 May 2017
We work with Russ on all the cruises we have taken. He always does a wonderful job making sure everything has been taken care of! He does a fantastic job!
Recommended
Russ is the best!
By: Jim Murphy
Reviewed on: 10 Jun 2017
He is resourceful, organized, prepared and forward thinking...two thumbs up
Recommended
Iceland Adventure
By: MMM
Reviewed on: 15 Jun 2017
Very good. Thinks through all possibilities so to be best prepared. Having a private bus/guide for the entire trip throughout the country was invaluable. Exceeded high expectations. Trip of a Lifetime. Thanks Russ for making it happen.
Recommended
Good Lifelong "Partnership"
By: Popo
Reviewed on: 23 Jun 2017
Well, how do you beat "PERFECT"?!!! Wonderful planning and execution, as always. A delight to work with Mr. D. Popo
Recommended
Trip to Canada
By: bill
Reviewed on: 27 Jul 2017
We think he is first class. He will do anything he can to make your trip a success
Recommended
Working with Russ
By: Leigh Anne
Reviewed on: 14 Aug 2017
I have been on a few trips organized by Russ. Even though I am an experienced business traveler, it is nice to hand over the details to Russ for my vacations. He follows up on what needs to be done so I don't have to.
Recommended
Venice
By: Carol
Reviewed on: 02 Nov 2017
Russ is the best Travel Agent in the world! He goes above and beyond what is expected. We traveled with friends from California this trip and Russ helped them as well. They were very pleased. Unfortunately, sickness affected part of our trip, but Russ was there to make sure the rest of the trip ran smoothly. And, our friends were dealing with the Napa Valley fires- and Russ was there standing by to help in any way. Fortunately, our friends did not loose their home or have to abandon the trip. But knowing Russ was there to help should that be needed eased their minds.
Recommended
Russ
By: No
Reviewed on: 31 Dec 2017
Working with Russ was fine.
Working with Russ Dunlap, you will have access to:
- An experienced travel guide whom you can rely on before, during, and after the trip
- Exclusive luxury resorts and properties
- Once in a lifetime experiences
Explore with the Best
Virtuoso Advisors are constantly pushing the boundaries in unique travel experiences.
Alliance programs are unique tailored experiences exclusive to travelers working with Virtuoso Travel Advisors.
learn more
United States - All
Australia
New Zealand
Greece
Italy
France
United Arab Emirates