Travel Specialties
Interests
Family Travel
Adventure
Independent Tours
Beach & Sun
Culture, History & Arts
Destinations
United Kingdom
France
Italy
United States - All
Chile
Selling Travel Since
2010
My Background
Merrill has traveled the world over the last 20 years and worked in the travel industry since 2010. She has a passion for travel and a desire to share her experiences. As a mother of 4 little girls, Merrill understands the challenges and joys of traveling with children and will make sure even the smallest traveler is taken care of!
Merrill has studied in London, skied the mountains of Austria, fished for King Salmon in Alaska, sailed through the Baltic fjords and in 2008 Merrill and her husband moved to Santiago, Chile for six months teaching English and traveling throughout Chile and Argentina.
Merrill's goal is to listen to her clients and discover their travel needs and dreams, working with the right travel partners to plan the perfect trip, creating life long memories for her clients.
Merrill's specialties include multi-generational travel, family travel, educational travel, honeymoons and getaways.
Places I Have Traveled
Reviews and Recommendations for Merrill Laguarta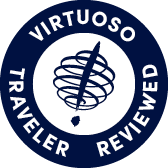 Virtuoso Verified Traveler
All reviews are from confirmed guests sharing exclusive insights
Sort reviews by
Recommended
Great Galapagos
By: Katy30
Reviewed on: 26 Jun 2016
Our trip all-in-all was amazing considering the animals we saw which are rarely seen: Killer whales at the beginning and a huge school of dolphins on the last day! A goodbye gift from God! accomodations were comfortable, guides were exceptional (except first snorkle was Freezing & they refused to admit this), equipment was acceptable but could have been better (some snorkle maskes leaked), trips were excellent: coffee plantation trip was not anticipated well, but turned out to be lots of fun. On the down side: food was rather poor quality, but improved as the week went on. Obviously the cook was an amateur and meat & veggies were poor quality and prepared just adequately. One dinner, fried calamari, was absolutely inedible. Most annoying was the expected high (20%) tip for all ship staffers who where paraded out twice during the week and we were asked to give "appreciation gratuity" (didn't have $$$$ cash) the last night. Better to include in price for such a "first class trip"
Recommended
Awesome trip!
By: ACP
Reviewed on: 08 Jul 2016
Merrill did an amazing job planning our trip to Costa Rica! I was intimidated to travel to another country and wasn't sure how many places to visit and how to get from place to place and where to stay. She gave us excellent advice and we ended up staying 5 days inland at Arenal Volcano and 5 days on the coastal Manuel Antonio. Every single thing on our trip went so smoothly. We did not rent a car, so we had drivers to and from the airports on 4 occasions plus daily excursions and activities. Everything happened exactly as it was laid out in the itinerary that she made for us. Everyone showed up right on time and the companies that she used for the tours and transports and activities were absolutely wonderful and staffed by very knowledgeable and competent people. The accommodations were fabulous. Her recommendations on where to stay and how long to stay at each spot were perfect. I cannot say enough about the wonderful trip Merrill put together for us!
Recommended
Awesome accommodations with happy friendly staff
By: Tammy57
Reviewed on: 08 Jul 2016
We were looking for a last minute tropical vacation with a direct flight from Houston. Merrill did an unbelievable job. From our accommodations to restaurant choices, "She Nailed It!!! Crace Bay Club was beautiful and had the friendliest and most helpful staff. The beach was fantastic and the water was so turquoise blue. We were close enough to town to ride bikes daily and do a little sight seeing. A truly relaxing experience! A perfect vacation!! Thanks Merrill!!!!
Recommended
Fantastic travel agent!
By: EM
Reviewed on: 14 Aug 2016
Merrill is a fantastic travel agent. Out Trip was well planned with wonderful hotels & excursions. Our itinerary was very detailed & organized which made moving around on a 10 day trip to Alaska so easy!
Recommended
Planned the perfect family trip!
By: cwood
Reviewed on: 29 Aug 2016
We were having such a hard time finding a place to take our small children for a week, because we had a bunch of criteria and didnt want to invest the money on a vacation unless everything was met, (good weather, kids in different rooms, room service, beach, kitchen, heated pool, ect.) I called Merrill asking her for help and she found us the perfect place within 48 hours and we were booked! We just got home and had the best time! We would have never found the spot she chose for our family on our own. Can't recommend her enough!
Recommended
Professional and perfect!
By: Tuck
Reviewed on: 05 Oct 2016
Merrill is the most professional and knowledgeable travel agent we have ever worked with!
Recommended
Extremely Helpful With Last Minute Trip
By: LLKim
Reviewed on: 06 Oct 2016
Merrill was extremely helpful and very flexible with our suggestions and plans. She was kind and responsive.
Recommended
Perfect Southern Italy Trip
By: kc33
Reviewed on: 12 Oct 2016
This trip, combining business and pleasure, was planned perfectly for our somewhat difficult agenda. Attending a business meeting on each end of the nine-day trip, scheduling was tight, but Merrill set up the perfect 3-day Sicilian interlude and all transfers went off without a hitch. All excursions were handled professionally and provided good value. A five-star experience!
Recommended
Great Honeymoon Planning
By: RNS812
Reviewed on: 27 Oct 2016
Merrill helped us plan our honeymoon, and it was the best trip we have ever taken. So thankful we used her services!
Recommended
Madeline Telluride Vacation
By: Heidi
Reviewed on: 23 Mar 2017
Amazing! It was the first time that I had ever handed over complete control of a trip to someone else and it was FABULOUS! Merrill thought of everything--including plenty of things that I did not, including dinner reservations. She was thoughtful, thorough, available, efficient, effective and FUN! In fact, when my husband skied over a rock and broke his ski, the rental company wanted to charge us for the full price of the ski--but Merrill intervened from Austin and all was well--the rental company even commented to us, "Merrill is so nice and so easy to work with!" I am sure her kindness as well as her effectiveness contributed greatly to us not getting charged for the ski--but the best part is we did not have the headache of worrying about it--or anything else! If it had been up to me to plan and execute the trip we would still be sitting in Austin wishing we had gone, but Merrill made it all happen!!!!
Recommended
Honeymoon trip to Nicaragua
By: Jess & Case McCoy
Reviewed on: 06 Mar 2017
Merrill helped us plan our honeymoon trip to Nicaragua. Without her recommendation, we would have never imagined going to Nicaragua or Mukul Resort. From the beginning, Merrill listened to our ideas and gave plenty of options. She was so patient with us, as we couldn't make up our mind due to the plethora of amazing options (not complaining one bit)! Our original plan was a two week trip to the Maldives. Merrill walked us all the way through our reservation, up until the time of booking where we had a last minute change of heart. She was completely understanding, and brought us all the way back to square one. After much consideration, we decided on Nicaragua and Mukul Resort. Needless to say, we were blown away! Nicaragua is a beautiful country, and Mukul is extremely exclusive, making you feel as though no one else is at the resort. I look forward to working with Merrill in the future, and will recommend her to all of our friends!
Recommended
Merrill Laguarta
By: Vacation girl
Reviewed on: 14 May 2017
Merrill responded to all my (many) emails promptly and in a professional manner. She recommended the hotels that I stayed at and I was not disappointed! They were 5 star resorts and the service was amazing. Merrill is attitive, well educated in travel and well connected with the right people in the industry.
Recommended
Excellent Service, Highly Recommended!
By: Dan & McCall
Reviewed on: 05 Jun 2017
Working with Merrill was very helpful and added tremendous value to our vacation. She found us a great deal on a newly developed resort, which was high quality and met our expectations. Merrill was very helpful in all aspects of planning our trip, including scheduling transfers to/from airport, recommendations on activities plus "do's and don'ts". She also sent us an itinerary detailing all trip info that was easy to use on a mobile app. I would highly recommend using Merrill for anyone planning an upcoming trip.
Recommended
Trip
By: Glasgow
Reviewed on: 26 Jun 2017
Wondrfull in all respects
Recommended
Around the world trip
By: WG
Reviewed on: 04 Jul 2018
Merrill pulled off a very complicated 10 countries in 30 days around the world. Awesome job.
Recommended
incredible whirlwind through Machu Picchu
By: Anne
Reviewed on: 07 Aug 2017
After a week of work in Peru, my daughter and I wanted to visit Machu Picchu but had less than 48 hours to do so and Merrill made it happen! This is the second trip she has planned for us and just like the first, it was incredibly well-planned and no detail left unattended. To get to Machu Picchu from where we were involved 2 flights, bus, train and another bus. Then we visited the site and had to do all that in reverse. The guide that she set us up with was amazing, knowledgeable, friendly -- couldn't have been better and he did not let late flights leading to missing the train stand in the way. His determination kept us on track and we were able to see accomplish our goal of seeing Machu Picchu quickly but in a very enjoyable fashion. The food and accommodations were perfect. We would not have been able to do it on our own. Merrill's plan and the expertise of the guide made it happen and it was absolutely unforgettable.
Recommended
Scotland over the top!
By: Fletch
Reviewed on: 10 Aug 2017
She is the most organized,professional and positive person to work with!
Recommended
traveler
By: Julie and Julio
Reviewed on: 31 Aug 2017
Absolutely the best planned trip! Merrill is very thorough! Tour where fabulous
Recommended
3 weeks in Italy
By: Terry
Reviewed on: 23 Oct 2017
Working with Merrill was terrific. She clearly had a depth of experience in Italy and had great suggestions for us.
Recommended
Canouan Island
By: JSharman
Reviewed on: 27 Nov 2017
I would definitely work with Merrill again. She made the entire process seamless and was able to re-plan our entire trip on short notice due to a hurricane wiping out the island we originally planned to visit. Every detail was looked after and traveling under her planning and direction made for a worry free trip.
Recommended
Incredible experience!
By: Kristin
Reviewed on: 29 Nov 2017
Amazing, wonderful , so seamless!
Recommended
Cancun, Rosewood Mayakoba
By: Marilyn
Reviewed on: 07 Dec 2017
Merrill was awesome. We planned a last minute trip for our anniversary. She booked our hotel, dinner reservations and transportation. Every detail was perfect from beginning to end.
Recommended
Great planning, great vacation.
By: Alan
Reviewed on: 22 Jan 2018
Merrill made our trip easy from the beginning. She took care of everything, and even when we had a minor bump, she took care of all the changes.
Recommended
Highly recommend!!
By: hvandyke
Reviewed on: 29 Jan 2018
HIGHLY recommend booking travel with Merrill! She took all the stress of planning a trip and transportation away so we could enjoy every moment! She had wonderful recommendations for hotels and we couldn't have been more pleased. Thank you Merrill!
Recommended
California!
By: Austin Traveler
Reviewed on: 23 Mar 2018
Fabulous! Attentive to any challenges that arose. Excellent selection of accommodations.
Recommended
Travel with Merrill
By: Haley
Reviewed on: 07 May 2018
Merrill was great to work with! We had a great trip that was seamless and stress free thanks to Merrill. We stayed at the best hotels, recommended by Merrill. We truly had the best trip and left with memories we will cherish for forever.
Recommended
Italy - Trip of a Lifetime!
By: Sarah
Reviewed on: 25 Jun 2018
For me this was a trip of a lifetime because I had never been to Europe and because I was able to bring both of my daughters. Traveling with them is my favorite thing to do and this experience was an incredible one to share with them. Merrill was great to work with. I sent her several restaurant and day trip suggestions that I received from friends and she was able to work most of them into our itinerary. Merrill has been to Italy many times so she had invaluable insight and recommendations of her own. She worked hard to accommodate all of my requests. She had our itinerary, tickets, driver and day trip information perfectly organized in the app which was easy to use while we were traveling.
Recommended
Merrill is wonderful
By: Anne P
Reviewed on: 16 Jul 2018
Merrill was wonderful in helping us plan our trip to Mexico City. She put together an expert tour of old town as well as found us an amazing, elegant hotel!
Recommended
Spain 2018
By: Nonesmith
Reviewed on: 20 Aug 2018
Merrill is fantastic! She's upbeat, creative, and full of helpful ideas. I would give her the highest recommendation.
Recommended
Excellent all around
By: pb
Reviewed on: 01 Oct 2018
wonderful trip. Merrill is GREAT!
Recommended
Travel advisor on top of everything
By: RTW
Reviewed on: 12 Oct 2018
Working with Merrill was easy, she knew what we needed, checked all the boxes making our complicated trip seamless and easy.
Recommended
Family Trip to Boston
By: Laura H.
Reviewed on: 24 Oct 2018
Merrill made everything easy and organized! Would highly recommend because she really helped us tailor our trip to meet the needs of our young family. Can't wait to plan the next family adventure with her!
Recommended
Great trip
By: Julia
Reviewed on: 16 Jan 2019
She is very knowledgeable, professional, and friendly! I will definitely use her again and recommend her to others!
Recommended
Tryall Club Jamaica
By: Family of Five
Reviewed on: 23 Jan 2019
Merrill is the most positive professional person to work with! She always goes the extra mile to make sure that our trips are organized in advance and full of activities! The Tryall Club in Jamaica was one of the best family vacations we have ever had thanks to her time in locating the perfect house for our family of five!
Recommended
Good job!
By: Sister
Reviewed on: 21 Mar 2019
Very easy; enjoyable.
Recommended
Fabulous New York
By: Allison S.
Reviewed on: 11 May 2019
Merrill made sure that our entire trip ran smoothly! She recommended a lovely hotel. She organized all of our outings and picked the most wonderful tours. The age ranges on our trip were 5 to 75 - it's hard to please everyone, but it really was the perfect trip. We had a fantastic time and everyone is looking forward to going back! Thanks Merrill!
Recommended
Excellent
By: Nana
Reviewed on: 29 May 2019
Awesome! Best vacation we have ever had in 40 years!
Recommended
Amazing trip! Absolutely can't wait to go back!
By: Laura M
Reviewed on: 04 Jun 2019
Merrill is fabulous to work with, she helped us narrow down our decision and guided us with wonderful tips and advice. Definitely would recommend using her to plan your next vacation.
Recommended
Kimpton
By: ATX
Reviewed on: 12 Jun 2019
Fantastic! Merrill was terrific.
Recommended
Hawaii Babymoon
By: Hailey Benningfield
Reviewed on: 11 Jul 2019
Merrill is so insightful and easy to work with when planning special vacations! At every hotel, we were treated so well and even given and gift for our future baby.
Recommended
Italy 2019
By: MerrillFan
Reviewed on: 22 Jul 2019
Easy. Great responsiveness Knowledgeable Transparent Wonderful guides
Recommended
Very friendly and pleasant
By: Baltic cruiser
Reviewed on: 04 Aug 2019
Merrill is lovely and knowledgeable. She sometimes isn't able to reply right away but always gets it done.
Recommended
ITALY AND LONDON 2019
By: AMY D
Reviewed on: 19 Aug 2019
Merrill and her team were delightful to work with. They listened well and planned a trip that fit our family of 5 to a T! From airport transfers, to excursions, to drivers, to hotels and restaurant bookings, the entire trips was delightful. We will use Travel with Merrill again for sure!
Recommended
River Boat Cruise
By: Jo
Reviewed on: 26 Aug 2019
Amazing, she took care of everything! She kept us informed Of any activities, what to expect, offered advice and made the entire trip worry free. I will use Merrill for any future trip!
Recommended
Danube River Cruise
By: Sheryl
Reviewed on: 25 Aug 2019
Merrill is an expert travel advisor. Very organized with clear instructions, cost saving opportunities & reminders for all important deadlines. She planned & booked a private side trip, that played out exactly as we had anticipated.
Recommended
Spotlight on Umbria
By: Michael
Reviewed on: 27 Oct 2019
Could not have been better. Good recommendations and everything worked beautifully on the trip.
Recommended
Great Service and Great Delivery
By: CJ Traveler
Reviewed on: 31 Oct 2019
Working with Merrill was very easy and straightforward. We were pleased with her service. Our vacation was flawless. We would certainly use Merrill again for a special vacation.
Recommended
Merrill Laguarta
By: MEG
Reviewed on: 28 Feb 2020
Merrill was fantastic. Her ability to think outside the box and plan a creative trip was invaluable. The ease it was to plan and travel makes a compelling argument to always use her for travel!
Working with Merrill Laguarta, you will have access to:
- An experienced travel guide whom you can rely on before, during, and after the trip
- Exclusive luxury resorts and properties
- Once in a lifetime experiences
Explore with the Best
Virtuoso Advisors are constantly pushing the boundaries in unique travel experiences.
Alliance programs are unique tailored experiences exclusive to travelers working with Virtuoso Travel Advisors.
learn more
United Kingdom
France
Italy
United States - All
Chile
Argentina
British Virgin Islands
Antigua And Barbuda
Cayman Islands
Puerto Rico
Saint Lucia
Turks And Caicos Islands
Mexico
Costa Rica
Belize