Travel Specialties
Interests
Family Travel
Hotels
Independent Tours
Ocean Cruising
River Cruising
Selling Travel Since
1977
My Background
I have been in the Travel Business since 1976. I travelled extensively as a child growing up in London, England. After I immigrated to Canada in 1970, got married and had children, I started selling Travel along with taking my own trips. My specialties are Jewish Heritage travel mainly in Europe but to all parts of the world with Jewish history. I have personally escorted over 30 groups of people on tours of discovery over the past 20 years. i am also a specialist in cruising especially with Oceania and have escorted 5 groups with them one on each of their 5 ships. In addition I specialize in River cruising and know all the in's and out's of which ships offer what. Any travel that needs special attention to detail is my forte. Please feel free to reach out to me of advise, help and travel planning.
Places I Have Traveled
Reviews and Recommendations for Vivien Rethazy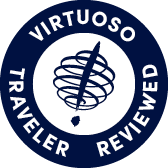 Virtuoso Verified Traveler
All reviews are from confirmed guests sharing exclusive insights
Sort reviews by
Recommended
excellent service
By: barbara
Reviewed on: 23 Oct 2013
As always we were very pleased with the service Vivien offered on our recent trip. We have been dealing with her for several years and have always found her to be efficient and attentive to our needs.
Recommended
Highly recommended
By: Blackie
Reviewed on: 23 Oct 2013
Excellent travel agent, very experienced and reliable, found us good flight to and from cruise
Recommended
highly recomended
By: jeff
Reviewed on: 23 Oct 2013
everything vivien ever does for me is done fast and thorough and very efficient . over 50 years she has been the best travel agent i have ever had
Recommended
Another great trip by Vivien.
By: AllanGila
Reviewed on: 23 Oct 2013
We have been using Vivien for our travel plans for at least 10 years and again she has planned a great trip for us. Everything went as planned without any hitches. Our cruise on Oceania from Southampton to Barcelona was fabulous and the arrangements for us to fly from Barcelona to Tel Aviv and return to Toronto direct was perfect. Looking forward to having Vivien plan ur next trip.
Recommended
Very Knowledgeable, Highly Recommended
By: Matt1986
Reviewed on: 21 Nov 2013
My wife and I booked our French Polynesian honeymoon aboard the MS Paul Gauguin through Vivien. She was very helpful throughout the planning process and quickly responded to any and all questions. We knew so much about the cruise and islands that our days were almost fully planned before we even left. I would highly recommend talking with Vivien before beginning to plan for any trip, especially one as important as a honeymoon.
Recommended
Always well looked after and directed to great places.
By: Cody
Reviewed on: 21 Nov 2013
Have traveled with Vivien for many years to some very strange places and it has always worked like a charm! Will do so again and again.
Recommended
excellent service
By: bbernstein
Reviewed on: 20 Nov 2013
Vivien planned a trip for us to Berlin and Paris As usual we were very happy with the arrangements she made on our behalf
Recommended
Highly Recommended
By: RLA_NewYork
Reviewed on: 20 Nov 2013
Highly recommend Vivian. She's responsive, creative, has great attention to detail and always watches out for her clients' best interests. One of many extraordinary examples of customer care that comes to mind is when Florida was hit hard by a hurricane August, 2008 --- our family reunion at the Ritz Carlton Naples was canceled. In a matter of hours, Vivian found us all rooms at the Keswick Hall in Virginia (which made for a fabulous reunion/60th birthday for my mom). Amazing service!
Recommended
Thorough, complete, efficient
By: mick
Reviewed on: 20 Nov 2013
Vivien is conscientious, attentive and efficient. Arrangenents were flawless and we had a carefree vacation
Recommended
Outstanding
By: JCS
Reviewed on: 20 Nov 2013
Vivien is a fantastic travel agent. Her attention to detail is wondrous. One feels cared for. In fact, she is the single best travel agent I have ever dealt with.
Recommended
Yes I Have highly recommended Vivien Rethazy of The Travel Network Corp.and would do so again.
By: mirmar
Reviewed on: 21 Nov 2013
She has always fulfilled our needs, alawys taken the the time to understand our preferences & tastes and when we had unavoidable bumps she has always been most helpful.
Recommended
Would highly recommend Vivien.
By: Laz
Reviewed on: 26 Nov 2013
Vivien is the best at what she does. No one has ever planned our trips as well as Vivien. She knows what we like and doesn't hesitate to make her opinions known. She always sets us on the right path.
Recommended
reliably good
By: picky
Reviewed on: 22 Jul 2015
As usual, Vivien helped plan our recent trip. The hotels were all as expected and we felt like were treated in a special way.
Recommended
Awesome
By: Retek
Reviewed on: 15 Dec 2015
Perfect from beginning to end. Excellent service, attention to details. Will never have travel arrangements made by anyone else.
Recommended
An excellent service, very highly recommended
By: Marika
Reviewed on: 22 Nov 2013
Vivien Rethazy displayed extensive knowledge of flights and resorts for a complicated trip with our extended family. Her caring, intelligence and going that extra mile made our whole-family (9 people of all ages) holiday a superb experience and removed the anxiety of these complicated arrangements. We would whole-heartedly recommend Vivien to anyone planning a special holiday, a business trip or any other travel arrangements. Thank you, Vivien!
Recommended
She is the very best
By: georgine
Reviewed on: 20 Nov 2013
She is the best travel agent ever. I have been to cruises and organized trips with her, and also individual trips she booked for us with care. Everything always works out perfectly if Vivien organizes. She is pleasant and charming
Recommended
Highly recommended
By: Panni
Reviewed on: 21 Nov 2013
My family is Vivien's client for many years. She organized us several cruises, trips and flights with hotel arrangements. We were always satisfied and happy with her services. Vivien always recommends special programs for our children, and takes care of the whole family's well being. It is a pleasure to deal with her
Recommended
Highly recommended
By: Terry & Rosemary
Reviewed on: 20 Nov 2013
Vivien has looked after our travel needs for several years.She always does a professional & thorough job. Over the years our needs have changed and Vivien somehow senses our particular needs and always makes sure they are met. Thanks to Vivien we have enjoyed all our trips. And yes .... we plan to take many more trips.
Recommended
Excellent servie
By: gyorgyi
Reviewed on: 02 Aug 2014
She is very knowledgable efficient lovely person. Would not use anybody else
Recommended
Oceania Cruise
By: GerryM
Reviewed on: 12 Aug 2014
Cruise was outstanding. Oceania - great level of service and fantastic restaurants. A couple of tours were quite expensive for what they provided.
Recommended
The Best
By: Marv
Reviewed on: 11 Aug 2014
The best service & travel advice
Recommended
Trip of a Lifetime
By: Picky
Reviewed on: 01 Nov 2014
Our trip was a trip of a lifetime. Vivien was amazing and no details were overlooked. She was a pleasure to deal with and took care of all our special requests. We will definitely recommend her to our friends.
Recommended
As always very knowledgeable, friendly and responsive
By: peters
Reviewed on: 28 Nov 2014
Vivien has always been and continues to be well informed, willing to do whatever research is needed and responsive. Our trips have always gone well and often exceeded our expectations. She has always been responsive to resolve any unexpected situations no matter which side of. The world we have been. Overall, great to deal with.
Recommended
First Rate
By: Marvin
Reviewed on: 29 Dec 2014
All arrangements were first rate. Thanks again to Vivien Rethazy at The Travel Network Corp
Recommended
Doesn't miss a Beat
By: notwax
Reviewed on: 07 Jan 2015
Thank you Vivien for all of your diligence and recommendations!
Recommended
10 out of 10
By: Leslie
Reviewed on: 12 Jan 2015
Excellent vacation. Beautiful beaches, gourmet food, luxury accommodations, genuinely friendly staff, two amazing pools. Just perfect.
Recommended
Exceptional
By: Wayne99
Reviewed on: 14 Feb 2015
Vivien Rethazy has been handling all our travels for many years and has never missed a beat! She's always suggested the best hotels, ships, and tours in concert with our personal needs and aspirations. Can't imagine a better agent.
Recommended
Fabulous cruise
By: Canadian cruiser
Reviewed on: 18 Jun 2015
Have nothing but raves for recent trip Copenhagen/Stockholm cruise on the Silver Whisper. Great service and attention to detail, plus Virtuoso cocktails on our second night, as well as tour of Hkesinki the following day. We loved all of it and recommend it highly.
Recommended
Amazing Travel Agent
By: Sweet@64
Reviewed on: 26 Feb 2016
Vivien organized our recent trip to Israel and she did an amazing job-Fabulous hotels, fantastic guides and super-efficient and personal service. We highly recommend her. Thank you Vivien
Recommended
Great trip.
By: Sheila
Reviewed on: 29 Apr 2016
Vivien, all is well on the Seabourn. The Virtuoso trip to the Alhambra was terrific. Really nice woman leading... We are in Portomao, having spent yesterday in Gilbralttar. Thank you for all your good work!
Recommended
Using a Virtuoso agent pays!
By: TorontoEh
Reviewed on: 25 Jul 2016
Stayed at the Westbury Dublin before embarking on an Azamara cruise of the British Isles, followed by a stay at One Aldwych in London. Both hotels are members of the Doyle Collection and have treated us like royalty, thanks to Vivien. We were personally greeted, rooms were upgraded, and at the Westbury, thanks to Virtuoso, we had a delicious 3-course dinner in the hotel restaurant "on the house". Both hotels are located in the centre of the places you want to visit, so you can walk almost everywhere (and we have). The Azamara Quest was wonderful, with excellent friendly service for everyone. There was a special excursion to the Titanic Experience in Belfast for Virtuoso guests, but we had already bought tickets before we learned that, so we were given $150 onboard credit each, which Vivien kindly topped up. Thank you Vivien.
Recommended
Wonderful Service!
By: DPT
Reviewed on: 29 Aug 2016
A super trip all round! AMADagio (wine themed) cruise was absolutely perfect! Still smiling and laughing at some of our memories! Met a great group of fellow travellers! Would highly recommend this trip to anyone who enjoys great wine, lots of walking excursions and excellent food. Kudos to you Vivien for all your hard work making this "bucket list" trip a truly memorable one!
Recommended
A pleasure to work with!
By: Nitag
Reviewed on: 06 Oct 2016
We have used Vivien to plan trips for many years and always been delighted with her efficiency and knowledge. She has helped us when we have encountered difficulties and we feel confident booking and planning trips with her assistance.
Recommended
Best travel agent
By: Gyorgyi
Reviewed on: 06 Oct 2016
Vivien is fantastic, very knowledgable and pleasant at all times
Recommended
Efficiency A+ as usual
By: Toronto traveler
Reviewed on: 14 Nov 2016
Our agent always recommends and books with great expertise and efficiency. She also manages to find terrific fares - often sale prices. She's the best.
Recommended
the best
By: at
Reviewed on: 08 Jan 2017
Our trip could not have been better We received excellent advise and guidance When we had questions with respect to the possible disruption of our trip by a recent natural disaster, Vivien had the answer within 2 days We would not use anyone else
Recommended
Efficiency above all!
By: Susieq
Reviewed on: 17 Jan 2017
Vivien has planned most, if not all, of my travel for the past 30 years. Not only is she personable and easy to deal with, but she is very efficient. Answers to my questions come back within than 24 hours, usually less, even if the request is made at the opposite end of the world. If there is a problem while I am away, she is available to try to solve it immediately. This latest trip was well planned with excellent local partners and wonderful accommodations. I can't wait to go back! Vivien is a true professional and I would recommend her (as I have been) to anyone interested in travel.
Recommended
great trip as always
By: peter s
Reviewed on: 23 Jan 2017
Vivien was and always has been great to work with
Recommended
Oceania Cruise
By: cruiser
Reviewed on: 08 Feb 2017
An excellent experience. Vivien is thorough and conscientious. She watches every detail and is never too busy to deal with the smallest concern.
Recommended
rosies review of v
By: rosie
Reviewed on: 19 Feb 2017
Vivien is excellent . She is smart, thorough, conscientious, and dedicated. Her experience and ability ensure that our trips are tops.
Recommended
Vivien
By: Rockfleet
Reviewed on: 13 Feb 2017
She's great to work with. Totally efficient and good on the details.
Recommended
Azul 5
By: Darling
Reviewed on: 24 Feb 2017
The best preparation and attention to all details. Excellent personal service
Recommended
Aruba Paradise
By: jojo
Reviewed on: 06 Mar 2017
Fantastic-She is an amazing agent
Recommended
Great trip to Israel!
By: Sue
Reviewed on: 19 Mar 2017
Vivien is always of invaluable help in providing information and advice to ensure the best travel planning process and secure trip satisfaction.
Recommended
Review
By: pipeline
Reviewed on: 12 May 2017
Great..Vivien is a real professional...easy to deal with. I can trust her!
Recommended
Great
By: Georgine
Reviewed on: 10 Aug 2017
She is a wonderful travel agent, returns calls promptly has great connections with shipping companies, hotels and airlines. I recommend her to all my friends
Recommended
Great service!
By: Tom
Reviewed on: 04 Sep 2017
As always,it is easy,fast and very carried.
Recommended
Australia
By: Leslie
Reviewed on: 07 Sep 2017
Exceptional . Vivien's recommendations saved me $2700
Recommended
Santa Fr
By: Wayne
Reviewed on: 16 Sep 2017
As always, Bjvien was very through in arranging our trip to Santa Fe. We have worked with her for s number of years and she has always been at the top of her game.
Recommended
Memorable trips - thx Vivien
By: edie
Reviewed on: 24 Sep 2017
Vivien has organized many trips for us and all have been very well-organized. She has gone the extra distance in obtaining up-grades or other extras that are much appreciated. She in very efficient and effective,
Recommended
virtuoso review
By: Rose
Reviewed on: 30 Sep 2017
It was excellent. She is professional, thorough, and a pleasure to work with.
Recommended
Great travel agent!
By: Rockfleet
Reviewed on: 18 Oct 2017
I have always booked our travel myself but since working with Vivien I'm a convert. She is thorough and knows where to go. We booked a few cruises and trips with her and have been happy with everything.
Recommended
Incredible Travel Agent
By: Quincy
Reviewed on: 19 Oct 2017
Vivien Rethazy was amazing. Super efficient, wonderful to deal with and made us feel very special. We will definitely travel with her again.
Recommended
Our Oceania cruise in the Mediterranean was fabulous.
By: Joan
Reviewed on: 04 Nov 2017
Vivien Rethazy is the consummate professional, taking care to ensure all details of the trip were perfect. I would recommend her without hesitation.
Recommended
Vivien is the BEST.
By: RLA_NewYork
Reviewed on: 12 Nov 2017
Vivien is extremely helpful and knowledgable. I highly recommend working with her. Excellent communication, incredible attention to detail. HIGHLY RECOMMENDED.
Recommended
Another great trip
By: Peter S
Reviewed on: 04 Dec 2017
Always very easy and efficient. Everything just happens as it should. Have worked with Vivien for over 30 years on trips from Africa to Mongolia or just the islands and she has always been great!
Recommended
The best travel agent i have ever worked with
By: Quincy
Reviewed on: 31 Dec 2017
Vivien was fantastic to work with-Super friendly, responsive and she had great recommendations. We had a fabulous vacation. Thank you Vivien.
Recommended
Viet Nam & Cambodia
By: Retek
Reviewed on: 27 Jan 2018
Fantastic! All arrangements were superb, no flaws, no mistakes no surprises!
Recommended
South American remote vacation
By: Wayne
Reviewed on: 14 Feb 2018
Excellent. Vivien is very attentive to our needs in every way.
Recommended
Travel agent
By: Sherry
Reviewed on: 24 Feb 2018
Great. She's efficient and knowledgeable.
Recommended
Review Your Advisor
By: Suzanne
Reviewed on: 26 Mar 2018
Vivien is an exceptional travel advisor with deep experience and knowledge. Her professionalism and attention to detail are greatly appreciated. We look forward to our ongoing relationship with Vivien and would strongly recommend her to other travellers.
Recommended
Satisfied Customer
By: Satisfied
Reviewed on: 05 Mar 2018
Always a pleasure to work with Vivien. She is thorough and very efficient.
Recommended
Mexico/ Riviera Maya
By: Leslie
Reviewed on: 12 Mar 2018
Helpful and professional
Recommended
EXCELLENT, KNOWLEDGEABLE
By: VOOMA
Reviewed on: 16 Mar 2018
Working with Vivien was totally excellent.
Recommended
Our trip
By: Wayne
Reviewed on: 18 Mar 2018
Vivien is a pro. We took a vacation to remote locations and she took care of every minute detail and nuance of our trip. We have used Vivien for all our travel for many years and she has never disappointed. An excellent travel agent!!!
Recommended
Caribbean cruise
By: Peti
Reviewed on: 26 Mar 2018
Excellent arrangements and smooth execution. Great person to deal with. She anticipates all possibilities and plans to mitigate problems before they occur. I will travel with no one else.
Recommended
A Great travel Advisor
By: Judy
Reviewed on: 18 Apr 2018
Excellent. Efficient , and pleasant. Extremely knowledge and always making her clients' needs a priority. We have never been disappointed with any of her recommendations. I have and would highly refer my friends to call Vivien when they are looking for a travel consultant Judy
Recommended
Excellent Experience
By: George
Reviewed on: 14 May 2018
Vivien was a great pleasure to have as an advisor. She was quick in making arrangements, gave sound and reliable advice, worked on our side in negotiations and was very knowledgeable.
Working with Vivien Rethazy, you will have access to:
- An experienced travel guide whom you can rely on before, during, and after the trip
- Exclusive luxury resorts and properties
- Once in a lifetime experiences
Explore with the Best
Virtuoso Advisors are constantly pushing the boundaries in unique travel experiences.
Alliance programs are unique tailored experiences exclusive to travelers working with Virtuoso Travel Advisors.
learn more