Travel Specialties
Interests
Adventure
Culture, History & Arts
Honeymoons
Safari
Destinations
Costa Rica
France
Peru
Switzerland
Selling Travel Since
1983
My Background
My dream of becoming an haute couture designer was totally redirected when I had the opportunity to travel to Europe as a junior in the fashion department at Va. Commonwealth University. My curiosity of other countries and their unique cultures was launched and changed my career aspirations to something seemingly different, but perhaps not.
A designer garment has to look perfect inside and out, thus the attention to detail was part of my training. The quality of creating something totally unique is another aspect that the two pursuits share. All of the individual elements have to be assembled into a customized finished product that is a reflection of who you are and ultimately, how you feel.
I would love the opportunity to help fashion your next trip!
Places I Have Traveled
Reviews and Recommendations for Gayle Soloe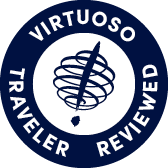 Virtuoso Verified Traveler
All reviews are from confirmed guests sharing exclusive insights
Sort reviews by
Recommended
VERY HIGHLY RECOMMENDED
By: GEORGE & GERDA
Reviewed on: 16 Oct 2013
GAYLE RECENTLY ARRANGED A TRIP TO SOUTHERN AFRICA THAT FAR SURPASSED OUR EXPECTATIONS. ALL TRANSPORTATION WAS ON TIME AND THE ACCOMMODATIONS WERE SUPERB. SHE HAS ARRANGED SEVERAL VACATIONS FOR US AND WE HAVE ALWAYS BEEN VERY SATISFIED. WE RECOMMEND HER HIGHLY
Recommended
Ireland 25th Anniversary Trip
By: gorbys
Reviewed on: 27 Oct 2013
This turned out to be a fabulous trip. We spent many months planning and Gayle was a great help at hearing what I wanted this trip to be and coordinating that with her partners in Ireland. We were not putting together the typical Ireland tourist itinerary. She worked with a few different partners in Ireland until she found one that understood exactly what we wanted.
Recommended
Top notch travel expert who makes a point of personalizing her clients experience
By: two pooches
Reviewed on: 16 Oct 2013
Gayle's expert abilities never fails to give us her very best travel suggestions and most importantly follows through with all the details that travel requires. Having Virtuoso as a partner always offers the ultimate travel experience for us.
Recommended
Highly Recommend
By: Heather2013
Reviewed on: 26 Nov 2013
Gayle was such a pleasure to work with, she is extremely knowledgeable. She made the process so easy. I will and have already recommended Gayle to a friend for her travel needs. Thank you Gayle!
Recommended
Extremely Helpful
By: Anastasia
Reviewed on: 24 Nov 2013
When our originsl travel plans chsnged doe to an emergency, Gayle revised all our flights in such acwayvas to save us as much money as possible. In the process, she managed to get us a convenient schedule snd comfortablevseats as well. We are grateful and woyld recommend her to anyone. It really is not worth the hassle of trying to do these things yourself.
Recommended
By: Not provided
Reviewed on: 09 Feb 2014
Highly recommended as always
Recommended
GAYLE......YOU ARE MY HERO!!!
By: Will & Gabby
Reviewed on: 22 Feb 2014
Gayle is very knowledgeable and super helpful.  She made us feel like VIP clients and assembled the best honeymoon trip for us.  Highly Recommended. Thanks Gayle, Hope to work with you again soon.Will & Gabby
Recommended
have been very satisfied with her work for years
By: Batzi's Papa
Reviewed on: 10 Mar 2014
Mrs. Soloe has handled our annual extended cruises for years and the necessary ensuing travel arrangements as well. She also is resourceful in combining our plans with the ones of our friends, thus we can travel together.keep her happy, we try to do the same...!
Recommended
Great travel help and service
By: Long Tall 47
Reviewed on: 20 Mar 2014
Gayle Soloe is a wonderful travel agent. Her suggestions are always helpful and the travel advice she has given me over the years is wonderful. 
Recommended
Gayle was very helpful and always very pleasant.
By: MLN
Reviewed on: 16 Apr 2014
we have always had an excellent working on trips with Gayle. Unfortunately, we had to cancel this most recent trip due to medical problems, and Gayle is being extremely helpful with the travel insurance claim process.
Recommended
Highly recommended, easy to deal with
By: Towertos
Reviewed on: 30 Apr 2014
My wife and I have worked with Gayle for several years and over 2 dozen trips. Gayle has always gotten what we wanted, service and best price, and we are pleased to be able to call her our friend. we wouldn't think of travel without calling Gayle first.
Recommended
would highly recommend!!
By: Dekey
Reviewed on: 31 May 2014
Really like working with Gayle for ALL our planning needs! She has helped us numerous times for various travel planning and has been such an asset in all we do...becoming a friend in the process!
Recommended
Expert professional service
By: Amy
Reviewed on: 07 Nov 2016
Gayle is an excellent agent--very professional and great at her job.
Recommended
Las Vegas
By: RK
Reviewed on: 14 Feb 2017
She is always very helpful and does a great job. We use her quite often throughout the year.
Recommended
Highly recommended
By: John1948
Reviewed on: 05 Jul 2014
My wife and I engaged Gayle to plan a complicated 3-week trip abroad to Britain and France involving reservations for hotels, a ship and ferry, trains, and an automobile, and a guide for a tour of the D-Day beaches at Normandy.  She did a splendid job--everything came off without a hitch.  It was a wonderful holiday and we look forward to planning future trips with her assistance.  This was the first time we've used her services; a friend recommended her as "the best travel agent in the world."  We are completely pleased.
Recommended
By: Dick S
Reviewed on: 02 Jul 2014
Recommended
Great service
By: Mary
Reviewed on: 19 Aug 2014
Gayle is a very professional travel advisor. I call on Gayle to help me with some of my travel arrangements. I worked with Gayle years ago at another travel agency and know she is very professional and knowledgeable of the travel industry. Thank you Gayle for all your help.
Recommended
Total quality performance
By: E.A. Poe
Reviewed on: 04 Sep 2014
All arrangements were done satifactorily. Quality of service always tops. We have recommended her to our friends.
Recommended
Absolutely Perfect
By: Morgan
Reviewed on: 25 Oct 2014
From the very beginning, Gayle was extremely easy to work with and open to our ideas for our Ireland honeymoon. The end result was more than we could have dreamed for. We cannot thank her enough and would recommend her to anyone!!
Recommended
NYC private tours
By: Bradley
Reviewed on: 05 Jan 2015
Gayle did a wonderful job providing excellent tours in New Yorrk City and I highly recommend her if one desires that help.
Recommended
Thoughtful, knowledgeable and precise
By: Robert999
Reviewed on: 23 Feb 2015
Gayle helped us plan a family surprise birthday cruise. We very much appreciated the details she helped us work out and the extra amenities her Virtuoso association provided for us on the ship. We are happily planning our next vacation with Gayle.
Recommended
Spectacular
By: Jane
Reviewed on: 14 May 2015
Just exceptional in every way!
Recommended
Wonderful tirp
By: long tall
Reviewed on: 19 Jun 2015
Wonderful trip. Everything went smoothly and we had a great time. Marvelous food and extraordinary scenery. The Lewis & Clark riverboat trip was one of the best I've ever taken. The guides were superior, the tone of the the other travelers was great. Everyone was interested in learning and the guides were excellent. I would take the trip again, just for the fun of it.
Recommended
Tauck "Canadian Rockies" tour
By: Annette
Reviewed on: 12 Aug 2015
The tour of the Canadian Rockies by Tauck was wonderful as usual. This is the 5th tour I have been on with them and I have never been disappointed. I had seen Eastern Canada but not the Western part. The scenery was breath-taking,the accommodations wonderful and Tauck as usual,fed you to death!
Recommended
Fantastic Trip!
By: TMorrow
Reviewed on: 28 Sep 2015
Sandals in Negril was incredible. The beachfront walk-out room was very nice, convenient and always clean. The staff catered to our every need. We will definitely put Sandals in Negril on our list for the future! Thanks Gayle for making everything so easy.
Recommended
Best agent ever!!!
By: Tomster
Reviewed on: 16 Oct 2015
Best travel agent on the planet. Gayle takes care of every detail and remembers my preferences better than I do. My trip was a wonderful adventure in parts rarely toured by Americans.
Recommended
great trip ideas!!
By: googie54
Reviewed on: 20 Oct 2015
We had a wonderful trip. Explored the Southwest area of US. Wonderful Resort (Armangiri) was heavenly!! The Grand Canyon was something you can easily do in one day and then get the heck out of there. Enchantment Resort was very nice. The sights of Sedona were amazing to see.
Recommended
Great Hotel Selection
By: R
Reviewed on: 16 Nov 2015
We greatly enjoyed the Hotel Ritz Madrid and the extra benefits and location.
Not Recommended
REVIEW
By: Gail Butler
Reviewed on: 24 Nov 2015
Had a very hard time connecting with Gayle and the follow thru was not prompt. As a result the window seats I requested were not avaiable at the time she booked my flight . She was managing the trip and flights she could have placed me on the flight with the other 2 people who were traveling from Norfolk to Atlanta to meet the museum group. would never use this service again and I paid for less than good service I believe in presenting myself fully if I am asked to review services Gail Butler Norfolk Va with VMFA group to Kansas, Bentonville and Tulsa
Recommended
Convenient flights and expert service
By: Mary Ann long tall
Reviewed on: 03 Dec 2015
Having Gayle arrange my flights is great. My trip was flawless, and the seating, just as I requested. This was one of the best flights I have taken in several years. Thank you
Recommended
Cruise
By: Bren
Reviewed on: 04 Mar 2016
Great time all accommodations were complete and no problems Lots of fun Thanks
Recommended
Outstanding
By: Jim
Reviewed on: 10 Mar 2016
Excellent Experience - life time trip for us - Your planning made our trip a success
Recommended
Gayle is the Best!
By: Ron
Reviewed on: 13 Apr 2016
Gayle planned a great business trip for us to Arizona. She handled all the details. We just had to follow the itinerary. She found us a great location for our planning meeting and a great place near the airport for our client meetings. You won't be disappointed if you let Gayle plan it for you.
Recommended
Sensitive and Timely with Patience
By: Rob
Reviewed on: 18 Apr 2016
We have been working with Gayle for several years and multiple trips around the world. She has always been very knowledgeable and displayed extraordinary patience as we have investigated alternatives and changed our minds several times. She is a Pro and luxury travel
Recommended
Perfect Planning
By: holly123
Reviewed on: 13 Jun 2016
Gayle did a great job executing all the things on our travel wish list. We had a 78 year old traveling with grandchildren, and she took all of our needs into consideration. The hotels were perfect and we loved every minute of our trip!
Recommended
Exceptional service!
By: Jennie
Reviewed on: 06 Aug 2016
Gayle and Cathy''s assistance really helped us in streamlining the planning process for our trip to Ireland, making it fun and simple. They are very knowledgeable and always available to answer any questions or provide helpful tips and tricks. We had such a great experience and can't wait to use their services again in the future!
Recommended
Topnotch service!
By: JMH
Reviewed on: 18 Aug 2016
What a truly inspiring, fun-filled adventure we had in Europe - Gayle Soloe and her team were an integral part of this... She helped us book our cruise with extra cruise credits, arrange a wide variety of transportation (rental car, airport transfers, tours), let us in on tons of tips and offered lovely personal touches (i.e. a very sweet note and chocolates were delivered to our cruise cabin). We were beyond pleased with Gayle and her team, especially the caliber of advice, turn around time of emails and overall professionalism. Can't wait to work with them again!
Recommended
Gayle is the best!
By: Claire
Reviewed on: 24 Aug 2016
Gayle has helped my husband and I with multiple vacations and every single one of them has been so relaxing and memorable! She gets a feel for what it is that we are looking for and matches us up with the resort that will suit us best. Our latest trip was to The Reefs in Bermuda and it was so amazing. Everything went very smoothly and the resort was so amazing! Great food, friendly staff and the views were unreal. Gayle knows best so I will recommend her to anyone and everyone!
Recommended
Washington Retreat
By: JSimpson
Reviewed on: 26 Aug 2016
The Jefferson is an excellent boutique luxury hotel. On my recent stay, the rooms, food, and attentive staff all exceeded expectations.
Recommended
Gayle does a great job.
By: Ron
Reviewed on: 12 Apr 2017
Gayle did a great job of finding us a place in Orlando. It was economical, had plenty of space and amenities, and it was convenient to everything.
Recommended
Amsterdam
By: Travlin' Man
Reviewed on: 23 May 2017
Easy. Great suggestions, no pressure!
Recommended
Gayle
By: Nettie
Reviewed on: 28 May 2017
I have been using Gayle Soloe for many years for various trip that I take by myself. She's always been extremely helpful in making the trip a great success.
Recommended
As Always, Great
By: Kip
Reviewed on: 29 May 2017
Gayle always, always provides outstanding service, advice, and value. I recommend her highly, based on more than twenty-five years of working with her.
Recommended
The Boarders of Scotland
By: Annette
Reviewed on: 10 Jul 2017
I would like to thank Gayle for arranging the flights for me however,the return trip was a nightmare! Either no more Delta or no more JFK! I'm too old to be dealing with this! The trip was great planned and arranged by someone else(Art and Architecture LLC). No breaks however in the course of the trip and the weather was fair for Scotland(cold and damp...one day where the temps got to the mid-70s). I'd give the trip a B.
Recommended
SUPER GAL
By: GOLDEN BOY
Reviewed on: 02 Oct 2017
WORKING WITH GAYLE WAS VERY PLEASANT. SHE HAD ALL BASES COVERED. WE HAVE BEEN WORKING WITH HER FOR MANY YEARS
Recommended
Great Trip
By: Bob
Reviewed on: 12 Oct 2017
Very prompt and adaptable to all requests
Recommended
Professional Service
By: Linda
Reviewed on: 18 Oct 2017
Gayle is professional and dependable. Thanks
Recommended
Trip Review
By: NorwegianIrish
Reviewed on: 02 Dec 2017
Wonderful. She's taken good care of us for a long time
Recommended
Great Trip!
By: Kip
Reviewed on: 01 Feb 2018
Gayle, as always, did a fantastic job, recommending a superb hotel, procuring an upgrade, and ensuring the hotel knew our preferences and needs. Gayle has handled our travel plans for many years and is an excellent trip advisor and planner.
Recommended
Chile
By: Cal Traveler
Reviewed on: 29 Mar 2018
Excellent. Excellent.
Recommended
Sensitive Service
By: Robby
Reviewed on: 04 May 2018
Always very quick and responsive with her service and quickly learns her clients preferences
Working with Gayle Soloe, you will have access to:
- An experienced travel guide whom you can rely on before, during, and after the trip
- Exclusive luxury resorts and properties
- Once in a lifetime experiences
Explore with the Best
Virtuoso Advisors are constantly pushing the boundaries in unique travel experiences.
Alliance programs are unique tailored experiences exclusive to travelers working with Virtuoso Travel Advisors.
learn more
Costa Rica
France
Peru
Switzerland