Travel Specialties
Interests
Beach & Sun
Food & Wine
Culture, History & Arts
Independent Tours
River Cruising
Destinations
Italy
Ireland
France
Spain
Iceland
Selling Travel Since
1989
My Background
My 25 year travel career was initially fueled by my desire to experience different cultures, foods, architecture and history. Throughout my career I have been privileged to experience many destinations including Russia, China, Turkey, Costa Rica, Eastern & Western Europe, Hawaii, Caribbean , Iceland, USA and Canada.
In addition to assisting my individual clients with their customized travel needs, I have extensive experience in designing and escorting group travel experiences throughout the world. Recent escorted trips include Ireland, Italy, France, Germany, Greece, and little known Mediterranean villages.
My greatest satisfaction is sharing travel experiences with my clients knowing that I am instrumental in helping deliver their travel dreams. I believe the travel industry is both a career and an adventure as there is so much to see, learn and experience in the World. I love sharing my knowledge and collaborating with my clients to create adventures of a lifetime and everlasting memories.
Places I Have Traveled
Reviews and Recommendations for Tina Posila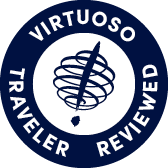 Virtuoso Verified Traveler
All reviews are from confirmed guests sharing exclusive insights
Sort reviews by
Recommended
Highly Recommended!
By: Lynnie
Reviewed on: 20 Nov 2013
Tina is wonderful! She listened to the things we were/weren't looking for in a vacation and she found just the perfect vacation for us. She follows through and has great suggestions to make the trip go even easier. I would definitely use her again!
Recommended
Highly recommended; an expert in her field
By: Janice
Reviewed on: 17 Jan 2014
We needed a trip booked very quickly and the trip had very specific dates, times and requests for lodging. With her years of experience there is no one els to whom I would have turned. We had a fabulous trip !
Recommended
I highly recommend her she's a very good Agent
By: Not provided
Reviewed on: 17 Mar 2014
Recommended
Highly recommend
By: Joanie
Reviewed on: 08 Apr 2014
Tina did a great job with all the little details on my recent trip.She gave me names of restaurants and things I could do in the  area.She even met me in my  town to explain everything in the package.I will be using her on my next trip.
Recommended
Highly Recommend Tina
By: Emily
Reviewed on: 23 Apr 2014
Tina Posila is terrific!  Every detail is taken care of, and the trip goes so smoothly.  Her suggestions are right on point, and she's very willing to work with you to craft the kind of trip you want.  I loved the personalized help.  I fully plan to to use Tina again as our travel agent.
Recommended
Paris is the place!
By: TheCommish
Reviewed on: 26 Sep 2014
The tours were great. Guides were excellent. Hotel was good. Good service and nice people. Our only concern was the 175 dollar cost for one small plastic bag of laundry. Ground transportation was not punctual. American Airlines did a good job. Paris is a great place and we would go back in a heartbeat . Tina you are the best. Thanks for making this happen . The wine was a very nice touch- very classy .
Recommended
Fabulous from start to finish
By: Bob
Reviewed on: 26 Oct 2014
Tina Posila is a gifted agent and the tour we embarked on was a joy from beginning to end; we cannot imagine how the whole experience could have been better.
Recommended
Knowledgeable and friendly service
By: jenng
Reviewed on: 23 Nov 2014
We've worked with Tina on a few different occasions, she's always friendly and helpful....highly recommend her!
Recommended
Expert friendly service!!
By: Marlene
Reviewed on: 06 Mar 2015
We had an excellent time in Ireland despite the unusually cold/snowy/rainy weather issues that we normally do not experience while visiting there. Tina, as always, is very knowledgable, experienced, friendly, and fun to be around. She is always there and willing to answer any questions and concerns that may arise. Whether she is making arrangements for airlines, ground transportation or excursions you can always rest assured that they are properly done. I would never hesitate to recommend her services to anyone wishing to make any type of travel arrangements.
Recommended
best trip ever
By: Diane
Reviewed on: 08 Mar 2015
This was my first trip over seas and Tina did an amazing job ,everything she had planned for us was outstanding from the shuttle ride to the hotels we stayed at ,to the amazing tour guide Mickey Nolan. I can't wait till next year to see what she has instore for us. I already have people waiting to hear about our next trip. I will tell all my friends about Tina at Largay Travel. She is the best.....
Recommended
Friendly, stress free experience
By: linda
Reviewed on: 25 Mar 2015
This vacation was more than a vacation. It was relaxing, fun, informative, enjoyable, stress free, an experience to always remember! Tina was calm, friendly, confident, and always available if we needed her. We have a new friend now and hope to travel again with her.
Recommended
did a wonderful job!!
By: Payl
Reviewed on: 02 Apr 2015
we had a great time!! loved every minute. would go again with Tina!!!
Recommended
Italy
By: John
Reviewed on: 26 Mar 2015
The trip was fantastic and well organized. The tour guides during the trip were very knowledgeable and professional. Tina did a fantastic job and we would love to travel again
Recommended
Attentive, trustworthy, and reliable
By: DMazz83
Reviewed on: 27 Apr 2015
Tina is an exceptional Travel Adviser and I would highly recommend her to anyone looking to plan a trip. She is really attentive and takes care with all of the details to make sure your trip is special. Sometimes I have things planned out one way in my mind and then Tina will make some suggestions to my plan that I haven't thought of. I've found that taking her advice has always turned out for the better and I'm grateful for her help! My husband and I have truly enjoyed each trip we've booked through Tina and have her to thank for all the wonderful memories we've made. If you've ever been on a trip that didn't go so great, you will understand how important this is! Thank you Tina, we look forward to our next adventure!
Recommended
Wonderful Experience!
By: Jenna21
Reviewed on: 20 May 2015
Tina was everything we needed and wanted in a Travel Agent. From the beginning, she gathered information about the types of places that we wanted to go, our budget, what we wanted in a resort, etc. and we could not have asked for more. Even when we asked her to re-price trips and look at other locations on a couple of different occasions, she did so happily and efficiently. Also, it was wonderful to have the binder mailed to us with all of our travel documents, so that we had everything we needed for our trip. Tina also surprised us with champagne and chocolate-dipped fruit in our room on our second day. It was such a sweet touch that meant a lot to us! The trip was more amazing than we could have ever expected or hoped and we greatly appreciate EVERYTHING that Tina did to make it such a memorable experience.
Recommended
Great follow through on all parts of trip
By: Joan1953
Reviewed on: 19 Jun 2015
I have had very good experience with every trip I have booked with Tina.She always has great ideas and follows through on every detail.I am a very organized person so I find it a pleasure working with her and will be using her again.
Recommended
Europe Trip 2015
By: Croft Family
Reviewed on: 16 Sep 2015
Tina was incredibly helpful in arranging this summer's trip. Every step of the trip was spelled out in the itinerary, which as perfect for a trip with three locations. She is always a pleasure to work with, and has come through in the clutch on a prior trip. We will be using her again next year (and I have referred her to a colleague of mine last year as well).
Recommended
Planned a Great Trip!
By: EmilyinLA
Reviewed on: 24 Aug 2015
Tina Posilla planned a wonderful trip to Europe for our family of four, with comfortable hotels for our family and activities we enjoyed. We would highly recommend her!
Recommended
Best Advisor Ever!!!
By: Beth
Reviewed on: 11 May 2016
I recently traveled to Italy with Tina as our advisor. She made our trip enjoyable and comfortable at all times. I would highly recommend Tina as a vacation planner to anyone. Tina took our suggestions for our next trip and we are looking forward to going on another vacation with her as our guide!
Recommended
Great service, wonderful trip, excellent travel agent
By: Dnb1950
Reviewed on: 11 May 2016
Tina is marvelous. This was the second trip with her a day I'm ready to go again. She made our trip very relaxing and we got to see so much. You have a gem of an agent , so don't lose her.
Recommended
Wonderful well planned vacation
By: Susie
Reviewed on: 11 May 2016
The itinerary was well planned and loaded with interesting sites. The villa was comfortable and charming. This was my first trip with Tina and it exceeded all of my expectations. Everything was so organized and pleasant. The food was very good and the breakfast was awesome. The price of this trip was very good. I'm looking forward to traveling with Tina again!
Recommended
Best trip ever!
By: Jen Jen
Reviewed on: 03 Aug 2016
I have to say that this was simply the best trip I have ever been on!!! My family & myself loved our Tuscan trip to Italy. Our hotel was absolute perfect. It was beautiful & clean. I loved the outdoor seating areas for us to relax in. The food was fabulous! Our tour guide Valaria & bus driver Pepe were excellent! We apprietiated all of there extra efforts. She planned a wonderful trip for us!! I can't wait to travel with Tina again 😊
Recommended
could not have asked for better
By: flounder
Reviewed on: 11 May 2016
Everything was perfect from the first contact with Tina until the last second of the trip. Tina took care of everything. Looking foward to more trips with her.
Recommended
Knowledgeable, professional, & fun
By: Patsy
Reviewed on: 11 May 2016
Tina is wonderful to travel with. Every single item was addressed from the tour guides to the bus driver to dinner reservations. Everything went very smoothly and we didn't have any problems at all. Every detail was taken care of. Tina is very, very organized and truly cared about our travel experience. This is the third trip I have taken with Tina and it definitely won't be the last.
Recommended
Experience
By: Rollo
Reviewed on: 17 Jun 2016
A truly remarkable experience sampling outstanding Tuscan cuisine, fabulous wines from the Chianti, Montepulciano and Montalcino regions. By far, however, the most memorable part of this trip was experiencing the breathtaking beauty of the Tuscan countryside. If there is a Heaven, I can't imagine it being more stupendous than the many vistas we saw. Add to that the architectural impossibility of the many Tuscan hill towns we saw, outstanding accommodations and kindness of the Italian people and all adds up to a nearly flawless 2 weeks. Kudos to Tina for helping us accomplish this unforgettable event.
Recommended
Professional, accommodating & thorough
By: Jan & Steve
Reviewed on: 01 Jul 2016
We can not say enough as to how professional, accommodating and thorough Tina was in helping us plan our trip of eleven people, ranging in ages of 2 years old to 63 years old. We had countless questions and changes due to our own personal situation and Tina handle them calmly and quickly satisfying all of our needs taking the headaches off my plate. We will definitely use Tina again in the future and refer her to all of our family and friends. Fantastic trip.
Recommended
most helpful, knowlegeable, goes beyond to make arrangements
By: rj
Reviewed on: 16 Jul 2016
Tina was right there whenever I had a question about the trip. she found bargains we were not aware of. . and...because of her knowledge of the travel industry she led us in the right directions with the cruise, excursions, and general info regarding the area Looking forward to our next trip with Tina
Recommended
The best
By: Sheep chaser
Reviewed on: 06 Jul 2016
Tina showed us true professionalism throughout our Italy trip. She maintained a sense of calmness. Everything ran smoothly because of her planning and organization. She is also very fun and upbeat to be with.
Recommended
We had a ball!
By: D&J
Reviewed on: 08 Jul 2016
Great time, great places and attentive service. Our group was a bit like herding cats but Tina and the guides kept good tabs on the group and made sure we all had a good time.
Recommended
awesome trip
By: Chrissy
Reviewed on: 14 Jul 2016
So pleased with our trip and looking forward to future trips!!!!!
Recommended
Outstanding and attentive service
By: DRBSLP
Reviewed on: 10 Aug 2016
I would highly recommend Tina. She was attentive to all the details and provideded courtious service going above and beyond to be sure that our trip went off without a hitch. Despite our last minute planning & her own personal travel plans she made sure to follow up with flights and accommodations & even coordinated our daughter's return trip given the fact that she met us in Europe and wanted to be on the flight back to the US with us. The tour Tina recommend was perfect for us and we were happy with CIE as well. Thanks so much for wonderful and very personal service!
Recommended
She is wonderful!
By: Mike
Reviewed on: 19 Aug 2016
Tina did an amazing job planning every detail of our trip. Her suggestions were spot on and we did not have to worry about a thing except enjoying our trip to the national parks
Recommended
Amazing spot on friendly knowledgeable service.
By: Leanne
Reviewed on: 25 Aug 2016
Tina over the years has arranged many of our travel adventures. In all cases she has been a great friend and a very competent travel agent. She is always happy to help out and makes sure that all arrangements are complete and accurate. We would never hesitate to call her with any questions and we will never hesitate to call on her for future travel. We love her.
Recommended
150%attention given
By: Lin.
Reviewed on: 26 Nov 2016
I wanted to go on a cruise but had a bad experience on my honeymoon 45 years ago. Tina researched all the ports and time at sea for me and helped me decide what ship and what destination would be best for me. She spent so much time with me I felt so relaxed about everything when the time came. Tina helped me do the registration and we researched shore excursions . I was so thankful for all her knowledge and grateful to her for making my cruise such a wonderful experience. I had such a great time, I will surely be doing more cruising with Tina's help.
Recommended
Atlantis Bahamas
By: Zoltan
Reviewed on: 17 Mar 2017
Tina was great! She sent milk and cookies to our room for the kids, wine for us, and did everything in her power to make sure we had a great trip! I've recommended her to friends and co-workers and will continue to do so! Just as an FYI, we had some issues with the Atlantis like trying to overcharge us upon check out and such but Tina was great in connecting with me on that even as well.
Recommended
Recent Vacation
By: Mary
Reviewed on: 08 Apr 2017
Working with Tina is always a pleasure.She is very knowledgeable and more importantly always gets back to you in a prompt manner.I have referred her to friends going to Europe and they were very pleased.I will continue to call her for future trips.
Recommended
Great experience!
By: Jenn
Reviewed on: 14 May 2017
Tina is wonderful to work with - always pleasant & very knowledgeable.
Recommended
Italy 2017
By: Alice J
Reviewed on: 15 May 2017
Tina was wonderful and very accommodating to all of us.
Recommended
Tina
By: j
Reviewed on: 22 May 2017
Tina has always been excellent to work with
Recommended
Italy April 29-May 9, 2017
By: Bunny
Reviewed on: 15 May 2017
Tina was excellent to work with, informative, good natured and had a very good knowledge of the areas we visited.
Recommended
Great Trip
By: Frank & Pat
Reviewed on: 15 May 2017
She was great always there to help and advise about places we were about to visit. Friendly pleasant and helpful.
Recommended
italy
By: kenneth
Reviewed on: 05 Jun 2017
vary helpful on setting up the trip. especially with dealing with AA after the trip
Recommended
Ireland June 2017
By: Ray/Tammy
Reviewed on: 09 Jul 2017
Outstanding, entertaining and worry free. Very professional.
Recommended
Tina
By: KC
Reviewed on: 09 Jul 2017
Working with Tina was great - very attentive to our needs.
Recommended
Tina is wonderful!
By: Tricia
Reviewed on: 09 Jul 2017
Working with Tina was a great experience. She is responsive, knowledgeable, professional and a lovely, fun person. I would recommend her to family and friends when planning a trip.
Recommended
Ireland
By: Lori
Reviewed on: 08 Jul 2017
Smooth as silk!
Recommended
Ireland trip
By: Traveller
Reviewed on: 10 Jul 2017
Great! Tina was very well organized. She met with us beforehand, explained everything about the trip, had all of our travel documents and answered all of our questions. During the trip she always spoke with airline representatives and hotel personnel to make sure there were no problems. The trip ran very smoothly and Tina was a lot of fun as well. I would definitely work with her again.
Recommended
Irish Adventure
By: Anonymous
Reviewed on: 10 Jul 2017
Tina Posila was extremely easy to work with. She was always very responsive to questions, concerns or problems before and during the trip. Her concern for the members of the tour group was obvious. Their enjoyment of and satisfaction with the trip was her primary interest. She put together a wonderful itinerary. This trip far exceeded my expectations. My husband and I had a wonderful time and I would recommend Tina's services to anyone.
Recommended
Love Her
By: Linda
Reviewed on: 18 Jul 2017
So easy to work with tina is very knowledgeable. She works within your budget, finds a place the family will love. Follows up before and after our trips. Highly recommend Tina. The best travel agent we have ever had.
Recommended
Tina is the best!
By: Paul
Reviewed on: 25 Jul 2017
Tina handled everything that we needed for our trip, including the plane tickets, hotel, rental car and even suggestions for local restaurants. She takes care of every little detail so that you can relax and enjoy your vacation. Tina is always a total pro and goes out of her way to make sure the client is happy. Thank you!!!
Recommended
The best!!
By: OurEscape
Reviewed on: 02 Aug 2017
Tina was outstanding from the first contact to the final meeting before our trip!! She was extremely thorough, responded promptly but most of all was friendly and knowledgeable. She went above and beyond to make our trip fantastic!!
Recommended
Mexico Trip
By: Speedy Gonzales
Reviewed on: 19 Aug 2017
Tina was great to work with even met us on a Saturday at a Dunkin Donuts to explain details of our trip in person. So nice to work with someone who likes to help people.
Recommended
Best Ever
By: Trish
Reviewed on: 25 Aug 2017
Tina was so accommodating and informative. She followed through on everything in a timely fashion and offered up her thoughts without pushing us in one direction or another! She has stayed in touch with me through the whole process and I will definitely be using her again!! I highly recommend Tina! She's a class act!!
Recommended
Ireland Trip
By: Anne
Reviewed on: 27 Aug 2017
Outstanding trip and Tina was great.
Recommended
Tuscan travel
By: Albe
Reviewed on: 18 Sep 2017
Tina, is gem! She is very thorough and thinks of everything that will make your vacation top notch. Because of her extensive travels, she can assist you with first hand knowledge. We are looking forward to Tina planning our next trip!
Recommended
Excellent travel planning
By: Beth
Reviewed on: 28 Sep 2017
Tina is a very experienced, thoughtful travel professional. She worked with us to plan a one week vacation to Portugal. She spent time with me on the phone and by email to set up our flight and hotels to make sure everything met our needs. She also had very good suggestions for tours in Lisbon that we really enjoyed it. Also took care of extra details like seat assignments and paying for baggage and even checked up on us on our trip home. Thanks Tina!
Recommended
Poland
By: Jacki
Reviewed on: 22 Oct 2017
She is awesome. She is fun to be around and makes everything very interesting and she's also very knowledgeable about the places that we visit
Recommended
Mediterrenean Trip
By: Anne
Reviewed on: 13 Nov 2017
Great. She provided all the information we needed for a terrific trip. Easy to work with, thorough and knowledgeable. Everything was great. I have and will continue to recommend her to others.
Working with Tina Posila, you will have access to:
- An experienced travel guide whom you can rely on before, during, and after the trip
- Exclusive luxury resorts and properties
- Once in a lifetime experiences
Explore with the Best
Virtuoso Advisors are constantly pushing the boundaries in unique travel experiences.
Alliance programs are unique tailored experiences exclusive to travelers working with Virtuoso Travel Advisors.
learn more
Italy
Ireland
France
Spain
Iceland
Germany
Switzerland
United States - All