Travel Specialties
Interests
Family Travel
Safari
Independent Tours
Ocean Cruising
River Cruising
Destinations
Australia
Ireland
New Zealand
United Kingdom
France
Selling Travel Since
1990
My Background
I have had a curiosity and a desire to explore the world for as long as I can remember. When friends would travel to far-off places, I would follow their itineraries on maps and eagerly enjoy their stories and photos upon their return. So, after a first career as a freelance journalist and a public relations advisor, I decided to make my passion for travel a career.
In my 23 years as a travel consultant with En Route Travel, I have planned vacation experiences for clients to every corner of the world, from Alaska and Scandinavia, to South Africa and Antarctica. In creating itineraries specifically designed for each client's personal interests, I have used the research skills I developed as a journalist combined with the organizational skills required in public relations. I have personally travelled through much of Europe, Australia, Asia, Africa, South America and extensively in the U.S., Canada and Mexico.
Places I Have Traveled
Reviews and Recommendations for Gloria Welles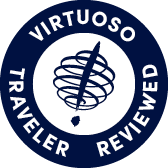 Virtuoso Verified Traveler
All reviews are from confirmed guests sharing exclusive insights
Sort reviews by
Recommended
The Best!
By: JKingM
Reviewed on: 09 Oct 2013
Gloria is so professional and knowledgeable. She paid attention to every detail as well as prepared us for our trip. Every reservation and connection was planned to precision. She is also incredibly warm, kind and caring and had our best interest at heart with every arrangement she made. We will never take another trip or make another travel plan without her!
Recommended
The Perfect Travel Agent
By: que que
Reviewed on: 12 Oct 2013
Gloria always listens and pays attention and therefore she gets it right. Thanks to her and her planning, our hotels were in the perfect location and were wonderful. The first thing we do when we want to plan any trip, any type, we call Gloria. She has always satisfied our desires and requirements. We highly recommend her.
Recommended
Highly recommended
By: Andi
Reviewed on: 11 Oct 2013
Our experience with our Travel Agent was wonderful. We were well respected and taken care of by Gloria Welles as well as the Hyatt Regency. We will definitely use Enroute Travel again as well as stay at the Hyatt again
Recommended
Professional yet personal attention
By: Ylm
Reviewed on: 13 Oct 2013
Gloria has planned many different kinds of trips for us. Each trip came off without a hitch. The hotels were always perfectly located, comfortable with an attentive staff. Our transportation arrangements were flawless. She has frequently suggested additional ideas for our destinaion which added greatly to the experience. We consider ourselves fortunate to have Gloria taking such good care of us.
Recommended
Highly Recommended
By: RobT
Reviewed on: 24 Nov 2013
Gloria has been booking trips for us for years now and we are very pleased with the level of service that we have received.
Recommended
Highly recommended
By: Sissy
Reviewed on: 03 Dec 2013
Gloria did a terrific job getting us 13 airline tickets to Costa Rica
Recommended
Highly recommended
By: hiphazn
Reviewed on: 30 Nov 2013
Gloria is a one stop shop. You simply have to give her the idea of what you want for your travel experience and she takes of the rest in the most caring, thoughtful, professional and precise manner. She gets you the very best without breaking the bank. She is so knowledgable and truly A+. A most kind and patient person. We wouldn't use anyone else.
Recommended
Highly recommend
By: Hiphazn
Reviewed on: 03 Jan 2014
She is fully informed on whatever vacation you experience. Able to pick up the unknown and explain everything about the trip enjoyable for your family. Very patient and very responsive to your email.
Recommended
GREAT TRIP - HIGHLY RECOMMEND GLORIA
By: Frank, the Bruin
Reviewed on: 24 Jun 2014
Gloria Welles planned one the best trips we have ever taken.  She found exquisite hotels for us in Quito and Otavalo and planned an itinerary that I could not have done myself.  All of the transfers worked flawlessly.  Then the best part, although we loved Quito and Otavalo, was the amazing trip to the Galápagos.  Gloria found a terrific company which perfectly fit into the dates we were able to sail.  Traveling today is a big enough challenge, but just knowing that everything has been taken care of for you, makes it such a memorable and enjoyable trip.  This is what we experienced and my wife and I would highly recommend Gloria to plan your next trip.
Recommended
Exemplary
By: Carol
Reviewed on: 29 Jul 2014
Gloria was exemplary in every way.  I would recommend her to you without reservation.  She arranged every detail of hotel, trains, flights...and everything with absolutely no problem.  She is awesome.
Recommended
Terrific travel expert!
By: EKL 2
Reviewed on: 08 Sep 2014
My family and I have used Gloria as a travel agent for many years. She had planned so many fabulous trips for us. We have been totally satisfied with the service provided for us. I can't recommend her highly enough!
Recommended
Beauty of many kinds in Morocco
By: mar
Reviewed on: 17 Nov 2014
What a variety of beauty in this country. The high Atlas mountains and the Ourika valley were cool, green and terracotta and beautiful with wonderful trails and snow capped mountains in the background. We stayed in a small inn that had lovely gardens, although there was a wide variation of rooms; some small and boxy and nondescript without view (like mine), others with a pool and garden with a fountain. Essouira was stunning seaside vistas and lovely hiking, and the city of Marakech was bustling and called the "red city" for a good reason. Life is vibrant here. My favorite city, however , was Fes, an ancient warren of beautiful tiny streets recalling ancient Jerusalem. Inside many of those colorful doors were ancient riads, some lively, others abandoned. La Mamounia hotel, the L'heure blue and the riad fes were very nice hotels. The Riad Fez was located well, but had weird shaped rooms that were ultra modern. People were warm and friendly and we enjoyed our trip immensely.
Recommended
1st Class Travel Planner
By: Rosie
Reviewed on: 13 Mar 2015
Gloria Welles is a top notch travel agent. She takes care of all the details to ensure that a trip goes smoothly. She is efficient, diligent, and detail oriented, as well as a delightful person. Gloria has planned many wonderful trips for us and we just returned from another great trip that she organized. I would highly recommend her, she is the best.
Recommended
Breakers
By: RC
Reviewed on: 13 Mar 2015
Thanks so much Gloria. Everything was a planned; early check-in, upgrade to suite, complimentary breakfast, $100 credit and allowed for extra night stay. Original flight cancelled. Good job. Thanks again., Helene & Richard Carapellotti.
Recommended
Best Travel Agent Ever
By: DolleyM
Reviewed on: 25 Mar 2015
Booked us in great hotel with wonderful Virtuoso amenities and suggested best seats at Indian Wells Tennis Tournament. A joy to work with Gloria!
Recommended
Attention to Detail
By: Rob and Sus
Reviewed on: 12 Apr 2015
We have been working with Gloria for several years now and travelling to all different parts of the world. No matter where we travel, Gloria has been able to customize our trips to ensure that all bases are covered and we are never left in a situation where we do not know what to expect. It is a comforting feeling to know that the attention to detail is being handled by a competent professional.
Recommended
Incredibly Great!
By: Cat
Reviewed on: 04 Aug 2015
Gloria Welles did an awesome job from start to finish! She arranged flights, spectacular hotels often through Virtuoso, and we had a wonderful travel experience! I cannot speak more positively...and this entailed flights and accommodations in China, Europe, and South America, and connections between several of those. Thank you Gloria!
Recommended
Always comes through
By: Sandy
Reviewed on: 02 Aug 2015
Gloria has been planning our trips for years now. Whether it's a weekend getaway or a month-long foreign expedition, Gloria's arrangements have been faultless. She understands what we'll like - from boutique hotels to out-of-the-way guided tours. Gloria is always our first call when we want to leave home.
Recommended
The Best travel agent I have ever used!
By: Ekled
Reviewed on: 26 Aug 2015
Gloria puts together a first rate trip every time we have used her. The four seasons resort Hualalai was fabulous. Every detail was worked out ahead of time by Gloria. I wouldn't think of using anyone else to plan a trip but her. She is terrific!
Recommended
Mexico
By: Rob
Reviewed on: 14 Feb 2019
Mexico City and Baja California. Gloria is great to work. Always on top of things and helpful.
Recommended
My travel arrangement.
By: Mickey
Reviewed on: 11 Feb 2019
She was efficient and very knowledgeable and very helpful. My travel arrangements were very comfortable and a great experience.
Recommended
Helpful, friendly and professional
By: Len Rosie
Reviewed on: 25 Sep 2015
Gloria is very well versed on destinations and likes and dislikes of her clients. When she plans a trip for us we know it will meet our needs as well as expectations as she does that well. This trip was a great trip and things went smoothly. We were so satisfied with our lodging, suggestions for eating and sightseeing prior to our leaving. Once again, it was a fabulous trip due to her diligence.
Recommended
One of a kind
By: Mr. J
Reviewed on: 02 Oct 2016
Gloria Welles just planned a trip to Las Vegas for my wife, myself and two other couples. There were some special requests and Gloria attended to all the details and everything was perfect in every way. We would recommend Gloria to anyone traveling anywhere as she really goes out of her way to ensure a perfect outcome every time. She is the best!!!!
Recommended
Just Okay
By: cheryl
Reviewed on: 20 Oct 2016
If this is a review strictly for the Sofitel Hotel in Munich, I would give the hotel a 3 out of 5 rating. On the plus side it is very conveniently located near the train station. The staff were professional and helpful but the hotel is not up to snuff in my book. The carpets are worn and the overly modern decor is dark and uninviting. The room lights were attached to a card system which no one explained to us so for at least a day we had issues with the lights--couldn't keep on a reading light at night. However the room was clean and the did allow you to use room service for your included breakfast, which many hotels would not. I thought that was great.
Recommended
Outstanding Travel Agent
By: rosie
Reviewed on: 16 Nov 2016
Once again, Gloria did a great job for us. Every detail was executed and it was a wonderful trip. She takes the worry out of travel for us. We could not have had a better experience. Can hardly wait to plan another trip!!!!
Recommended
Arizona Trip
By: Rob
Reviewed on: 07 Feb 2017
Everything went like clockwork. No glitches. Gloria is a superb travel consultant who really has her act together. We have worked together now for years which is beneficial to all concerned as she knows what we are looking for and consistently comes through.
Recommended
The Best!
By: Larry
Reviewed on: 09 Mar 2017
Gloria's attention to detail is second to none! It's like having your own personal concierge from the Four Seasons booking your travel! Highly recommended to the most discriminating travelers.
Recommended
Maui trip
By: Cindy
Reviewed on: 14 May 2017
Gloria is terrific. All the details of our trip were coordinated perfectly.
Recommended
Italy trip
By: Marie
Reviewed on: 31 May 2017
Great. She did exactly as we asked, picked 3 great hotels and convient last night at Rome Hilton. She made appropriate suggestions and followed through on all questions.
Recommended
The best
By: Larry
Reviewed on: 30 Jun 2017
This trip planned by Gloria was completely coordinated from the time we got on the plane if SFO until we returned to SFO. Flights, transfers, private guide in Israel, Regent cruise, hotels, etc. exceeded our expectations. We have worked with Gloria for more than 20 years and would not think of using any other travel agent.
Recommended
Gloria is the Best!
By: Italy
Reviewed on: 27 Sep 2017
Gloria has extensive travel experience. She intuits your needs and gets the job done. I've used her expertise over the years and I wouldn't use anyone else.
Recommended
great advisor
By: RE
Reviewed on: 04 Oct 2017
Gloria is extremely competent and efficient. She has a wealth of information and is very responsive to our needs. She is simply great to work with!
Recommended
First Class Getaway
By: Lennie
Reviewed on: 12 Oct 2017
Working with Gloria Welles is always a pleasurable experience. She is able to determine what it is we are looking for in a vacation, or just what we want in a few short days away. This was no exception. She planned 3 nights away for us. Everything exceeded our expectations. another wonderful trip, thanks to Gloria. She knows the hotels and made all the arrangements. It was a perfect getaway. Thank you Gloria.
Recommended
My longtime Knowledgeable, helpful travel advisor
By: Marleft
Reviewed on: 15 Oct 2017
Working with Gloria is always enlightening since she is so knowledgeable and gives you insights and tips on your travel plans. She answers your questions immediately and will call you at a convenient time to explain additional helpful facts. She chooses wisely for the individual.
Recommended
Lisbon
By: Rob
Reviewed on: 30 Oct 2017
We have been working with Gloria for many years now and traveled extensively. No matter where we go, Gloria is always able to point us in the right direction by suggesting beautiful hotels, competent local tour operators and customized itineraries that make us happy.
Recommended
WONDERFUL
By: MISSY
Reviewed on: 01 Dec 2017
Gloria is patient , listens , helped with cancellations . She is knowledgable . My husband and I are very pleased to be working with her. Thank You ! Melissa Converse Ewing
Recommended
India
By: Rob
Reviewed on: 09 Feb 2018
Gloria has been great to work with for every trip and this one was no different. Everything went according to plan which is what we have come to expect. Great trip!
Recommended
Wonderful Travel Agent
By: RBK
Reviewed on: 28 Feb 2018
Gloria was wonderful. She helped us plan amazing tours and got us wonderful deals at our hotel. The tour company chose was fabulous and everything was organized before we arrived. It ran like clockwork and she made traveling with 3 children easy!
Recommended
review of Gloria
By: Kristen
Reviewed on: 16 Apr 2018
Gloria is extremely helpful and goes above and beyond to research the best fares and the best hotels for my vacations. I enjoy working with Gloria, and she is always accessible and willing to help out in any capacity. I appreciate her knowledge of the travel industry and find that I have relied on that when considering a vacation location that I have never been to. I will continue to work with her.
Recommended
Gloria Wells
By: Fran
Reviewed on: 21 Apr 2018
Gloria planned an amazing trip. Her professional manner and knowledge are beyond words.
Recommended
Paris
By: E.
Reviewed on: 10 May 2018
Very good, patient person!
Recommended
Amazing attention to detail
By: RBK
Reviewed on: 27 Jun 2018
Gloria was phenomenal. We had everything done before our trip. She followed up appropriately and made sure we had all arrangements we needed for trip planned before departure. She even secured an amazing upgrade for us. We had such an amazing time and it was effortless on our part.
Recommended
Great Getaway
By: Lennie
Reviewed on: 13 Jul 2018
Gloria Welles is great when it comes to anything regarding travel. She is very well informed and pays close attention to detail. She is a pleasure to work with!!!
Recommended
Perfection
By: Melissa
Reviewed on: 12 Sep 2018
Gloria is terrific . She is right there for you. Very knowledgable --patient .
Recommended
Feedback for Gloria Welles
By: Cheryl
Reviewed on: 21 Sep 2018
Gloria is very knowledgeable and highly professional. I trust her to make arrangements at high quality hotels that are ideally located based on our travel goals.
Recommended
Italy
By: RJ
Reviewed on: 27 Oct 2018
Gloria was efficient and on top of everything. She made our trip successful in her complete planning of all we needed.
Recommended
Gloria is amazing
By: Amy
Reviewed on: 09 Jan 2019
As always, Gloria handled every detail and followed up on everything necessary to make the trip easy.
Recommended
Great job
By: Psychguy
Reviewed on: 20 Apr 2019
Gloria was easy to work with and everything went smoothly. The hotel had been notified and arranged to meet us at the airport and the hotel was aware of our arrival and our preferences. A wonderful experience working with Gloria We have worked with her on several other trips and always found her thorough and easy to work with.
Recommended
Gloria Wells
By: Fran
Reviewed on: 01 May 2019
The best travel agent. Gloria is very organized and attentive to our travel needs.
Recommended
Great hotel advice for Williamsburg, NY from a wonderful trip advisor
By: ekl
Reviewed on: 25 May 2019
Working with Gloria is always a pleasure. She always has great suggestions and finds just the kind of hotel that my husband and I like. We have never been disappointed with anything she has planned for us. I strongly recommend her for travel anywhere in the world!
Recommended
New York Hotel
By: Cathy
Reviewed on: 03 Jun 2019
Gloria is always great. She helped me review several different NYC hotels and evaluate location, pricing, value, room size. etc. We picked the Park Hyatt and loved everything about it! The room and bath were beautiful, with lots of storage, coffee machine, water, great shower. Great Breakfast! Staff was Great!
Recommended
Incredible getaway
By: 5 Star Girl
Reviewed on: 21 Jun 2019
Gloria Welles must pride herself in knowing her clients, as she always gets things right. We love her attention to detail, her prompt responses, and she goes out of her way to to make us happy. We value her expertise and have never been disappointed in any aspect of a trip that she has planned for us. We will continue to enlist her help as she is Just the best!!!! We can't praise her enough.
Recommended
Airline Reservations
By: RJSAMM
Reviewed on: 16 Jul 2019
Gloria is very efficient. Offers many options to choose from.
Recommended
Costa Rica
By: TB
Reviewed on: 19 Jul 2019
Gloria helped me plan a wonderful 12 day vacation in Costa Rica for my two kids and I. Well organized and safe. Lots of fun activities.
Recommended
Terrific Getaway
By: No Name
Reviewed on: 19 Aug 2019
We had a great getaway that Gloria arranged. Her attention to details Add to the success of a trip. It was perfect in every way!!!!!! We can't imagine going anywhere without her expert assistance. She is a gem.
Recommended
Silver Seas
By: carrrie
Reviewed on: 28 Aug 2019
Gloria was well versed and her planning. Everything went well with her. Everything was as expected. All transfers were completed in a timely manner
Recommended
Helpful and Kind
By: Leo
Reviewed on: 03 Oct 2019
Gloria was great. she helped us not only plan our honeymoon but our wedding accommodations as well. so helpful. She choose great hotels and was even able to help us set up activities and tours while we were on our trip. it was so nice easy and stress free.
Recommended
Travel experience
By: Cheryl
Reviewed on: 06 Nov 2019
Gloria is knowledgeable, helpful and professional. She has tremendous experience and is a wonderful resource.
Recommended
Gloria Rocks
By: Gloria
Reviewed on: 13 Jan 2020
Awesome as always!
Working with Gloria Welles, you will have access to:
- An experienced travel guide whom you can rely on before, during, and after the trip
- Exclusive luxury resorts and properties
- Once in a lifetime experiences
Explore with the Best
Virtuoso Advisors are constantly pushing the boundaries in unique travel experiences.
Alliance programs are unique tailored experiences exclusive to travelers working with Virtuoso Travel Advisors.
learn more
Australia
Ireland
New Zealand
United Kingdom
France
Italy
Spain