Travel Specialties
Interests
Adventure
Beach & Sun
Family Travel
Sports & Outdoors
Safari
Destinations
United States - All
Australia
Canada
Chile
New Zealand
Selling Travel Since
1998
My Background
I enjoy exploring the world.
Places I Have Traveled
Reviews and Recommendations for Shane Paquette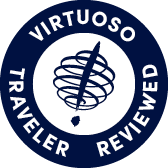 Virtuoso Verified Traveler
All reviews are from confirmed guests sharing exclusive insights
Sort reviews by
Recommended
I reccomend him to people already and have other trips in progress with Shane at this time.
By: No nickname
Reviewed on: 09 Oct 2013
Everything went very smooth. The drivers that did our hotel and airport transfers wer first rate, the tour guides very very professional and we had very informative and enjoyable tours, The hotel selections were very nice and hope to return to the hotel in Paris the next time we go.
Recommended
Excellent service and knowledgable staff
By: Bill
Reviewed on: 12 Oct 2013
Shawn and his staff planned an excellent river boat cruise for us. The ship that they recommended, the timing of the cruise, and the arrangement of air transportation were all arranged with us in mind. When the airline neglected to inform EnRoute nor us of a significant time change of their flight, Shane was able to more than adequately arrange for "replacement air." We have another cruise booked with EnRoute and are looking forward to it and continued use of EnRoute services
Recommended
Shane is terrific
By: Elyse39
Reviewed on: 20 Oct 2013
Shane really gets to know the client and truly exceeds our expectations on every trip whether it be over the top incredible accommodations, guides that are top notch, or just varied and exciting itineraries. He truly takes care of our every need.
Recommended
The Best and we recomend him to everyone taking a vacation
By: GayleS
Reviewed on: 18 Oct 2013
We have worked with Shane for over three years and we take two or three major trips a year. I can truly say we go on every trip with PEACE OF MIND and that we know all details are taken care of, our wishes for the trip are always provided for. Shane is the most knowledgeable agent we have worked with and fun to. We would never consider working with anyone else!!!!!
Recommended
Highly Recommend
By: Steve18
Reviewed on: 08 Dec 2013
Shane was a pleasure to work with. He's knowledgable, very responsive and easily accessible.
Recommended
Great Trip
By: Sunset4567
Reviewed on: 14 Dec 2013
Shane did a fantastic job and we felt so well taken care of during our trip. We look forward to the next one!
Recommended
Nice to have luggage comped
By: Larry H
Reviewed on: 13 Jan 2014
Shane booked our trip and the luggage was comped.
Recommended
highly recommend
By: Not provided
Reviewed on: 11 Feb 2014
Recommended
Thanks Shane!!!!!
By: Bryant2530
Reviewed on: 11 Feb 2014
Shane did an outstanding job planning the perfect honeymoon for my wife and I. Everything about the trip was perfect. The travel was easy, the hotels were gorgeous, the guides were professional and the activities were terrific. We truly had an amazing experience. I highly recommend Shane to anyone looking to make the most out of their travel. He has tremendous insight into many worldwide locations and can provide an itinerary perfectly suited to your needs.
Recommended
Wonderful trip and would highly recommend you!
By: Joyce and Bill
Reviewed on: 05 Mar 2014
We had a great trip and wonderful experiences!  Hotels you recommended were terrific, the best and everything else great.  Thanks for your time and research you did for us!
Recommended
Highly Recommended
By: Not provided
Reviewed on: 12 Mar 2014
Always helpful and available for assistance.
Recommended
Highly recommend
By: Vance
Reviewed on: 10 Apr 2014
We have taken many trips through arrangements by Shane and they always work out great.  On our last trip he arranged our flight reservations to the Dominican Republic and everything went smooth without a hitch.  We are about to plan a major family vacation and Shane will set it up for us.
Recommended
Fantastic!
By: Debbie
Reviewed on: 23 Jun 2014
I cannot say enough good things about Shane and the incredible job he did organizing our trip. Everything was absolutely perfect. I have traveled extensively over the past 45 years and I can honestly say this was one of my very best trips ever. I will definitely be using him for all my future travels and have already recommended him to my friends.
Recommended
Outstanding service and recommendations!
By: Kathy
Reviewed on: 05 Oct 2014
We have received outstanding service from Shane Paquette for group tours, cruises and individual international travel for many years. Shane's recommendations have been excellent 100% of the time. We have also appreciated the Virtuoso upgrades that he has extended to us. Never have we been more appreciative than this past September when we could have been stranded in Eastern Europe as a result of the Air France strike. After Air France canceled numerous flights, Shane and his team immediately re-ticketed us on other carriers so that we could proceed with our planned itinerary. We look forward to continuing to benefit from Shane's vast knowledge and superior service for all future travel!
Recommended
Trip to Patagonia
By: John D.
Reviewed on: 09 Jan 2015
Excellent trip in every way. Thank you for your diligent planning.
Recommended
Great travel agent
By: Debbie
Reviewed on: 05 Jan 2016
Fantastic trip, beautifully organized.
Recommended
Excellent and thorough service
By: diane
Reviewed on: 26 May 2016
I will absolutely work with Shane when I plan my next trip. He was responsive, thorough, completely available and answered every question and concern in a timely and professional manner. Ten Stars!!
Recommended
Excellent service
By: DG
Reviewed on: 30 May 2016
Shane has been our agent for years. He has always given excellent service over and above what one would normally get, he is always available to answer any question no matter how small.
Recommended
Excellent travel advisor
By: Dg
Reviewed on: 28 Sep 2016
Shane planned our wonderful european trip his year. He always goes above and beyond with his service to ensure that we have the best experience. I would never think of going anywhere else to meet my travel needs and would recommend him to all my family and friends
Recommended
Incredible Attention to details!
By: bobby44
Reviewed on: 08 Sep 2016
Shane didn't forget a thing. We were checked in before we had to think about it and didn't have to worry about anything. Our hotel rooms were exactly what we asked for and transportation was arranged and perfectly timed. He is amazing at all European destinations and keeps in contact with you any time day or night. He and his staff are very detail oriented and could help with any questions or concerns. We can't wait to have Shane plan another great vacation for our family. He works to please.
Recommended
Good. Trip
By: Kit
Reviewed on: 19 Sep 2016
Tours, free and paid for were all good. Service was good. Cabin service was exceptional. Food was lackluster and sometimes unedible. French restaurant was the excleption, tasty and good presentation. Heard so much about above average Regent Line but found it no better than any line I've been on and I' be cruised on many different lines. Saw no sign of Virtuoso, was I supposed to?
Recommended
Great attention to detail.
By: Debbie16
Reviewed on: 03 Oct 2016
Once again Shane did a fabulous job of organizing our trip. Everything was perfection. My travel has reached a new level of luxury and convenience since meeting Shane.
Recommended
provided a perfect trip
By: Moffy
Reviewed on: 08 Oct 2016
Wonderiful, easy plane ride and pick up in Vienna! Nice welcome at the Bristol with champagne and fruit! Felt I had Shane taking care of me all the way! Felt I could just call him if ther e was a problem and he would professionally solve it on the spot! Very nice rooms in each hotel. Transfers on time and drivers excellent and courteous! Am looking forward to my nextt trip with Virtuoso! Thank you, Shane!
Recommended
Expert, prompt, very detail oriented, kind professional!
By: Elyse39
Reviewed on: 07 Oct 2016
Shane always does a stellar, over the top job of suggesting, organizing and assisting with our magnificent journeys. I could never put together all the magical adventures Shane has put together for us over the years. He is simply the BEST!
Recommended
The trip went well
By: Vance
Reviewed on: 11 Oct 2016
The trip was exciting and Swain did a great job arranging tours and transportation. The biggest problem was with my passport. I was not aware that my passport had to have 6 months or more to go to be valid. Mine had 4 months. After much discussion and special security screening I made it to Singapore. I went to the American embassy my first morning to apply for an extended passport.By the second day I got the extended passport and then I went to the Indonesian embassy for a visa to Bali. By 3p.m my last day in Singapore (I was picked up to go to the airport to leave for Bali the next morning at 7 a.m.) , I got my Visa. I got hassled by immigration at every country, but I made it through . I could give you more details, but that's the gist of it. I've already filed for a new passport. Vance
Recommended
"Best Ever" per our grandchildren
By: Kit
Reviewed on: 27 Dec 2016
All the planned activities were a hit as well as small bus 🚌 used to ferry us around. The plantation and creole house were a big hit as was the pilot boat ride on Miss. the small bus to and fro the excellent restaurants all were 👍. Best ever for all of us. En Route wins again
Recommended
Paris
By: Sam
Reviewed on: 31 Jan 2017
Super! Shane is efficient and helpful. He is a great find!!! I am lucky to have his assistance.
Recommended
Very Experienced
By: Scottino
Reviewed on: 19 Apr 2017
Shane is very straightforward and thorough. He just "Get's It".
Recommended
Outstanding travel agent
By: Elyse
Reviewed on: 26 Apr 2017
Shane is outstanding, he thinks of every detail to make the trip so easy and enjoyable.
Recommended
Pelican Hill stay
By: Raj
Reviewed on: 15 May 2017
Our stay at The Resort at Pelican Hill was flawless. It was a fantastic resort for the whole family. I would recommend working with Shane to anyone!
Recommended
Shane
By: George
Reviewed on: 27 May 2017
Shane is wonderful to work with and has great over seas connections. His suggestions have turned out great and in some cases at a cost lower than I expected.
Recommended
yes
By: travel
Reviewed on: 29 May 2017
he was very helpful with my needs and questions
Recommended
Chicago to Quebec
By: Renee
Reviewed on: 28 May 2017
Always so easy. Shane is knowledgeable and so capable.
Recommended
Review your advisor
By: Vance
Reviewed on: 03 Aug 2017
Was Very efficient
Recommended
Thank you!
By: BB
Reviewed on: 24 Sep 2017
En Route is fantastic!!! Would trust anyone else with my travel plans!!
Recommended
Montage Laguna Beach
By: Kathy
Reviewed on: 24 Sep 2017
Great, as always!
Recommended
Capri
By: KR
Reviewed on: 29 Sep 2017
Shane has always been very helpful at arranging a memorable trip!
Recommended
First trip to London
By: Pam
Reviewed on: 18 Oct 2017
It was our first time to London England. So excited. And Shane put together the places to go and hotel to stay in,,, all ideas were perfect for us. We totally enjoyed our trip. He even sent a lovly basket of fruit to our hotel room which we thoroughly appreciated & enjoyed! The personal touch was so thoughtful,,,,
Recommended
The Nines Portland
By: Raj
Reviewed on: 27 Oct 2017
Shane once again did a stellar job booking our stay. This was a complicated itinerary since we had 5 different couples involved. To add to the complications, this was a last-minute booking. Everything went well and everyone is still talking out how great the stay was and how generous the Virtuosos amenities were.
Recommended
fall trip
By: S Traveler
Reviewed on: 12 Nov 2017
Easy and professional
Recommended
DG
By: DG
Reviewed on: 06 Nov 2017
Yes always wonderful to work with, goes out of his way to help at any hour. Have been using Shane for many years, would not use another agent.
Recommended
Such a great trip!
By: Roberta
Reviewed on: 21 Nov 2017
We loved working with Shane. His knowledge and advice were perfect.
Recommended
Princess Ruby cruise
By: Barny
Reviewed on: 03 Dec 2017
Always fabulous
Recommended
Maldives
By: Each
Reviewed on: 31 Dec 2017
Yet another memorable trip arranged by Shane. The key was getting the half-board package at the One and Only. The Maldives can be notoriously expensive but this helped keep the cost of the trip from getting out of control. We also had a complicated flight itinerary and his agency sent us a folder before our trip that had all our flights and confirmation numbers in it.
Recommended
Great Flight
By: rich
Reviewed on: 11 Dec 2017
Great. Shane and his staff were great. Very patient, friendly, and professional.
Recommended
Panama Canal Cruise
By: Debi
Reviewed on: 17 Jan 2018
Shane was wonderful. He covered all the bases, and arranged our entire trip just as we had asked him to do. There were no glitches, and everything was perfect.
Recommended
Recommend
By: Jen
Reviewed on: 10 Jan 2018
Always a great experience!
Recommended
trip
By: dg
Reviewed on: 24 Jan 2018
Excellent as always, have worked with Shane for years
Recommended
Shane takes care of every detail
By: Elyse
Reviewed on: 26 Jan 2018
He is so easy to work with and very accommodating.
Recommended
San Miguel de Allende
By: BJ, not Terry
Reviewed on: 22 Mar 2018
She is easy to work with when he's around. He had a colleague do much of the work because he was out of town when we were doing our planning for this trip. We loved his recommendation of staying at the Rosewood hotel. Our only problem was that whoever ordered our airline ticket put down my last name as Kirwan Hanna, not Hanna. I didn't notice until we were trying to get our miles and my last name did not match the last name United has for me. I had to make a call to United when I returned home to get the miles credited to my account.
Recommended
Vegas Weekend
By: Rick Rivera
Reviewed on: 13 Apr 2018
He always sets us up!!!
Recommended
Shane is great
By: Piper
Reviewed on: 10 Apr 2018
Great response, great ideas, great prices, great attitude
Recommended
trips
By: trips
Reviewed on: 21 Apr 2018
He is always excellent has been my travel advisor for year.
Recommended
Shane
By: Sam
Reviewed on: 03 Jun 2018
Shane is always helpful! He knows what he is doing and makes valuable suggestions. I have recommended Shane to many friends.
Recommended
Recent trip
By: Grand Prix trip
Reviewed on: 06 Jun 2018
Great, easy and professional
Recommended
Shane
By: dg
Reviewed on: 09 Jun 2018
Excellent as always would not use any other agent
Recommended
Professional, helpful and knowledgeable
By: Bobby
Reviewed on: 22 Jun 2018
Shane is extremely knowledgeable as it relates to luxury destinations. He was also available thru our trip to help us navigate some issues that we had (unrelated to his planning). I would highly recommend working with Shane and intend to do so again in the future.
Recommended
Agent
By: George
Reviewed on: 03 Jul 2018
Absolutely fabulous. Shane knows his stuff.
Not Recommended
trips
By: serena
Reviewed on: 18 Jul 2018
Shane didn't really work with me. He started the conversation and then passed me off to another agent, without telling me. Trip charges kept changing, going up.
Recommended
Four Seasons Park Hotel London
By: megstoll
Reviewed on: 29 Jul 2018
Amazing. He is patient and efficient and is pretty much on call or works 24/7. Even on the weekends I can email him or his office and get a response back immediately.
Recommended
Adore Shane
By: Jen
Reviewed on: 02 Aug 2018
After over decade of working with Shane to plan my global and domestic travel, I still adore him as much as the very first time that we spoke. He deeply cares about his clients, and the journey that they are going on to see the world.
Recommended
Shane is terrific!
By: Elyse
Reviewed on: 12 Aug 2018
Shane caters to your every need/desire! He is very accommodating and comes up with trip enhancements that are just wonderful!
Recommended
Napa trip
By: H
Reviewed on: 06 Aug 2018
Great. Advice to fly to Santa Rosa and not SFO worked out extremely well. Calistoga Ranch hotel was great.
Recommended
Amsterdam
By: Roberta
Reviewed on: 28 Aug 2018
Working with Shane and Candy was effortless and wonderful.
Recommended
Honeymoon in Bali
By: Mike D
Reviewed on: 10 Sep 2018
Shane and his team were fantastic to deal with, really responsive, and on the ball with tasks and to do items. Our trip was amazing and the booking recommendations and knowledge of the area and hotels was spot on. Great job!
Recommended
Shane is terrific!
By: Elyse
Reviewed on: 10 Sep 2018
Shane gets to know his clients and finds hotels/tour operators/hotels that just knock your socks off! All of Shane's suggestions either met our expectations or in many cases exceeded them.
Recommended
Berlin Trip
By: Kathy
Reviewed on: 12 Sep 2018
Great....Everything went very smoothly and his hotel recommendations were outstanding.
Recommended
Our trip to Africa
By: Susie Q
Reviewed on: 21 Sep 2018
Shane always puts together the best trips. Our trip to Africa was beyond amazing!
Recommended
Austin
By: K
Reviewed on: 30 Sep 2018
Shane is VERY helpful. He and his team are always available and supportive... especially if you are always busy. I appreciate his help.
Working with Shane Paquette, you will have access to:
- An experienced travel guide whom you can rely on before, during, and after the trip
- Exclusive luxury resorts and properties
- Once in a lifetime experiences
Explore with the Best
Virtuoso Advisors are constantly pushing the boundaries in unique travel experiences.
Alliance programs are unique tailored experiences exclusive to travelers working with Virtuoso Travel Advisors.
learn more
United States - All
Australia
Canada
Chile
New Zealand
Argentina
Brazil
China
Ecuador
Fiji
French Polynesia
Namibia
Peru
South Africa
Seychelles