Travel Specialties
Interests
River Cruising
Ocean Cruising
Safari
Honeymoons
Food & Wine
Destinations
Italy
France
Greece
Ireland
India
Selling Travel Since
1998
Languages
English
French
Italian
Spanish
My Background
Prior to become a luxury travel advisor, I spent many years living abroad. I have lived in Italy, France, the United Kingdom, Greece and India. These are now the destinations that I specialize in. I also love planning exotic and adventure travel for my clients, as well as matching the correct ocean or river cruise to my clients.
My personal experiences have provided me valuable insights which greatly enhance my clients' trips. I am fluent in Italian and French, and speak some Spanish and even a little Hindi.
As a luxury travel advisor I offer my clients great value and flexibility, and make sure that everything runs like clockwork. I work hard to exceed their expectations in every regard.
People say I'm a "warm and fuzzy" kind of person – I love arranging honeymoons and multi-generational family trips - Anything that helps bring my clients and their loved ones closer together.
While in India, I became an avid supporter of Cherish Foundation, an orphanage for homeless children in Hyderabad. It is a cause that is very close to my heart.
Places I Have Traveled
Reviews and Recommendations for Vicki Aubert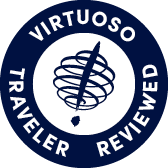 Virtuoso Verified Traveler
All reviews are from confirmed guests sharing exclusive insights
Sort reviews by
Recommended
great trip to morocco
By: kitty
Reviewed on: 26 Jun 2014
My trip to Morocco went smoothly, thanks to the team that worked behind-the-scenes,like Vicki Aubert of Largay Travel.  I've used her services before and would use them again in the future!
Recommended
For a truly personalized travel experience
By: Pam
Reviewed on: 28 Jul 2014
My husband and I have used Vicki twice; once for our honeymoon to Italy, and again for a recent vacation in London and Paris.  Vicki does a wonderful job helping to personalize your vacation, making sure to look for extras to help make your trip unforgettable.  Vicki listens to you to ensure that your tours, excursions and guides focus on your specific interests, and also that you get the most for your money - whatever your budget.  We highly recommend Vicki for your travel needs.
Recommended
Highly Recommended
By: skiprockdave
Reviewed on: 28 Jul 2014
Absolutely painless and professional.  Vicki was very accommodating to my busy schedule and she thought of everything.  
Recommended
Excellent Service!
By: DHop66
Reviewed on: 06 Aug 2014
I lead camping safaris to Botswana and a friend of mine recommended I contact Vicki for help with airlines reservations. Vicki was tremendously helpful, friendly and fast. She organized flights for my group from the US to Botswana and the returns from Zimbabwe back to the US. She was most helpful when my plans changed and I had to cancel and rebook my flights. I only had to explain the situation and what I needed to change and Vicki took care of everything. Vicki proved to be very reliable and quick to respond to my emails. I've had other clients work with Vicki and they were pleased with her professionalism and great service. I highly recommend her and will continue to use her services. Thank you Vicki!
Recommended
Perfection, again!
By: family travel
Reviewed on: 05 Mar 2015
Once again our trip was perfect. Vicki recommended this hotel to us several years ago and a short stay each year has become a family tradition. My mother-in-law and son enjoyed fresh baked cookies compliments of Vicki. Thank you.
Recommended
We were in great hands!
By: Mya9
Reviewed on: 05 Mar 2015
3 older women not well travelled had so much fun on Golden Triangle India trip. Everything went according to plan. Flights good, loved the hotels, would stay at all 3 of them again, driver so reliable and easy to work with. Trip went off without a hitch. Excursions were great, and communication about expectations and expense was faultless. I will be working with Vicki Aubert again!
Recommended
Vicki is the best!
By: Beverly Hills
Reviewed on: 19 Jul 2015
Vicki's attention to detail and hearing our needs and desires is unsurpassed. She makes it a personal mission to make our trips the best they can be for us and words can not express our gratitude. She is such a warm, kind, honest, beautiful woman and my husband and i would not be going on such fabulous trips without her help. Thank you SO very much... Vicki is the best!
Recommended
fantastic family trip
By: joan&family
Reviewed on: 24 Jun 2015
We've just returned from a terrific trip to Italy. Vicki helped us plan the before and after portions of our vacation on either side of a Backroads family cycling expedition. Having hotels and transfers arranged by Vicki made for a very enjoyable trip. We loved our hotel in Florence and would stay there again. The Virtuoso amenities are always a nice touch and are greatly appreciated. Thank you Vicki!
Recommended
Professional
By: Lindaaaaaa
Reviewed on: 13 Oct 2015
Enjoyed planning our trip with Vicki and was very satisfied with her recommendations and results.
Recommended
family trip
By: joan
Reviewed on: 02 Dec 2015
We had a wonderful trip to Sedona. The Enchantment Resort was fantastic. I loved the location up in the canyon. I took advantage of their complimentary yoga, hiking and wine tasting programs. My father and son did the watercolor workshop. We appreciated the Virtuoso amenities namely the breakfast and spa credit. I was grateful for the golf cart shuttle as it helped my dad get around. All in all it was a perfect get away. Thank you!
Recommended
No Complaints!
By: NotBS
Reviewed on: 06 Mar 2016
I know that sounds like damning with faint praise, but in my experience with travel agents, this is truly exceptional. On our recent trip to Cambodia, Vicki worked with outside vendors to find an experience that met all our interests and needs for a far lower price than we were quoted elsewhere. We've worked with her on several other trips and I've had no serious complaints (and I'm probably unreasonably picky). I'd rate her a 95% which sounds less impressive until you consider I've worked with at least half a dozen other agents and wouldn't rate any of them above a 65%. Any trip is going to have a few hitches, but you can radically reduce those risks by working with Vicki.
Recommended
Well thought out and fun itinerary!
By: Linda
Reviewed on: 02 Jun 2016
I loved working with Vicki! She was always available and ready to answer my questions, even when I texted her from Italy and asked if we could add someone to one of our events at the last minute. It was such a great time and my kids had a blast. Her knowledge of Italy really helped us to figure out where we should be spending our time. It was great! Thanks, Vicki!! You rock!! XOXO
Recommended
First but not last cruise.
By: Judy
Reviewed on: 26 May 2016
I have dreamed of going on a cruise since I as in my 20's, that was 40+ yrs ago. My dream has been fulfilled with the help of Vicki Aubert. Everything was perfect and I am still savoring my trip. I travelled with two very dear girlfriends and their trip was equally as special. As the trip neared I had questions popping up left and right, Vicki was very prompt at returning my inquiries and put out minds at ease preparing for this special occasion. I WILL cruise again, unsure where but it just wet my palate for traveling. I will and would recommend Vicki in preparing and assisting others with their travel plans. Thank you again to Vicki Aubert. Judy Parton
Recommended
Friendly and timely service with a "smile"
By: Carla16
Reviewed on: 22 Jun 2016
Travel arrangements were right on and a good price!!! Thank you Vicki:)
Recommended
Expert Guidance, Superb Hotels, Transportation and Guides
By: Marcia
Reviewed on: 24 Jul 2016
I was feeling overwhelmed as I began planning a tour of Ireland for eight females encompassing three generations (ages 12 to 77) of our family. An acquaintance recommended Vicki Aubert. As soon as I began speaking with her, I felt confident that she would plan a trip that everyone would enjoy. She listened to my list of required sights and activities and suggested that we hire a vehicle large enough to transport the group comfortably and a driver who was a trained guide. Vicki explained that she worked with Celebrated Experiences for booking hotels as this organization vetted the hotels carefully and included only those that had the highest standards of cleanliness, service, and food. Vicki was always available to help when I needed her. Twice during the planning period we added two members to the group for all or part of the two week trip. Vicki made it work!
Recommended
Best Ever
By: Joan
Reviewed on: 06 Oct 2016
Thanks to Vicki our family trip to Barcelona was easy and enjoyable. Vicki booked our air fare, Backroads bike tour and a fantastic hotel before and after the tour. She arranged for transportation to and from the airport, travel insurance and a private tour of modern architecture. The trip was relaxing because all of the details were taken care of. We count on Vicki's expertise and appreciate the Virtuoso benefits. Thank you Vicki!
Recommended
Knowledgable and thoughtful
By: Danasw
Reviewed on: 05 Jan 2017
This is the 3rd trip Vicki has planned for me. The first was a 4-stop trip to Italy I took with my best friend of many years. She applied her expertise to what we wanted to do and the outcome was perfect. She listened to what we wanted and really understood our personalities so that we could enjoy the trip while seeing everything we wanted to see. Special sightseeing tours that weren't "touristy" to accommodations that were spectacular. The 2nd trip was a trip to Spain that we didn't end up taking due to unforeseen circumstances. With that said she planned an amazing trip for my family that I hope to still do one day. This last trip was a last minute trip to Paris that we managed to pull together quickly with Vicki's help. Great hotel choice plus coordinated a daily plan that utilized our time wisely. She organized our trip and sent us an app that included our itinerary and all necessary docs (including our airline information). Loved the app!! Thanks again Vicki!
Recommended
Best Planner Ever!
By: Cheryl
Reviewed on: 11 Apr 2017
Working with Vicki is awesome! She has such great experience and has planned several trips for us that have been our best trips ever!!
Recommended
Great trip to Spain
By: Linda
Reviewed on: 26 Apr 2017
Very professional and personable. Vickie was available every step of the way, and stepped in immediately when a problem arose during our trip to ensure a quick solution.
Recommended
Cancun adventure
By: JC
Reviewed on: 05 Jul 2017
Vicki was wonderful! I had been driving myself up the wall with non-stop web searches trying to figure out the best resort for my family.. After consulting with Vicki, she gave me a great option. We enjoyed our trip, loved the accommodations, and it all went smoothly. I highly recommend contacting Vicki for professional and knowledgeable assistance.
Recommended
Great communicator
By: MjH
Reviewed on: 27 Jul 2017
Started working with Vicki to line up support for a 25th wedding anniversary trip to Europe from the USA. Vicki was always very communicative, followed-up and through, and willing to answer whatever odd-ball questions I had in a friendly and professional manner. Over time, needs and desires changed that found us settling on going to Bermuda vs Croatia. With that closer and easier journey, my wife and I took care of our own bookings but Vicki was still there with suggestions and we ended up working with her to line up travel insurance that was very affordable and provided the peace of mind that we were looking for. I highly recommend anyone to work with Vicki - a very knowledgeable and experienced person! Thanks, Vicki.
Recommended
Professional and Personalized
By: Austin
Reviewed on: 02 Aug 2017
My first experience with Vicki was absolutely fabulous - Vicki was extremely professional in assisting me with my precise travel needs while maintaining an incredibly personal connection throughout the entire planning and booking process. Vicki's passion and expertise for travel really comes through - I look forward to collaborating with Vicki in the future.
Recommended
Thorough and Conscientious
By: Stu-boy
Reviewed on: 18 Sep 2017
Vicki managed complex multiple destination 17 day vacation in Africa with timeliness, thorough research and booking and budget sensitivity, confirming her reputation as the most dependable and responsible travel booking agent anywhere.
Recommended
Vicki is fantastic
By: Trueheart
Reviewed on: 27 Sep 2017
Vicki is a pleasure to work with. She gives prompt, professional and courteous service. And she sent us a lovely amenity at our hotel which we greatly appreciated it. We give Vicki two thumbs up!
Recommended
Amazing!
By: Julie
Reviewed on: 16 Oct 2017
Vicky was so accommodating and set us up for an amazing weekend. We gave her only a week's notice and she provided an a song hotel and experience. I will highly recommend her to anyone needing an agent. She's the best!
Recommended
Seamless
By: Rita
Reviewed on: 12 Nov 2017
Vicki took care of all the transportation which saved up time and money.
Recommended
Nizuc Resort cancun mexico
By: Kilates
Reviewed on: 08 Jan 2018
A great experience! Always available, fast response, very resposible! Thank you Vicky for a wonderful vacation!
Recommended
Asia Family Trip
By: Julie
Reviewed on: 12 Jan 2018
We have planned a family trip to Asia that as we got closer to the travel date got complicated by possible volcano eruption and trip changes. Vicki has been amazing from the moment we started working with her to the last moment. She helped to alleviate my anxiety and every last detail was attended to starting from the airport pick up to drop off back at home , including my husbands favorite wine waiting for us at the hotel! I will never travel without her again and am looking forward to planning our next trip! Julie
Recommended
Seamless booking experience!
By: dh
Reviewed on: 30 Jan 2018
Vicki was great. This review may seem terse because 1. I really didn't have to do anything on my end and 2. everything went off without a hitch. I got all of my rate amenities, early check-in, upgrade, breakfast for 2, etc. :-) Extra points because after I booked, I noticed the rates dropped a little bit, so I emailed Vicki; within a few hours she'd switched to the new rate, saving me money. Travel is magic when everything "just works". Thanks!
Recommended
Travel should ALWAYS be this relaxing!
By: Travel101
Reviewed on: 17 Feb 2018
We had a wonderful experience on our trip, all thanks to Vicki. All in all we didn't have to worry (or do) anything as everything was already taken care of! The attention to details, prompt replies, and many recommendations made our trip relaxing, easy, and FUN! **** 5 Stars***** We can't wait for more travel experiences.
Recommended
Anniversary Trip
By: Bob
Reviewed on: 06 Mar 2018
Working with Vicki was great. She was enthusiastic, knowledgeable, and went out of her way to make things special for our anniversary visit to La Playa. Just after we arrived, there was delivered to our room champagne on ice, champagne glasses, a bottle of wine w/glasses, chocolates, and a cute little stuffed turtle. I know Vicki arranged a lot of this, especially the wine. I had flowers delivered, and they were there when we checked in. We enjoyed our visit very much. Before the visit, we had many really good communications with her, which made things very clear. I'd certainly work with her again.
Recommended
Great service
By: Noemi Hall
Reviewed on: 08 Apr 2018
It was wonderful working with Vicki. She planned us an extraordinary trip!
Recommended
NYC trip
By: dixie
Reviewed on: 27 May 2018
Vicki was a joy to work with. Our flight and hotel check in was seemless.
Recommended
Amazing to work with!
By: CherylH
Reviewed on: 29 May 2018
It was wonderful to work with Vicki! She was so helpful and informative and always available when I needed her. I was trying to book things on my own but the time change and language was making it extremely difficult and I felt so confident just putting it all in Vicki's hands to take care of it for us - and she did !! We have used her for two previous trips to Europe and the accommodations and perks have always been spectacular! The Virtuoso properties are so beautiful and in perfect locations.
Recommended
Vicki, the miracle worker!
By: Chadi Ghanem
Reviewed on: 13 Jul 2018
Vicki is super helpful, always available, and extremely creative. I consider myself a passionate, and tough travel shopper, but with Vicki, I can always relax knowing that I'm getting the best deal possible for my trip. Several times I was convinced to have dug out the best deal possible, only to have Vicki pleasantly propose something better, for less. Vicki has helped ensure my company and family save money, all while enjoying the best travel and accommodations available! Thanks Vicki!
Recommended
US Grant
By: Anonymous
Reviewed on: 18 Jul 2018
Vicki answered my phone call promptly and politely. She was incredibly helpful with my first Virtuoso experience at the US Grant with my lady. She was precise and knew exactly what the benefits were and how to maximize on them. She was kind enough to request an upgrade within minutes and really made our short stay an amazing experience. Thank you, Vicki!
Recommended
Vicki is the best!
By: bags packed
Reviewed on: 03 Aug 2018
I decided on impulse to take my family on vacation, and I contacted Vicki. We only had a few weeks, but she gave me several great options and helped me with a wonderful trip. I highly recommend her!
Recommended
Review of Vicki Aubert
By: Travelobsessed
Reviewed on: 31 Jul 2018
It was a wonderful experience working with Vicki! I'd use her again in a heartbeat. Her work ethic and attention to detail were fantastic. She loves what she does and it shows! Knowledgeable, experienced and helpful... Vicki pulled off a trip of a lifetime for me!
Recommended
Ireland Trip
By: Carlo
Reviewed on: 26 Aug 2018
Vicki is all that one should hope for in a trip advisor. She is organized, warm, quick to respond and eager to recomend what she believes one wants, or needs. I will recommend her services to any friend.
Recommended
Vicki is fabulous as always
By: Amy
Reviewed on: 07 Sep 2018
We love booking our travel through Virtuoso with Vicki Aubert's help. Vicki always takes great care of our family and makes sure all of our requests and needs are taken care of. We highly recommend working with Vicki!
Recommended
Absolutely Fantastic!
By: Client123
Reviewed on: 20 Sep 2018
Vicki helped us with a hotel for our destination wedding and we could not have been happier with the results! She was prompt and professional from our first interaction and made all the little details were taken care of during our stay. Highly recommend!
Not Recommended
Exhausting
By: Zach
Reviewed on: 12 Sep 2018
Fine. Did not listen when isle seat requested
Recommended
Missed
By: Missed
Reviewed on: 01 Oct 2018
Good trip very happy with cruise line
Recommended
Thank you Vicki!
By: Dan
Reviewed on: 15 Oct 2018
I own a safari business organizing and leading safaris throughout Africa. I don't book flights so I always recommend Vicki to my clients. I just returned from Tanzania and Vicki booked the flights for me and my clients. She responded quickly to emails and worked closely with us to find the best flight for our budget and schedule. She's professional, friendly, and fun to interact with. Thanks Vicki!
Recommended
Portugal Trip
By: KitKat
Reviewed on: 21 Oct 2018
Vicki was amazing and every detail was addressed.
Recommended
London (Eagles game) & Rome
By: Dana
Reviewed on: 12 Nov 2018
This was my 3-4 time working with Vicki. We are busy working parents but love to travel. Vicki is great at helping us plan travel even when very last minute. This trip we wanted to see the Philadelphia Eagles in London and then spend a few days in Rome. We were able to see a lot in a relatively short period of time. We saw the Eagles but also managed to fit in some "must see" tours in two very historic cities. Vicki is a pro! She had every detail ironed out! From transfers to guided tours.
Recommended
Support from the road...
By: FarTravel
Reviewed on: 09 Dec 2018
Vicki was very helpful. We had a glitch in the system while trying to book a short vacation online, but Vicki took the time from her travel to check in and ensure all was properly confirmed.
Recommended
Travel plans
By: Farm
Reviewed on: 23 Dec 2018
A pleasure ... Vicki is a professional and a delight to work with !! Friendly !! Professional!!
Working with Vicki Aubert, you will have access to:
- An experienced travel guide whom you can rely on before, during, and after the trip
- Exclusive luxury resorts and properties
- Once in a lifetime experiences
Explore with the Best
Virtuoso Advisors are constantly pushing the boundaries in unique travel experiences.
Alliance programs are unique tailored experiences exclusive to travelers working with Virtuoso Travel Advisors.
learn more
Italy
France
Greece
Ireland
India
United Kingdom
Australia
Antarctica
Kenya
South Africa
Vietnam
United States - All
Costa Rica
Thailand
United Arab Emirates