Travel Specialties
Interests
Honeymoons
Safari
Escorted Tours
Hotels
River Cruising
Destinations
Australia
Curacao
Mexico
Malta
Puerto Rico
Selling Travel Since
1975
My Background
Luxury travel advisor since 1975. Served as travel manager for 37 years, as travel agency owner for 16 years, presently a luxury travel consultant in my Riverside office. I have traveled to almost all continents on earth. I handle my valued clients trips as if the trip was my own. I work to get them the best value while at the same time helping them identify what is needed to make their trip the best it can be.
I am a luxury travel consultant who admires exclusive vacations. This admiration for luxury holidays has given me the foundation to share my knowledge of luxury resorts, luxury hotels, luxury cruise ships, luxury yachts, luxury river cruises, luxury expeditions, luxury safari's with you.
Latest Professional-Named one of Travel Agent Magazine Top 25 Travel Agent All Stars for 2014-Dec. 2014. July 2017-Global Travel Marketplace-Ft Lauderdale, by invitation only. GOGO Learning Conf. Sandals Royal Bahamian-Nov. 2015, Virtuoso Study Trip to South Africa in Mar 2017, Virtuoso Travel Week in Las Vegas in Aug. 2018, Virtuoso Voyages host on Azamara Journey in Oct. 2017 from Rome to Athens. Celebrity Pacific Coast cruise Sep. 2018. Pre-inaugural cruise on Celebrity Edge Nov. 2018. Study cruise on Holland America Eurodam to Mexican Riviera Dec. 2018. Travel Industry Exchange in West Palm Beach-met privately with 50 travel suppliers.
I look forward to working with you on a luxury or other great vacation soon!
Places I Have Traveled
Reviews and Recommendations for Bob Romano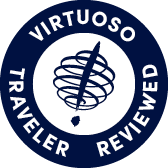 Virtuoso Verified Traveler
All reviews are from confirmed guests sharing exclusive insights
Sort reviews by
Recommended
France
By: Trish
Reviewed on: 10 Sep 2014
Everything as fabulous. Thank you Bob - also THANK YOU THANK YOU for all your help with Megan's bachelorette party in Cancun!! Trish
Recommended
live and learn
By: sandy28
Reviewed on: 18 Oct 2015
I don't think this trip is one of Colette's better vacations. The City tour in Paris was just okay. I think Colette had ample time to get tickets into the Louve or one of the other museums. The bus didn't stop anywhere. Hotels were just okay. Nothing special. This involved a lot of walking and France is not exactly handicap friendly. On a scale of 1-5 I would rate this tour a 2. Our guide was terrific. Normandy was great. The perfume factory and wine making tours were just okay nothing special. I prefer to think of this trip as "live and learn". I think Colette could have done a much better job in planning this trip. Do not take this tour unless you are in really good shape and can walk on cobblestones well. I am very glad I got to see Normandy and the various beaches, the cemetery, Also glad I got to ride the TGV. Bus drivers were really good too. Our trip to Washington D>C. was much better.
Recommended
Great service
By: Freddie 71
Reviewed on: 28 Nov 2016
Excellent service,Bob went the extra mile for us. Great trip
Recommended
Awesomeness
By: DKPK
Reviewed on: 09 Jan 2017
Our New Year's Eve in Times Square was the anticipated trip of a lifetime. Our travel agent Bob Romano provided us the expert, high quality service that has been the norm over the last 20+ years. With all of the on line and warehouse type of travel options available today, NOTHING BEATS the human, caring, compassionate, "there in case of an emergency" touch. Thanks Bob!
Recommended
Best Travel Agent!!
By: MJB
Reviewed on: 13 Jan 2017
Bob Romano is the best travel agent! I and my entire family have consistently been pleased with they travel arrangements recommended by Bob. We have traveled multiple times to Europe, taking river cruises, as well as guided/escorted trips in Italy. The trips and the airfares he arranged were outstanding. He recently recommended that my daughter, who was traveling alone to Europe, use a luggage service to lessen her having to handle multiple bags on the flights she was taking. This luggage service worked out wonderfully delivering her luggage to her room in Italy the same day she arrived! I highly recommend that you rely on Bob Romano for all your travel plans! MJB
Recommended
Trip to Ixtapa
By: Sandybelle28
Reviewed on: 15 Jan 2017
Our trip was great. Resort was really nice. People were very friendly. Food was tasty. Room was very nice with an ocean view. Beautiful white sand beach and very family friendly. On the negative: staff speaks very little English and understands less. Service in the restaurants was very slow. Ixtapa is alot less expensive than Cabo. Temperature was very nice and warm. All in all very nice week.
Recommended
Machu Picchu and Galapagos Trip
By: Jet setter
Reviewed on: 28 Apr 2017
Very knowledgeable travel agent. He knows and anticipates what the client needs
Recommended
Maui Hawaii
By: Jim
Reviewed on: 08 May 2017
Bob is extremely professional. Our trip went off without a hitch. I use Bob for all our travel's, and highly recommend him to everyone.
Recommended
Thanks p Vallarta
By: B
Reviewed on: 27 Mar 2018
Bob was great look forward to using him again for my next vacation
Recommended
My safari trip in Africa
By: Kandi
Reviewed on: 18 Apr 2018
This was my second time working with Bob. He is efficient and helped me with things I didn't even think of. He was easy to reach. If he wasn't in the office, he returned my calls promptly. I will use Bob for any future trips my husband and I take.
Recommended
Travel
By: Brian
Reviewed on: 21 May 2018
It is always a pleasure working with Bob on our travel plans.
Recommended
Bob is the Complete travel agent
By: Big Red
Reviewed on: 15 May 2017
Bob has been planning trips for my wife and myself for nearly 20 years. He is the complete travel agent. Bob plans every phase of your trip and I mean every phase. He is the consummate travel agent. In short Bob has sent us on many amazing journeys. These were multi country trips to New Zealand, Tahiti, Thailand, Cambodia and Vietnam, Australia (twice), Italy for 3 weeks, Europe in 2014 for 6 weeks and the beautiful Alaskan cruise he booked which included long stays in British Columbia and then Vancouver before the cruise and then Anchorage after we left the Celebrity line. In addition Bob has sent us to the finest accommodations on every one of the Hawaiian Island on more then one occasion. I could never say enough good things about Bob. He is knowledgeable, he listens and he is easy to access. Bob can get you where you want to go anywhere in the world. No matter the destination you will travel in confidence knowing that Bob Romano planned your trip.
Recommended
Punta Cana Trip
By: Robin..
Reviewed on: 10 Aug 2017
It was great working with Bob. He made planning my vacation easy and stress free. I will plan my future trips with him.
Recommended
Best of the Best!
By: Phannanmd
Reviewed on: 28 Aug 2017
Great experience every time! Bob knows his stuff,responds promptly, offers keen suggestions and delivers the best product EVERY time!
Recommended
Rhone River Cruise
By: Rhone RiverCruise
Reviewed on: 30 Aug 2017
Bob Romano has been our cruise advisor for many years. We can always count on a complete package of service from Bob and he has always provided outstanding advise for our newest travel adventures.
Recommended
Outstanding help
By: Rick
Reviewed on: 28 Aug 2017
Bob was responsive and fast reacting. He gave excellent information and helped plan an outstanding trip.
Recommended
Italy Trip
By: MJB
Reviewed on: 19 Sep 2017
Bob is an excellent travel agent. He consistently has been Bob consistently has recommended the best flights at the best price for my family. He suggested we consider a ticket upgrade on the flights for our trip to Italy but which would afford my family much more comfortable seating for the very long flight for only a slightly higher cost. My entire family were all very happy to have these upgraded seats! He consistently has recommended quality tours for my family to take. Out absolute favorite was the Rhine river cruise! My entire family gives Bob the maximum 5 stars endorsement!
Recommended
Evacuation
By: Pat
Reviewed on: 23 Sep 2017
I spoke with Yvette, who was a big help finding a flight for me. Our area got an evacuation order due to Hurricane Irma. Thank goodness she got me a flight just prior to the airport closing. Many thanks!!
Recommended
Motor coach guided vacation
By: Patty
Reviewed on: 09 Oct 2017
As usual, Bob was fantastic. He not only recommended a great travel tour, but made all of the arrangements quickly, accurately to our specifications. He has serviced us for years and is the reason we still use the travel agency.
Recommended
Trip to Bahamas
By: Kandi
Reviewed on: 13 Dec 2017
Wonderful. He was able to answer my questions. He would get back to me in a timely manner, as well. He made sure our trip flowed smoothly.
Recommended
Superior
By: Sassybobo
Reviewed on: 14 Jan 2018
Great. Very helpful, knowledgeable, and really knows his stuff.
Recommended
Excellent service, as always
By: Steventhutch
Reviewed on: 07 Feb 2018
Bob has continued to consistently find the most reasonable airfares and travel times for me. He is very knowledgeable of all the various fare codes and knows my preferences.
Recommended
Excellent
By: RFK
Reviewed on: 22 Feb 2018
Working with Bob to set up those special experiences in life is amazing. His knowledge of properties, travel & everything else is exceptional. We've worked with him in the past and will definitely continue the relationship in the future. Excellent service. Spot on advice & recommendations. Thanks Bob
Recommended
Europe
By: Nolan Chandler
Reviewed on: 28 May 2018
Bob was very prompt in his communication responses to us. He made our travel easy and he was very helpful with our varying plans as we went along. I would highly recommend Bob and Canyon Crest Travel for your travel plans.
Recommended
Amsterdam to Budapest river cruise
By: Steve and Valerie
Reviewed on: 08 Jun 2018
We have worked with Bob in the past and always been pleased with his recommendations and service.
Recommended
Anchorage and Denali, Alaska
By: Matt
Reviewed on: 06 Jul 2018
Bob Romano was very knowledgeable about Alaska and he had great suggestions for us to make the best out of our trip.
Recommended
Baltic Cruise
By: CBaker
Reviewed on: 05 Jul 2018
I have worked with Bob for several years now and have always been happy with his work. He scheduled the best hotels for us in the pre and post trips and set up shuttles for us. I will continue to work with him and rate him 10 or of 10. I will always recommend him to my friends.
Recommended
Trip to Ireland and Scotland
By: Dee Dee
Reviewed on: 22 Jul 2018
Over many, many years we have used Bob Romano as our agent and have never been disappointed! He chooses the best hotels in safe and well-placed locations that are within our budget. Our grown children have also used Bob for their trips to Greece, Italy, and China and have been extremely pleased with the tours, hotels, and recommendations he has given. We will continue to use Bob's expertise whenever we travel!
Recommended
trip to Hawaii
By: sassybobo
Reviewed on: 01 Aug 2018
Bob was extremely helpful. Answered all of our questions. We have used his services for many trips. He is just super.
Recommended
Costa Rica - Pura Vida
By: David and Patty
Reviewed on: 05 Aug 2018
Working with Bob continues to be the best way to plan and take a vacation! Bob found us the best times, options, and benefits for our trip. As usual, it all worked out perfectly! Thanks again Bob, you continue to make our world adventures the best ever. Patty n David
Recommended
New Zealand
By: ****
Reviewed on: 24 Oct 2018
Excellent! Bob was able to get me everything I wanted on my trip, including excellent hotels and excellent prices. He went over and beyond the call of duty in dealing with one tour group that had him starting over every time the slightest change was made on their end. I have had Bob Romano book my trips for the past 30+ years. He always gets me into hotels that are far better than I could afford to book on my own! he is also very patient and very helpful in assisting me in designing the exact trip I want.
Recommended
The best travel agent!
By: AuraLee
Reviewed on: 16 Aug 2018
He is an outstanding agent, helpful and thorough! Bob always attends to every request promptly and professionally! He has consistently found excellent accommodations for me and my family. He is a pleasure to work with.
Recommended
Patti's birthday
By: Chuck Sprague
Reviewed on: 08 Sep 2018
Bob always does a thorough job
Recommended
Bob Romano is good
By: connie
Reviewed on: 09 Oct 2018
This was my first trip with Canyon Crest Travel and Bob Romano. I found him to be knowledgeable and hardworking. I think he values repeat business as he has been helpful in travel issues since returning.
Recommended
He's Wonderful!!!
By: RFK
Reviewed on: 29 Oct 2018
Bob is amazingly informative...a pleasure to work with
Recommended
Symphony of the Seas
By: J.j.
Reviewed on: 15 Nov 2018
Bob has been my travel agent since 1980. I regret that someday he will retire. I will be lost.
Recommended
Many trips assited by Bob
By: Bsyeventer
Reviewed on: 20 Nov 2018
Excellent, always easy and helpful.
Recommended
Oahu @ Christmas Time
By: Patty K
Reviewed on: 22 Dec 2018
As with previous vacations, Bob Romano planned us the perfect December get away. We went to him in late spring saying we wanted a Hawaiian get away in December. He found the best time, the best island and region of the island to visit! We went to the Turtle Resort on the North Shore - fabulous! In today's society when there are so many choices for planning, NOTHING compares to the personal touch, knowledge, and years of experience a great travel agent can provide. Thanks Bob for helping us create more lifetime memories!
Recommended
Bob
By: sassybobo
Reviewed on: 10 Jan 2019
Bob is very helpful and really knows his stuff. WE use him for all of our trips. We are very pleased with Bob.
Recommended
Bob Romano, Travel Advisor
By: Cath
Reviewed on: 08 Feb 2019
Bob, has always been very responsive and helpful in travel planning. He has consistently recommended hotels and flights that we have found to be excellent.
Recommended
Bob Romano—Travel Agent
By: Travelers 2
Reviewed on: 12 Feb 2019
We can't say enough good things about working with Bob. We have been clients of Bob's for many years and have referred him to other friends. When Bob is your travel Agent, you don't need to worry about anything. If a flight is changed, he will work out the issues and get in touch with you to know of the new schedule. His recommendations for hotels and travel, is impeccable. He is a wealth of information and goes the extra mile to make your trip perfect. If he doesn't have the information you request, he will research and find out about your question. He stays on top of every detail. One time, we were traveling with friends and Bob was contacted that our friends had not completed some paperwork needed for the cruise we were taking. He called me and our friends were able to get the information to the cruise company and therefore go on the cruise as planned. Those are just a few of the experiences we have had with Bob.
Recommended
our trip to the Panama Canal
By: sassybobo
Reviewed on: 20 Feb 2019
He is very helpful and has many good ideas. It is a pleasure working with him.
Working with Bob Romano, you will have access to:
- An experienced travel guide whom you can rely on before, during, and after the trip
- Exclusive luxury resorts and properties
- Once in a lifetime experiences
Explore with the Best
Virtuoso Advisors are constantly pushing the boundaries in unique travel experiences.
Alliance programs are unique tailored experiences exclusive to travelers working with Virtuoso Travel Advisors.
learn more
Australia
Curacao
Mexico
Malta
Puerto Rico
U.S. Virgin Islands
Jordan
South Africa