Travel Specialties
Interests
Adventure
Family Travel
Honeymoons
Independent Tours
Ocean Cruising
Selling Travel Since
1992
My Background
Hello Travel Friends,
I graduated from Northwest Airline School in Portland Oregon August 30, 1988. My first travel advisor position was in Washington State at Gad About Travel. I moved to Santa Barbara in 1992 and soon following became a member of the Santa Barbara Travel leisure travel team.
My areas of expertise include adventure travel, honeymoons, exotic destinations, and customized tours through Europe and Central America.
I look forward to helping you with your travel plans!
Tina Slimp
Places I Have Traveled
Reviews and Recommendations for Tina Slimp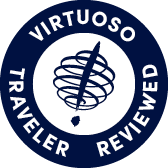 Virtuoso Verified Traveler
All reviews are from confirmed guests sharing exclusive insights
Sort reviews by
Recommended
Excellent and freindly service
By: Alex and Teresa
Reviewed on: 07 Sep 2014
Whenever Tina has planned our cruises for us, they have been pleasurable and fun. She asks us what we want and tries to meet our expectations. She definitely gives us expert, friendly service. Teresa and Alex
Recommended
Highly recommend - an amazing trip!
By: Beach goers
Reviewed on: 01 Jul 2014
A vacation to remember, beautiful accommodation a, convenient air travel, easy rental carpickup, great sightseeing recommendations- and the best part is we only showed up. I didn't do any planning, only giving a general overview if what we were looking for and the rest was taken care of! I highly recommend Tina. We've used her help for work travel, family trips, and vacations and this trip far exceeded our expectations. Thank you Tina ! Looking forward to many more trips coordinated with your assistance .   We will continue to recommend you to everyone we know.   Thank you! 
Recommended
By: Mike
Reviewed on: 03 Jul 2014
The cruise was great.  Our cabins were on deck 11 on a 12 deck ship and we were at the front end of the ship (bow?) so there wasn't too much noise.   
Recommended
Maui vacation relaxation!
By: Koriedad
Reviewed on: 03 Nov 2014
Another nearly painless vacation to Maui - no problems with Tropical Storm Ana, and only lost one beach day to rain. Smooth flights, and no problems with car rental or hotel. Maui was less crowded this trip, so the time spent on the beach was very relaxing and needed! All in all, we'd do it again in a heartbeat! Thanks, Tina, for all your help!
Recommended
Super advice & customer service
By: Ldge
Reviewed on: 27 Nov 2014
Tina helped a group of eight of us for a transatlantic cruise and guided tours along the way. Dealing with diverse needs and expectations can be challenging but Tina is patient and very helpful. We all came away happy with her service and helpful attitude. Santa Barbara travel is an outstanding organization with committed staff such as Tina. We certainly will use Tina for our next vacation and recommend her highly!
Recommended
Carefree travel planning!
By: C Smiley
Reviewed on: 14 Dec 2014
We really enjoyed our trip, and having Tina plan it for us took the worry out of it. I would highly recommend Tina and the Santa Barbara Travel Agency. I appreciate all the expert help!
Recommended
Carnival Miracle Christmas 2014
By: Mike
Reviewed on: 06 Jan 2015
I think the trip was excellent. Our room was great, great room credits, great excursions. Couldn't be better.
Recommended
Fantastic Service!
By: Lee
Reviewed on: 04 Mar 2015
Tina is awesome! She is always quick to respond to questions and her answers are always extremely well researched. Over the years Tina has represented us as our agent, she has always arranged the best trips and vacations for us. She is aware of our travel and hotel preferences and always makes excellent arrangements for us. I recommend her without hesitation!
Recommended
Good trip
By: Many
Reviewed on: 21 Mar 2015
The trip you booked for me was a very good one. The cabin location was excellent. Thanks for your god work. I will contact you for our next trip. Regards, Manny Espig
Recommended
it all turned out in the end
By: Gal from Paris
Reviewed on: 18 Jun 2016
HI Tina, My departing flight was going to be too delayed to catch my connection to Cleveland, so I barely got on the earlier flight to SFO. On the return, the flight leaving Cleveland was going to be super delayed-so, I would have missed my connection through Denver. I spent 45 min on the phone driving to the Cleveland Airport changing my return to fly directly to LA. hired a car service $$$ to get me home. (do I get any refund or compensation?) So...overall a bit stressful-but not your fault. Look forward to my next trip~ Thank you Tina, Sheila You are very good at what you do
Recommended
Everything We Wanted and More
By: Ant&Bre
Reviewed on: 06 Jul 2015
My booked our trip with Tina. We didn't really know where we wanted to stay in Puerto Vallarta. Tina asked what our budget was and recommended three really nice places. We ended up going to Iberostar. It's about 45 minutes away from downtown Puerto Vallarta. The all inclusive was amazing. The staff was super friendly and accommodating. As soon as we arrived, we were welcomed with drinks. The front lobby receptionists were friendly and pointed us towards our room. When we arrived to the room, it was clean and well air conditioned. We had a great partial view to the ocean. The food was great for a resort especially the indoor buffet. The beach is gorgeous and very secluded. Not packed or super busy. Bar tenders were nice and quick to fix your next drink. Overall the place was amazing and we will definitely be going again. Our experience with apple was great. They took care of us and were available to answer any questions as well as booked our excursions. Thanks again Tina
Recommended
Friendly and very competent service!
By: Denny 64
Reviewed on: 05 Sep 2015
Tina helped us enormously coordinating airline schedules, tour departure and hotel reservations. Made it far more pleasurable not doing it ourselves.....especially as we were traveling elsewhere during the process...... Will definitely work with Tina again
Recommended
Goes the extra mile!
By: M&L
Reviewed on: 11 Oct 2015
Tina has been our travel agent for many years and has done such a good job for us, many of our friends now use her as their travel agent. She gets to know our needs and designs experiences that will meet our needs. Recently 6 of us took a cruise through the Greek islands. Tina arranged several tours that were perfect for us. When the cruise line made an itinerary change, she was right there working with us to make the necessary tour changes. We highly recommend her and appreciate her efforts. We can't say enough good things about Tina and Santa Barbara Travel.
Recommended
All was wonderful
By: mmm
Reviewed on: 02 Nov 2015
The cruise was wonderful; had a couple of glitches (due to low water level in Danube, but which turned out (to me) to be fortuitous - we had to motor coach three hours through old country road to get from our ship, Jarl, to upper Danube ship, Atla, and I loved seeing the villages and countryside we would not otherwise have seen from the river cruise. LOVED the cathedrals and ancient places, cobble- stone streets, the people - cruise staff delightful; all was wonderful; KLM flights good, and wonderful food! I did bring home with me from Germany (I guess) influenza and have spent a week in the hospital; getting better. I am encouraging everyone I know to go on this cruise. Couldn't ask for more. Viking so caring, so accommodating, so helpful. Loved it.
Recommended
Impeccable service!
By: Smileycat
Reviewed on: 15 Dec 2015
We were so pleased with our accommodations while we were in Vegas. We had a complimentary room upgrade, and a complimentary evening meal and breakfasts. Tina is so knowledgeable and service oriented. We are thankful to have her expertise available in planning our trips. She is a keeper!! Thank you so much ~
Recommended
Highly recommended - delivers as promised
By: Steve
Reviewed on: 20 Dec 2015
Tina planed the details and ensured everything went without any problems. All the way to getting us a specific room we wanted. Tine is knowledgable, listened to what we wanted, friendly and easy to work with. This is the second time we have used Tina for a major family vacation and we will use her again. If you want help planning a vacation with no hassles - go to Tina
Recommended
Expert friendly service
By: SB
Reviewed on: 21 Jan 2016
Tina always does an excellent job for me. I had to shuffle my dates and places and she worked everything out seamlessly! I look forward to my next trip as Tina makes it all so easy.
Recommended
Amazing Service!
By: Cassidyann21
Reviewed on: 24 Jun 2016
Tina is amazing at what she does. she always makes my trips easier and helps me every step of the way! Dont know what i would have done without her help!
Recommended
Best Travel Agent
By: Kat123
Reviewed on: 17 Jul 2016
What an amzaing trip! Tina made sure everything was perfect! Best travel agent ever! Thank you!
Recommended
Tina is Great
By: Deb & Vince
Reviewed on: 09 Sep 2016
Our trip to Alaska was exceptional. Everything about out Regent cruise was perfect. We especially appreciated all the extra on-board credits Tina secured for us. The massages and facial were out-of-this-world.
Recommended
Great trip
By: Earl
Reviewed on: 24 Sep 2016
Tina did agreat job, the trip was well organized, all the details were handled for us so we could just relax and enjoy.
Recommended
Incredible planning by Tina
By: daileysinsb
Reviewed on: 20 Oct 2016
Tina put this whole trip together for my family and I didn't have to worry about any details - she handled it all! Going out of two separate airports and all of us meeting up within a half hour of of each other in Maui. Timed perfectly. The condo that she had us in was first class all the way. Tina even suggested where to buy groceries and incidentals before we went to the condo. Very detailed, thorough, accommodating, easy to communicate with is how to best describe Tina from Santa Barbara Travel. She has in the midst of helping me book a trip to Belize in the coming months. Wouldn't choose anyone else to help us put our itineraries together. Thank you, Tina!
Not Recommended
Review
By: Lou
Reviewed on: 02 Nov 2016
I'm no longer using Tina Slimp or Santa Barbara Travel for any future trips !
Recommended
Outstanding service
By: Ldge
Reviewed on: 24 Nov 2016
Tina always goes out of her way to meet our needs. She gets creative in finding the best option for flights and hotels. We asked for a combination of land and a cruise and she found excellent, reasonable alternatives for us to review and choose. We really appreciate her extra efforts.
Recommended
Very sweet and understanding
By: Julieir
Reviewed on: 10 Dec 2016
Because we were traveling to get married in the Bahamas I had many concerns and questions for Tina. Tina answered all my questions with kindness and understanding and pure professionalism.
Recommended
Good service
By: Russ
Reviewed on: 07 Dec 2016
Tina was most helpful explaining the options & diligent getting some good deals. Would recommend every time.
Recommended
Australia-New Zealand
By: Forest
Reviewed on: 23 Feb 2017
Working with Tina was a pleasure. She listened to our needs and provided excellent choices to consider. Her assistance with shuttles made connecting with scheduled tours easy. Her efforts to find alternative tours lead to high quality and cheaper alternatives. Would highly recommend Tina to all who are planning to travel overseas and/or via cruise ship. Tina is an excellent communicator and responds promptly to any travel request or question.
Recommended
Lots of moving parts! Tina handled them all!
By: Ldge
Reviewed on: 24 Feb 2017
Trying to coordinate a complicated trip for 3 couples can be challenging at best. Additionally, coordinating a trip to Australia before our celebrity cruise with so many places we wanted to see was daunting! Tina helped us narrow it down to a manageable size and worked with specialists from Australia to get everything organized. The trip was wonderful and we thank Tina for her patience and attention to detail to ensure we had a stress-free vacation! Thanks, Tina!
Recommended
It's the little things that count😀
By: Bob and Debra
Reviewed on: 12 May 2017
My wife and I just returned from a great trip to Spain--Madrid, Granada and Barcelona. Like she has done on our past trips, Tina took care of all the details. Almost everything went as planned. It's the times that don't work well when you really appreciate Tina's skills. We arrived in Granada and went to pick up our car and discovered the city was closed to car traffic due to the Easter processions everyday that week. We asked about a refund but they couldn't do it. We chalked it up to experience and took a cab to our hotel. That was a great decision because those four days turned into a highlight for the trip. Those amazing Easter processions went right by the dining room window of our hotel that first night and the parade passed within 4 feet of us. We had the front row seats for dinner and entertainment. We spent lots of time exploring the city and Granada became our favorite city. A couple weeks after our return Tina notified us she had gotten a refund. Thanks.
Recommended
Yosemite, Kings Canyon & Sequoia May 2017
By: Smileys
Reviewed on: 21 Jul 2017
Tina is always a joy to work with! She told us about Tenaya Lodge, and we loved it! Especially since Yosemite was like Rush Hour Traffic! We enjoy working with Tina, and will continue to check in with her as we have travel ideas. Thanks, Howard and Cathy Smiley
Recommended
Marquis Los Cabos
By: JoogieMudder
Reviewed on: 17 Jun 2017
Tina is professional, fast and attentive! She is a good listener and works hard to meet your vision within your budget. She is a pleasure to work with and we've worked with her multiple times. She never disappoints. You are in good hands with this gal.
Recommended
Best Summer Vacation Ever
By: Anonymous
Reviewed on: 17 Jul 2017
Simply Wonderful!
Recommended
Wonderful trip!
By: Beachin'
Reviewed on: 17 Jul 2017
Tina was very helpful and professional. She listened to my requests.
Recommended
Review of Tina
By: Darcie
Reviewed on: 03 Aug 2017
Tina helped me find a cruise that was really suited for me. I started looking at Spain and then with her help and effort to look very broadly at options, we narrowed it down to a sailing cruise through Greece and the Dalmation Coast. Her response time was good when I was going through the exploratory process but not as efficient once I started locking in my plans at which point she helped with all the ancillary hotel, flight and insurance requirements. I was quite pleased with the vacation that she encouraged me to take. Thank you, Tina!
Recommended
Very supportive
By: Karen
Reviewed on: 05 Aug 2017
Great...she knew exactly what we wanted!!!
Recommended
cabo
By: mg
Reviewed on: 04 Aug 2017
Fantastic. Very thorough. Had a great trip due to her organization.
Recommended
Amazing Costa Rica trip
By: Ant&bre
Reviewed on: 14 Aug 2017
Great working with Ms. Slimp. Recommended an amazing resort in Costa Rica and we loved it. She was very quick responding to our emails and gave amazing tips on what to do when there. Thank you so much.
Recommended
Tina was amazing
By: Wendi
Reviewed on: 19 Aug 2017
We have worked with Tina twice so far. Both times she was so helpful with advice and suggestions. If you need help with planning your trip you should go to her.
Recommended
Very professional and experienced
By: Ron
Reviewed on: 07 Oct 2017
My wife and I are amateurs at international travel. Tina was very good at finding out our interests and selecting a variety of options for us to consider. Once we made a decision, she walked us through all of the necessary steps and provided all the information we needed. She obtained a great discount on business class for our flight. We won't need as much handholding the next time, but it is reassuring to know she has our backs.
Recommended
Takes care of everything
By: Karen
Reviewed on: 30 Oct 2017
Tina is easy to work with, keeps you updated and is very conscientious about the budget. Will always call her to take care of any future travel. Was always available to help us on our trip too.
Recommended
Always helpful with great ideas
By: Ldge
Reviewed on: 25 Oct 2017
Tina goes out of her way to find us great options for flights, hotels, and, of course, our cruise! The hotel Tina found us in Rome was wonderful. Spacious rooms and to top it off, a delicious breakfast included! The location was close enough to the train but still in the middle of Rome - close to the coliseum and great restaurants. She worked to get us a better cabin on our ship and we loved the location. I would certainly recommend Tina any time you want to travel.
Recommended
Awesome LA Trip!
By: BobWJr
Reviewed on: 15 Nov 2017
Tina is amazing to work with. Highly professional, very friendly and really cares about planning the perfect trip for her clients. She always takes time to listen to me and then goes out and executes perfectly each and everytime.
Recommended
Australian Trip
By: Janet
Reviewed on: 05 Apr 2018
Tina was very helpful in helping me plan a last minute trip to Australia. She made reservations for my flight, the Opera, hotel and an amazing hike in the Blue Mtns. She also informed me that I needed a travel visa which I had not been aware of. Thank you, Tina!!
Recommended
Tina is a complete pro
By: ron
Reviewed on: 17 May 2018
Tina is friendly, knowledgeable, well organized, and very responsive to questions and concerns. She already called me to find out how the trip went.
Recommended
Beyond our expectations
By: Mike Laurie
Reviewed on: 18 May 2018
Tina is the consummate professional. She thought of everything. Tina just did things for us without having to ask but never pushed us into anything. She is wonderful and we highly recommend her services to anyone that wants to have a stress free vacation.
Working with Tina Slimp , you will have access to:
- An experienced travel guide whom you can rely on before, during, and after the trip
- Exclusive luxury resorts and properties
- Once in a lifetime experiences
Explore with the Best
Virtuoso Advisors are constantly pushing the boundaries in unique travel experiences.
Alliance programs are unique tailored experiences exclusive to travelers working with Virtuoso Travel Advisors.
learn more