Travel Specialties
Interests
Honeymoons
Spa Vacations
Independent Tours
Ocean Cruising
River Cruising
Destinations
Australia
Belgium
Canada
Ireland
New Zealand
Selling Travel Since
1966
My Background
I have worked in the travel industry for 30+ years, my specialties include custom luxury travel for clients that want to experience the best . It's safe to say travel is my passion. Would you like to shop with a chef, or maybe take a cooking class in Tuscany, perhaps heli-skiing.? I love walking the streets of Paris, experiencing all that the city has to offer, recommending special walks viewing local markets the Rue Moufftard , absorbing the smells and the sounds of the city, not forgetting that special ice cream parlor, crepes on the street or a wonderful dinner offering the local specialties.
I have cruised on many of the world's leading cruise lines, including Crystal Cruises. There is something to be said about un-packing only once and watching the world sail by. Having an afternoon cappuccino in the Bistro with a little Parma cheese to a fabulous dinner in Silk Road, life is perfect, whatever the heart desires.
Then off to a special Spa, Canyon Ranch, Miraval, Rancho La Puerta, whether you are looking for a pampering, total workout or a little European enhancement , I just love finding the right spa for my clients.
There are endless possibilities waiting, new destinations to be discovered, the finest hotels which I personally visit, ready to spoil you! Whether you are looking for exotic adventures, safaris, romantic escapes or long weekend get-a-ways I love planning these special experiences. My one on one contact list makes your visits throughout the world very special.
Let's make your dreams come true together.
Places I Have Traveled
Reviews and Recommendations for Henya Lish-Gebeloff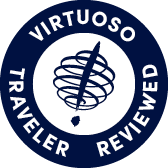 Virtuoso Verified Traveler
All reviews are from confirmed guests sharing exclusive insights
Sort reviews by
Recommended
Everything went very smoothly because of great planning.
By: Oboe Dick
Reviewed on: 31 May 2013
Henya works very hard on the details and that pays off in a very easy and enjoyable journey. She knows the people on the other end and is sure they will do things correctly. Henya is a gem.
Recommended
highly recommended
By: Arleene
Reviewed on: 09 Jun 2013
Gives excellent advice for trips and touring. Chooses the best Hotels in Europe without spending a fortune. Is very knowledeable about trips. Concerned about the travelers to make good decisions about travel. The best travel agent I ever worked with and will be using her for my future travel
Recommended
absolutely!
By: Livvy
Reviewed on: 10 Jun 2013
The entire trip was glorious. It was beautiful, luxurious, informative, educational, and one I would do again!
Recommended
The Very Best
By: Merrymac80
Reviewed on: 12 Apr 2013
Having sailed with six different cruise lines over the past twenty years I can say without hesitation that my very best experience has been with Henya at Lartay. She responded to my every question and concern promptly. She also arranged upgrades and cabin credits with the result being a perfect, carefree cruise. Thanks to Henya and Virtuoso for making us feel special!
Recommended
Fantastic
By: Mary
Reviewed on: 16 Aug 2013
Henya stepped in somewhat late in the planning process to help us organize several legs of a long trip to Italy and had great location suggestions, demonstrating deep knowledge of the regions we were interested in and practical information that was highly useful. I strongly recommend her.
Recommended
highly recommenmded
By: fran
Reviewed on: 27 Aug 2013
Henya provided outstanding support and did a great job for our trip
Recommended
Highly Recommended
By: Nancy
Reviewed on: 08 Sep 2013
Henya did an excellent job organizing our trip to London. Everything went well - she recommended a wonderful hotel that provided excellent service and was well located. This made our trip most enjoyable.
Recommended
Great trip
By: Dick 29
Reviewed on: 05 Oct 2013
Everything was great except the stops on the shore excursions were too short to use the toilets and see what we came to see. This was a big problem!
Recommended
Another home run!
By: Livvy
Reviewed on: 02 Oct 2013
Once again, Henya Lish-Gebeloff made certain our trip was perfection, "Don't leave home without her".
Recommended
Very capable
By: don
Reviewed on: 13 Oct 2013
Henya is a very capable travel consultant - have been using her expertise for several years when planning travel - great advise
Recommended
Highly Recommend
By: Traveling Retirees
Reviewed on: 06 Nov 2013
Henya has been wonderful to work with over the years. Since retiring, we have taken at least 2 major trips a year, which have included cruises for 1-3 weeks and land adventures involving renting homes for up to 12 people. Henya is very knowledgeable and resourceful, trying to find the best experience possible within the parameters that are provided. We completely rely on Henya's experience and expertise and would not plan a trip without her. We have never been disappointed.
Recommended
Top of the line. Professional, knowledgeable,superbly competent.
By: Oatsie
Reviewed on: 19 Nov 2013
Henya was always ready to go the extra step to make sure that my travels steps were on an easy path, smooth and with no blips.
Recommended
She is the consummate travel professIonal
By: MW
Reviewed on: 20 Nov 2013
Recommended
Would highly recommend Henya Lish-Gebeloff
By: Marlys B.
Reviewed on: 23 Nov 2013
Henya was a pleasure to work with. She was extremely knowledgable and able to answer all our travel-questions about airlines, cruise ship, each country, hotels, restaurants etc. At all times prior to our travel, our e-mails were answered promptly and our requests were met with great efficiency, For our future travel we will happily take advantage of Henya's capability to arrange another wonderful trip.
Recommended
Only one word for service from Henya.....outstanding!!!
By: fran
Reviewed on: 19 Nov 2013
service from Henya was outstanding.....since I need at least 50 characters, I'll just repeat myself....Henya 's service was outstanding outstanding...outstanding
Recommended
Outstanding Vacation
By: Ed
Reviewed on: 19 Nov 2013
Our recent trip to Hawaii included a week in Maui at the Fairmont Kea Lani, and a week in Oahu at the Haekulani. Maui was laid back with all sorts of sites and wonderful dinners. Oahu was a mecca of activity in the best way, with a uniquely amazing stay at the Halekulani, never had we experienced such perfect service. Henya at Largay Travel is an expert, adept in the nuance of travel preferences. One of our very BEST vacations.
Recommended
She is superb
By: Bob
Reviewed on: 09 Dec 2013
She does a fabulous job. She is the best travel agent we have ever worked with.
Recommended
Highly Recommended
By: Geoff L
Reviewed on: 26 Jan 2014
The recent Bahamas cruise was a great vacation. The cruise itself went well, and so did the planning by Henya. Absolutely no glitches were encountered. Can't wait until we do it again!!
Recommended
Wonderful trip.
By: Wallie
Reviewed on: 20 Jan 2014
The trip was very well planned by Henya and exicuted very well by Regent. Food was good in all venues and the service was pleasant. WE enjoyed the trip so much that we signed up for one next year.
Recommended
Highly Recommended
By: Burt
Reviewed on: 11 Mar 2014
Henya has helped us on a number of trips and on each she has done great work.  I recommend her without reservation.
Recommended
By: Belle
Reviewed on: 19 May 2014
Everything went smoothly and was well-planned. A most enjoyable trip.
Recommended
Highly recommend!
By: 2Livy2
Reviewed on: 22 Jun 2014
as always, Henya went above and beyond to make certain our trip was flawless and comfortable. She is amazing! How lucky are we?
Recommended
The best
By: Marco1
Reviewed on: 27 Jun 2014
Henya is very professional a helpfull with all travel plans. Moreover when there is a problem she is always there to identify and resolve it.
Recommended
By: Not provided
Reviewed on: 30 Jun 2014
Everything was planned as we desired and everything worked out as planned. There is not one thing that we would change if we did the same trip again. Terrific job.Dick
Recommended
hlglt
By: st
Reviewed on: 03 Sep 2014
The trip was great. All schedules met, venue excellent. Interesting part of the world.
Recommended
Outstanding Experience
By: Emac911
Reviewed on: 09 Sep 2014
The Halekulani in Honolulu is the best hotel we have stayed in, it was our 2nd trip to Hawaii, and it was fabulous. ALL the food is excellent, the service is unbelievable, the atmosphere is friendly, helpful, and just completely relaxing. Henya from Largay Travel is a master of Hawaii,and provided us yet another seamless and wonderful experience. If your going to Hawaii, talk to Henya, and stay at the Halekulani at least a few nights!
Recommended
review what?
By: Pamelaolsen@comcast.net
Reviewed on: 25 Oct 2014
Nothing to review... not working....
Recommended
Consistant fantastic service.
By: Dick 415
Reviewed on: 07 Oct 2014
Henya has been an excellent partner in my travels these last several years. When my travel agent for thirty plus years retired I thought I would never find one as great but Henya is even better.
Recommended
Another perfect trip!
By: Livvy
Reviewed on: 21 Oct 2014
From beginning to end, our trip was so perfect! I am so thankful for Henya's expertise, knowledge, and contentious planning. I just wish the entire trip was twice as long......we were truly sad we had to return home!
Recommended
Perfection in every detail
By: Barbara1
Reviewed on: 25 Oct 2014
Thank you Henya for recommending Tauck.s Bellissima Northern Italy Tour. You skillfully and conscientiously managed every detail for me. Grazie!
Recommended
Cuba via Adonia
By: don
Reviewed on: 03 Apr 2017
professional as always
Recommended
Amazing French Polynesia for 30th Anniversary
By: LaurieT
Reviewed on: 04 Nov 2014
We split our 16 day trip with stays at La Taha'a Resort, a catamaran from Tahiti Yacht Charters and The Four Seasons in Bora Bora. We stayed in the over water bungalow #8 at La Taha'a. It had an incredible view and was on the end. Our lagoon tour with Samuel was the best. He took us to a spot to feed/swim with the stingrays and sharks. Afterwards we snorkeled through the Coral Gardens next to the hotel. This was the highlight of our trip. Some of the most beautiful fish we have ever seen. The catamaran picked us up at the hotel and we sailed for 4 days, which was a little too long for me, but staff was great. The last days of the trip were spent at the Four Seasons. By far the best place. We were upgraded to a bungalow with a pool on the end for a little extra per night. They leave nothing to the imagination. They know what you want before you ask for it. Food was great and staff was amazing!
Recommended
Panama Canal
By: the d
Reviewed on: 22 Nov 2014
Henya is a true travel professional and tends to details - the trip was as expected Regent isa quality ship company. Our only issue is they need to update their venues.
Recommended
Great Winter Trip
By: B and C
Reviewed on: 14 Feb 2015
Regent took care of us very well, pre and post cruise. The ship's design handled the passengers very well, we never felt crowded at all, though it was twice the size that we were used to. The public areas were very comfortable and the ship very quiet, though the suites were smaller than on a Silversea ship. We found that the restaurants and food were very good and varied, reservations easy to get in all the specialty restaurants. It was good to have "free " trip excursions- they were good and interesting. They could have used more help/service in the pool area, and there was the perennial problem with people reserving loungers in the shade and then not using them for hours on end. The Shangri-la and Intercontinental hotels were very nice. Regent offered an additional excursion in Papeete for those who were checking into a hotel so we were entertained until check in time. It was a very nice touch which we appreciated.
Recommended
Well planned trip
By: Cruiser
Reviewed on: 12 Feb 2015
Trip was well planned with everything taken care of. Flights, transfers, hotels and cruise all done as requested. No difficulties or surprises.
Recommended
Great Trip!
By: MarBei
Reviewed on: 04 Aug 2015
Had a wonderful trip. Everything was expertly handled. Thank You!!!
Recommended
FANTASTIC
By: DICK 86
Reviewed on: 04 Oct 2015
The planning was perfect and everyone who carried out the parts did a great job. Not one complainr.
Recommended
well coordinated trip
By: Wills
Reviewed on: 20 Oct 2015
Our trip was well planned, well organized and well executed...........and therefore we were able to enjoy our trip to its fullest! Thank you for everything.
Recommended
Miami to Miami Navigator
By: don
Reviewed on: 05 Feb 2016
Typically good service but Navigator in need of the scheduled refurbishing - very good land tours - suggest more time in ports - spend some extra money on fuel.
Recommended
Over the top service!
By: Livvy
Reviewed on: 14 Sep 2016
Henya Lish-Gebeloff continues to be our travel guru, savior, expert, go to person! I cannot imagine planning any type of adventure without her at the helm. My husband and I trust Henya implicitly and depend on her expertise and guidance for all of our travel. The ability to travel is a gift; Henya makes it a reality. Thank you, Henya, a million times over.
Recommended
Xcellent Service
By: jerryk
Reviewed on: 20 Dec 2016
Resort was first class. Everything was handled as stated by Henya from arrival drive to our departure.
Recommended
xo
By: xo
Reviewed on: 08 Feb 2017
Full service, anticipates issues, well satisfied.
Recommended
Caribbean trip
By: Béla
Reviewed on: 20 Feb 2017
She is very professional, responsive to our needs and has many good suggestions for the things we enjoy.
Recommended
A travel experience to be remembered
By: Jerry
Reviewed on: 21 Apr 2017
It was a pleasure working with Henya. She was always available and made the planning an enjoyable experience.
Recommended
No one better
By: Livvy
Reviewed on: 25 Apr 2017
Working with Henya is 100% of our travel success. We couldn't do it without her. Truly! We have complete confidence in her professionalism, expertise, and knowledge. Travel plans can be challenging. Henya takes away the stress and lets us enjoy the process from the very beginning.
Recommended
New Regent ship
By: Rickey
Reviewed on: 25 Apr 2017
Henya is a fantastic person to work with. She has so many suggestions that we never have to look for something to do. Other than those things she suggests ideas we never would have thought of. We have loved working with her for many years.
Recommended
oldie
By: Oldone
Reviewed on: 04 Jul 2017
She is fantastic. The best I have had in my 88 years. Great Ideas. I hope she keeps working.
Recommended
Insight tour
By: Don
Reviewed on: 12 Aug 2017
Henya is always very professional
Recommended
Highly recommend!
By: nancy
Reviewed on: 19 Aug 2017
Henya is an experienced traveler and understands our likes and dislikes. She gives us terrific recommendations and is very professional - attending to all details and follow up.
Recommended
Agent review
By: Red
Reviewed on: 11 Oct 2017
Great. On top of everything. No issues in working with her.
Recommended
Mediterranean Cruise
By: Lowa
Reviewed on: 13 Oct 2017
Great as always. We have been working together for years and have referred her to many friends. We are always pleased with our experience--even if there are "issues", we are happy with how they are addressed and resolved.
Recommended
Great as usual
By: MW
Reviewed on: 13 Nov 2017
Henry's is a true professional
Recommended
Perfect planning
By: Scott
Reviewed on: 24 Jan 2018
Henya is a pleasure. She is very knowledgeable and thorough in her research on the trip. She doesn't overspend my hard earned money. Everything happens on time. The trip is meticulously planned and the vendors they use deliver well.
Recommended
Henya Review
By: Bela
Reviewed on: 23 Feb 2018
Good. Very professional. She really tries to accommodate all our needs when we set up our trip and keeps us updated with relevant information.
Recommended
Memorable Trip down Under
By: Don
Reviewed on: 08 Feb 2018
Henya was helpful in booking the A & K Tour as well as the airfare to Down Under. She was particularly of service to me in selecting a pre-tour day at Phillip's Island and a post-tour day in Auckland at Hobbitton and the Glow Worms. She alos booked the hotels for those extra days and I received a Virtuoso discout at the Park Hyatt in Melbourne. She helped make the trip memorable!
Recommended
Dietz travel
By: Rich
Reviewed on: 14 May 2018
Recent trip was as excellent as all of the trips I have taken through Henya. She is professional, very knowledgeable, thorough, insightful and always gives me a sense of confidence in all of the details.
Recommended
Advisor review
By: Bela
Reviewed on: 22 Jul 2018
She was very responsive and professional helping us to work out the perfect trip
Recommended
Rhone
By: Rhone
Reviewed on: 09 Jul 2018
A great experience! Henya is a deeply experienced Travel Advisor who covers all of the details!
Recommended
A perfect getaway
By: Bill
Reviewed on: 12 Aug 2018
Henya was a dream to work with. She's a great partner as we thought about the trip, and had wonderful ideas about things to do before our embarkation. She handled every detail and made sure it was perfect!
Recommended
Tauck Riverboat Tour
By: Mutt
Reviewed on: 20 Aug 2018
Just fine.Everything went smoothly.
Recommended
Simply the best!
By: Livvy
Reviewed on: 15 Aug 2018
Working with Henya is always perfect and stress free. Henya is so professional and knowledgeable, we have come to depend on her 100%. I can't imagine traveling without her expertise. Whenever an idea comes up, we reach out to Henya immediately.
Recommended
Rocky Mountain Train Trip
By: Loka
Reviewed on: 26 Sep 2018
We have been working with Henya for almost 20 years and referred many people to her, so working with her is great!
Recommended
Gorilla
By: Gorilla
Reviewed on: 25 Sep 2018
I'd rather not say
Recommended
Africa for the Second Time
By: Don
Reviewed on: 06 Oct 2018
For my first trip to Africa I did a Tanzania/Kenya Safari, Capetown, and Victoria Falls arranged by Henya in conjunction with Great Safaris. For my second trip to Africa, I wanted it custom made, with Gorilla Trekking and a stay in Nairobi at the Giraffe Manor. I was working with Great Safaris on this trip, but illness struck my travel agent there, and Henya stepped in to supervise the booking of my trip. She had fabulous suggestions like going to Al Maha when I was visiting Dubai. This was a Boutique Hotel outside of Dubai on a desert reserve dedicated to desert animals. The facility had game drives, archery, falconry, Arabian horseback riding and of course, camelback riding. Each spacious bungalow had it own infiniti pool! Henya coordinated with Great Safaris my Gorilla Trekking in Rwanda, Chimpanzees in Kenya, a Rhino Reserve in Kenya and the truely amazing and fabulous Giraffe Manor in Nairobi. She booked all my air travel and made sure all my Meet and Greets were confirmed.
Recommended
Travel agent
By: Barb
Reviewed on: 04 Oct 2018
Henya was very thorough and paid great attention to all details
Recommended
A Le Ponant adventure.
By: Livvy
Reviewed on: 06 Oct 2018
As always, working with Henya makes our travel flawless. It's almost as if she travels with us because I always know she is a text away. Planning beforehand, covering all possibilities, anticipating any issues, Henya's expertise is invaluable. I cannot imagine traveling without Henya Lish-Gebeloff. She is travel agent, therapist, cheerleader, and most importantly, friend!
Recommended
Riverboat Cuise with Tauck
By: lallan
Reviewed on: 19 Nov 2018
She was simply amazing! She took so much time to learn about me and Mike and what we were looking for. She made lots of suggestions, had lots of details and answered each and every question we had. She returns calls and emails quickly, she follows through on everything. It was the best experience we ever had with a travel adviser. I highly recommend her.
Recommended
Shanri-La Sydney
By: Don
Reviewed on: 22 Nov 2018
Beautiful hotel and we were upgraded to clear view of Harbor including the famous Sydney bridge and Opera House - spectacular day and night
Recommended
Thoughtful and attentive
By: Bill
Reviewed on: 13 Jan 2019
Our trip to Morocco over New Year's was a dream vacation. We explored much of the country and came back with incredible memories of this special place. Hat's off to Henya for her insight and care from the first phone call. Our air travel was constantly in flux (no thanks to Air France!) and Henya was on every change and active in ensuring we had a seemless experience. She was there every step of the way in planning and providing that extra level of attention that made the whole trip so memorable.
Working with Henya Lish-Gebeloff, you will have access to:
- An experienced travel guide whom you can rely on before, during, and after the trip
- Exclusive luxury resorts and properties
- Once in a lifetime experiences
Explore with the Best
Virtuoso Advisors are constantly pushing the boundaries in unique travel experiences.
Alliance programs are unique tailored experiences exclusive to travelers working with Virtuoso Travel Advisors.
learn more
Australia
Belgium
Canada
Ireland
New Zealand
United Kingdom
Antarctica
China
France
French Polynesia
Germany
Italy
South Africa
Switzerland
Austria