Travel Specialties
Interests
Adventure
Beach & Sun
Culture, History & Arts
Ocean Cruising
River Cruising
Selling Travel Since
1981
My Background
I've spent 33 years fulfilling and crafting dreams for my clients. That's what I love doing. It's important that I have a strong relationship with my clients so I better understand their preferences for travel. The friendships I now enjoy with my clients bless my life!
The challenge of constructing the client's travel puzzle is what keeps me humming. My professional credentials include CTA, Certified Travel Advisor, ACC, Accredited Cruise Counselor, Aussie Specialist, Destination Specialist from The Travel Institute and certified Virtuoso travel advisor.
Places I Have Traveled
Reviews and Recommendations for Karen Barber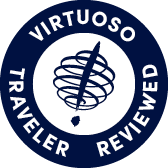 Virtuoso Verified Traveler
All reviews are from confirmed guests sharing exclusive insights
Sort reviews by
Recommended
Highly Recommended
By: Mer
Reviewed on: 17 Sep 2013
Karen went above board in helping me plan my trip. She spent a lot of time discussing with me my options to insure that my travelling experience was a good one. It was a collaborative experience which impresses me a great deal. She has handled my trips before and she will continue to be the person I go to for my future travels.
Recommended
destin is great
By: josepht
Reviewed on: 18 Sep 2013
Destin FloRida is A Wonderful Vacation Spot. The Topsl Resort Was Very Affordable And The Condos Were Nice. Destin Has Plenty FoR A Family To Do And The Beaches Are Beautiful. Sand LikE Cane Sugar.
Recommended
Simply the best
By: bgraham33
Reviewed on: 17 Sep 2013
Outstanding planning with good knowledge of flights, times, hotels. Works very well with on-ground/in-country Virtuoso reps/guides. Has helped us immensely and goes well above normal standards to make sure our trip is a worthy one.
Recommended
Highly Recommended
By: BeachesoftheWorld
Reviewed on: 06 Oct 2013
Our trip to Ocho Rios, Jamaica was amazing! We stayed at The Jewel at Dunn's River, an adults-only, all-inclusive resort recommended by our travel agent, Karen Barber. We were celebrating our one-year marriage anniversary and had a wonderful time! Karen is a blessing. She recommended and booked our honeymoon in Hawaii as well - a 7-day cruise of four Hawaiian islands. We loved it. We highly recommend Karen Barber and The Jewel at Dunn's River!
Recommended
By: Not provided
Reviewed on: 12 Oct 2013
she was very helpful and let us know what we needed to know and do had everything done
Recommended
Good Trip
By: couples
Reviewed on: 11 Oct 2013
Destination was great....getting there not so great. No pre set way to get from airport to hotel or ship. Was not a good experience!! Other than that, the trip was good.
Recommended
Highly recommend
By: Rdub56
Reviewed on: 11 Oct 2013
Karen was super helpful and will use her again to plan our next trip. We will also send her referrals.
Recommended
Highly recommend
By: glendasue60
Reviewed on: 16 Oct 2013
Karen was most helpful and explained every detail about the trip she booked for me and my traveling buddy. Love the Travel Masters--staff is sooooooooooooooo friendly. Karen is a jewel---that girl earns every $$$ she is paid and then some.
Recommended
Great job
By: Chandra
Reviewed on: 17 Oct 2013
Karen did an excellent job in picking our hotels and arranging transfers. We had a great trip.
Recommended
The best, again
By: Dr. G
Reviewed on: 05 Dec 2013
As always very meticulous planning and fun to work with. Very customer and service oriented.
Recommended
recommended to friends and family
By: Not provided
Reviewed on: 28 Nov 2013
I really appreciate Karens response and tentiveness. She quickly found and secures my reservations as if they were her own. She was courteous and understanding. Thanks for a great trip
Recommended
OUTSTANDING!
By: C and T
Reviewed on: 26 Nov 2013
Have been going thru Karen for our vacations for the last three or four years with unparalleled results. Everything on the travel agendas has gone like clockwork. She continues to exceed our expectations!
Recommended
PERFECT!
By: darbur
Reviewed on: 26 Dec 2013
When we need to travel Karen is the one to go to! I could do alot of online reservations....but why, when you have Karen Barber. Thanks for always being there.
Recommended
Highly Recommended
By: Laura4444
Reviewed on: 30 Dec 2013
Working with Karen Barber was a delightful experience. She is personable, caring, and thinks steps ahead to address potential problems and nip them before they even happen. She took time with me. She was great about calling back, about informing me of changes or details of the trip, and was like a friend looking out for our best interests. I would call her for planning a trip again.
Recommended
Highly recommended
By: Not provided
Reviewed on: 11 Jan 2014
I want to say wahat a real pleasure it is to work with such a devoted professional as Karen. Her prompt actions, knowledge and experience made planning my trip effortless. My son Austin and I enjoyed the best week of our lives traveling the Carribean. It is owed to Karen and her assistance. Thank you Karen for a great trip.
Recommended
Highly Recommend
By: Happy traveler
Reviewed on: 05 Feb 2014
Karen helped my husband plan a trip that he proudly gave me as a surprise birthday present.  Karen is extremely efficient and knows the designated area very well.  It has been a pleasure working with her.
Recommended
By: Vincenzo
Reviewed on: 10 Feb 2014
Our requirements were simple, well handled.  Service well performed.
Recommended
Highly recommended
By: Sheba
Reviewed on: 11 Feb 2014
This is the third time we used Karen to plan and book our trips, which are always complicated and sometimes last minute , Karen is Very Professional ,she have a vast knowledge ,and a lot of patient , her service is always with a smile and we ALWAYS feel as we are her most important clients, even when she is very busy.She understand our needs very quickly and always find the best of what we need or give better alternatives, She replay quickly and always keep us posted on the progress .we have a lot of confident in her ,specially when we go abroad and time after time she fulfill our expectations.
Recommended
Highly recommend
By: Kim
Reviewed on: 11 Feb 2014
Karen is the best travel agent we have ever used.  She's our go to person for sure for all future vacations!
Recommended
very good
By: j&M
Reviewed on: 17 Feb 2014
Recommended
Don't Worry - Be Happy
By: MB & Pops
Reviewed on: 05 Mar 2014
I'm a 1st Class Worrier!!!! But, I have been pleasantly surprised with how Karen has taken care of all of my inquiries regarding our upcoming trip; easier than going to Dallas!!!
Recommended
By: Dangerous Dan
Reviewed on: 12 Mar 2014
Karen is a great travel agent and I highly recomend her to anyone. (I prefer cash not a check for this recomendation)
Recommended
Alaska
By: Mark7
Reviewed on: 27 Aug 2014
The cruise was wonder. We had a great time. Karen had taken care of all the details and we could just relax and enjoy the trip. The room in Seattle was horrible and should never be recommended. It should be rated a1 at best!
Recommended
Friendly, honest and super helpful!
By: Ann
Reviewed on: 16 Mar 2014
Karen Barber with travel masters in Tyler Texas does an amazing job. She is very knowledgable and has helped my family take an absolutely unforgettable family vacation. And helped me decide where my daughter and future son in law should go on their honeymoon. Thanks Karen, you're the best!
Recommended
Highly Recommended
By: Carl
Reviewed on: 24 Mar 2014
Recommended
Recommended
By: Gia
Reviewed on: 23 Apr 2014
Karen was very friendly, understood immediately the needs of our group, and kept us apprised of the schedule changes.  She advised me at the time of scheduling that since the trip was planned several months in advance there would most likely be airline schedule changes, and when they occurred she e-mailed me immediately.  We had a wonderful trip - Thank You Karen! 
Recommended
Trip to Argentina (Hallmark Hunting Trip)
By: CBD
Reviewed on: 25 Apr 2014
The staff at Travel Masters were great.  You took the time to answer all our questions, and you were very patient in doing so.  We had the trip from hell going from DFW to Santiago, Chile.  Flights were delayed and actually had to get on four separate planes before leaving.  Supposed to leave around 9:30 Sunday night.  Got off the second plane at 1:00 am Monday and had to go to hotel.  First flight on Monday was cancelled due to problems on the plane.  Had a delay of several hours before leaving.  This ending up greatly affecting our hunting schedules.  We missed the first morning and were really rushed the last day.
Recommended
Great Planning!
By: Zorro
Reviewed on: 03 May 2014
Karen did a great job  helping us plan our tour.  She was on top of all the details and saved us much headache and made  our trip trouble free. Thanks Karen!
Recommended
Excellent
By: Chuck42
Reviewed on: 02 May 2014
Recommended
By: tommy
Reviewed on: 21 May 2014
Karen handled the arrangements for our cruise with professionalism.  There was a little hiccup, not of her making, but of miscommunication.  We thought we were going on a 7 day cruise that included Belize, but wound up on a 6 day cruise that included Costa Maya instead.  Again, probably a miscommunication between myself and Karen.
Not Recommended
okay
By: d&j
Reviewed on: 16 May 2014
Original plan we wanted to go to Belize.   7 day cruise.   When we got ourdocuments...was a 6 day cruise not including Belize.  Very disappointedbut could not reschedule because of traveling companions vacation schedule.Did enjoy the trip, even though it was not where we wanted to go!!!  No explanation with the documents we received.  
Recommended
The best travel agent ever!!!
By: Honeyj
Reviewed on: 26 May 2014
I always recommend Karen Barber to everyone I know. She thinks of every detail to make our travels fabulous. She made every transfer from plane to hotel to ship so easy and flawless . Karen is not only a travel agent but also a friend. Because of our previous trips she has planned we trust her judgement and suggestions completely . We are very grateful to have Karen as our travel agent.
Recommended
Highly recommended!
By: J&AM
Reviewed on: 03 Jun 2014
We were very pleased with the service provided by Karen for our vacation.  We chose the all-inclusive resort Ocean Maya Royale. It was wonderful! Karen upgraded our room & it was beautiful!! The staff went out of their way to make our stay relaxing & comfortable. We enjoyed our fun & relaxing getaway. We will definitely call Karen for our future travels!! Thank you!!
Recommended
Excellent Rep
By: Dale
Reviewed on: 02 Jun 2014
Everything worked out as it always does.  Karen is an example of excellence in her field.  I would recommend her to anyone.
Recommended
Highly recommend
By: Ben
Reviewed on: 26 Jun 2014
Great trip, nice hotel, loved food plan
Recommended
Recommend
By: baylor52
Reviewed on: 02 Jul 2014
Trip was very well planned, flight connections, hotel bookings, etc.  If there is one reason I did not leave a "highly recommend" is because she is not very good about returning phone calls.  I have left several and have had to call again as she did not return my call.
Recommended
Mexico!
By: Ash2014
Reviewed on: 15 Aug 2014
Had a fantastic time in Mexico! Everything that was booked through the travel agent went really smoothly! All inclusive was definitely the way to go! I'd do it all again in a heartbeat! Thanks!
Recommended
playa
By: acamp
Reviewed on: 11 Aug 2014
Fabulous!!! We had the best time!! Thank you so much!!!
Recommended
Friendly service
By: Mark7
Reviewed on: 14 Aug 2014
Karen did excellent job and our Cruise was wonder!!! Best cruise ,ever. Thanks for your help.
Recommended
Great Trip
By: Benny
Reviewed on: 27 Aug 2014
Fantastic job by you all! Elaine was so informative, willing to spend extra time and effort in helping me, and so patient! This was the best organized personal trip I have ever been on. Everything was perfect from the time we arrived at the Tyler Airport until we landed at Seattle. Once there we met the Ship reps at baggage check and they took over. It really could not have gone better. Excellent Job!!!
Recommended
Expert!
By: Carlow
Reviewed on: 19 Sep 2014
Great family vacation!
Recommended
Vacation planning
By: Greg
Reviewed on: 09 Oct 2014
I can always count on Karen to find me a great place to stay. She has never failed us over about a 10 year period. She is quick to respond, always professional, and takes great care of us.
Recommended
NAPA Know how
By: John
Reviewed on: 10 Oct 2014
Wonderful trip. Really enjoyed Virgin American. The nonstop fight gave us much extra time to enjoy the trip rather tgan wasted time in airports
Recommended
Great service !!!!!!
By: BOOBOO
Reviewed on: 20 Feb 2015
Nothing can touch Royal Caribean. I like a boat which has a skating rink and a Main Street like Mariner of the Seas. It is the best! Bigger the better. Karen did a great job!
Recommended
Trip to Florida
By: CBD
Reviewed on: 05 Nov 2015
Elaine actually booked the trip. She was amazing. So helpful!!! She organized wheelchair assistance and had a van/bus organized for transportation to and from Pensacola to the condo in Perdido Key, AWESOME!!!! Could not have gone better.
Recommended
Simply the best!
By: AnthonyD
Reviewed on: 06 Oct 2016
Karen is a life saver. Absolutely makes traveling effortless. From taking my first phone calls where I have no idea where I want to go to finding the perfect place to ensuring everystep is organized . . . I will use Karen everytime I travel. Has already made two of our family vacations (multiple adults and five children) - go off without a hitch. Love you! A Davis, MD
Recommended
Best Cruise Ever
By: Frankie&Mervia65
Reviewed on: 30 Dec 2016
Karen all I can say is wow. It's was if you was on this vacation with us making sure we got everything we ask for from start to finish. Both hotels before we started the cruise were beautiful. the air line took care of us as though we were traveling first class. Due to my walking disability we were met at the door going and coming. As for the cruise everything was just what I expected it to be we had so much fun that I did not have a chance to take a lot of pictures but it is one I will never forget. Thank you Karen for helping me plan a beautiful vacation Frankie & Mervia 65
Recommended
Maui 2017
By: Tim & Cheryl
Reviewed on: 14 Feb 2017
Karen is fast, efficient, and a pleasure to work with. She fulfilled all of our 'specific' requests as well.
Recommended
No hassel travel
By: beachbum
Reviewed on: 12 Feb 2017
I have been using Karen to help me plan my trips for the last six years. She is so easy to work with! Whether I only need a plane ticket, transportation in a foreign country, or a trip complete with dessert included, she's the one I go to. Just tell her what you want and she finds it!
Recommended
France and Italy
By: mer
Reviewed on: 10 Sep 2017
Karen is well versed in the intricacies of her job. She is a most excellent tour operator.
Recommended
Wonderful Disney World Trip!
By: MAW
Reviewed on: 06 Oct 2017
Karen is always a delight to work with. She's not only professional and caring but genuinely wants her clients to have the best trip possible. Always use her when I plan a travel vacation.
Recommended
Canada cruise
By: Rich
Reviewed on: 15 Oct 2017
She did a fine job following up on my requests and always timely with communication.
Recommended
Hawaiian Escape
By: Sandy
Reviewed on: 08 Nov 2017
Karen is always a delight to work with. Especially when it comes to forseeing my personal needs. She was patient and reassuring, I felt like I could call anytime before, during, or after the trip.
Recommended
Great Trip!
By: Alli
Reviewed on: 04 Apr 2018
I actually worked with Denise!
Recommended
Danube and Tuscany
By: Danny
Reviewed on: 21 May 2018
Great. All elements of three week trip were seamless as to connections, schedule, quality, and expectations. Karen is very personable, knowledgeable and gets things done. All positive.
Recommended
Danube & Tuscany
By: Richard Greene
Reviewed on: 02 Jun 2018
Excellent--she was knowledgeable, personable, responsive, and anticipated many of our requests or requirements. Solutions proposed were spot on.
Recommended
Danube cruise/Romania excursion
By: Brad
Reviewed on: 07 Jun 2018
As usual best ever! Very thorough as always. Consistently gets us the best flights and seats. Scheduled the most wonderful private tour of Romania with A&K. Fabulous hotels and guides in Romania. We have 100% confidence in her and 100% satisfaction.
Recommended
cruise review
By: eg
Reviewed on: 26 Jul 2018
Karen has always been very professional and works to understand your needs. She always gives great attention to details. Always a pleasure to call her.
Recommended
London-Spain
By: London-Spain
Reviewed on: 17 Nov 2018
She is a knowledgable, experienced travel consultant. I planned our trip, she finalized it and made the arrangements.
Recommended
New Zealand/Sydney
By: Carl
Reviewed on: 16 Jan 2019
Working with Karen is always a pleasurable experience. She knows our style in travel. She always attends to the fine details making our vacations worry and stress free allowing us to thoroughly enjoy our vacations.
Working with Karen Barber, you will have access to:
- An experienced travel guide whom you can rely on before, during, and after the trip
- Exclusive luxury resorts and properties
- Once in a lifetime experiences
Explore with the Best
Virtuoso Advisors are constantly pushing the boundaries in unique travel experiences.
Alliance programs are unique tailored experiences exclusive to travelers working with Virtuoso Travel Advisors.
learn more