Doria Gomez
Tampa, FL United States
Travel Specialties
Interests
Culture, History & Arts
Honeymoons
Escorted Tours
Beach & Sun
Ocean Cruising
Destinations
Italy
Ireland
U.S. Virgin Islands
Brazil
China
Selling Travel Since
1990
My Background
Since 1990, Doria has represented and consulted many clients with the creation and planning of the most memorable times of their lives. It has been a passion since a young age when she captured the wanderlust of travel. She has travelled extensively throughout Europe, Asia, and the Caribbean.
Doria listens carefully to her clients and then crafts every itinerary based on their needs and expectations. Doria can arrange an independent tour to any part of the world – if she has not been there, she's likely arranged plans for someone to go there and either way, will know and research the perfectly planned vacation. From an excursion to the Great Barrier Reef in Australia, a private tour guide on the Great Wall of China, or a culinary experience in Rome, Italy, Doria can help you get there with accountability and confidence that your lifetime memories deserve.
Doria is a native of Tampa and of Cuban and Italian descent. She is involved in several community organizations and is proud to be co-founder of Dalia's Reach, Inc. – a not for profit organization that focuses on the safety of students on college and university campuses.
Places I Have Traveled
Reviews and Recommendations for Doria Gomez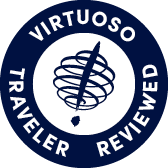 Virtuoso Verified Traveler
All reviews are from confirmed guests sharing exclusive insights
Sort reviews by
Recommended
By: alex
Reviewed on: 20 Sep 2013
Excellent service with lots of helpful suggestions. I would recommend this service without hesitation.
Recommended
Miracle Worker!
By: Ginger
Reviewed on: 07 Oct 2013
I planned a trip to North Carolina and wanted to stay at The Grove Park Inn in Asheville. I asked Doria to help me with the reservations and she was able to secure a room for me even though the hotel's website was showing no availability! We were able to have dinner at one of the two restaurants Doria recommended and the dinner & atmosphere were fabulous! A big thank you to Doria!
Recommended
Highly Recommended
By: Nolefan97
Reviewed on: 22 Oct 2013
I've worked with Doria on numerous occasions and she has provided excellent service every time! From planning a multi-country European trip to my most recent guided tour of Ireland, I've been impressed with Doria's thoughtful approach to trip planning - always taking into consideration my time and financial restraints with my hopes for an amazing trip. I've already started planning my next adventure with her!
Recommended
By: Mary53
Reviewed on: 22 Oct 2013
Great trip down the Danube River starting from Nuremberg to Budapest. Accomadations were exceptional and the crew and staff couldn't have been better. So attentive and friendly. Food was gourmet and a variety of foods. Local foods were presented on the days we were in port of the different cities and so good! No complaints from us.
Recommended
Dream Honeymoon!
By: Jesstru
Reviewed on: 05 Mar 2014
Thanks to Doria, we had the the perfect Honeymoon experience in Thailand! Every detail from private car transfers and excursions to flights and resorts was thoroughly accounted for and involved next to no effort on our end. We were continuously impressed as each hotel we stayed at just kept getting even better as our trip progressed. All of our tours planned through Destination Asia were fun and intimate and the tour guides were excellent. We can't wait to plan our next trip to Southeast Asia with Doria! Thank you!
Recommended
Best of the Best
By: JimP
Reviewed on: 18 Apr 2014
Doria continues to provide the highest level of service.  She is in possession of a rare skill set: a consistent professional manner blended with unpretentious stylistics, always with the same result, a satisfied client.
Recommended
Insightful and thorough vacation planning
By: Julio
Reviewed on: 07 May 2014
Doria anticipated our needs as travelers. Her hotel recommendation was spot on. All transfers were priced competively and with reliable drivers. Doria took care of all the extra details. Lastly, she recommended to us a quality trip insurance product that was priced right and just what we needed. 
Recommended
Highly Recommended!
By: Not provided
Reviewed on: 19 May 2014
I have recommended Doria to several of my friends.  She is great.  I would not think of using anyone else for my travel plans. 
Recommended
Highly Recommended
By: LouDrew
Reviewed on: 23 Jun 2014
We had another wonderful vacation put together by Doria! The accommodations were first class and within our budget.  And her suggestions enabled us to see as much as we could in the time we had.  Thanks again and we're already talking about where we'll go next~~
Recommended
By: Not provided
Reviewed on: 09 Jul 2014
Our family just returned from a wonderful trip to Cancun. I would highly recommend Doria Gomez at Virtuoso Travel. Doria handled everything beautifully!  Doria was there for us during the planning stages, really listening to what we wanted and guiding us in the right direction. She suggested ME resort and it was fantastic! I would not take another trip without the expertise of Doria. Thanks for making a much needed and memorable vacation happen for us! Suli18
Recommended
Another excellent trip!
By: GreenT
Reviewed on: 05 Aug 2014
Once again Doria came through big time for us! Our vacation was flawless and the hotel was perfect. Thanks again!
Recommended
Great service once again
By: AdrianP
Reviewed on: 28 Apr 2015
Always a pleasure to book travel through Virtuoso with Doria. Always great service and extremely helpful. Great recommendations!! I highly suggest booking your next travel vacation through her.
Recommended
ALWAYS the Best!
By: Michelle2019
Reviewed on: 19 Jun 2015
Doria always goes above and beyond. Travel, transportation, accommodation, recommendations. I really can't say enough. There is no one like her and Travel By Appointment. We always know we will be taken care of and there really is nothing like piece of mind when traveling to other countries and far away places.
Recommended
Costa Rica- Arenal
By: gretchen_cf
Reviewed on: 28 Jul 2015
Doria did another excellent job planning our trip to Arenal. When we stepped out of the airport our transportation was waiting for us with a smile and excellent energy. Our driver handed us a packet of everything we need to know about the Arenal area where we stayed. We stayed at the beautiful Tabacon Grand Spa Thermal Resort. We took a short 5 minute walk to the springs and we couldn't believe how gorgeous everything was. The first thing my husband said when he saw the springs was, "Doria doesn't disappoint." This was a short trip with a smaller budget to allow for our bigger trip to Thailand a month later. We were pleasantly surprised at what Doria put together for us. Everything was stress free, fun and relaxing! Doria uses her travel expertise and knowledge of her clients personalities to make sure they get the most out of any length trip!
Recommended
Thailand- Bangkok, Chiang Mai, Phuket
By: gretchen_cf
Reviewed on: 28 Jul 2015
This was the 3rd trip that Doria planned for us and it was unforgettable. With the flight being 26 hours, and the desire to travel to 3 different cities in 11 days, I was concerned that we did not have enough time to really experience everything. Doria put together our itinerary down to the hour to show me we will have plenty of time to explore. She was right. We never felt rushed, stressed and we fulfilled everything on our bucket list. Yes, bucket list. Doria planned everything my husband and I have wanted to do for years and even threw in some surprises of things we didn't ever imagine doing, but we are glad she suggested it.
Recommended
Exceptional Service
By: G & T
Reviewed on: 25 Jul 2015
We turned to our family friend and travel agent Doria Gomez with help with planning our honeymoon to Mexico. She and her team we absolutely wonderful and made the selection process easy and fun. We chose to relax at the Secrets Maroma Beach Riviera Cancun. It was exceptional and above anything we could have ever dreamed of! Our time away wouldn't have been the same without her recommendation and we will continue to turn to her for future trips. Thanks again for everything!! You're a gem! Love, The Gustafssons
Recommended
Expert Advice - Great to Work With!
By: Debbie20
Reviewed on: 05 Aug 2015
Doria is wonderful to work with. She is extremely knowledgeable and easy to work with. She's responsive to our requests and she's always attentive to our preferences and requests. We always trust Doria to plan our trips!
Recommended
Great Trip Planning and Execution
By: Michael
Reviewed on: 05 Aug 2015
Doria helped us plan a major vacation to Alaska with a cruise and land tour. She gave us plenty of information and comparisons between the different cruise lines and tour companies. Doria was available for conference calls with all of us and got us an unbelievable vacation at a good price. We highly recommend her services.
Recommended
Wonderful time!
By: cmt
Reviewed on: 08 Sep 2015
Just returned from an England 3 day tour and British Isles Cruise. Doria was a great help in planning and booking reservations for us. Got us a great deal on 1st class airfare since we booked so early and recommended an awesome hotel along with great sight seeing tips. Thanks so much for our most epic adventure to date!
Recommended
Always perfect when Doria handles the trip
By: Vince
Reviewed on: 13 Sep 2015
Great job Doria for planning our trip. Tours and guides were excellent. I especially like how you check in with us during the trip to make sure everything is ok. Boutique hotels in Ireland were just what we like; personalized service and in great towns. Killarney was our favorite.
Recommended
Stellar Accomodations!
By: Becky
Reviewed on: 16 Nov 2015
This Hotel was one of the most elegant, pristine and gorgeous hotels we have ever been to. Old World elegance coupled with new World amenities.
Recommended
New exactly what we needed...
By: Ally
Reviewed on: 22 Dec 2015
Doria knew right off the bat what we were looking for for our mini-moon. Somewhere with a short flight, that was decadent, all inclusive, adult only, and somewhat affordable. She nailed it with Paradisus La Playa! I almost always have some kind of constructive criticism for resorts, but I literally have nothing bad to say. The service was amazing. The resort was unbelievably clean and well manicured. As a Royal Service member we were treated especially well. I would recommend this resort and booking through Doria to ANYONE! We plan on bringing as many people as possible back next year.
Recommended
Highest Level Of Service
By: JJ/P
Reviewed on: 04 Feb 2016
Whenever we we travel, no matter the destination, there is never a concern that one or more of our travel requirements has been overlooked. It is clear, and has been for many years, that Doria's approach contemplates the client's preferences ensuring customer satisfaction at the highest level. This, no doubt, is the result of her many years of experience in the travel business, but it goes beyond that. Doria cares about her clients on a personal level. That can't be taught. It's a character trait.
Recommended
Expert and Friendly Agent
By: Kathy
Reviewed on: 18 Jul 2016
Our 2 week trip was wonderful! Everything that was planned for us by our agent made our vacation relaxing and fun. All our travel accommodations went smoothly. Her recommendations were spot on. I can't say enough good things about our experience. We will definitely plan our next big vacation using her expertise. Thank You!
Recommended
Exceptional service
By: Cad
Reviewed on: 14 Aug 2016
I am so glad Doria was recommended to me. She planned an amazing trip. I will definitely use her again!
Recommended
Awesome Experience !!!!
By: Chris
Reviewed on: 28 Oct 2016
Just returned from one of the most fabulous trips I have ever been on. I gave Doria Gomez a general idea of what I was looking for and she handled everything. I have to say everything was perfect, better than I could have ever expected. Doria handled every aspect of our trip and never missed a detail from the airline tickets to the pickups to the hotel stays ....... I can honestly say that I have used travel agents in the past and generally have been happy, but in the case I used a real travel Professional and I was thrilled with how our trip was handled. Thank you Doria!!
Recommended
Honeymoon - Hawaii
By: Anthony
Reviewed on: 27 Dec 2016
My wife and I had a wonderful experience during our honeymoon trip to Hawaii. We we're taken care of from start to finish and even had to make a few last second changes during the trip that got squared away immediately. We'll definitely be coming back on our future big trips! Doria Rock!!!
Recommended
Great Connections
By: Torie
Reviewed on: 20 Nov 2016
This was my first time using a travel agent. I knew this trip was going to be expensive so I wanted to make sure the plans I booked were well worth the money. Doria and Christine got me in contact with Natural Habitat and found the perfect trip through them for me. They even saved me a ton of money by recommending a different trip insurance company than what the trip organization was offering. The trip was incredible and who knows what organization I would have gone with if it wasn't for Admiral Travel. Thanks! It was nice having like a travel assistant who could answer all my questions and get me the contacts I need.
Recommended
Lucky to work with her!
By: Carolann
Reviewed on: 17 Feb 2017
She takes the headaches out of arranging travel plans. Doria is so detail oriented and nothing is missed.
Recommended
Every detail covered!
By: carollann
Reviewed on: 24 Mar 2017
Easy and she is very thorough.
Recommended
Great trip with Doria as our advisor
By: Ben
Reviewed on: 31 May 2017
Doria was very easy to work with. Once she knows what you want on a trip, she'll start putting it together. She has many great suggestions and tips which made our trip more exciting and pleasurable.
Recommended
So Grateful!
By: KKL
Reviewed on: 09 Jun 2017
Doria has now planned 2 family vacations for us. Both have exceeded our expectations because of her knowledge and planning. She thinks of things that I wouldn't have - like car transfers and private tourguides. This has made both trips so much better. To have everything taken care of - from A to Z - has made both trips very relaxing and special. She also has a great way of finding the "best value for the buck" and all of her hotel, transfer, and tour recommomendations have been perfect! I am so grateful that a friend referred her to me. I will never plan a vacation on my own again!
Recommended
Top notch
By: Diana
Reviewed on: 05 Jun 2017
Doria was thorough, professional and very knowledgeable. Attended to every detail.
Recommended
New York 2017
By: Luis Garcia
Reviewed on: 18 Jun 2017
Great. She made great suggestions
Recommended
Good time
By: Alex
Reviewed on: 21 Aug 2017
She was awesome
Recommended
South African Safari
By: Michael
Reviewed on: 13 Sep 2017
We had worked with Doria on an Alaskan vacation so it was a no-brainer to call her about South Africa. She has colleagues at their agency from South Africa and Doria had us work with them for an amazing South African adventure. Great service again for another memorable trip.
Recommended
Italy
By: Sam vacation
Reviewed on: 23 Oct 2017
Great working with Doria. Always available by email with my busy work schedule Loved every tour she planned. Her recommendations were wonderful
Recommended
Spain At Its Best
By: J/JPAL
Reviewed on: 19 Nov 2017
Our trip to Spain exceeded our expectations in nearly every category thanks to Doria's vast experience. Traveling abroad can be a daunting undertaking for some. Using Doria changes that dynamic completely. If a problem arises, as they sometimes do, Doria not only addresses it immediately, she turns it into the best possible outcome - the proverbial sow's ear into a silk purse. Spain will be a memory to cherish for the rest of our lives due in no small measure to Doria.
Recommended
Heaven
By: Bo
Reviewed on: 01 Feb 2018
We have worked with Doria for a number of years and it has always been delightful. She has always managed to find us the best accomodations in the best locations. So this year as well. Not only is Doria responsive Doria is also very fast in answering your questions. We can easily say that we would not have travelled so extensively on th West Coast of the US without Doria´s expertise.We can´t imagne anyone better than Doria.
Recommended
Wonderful service and suggestions
By: Camillecollier
Reviewed on: 12 May 2018
Doria was a delight to work with from start to finish. She helped us with not only the booking of our Uniworld river cruise but also with transportation and recommendations for things to see and do while we were in Paris. We will definitely be using Doria to book all our big travel in the future!!
Recommended
Hawaiian Family Vacation
By: One Happy Gator
Reviewed on: 18 Jun 2018
I couldn't be happier with the way our trip went. It was a two week three island Hawaiian vacation for nine which included multiple family units and Doria took care of everything including airline, hotel recommendations, rental cars, airport transfers, luau reservations, and excursion recommendation and bookings. Truly was a trip of a lifetime for my family and I. She even followed up with me several times during the vacation to make sure things were going well and to see if there was anything additional we needed. THANK YOU! THANK YOU! THANK YOU!
Recommended
Cruise 2018
By: Paulie
Reviewed on: 05 Jul 2018
Have worked with Doria several times and she is by far a great travel agent to work with. She goes out of her way to take care us.
Recommended
Eastern Euro
By: Tyler
Reviewed on: 09 Jul 2018
it was great! She had great flights booked for us and everything went seamless. The hotels were the best in the city and perfect locations. she also recommended a couple tours for us in the city that were perfect to see everything.
Recommended
Doria Gomez
By: Kathy
Reviewed on: 10 Sep 2018
Doria, Helped me and my family plan the European trip we wanted. She had great suggestions for the hotels and the restaurants. Lastly, the air and train connections were well thought out and it all went very smoothly. We have used Doria in the past and we will continue to use her as our go to travel agent. She's great!
Recommended
Greece Honeymoon
By: Mike O.
Reviewed on: 26 Sep 2018
Doria was fantastic to work with! She worked within our budget and gave us multiple options on places to stay at each location we stayed at in Greece. All the places and activities we booked through her were top notch. We will definitely be using her in the future.
Recommended
Classic Fall Foliage
By: Cathy
Reviewed on: 30 Oct 2018
Doria was VERY helpful in helping us decide if an additional special place could be done instead of something in Bar Harbor! We decided it was too completed to be done. In our nine days, we covered a lot to see the colors, snow in New Hampshire, and various places. I loved our Norman Rockwell museum. I wish we could have had more time there since 2 1/2 hours wasn't enough to see and enjoy everything!! Bath, NH's with the Brick Store and Craig Pursley's separate art shop meant a great deal to me!! Tony Q. and Gail Anderson were excellent, very helpful and informative to all of the tour group. They helped make our trip very enjoyable and safe.
Recommended
Amsterdam and Ireland
By: Michael
Reviewed on: 02 Nov 2018
The trip was great! Our guide, Pat, was wonderful and went over and above for us. The accommodations were equally great. No complaints as we had a memorable trip.
Recommended
London/Paris
By: Carlos
Reviewed on: 30 Nov 2018
Doria was able to plan a trip to London/Paris on short notice. The hotels chosen were in the center of the action and we were able to walk to most places. Transportation to from the airport was pre-arranged and stress-free. She was able to get us tickets to see the Eifel Tower even though it was already sold out. Amazing trip thanks to her arrangements and recommendations. Thanks Doria!
Recommended
Harmony Christmas Cruise
By: NSurak
Reviewed on: 12 Feb 2019
Doria was very helpful and a great resource as we planned our Christmas Cruise.
Recommended
Cuba 19
By: Marianne Gabrielson
Reviewed on: 13 Feb 2019
Very professional. Great knowlage. Reliable. Extreamly nice.
Recommended
Doria was awesome!
By: Katie
Reviewed on: 09 Apr 2019
Doria was super helpful! We planned our honeymoon from scratch and she provided us with options from the beginning. She was always available and even answered our email within 10 minutes when we called her on our honeymoon. I would 100% plan another trip with her again!
Recommended
Anniversary Trip
By: Ken
Reviewed on: 14 Apr 2019
Very enjoyable. She is very responsive and very knowledgeable.
Recommended
Always comes through for us.
By: Vince
Reviewed on: 20 May 2019
Doria has been our advisor for many years. Every trip she plans is perfect, from the quality of the hotels, the tours and transportation. The info provided on local knowledge where we travel is invaluable. We would never plan a trip without Doria's assistance.
Working with Doria Gomez, you will have access to:
- An experienced travel guide whom you can rely on before, during, and after the trip
- Exclusive luxury resorts and properties
- Once in a lifetime experiences
Explore with the Best
Virtuoso Advisors are constantly pushing the boundaries in unique travel experiences.
Alliance programs are unique tailored experiences exclusive to travelers working with Virtuoso Travel Advisors.
learn more
Italy
Ireland
U.S. Virgin Islands
Brazil
China
Costa Rica
Dominican Republic
France
Israel
Peru
Spain
Switzerland
Thailand
Taiwan
New Zealand