Travel Specialties
Interests
Food & Wine
Culture, History & Arts
Honeymoons
Independent Tours
River Cruising
Destinations
Australia
Belgium
New Zealand
Bermuda
Belize
Selling Travel Since
1989
My Background
Marilyn has over 25 years' experience in the travel industry. She specializes in customized independent and small group travel. She has travelled extensively in North America, Europe, Caribbean, Asia and Africa and has lived in Alaska and Hawaii. If you need help choosing the perfect destination, cruise or tour, Marilyn would love to share her passion for and knowledge of travel with you.
Places I Have Traveled
Reviews and Recommendations for Marilyn Bennett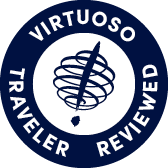 Virtuoso Verified Traveler
All reviews are from confirmed guests sharing exclusive insights
Sort reviews by
Recommended
more than we expected
By: susan72
Reviewed on: 05 Feb 2015
Wow, we really had a great time. Imagine 2- 60 somethings hiking to waterfalls snorkeling swimming, more hiking, 9 a.m. snorkeling, and then the Panama Canal. It was a wonderful trip, thanks so much Marilyn, we loved every minute. FYI the boat was terrific-especially deck 5.
Recommended
Punta Cana
By: Ellen
Reviewed on: 31 Mar 2015
Wonderful trip. Beautiful resort with exceptionally nice people. Nice restaurants with good food. Good entertainment. Only negative was that there was no elevator.
Recommended
Jewel Runaway Bay Jamaica
By: GS
Reviewed on: 12 Apr 2015
The Jewel Runaway Bay Resort was a good value. The best experiences we were for the extras that we bought-- the Rise and Shine and Beach Rendezvous cabanas. We did NOT get the oceanfront resort we requested but they gave us two adjoining rooms. The resort is a 90 minute drive from the airport. Now that we know this we would probably pick a closer resort next time. Service was best for the extras we purchased. Otherwise there were two bad servers and the rest were good. The rooms were nicely appointed and they kept the refrigerator well-stocked. My soap in the bathroom was never replaced in the four and a half days we were there which is strange for a hotel. Otherwise housekeeping was good. Food and beverage was good for the most part, except for this ridiculous restaurant that would be considered their upscale one, called "Platinum". Overall although the beach and pool activities were wonderful the distance from the airport just adds to the travel time.
Recommended
Rhine River Cruise
By: Ken Bickel
Reviewed on: 24 Apr 2015
We had a good trip traveling down the Rhine River with my sister and brother in law and another couple, Kerry and Frances Brown. I really liked Amsterdam and our hotel there was excellent. We boarded the ship and took a canal cruise there and had an excursion to the tulip farm and another to a castle. The ship was brand new. The crew and staff were great. The cruise director was from Holland and was very good. The return trip had a 6 hour layover in JFK and that made for a long day but other than that, everything was fine.
Recommended
Marily Bennett
By: Janet
Reviewed on: 19 Jun 2015
Marilyn was great to work with and helped adjust on the fly. Her experience was evident and will use her again.
Recommended
Excellent Service Always
By: TracyA
Reviewed on: 20 Jul 2015
Marilyn has been helping us plan vacations for the last 10+ years and all of the vacations she has helped us with have been fantastic and worry free. We will continue to use Marilyn for our vacations in the coming years.
Recommended
Fantastic Travel Planner!
By: Kelly Group
Reviewed on: 02 Jul 2015
Thanks Marilyn for your expertise in helping us plan this vacation trip and helping us to budget it out so that the cost was not overwhelming. Our trip to the Breathless resort in Punta Cana was wonderful. We went on 6/22/15 and stayed for 5 days and 4 nights. Everything was great, including the flight, transportation to and from the resort, and the return back. I can't say enough about how beautiful the resort was and how accommodating the staff was. You made the planning easy and seamless and were always available for our questions. We met so many interesting people during our trip that we have recommended this particular trip and your agency to all of our friends. Can't wait for you to plan our trip next year!!!
Recommended
Every time is well planned trip!
By: Lori 27
Reviewed on: 26 Jul 2015
This is the third trip Marilyn has planned for us. It went smoothly again. All tours on time, all drivers on time, all hotels were very nice!
Recommended
Marilyn knows just what we will like!
By: Howard & Ellen
Reviewed on: 26 May 2016
Very exciting trip and it gave some down time to relax each afternoon. Enjoyed it tremendously!
Recommended
Loved Carmel!
By: FB
Reviewed on: 30 Jul 2015
Marilyn helped us plan (another) great trip! Carmel and Big Sur were absolutely breathtaking! I am so glad she recommend them to us. Fantastic hotel in Carmel - right on the side of the mountain. Perfect view. #CanYou SpellPamered?? San Francisco was beautiful too and we were able to bike across the Golden Gate Bridge. Don't miss the Trolley ride - especially since everything is uphill (both ways) in 'Frisco! I'm already planning our next trip! Marilyn makes it easy.
Recommended
Perfection!
By: Erik T
Reviewed on: 10 Aug 2015
Every last detail was planned out and the entire trip was fantastic and flawless. Perfection!
Recommended
Professional, expert assistance
By: Gail07
Reviewed on: 19 Aug 2015
Marilyn was very professional and provided expert assistance planning our trip from beginning to end. We are very appreciative of all that she did to make our vacation a memorable one.
Recommended
Great service!
By: Pam
Reviewed on: 25 Aug 2015
We are always pleased with the service Marilyn gives us. This last trip was wonderful
Recommended
Trip
By: Jf
Reviewed on: 25 Sep 2015
Awesome trip. Will use this agent again
Recommended
Great service!
By: Chris
Reviewed on: 07 Oct 2015
The trip was excellent! It was the perfect package for our family and plenty of time to accomplish everything we wanted.
Recommended
Great Trip!!
By: Bob
Reviewed on: 08 Nov 2015
Arrangements were superb. Accommodations were great. Prices were very reasonable.
Recommended
Once Again!
By: Miller Time
Reviewed on: 23 Nov 2015
Once again we had a fantastic and flawless adventure thanks to Marilyn. A+ as always!
Recommended
Great family vacation in "paradise"
By: Kay Belle
Reviewed on: 06 Dec 2015
This trip for our family of 10 for the Thanksgiving holidays was wonderful. The accommodations were fine, the food excellent and the surroundings beautiful. There was something to do for all ages-from 6-74. Our travel agent, Marilyn Bennett, has planned many trips for us and has never let us down and this another feather in her cap. We will probably repeat next year.
Recommended
Highly Recommended
By: Rested and Renewed
Reviewed on: 06 Jan 2016
I highly recommend Marilyn Bennett. She took the time to listen to our desires and exceeded my expectations. Do yourself a favor and avail yourself of the skills of this gifted agent.
Recommended
Simply Fabulous
By: ETM
Reviewed on: 05 Jan 2016
Another fantastic trip! Kudos Marilyn.
Recommended
Excellent Service
By: AMPS
Reviewed on: 04 Mar 2016
Marilyn is a wonderful travel agent. She knows exactly what we like when we travel and sets it up that way. We are typically able to just leave it in her hands and do not even check behind her. Most everything flows as it should. Nothing is perfect, but it has nothing to do with her efforts or skills. I will continue to put all of my vacations in her hands for years to come, well, as long as she lets us.
Recommended
Marilyn is great
By: JackandLinda
Reviewed on: 01 May 2016
Viking river cruise from Basel to Amsterdam very good. They had great staff and good shore excursions, although it was crowded when they took all four buses at the same time to the same place. Marilyn's bookings of airplanes and hotel were great.
Recommended
Costa Rica
By: RD
Reviewed on: 29 Apr 2016
great trip, thanks
Recommended
timely service
By: novice
Reviewed on: 06 May 2016
My initial flight arrived late because of luggage problems so missed the connection. Emailed Marilyn and she promptly responded with excellent advice and help. Rest of the trip went smoothly as planned and we had an awesome time. Thanks, Marilyn
Recommended
Fantastic experience
By: EW
Reviewed on: 10 May 2016
Marilyn was wonderful to work with!!! I'll be working with her again and would recommend her to anyone.
Recommended
Awesome Trip!
By: Erik T
Reviewed on: 16 May 2016
St Thomas was everything Marilyn said it would be and then some. My wife and I had a wonderful and relaxing time with many memories that will last us a life time. Fantastic 16th wedding anniversary present!
Recommended
Quick and Courteous Service
By: jliving
Reviewed on: 03 Jun 2016
Marilyn did an excellent job in setting up our honeymoon. All of our questions were quickly answered and she made sure all details were given proper consideration. I would highly recommend using Marilyn for your next trip!
Recommended
Excellent Trip Planner
By: Harold
Reviewed on: 05 Jun 2016
Marilyn took my wish list and planned the perfect vacation! She knows the business and takes care of every request on the spot!
Recommended
Best Travel Advisor Ever!
By: Mike
Reviewed on: 18 Jun 2016
Marilyn Bennett has advised me on numerous trips, some simple, several exotic and complicated. The most recent was a Tauck river cruise commencing in London, then on to the Seine. As usual with trips she has booked for me, there was not a single glitch. When I begin planning a trip, I consult with Marilyn, and she often has suggestions which enhance the travel experience. I do not consider going to anyone else.
Recommended
Wonderful trip
By: Gailb
Reviewed on: 20 Jun 2016
We had a wonderful trip and appreciate Marilyn's assistance with the arrangements. She is an expert in the travel industry and can be trusted to maximize the enjoyment of your trip.
Recommended
Perfect recommendations and trip package
By: Honeymoon traveler
Reviewed on: 28 Jun 2016
Marilyn sat down with my husband and me and listened to all of our travel wishes. She then put together a perfect vacation that combined three trips. We spent time in Rome, had a 7 night cruise of the Mediterranean, and ended with a vacation in Barcelona. She was very conscious of our budget, yet we felt absolutely spoiled on our vacation. We could not have planned, executed, or afforded a trip like this without Marilyn.
Recommended
Always helpful!
By: Bob
Reviewed on: 02 Jul 2016
Marilyn always points us in the right direction with plenty of insight into what to do to enjoy the trip.
Recommended
Bahama Cruise
By: Ellen
Reviewed on: 20 Jul 2016
This was an excellent cruise. The ship was nice and the dolphin excursion in Nassau was awesome. Half Moon Cay was one of the most beautiful beaches I have ever seen. The service on this ship was wonderful. The whole family had a great time.
Recommended
Good Trip
By: Bob
Reviewed on: 21 Aug 2016
The trip was to the UK and Ireland. The flight from Atlanta to London was on Virgin Atlantic airline. The coach seating is woefully tight. At a minimum purchase extra leg room or upgrade to business class. The tailored tour of HMS Victory and HMS Mary Rose at Portsmouth was great as seen by this old sailor. The tour in Newcastle of Hadrian's Wall would have been better with a more knowledgeable guide. We did not get to Edinburgh, Scotland because of weather sailing concerns. Londonderry and Belfast are sad cities still wrestling with the Protestant/Catholic divisions. Dublin was a wonderful city although one day is far too short. Liverpool was an unremarkable city although the day visit to Chester was nice. Cobh, Ireland, was of interest as my ancestors immigrated from there. Portland gave us access to Stonehenge although it was a 2.5 hour one way drive. Oceania Cruise line amenities were delightful as always.
Recommended
Marilyn was very helpful, and pleasant to work with.
By: Dick
Reviewed on: 05 Sep 2016
Viking river cruise was great. They do everything first class, and go out of their way to make the clients happy. The flight connection going over was less than desirable, and very fatiguing........Charlotte to Chicago to Frankfurt to Basel. Coming back was better, Amsterdam to Munich to Charlotte
Recommended
Always finds good deals for us!
By: BobHo
Reviewed on: 28 Nov 2016
We have been using Marilyn for 20+ years! We enjoy her knowledge and expertise on our trip ideas.
Recommended
Mississippi River
By: Marilyn
Reviewed on: 13 Dec 2016
Everything was well planned and very clear. Marilyn kept us well I for,ed.
Recommended
Oasis cruise
By: Frank
Reviewed on: 28 Dec 2016
Vet well thanks. Enjoyed it!
Recommended
Top notch and first class!
By: C&W - ETM
Reviewed on: 16 Jan 2017
Thank you for another job well done! It is nice not to have to worry about anything when we go on vacation because you have it all planned out for us. Keep up the excellent work!
Recommended
Disney Cruise
By: gib party
Reviewed on: 24 Jan 2017
Marilyn was very efficient, personable, and professional. She was thorough in her explanation of travel requirements and needs. Always returned phone calls promptly and was very informative.
Recommended
Cruise
By: Old Folks
Reviewed on: 04 Feb 2017
She always does a great job. Would not use anyone else. Hope she never retires.
Recommended
Cruise on Oasis of the Season
By: Mary Jo
Reviewed on: 04 Feb 2017
Marilyn is great to work with. Covers everything for us.
Recommended
She got the job done
By: Bob
Reviewed on: 17 Feb 2017
She was able to understand our desires and deliver a travel product.
Recommended
"Flawless"
By: C&W
Reviewed on: 13 Mar 2017
Working with Marilyn is flawless. Every detail is covered and well thought out. The trip went off without a hitch and a great time was had by all. Thank you Marilyn!
Recommended
Vegas!
By: FrancesP
Reviewed on: 16 Mar 2017
Marilyn was awesome! We decided to go to Vegas at the last minute....I called her one morning right when they opened and she had us booked by lunch!!! Great service....everything went very smoothly on the trip....and we greatly appreciate Marilyn!
Recommended
Disney Cruise
By: Tracy
Reviewed on: 30 Apr 2017
Marilyn is always very helpful and makes sure everything is set up and ready to go for your trips.
Recommended
Caribbean trip
By: John
Reviewed on: 12 Apr 2017
Responds rapidly to all questions and gives knowledgeable advice. Makes booking very easy.
Recommended
Lovely Time in St. Lucia
By: God's Gift to Drywall
Reviewed on: 05 May 2017
Marilyn is a true professional and very knowledgeable about the travel industry. Her opinions and insight is most helpful in planning a vacation to remember. Thank you!
Recommended
Sailing on the Danube
By: Happy traveler
Reviewed on: 20 May 2017
Marilyn''s expertise, knowledge and client service are exceptional. She coordinated a river cruise on the Danube for three couples including separate airfare, car rental and hotels for a personal post cruise visit to Salzburg. Everyone had a wonderful time and are appreciative of all Marilyn did to make our vacation so special.
Recommended
Tour of National Parks
By: B&M
Reviewed on: 06 Jun 2017
She listens to what you have to say and then makes recommendations. Easy to work with and VERY knowledgeable. Always has "time" even when we drop in with no appointment.
Recommended
Italy 2017
By: Jenni
Reviewed on: 06 Jun 2017
Marilyn was hard-working and professional. She really listened to what we wanted out of this trip and made it happen for us. Our confidence in her has only increased and we will definitely use her again!
Recommended
Celebrity Equinox Cruise
By: Jim
Reviewed on: 11 Jun 2017
Marilyn was very professional and catered to our all of our needs. She went the extra step to make sure everthing was the best it could be. We have used Marilyn for past travel arrangements and will do so in the future. We will not use anyone else.
Recommended
Secrets Royal Beach
By: JV
Reviewed on: 17 Jun 2017
Easy and quick. She took time to understand what we wanted and quickly found options that met our needs.
Recommended
Thanks!
By: WaneO
Reviewed on: 09 Jul 2017
Marilyn offered great advice to make things as easy as possible. The cruise, hotels, and tours all were fantastic. Would not have changed a thing about our trip.
Recommended
Negril Jamaica
By: Ellen
Reviewed on: 25 Jul 2017
Marilyn always knows what we would like. We love every trip she plans for us. We have recommended her to many people.
Recommended
A Wonderful Trip
By: SCCDL
Reviewed on: 31 Jul 2017
She is super - she knows many helpful things and shares them with you. I wouldn't go to any other travel agent.
Recommended
Central eirope
By: San
Reviewed on: 01 Aug 2017
Very helpful and found just the things we asked for. She did this all under budget.
Recommended
London and Paris
By: Kathy
Reviewed on: 06 Oct 2017
Marilyn was very easy to work with Ben with all my changes.
Recommended
hudson river tour
By: susanm
Reviewed on: 17 Aug 2017
Marilyn was the best, we always count on her and she never disappoints.
Recommended
Great experience!
By: DJ
Reviewed on: 13 Oct 2017
Marilyn was fabulous and definitely knows her job of understanding her customers' needs. She was on top of everything and was by our side every step from start to finish. We will be seeing Marilyn again in the future for more travel.
Recommended
Cancun Vacation
By: Dee
Reviewed on: 20 Oct 2017
Excellent! Her expertise and attentiveness was impressive during our interactions. This resulted in a seamless and thoroughly enjoyable vacation in Cancun.
Recommended
Return to the Reformation
By: Jim
Reviewed on: 09 Nov 2017
Never any problems!
Recommended
Great trip to Australia and New Zealand
By: Linda
Reviewed on: 26 Nov 2017
Marilyn, as always, did a great job in helping us plan this trip. She made sure we saw everything we wanted to see, as efficiently and comfortably as possible.
Recommended
Oceana Cuba cruise
By: traveler
Reviewed on: 05 Jan 2018
She is always great to work with. Responds to questions rapidly and thoroughly. Follows up to make sure everything is ok.
Recommended
Travel Matchmaker
By: KWLamb
Reviewed on: 31 Dec 2017
Marilyn has a fantastic ability to match us with the perfect trip. She blew us away last year with a perfect honeymoon trip, and then surpassed our expectations by matching us with G Adventures. On each trip, we come home saying, "that was the best trip we've ever taken." I don't know how she has gotten to know us and our travel preferences so well, but I can't wait to book the next trip!
Recommended
Best Travel Agent ever
By: Emanuel Nasui
Reviewed on: 31 Jan 2018
Working with Marilyn is the best experience you will ever have with a travel agent. She knows her resorts and always gets you the best room with a great view and great location in the hotel or resort. She also sticks with the budget you give her and also listens to what you are looking for when you go on vacation.
Recommended
Working with Marilyn
By: Chris
Reviewed on: 10 Feb 2018
Working with Marilyn Bennett was a pleasure. Anytime we had questions about anything. She always had the answers. If we called & Marilyn was busy with another client or away from her desk you can leave a voice mail & your call would be returned within 15 minutes. I highly recommend Marilyn if you're planning a cruise vacation
Recommended
windstar star pride
By: mumsoos
Reviewed on: 19 Feb 2018
As usual working with Marilyn was perfect. She anticipates all obstacles and problems before they happen. I send all my friends to her for their travel needs because I know she's the best.
Recommended
Costa Rica 2018
By: Drywall
Reviewed on: 04 Mar 2018
Top notch! Extremely knowledgeable and professional in all aspects. Thank you very much!
Working with Marilyn Bennett, you will have access to:
- An experienced travel guide whom you can rely on before, during, and after the trip
- Exclusive luxury resorts and properties
- Once in a lifetime experiences
Explore with the Best
Virtuoso Advisors are constantly pushing the boundaries in unique travel experiences.
Alliance programs are unique tailored experiences exclusive to travelers working with Virtuoso Travel Advisors.
learn more
Australia
Belgium
New Zealand
Bermuda
Belize
Costa Rica
Denmark
Fiji
France
French Polynesia
Norway
Austria