Travel Specialties
Interests
Adventure
Safari
Independent Tours
Ocean Cruising
River Cruising
Destinations
Australia
Ireland
New Zealand
United Kingdom
Italy
Selling Travel Since
1979
My Background
As a graduate of Sheridan College's Travel & Tourism in 1979 I have been helping multigenerational client`s find their perfect vacations for over 34 years.
I am an accredited Virtuoso travel consultant specializing in luxury cruises and custom-designed vacations. When you want to book a luxury cruise, having a personal trusted travel advisor will insure all of the details are taken care of and that you select the best cruise line, accommodations and destination that fits your budget and interests.
I will provide you with access to people, places and experiences that you can't find on the Internet, that can't be "Googled". When you expect excellence in every aspect of your travels, you can be certain that I will provide inspiring, personally-enriching experiences rather than just finding the cheapest deal on the Internet.
My area of travel specialization includes the tailoring of adventure and exotic travel experiences. My specialties are the Virtuoso and VAST (Virtuoso Active & Specialty Travel) products as well as the World of Cruising. I have arranged and detailed many exciting and exotic destinations for my client's. Whether it's a quick trip to the Caribbean or a detailed itinerary to the exotic, I can help make the arrangements seamless.
I have visited many: Australia and New Zealand, The Hawaiian Islands, Alaska, Mexico, the Islands of the Caribbean, Bermuda and most of the European Union and Great Britain, Kenya, Tanzania and South Africa.
I will provide you with consummate expertise, attention to detail, exclusive amenities and immense travel values.
Places I Have Traveled
Reviews and Recommendations for Bill Beckett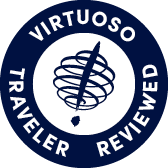 Virtuoso Verified Traveler
All reviews are from confirmed guests sharing exclusive insights
Sort reviews by
Recommended
Wow!
By: Raffaele@proplumbing.ca
Reviewed on: 26 Aug 2013
From the moment I touched done in Rome until I left Milan everything went so smoothly. It was really a huge stress relief to have everything taken care of from Day 1. I've been to Europe before but never ever did it go as smoothly as this trip. I have already recommended Bill to my mom and dad and the rest of the family in Edmonton which is big hahaha that's how great it was.
Recommended
highly recommend
By: kate
Reviewed on: 01 Sep 2013
Bill has planned three major family trips for us. our family of five has 3 "kids" now aged 19, 17 and 15. he has more than kept up with our changing family needs as he planned our most recent holiday in Scotland and Ireland. we had a wonderful time and were fully confident of every step! we will start planning next year immediately with Bill.
Recommended
highly recommended
By: peaches
Reviewed on: 17 Sep 2013
Our cruise to Alaska combined with a land tour was more than we could have hoped for. The scenery was breathtaking, the people of Alaska were so friendly, and the transfers from one location to another were seamless. It was a trip that indeed was a once in a lifetime experience! So much to see and do!
Recommended
excellent service
By: Elle
Reviewed on: 07 Oct 2013
Bill is a professional with a great sense of humour!! He had met all our travel needs. He responds to our e-mails in a timely fashion. We have booked a few cruises with him so far and have never been disappointed. Previously we booked with Vacations to Go, which was adequate but without the personal service Bill provides. Thank-you
Recommended
Incredible Travel Agent
By: JasonHaz
Reviewed on: 02 Nov 2013
After months of thinking I could plan a honeymoon by myself I gave up and was referred to Bill Beckett. Our trip to Greece & Portugal was amazing! He took care of every detail which relieved so much stress. We will definitely be return customers. I would highly recommend Bill Beckett to anyone.
Recommended
Highly reccomended
By: Dan1000
Reviewed on: 19 Oct 2013
Bill has always provided great service and advice. Everything is always well planned and easy to follow. He is a master at his job.
Recommended
Highly recommended
By: Traveller
Reviewed on: 23 Nov 2013
We've had Excellent service from Bill over the years. We would recommend him to anyone planning a vacation.
Recommended
Mr B Beckett the Travel Agent
By: suds3
Reviewed on: 05 Dec 2013
Mr Beckett was very professional during all our dealings. Helpful to arrange the trip of a lifetime. Will use him as a travel agent again. Do not recommend whomever is sending out this survey. Received three surveys on the same day. That day was when I was in the middle of the Atlantic using ship minutes. All three surveys will be answered with different replies for each.
Recommended
A Superb Trip!
By: Linda53
Reviewed on: 21 Nov 2013
We would never organize our own trip again, when Bill Beckett is so much better at it. Our trip was flawlessly planned from start to finish, and all we had to do was enjoy every moment of it! When we go abroad again, we will definitely trust Bill to plan the trip.
Recommended
That is Bill's picture
By: suds2
Reviewed on: 05 Dec 2013
Mr Beckett was very professional during all our dealings. Have to recommend him as a travel agent. This is second of three surveys. Do not recommend whomever is sending out this survey. Received three surveys on the same day. That day was when I was in the middle of the Atlantic using ship minutes. All three surveys will be answered.
Recommended
Great trip
By: Elle
Reviewed on: 18 Jun 2017
Bill organized another successful trip for us. Everything went smoothly. We can count on Bill. We hope to work with him for many more vacations.
Recommended
One of the best!
By: bramwell
Reviewed on: 21 Nov 2013
I'm glad we were recommended to try Bill Beckett many years ago. We usually go on multiple trips a year and Bill takes pride in sorting out the little details, going the extra mile to make the trips as smooth as possible. He's a friend of the family now! A pleasure to work with, Bill is mature, very experienced, and has a great sense of humour. I would recommend him unreservedly as a travel agent.
Recommended
The best
By: Newfie
Reviewed on: 22 Nov 2013
I have dealt with bill many times in the past. He is a true professional. Bill will go out of his way to find the vacation you are looking for and always follows up after to see how everything went.
Recommended
Bill's the Best
By: suds
Reviewed on: 05 Dec 2013
Mr Beckett was very professional during all our dealings. Highly recommend him as a travel agent. Do not recommend whomever is sending out this survey. Received three surveys on the same day. That day was when I was in the middle of the Atlantic using ship minutes. All three surveys will be answered.
Recommended
Highly Recommended
By: SusanLee
Reviewed on: 12 Feb 2014
My partner Aaron and I had numerous experiences with travel agents prior to our visit to see Bill, so we definitely had something to compare his services by. We were at our last straw when we had the pleasure of meeting Bill. We told Bill what we wanted and within two days he had sent us some suggestions. He got it right the first time; we were thrilled and booked on the spot. Bill was informative, friendly, courteous, and he listened to our needs and delivered! We shall see you again Bill for our next traval adventure. Thank-you again.
Recommended
Couldn't wish for a better travel agent
By: Not provided
Reviewed on: 09 Dec 2013
Recommended
Great job always
By: Jenny
Reviewed on: 18 Feb 2014
Bill has planned, explained and booked the holidays we want and he does a fantastic job. He also follows up on our return and I am sure uses the feedback we give him to make sure he is always striving for the best for us. I would highly recommend him.
Recommended
Highly Recommended
By: KC
Reviewed on: 15 Mar 2014
We  have worked with Bill Beckett a number of times and have always received excellent service. He is very pleasant to work with and pays great attention to detail. I recommend him without hesitation.
Recommended
Simply put, he was great!
By: Cc
Reviewed on: 14 Mar 2014
A great help in putting our trip together, made it worry free. We just knew all details were taken care of,
Recommended
Highly recommend
By: Tommy
Reviewed on: 16 Mar 2014
We can always be confident we will get the best advice and service from Bill.
Recommended
HIGHLY RECOMMENDED
By: JAMES
Reviewed on: 27 Mar 2014
BILL DOES A GREAT JOB -- HE FINDS US AMAZING PLACES  AND THEN CONVINCES ME TO GO -- i NEED HIM TO TELL ME NOT TO BE SO CHEAPGREAT GUY
Recommended
Highly Recommended
By: Mody 1
Reviewed on: 06 Apr 2014
As usual Bill arranged everything  efficiently and kept us well informed throughout the pre-cruise period.
Recommended
Highly recommended
By: Peggy
Reviewed on: 08 Apr 2014
Recommended
Hear to Listen
By: Kong21
Reviewed on: 10 Jun 2014
Not only does Bill provide great customer service but he takes it one step further. He is there to listen to your needs and will do his best to accommodate. I enjoyed my trip partially because he helped me find the perfect flight tickets making me trip easy and comfortable.
Recommended
Great Experience
By: MJ
Reviewed on: 06 Mar 2017
Bill created a wonderful trip that was to be adventure without any hassles! A dream trip that he created just for us.
Recommended
Bill
By: Parke
Reviewed on: 10 Mar 2017
Bill is always a wonderful person to work with
Recommended
No Worries Cruise
By: Ken M
Reviewed on: 07 Apr 2017
Bill takes the problems and worries out of cruise planning. He ensures that all the i's are dotted and the t's are crossed and you have a complete understanding of what to expect, no surprises.
Recommended
Highly Recommended
By: ken m
Reviewed on: 19 Jun 2014
Bill helped plan and book the first cruise for my wife and I and another couple.  He did a great job in smoothing out the unknowns for all of us.  Everything went as planned with no unpleasant surprises.  The cruise was great and because of Bill's knowledge we were able to make the most of our vacation.  I would recommend Bill to anyone who is looking for a travel agent that pays attention to details and keeps you informed in a timely manner.  Bill is now planning our next cruise, through the Panama Canal, next April.
Recommended
Well planned trip
By: Elle
Reviewed on: 13 Oct 2014
Our trip was well organized from beginning to end. No hassles to worry about while on vacation!
Recommended
Expert to say the least, the best service!
By: bcuttler
Reviewed on: 17 Oct 2014
Bill did an amazing job of planning our honeymoon. Everything from the seats on our flight, transportation to and from, the hotels, excursions everything was planned perfectly! He was very helpful and informative with helping us make our decisions. Every time we book a trip with Bill we relax with ease. He is reliable patient and knowledgeable. Thank you Bill for planning the honeymoon of our dreams and exceeding our extremely high expectations! You are incredible!!!!
Recommended
Perfect Trip
By: LizD
Reviewed on: 11 Dec 2014
Bill helped us with all aspects of planning our business group trip. From location, to facilities, to all the additional details, he was helpful, well-informed, and very professional. It made all the difference in our overall enjoyment and the success of the trip. We would highly recommend Bill.
Recommended
The Best!
By: R&C
Reviewed on: 15 Dec 2014
Bill is patient, knowledgeable, fun, detailed, goes overboard on service, and dependable. What more do you need!
Recommended
Thorough, professional and friendly service
By: Anniversary
Reviewed on: 23 Feb 2015
A well planned and executed trip at a great resort that was proposed by Bill based on our requested wishes. Bill provided us with 3 or 4 initial resorts as options, then provided 2 more choices at our request. We quickly narrowed this down to Iberostar Quetzel in Riviera Maya. The resort met all of our expectations, and the "jungle / wild life" on location setting provided an added experience for all of us, but especially our 2 early teenage grandsons. Much appreciated.
Recommended
great travel agent that went above and beyond!
By: Skwash
Reviewed on: 30 Mar 2015
Very helpful and knowledgeable. Happy to recommend and to use the services of him again.
Recommended
Expert Friendly Service
By: GailM
Reviewed on: 24 May 2015
Bill gave us exactly what we asked for. An amazing memorable Trip
Recommended
great trip
By: halldo1
Reviewed on: 19 Jun 2015
A well organized and executed trip to Ireland. The itinerary was just what we wanted. Insight was well organized and made the trip go smoothly. The tour Director, Clodagh was exceptional. The hotel used in Galway should be upgraded somewhat to an alternative hotel. It was very old and somewhat fairly remote from town.
Recommended
Patient knowledgable, and professional
By: JayB
Reviewed on: 02 Sep 2015
Our family recently booked a trip/adventure through Scotland and Ireland with the help from Bill. Our flights, auto, and accommodations were all excellent and came off without a hitch. Bill was informative as well as patient as I worked with him and the itinerary that he presented . Our trip was all and more than we had expected . Thanks to bill for his work on this adventure of a lifetime. We would highly recommend Bill Beckett to any others planning this kind of adventure . We will most certainly use his help and services again.
Recommended
Paris river cruise
By: Colleen
Reviewed on: 20 Oct 2017
As usual dealing with Bill was a pleasure and every thing was exactly as he told us that it would be. A great trip.
Recommended
Dead On!
By: lab
Reviewed on: 14 Oct 2015
This is the first time I have worked with Bill. He was "dead on" with our itinerary! The hotels were all in great locations and convenient. The schedule he coordinated for our trip to Europe was at a perfect pace and everything ran smoothly. His recommendations for places to visit and time allotted for each location were ideal. This made for a very pleasant and enjoyable trip. The next time I hope he can order better weather!! Ha! (We had a lot of rainy days). Thank-you Bill!!
Recommended
Took care of everything!
By: JeffAt
Reviewed on: 15 Nov 2015
This is the second time that Bill has helped with my vacation and again he was very helpful and made planning the trip as easy as could be. Always has great advice and recommendations!
Recommended
Awesome so far
By: Colleen
Reviewed on: 08 Nov 2015
Kona was beautiful, weather was perfect. All is going well.
Recommended
Excellent experience full service provider
By: Bartming
Reviewed on: 11 Mar 2016
I would like to thank you Bill in helping us with our St. Lucia vacation plans. You promptly researched the resort we had chosen to give us full details. initially I had seen st. James club on an Internet search, if I would have booked on line would have stayed on garden view unit. When contacting bill he said let me research this all inclusive for you before you book. He came back with recommendations for beachfront unit, which I am glad we decided on. Beautiful location and we were right on the beach to listen to the waves crash every day and evening. Truly paradise. He also kept us in the loop regards to the Zika virus with safety tips. All in all full customer service provider, prompt replies. Thank you will happily book next vacation with bill at vision travel.
Recommended
Fantastic service!
By: TedY17
Reviewed on: 21 Mar 2016
Bill's service was fantastic. Thorough, detailed, accurate, professional, etc. Can't say enough about how great we were treated. I provide my highest recommendation with respect to Bill's service and will definitely use him again for our travel needs.
Recommended
Trip to Barbados--May 2 -- 12
By: Bob
Reviewed on: 19 May 2016
Hotel and staff were excellent, grounds were beautiful and very well maintained, and food was very good. They upgraded us to a one bedroom apt with a good kitchen, and the service was excellent. We spent most of the time reading and lazing around the pools, although we did one short tour to Holetown so Jackie could shop. We ate one.meal per day at the restaurants,but looked after ourselves the rest of the meals. Two evenings we went out--once to Tapas and once toThe Harlequin--both truly wonderful
Recommended
We Smashed Italy
By: spc
Reviewed on: 09 Jul 2016
A fantastic trip, full of sights, sounds, tastes, and surprises(all of the good kind). Accommodations were excellent as to locations and amenities. Thanks for helping plan the trip of the lifetime...so far.
Recommended
A perfect place to relax
By: Ber Jr.
Reviewed on: 19 Jul 2016
The Sandals resort in the Bahama's was wonderfull, the sand on the beach was great. the ocean was wonderful for snorkeling. The food at the resort was top notch, a great way to spend 4 day
Recommended
Great Travel Advisor
By: Jax
Reviewed on: 13 Aug 2016
The trip to Tanzania , Africa was fantastic. Bill arranged the entire trip and he hit this one out of the park. We had no idea what to expect and Bill proved once again that he knows his clients extremely well and everything was fantastic. We have told everyone about this trip and have given out Bill's name and contact information to many people. Thank you Bill for the many special memories that were created on this trip .
Recommended
Expert Friendly Service!!
By: Little David
Reviewed on: 26 Aug 2016
Everything was seamless, and the itinerary accurate and helpful. Great suggestions and organization made this a wonderful holiday for us. Thanks Bill. You rock!!
Recommended
Friendly, helpful and likeable agent
By: G&K
Reviewed on: 13 Sep 2016
We had an excellent trip planned by Vision Travel Solutions (Bill Beckett). Nearly everything was absolutely perfect from beginning to end and we enjoyed every stop on the itinerary including all the tours and local tour guides, and especially the added events provided by the 3 managers that made Prague, Vienna and Budapest even more enjoyable than we could imagine. The servers at supper time (Boyko and Addi) were fantastic, friendly and helpful. The only thing we found that was a bit of a let down was the choice of food for supper and how long it took to complete our supper serving. We felt we were not finished in time to fully utilize evening walks on the upper decks or sitting in the lounge after long hot touring days when we had early wake up times and tour times. All in all we had a great time and we thank you all for your kindness and a special shout out to Brian who we talked to on several occasions and found him to be a class act and a person of integrity in all respects.
Recommended
Efficient, quick, thorough service!!
By: thomp
Reviewed on: 12 Oct 2016
Bill is a great travel agent. He was quick to respond to emails with thorough, comprehensive information. He provided great advice and his itineraries were accurate, easy to decipher and contained extra helpful information.
Recommended
Great trip
By: Rubbersoul
Reviewed on: 09 Oct 2016
Well planned trip with every detail in place. No problems to report. Thanks!!
Recommended
Great Service
By: Jocie Girl
Reviewed on: 15 Oct 2016
A big thanks to Bill for helping us with our trip! It was a trip with multiple legs and dates, that we were trying to coordinate with 5 other travellers. Bill always listened, and was able to fulfill all of my travel needs. I really appreciated Bill's professionalism, timeliness, and honesty with my demands. Thanks Bill, everything went very smooth!
Recommended
Good trip
By: Barb
Reviewed on: 18 Oct 2016
All was well, but 1-1/2 hour layover in Vancouver was too short. Flight leaving Aukland was late leaving by 1 hour, so missed connection in Vancouver. Was well looked after, but Wifi in Vancouver wouldn't let me send email to let my husband know I would be on a flight 3 hours later than expected.
Recommended
Expert in knowing what we like
By: Colleen tropicalpapa@live.com
Reviewed on: 12 Nov 2016
Always very good at doing the planning of our trips never been disappointed
Recommended
Beautiful Hawaii
By: Steven L
Reviewed on: 26 Nov 2016
Great trip all around. United airlines were mediocre but the price was right. The modern hotel in Honolulu was excellent. Great location and very nice suite. The Norwegion cruise around the islands provided a perfect way to explore all of the areas. the tours were excellent. The specialty restaurants made up for the average food on the rest of the ship. Bill always provides excellent service and recommendations and is an invaluable asset when planning a trip. His expertise is very much appreciated.
Recommended
No Surprises
By: Dorset
Reviewed on: 07 Feb 2017
It is always a pleasure working with Bill. His attention to detail ensures that our vacation travel is without issues. He keeps us informed and aware of everything we need to know. Bill takes the time to review all the options and gives us good sound advice on choices we need to make.
Recommended
Caribbean cruise
By: Elle
Reviewed on: 17 Feb 2017
Bill organized our cruise to the Caribbean in an efficient manner. Everything was done for us. We just had to get on the ship and enjoy the amenities! He also gave us a dinner in a specialty restaurant which was a nice treat. Thanks Bill! We are looking forward to our next cruise to Alaska that Bill is also organizing
Recommended
D.R.
By: Skwash
Reviewed on: 20 Mar 2017
excellent! He knows his stuff and will go out of his way to accommodate any issues
Recommended
Bill is the BEST!
By: Lizzy
Reviewed on: 23 Jun 2017
Bill has planned too many successful trips for our family to count! He has organized big trips for our family of five (plus parents) overseas, on cruises, on planes and automobiles. Some guided and some self-guided. Every possible amount of care is given whether the trip is large or small. Bill just helped our 18 year old son plan a trip to Norway. He has helped our 21 year old daughter travel to and through China. We have been to places we've never visited like Israel, Japan & Alaska and we've re-visited old haunts like London (for our 25th anniversary). We completely rely on Bill's professionalism, care and charm. It is a true pleasure to work with Bill and I highly recommend him. He has a great sense of humour as well!
Recommended
Cruise
By: Tropicalpapa@live.com
Reviewed on: 24 Jun 2017
It was a great experience working with Bill again as usual dealing with Bill he delivers everything promised from start to finish And I would not have a problem recommending him. Celebrity cruises have lots to do and the staff are allways great. This was my son's 1st cruise and he is loosing his sight so it was extra special for us. He is still smiling and talking about it and would like to go back. Thank you!!
Recommended
Wonderful
By: Angela
Reviewed on: 23 Jun 2017
Exceptional. Loved every detail
Recommended
Trip to Italy & Greek Island Cruise
By: Dia
Reviewed on: 26 Jun 2017
Working with Bill was great. He listened to what we were looking at, what we would like to do and took it from there. He provided suggestions for excursions in Italy and took care of all our transportation needs - arranging drivers to pick us up at each place to making our train reservations. His advice and guidance to ensure our trip was perfect went above and beyond. We would not hesitate to contact Bill again for our next trip.
Recommended
Planning a cruise to bermuda
By: Jackie
Reviewed on: 07 Aug 2017
Very patient and thorough We had To change our plans because of illness of partner and his arrangements were excellent Gave much time to us. Boston hotel perfect and smooth very organized process . He is extremely knowledgable and knew exactly what he was doing. I had never been on a cruise or been to Boston but Bill saved the holiday. He has done this before, arranging accessible rooms and delightful hotels Thanks Bill
Recommended
Bus Driver
By: bus driver
Reviewed on: 08 Aug 2017
Bill Beckett is the man. He asks a lot of questions,but it is for your benefit. He listened to what we wanted,offered other ideas. He kept us abreast of the places he had in mind. Everywhere he set up for us, is truly a special memory. I phoned him with lots of questions he answered them all. No question is trivial. He makes you feel you are #1. thank you Bill Beckett. You go out of your way. Thankyou
Recommended
Allure of the seas
By: Skwash
Reviewed on: 30 Aug 2017
He is very knowledgeable and helpful
Recommended
Solo to Nfld
By: Joanne
Reviewed on: 28 Aug 2017
Supportive, secure and encouraging. All questions respected and answers complete. Follow up with questions after booking very helpful and re assuring. I will be choosing Mr. Beckett for my next trip.
Recommended
Great trip
By: Rigby
Reviewed on: 02 Oct 2017
Fantastic! Everything went well. Will continue to work with Bill for many more trips.
Recommended
Trip to U.K.
By: Janny
Reviewed on: 11 Oct 2017
It was easy to email my needs and in a short time it's all done. Booked flight, insurance, plus any special needs. Had everything ready for the trip to pick up quite a while beforehand, so you can be organized. Bill is highly knowledgeable on travel products and puts them together to fit your needs.
Recommended
Montreal end of cruise
By: Daniel Lee
Reviewed on: 12 Oct 2017
Working with Bill is always a pleasure. Always excellent recommendations and advise. Extremely knowledgeable.
Recommended
France vacation
By: Mary
Reviewed on: 12 Oct 2017
Excellent. Can't find better anywhere
Recommended
Spain Road Trip
By: Alex B
Reviewed on: 10 Nov 2017
Having never used a travel agent in the past, we were skeptical as to any benefits, however Bill was highly recommended to us. I have to say we were beyond being pleasantly surprised as he far exceeded our expectations. By asking all the right questions, Bill was able to tailor the trip to satisfy our preferences. Many of the highlights of our wonderful trip were in places that never would have made our radar had we planned the trip ourselves so naturally we were thrilled. In conclusion, we will definitely be using Bill again in the future and will highly recommend him to others looking for a customized memorable travel experience.
Recommended
Great advisor
By: ez
Reviewed on: 25 Nov 2017
Bill found us a great deal on a vacation and made sure we knew what to expect every step of the way!
Recommended
Travel
By: The travel arrangements made by Bill for me were a
Reviewed on: 24 Nov 2017
Travel arrangements made for me by Bill were great Would not go anywhere without his help Have already recommended him to some friends He is such a super travel advisor and so knowledgable
Recommended
Beautiful Scottsdale
By: Steven Lee
Reviewed on: 28 Nov 2017
Always excellent experience working with Bill. He found a great resort type hotel very close to downtown very good amenities and booked a lot of great golf courses for us. He always seems to be looking after our best interests and is able to understand what we are looking for. Would recommend Bill to anyone looking for a quality travel expert.
Recommended
Flight to Manchester
By: Cat fancier
Reviewed on: 08 Jan 2018
It's always easy to work with Bill. He is knowledgeable of products and his clients.
Recommended
Knowledgeable With Attention To Detail
By: Bear
Reviewed on: 01 Feb 2018
Working with Bill is always fun. He pays attention to details so there are no surprises with your vacation. He has a wealth of knowledge that he willingly shares with us to make everything go smoothly.
Recommended
Great trip
By: Rigby
Reviewed on: 14 Feb 2018
Very easy to talk to, Pays attention to detail. Have used many tines and will continue to do so Thanks Bill
Recommended
Antarctica
By: Steven Lee
Reviewed on: 21 Feb 2018
Always a pleasure working with Bill. Everything always planned perfectly and usually always exceeds expectations. Thanks again for a great job.
Recommended
Trip assistance
By: Meralee
Reviewed on: 11 Mar 2018
Bill was a real help to us in planning our trip. Flight arrangements were excellent. We use Bill regularly and always have the best service and advice from him. Best agent ever!
Recommended
pulmantur cruise line
By: kimmrr
Reviewed on: 28 Mar 2018
very informative
Recommended
Cruise
By: frequent flyer
Reviewed on: 25 Mar 2018
Bill organized my cruise, flights and other amenities like virtuoso and it was a wonderful trip that I will repeat gladly. He knows your needs and wants and personalizes everything to you. He is easy to talk to and always approachable.
Recommended
Pleasant experience
By: Dave
Reviewed on: 02 Apr 2018
Very pleasant. Extremely helpful. Good sense of humour. Bill did most of the work for us - printing out passes, baggage labels etc.
Recommended
Highly recommended - great advice, awesome trip
By: LandL
Reviewed on: 09 Apr 2018
Bill was an absolute pleasure to deal with. Always professional, but still fun and warm. His shared thoughts, advice, and experienced information were key in our enjoyment of the trip he fully arranged. He is our choice to help us for any future travel adventures. Thanks Bill!
Working with Bill Beckett, you will have access to:
- An experienced travel guide whom you can rely on before, during, and after the trip
- Exclusive luxury resorts and properties
- Once in a lifetime experiences
Explore with the Best
Virtuoso Advisors are constantly pushing the boundaries in unique travel experiences.
Alliance programs are unique tailored experiences exclusive to travelers working with Virtuoso Travel Advisors.
learn more
Australia
Ireland
New Zealand
United Kingdom
Italy
Kenya
Portugal
South Africa
Spain
Tanzania
Austria