Travel Specialties
Destinations
South Africa
Botswana
Zimbabwe
Zambia
Tanzania
Selling Travel Since
2005
My Background
Mike is a sporting enthusiast who has been water- and snow-skiing everywhere and tried all manner of active pursuits, from wakeboarding in Nice to white water rafting and canyoning in Interlaken, parasailing in the Bahamas, hang gliding in Costa Rica and diving with sharks in South Africa.
Although Mike is game for exploring the outdoors in faraway places, he was especially moved by his experiences in Burma in September of 2007 when the military brutally retaliated against students and Buddhist monks who had been peacefully protesting. "Nowhere outside of Africa had I been so moved by the culture and people of a region," he says. "The citizens of Burma certainly have a special place in my heart." Although Mike's specialty is focused on travel to Africa, he is a Virtuoso-certified consultant and Master Bellini Club Ambassador with Orient-Express.
Places I Have Traveled
Reviews and Recommendations for Michael Distler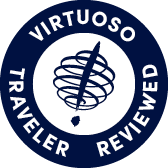 Virtuoso Verified Traveler
All reviews are from confirmed guests sharing exclusive insights
Sort reviews by
Recommended
Best Travel Experience Ever
By: Megbrownie08
Reviewed on: 17 Sep 2013
My husband and I booked our honeymoon safari with Michael and could not have been happier. I was impressed from the start; our first conversation with him lasted more than an hour and was all about what we like to do for fun. From there, we received an amazingly thorough itinerary. We could not have come up with a better plan, and we absolutely had the best time of our lives. There is no doubt in my mind that we will be going back to Africa and that we will be using Michael to plan our trip.
Recommended
Do Not Miss, Highly Recommended
By: Lynne
Reviewed on: 09 Oct 2013
This was the trip of a lifetime. Michael put together the most incredible South African trip. Everything was perfect from our accommodations to food and tours. We could not have asked for more. We saw more wildlife than we expected and met the most wonderful people. The trip went so smoothly. Michael did an amazing job and we can't thank him enough.
Recommended
Outstanding Journey
By: Dtw2srq gal
Reviewed on: 19 Jun 2015
This "bucket list" destination exceeded every expectation! Every stop in Peru seemed better than the last. Loved all of our journey: accommodations, transportation, guides, FOOD !, sites, and people - all remarkable and note worthy. Thank you, thank you, THANK YOU for arranging the trip of a lifetime. We couldn't have achieved these results without your expertise, guidance or help
Recommended
amazing service
By: Michele 67
Reviewed on: 23 Sep 2015
We just returned from our 17 day trip and had another trip of a lifetime with Admiral Travel... Loved every moment... Michele
Recommended
Great Service - Perfect Trip!
By: Tom & Marie B
Reviewed on: 23 Oct 2015
We had wonderful, expert attention from beginning to end, resulting in super safari!
Recommended
A trusted opinion!
By: ADMB
Reviewed on: 02 Feb 2016
We had a wonderful itinerary from start to finish. We put a lot of faith in Michael's opinion and once again he came through with an amazing trip. For all of our upcoming travel needs, we will continue to work with Michael-- and will refer him to anyone who asks!
Recommended
Amazing Journey
By: tootsbear
Reviewed on: 13 Aug 2016
Holy smokes!!! Our journey to Africa went way beyond our expectations! Everything was planned to perfection. The two camps spectacular. The best was our time in South Africa. Our stay at Cape Grace was everything Michael promised. Our guide, Dion, is really who set the tone for our time there. A million thanks for helping plan the trip of a lifetime!
Recommended
The Africa expert!
By: John C
Reviewed on: 11 Jul 2016
This is my third trip with Michal and each one has been better than the other. He is extremely knowledgeable and is very detailed oriented.
Recommended
Outstanding!
By: MG
Reviewed on: 16 Jul 2016
Just wanted to say Michael was outstanding. My wife booked the trip and I had a lot of hesitation going out of the Country, not to mention Africa. Michael not only made the trip a lifetime experience, he gave attention to all the details. Traveling that far, I got to say, we had no issues. The accommodations were beautiful, planned out, and everything fell into place. I would definitely recommend Michael to anyone wanting to travel to Africa, or for that matter, anywhere in the world. I feel we not only had a great experience, but we met friends we will probably have forever. Thanks Mike for introducing us to another part of the World and making it such a enjoyable experience.
Recommended
"Epic" Vacation
By: MC
Reviewed on: 11 Jul 2016
An amazing trip, everything about it was special. The camps were terrific, especially the staff. Overall, one of the best trips I have ever taken.
Recommended
great detailed advice
By: David44
Reviewed on: 01 Aug 2016
We had a great three weeks in South Africa. Starting with a visit to Victoria Falls followed by rail trip from Pretoria to Cape Town. From Cape Town we want to Franschhoek and then onto the coast and finally to Cape Town. All the arrangements of travel, pick up and hotels were without incident. Th details itinerary that was created by Michael worked in practice and we know where and when at all times.
Recommended
Knowledgeable, Outstanding Servive
By: Dave023
Reviewed on: 20 Aug 2016
Michael provided outstanding service - especially for first time visitors to Africa. He made sure we knew what steps we had to take and provided all of the information needed. We had an absolutely amazing trip. My wife and I agreed that it was without a doubt the best place we have ever visited. We would highly recommend that everyone visit South Africa and take a safari. And Michael will do a great job of making sure you experience the trip of your lifetime!
Recommended
Expert coordination
By: VB @SRQ
Reviewed on: 08 Oct 2016
Well-organized multi-stop European trip for seasoned travelers!
Recommended
First-class Advisor
By: Bfamous
Reviewed on: 27 Oct 2016
Michael was exceptionally accommodating for our family of five from the inception. Our initial itinerary required significant changes due to family schedules and both Michael and Admiral Travel (Ryan) were beyond flexible, receptive and offered beyond comparable safari experiences and first-class accommodations/staff/guides at each locale (Tanzania, Rwanda & South Africa). We were very pleased with the constant, prompt and reliable modes of communication which was not an easy task coordinating five adults in various parts of the world. Michael's demeanor was consistently friendly, calm, professional and confident. Michael was open-minded about our family's various requests and handled each with precision and expertise. Michael's extraordinary knowledge of the various countries, culture, wildlife and lodging within Africa enhanced our family vacation. Michael was readily available to ensure that our travel arrangements were executed in a flawless fashion with VIP services. Thank you!
Recommended
South America
By: Tom B
Reviewed on: 21 Jan 2017
Michael helped us with our trip to Africa - not our most recent trip to South America, which was handled by Michelle Anderson. See our email to her re this trip
Recommended
Very knowledgeable
By: Louie
Reviewed on: 08 Mar 2017
Michael was helpful from the very first phone call made. He asked what we expected on this trip and gave us an itinerary that very much fulfilled all of our plans for a well thought out adventure.
Recommended
Africa
By: Jfainfl
Reviewed on: 23 Jun 2017
Excellent communication
Recommended
great Africa trip
By: Africa Newbies
Reviewed on: 09 Jul 2017
Michael was great and easy to work with. He was helpful, and pointed us in good directions on many occasions. He was thorough, responsive, and a pleasure to work with .
Recommended
Michael
By: mimi
Reviewed on: 11 Jul 2017
Even though we have never met he did a great job with our trip.. Guides were wonderful and we thought our trip couldn't have gone smoother ...
Recommended
Great Africa trip
By: Super
Reviewed on: 03 Jul 2017
Very organized and responsive
Recommended
Tanzania and South Africa
By: David T
Reviewed on: 07 Jul 2017
Easy, professional. Dealt with detail for each day and event.
Recommended
Best trip of my life!
By: Kay C
Reviewed on: 17 Jul 2017
Michael was a pleasure to work with. He answered every question I had very promptly and accurately. He could not have been more professional or accommodating. I was extremely pleased with his service.
Recommended
Excellent advice
By: Leslie
Reviewed on: 06 Oct 2018
Michael put together a great itinerary for our first African adventure.
Recommended
Michael is a pleasure to work with and knows Africa well.
By: MG
Reviewed on: 25 Jul 2017
We have worked with Michael twice now to put together trips to Africa and I am sure we will ask him to help us with our next trip. Michael is responsive, professional, friendly and knowledgeable. He helps us to keep track of details without losing sight of the big picture -- a great adventure. I have complete confidence in his arrangements (nothing has ever gone wrong!), his information and the choices he helps us to make. These trips are a big investment and we have been thrilled with the outcomes.
Recommended
Great experience the whole way
By: Family of 5 :)
Reviewed on: 10 Aug 2017
Michael did an outstanding job preparing my wife and I for this African vacation. This was our first international family trip to Africa. Our itinerary included many stops in different countries. Our planned trip to Zimbabwe had no surprises! The Itinerary Michael and Admiral Travel provided and walked us through made us feel very confident navigating foreign airports, customs officials and hotels! Not to mention our Luxury African Safari was absolutely terrific!
Recommended
Scotland Ireland
By: lola
Reviewed on: 01 Oct 2017
We talked to Malaka and as always was wonderful
Recommended
Africa
By: me
Reviewed on: 01 Oct 2017
Excellent. Always responsive to any question and concerns. Very professional and knowledgeable.
Recommended
Michelle Anderson
By: Gail
Reviewed on: 24 Dec 2017
I loved working with Michelle! She is so very responsive to every need and supportive when issues arise. A real professional.
Recommended
Africa - 2018
By: Bobbi
Reviewed on: 13 Apr 2018
Fantastic. He planned an outstanding trip with beautiful accommodations and superb guides.
Recommended
wonderful
By: brooke anderson
Reviewed on: 20 Apr 2018
Michael was wonderful. detail oriented, worked well with someone not good with deadlines and able to navigate the needs of our family. He listened to what i wanted and didn't try to upsell me. He respected my need for balance between extraordinary and real. I was hesistant about some of the suggestions but totally got what Michael was saying once there. He gave us something we didn't even know we wanted. So grateful.
Recommended
Malaka
By: Happy
Reviewed on: 26 Jul 2018
Worked only with Malaka. She is terrific
Recommended
So thankful!
By: Kelly Dancer
Reviewed on: 04 Sep 2018
We are so thankful that we have found Michael and Admiral Travel. We are looking forward to many more trips.
Recommended
Amazing Trip!
By: Becky and James
Reviewed on: 11 Sep 2018
We worked with Ryan, Taryn, and Michael to plan our trip to Africa and had a trip of a lifetime! Their recommendations were incredible. They learned about our interests and tailored our trip around what they knew we would enjoy. We would definitely work with them again and again!
Recommended
Over the Top
By: Javier & Jessica
Reviewed on: 23 Sep 2018
This our second trip with Michael Distler, Ryan Hilton, and Admiral Travel. Even though both were to South Africa, one 3 years ago with our kids and this one just us, they were very different and tailored to exceed our expectations. The customer service is amazing and the experience they deliver is outstanding! They take care of every detail and will make your next adventure one you will never forget!
Recommended
Italy
By: Chele
Reviewed on: 26 Sep 2018
As always Admiral travel provides the best in travel. Our Italy trip was spectacular
Recommended
Review
By: tjm
Reviewed on: 10 Oct 2018
Worked with Ryan Hilton, great!
Recommended
Michael Distler Admiral Travel
By: maura
Reviewed on: 12 Oct 2018
I really enjoyed everything about working with Michael for our trip. His attention to detail, follow up, and thoroughness was so much appreciated. He's also sooo courteous and thoughtful. It was a real pleasure and plan to work with him in the future!
Recommended
Great Trip - Great Admiral Service
By: Wroghtway4010
Reviewed on: 23 Nov 2018
Actually Malaka organized our trip. We are working with Michael Distler on a South Africa trip, but he handed us off to Malaka for this one. She was perfectly attentive- answered every call or email promptly and with good suggestions. Our trip was flawlessly smooth and everything we hoped for. Admiral is highly recommended!
Recommended
Perfection Plus!
By: NZ2019
Reviewed on: 20 Feb 2019
Micheal & his crew, especially Michelle A., are batting a thousand with our family travel planning. This is the second vacation we've planned with Admiral Travel and we couldn't be more pleased. Excellent, prompt and thorough communication from the inception to completion of our incredible journey to New Zealand. Their correspondence and coordination with the NZ team was impeccable. Admiral advisors provided a comprehensive on-line, hardcopy and mobile travel app that included our entire itinerary with contact numbers, reservations and suggestions for additional local sites to visit during our vacation. Our NZ accommodations, cuisine, excursions, local hosts, travel crew and transportation arrangements were exceptional. The Admiral/NZ team worked diligently with us to ensure we maximized our time, they customized our trip to ensure all aspects complimented our travel preferences and they exceeded our expectations, once again. We're already planning our third trip. Kudos to Admiral!
Recommended
The absolute best
By: François
Reviewed on: 01 Apr 2019
Returning from my second African trip organized by Admiral Travel. Three words sum it all: The absolute best! Michael is extremely knowledgeable, well informed and 100% reliable. An absolute charm to deal with. I cannot wait to go back!
Recommended
Sarasota Crystal Sky pre-trip Meeting
By: "Captain"
Reviewed on: 28 May 2019
Great, very helpful and accommodating when we had questions or needed clarification on details of the trip, such as transportation logistics.
Recommended
Singita Adventure
By: Jason
Reviewed on: 24 May 2019
Michael was very professional with first class, expert knowledge of every facet of my experience. In fact Michael appeared to know more about the property, experiences, adventures than many of the staff (the staff was very friendly, helpful and knowledgable). Whats more, Michael had an expert grasp on other African adventures making the transition from the Singita experience even more pleasurable. I found that with myself and every other traveler in our group Michael made it his first priority to ensure the satisfaction of everyone. The trip and Michael's service far exceeded my expectations. I will certainly refer Michael and Admiral Travel to all of my friends and family.
Recommended
South Africa/Crystal Skye
By: Leopard girl
Reviewed on: 25 May 2019
My experience with Michael could be considered....excellent. My husband did most of the actual work with Michael as my trip was almost a surprise. My emails, a couple possibly considered silly, were answered promptly and without any pretense of being possibly "silly". I would work with him again in a heartbeat.
Recommended
Great Agent - Unfortunate Circumstance
By: Wrightway4010
Reviewed on: 10 Jun 2019
Couldn't have been better. Unfortunately, we couldn't complete our trip (or commence our trip) due to a serious health issue, Michael was a great help for us work through the cancellation process and receive our deposits back. Our only hope now is that we can do this, or a similar trip, next year! We will contact Admiral and Michael again without any hesitation!
Recommended
Africa safari
By: Bp301
Reviewed on: 10 Jun 2019
We just went in the perfect safari to two camps. Great planning all the way. Excellent hosts to meet and guide us and great selections of options. Our best trip ever.
Recommended
Family trip of a Lifetime
By: Fishinrod
Reviewed on: 13 Jul 2019
2nd trip to Africa working with Michael. This time we had our entire family including 8yo twins so dynamics were different than with only adults. The trip was amazing. We hit all the "big attraction" items, safari, penguins, seal island, Table Mtn, wine country etc and everything we did had a little twist to accommodate 8yo's. The girls felt as important as little princesses should on a trip like this, Highly recommend Michael and Admiral Travel!!
Recommended
Europe 2019
By: Tom Belcher
Reviewed on: 19 Jul 2019
We had a marvelous time! Actually, Michelle Anderson was our advisor on this trip. She did a fine job securing the Tauck tour, the pre and post stays and other details. Debbie Breitenwort (sp?) made the air arrangements using our airline points and was relentless in getting business and first class reservations where I'm sure others would have failed. Only negative was Air Europa - while a member of the Star Alliance, it isn't up to the level of Delta, KLM, etc; for instance, boarding and deplaning was on the tarmac (Madrid and JFK on really hot afternoons!) which was not only uncomfortable (crowded busses, too!), but the extra time required made us nearly miss our connection. Our advice: don't use Air Europa! Bottomline - A great trip! Super itinerary and wonderful hotels, meals, etc. Tauck IS first class! Tom and Marie Belcher
Recommended
South Africa Vacation
By: Bud Taylor
Reviewed on: 23 Jul 2019
Michael did a fabulous job. He was very knowledgeable of all areas, very detailed with excellent follow up and follow through
Recommended
Trip of a lifetime!
By: Dreamweaver
Reviewed on: 29 Jul 2019
Our recent trip to Victoria Falls and safaris in South Africa was flawless. We approached Michael with a list of "must sees" and he created the absolute perfect itinerary. Accommodations and Safari camps were over the top, connections and transportation were faultless, and his tips and suggestions were invaluable. If South Africa is on your radar, go see Michael! You will have the trip of a lifetime!
Recommended
Memorable trip
By: VB
Reviewed on: 09 Aug 2019
Michael flawlessly coordinated a trip to South Africa with multiple destinations. Everything went exactly as planned/promised. Very available to assist with an airlines snafu.
Recommended
African Safari
By: Mary
Reviewed on: 15 Aug 2019
Michael was great to work with...very organized, responsive to every question, first-hand knowledgable of the destination. I felt very comfortable that I was prepared to leave home with everything I needed to enjoy my two-week vacation half way around the world. I plan to call upon Michael to help me plan my next trip.
Recommended
Trip to Africa
By: Faine
Reviewed on: 14 Aug 2019
Great. Everything was perfect.
Recommended
Best trip ever
By: Meg
Reviewed on: 29 Aug 2019
Michael was a fabulous advisor. This trip was one of the best experiences of my life. Every detail was covered thoroughly. I never worried about where I was supposed to be or what was happening next. Everything was perfect. If you are considering a Safari I would highly recommend using Michael's services.
Recommended
OKeefe family safari
By: Gene
Reviewed on: 03 Sep 2019
Michael was great. He planned a trip of a lifetime and everything came off perfectly. All hotels, transfers restaurants and of course the safari camp were all top notch.
Recommended
trip of a lifetime to Africa and Sicily
By: Bob
Reviewed on: 14 Oct 2019
Michael did a fabulous job for us, our trip was fantastic.
Recommended
Singita
By: Jim
Reviewed on: 13 Oct 2019
Fine. Had very little contact, though
Recommended
Admiral Travel
By: VLS
Reviewed on: 27 Jan 2020
Admiral Travel too care of all details of our trip. Well done!!
Working with Michael Distler, you will have access to:
- An experienced travel guide whom you can rely on before, during, and after the trip
- Exclusive luxury resorts and properties
- Once in a lifetime experiences
Explore with the Best
Virtuoso Advisors are constantly pushing the boundaries in unique travel experiences.
Alliance programs are unique tailored experiences exclusive to travelers working with Virtuoso Travel Advisors.
learn more
South Africa
Botswana
Zimbabwe
Zambia
Tanzania
Kenya
Rwanda
Uganda
Republic of the Congo
Namibia
Mozambique
Ethiopia
Madagascar
Seychelles
Malawi