Travel Specialties
Interests
Beach & Sun
Family Travel
Honeymoons
Safari
Independent Tours
Selling Travel Since
1994
My Background
I started in the travel business in 1994 as an assistant to the midwest sales manager for Club Med. When the position became avaialble I jumped at the opportunity to be in the travel industry. As a single parent, life on the road was challenging for my family, and I decided to affiliate with a Virtuoso Travel agency. I joined Lake Shore Travel in 2000. I have learned a great deal from our experienced agents, suppliers, and my clients. Providing knowledge, trust, and the committment to be accessible to my clients by email or phone 7 days of the week, gives them confidence in me.
This year, I was honored to be in the top tier of travel advisors in North America by Four Seasons Hotels . It was truly a privilege to be recognized at their first Travel Leader Advisory Board in New York this October. It was one of my career highs to be able to have the opportunity to meet with the President and 5 Senior Vice Presidents and have our ideas and challenges heard.
Our relationships with Virtuoso, and our strong travel partners give our clients the best possible experience wherever their travel takes them. I feel privledged to do the work that we do, and share this love with my clients. It is fun to take them from their childhood years, to their honeymoon, to their babymoon and their own family trips. I want to be there for all of their life cycles.
Places I Have Traveled
Reviews and Recommendations for Julie Shifrin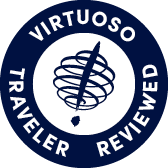 Virtuoso Verified Traveler
All reviews are from confirmed guests sharing exclusive insights
Sort reviews by
Recommended
Highly recommended
By: Samuel
Reviewed on: 11 Oct 2013
Julie is very experienced and as such did an excellent job arranging our trip. I would not hesitate to reccomend her to my friends contemplating travel
Recommended
By: Robb
Reviewed on: 11 Oct 2013
Julie has taken care of our vacations for years & each vacation is better than the last. I'm confident that when Julie Shifrin recommends places to stay, activities to do and restaurants to dine @ while on vacation they are going to be great. I no longer ask my wife where we should go, I actually say, "So, where does Julie think we should go this year?" Thanks Julie for tailoring vacations to suit my large family. Keep up the good work. Sincerely The Rakestraws
Recommended
By: jim k
Reviewed on: 11 Oct 2013
My wife and I think Julie did a great job w Holland America as we did not have to be concerned w our luggage and the ship she put us on was better then we expected.
Recommended
A Perfect Experience ...highly Reccommended
By: Lili
Reviewed on: 20 Oct 2013
Every detail was expertly handled. There wasn't anything else that could have been done to make this a perfect celebration with the entire family. Looking forward to planning our next vacation.
Recommended
Julie Shifrin
By: Don & Janis
Reviewed on: 28 Nov 2013
Julie has been an attentive, detailed and exceptional travel agent. She has gone that extra mile on several occassions. We sincerely appreciate her hard work and intend to continue using Julie as our "go to" travel agent!
Recommended
Awesome as always!
By: Cary
Reviewed on: 14 Dec 2013
As always...Julie and her team (Amy) planned and executed the perfect vacation! They are always in the know of the best places to go and the value of their service is increased by connections with all the finest resorts!
Recommended
Excellent Recommendations for the Exclusive Traveler
By: SBart
Reviewed on: 06 Jan 2014
My family has worked with Julie for several years. Not only does she provide very detailed attention to all of our travel details including air and hotel venues, she ensures we have dinners and other reservations set up well in advance of our trip. She is well informed and has traveled to many of the locations that she suggests to her clients so she is able to give a very honest opinion of the hotel. I highly recommend Julie for your family!!
Recommended
Fantastic Trip
By: DG
Reviewed on: 06 Jan 2014
We just returned from Belize!! Amazing trip,well planned and a fabulous experience. We have taken many trips planned by Julie and all have been spot on. Whenever we have a glitch we just shoot off an email from anywhere in the world and it all gets worked out. Julie is amazingly attentive and has a terrific staff as well to make it all wonderful.
Recommended
Julie was incredible!
By: Ellen
Reviewed on: 06 Jan 2014
My husband had to be sure he would get home in time for a work trip to China, Chicago was being smacked by a winter storm and Julie was able to get him on a flight home a day early so he wouldn't miss his flight. She went the extra mile for us working not only at night but on a holiday to make this possible.
Recommended
the best of the best
By: joe
Reviewed on: 30 Jan 2014
Julie is completely attentive and responsive, and she always has outstanding information and suggestions. She was especially helpful in rearranging our plans when our flight from Chicago to Miami was cancelled shortly before the scheduled departure. We do not go anywhere without booking through Julie.
Recommended
Highly recommended
By: MKos
Reviewed on: 10 Feb 2014
I've only worked with Julie a short time, but my experience has been outstanding.  She is very knowledgeable, is quickly able to understand my priorities and preferences, is responsive and thorough.  I couldn't ask for more!
Recommended
Highly recommended
By: Not provided
Reviewed on: 12 Feb 2014
Recommended
NIZUC
By: Not provided
Reviewed on: 09 Mar 2014
we loved it!! Julie did an outstanding job for us - small 'feeling' place but lots of different restaurant options - fantastic breakfast too!
Recommended
Highly recommended!
By: JNT
Reviewed on: 09 Mar 2014
Our rooms at the Four Seasons were great.One night, we actually got an upgrade to The Presidential Suite! It was bigger than my house and totally extravagent. But lots of fun.We enjoyed the Spa and the breakfasts from Virtuoso...Julie did a great job!
Recommended
The best of the best
By: Not provided
Reviewed on: 13 Apr 2014
Julie always exceeds our expectations which is no easy task.
Recommended
Grand Velas Riviera Maya, Cancun, Mexico
By: kosfam
Reviewed on: 16 Apr 2014
Julie recommended this 5 star all inclusive for a family spring break trip.  It was outstanding!  The grounds were beautiful, the rooms were all suites, the food was amazing, with lots of different cuisines and experiences.  Finally, the weather could not be beat! 
Recommended
the best of the best
By: joe
Reviewed on: 23 Jun 2014
Wonderful. Unfortunately, we had to cancel,
Recommended
Amazing Trip and Planned perfectly!
By: EKL1
Reviewed on: 05 Aug 2014
Julie planned our trip perfectly. She helpful and great care and detail. Loved working with her and her sister Amy!!
Recommended
Best Travel Agent!!!!
By: Melissa
Reviewed on: 04 Jan 2015
Julie's hard work made our last minute family trip during the busiest season possible! She worked miracles! She booked us at a Fabulous Family Friendly Adult resort in Huatulco! We loved Secrets...beautiful beach, pools, rooms and the staff could not have been more helpful and friendly. She knows exactly what we want! With Great Appreciation!
Recommended
an adventure to remote Patagonia
By: Dr.Bob
Reviewed on: 02 Jan 2015
Patagonia is a region of South American that is in Argentina /Chile My Backroads hiking/walking trip was in Argentina. It was well planned. .well led..and I was the solo (and oldest) member of our group of 20. the group was very compatible. .mostly parents and their adult 20-something kids. We saw amazing glaciers. ..forests..canyons..beautiful and challenging to hike at times. I was able to do the maximum hiking but there were modified options available. The accommodations were acceptable but mostly not luxurious but one must keep in mind how remote this area of Patagonia is There was always a clean bed..hot shower...tons of food offered regularly After my group disbanded I was on my own for 4 days in Buenos Aires. I stayed at the Park Tower Hotel. ..attached to the Sheraton which I used for its outdoor pool after mornings checking out various neighborhoods and shopping.The hotel and it's personnel was luxe. My rate..SPG/AARP was a great deal with gigantic breakfast an
Recommended
Phenomenal service!
By: PK17
Reviewed on: 08 Jan 2015
The professionalism of Julie Shifrin and her team at Lake Shore Travel is outstanding. They are extremely thorough and diligent throughout the planning of your trip. Their attention to details is superb. They are truly dedicated to making your trip stress free by organizing everything so that you don't have to.
Recommended
Efficient and Done Right
By: Rose
Reviewed on: 06 Feb 2015
Julie is an exceptionally adept travel advisor. When she organizes a trip, I know that the arrangements will be first-rate in terms of quality and reliability. This is important when I travel overseas at odd times of the day for business and my schedule mandates seamless transport. Her recommendations have unfailingly been superb and her advice, in general, true to word. I highly recommend Julie at Lake Shore Travel.
Recommended
Fabulous service!
By: Melissa
Reviewed on: 02 Apr 2015
We had a wonderful stay at the Park Hyatt Aviara Resort. Upon arrival we were upgraded to a room with a gorgeous view. We can always count on Julie for exceptional service!
Recommended
It was expert friendly service!
By: Jan and DCT
Reviewed on: 27 Mar 2015
We enjoyed our trips, and we appreciate all the help from Julie and the pthers at Lake Shore Travel. Virtuoso ammenites at the Windsor Cour Hotel were great! Thanks so much-
Recommended
Excellent planning
By: David
Reviewed on: 07 Apr 2015
Excellent trip to Mexico and Arizona! Thank you!
Recommended
very responsive
By: none
Reviewed on: 21 Jun 2015
Julie helped me with hotel reservation. it was exactly as she promised, and when the hotel gave me inconsistent information prior to check in, Julie handled it after hours.
Recommended
Cannot wait to go back!!!
By: Ed
Reviewed on: 05 Aug 2015
outstanding trip. We appreciate all of your help.
Recommended
Wonderful trip
By: Ada/Beryl
Reviewed on: 25 Aug 2015
The trip was better than we could have expected. All travel arrangements were on time. the tour guides were great. Very friendly, knowledgeable and the kids loved them. The people at every stop were very service oriented and couldn't do enough for us. The camps were in great locations and all food was very good and they even cooked special for the kids. The safari's and the guides were terrific. We saw animals and situations which the guides rarely see. Thank you for putting together a wonderful trip.
Recommended
Always impeccable service!
By: Melissa59
Reviewed on: 28 Oct 2015
We can always count on Julie to find the perfect hotels for our entire family! She is the BEST!!!
Recommended
The best Thankgiving we've ever had
By: Michael1770
Reviewed on: 08 Feb 2016
With all of our kids out of school and working it get harder every year to find a week to get everybody together for a family vacation. This year that week was over the Thanksgiving holiday. Looking for warm weather and sunny beaches, Julie sent us to the Rosewood Mayakoba. While we have traveled to the Riviera Maya before we had never visited the Rosewood before. To say that the resort was fabulous would be an understatement. Our rooms were wonderful, the facilities first class, the food amazing and the staff second to none. I think the highest praise you can give a hotel/resort is to say that you would go back. We're already working on returning to the Rosewood soon. Thank you Julie for your recommendation and arranging for an amazing vacation.
Recommended
Dedicated, experienced and knowledgable!
By: melissa
Reviewed on: 04 Jan 2016
We can always count on Julie to find a wonderful vacation spot for our family! We decided to go on a trip between Christmas and New Years during the busiest time of the year only a month before we were to depart. Julie found us a fabulous place! Thank you, Julie. You are the BEST!!
Recommended
Jamaica
By: David
Reviewed on: 05 Jan 2016
Negril was awesome; the beaches are unbeatable. Riu Tropical bay is on the smaller side was the food was decent and the accommodations were nice. Would go back again.
Recommended
Professional and Detail Oriented
By: pk
Reviewed on: 09 Jan 2016
Julie is an outstanding travel agent who makes every effort to plan everything ahead of time so that once you arrive at your destination there is nothing left to do but enjoy!
Recommended
Great trip planner
By: leslie4man
Reviewed on: 11 Jan 2016
Julie is a great vacation planner. She listens to what you want and plans based on that. We have loved all the trips she has planned for us. And if we ever have a problem, she is there to solve them. I will recommend her to anyone.
Recommended
Great Spring Break
By: AH
Reviewed on: 30 Mar 2016
Julie picked a perfect hotel for this trip. Everything was set up as usual. She had drivers to pick us up. Breakfast taken care of and set us up in a very nice room.
Recommended
Perfect in Every Way!
By: Bianca4470
Reviewed on: 20 Jun 2016
A huge Thank You to Julie Shifrin for your recommendation! Our family trip to the Sanctuary was perfect! Great Service, Excellent Food, tons of activities for couples/families who want to be on the go and beautiful, serene spots for those who don't . My husband and I renewed our wedding vows while we were there and our concierges; Angie Cimino and Amanda Summers, provided world class assistance in planning and coordinating the event. They were helpful in every aspect and flexible but supportive when needed. They always had a smile on their faces and in their voices. We were very excited when we were finally able to meet them! Our stay at the Sanctuary was so amazing, that we are definitely planning on going back again. Without Julie's excellent experience, we might have missed out on a first rate vacation.
Recommended
Amazing family trip to Spain
By: Pamelac
Reviewed on: 24 Jul 2016
Julie helped us plan an amazing trip to Soain. There was nothing left undone. I felt completely confident the entire trip that are itinerary would be flawless. From the hotels to the tours, the trip was seamless. I would highly recommend Julie to plan any type of trip. She is on top of everything and is price conscious.
Recommended
Great Service
By: PamC
Reviewed on: 02 Jan 2017
Julie helped us plan a wonderful family vacation. Everything went smoothing. Our flight was great and the accommodations were amazing. We asked for a place that was laid back and family friendly. That is exactly what Julie found for us.
Recommended
Great service
By: DAH
Reviewed on: 04 Jan 2017
Julie got us the rooms we wanted at a better price than we could get directly from the resort. Follow up regarding flights, insurance, etc. was excellent.
Recommended
Always available, helpful and truly diligent!
By: Egordo
Reviewed on: 09 Jan 2017
Julie is the best! We needed help because connecting flights were delayed and/or cancelled. Julie's willingness to help us and go the extra mile was indispensable.
Recommended
Amazing Again!
By: Bianca M
Reviewed on: 20 Jan 2017
Julie is amazing to work with when planning a trip. She always has great recommendations for the best places to stay. We have made such wonderful memories at all of the places Julie has booked for us. No one else will do!
Recommended
Look no further for the real travel professional
By: Dorothy
Reviewed on: 09 Apr 2017
Jules, is the best! She knows routes, destinations, guides, styles and true satisfaction for every kind of traveler. Whether you're going to a well-known destination or what'll be a new found friend, Julie can advise you and secure the best accommodations available. Great working with you, Jules!
Recommended
Excellent
By: Kim
Reviewed on: 13 Apr 2017
Julie is amazing! She is extremely knowledgeable and has a wealth of informarion. She made our travel to Costa Rica seamless. She not only suggested an wonderful resort but also helped with transportation and dinner reservations. I would highly recommend Julie!
Recommended
review of Julie Shifrin
By: Larry
Reviewed on: 12 May 2017
She is a very competent travel advisor. Easy to work with
Recommended
Italy
By: Rita
Reviewed on: 04 Jun 2017
Fantastic. We have used Julie for years, and have always been pleased. The hotels she chooses, tours, suggestions for sights to see, how to plan our time wisely, and best time to visit certain places-are all spot on. This trip, to Amalfi coast and Rome-could not have been better. We have no regrets, and Julie surpassed our expectations. Friends joined us on this trip. They commented many times how efficient, organized, and timely Julie was with each detail. We give Julie an "A+!"
Recommended
Agent
By: Kim
Reviewed on: 25 Jun 2017
I refer Julie to a lot of people. She's amazing and aticka to our budget. She always has great ideas!!
Recommended
to the rescue
By: David H.
Reviewed on: 17 Jul 2017
Julie got us a great deal and upgrades when she booked our rooms (3). We booked junior suites, but the hotel said they didn't have that in their records (despite me showing them the confirmation saying we had junior suites). After letting Julie know, the front desk manager contacted us, apologized, and comp'd all of our meals at the hotel and all spa treatments. Between that and being upgraded to the club floor that served food all day, the trip turned into a bargain. Also, the Belmond hotel location, rooms and amenities were phenomenal. I would definitely stay there if we go back to Charleston.
Recommended
Huge Thumbs-Up!
By: Phillip
Reviewed on: 17 Aug 2017
Julie is fantastic. We have loved her recommendations. Our three trips with her have all been great. Can't wait to go on more.
Recommended
West
By: JNT
Reviewed on: 08 Sep 2017
Julie did a fine job, as usual. She was able to secure an upgrade at the Four Seasons Las Vegas. Unfortunately, the front desk did not honor this until after we had unpacked. No hitches otherwise. Thanks Julie and Amy!
Recommended
Amazing customer service!
By: egordo
Reviewed on: 20 Oct 2017
I loved working with Julie. She understood what I was looking to do on our trip, set us up with wonderful hotels, some good tours, as well as connected us with Lee her restaurant guru who made some wonderful dining suggestions. I couldn't have been happier.
Recommended
Julie Shifrin
By: The travelers!
Reviewed on: 25 Oct 2017
Julie is always wonderful and full of great information. She has always given us excellent information regarding the destinations we have chosen. Maybe that is in part due to the fact that she has traveled extensively herself! She knows the sites personally. We have recommended her to friends.
Recommended
Vacation
By: Vidal
Reviewed on: 01 Nov 2017
Julie is the best.
Recommended
Excellent trip
By: Ben Page
Reviewed on: 10 Nov 2017
We had a fantastic trip to Italy!
Recommended
Great weekweekend
By: Jandon
Reviewed on: 11 Dec 2017
It was a pleasure working with Julie. She did a great job for us at the Ritz-Carlton.
Recommended
The best travel agent!
By: PK
Reviewed on: 16 Dec 2017
Julie is a true professional. She always has your trip planned down to the smallest details. Her knowledge of hotels and resorts is extensive. Her recommendations never disappoint.
Recommended
virtuoso
By: ahead
Reviewed on: 09 Jan 2018
Julie knows places, flights and is a pleasure to work with
Recommended
Julie
By: Kim
Reviewed on: 04 Jan 2018
Julie's always awesome. This last trip we didn't love, I had a few meltdowns and Julie always knows what to say and is very even keeled about her responses. I've referred her at least 8x.
Recommended
Great service
By: DH
Reviewed on: 08 Jan 2018
Trip planned perfectly, and Julie got us better rates and more amenities than we could get ourselves.
Recommended
Julie S. Review
By: kctravelers
Reviewed on: 31 Jan 2018
GREAT!!! Julie took exceptional care of us and her guidance was right on. We had a fantastic, smooth trip from start to finish! We will use Jule for all our travel.
Recommended
Thailand!!
By: Laurie
Reviewed on: 07 Feb 2018
Working with Julie is always fabulous!!
Recommended
Julie Shifrin
By: 50 years a friend
Reviewed on: 24 Feb 2018
She is an amazingly professional advisor with a wealth of valuable knowledge. Quick to provide necessary resources and research, no better travel advisor is working today!
Recommended
A pleasure
By: Dave
Reviewed on: 12 Mar 2018
Julie did a great job for us on this short trip. We really liked the hotel and they gave us an upgrade right away without even asking. Thank you.
Recommended
Great support
By: Pamela
Reviewed on: 12 Mar 2018
Julie and her sister Amy were both very helpful and on top of my travel plans. I had to make some changes and they did everything possible to help me out and save me money. I appreciate Everything they have done for me.
Recommended
Nizuc
By: UK2US
Reviewed on: 21 Mar 2018
Wonderful, professional, attentive to all details and always available. Highly recommend Julie and Lake Shore Travel.
Recommended
Jamaica Half Moon
By: Story Genius
Reviewed on: 31 Mar 2018
Julie is professional in every detail!
Working with Julie Shifrin, you will have access to:
- An experienced travel guide whom you can rely on before, during, and after the trip
- Exclusive luxury resorts and properties
- Once in a lifetime experiences
Explore with the Best
Virtuoso Advisors are constantly pushing the boundaries in unique travel experiences.
Alliance programs are unique tailored experiences exclusive to travelers working with Virtuoso Travel Advisors.
learn more