Travel Specialties
Interests
Beach & Sun
Family Travel
Honeymoons
Escorted Tours
Independent Tours
Destinations
Australia
Ireland
Botswana
Peru
South Africa
Selling Travel Since
1985
My Background
Michele has been a travel advisor since 1985 and has been with Travel Market since they opened their doors in 1992. Her days are busy assisting leisure and corporate clients.
Michele is always looking to expand her knowledge through travel and education. She has received specialist training in many destinations including, but not limited to, South Africa, Australia, Disney, Hawaii, Peru, Italy, and river cruising.
Michele has traveled to South Africa, Kenya, Mexico, many Caribbean Islands, and most of Europe including Northern Ireland. She has cruised the Caribbean, Mediterranean and the Rhine and Danube on river cruises. She recently had an opportunity to sail the Med again aboard the new Regent Explorer.
She enjoys working with her clients to plan extensive individual travel itineraries; tailoring each trip to their specific needs and dreams. She truly believes that travel unites and is excited to expose her clients to new destinations and cultures.
Contact Michele at Michele@travelmarketvacations.com or by phone at 262 241 4040
Places I Have Traveled
Reviews and Recommendations for Michele Vogel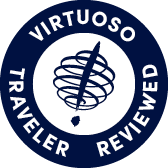 Virtuoso Verified Traveler
All reviews are from confirmed guests sharing exclusive insights
Sort reviews by
Recommended
Friendly, Professional, Efficient, & Highly Recommended
By: T. Jane
Reviewed on: 02 Oct 2013
I cannot say enough about my experiences with the Virtuosa team. I have been working with them for more years than I will admit to and they are always there to help with a trip. Whether I am traveling for pleasure or business they do it all. Thank you Michele (and Sarah!)
Recommended
Highly recommend.
By: Kathy
Reviewed on: 04 Oct 2013
She was very helpful and answered a lot of questions for us. All of the arrangements made for us went smoothly and we were very happy with the quality of the tours we took.
Recommended
Highly Recommend!
By: kmg
Reviewed on: 15 Oct 2013
Michele was fabulous! She planned out our entire Paris/Italy trip and made it so special. Her suggestions were right on, hotels perfect, private tour guides were exceptional! I was nervous since we had never traveled to Europe before but she was patient, very organized and always got back to me with questions/concerns very promptly. Definitely will use her again for our next trip....now that we have caught the travel bug!
Recommended
She's the best
By: kinzigerb
Reviewed on: 11 Oct 2013
We book all vacations through Michele and will continue to do so. She is very helpful and knowledgeable. Highly recommended.
Recommended
One of the Best
By: SammyJ
Reviewed on: 24 Nov 2013
Professional, helpful, knowledgeable...and she always has a smile in her voice. Michele always has my back when it comes to arranging my travel.
Recommended
Excellent!
By: Irene
Reviewed on: 28 Nov 2013
Michelle has assisted me with my travel needs for several years and has always done a terrific job. She greets one in a most friendly manner and with a great smile! Michelle is very efficient, prompt, great with suggestions, ideas, and, most of all, dependable. Qualities not quickly found anymore these days! Need literature or brochures? Michelle will get them to you quickly. Wonderful to work with!
Recommended
Great Travel Agent
By: JWE
Reviewed on: 04 Jan 2014
Michele has planned more that six family vacations for us. She knows our needs and desires and selects the perfect hotels and travel for our family.
Recommended
HIGHLY Recommend
By: Rhu
Reviewed on: 05 Jan 2014
Over the last several years, Michelle has planned a number of family trips for me. She has been wonderful! Very attentive, great listener, gave me exactly the information I asked for, made suggestions when it was appropriate, and did so in a very prompt fashion. I wouldn't want anyone else to work with me! Thank you, Michelle!
Recommended
Very Highly Recommended
By: Fred
Reviewed on: 13 Jan 2014
I have been working with Michele for over 20 years and she has always exceeded my expectations. Booking weekly trips to jobsites, emergency trips and business trips to Russia, she has always been available to help me travel safely, comfortably and economically. Thanks Michele.
Recommended
Highly recommend.....great customer service!
By: JFam
Reviewed on: 27 Jan 2014
We have worked with Michele for years planning family vacations. She is knowledgable about various destinations; understands our expectations; and works to satisfy and/or exceed those expectations in an honest, open and customer focused fashion. She's the best!
Recommended
Excellent
By: C & M, J
Reviewed on: 19 Feb 2014
Loved it..place was great with outstanding service. Loved the small size and intimate feeling. Will go back again! Thanks so much Michelle for a great job planning this for us.
Recommended
Highly Recommend!
By: Karen
Reviewed on: 24 Mar 2014
My husband and I took our 4 grown children to Hawaii - knowing that this would be most likely our "last family trip" before spouses and grandchildren are added to our family.  Michele as always recommended the best accommodations and activities for our children ages 18-26.It was a trip of a lifetime and are so grateful that we used Michele!  We have used her for many other trips and she never disappoints!  Highly recommend using Michele for any travel plans you may be thinking of taking!
Recommended
Highly recommended
By: Kate
Reviewed on: 01 Jun 2014
We very much enjoyed working with Michele, she made planning a breeze and answered any questions that we had in a very timely manner.  We look forward to working with Michele again.
Recommended
Very Helpful and Knowledgeable
By: ChicagoSue
Reviewed on: 03 Jun 2014
Michele has helped us plan several vacation trips outside the United States.  She understands the type of travel we enjoy and offers professional insights in crafting an itinerary.  On our most recent trip we encountered travel problems due to bad weather and she helped us secure a hotel at our connection.  While I feel confident in handling travel in the US and Canada, Michele is the person we go to when we travel outside internationally.  
Recommended
Hawaii
By: Matt and family
Reviewed on: 20 Oct 2014
Michele, thank you for organizing our trip to Hawaii we would never have pulled it off without you. Our largest concern about the entire trip was how all the travel arrangements would go with 6 adults and 3 small children while making the long plane flights and inter island moves during our stay. Looking back, we cannot believe how smoothly everything went and that allowed our entire family to have an incredible experience. All your recommendations were excellent and we look forward to working with you again. Than you. -Matt and family
Recommended
thanks Michele for outstanding trip
By: WAS
Reviewed on: 04 Nov 2014
Outstanding river cruise with Tauck. Our fifth Tauck trip through Michele and everything was A+ excellent.. Definitely recommend Michele and Tauck for anyone planning and wanting a wonderful vacation experience.
Recommended
Great service!
By: Jessica79
Reviewed on: 17 Nov 2014
Michele was very helpful in helping me plan my recent trip! She had answers to all of my questions, made some great suggestions and helped get our trip booked and paperwork taken care of. I would definitely recommend booking with her and Travel Market Vacations!
Recommended
Always so helpful and knowledgeable
By: julie612
Reviewed on: 15 Feb 2015
Michele is always very helpful and answers all questions. She has much knowledge and is able to guide our choices based on what we are interested in and enjoy. She even knew there was a bridge that might slow us down on the way to our cruise ship. Great advice!
Recommended
Outstanding job on very short notice
By: buddy
Reviewed on: 18 Mar 2015
Michele did and outstanding job on putting together our trip to Spain. EVerything went well. There was one glitch but it was not her fault rather the company that was suppling the transportation. Properties selected were great. When we had to call from Spain, she made herself available to take the call to answer questions and resolve some small issues. Again, not her fault. She will be following up with one company to help us seek a refund based on the quality of tour and the lack of professionalism of the guide. Would differently use hMichelle again! She does great work and provides timely follow up.
Recommended
She really listened and matched our trip to our interests!
By: pelisons3
Reviewed on: 12 May 2015
Michele has planned a variety of trips for us from a high school spring break with friends to a family holiday vacation to a luxury South American tour with another couple. Each trip was perfectly matched with our interests and budget. She listens to your ideas and adds her own creative touches to create a wonderful vacation!
Recommended
Michele review
By: Lu & Tom
Reviewed on: 02 Nov 2015
We have used Michelle as our travel agent for many years and she has always done a super job arranging all of our many trips for us. We have been very pleased.
Recommended
Super Fantastic Service!!!!!
By: Grafton Kate
Reviewed on: 04 Feb 2016
As always Michele went above and beyond to make our Oceania cruise fantastic. She thinks of many little things to make our trips relaxing. She is very knowlegible of all the places we travel to. We have NEVER been disappointed with her advice and service. MIchele is a very caring person and makes you feel like family.
Recommended
Review of Michele and our Mexico Trip
By: Anzia Trip
Reviewed on: 11 Apr 2016
Michele did another outstanding job setting up a vacation that was perfect for our family. She is extremely efficient and candid about the resorts and the travel. We appreciate that openness and greatly respect Michele's opinion and expertise.
Recommended
Chocolate lover
By: MJA25
Reviewed on: 20 Sep 2016
We have worked with Michele for dozens of travel arrangements both professionally and personally. She has always been responsive, pleasant and thoughtful about our needs. Her expert advice has helped our decision making process immensely. She has never been pushy in trying to get us to go in a direction we preferred not to. She has also been willing to suggestions we make after our travels. Lastly, whenever there has been a problem on a trip, she has helped get it rectified. And she loves chocolate.
Recommended
Fantastic, Knowledgible, Profesional Travel Expert
By: Badger Girl
Reviewed on: 22 Oct 2016
Michele always has our best interests at heart. She takes her time with us and listens and with her knowledge she helps us get the most out of our travels. Every trip Michele has helped us plan has been a huge success and very smooth, hassle free and enjoyable. We never have a worry with a trip that Michele has planned.
Recommended
Expert friendly service
By: Buddy boy
Reviewed on: 27 Oct 2016
Michele is knowledgeable, friendly, polite, patient, concerned, accommodating.......
Recommended
2 travelers
By: rshore
Reviewed on: 10 Feb 2017
Couldn't have been better or easier. She knows us and what we like.
Recommended
Last minute trip to Puerto Vallarta
By: Shelley Juedes
Reviewed on: 22 Mar 2017
Michele is great to work with, she is very helpful and efficient. She finds several travel options for you, all within your price range. Not only does she provide excellent service, she is very friendly when speaking to her. She accommodated us at the last minute and we greatly appreciated that! The all-inclusive was amazing and we may return. Because it is 45-50 minutes from the airport, it's occupancy is only 50%. That meant no waiting to book meals, no waiting for beverages, and first class service from hotel employees. The resort being only 3 years old, had updated rooms and bathrooms. The entertainment at night was very good and the fitness center had newer equipment which were added pluses. If someone is looking for a quiet resort with no "college crowd, " this is the place to go! Thank you Michele for recommending Iberostar Punta Mita and booking the trip for us!
Recommended
Last minute trip to D.C.
By: Michele
Reviewed on: 08 Apr 2017
Michele is resourceful, cheerful and very helpful. I know I am in good hands when I work with her. She is awesome. Thanks Michele for all your help!
Recommended
scenic river cruise
By: wisconsin
Reviewed on: 05 Sep 2017
Michele is very knowlegeble of the places we want to go to and always has our best interests at heart. She understands our wants and needs and always fulfills our expectations. Michele is very easy to work with and answers our inquires in a very timely fashion.
Recommended
Cruise review
By: Al
Reviewed on: 24 Sep 2017
Terrific. Michele provided great follow up and expertise.
Recommended
Portugal and Spain
By: Wayne
Reviewed on: 13 Nov 2017
Absolutely Fantastic. All arrangements she made were great, wonderful variety of tours with no overlap, We have worked with her on many trips and 110% satisfied.
Recommended
Loved working with Michele!
By: Ann
Reviewed on: 08 Feb 2018
Michelle was amazing! Everything she recommended worked out like a charm. We had the time of our lives. In the planning process she was patient with our indecision and led us in the right direction. I have used Michele for business travel for years but this was our first big trip for pleasure and I wouldn't hesitate to have her plan even a 3 day weekend! Thanks, Michele!
Recommended
Scenic river cruise in Portugal
By: Bucky
Reviewed on: 12 May 2018
MICHELE is always very professional and friendly. If there is a problem MICHELE is very timely and courteous at solving it. We would not want to work with anyone other than MICHELE when we travel.
Recommended
Review
By: Freud
Reviewed on: 18 Jun 2018
Michele is conscientious, knowledgeable, concerned, helpful and pleasant
Recommended
Enchantment Trip to Sedona
By: Jonny
Reviewed on: 17 Jun 2018
She is the best travel agent we have ever worked with in our travel history. We had a long weekend available and at the last minute, wanted to make a trip out of it. She came back with several options including the trip to Sedona. We selected Sedona and the Enchantment Resort. We LOVED the whole thing! Plus, being a Virtuoso Member, we got an incredible upgrade on our room! It had it's own pool!!! Michele nailed it again!!! She knows what we want and what we will enjoy. She's incredible at anticipating our desires, needs and expectations. Then, she delivers and exceeds our expectations. How do you beat that? You just don't.....
Recommended
Canadian Rockies
By: Rob
Reviewed on: 20 Jul 2018
Michelle is excellent to work with. She is very responsive, communicates often, stays on top of the details and always has your best interests in mind. Her outgoing personality makes her fun to deal with. She's a professional with a great demeanor.
Recommended
Keep coming back!
By: kantoine@new.rr.com
Reviewed on: 29 Jul 2018
Michelle never disappoints! She is so helpful, honest and aims to achieve whatever I want in a vacation !
Recommended
Chicago
By: Jesse
Reviewed on: 28 Oct 2018
Michele is simply the best! Whether she's planning a trip to Europe, a 'glamping' family trip or a weekend get away to Chicago, she scores a 10 or an 11 every time!
Recommended
Michele review
By: Wayne
Reviewed on: 14 Feb 2019
Excellent she has been our agent for many many trips. Always outstanding advice and service
Working with Michele Vogel, you will have access to:
- An experienced travel guide whom you can rely on before, during, and after the trip
- Exclusive luxury resorts and properties
- Once in a lifetime experiences
Explore with the Best
Virtuoso Advisors are constantly pushing the boundaries in unique travel experiences.
Alliance programs are unique tailored experiences exclusive to travelers working with Virtuoso Travel Advisors.
learn more
Australia
Ireland
Botswana
Peru
South Africa
Italy
United States - All
New Zealand
Kenya
Costa Rica