Travel Specialties
Interests
Adventure
Safari
River Cruising
Destinations
Chile
Argentina
Belize
Brazil
Costa Rica
Selling Travel Since
1984
My Background
After all these years, its still so exciting to work with clients , to help make their dream vacation a reality. River Cruising, small ship cruising, Expedition cruising, adventure travel, custom vacations, the options are endless. I am very proud to be employed with the largest Canadian owned agency, and the added values and benefits that come with the affiliations. Virtuoso being top of the list. I look forward to planning longtime clients of over 25 years and new clients with their next travel experience.
Places I Have Traveled
Reviews and Recommendations for Robin Hutnan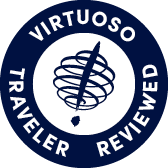 Virtuoso Verified Traveler
All reviews are from confirmed guests sharing exclusive insights
Sort reviews by
Recommended
Highly Recommend!
By: Kandie1106
Reviewed on: 30 Sep 2013
I have utilized Robin's travel expertise, both professionally and for leisure for many years. In a word...excellent! Her customer service skills are exceptional, product knowledge outstanding and she's super nice! I have recommended her to family and friends and will continue to rely on her for many years to come!
Recommended
I do recommend her to my colleages and others.
By: JIMBO
Reviewed on: 21 Nov 2013
I have no problem recommending Robin. She has booked every flight I have taken for the past decade. She is attentive, responds quickly to any inquiry I have, is easy to work with and somehow makes things happen even when my friends and colleagues tell me it is impossible. She is one of the finest travel agents (or whatever we call them now) I have found. Filling out this questionnaire was more difficult than dealing with Robin.
Recommended
Highly recommended
By: Allison
Reviewed on: 28 Nov 2013
Most willing to investigate options, suggest alternatives, very pleasant and accommodating. Will keep using Robin.
Recommended
Great service from Robin
By: Not provided
Reviewed on: 21 Nov 2013
Robin has been my travel agent for many years. She always responds promptly and answers all my questions. She saves me time and gets me the information and reservations I want. She is a pleasure to work with.
Recommended
Highly Recommend
By: Hammond
Reviewed on: 21 Nov 2013
The trip was well organized, as prommised and Robin's efforts in answering all our questions in a timely manner prior to departure ensured a wonderful vacation. I will ask for her assistance in the future.
Recommended
Very Professional and Efficient
By: Roger
Reviewed on: 21 Nov 2013
Robin gave us many possibilities and narrowed down the choices for a recent trip planned to Mexico. We were pleased with the prompt service, choices provided and recommendations. Thanks Robin!
Recommended
Highly Recomended
By: Julie
Reviewed on: 21 Nov 2013
Very conscientious about the information she gives you. Very informative about information that is requested of her, and very knowledgable as to what trips are available, in the time frame that is requested.
Recommended
Another smooth trip
By: Edmonton traveller
Reviewed on: 28 Dec 2013
Great service as always from Robin Hutnan. Everything was as we asked.
Recommended
Would highly recommend this agent
By: Moe & Moe
Reviewed on: 14 Jan 2014
Robin has worked extremely hard to meet all requirements for our vacation trips. Our last one to Moscow, the airline mixed up our seating and Robin kept on until she got decent return seats for us. She has excellent contacts for trips and our around the world travels have not had problems. She works very hard for her clients.
Not Recommended
adequate
By: Archie1879
Reviewed on: 02 Feb 2014
Very unhappy with how events of this trip turned out.The trip we booked to Memories at the Grand Bahama Island was changed days before leaving to the Grand Lucayan because the hotel was not ready for occupancy. All the other passengers that we talked to on our plane had travel agents that gave them four options to choose from.1. Cancel with a full refund2. Take the same trip that was booked but at a later date with no price guarantee with what we paid.3. Come on this flight but stay at a hotel of their choosing4. Do as we are told and come to the Grand LucayanUnfortunately Robin gave us no choices at all. I had been very sick for most of December.  I saw the Doctor on Monday but he had no definitive answer as to why I was so sick.. He thought  I could travel so after talking to travel guardian on Wednesday (night before) and buying additonal insurance I decided I would go.  If I had been given the option of cancel with a full refund  I would have. 
Recommended
Well Recommended
By: Mrs. C.
Reviewed on: 10 Feb 2014
.........Our trip to the Bahamas was well worth it for what we paid.  Too bad the hotel we were supposed to be in was not open yet although the hotel we stayed in was very good  except not enough to do in the evenings.  Plane coming home did not have ice for drinks or for water. Did not have a movie either for some reason.  Overall was a good holiday.
Recommended
By: Not provided
Reviewed on: 12 Feb 2014
Recommended
Speedy and helpful
By: Not provided
Reviewed on: 08 Apr 2014
Robin always provides quick and useful assistance.  She is a pleasure to work with.
Recommended
Highly recommend
By: Big Lar
Reviewed on: 17 Apr 2014
Robin has been very helpful and organized our trips in full details. Has a very good handle on getting what the customer wants. Has displayed a strong willingness to serve the customer. Robin has always looked for the best deal for us. She goes that extra mile. She has never let us down. We needed some special help in Mediterran cruise and she found and arranged  travel and accomodations at the last moment. It is because of above that we use her for all our travels. We recommend her to all our friends.Wonderful person to work with.
Recommended
Highly Recommended
By: Poppy
Reviewed on: 03 May 2014
Robin did an excellent job of the travel arrangements for our recent trip. Travel times were convenient for us with no long waits for connections. Robin arranged for us to have assistance between flights when we were worried about the distance from our arrival gate to the connecting departure gate. We appreciate her personal, efficient service.
Not Recommended
n/a
By: Max Chewy
Reviewed on: 28 May 2014
WHAT ??? It has been over a year since I have been on a trip arranged by Robin Hutnan.I clicked no because it wouldn't let me bypass it.
Recommended
Highly Recommend
By: DD
Reviewed on: 09 Jun 2014
Robin is very personable and efficient when dealing with our bookings.We have followed Robin through at least 4 building site moves, & will continue to follow her wherever.  She always handles our bookings with the utmost careAnd trys to get us the best accommodation & deals available.  I have recommended her to several people, and as a matter of fact, just yesterday,  someone asked who arranged my trip in May, 2014. She's the Best!
Recommended
Excelent service
By: Magda
Reviewed on: 19 Nov 2014
I has always a great service with Robin
Recommended
Great Service
By: Penny
Reviewed on: 12 Feb 2015
Robin is excellent to deal with. She worked hard to find us the best price on our cruise and the airfare to get to Florida and home. Robin returns phone calls and emails without delay and that means the very best service. Thank you, Robin, we had a great trip.
Recommended
meets all high expectations
By: Jimbo
Reviewed on: 23 Feb 2015
As usual, Ms. Hutnan has performed a 10 out of 10. She is always available, quickly responds to inquiries and makes arrangements with minimal hassle. Keep up the great work.
Recommended
excellent service
By: jimbo
Reviewed on: 03 Apr 2015
Robin, as usual, took my instructions to heart. Made the connections I needed and it went very smooth. I expect nothing less from her and she continues to provide excellent service.
Recommended
Good planning
By: sheila
Reviewed on: 23 Sep 2015
good except for the last day of the trip a costly disaster due to lack of or misinformation by Trafalgar g
Recommended
Peru - Machu Pichu
By: Ken
Reviewed on: 21 Oct 2015
I found we had a lot of 'free time', partly because our guide and driver had to drive an hour and a half morning and nite to get from Cusco to the Sacred Valley (and then another hour and a half each way on the train from Sacred Valley to Machu Pichu - long days for them but short for us. I also felt he glossed over some of the sites, For example I hinted several times that aI wanted to visit the Sun Temple at Machu Pichu but he went right by it. Finally I went back and did it myself. Service was very good but a driver and guide was sometimes a little much when a simple taxi would have done the trick. We thought all hotels were prepaid but found out upon checking out that they were to be paid upon arrival. A bit of a shock when we hadn't anticipated that extra expense.
Recommended
Trip to Vietnam and Cambodia
By: Rollie
Reviewed on: 05 Feb 2016
Robin, we enjoyed our trip to Vietnam and Cambodia so much. Every thing was perfect. AMA Waterways was very good. The only thing I think they can improve on if the supper meals. They are not as good as one would expect. Our tours and tour guides were very good and gave us a lot of personal information as well (during the Vietnam war). I would certainly recommend this trip.
Recommended
Excellent
By: Jimmy F
Reviewed on: 16 May 2016
Once again Robin did everything possible and it all went off without a problem. Standard for her!
Recommended
Professional and Friendly
By: Janice61
Reviewed on: 21 May 2016
Robin was on top of everything even though the agent that I originally booked with was no longer with Vision Travel. She called me as soon as our Insight vouchers arrived. She looked up where our hotels were situated and recommended things to see while in the city. I enjoyed working with Robin. She is knowledgeable, personable, and has a passion for travel.
Recommended
Quick service
By: Coleenjb
Reviewed on: 02 Aug 2016
Quick and friendly service. Thanks Robin.
Recommended
excellent service
By: Jim
Reviewed on: 17 Oct 2016
Robin provides excellent service and follows up with little details that I might have forgotten.
Recommended
excellent
By: jimmy
Reviewed on: 12 Nov 2016
as usual, no problems. and she followed up.
Recommended
China trip
By: Larry73
Reviewed on: 12 Nov 2016
The China trip was very well planned and arrangements were perfect. A excellent job on arranging hotels, cruise, visas, and fares.
Recommended
friendly service as always
By: gunn
Reviewed on: 15 Dec 2016
robin always does a very good product for us.
Recommended
Friendly and timely support
By: sheila
Reviewed on: 14 Nov 2016
She was great and speedy. Provided us with good support. Thank you Robin
Recommended
Great! Good attention to derails
By: echcoalpha
Reviewed on: 11 Jan 2017
I don't want to tell how long I've been dealing with Robin, she would probably hunt me down for giving out strategic information. I've become accustomed to telling her what I need & forgetting about it, & letting her take care of everything. I don't travel as much as I used to, but I still get the personalized attention that I always have. This last trip was no exception & I have expected anything more. Thanks again Robin for another great experience!!
Recommended
Tripper
By: Sheila
Reviewed on: 14 Jun 2017
As always, excellent
Recommended
Robin is a knowledgeable and enthusiastic advisor
By: Jan
Reviewed on: 16 Jul 2017
I highly recommend Robin. She is very knowledgeable and can offer great ideas to help plan you perfect trip. She stays on top of things and has a great passion for travel.
Recommended
Excellent
By: Chris
Reviewed on: 23 Sep 2017
Always a delight
Recommended
The best there is.
By: Bfa
Reviewed on: 20 Oct 2017
In my opinion, there is no one in the business better or mor knowledgeable than Robin. Robin has handle my travel arrangements for close to 30 years and I have never had any doubt that her recommendations would always meet my expectations. I have recommended robin to many friends.
Recommended
True professional
By: Bill
Reviewed on: 27 Oct 2017
Robin is excellent, she listens and pays attention to the little details that make a big difference in your vacation. She gets it right and you can be assured of having a problem free and great vacation. If something unexpected comes up, she is always ready to assist in solving the issues. After several lengthy and somewhat complicated vacations, It is hard to imagine planning our next vacation without her!
Recommended
Trip to Peru
By: Irena
Reviewed on: 14 Nov 2017
Great! Very knowledgable, had great suggestions, responded promptly with all the answers to our request! Pleasure to work with! The trip was absolutely awesome! Thank you Robin Irena and Wayne
Recommended
Excellent Advisor
By: Janice
Reviewed on: 20 Dec 2017
Robin is very enthusiastic and has many great ideas. She is a good listener and can recommend destinations and activities based on her knowledge and first hand experiences. We really enjoy working with Robin and the trip she put together for us to Ecuador was exceptional.
Recommended
organized and perfectly planned
By: Jimbo
Reviewed on: 04 Jan 2018
It is always a pleasure to work with a knowledgeable and concerned agent.
Recommended
no worries with Robin
By: jimbo
Reviewed on: 14 Feb 2018
Excellent! you can't ask for more. Kept on top of things, communicated when needed and answered all questions posed.
Recommended
Mrs
By: Shirl
Reviewed on: 22 Apr 2018
It has always been a pleasure working with Robin. She is always easy to approach, very accommodating and always trying to get the best deal for you. I have used Robin on many of my trips and I have no problems or complaints whatsoever.
Recommended
excellent service
By: jimboy
Reviewed on: 23 Aug 2018
on time, on record, perfect service.
Recommended
Great European vacation
By: Bill
Reviewed on: 22 Aug 2018
She great to work with; professional and sweats the small stuff! Results are always positive!
Recommended
Great experience
By: Santa
Reviewed on: 10 Nov 2018
Very helpful and going that extra mile To make sure we had all necessary Documents and flights , etc. Great lady to work with. Appreciate her suggestions for trips.
Recommended
once again excellent
By: jim
Reviewed on: 05 Jan 2019
Plans perfect, always a great job.
Recommended
Fighting the Canadian winter
By: Jimbo
Reviewed on: 03 Mar 2019
She was fantastic in making the arrangements. Everything was in place. She actually called two days before we left to go over the arrangements and to make sure we understood the connections and carriers. You couldn't ask for a better agent! I have no reservations in recommending her. I do it all the time.
Working with Robin Hutnan, you will have access to:
- An experienced travel guide whom you can rely on before, during, and after the trip
- Exclusive luxury resorts and properties
- Once in a lifetime experiences
Explore with the Best
Virtuoso Advisors are constantly pushing the boundaries in unique travel experiences.
Alliance programs are unique tailored experiences exclusive to travelers working with Virtuoso Travel Advisors.
learn more
Chile
Argentina
Belize
Brazil
Costa Rica
Peru
Ecuador
Antarctica