Travel Specialties
Interests
Beach & Sun
Culture, History & Arts
Honeymoons
Escorted Tours
River Cruising
Selling Travel Since
1986
My Background
Travel has been an integral part of my life. I have been fortunate to be able to cultivate this passion and share my knowledge and experience. My mission is to provide my clients with life lasting experiences, guidance and service. I strive to make every vacation seamless and for me a great day is when my clients return happy and fulfilled.
Being part of Virtuoso allows me to have global access to some of the best suppliers of travel.
Allow me to help plan your dream!
Places I Have Traveled
Reviews and Recommendations for Rosemarie Spinney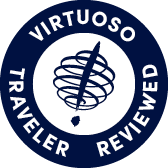 Virtuoso Verified Traveler
All reviews are from confirmed guests sharing exclusive insights
Sort reviews by
Recommended
Definitely recommend
By: Judi
Reviewed on: 22 Nov 2013
Rosemarie goes above and beyond for her clients. She is well-traveled and has always made great choices for us. We usually plan our own itinerary and have now decided that Rosemarie does a far better job. She knows the market and takes time to know her clients and what they are looking for.
Recommended
Very highly recommend
By: Peter
Reviewed on: 21 Nov 2013
Rosemary booked our flights and hotel room in London and both went off flawlessly. Every time we plan an international trip the first thing we do is call Rosemary. And we plan on calling her very soon for a trip to the UK.
Recommended
Highly Recommend
By: ScottB
Reviewed on: 21 Nov 2013
We have used Rosemarie for a number of years, especially for our trips to Maui. Rosemarie has always been on top of her game, securing us everything we ask for; from using frequent flyer miles to upgrade flights to getting us room upgrades as well as checking for better rates between the time we book and our departure date. We would unequivocally recommend Rosemarie for all your travel needs.
Recommended
Recommend highly
By: Doris
Reviewed on: 09 Dec 2013
Rosemarie has planned many trips for us over the years. She has always been most helpful in finding the best times and prices for our travels. Most recently we appreciated her advice on a trip to Spain through Ireland. We will definitely continue to have her plan our travels!
Recommended
Very highly recommend
By: Alex
Reviewed on: 14 Dec 2013
She has been planning our vacations for many years and always done great. She is constantly full of helpful ideas and suggestions to make our trip as enjoyable as possible. We look forward to using her services again soon which always go above and beyond.
Recommended
very highly recommended. excellent knowledge of facilities and excellent service
By: Zoi
Reviewed on: 29 Dec 2013
We have used Rosemarie for a number of years, for trips ranging from domestic to Europe and China. Her attention to detail is exceptional. She has found for us wonderful properties, good deals, and we always appreciate her guidance and recommendations!
Recommended
Very helpful
By: keska 13
Reviewed on: 14 Jan 2014
Most helpful, follows up, answers all questions, suggests aspects hat may be useful and/or save money. A pleasure to work with. Will continue to use Posh Travel in the future.
Recommended
I highly recommend Rosemary! Wonderful customer service!
By: Peter
Reviewed on: 06 Feb 2014
Every time I have to travel overseas I always call Rosemary because I know that everything will be taken care of flawlessly. Thanks!
Recommended
ray zolton
By: Not provided
Reviewed on: 07 Feb 2014
the plane was perfect and the shuttle to airport to and from hotel.  the hotel was timely.  I picked I would not stay again.
Recommended
the only travel agent we would use!!!!
By: sam
Reviewed on: 22 Feb 2014
From start to finish this trip was perfect. She went above and beyond to get us out of Boston early before a big snow storm. She kept in touch with us to insure our trip was perfect. She gave us many helpful hints on money clothes and special side trips in Mexico. This our third time booking with Rosemarie and would highly reccomend her.
Recommended
The best for the price
By: Barry
Reviewed on: 16 Mar 2014
Trip was planned perfectly by Rosemarie. Wonderful ship, service, food, and entertainment.
Recommended
By: Not provided
Reviewed on: 12 May 2014
All was uneventful. Wheel chairs offered right up to the end coming into Boston but hubby declined. Flights well planned and timed between flights fro time to get to next flight, esp. in  Atlanta.Thx, Rosemarie!
Recommended
By: Not provided
Reviewed on: 10 Jun 2014
nice trip.  went smooth.  Ray
Recommended
We highly recommend Rosemarie Spinney: every trip we book with her comes off flawlessly.
By: Peter
Reviewed on: 04 Jul 2014
The trip to the UK was a uniquely memorable experience, but the cap on it was when British Air, without saying a word, moved us up into business class on the trip back from Heathrow to Logan. I don't know how it happened, but you get the credit anyway. BTW the 30 mile walk our son & I did in the Scottish Highlands (the West Highland Way) was a truly magical experience. I most highly recommend the firm Absolute Escapes that organized the support system for it. Thanks to all who made this trip a success!
Recommended
Outstanding experience
By: Going...going...gone!
Reviewed on: 23 Jul 2014
This was our second trip planned with Rosemarie and we could not have been happier. Rosemarie worked with us every step of the way--from recommending options that met our interests, budget, and our calendars to handling all the booking logistics (cruise and air) and guiding us in selecting the right options for stateroom type and location. She was always available to answer any questions we had, and remained proactively engaged up to departure day to ensure that we were 100 percent prepared. Rosemarie has been managing our friends' travel for over 20 years and there is no question that she will be our first call when we are ready to embark on our next travel adventure.
Recommended
Great Job, fntastic trip!!
By: Edna and Paul
Reviewed on: 30 Jul 2014
Can't say enough good things !!!!  Rosemarie takes care of every detail.
Recommended
excellent service
By: jrk
Reviewed on: 05 Aug 2014
Very helpful. Found a fantastic hotel at a fantastic rate. Great trip planning
Recommended
Excellent service!
By: Peter
Reviewed on: 06 Oct 2014
Rosemarie did a fine job of helping us get convenient flights to Europe and kept us informed all through the process. My only complaint is not with Rosemarie (who I will use for all our future trips) but with TripCase, which I found impossible to deal with.
Recommended
Outstanding professional expertise!
By: Liz
Reviewed on: 07 Oct 2014
Rosemarie is always friendly, kind, and polite in her dealings with me. She finds me the best deals and gives me great travel advice. Rosemarie has orchestrated several trips for me and my husband, and ha never let me down. I always look forward to planning a trip with Rosemarie.
Recommended
Excellent, enthusiastic planner
By: Greenland traveler
Reviewed on: 21 Oct 2014
Our trip went beautifully! Rosemarie does a through job and as a result there is no stress for us! she is extremely easy to work with and contacts you when the trip is over to see if all went well.
Recommended
Excellent
By: Alex
Reviewed on: 26 Dec 2014
Rosemarie provided us excellent service during our entire planning process. She was great at helping us decide what to do and answering all of our questions. Her expertise and advice is exemplary.
Recommended
Travel Expert Extraordinaire!
By: Liz
Reviewed on: 15 Feb 2015
Rosemarie was very helpful with our air reservations and travel insurance. We got an excellent deal on airfare to/from Hawaii. Our friend paid $1000 more for his ticket. The times for departure/arrival were reasonable. Rosemarie noticed an error on my travel insurance application, and took care of it automatically. I love working with Rosemarie when it's time to make travel arrangements!
Recommended
Excellent service
By: Peter
Reviewed on: 19 Jun 2015
Rosemarie did an outstanding job planning our Trip to Spain. We are loyal customers and happy to recommend her to other travelers.
Recommended
always go to Rosemarie
By: Friend
Reviewed on: 21 Jul 2015
Rosemarie does everything that is needed efficiently. I don't have to worry when I set off, it is all ready to go. Makes traveling so much calmer. Which is such a help since traveling is anything but calm.Thank you Rosemarie!
Recommended
Outstanding in all aspects. Best travel agent ever!
By: Zoi
Reviewed on: 25 Sep 2015
Rosemarie does a superb job. Details all well attended too. Fabulous trips and accommodations. She is the best!!i
Recommended
fantastic trip and Rosemarie did a super job organizing
By: bill
Reviewed on: 06 Oct 2015
It was a fantastic trip, hotels were great, tours were special and great, everything was organized to a tee! Having someone come to the Hotel in Venice on the Day we were leaving and getting the fast Boat to the airport in Venice and the Van was a great service and made getting out of there was very easy.. I would go wit Rosemarie again in a heart beat, she is a fantastic employee for Posh.. thank you
Recommended
Greece and Turkey
By: Jenni
Reviewed on: 04 Oct 2015
The crusie was the best vaction ever. Can't wait to go on the next one.
Recommended
Great customer service
By: Susan
Reviewed on: 07 Jan 2016
Rosemarie was wonderful in finding a last minute getaway for my family during a hectic holiday season (in which most families book well in advance!). She was persistent to find the right location to meet our family needs by providing a variety of different options to me to review. Rosemarie listened to my feedback on the options and was able to find just the right location for our much needed family time together. She is pleasant to work with, reliable, friendly, and goes the extra mile. Thank you, Rosemarie!
Recommended
Great trip!
By: Doris
Reviewed on: 25 Jan 2016
Our travel was smooth and uncomplicated -- the way we like it. Too bad you couldn't arrange higher temperatures -- we weren't exactly expecting below-freezing weather in Florida! But no problems at all with the travel. Thanks!
Recommended
Beautiful Hotel and Attentive Staff
By: Jonsey
Reviewed on: 15 Mar 2016
The hotel was beautiful. I had requested an upper level room with a view. The view from the room of the ocean/pool was absolutely gorgeous. Again I was happy I had requested the upper level as there were quite a few outside events scheduled and I was afraid it might have been a bit noisy, however, most of these events were early in the evening and probably would not have bothered me. The hotel staff were all friendly and anxious to be of service. The room was beautifully furnished as well as immaculate and well stocked with various amenities. I did have room service a couple of nights, again very friendly staff as well as a surprisingly short wait for the food ordered. The hotel is very well managed and the location is very close to other restaurants and shopping areas. The beach was absolutely beautiful.
Recommended
Great Service!
By: Niki s&e
Reviewed on: 09 Apr 2016
Rosemarie gave us exceptional service, followed up and never let us forget she was there to help us. We had a great time and she moved our room to the perfect location!! She has booked three trips for us and could not be happier!
Recommended
Worked through last minute changes
By: Freddie Ray
Reviewed on: 11 Aug 2016
Prompt professional service that included making a change in travel dates at the last minute.
Recommended
Highly Recommend!
By: Vicky
Reviewed on: 29 Jun 2017
I have booked two long haul (25 hours) overseas trips with Rosemarie and couldn't be happier. She booked the most direct flights, connections were easy and we had great seats. We trusted her judgment with hotels and tours and she did not disappoint. She obtained needed documents to get visas and advised us on travel insurance. She was very responsive to my emails, even while she was on vacation! It's becoming more common to book travel direct or through online agencies, but the comfort of booking through an experienced advisor was definitely the right decision.
Recommended
South Africa's
By: Sam
Reviewed on: 06 Jul 2017
The best! Patient and very thoughtful! Always offering great advice
Recommended
Iberostar
By: Soc &Bev
Reviewed on: 17 Jul 2017
Wonderful as usual
Recommended
Wonderful trip
By: Char
Reviewed on: 04 Oct 2016
We had a fabulous trip. Ireland was everything we were hoping for - so lush and green. We particularly liked the back roads we traveled - it really let us see the countryside. That's one of the reasons we like Tauck's "Yellow Roads" trips. Our tour director (Johanna Patrick) was very friendly and knowledgeable of the history and current issues of Ireland. This was the first small group tour we have taken, and it definitely was easier to get to know everyone and stay in a group when necessary. I can see why the small group trips sell out quickly. Maybe Tauck should have more of them. A couple of the highlights for us was being able to experience falconry at the Mount Juliet Hotel and going to the Titanic museum in Belfast. The only thing I would cut out of the trip was the visit to the farm and part of that might have been because it was raining. But it seemed very rushed with one bus leaving as we arrived and another arriving while we were still eating. But a great trip!
Recommended
Antigua: The Perfect Honeymoon
By: Breezy12
Reviewed on: 18 Oct 2016
Rosemarie was phenomenal and met all of our expectations! She made planning our honeymoon so easy and stress-free! We even received the honeymoon package/booklet with all necessary documentations months before the wedding, which really got us excited to be going! She did a fantastic job and was willing to help us at anytime we needed!
Recommended
Great Trip
By: p and b
Reviewed on: 26 Jan 2017
We have worked with Rosemarie for several years and she is always totally professional, totally helpful, and totally organized!
Recommended
Rosemarie
By: Henry
Reviewed on: 10 May 2017
Amazing! I've worked with Rosemarie for a very long time , alwAys professional. We have planned trips all over the world with her.
Recommended
Perfect trip to Hawaii
By: Christopher P. from Nottingham NH
Reviewed on: 11 May 2017
I can't say enough positive things about Rosemarie and Posh Travel. From our initial meeting, her recommendations and reviews of hotels/resorts, and her attention to detail, our trip was perfect! She was readily available, very easy to work with, attentive to every detail, and her depth of knowledge/experience invaluable. We spent 11 days visiting Oahu and The Big Island. Flights were excellent, our hotels were great, and all our excursions and activities were great experiences. Simply put - every single element of this, a very special celebratory trip for us, came off exactly as Rosemarie planned it. No hassles, no problems.......a perfect trip. THANK YOU, ROSEMARIE! If you're looking to plan a trip that you want to be unique, personalized, or special.......CALL POSH!
Recommended
Great trip thanks to Rosemarie!
By: CAC
Reviewed on: 10 May 2017
Rosemarie was so knowledgeable and up to date on all the latest cruises, lines and tours. She helped us to get the complimentary beverage package and generous on-board credit, as well as arranging the most lovely cruise and on a wonderful and beautiful ship! The food, service and amenities on the ship were amazing. The Silhouette is just beautiful and we will surely book with Rosemarie again. From two very pleased ladies from Newmarket and Rye! Thanks for your splendid customer service and help with our vacation!
Recommended
Emerald Isle
By: B and J
Reviewed on: 29 May 2017
Working with Rosemarie was a great pleasure, she was very knowledgeable and made sure our arrangements were perfect for our needs. She conveys a professionalism that sets her apart from other agents we have dealt with.
Recommended
Rosemarie is amazing
By: Heather C.
Reviewed on: 14 Nov 2017
I have booked several fantastic trips with Rosemarie and all have been perfect. We have gone to Ireland, Mexico, Italy, Austria, Germany, Bermuda to name a few. She knows the type of places we like to stay and always keeps our budget in mind. In addition we always get a little extra perk or upgrade included with all of our trips. I feel very fortunate to have met Rosemarie and have used her to book our trips. I can't wait to plan my next adventure.
Recommended
Attentive Agent
By: Traveller
Reviewed on: 22 Sep 2017
Very pleasant, as usual. She thoroughly researched air travel alternatives for us and helped us to make the best choice considering her direct experience with the airlines and destinations in question.
Recommended
Iceland
By: Jeff
Reviewed on: 07 Oct 2017
Rosemarie was great. She found just the right type of trip for us and took care of all the details.
Recommended
RIver cruise
By: Barry
Reviewed on: 13 Nov 2017
perfect - everything we asked was done and on time.
Recommended
Cancun Mexico
By: Henry
Reviewed on: 20 Nov 2017
Very knowledgeable agent and easy to work with. We use Rosemarie for all our travel ventures , there's never any surprises. Our trip to Cancun was a great experience and the hotel she booked for us without a doubt the best to date. I can't imagine working with anyone else but Rosemarie.
Recommended
Family trip to Costa Rica
By: Mary
Reviewed on: 11 Dec 2017
It was a pleasure working with Rosemarie Spinney. She listened to what I wanted and was very accommodating. She had to coordinate family members flying in from various parts of the United States to meet up for the trip. Each place we stayed was wonderful. At our first destination, one of my grandchildren said, " It can't get any better than this". No, but it was just as spectacular. Each member of the family, with multiple ages and interests enjoyed the experience, which we were so glad we had. The drivers and the guides that accompanied us were top notch, and a five hour drive flew by. It was an amazing experience. Thank you, Rosemarie.
Recommended
myrtle beach
By: john
Reviewed on: 06 Dec 2017
great very helpful
Recommended
Rosemarie Spinney
By: Papasoc
Reviewed on: 03 Feb 2018
Wonderful as usual. Every detail handled to perfection.
Recommended
Sly
By: Sly
Reviewed on: 10 Feb 2018
She was fantastic! Able to get all 4 rooms on the same floor and book our special celebration
Recommended
Fantastic
By: cj
Reviewed on: 14 Mar 2018
Rosemarie is always wonderful to work with. She pays attention to all the details of your trip and makes sure she knows how you like to travel to create the best experience for you.
Recommended
Rosemarie
By: Anne
Reviewed on: 26 Feb 2018
A blessing! She helped with everything and I didn't have to do much but to pay the bill. She's lovely to work with -- and so competent. She gets back to me right away.
Recommended
Always great service
By: Susan
Reviewed on: 10 Mar 2018
Rosemarie has prepared many of our family vacations over the years. She's thorough and courteous, has a wonderful demeanor, and always willing to go the extra mile. On this particular trip our flight was cancelled. When we got home, Rosemarie helped with the travel insurance process for reimbursement. She's always following up and making sure her clients are fully satisfied. Thanks, Rosemarie!
Recommended
Santa Monica trip
By: Joel Degenaars
Reviewed on: 09 Mar 2018
It was a pleasure to work with Rosemarie, she helped us identify the best location to stay and ensured our requests we're secured.
Working with Rosemarie Spinney, you will have access to:
- An experienced travel guide whom you can rely on before, during, and after the trip
- Exclusive luxury resorts and properties
- Once in a lifetime experiences
Explore with the Best
Virtuoso Advisors are constantly pushing the boundaries in unique travel experiences.
Alliance programs are unique tailored experiences exclusive to travelers working with Virtuoso Travel Advisors.
learn more