Meg Harrison
ACC
Richmond, VA United States
Travel Specialties
Interests
Family Travel
Honeymoons
Independent Tours
Ocean Cruising
River Cruising
Selling Travel Since
1987
My Background
My interest in travel began as a child road-tripping around the United States. I spent my junior year in college studying abroad in Lyon, France, and then ventured throughout Europe. In the years since, I've visited more than 90 countries, with an emphasis on Europe and South America.
I love arranging special interest itineraries-immersive wine tasting in Tuscany, historical and cultural travel throughout France-as well as escorting small groups on river cruises, whether they're the classic European routes or more adventurous journeys such as China's Yangtze River and others in Southeast Asia. But my favorite destination is the one that I'm heading to next. To me, travel is about novelty. It's discovering a new destination and staying put there long enough to engage with the locals and to get to know and understand their culture. I look forward to sharing that with you.
Places I Have Traveled
Reviews and Recommendations for Meg Harrison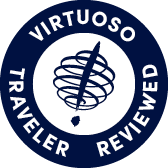 Virtuoso Verified Traveler
All reviews are from confirmed guests sharing exclusive insights
Sort reviews by
Recommended
We would highly recommend her.
By: Not provided
Reviewed on: 17 Oct 2013
Meg was very knowledgeable about England, its transportation systems and she answered our questions confidently. We would certainly contact her again regarding future trips. She has also been most helpful in dealing with United Airlines regarding our request for a refund for the last leg of our trip which was ultimately cancelled at the last minute at 11 p.m. We very much appreciate her efforts in this regard.
Recommended
Very helpful
By: MC
Reviewed on: 29 Oct 2013
Meg was very helpful when making my reservation for airline tickets. The schedule was convenient and she reserved seating that made it easier to travel with children
Recommended
Very Highly Recommend
By: Pat
Reviewed on: 24 Nov 2013
Meg always goes "the extra mile" for her clients. She is very helpful and friendly. Because of her own travels, she is very knowledgeable about places to travel to, what to see and do. She is very accessible to her clients. My sisters and I have used her for 20 years. We've referred several friends to her and they've praised her and thanked us for the referral. I would continue to highly refer friends to her.
Recommended
Meg to the rescue!
By: North Sloper
Reviewed on: 03 Jan 2014
It was the day before Christmas Eve and I needed to get home. All the flights to anywhere were full. Thankfully Meg was working. I emailed her (from a bus crossing the arctic tundra) my situation and asked her to find a flight out of Anchorage that would get me home for Christmas provided I could get to the airport Christmas Eve. She not only found a flight, I ended up with decent seats, and I made it home in time to spend Christmas with my family.
Recommended
By: Bruce
Reviewed on: 13 Feb 2014
Meg was a real professional from the beginning. This is the second time I have worked with her. She made everything very easy. This includes getting me the best seats and an excellent car rental. I have nothing but praise for her.
Recommended
highly recommended
By: cheri
Reviewed on: 24 Feb 2014
Recommended
GREAT recommendation!
By: CMc
Reviewed on: 23 Mar 2014
Meg did a great job guiding us to make an excellent choice for our recent vacation.  She took care of all details and followed through with all she promised with regards to research and scheduling.  We had a wonderful time and appreciate all she did to steer us in the right direction.  
Recommended
Very Highly Recommended
By: Michelle 26
Reviewed on: 31 Mar 2014
Meg is an awesome travel consultant that I highly recommend to all of my friends! We just finished our second European vacation and we really valued all of her advice and bookings.
Recommended
highly recommend
By: Not provided
Reviewed on: 14 May 2014
Recommended
Italy
By: Cp36
Reviewed on: 23 May 2014
always helpful. Offers to go the extra mile Meg is a true assets.  Thanks as always
Recommended
Highly recommended
By: alf
Reviewed on: 02 Jul 2014
Meg was able to provide interesting tours for 2 cities in Italy. She was helpful and friendly and was easy to communicate with via email.
Recommended
Highly Recommended
By: Bren
Reviewed on: 25 Jul 2014
Meg was so professional and courteous.  She was great with helping us plan and book our Mediterranean cruise.    Her timely communication & expertise made planning everything so easy.  We can't wait to book another trip.  Thanks Meg 
Recommended
highly recommend
By: cristalee
Reviewed on: 08 Jul 2014
Great to work with as always. Always has good recommendations and insight on choosing the best vacation. Makes traveling easy.
Recommended
Great Getaway
By: The Hills
Reviewed on: 28 Jul 2014
Meg recommended a great getaway for my husband and I. She was very resourceful and found a vacation that met our expectations. For our trip, we went to the Memories Resort in the Grand Bahamas. The resort was nice and the beach was beautiful. I'm looking forward to Meg planning our next vacation.  
Recommended
Very knowledgeable agent!
By: DocnSuzy
Reviewed on: 04 Sep 2014
Meg is quite knowledgeable about travel and very detail oriented. I especially appreciate that she returns phone calls quite promptly. We are totally pleased with the service she provided in planning our last two trips.
Recommended
reliable support
By: Bella
Reviewed on: 16 Sep 2014
We requested help for a trip to Scotland and England which involved internal flights recommended by family which we were unfamiliar with. All went well (even the weather!) except for the cost of checked baggage on a Flybe flight from Inverness to Birmingham. We were charged 40 British pounds per checked suitcase! We protested and the staff person sympathized but we were trapped. A family member had checked us in so I do not know if it would have been possible to pay ahead. In that case, the cost would have been less but still higher than in the US. We were told that this is a common practice with the so-called "low cost" airlines; Ryanair was recently called to task by their customer base. . We were fortunate in having family to drive us around and really appreciated being met by a driver at Heathrow. Our agent had recommended "comfort" seating on Delta Airlines and those seats were greatly appreciated, especially on our return journey.
Recommended
Thorough and Diligent
By: Wayne
Reviewed on: 18 Sep 2014
Meg was easy to work with and quickly picked up on our likes and dislikes. The trip was exactly what we wanted with only one exception and that was our fault for not communicating properly. We would highly recommend Meg and use her skilled services and knowledge again.
Recommended
Great travel service
By: Sally
Reviewed on: 30 Oct 2014
Meg planned a perfect trip to Florence for us including hotel, train and tour reservations. She gave excellent advice and all arrangements were outstanding.
Recommended
A great cruise, a year in the making! :)
By: wil2run
Reviewed on: 01 Jan 2015
Meg helped my mother and I plan a great Canadian cruise! She took care and patience with us, as it took over a year to finalize our travel plans. She was honest about her reviews of the itineraries, ports and ships that helped lead us to our decision on cruising with RCCL's Legend of the Seas. Meg is always quick to respond to phone and email communications and willing to go the extra mile in tying up all the finer details. I love that she follows up after travel with a "welcome home!" and genuinely wants to hear a review of how our vacation plans worked out. She is an asset and whenever someone needs the expertise of a travel agent, I don't hesitate to pass along her as my contact. Thank-you!!!
Recommended
Outstanding planning
By: J/V
Reviewed on: 04 Nov 2014
Meg provided us with outstanding service.Her insightful questions based on personal and professional experience helped us plan and enjoy the vacation we had hoped for.I will recommend Meg to anyone planning a trip.Thank you Meg.
Recommended
Another win for Meg! :)
By: wil2run
Reviewed on: 01 Jan 2015
Meg assisted my out-of-state and long time high school friend and I in planning our Caribbean cruise on RCCL's Liberty of the Seas. She was quick to respond and discuss options to make the travel experience the best it could be- I think it worked because my friend (who was a first time cruiser) is all ready to plan another cruise! Meg is always organized and a step ahead with details; she was even able to help us find a last minute deal on an upgraded stateroom and assist with pricing for our spontaneous friends that decided to join us on our vacation three days before sailing. Meg is top-notch and always willing to go above and beyond throughout the vacation process, from brainstorming destinations to follow-through post vacation bliss. Thank-you!!! :)
Recommended
Friendly and knowledgeable
By: Carolyn
Reviewed on: 08 Mar 2015
Meg has always been very friendly and is very knowledgeable when I inquire about travel and when she makes my travel arrangements.
Recommended
More than I could of ever asked for!
By: EJenkins1328
Reviewed on: 25 Apr 2015
Meg. Was. AH-MAZING! I got married aboard the Royal Caribbean Cruise ship Grandeur of the Seas, while at sea. Working with her was a breeze, and she was very attentive and got back to me each and every time I would email her within the hour. (It was kinda amazing how on top of that she was) Working with Royal Caribbean's outside company they use for all the weddings, Royal Romance, was not as easy, but Meg worked her magic several times to get people to call me back, or reply to emails when I hadn't heard from them in over a week. If I didn't work with her, I know I would of had a much worse experience, and probably canceled everything because of how poorly that company communicates. My guests who were in the group (16) all had the same wonderful experience with her and that makes me feel comfortable when I can let someone else take care of things and not have to worry that they wont get the same service I am getting. An A+ and 5 Gold Stars! I couldn't have done it without her!
Recommended
personal expert advice
By: Ben
Reviewed on: 01 May 2015
Meg's advice was very helpful. She took into consideration the physical limitations I have when recommending various tours.She also made sure I had the room type that we like to have to make our trip as comfortable as possible. We will use her services again as this is the third time she has helped us have wonderful trips.
Recommended
Superb
By: rlm 30
Reviewed on: 06 Jul 2015
Excellent trip, wonderful people, superb service.
Recommended
Excellent service
By: Pat
Reviewed on: 30 Aug 2015
Meg is so good at what she does. She is very friendly and helpful. We will definitely continue to use her as our travel agent.
Recommended
Meg's planning for us was wonderful
By: CJ and SD
Reviewed on: 13 Sep 2015
All aspects of the trip came together. Meg's attention to details were super
Recommended
Detail oriented and knowledgable
By: Gerald26
Reviewed on: 22 Jan 2016
Meg has always been very helpful on getting us the best cabin and advising us on when to cruise. She is the constant professional and gives us great crushing tips.
Recommended
A1 Service
By: Les68
Reviewed on: 28 Feb 2016
Meg was involved in every aspect of my trip. Even when 30 inches of snow was predicted on the day we were to fly to Fort Lauderdale, she provided us with alternative travel suggestions. We traveled by Amtrak 23 hours 3 days before our sailing date, but we made it. I would recommend Meg for anyone's travel needs.
Recommended
Everything Was Great
By: GMS
Reviewed on: 12 Feb 2016
My husband recently went to Fr. Poly. We stayed at the intercontinental for two days before boarding the Paul Gauguin to cruise 5 islands, upon returning we stayed an additional two days at the Intercontinental in Moorea. All pickups/transfers went smoothly. We really enjoyed ourselves and relaxed. Everything on the ship was wonderful ((food, staff, programs). We especially enjoyed a star watch one evening and wish it lasted longer!
Recommended
Excellent service!
By: Dara
Reviewed on: 24 Mar 2016
Meg is great to work with! She is quick to get back to you and understands what you want, therefore offering you a variety of options to choose from. I know my trip is in great hands with Meg!
Recommended
Fantastic Experience!
By: ErnestElaine
Reviewed on: 22 May 2016
Meg was such a pleasure to work with! Very professional and knowledgeable, she worked diligently to make sure all arrangements were made. We were kept well informed every step of the way. Her recommendations and advice helped ensure we had a wonderful, stress-free experience on our first river cruise. We have already recommended her services to friends.
Recommended
Perfect trip!
By: Heather
Reviewed on: 20 Jun 2016
Meg set up the perfect travel (including accommodating last minute changes). Our travel to Germany included business, as well as personal and Meg was able to accommodate plane reservations (including a last minute change due to business calendars), as well as train and other hotel reservation changes. The hotel in Frankfurt (Mecure Kaiserhof) was convenient to the train station and clean, but no air conditioning and on a busy crowded street. The hotel was convenient and clean, included a good breakfast and had free wifi. The Le Meridien in Stuttgart was wonderful and hotel was beautiful. We received a great price for the stay, but should warn travelers that the breakfast is expensive and mediocre. There was a lot of construction around the Le Meridien due to the building of the new train station, but you are near the paved walking trails and an abundance of parks, along with a convenient walk to the city center which contains lots of shopping and restaurants. Great trip overall!!
Recommended
Meg's the best!
By: Bunnie
Reviewed on: 20 Jul 2016
Meg always gets the best prices she can, looks out for us before and during the trip. She has traveled extensively, so know how to advise. It is very pleasant traveling with Meg. We can just turn our mind off and enjoy the trip.
Recommended
Friendly, expert and awesome help for a COMPLETE trip
By: Dennis & Janet
Reviewed on: 15 Aug 2016
Meg is the absolute BEST!! She helped us with airfare, hotels, cities to visit, tours to book in advance and even added our son to the trip at the last minute. I would recommend that anyone taking a trip book through one of the nicest and knowledgeable person we ever met! She could not have done any better and we will use her again and tell everyone we know that she can make a two week trip so easy with a summary of where we needed to be when, including the trains between cities. Many, many thanks to an awesome new friend.
Recommended
Amazing, complete planning
By: Grandma
Reviewed on: 23 Sep 2016
This trip was detailed to the very last item. Left us with no questions and made everything so easy. Flawless!
Recommended
Every detail perfect!
By: Donna
Reviewed on: 21 Sep 2016
Meg listened to what we were interested in doing and planned a wonderful trip down to the very last detail. She knew what to avoid, how best to see and do what we wanted to see and do, and allowed enough down time for us to relax. Her very detailed itinerary and general international travel pointers made it easy for us to navigate our first European adventure. It was such a wonderful experience - we are ready to begin planning the next one!
Recommended
That was an adventure!!
By: Dorothyredshoes
Reviewed on: 21 Sep 2016
That was an amazing trip with lots to do. After discovering so many fun places in Croatia I want to travel more! With all the history I learned I'm excited to see things outside of the United States. The service was incredible!! Meg gave me some pointers and I was set. The plane schedule was perfect for all of the customs and airport security! She found a great deal with Delta after a few days of deciding on details of the trip. The hotel she picked was quiet and comfortable and they gave us the one with open windows on the canal in Venice. Thank you Meg for your suggestion. The cruise was nice and we loved our stateroom there also! All went well and I was thankful for the tips before leaving. Great Job! Sarah and Eppa
Recommended
Always the person to go to
By: North Sloper
Reviewed on: 02 Nov 2016
Meg has beeen planning my trips for nearly a decade. I can't say enough good things about her knowledge and ability to plan out exactly what I need. It doesn't matter if it's business or pleasure I've always been impressed. This last trip was no exception. She's always willing to go the extra mile to meet your needs.
Recommended
Meg is an excellent travel agent. Friendly and very helpful.
By: Pat
Reviewed on: 07 Nov 2016
My family and I have had Meg as our travel agent for many years. Even though we live in Michigan we always contact her for our vacations. We've even referred several friends to use her. She often suggests options which is very helpful. She is friendly and knowledged about many places. Over all I think she is an excellent travel agent.
Recommended
Wonderful planning
By: Beverly
Reviewed on: 19 Dec 2016
Excellent, as always!! Meg is always attentive to travel preferences and extremely conscientious about her clients.
Recommended
Amsterdam-Berlin
By: Steve s
Reviewed on: 17 May 2017
Wonderful. Everything worked out perfectly from trains to hotels to flights
Recommended
Always engaged
By: Beverly
Reviewed on: 28 Jun 2017
Meg does a fabulous job and "follows" her travellers to ensure there are no snags in the trip. Couldn't ask for a more conscientious agent.
Recommended
Cruise and Other Travel
By: Dave
Reviewed on: 09 Jul 2017
Meg has been very helpful in planning trips for my wife and myself.
Recommended
Ireland
By: Gene
Reviewed on: 23 Aug 2017
Meg was excellent. Very knowledgeable about all facets of traveling which is important for an inexperienced traveler. She made the whole process very easy.
Recommended
Riverboat trip in France
By: Scooter
Reviewed on: 18 Aug 2017
Meg was wonderful to work with. We appreciated her knowledge of places we were considering visiting. The information she shared was thorough and well presented. Once we picked our destination she made all the arrangements plus sent reminders to make sure we were doing what we needed to do in a timely manner. The entire trip ran like clockwork, thanks to her attention to detail. This is the second time Meg has planned a trip for us. We highly recommend her.
Recommended
Vegas 8/2017
By: Torri
Reviewed on: 15 Aug 2017
Meg was great. She planned a trip for me and six of my friends. She was able to get the days we wanted for the price were looking for. I will definitely use her again and recommend her to others. Thanks Meg!
Recommended
Royalton at white sands
By: Summer Fun
Reviewed on: 20 Aug 2017
She was professional, through, friendly and knowledgeable. She followed up to check on our vacation experience within 24hrs after returning home. Royalton at White Sands in Jamaica, AMAZING experience from start to finish!!!!
Recommended
Knowledgeable and personable
By: Kim
Reviewed on: 24 Aug 2017
Meg is wonderful. I have used her for 17 years now and would never consider planning a big trip without her.
Recommended
Trip to Oklahoma
By: Bill
Reviewed on: 09 Sep 2017
She does a great job for us. She followed our trip and was able to make a change in our return for us as well as our car drop.
Recommended
The BEST Travel Advisor EVER
By: Ann
Reviewed on: 08 Sep 2017
Meg is absolutely the most client-oriented, conscientious, efficient travel advisor I have ever had the pleasure of working with. She makes every effort to understand her clients' desires and then fashions an itinerary to create a spectacular adventure. In fact, I think so highly of Meg that I refer family and friends to her!
Recommended
Excellent in every way
By: Beverly
Reviewed on: 08 Sep 2017
Excellent. Meg is once step ahead throughout the duration if the trip!
Recommended
Awesome and easy to work with.
By: Honeymoon couple - VA
Reviewed on: 20 Sep 2017
Meg was a pleasure to work with and really looked after us and all our travel needs the whole trip through. We were in St. Lucia when Miami closed and she worked hard to make arrangements to get us home and we couldn't be happier with her. She's also so nice and always responded to questions very quickly. Highly recommend her for anyone traveling!!
Recommended
Very helpful
By: St Lucia and Meg
Reviewed on: 21 Sep 2017
Up to the minute updates
Recommended
Review of Meg
By: Suzy
Reviewed on: 04 Oct 2017
This is at least the fifth trip Meg has planned for me. She is the best travel advisor I've ever worked with. She's very knowledgeable about travel destinations (and different types of travel and tour/cruise companies) but what I particularly value is how accessible she is, no matter what! If I don't reach her right away, she always returns my calls and emails promptly, even while I'm traveling. I also appreciate that she has another advisor looking out for me when she is traveling herself. I believe she is a real asset to your company.
Recommended
Dominican Republic
By: Sarah
Reviewed on: 16 Oct 2017
Working with Meg is always awesome!!! She's very detailed and quick with responses. Just tell her what you want and she will make it happen. Love working with Meg!! Already planning my next trip!! 😊
Recommended
NCL Cruise
By: Guy
Reviewed on: 30 Jan 2018
Very knowledgeable
Recommended
Down Under
By: John H.
Reviewed on: 22 Feb 2018
She was prompt to answer questions and often responded "after hours" She always went the extra mile. A big plus was saying, "I don't know but will find out."
Recommended
Great job
By: Back from Australia
Reviewed on: 24 Feb 2018
Meg never fails to arrange a perfect vacation experience! She is detail oriented and provides a wealth of knowledge on every aspect of my travel!
Recommended
Superb Travel Advisor...THE BEST!!!!
By: Ann
Reviewed on: 18 Mar 2018
Meg has planned many trips for me, and all, including this most recent to India, was fabulous. Meg attends to all details so that even complex trips such as the one to India are seamless. She is efficient, knowledgeable and in tune to the needs of her clients.
Working with Meg Harrison, you will have access to:
- An experienced travel guide whom you can rely on before, during, and after the trip
- Exclusive luxury resorts and properties
- Once in a lifetime experiences
Explore with the Best
Virtuoso Advisors are constantly pushing the boundaries in unique travel experiences.
Alliance programs are unique tailored experiences exclusive to travelers working with Virtuoso Travel Advisors.
learn more