Travel Specialties
Interests
Beach & Sun
Family Travel
Culture, History & Arts
Ocean Cruising
River Cruising
Selling Travel Since
1994
My Background
I have been in the cruise industry for 20 years so have experienced the majority of cruise lines. I have been to many countries in my travel life. I love to cruise and really enjoy helping others experience the world.
Places I Have Traveled
Reviews and Recommendations for Darrin Cancellieri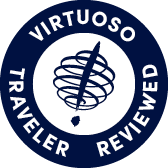 Virtuoso Verified Traveler
All reviews are from confirmed guests sharing exclusive insights
Sort reviews by
Recommended
Recommend
By: Disc
Reviewed on: 16 Sep 2013
Darrin was very thorough with the whole booking process for the cruise. I would definately use him again.
Recommended
outstanding knowledge
By: chelsea
Reviewed on: 21 Sep 2013
Although we have never met, we have been booking with Darrin for almost 20 years. his knowledge is unbeatable, I'm sure he knows what is behind every door on almost every ship, if he doesn't have the answer at his fingertips he will find it and get back to us. He is also personable, helpful and reliable, we have every confidence in him as a travel agent.
Recommended
By: Lorraine
Reviewed on: 06 Oct 2013
As usual Darrin was available to answer questions and provide recommendations. He is always quick to respond and head us in the right direction. Darrin recommended a Viking cruise and it was wonderful.
Recommended
Highly Recommended
By: Barbara 65
Reviewed on: 01 Oct 2013
Wonderful support help. Well versed in the world of cruising. Very friendly and helpful on suggestions on transportation, taxi's,what to see, etc. Two hotels that he booked for us were wonderful- one a boutique hotel in the middle of Budapest and one large hotel with all the amenties near the tram line and central station.
Recommended
Highly recommended
By: Miu
Reviewed on: 13 Oct 2013
Darrin has been my travel agent for at least 15 years. He is dedicated, patient,able and sincere. He also tries to get me the best fare and deal. I totally trust him and he is my agent and friend for life.
Recommended
Highly Recommend!
By: lucyRS44
Reviewed on: 29 Oct 2013
We have used Darrin for over 15 years, taking at least 1 cruise/year, but often 2 or 3. We have never been disappointed & recommend him often to friends. Darrin keeps up w/the details and is happy to work with new clients, taking them step-by-step through the process of choosing, booking, registering online, and sailing. We always receive a welcome home note, and we receive weekly "specials" notices which entice us to consider new adventures. Darrin is your GO TO guy for all things Cruising!
Recommended
We'll do it again
By: Big Guy8823
Reviewed on: 05 Nov 2013
We had an excellent trip down the Rhine on Scenic Diamond(?) even though the weather was not always cooperative. But then - it was late October. Since it was the last trip of the season for this particular ship you could detect some faint signs of attempts to keep the closing inventory low, but the service was outstanding. We'll do it again.
Recommended
One of the best in the business
By: spizzy
Reviewed on: 23 Nov 2013
We've used Darrin's services for several years, and once being an agent myself I know a good one and how difficult the business can be. We have recommended him to several of our fellow travelers, with never a complaint.
Recommended
Highly reccomended
By: Pat & Chas
Reviewed on: 01 Jul 2015
We live in Ontario and have used Darrin to help book our last 3 or 4 cruises. He has helped take care of ever detail and left us with no worries and enjoyable vacations.
Recommended
Highly recommend
By: Bill, Irene
Reviewed on: 09 Dec 2013
Darrin is very knowledgeable about cruising he has arranged many, many cruises and flights to our destinations. Darrin and I have never met, but I feel I know him very well he has a very good personality, understanding of your likes and dislikes and nothing is a trouble for him to try to arrange. In fact I think he is that good he knows where (every sprinkler is on any ship)! He is the 'best'.
Recommended
The best
By: GMcA
Reviewed on: 24 Nov 2013
Darrin is the consumate travel agent. Always attentive to our needs & never hesitates to look for the best deal & the best cruises
Recommended
Highly Recommended
By: Peter
Reviewed on: 24 Nov 2013
Darrin does a great job No only is he very knowledgable - he honestly admits if he is not sure - and then goes to get the latest and best information for us. Darrin is not just willing to help - we feel he is always there to help us
Recommended
Highly Recommend
By: Jan
Reviewed on: 27 Nov 2013
Darrin has booked nine cruises for us and we've always been very satisfied. He always goes the extra step and always returns my calls or emails. We have recommended him to friends and they also have been very satisfied. If there's a problem he gets it straightened out as soon as possible.
Recommended
Great Cruise!!
By: JVCMILT
Reviewed on: 26 Nov 2013
The cruise was very enjoyable, food was good, entertainment was good, all our connections to and from the cruise worked well. My only complaint was the air conditioning on the ship. It was very tricky to know what to wear from one end of the ship to the other, and be comfortable with temperature. Thanks, Darrin.
Recommended
Highly recommend
By: Steph
Reviewed on: 14 Dec 2013
We were recommended to Darrin by friends,we were glad they did. We had great service from him, he was very efficient, friendly and extremely helpful. Nothing was too much trouble for him to do or explain, everything went smoothly and we would highly recommend him to friends and will use I'm agin for our travel arrangements even though he is in B.C. and we are in Ontario the distance was not a problem at all.
Recommended
Best travel agent in Vancouver
By: May May
Reviewed on: 22 Sep 2014
Darrin has been our agent for over 20 years and we are very satisfied with him. Not only is he responsible and hardworking but he would go out the way to serve us. He always returns our calls promptly and is never impatient. I would recommend him to our friends anytime.
Recommended
Extremely friendly and helpful
By: Qooma
Reviewed on: 21 Sep 2014
Good experience on the Marina. Flight arrangement by Oceania was not up to expectation. There were two couples travelling together. All four were assigned seats away from each other on flight from North America to Europe. Each couple needed to be sitting next to the spouse for health reasons. As flight was fully booked, seat re-assignment was impossible at time of checking in. The stress was resolved by passengers on board who kindly switched seats.
Recommended
Prompt, efficient and effective service!
By: JEN
Reviewed on: 10 Oct 2014
We have been given a very friendly, helpful and prompt service at all time. The information and advice were always useful and practical. All travel arrangement was done in an efficient, effective and professional manner. We are totally satisfied with the exemplary service and would highly recommended to all my friends.
Recommended
Expert friendly service
By: Edith
Reviewed on: 18 Nov 2014
Darrin is definitely an expert. He always provides very prompt and helpful service.
Recommended
Very pleasant and friendly
By: stu
Reviewed on: 18 Nov 2014
We always get good results from Darrin. Always quick to respond and with follow-ups
Recommended
friendly and expert service
By: marijke
Reviewed on: 24 Nov 2014
We were impressed with your quick responses and expert advice. All our questions were answered and felt we could at ant time get an answer.
Recommended
Asia Cruise with Royal Carribean
By: Jean
Reviewed on: 30 Mar 2015
Darrin was amazing with his services in helping us booked our Asia Cruise. Darrin is very knowleagable and gave us really great tips. He is quick to respond to any of my concerns and questions. His prices for our cruise is the best prices I got from different quotes that my other girlfriends got from their advisor. I will definitely book my next cruise with Darrin again.
Recommended
Service
By: Sunnyskies
Reviewed on: 26 Mar 2015
Darrin was awesome in planning and giving tips.Was great the last week when Princess cancelled air and we had no plane seats until 2 days before debarkation.Darrin gave us reassurances as well as contacted Princess head office during this stressful time and managed to get the last two seats together on an already overbooked flight. We love working with Darrin and plan on working with him in the future
Recommended
River Cruise lives up to expectations!
By: Tina J
Reviewed on: 19 Nov 2014
This adventure was the trip of a lifetime - did you ever picture yourself cruising down the Danube River, waking up in a new country every few days, touring castles in Europe, biking through the countryside in Amsterdam and all without having to lug your suitcase from place to place. We cruised on the Viking Riverboat Atla from Budapest, Hungary to Amsterdam and thoroughly enjoyed every experience.. The Alta staff was friendly and helpful and kept us in the know about what to expect at our next "port of call". From the wonderful concert in Budapest the first night and the lights of the city as we cruised into the night to our last day in Amsterdam we learned, explored, ate, visited with new friends. ate. explored some more, and returned to our shipboard room every night. The room was nice with a very comfortable bed and kept clean and in order by a nice young lady. Meals were always good with choices and fabulous desserts-a great chef. Our travel agent did it again-a great trip!
Recommended
good and informative.
By: Rose
Reviewed on: 19 Nov 2014
First time cruise and did not know what to expect. was very hesitant as water and I are not best friends. I had a lot of questions and they were answered and suggestions were gratefully accepted and used. Lots of patience with inquiries and I had a wonderful time on the trip. (Alaska cruise).
Recommended
Our very own personal travel agent.
By: John1647
Reviewed on: 18 Nov 2014
We have been working with Darrin for over 5 years now and he has met all of our expectations. On the most recent cruise, we got a last minute discount without changing cabins and saved a fair amount compared to the original cost. We live in Ontario so we never actually met Darrin but we feel that the distance has not affected the service that Darrin has provided to us.
Recommended
Good food & service
By: Betty 1
Reviewed on: 20 Jan 2015
The flight was demanding, Calgary-Toronto-Ft. Lauderdale and reverse coming home. This is what would keep us from going again. Once on the ship it was great.
Recommended
great vacation
By: jr
Reviewed on: 25 Dec 2014
We planned this trip for my birthday. It was everything and more. Look forward to planning the next
Recommended
Expert friendly service
By: Edith12
Reviewed on: 13 Jan 2015
Wonderful trip, as always. Darrin has been extremely helpful and effective.
Recommended
Absolute expert!
By: jimmyjo
Reviewed on: 29 Jan 2015
Darrin is conscientious,has excellent attention to detail, very helpful, Darrin goes the extra mile to make sure your holiday goes off without a hitch and all is wonderful. He is our agent to go to extraordinaire, we have booked a number of cruises with him over the years and have always been more than pleased with his help in putting it all together for us. We will call on him for sure when we are ready to plan our next cruise.
Recommended
Unbelievable Service!!
By: Q
Reviewed on: 03 Feb 2015
I can't say enough great things about Darrin. I have used him for all of my cruises and will continue to use him for all future bookings. He is direct and straight to the point but in a very friendly way. I know he always has my interests in hand when doing our bookings. I have referred him to so many of my friends and will continue to do so.
Recommended
Expert friendly and timely services.
By: Kan
Reviewed on: 23 Jan 2015
Keep me informed of progress of the booking, changes and choice of upgrades etc. Messages are clear and precise. No pushing to sell anything and the service was highly professional. Thanks.
Not Recommended
what I expected
By: leora
Reviewed on: 27 Feb 2015
Cruise line went downhill and cut corners at every turn. Food on 9th deck was below expectations, I think our dining room servers were trainees. Ports were what were expected. The children's program was excellent. Some sea day events were led by non native English speakers, they were hard to understand.
Recommended
Beautiful Ship - Oasis of the Seas
By: GG951
Reviewed on: 06 Apr 2015
The ship is really nice and although it was a full sailing - for the most part, didn't feel like I was surrounded by over 6000 people; The dining room was good - our waiter was excellent; I had a Central Park view cabin which was nice, but our room was on top of Giovanni's and I do not recommend any rooms on top of the restaurant - it was really noisy at midnight and 3:30am in the morning;
Recommended
Simply the Best
By: Deb
Reviewed on: 13 Apr 2015
Darrin has been my go to since planning my first cruise to the Mexican Riviera. He always knows exactly what I am looking for in my vacations and finds me the best deals available and always manages to get us great upgrades. He also provides expert advice on the areas we are traveling to from information on hotels pre or post cruise to the best ways to travel to and from the ports. I always feel confident every detail has been dealt with when booking through Darrin. On our most recent cruise he spotted a deal at final payment time that would save me a significant amount of money & took the steps to make sure we got re-booked at the better price. It is things like this along with the little things like a welcome home card that make Darrin so special. I have passed his name on to a number of friends and family and everyone who has used him to book their cruises agrees he is the best there is. I look forward to planning many more cruises with Darrin in the years to come.
Recommended
Always a pleasure!
By: AJ
Reviewed on: 30 Apr 2015
Have used Darrin for about 15 years and recommend his services to my friends. He is great to work with, always upbeat and gets the best prices and rooms/cabins available! Excellent Service!
Recommended
Many years of great service
By: Hbaur
Reviewed on: 04 May 2015
He's always there to help!
Recommended
Millenium - Alaska Cruise - May 12th
By: Chris R
Reviewed on: 25 Jun 2015
Darren -thought the cruise was great. I believe they had a significant tun over of crew which was evident the first couple of days, especially in the dining room. However, nothing serious and things got better as the cruise progressed. My only two thoughts for improvement would be as follows: 1) the smoking area is mid ship pool level and impacts a significant number of people - ie: there was a bar right across from the smoking area. Additionally we were sitting in the solarium when the ship went up the fjord and whenever the door was opened between the 2 areas the smoke wafted through. 2) we had the early sitting for dinner and they wouldn't allow access until 6:00PM (one night it was 6:10 - the upshot is you have a long line up that winds through the lounge area before getting to the dining area - in my view this causes 2 problems - a) the people enjoying a drink / entertainment in the lounge have this significant distraction and b) the seating process becomes cumbersome.
Recommended
Ship was very clean with very friendly staff.
By: Dave46
Reviewed on: 09 Jul 2015
Service was excellent but quality of food was poor compared to cruise a few years ago. Waiter said that quality goes down a little each year. Specialty restaurants were excellent. Also very disappointed with quality of evening shows. Some nights there was only a movie. The tours in Helsinki & St. Petersburg were excellent. Hop on hop off didn't work out for us; hour wait on bus before it left the dock & driver stopped for cigarette & food before coming back to ship. Also ticket seller fought with competition on dock. We enjoyed all the stops & wandering the towns on our own. Of course your planning for us was excellent. Thanks again. Dave & Bev
Recommended
Friendly service
By: Sunny
Reviewed on: 30 Jul 2015
Darrin was awesome as always.Love dealing with him.Very helpful and knowledgeable about about places to visit on our trips
Recommended
Always does a great job!
By: Joan23
Reviewed on: 26 Nov 2015
Keep coming back to Darren when booking a cruise. He is always very knowledgeable, friendly and does his best for us. I will continue to recommend him to family & friends.
Recommended
Excellent service!
By: Carter clan
Reviewed on: 30 Jan 2016
Thank you Darrin for all of your help planing our Carter Christmas vacation! We had a wonderful time on our cruise. It was a great way to bring in 2016. We loved the itinerary of our cruise. It is always a pleasure working with you. Thank you again and all the best in 2016!
Recommended
Great service!
By: ck
Reviewed on: 09 Jul 2016
We had a wonderful cruise on the new Viking Sea. Darrin helped us with everything and was very patient with our frequent questions. It was great knowing he was there to solve any problems that might come up. I would recommend Darrin - and Viking - to anyone!
Working with Darrin Cancellieri, you will have access to:
- An experienced travel guide whom you can rely on before, during, and after the trip
- Exclusive luxury resorts and properties
- Once in a lifetime experiences
Explore with the Best
Virtuoso Advisors are constantly pushing the boundaries in unique travel experiences.
Alliance programs are unique tailored experiences exclusive to travelers working with Virtuoso Travel Advisors.
learn more