Patricia McKenzie
Richmond, VA United States
Travel Specialties
Interests
Beach & Sun
Escorted Tours
Ocean Cruising
River Cruising
Meeting & Incentive Travel
Selling Travel Since
1982
My Background
I started with Ozark Airlines in St. Louis, which lead to my love of travel. I became a travel advisor some years later and have enjoyed my career assisting others in their vacations and meeting/incentive programs. I really enjoy escorting my groups,meeting people and visiting new places. My bucket list continues to grow and I look forward to each new adventure.
Places I Have Traveled
Reviews and Recommendations for Patricia McKenzie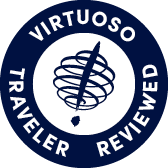 Virtuoso Verified Traveler
All reviews are from confirmed guests sharing exclusive insights
Sort reviews by
Recommended
We will aways deal with Pat
By: BOBBY
Reviewed on: 17 Sep 2013
Pat has been our planner for years. Very proffesional and helpful in every way in planning our complcated trips.
Recommended
Highly Recommended
By: Heidi
Reviewed on: 14 Oct 2013
Pat McKenzie did a great job organizing the trip to the British Isles. It was a great trip and look forward to the next trip. Great job and a great group to travel with...
Recommended
Above & Beyond!!!!!!
By: The Dynamic Duo
Reviewed on: 11 Oct 2013
We don't know what we'd do without Pat!! She takes care of everything, and then some! Plus, she is never too busy to answer questions, or find out details of trips. We refer all our family & friends to her -- and will continue to!!!!!
Recommended
Once in a lifetime trip
By: Fay
Reviewed on: 11 Oct 2013
Working with Pat McKenzie is always easy, pleasant and a comfort because she is always there to troubleshoot. Highly recommend her.
Recommended
Have high regard of Pat
By: John and Pat
Reviewed on: 17 Oct 2013
We have used the services of Pat for many years and have always been very happy with her services offered before and during the trip when she traveled with us
Recommended
highly recommended
By: clwuko
Reviewed on: 11 Oct 2013
We wouldn't book our vacations with anyone else! Pat is the best.
Recommended
Highly Recommend
By: Margaret
Reviewed on: 18 Oct 2013
Pat is always helpful and available for questions. No question is too trivial. We love that she knows what we like and makes great suggestions.
Recommended
Outstanding trip planning by Pat McKenzie
By: Barton
Reviewed on: 06 Jan 2014
We did a Christmas Market cruise in Europe in early December. Once again, Pat did an amazing job for us. We had some unusual planning, and Pat put it all together. She leaves nothing to chance, but checks and rechecks arrangements. Everything went extremely smoothly, and occurred as anticipated and hoped. We would recommend her to anyone that is looking for a top-notch experience in overseas travel!
Recommended
Highly recommend
By: Debbie
Reviewed on: 15 Jan 2014
We had a wonderful time on this cruise. The aft cabin we booked was the best. As always, Pat was helpful and a pleasure to work with.
Recommended
Superb travel agent
By: Sammy's Pal
Reviewed on: 30 Jan 2014
Pat has planned 40 plus family and company incentives trips and cruises. Not once have there been any issues that Pat didn't resolve quickly and a professional manner. Pat's knowledge of what she is selling is excellent.
Recommended
Highly recommeded
By: Cleaner
Reviewed on: 01 Feb 2014
Pat was invaluable in planning our cruise.  She knows the best parts of the ship especially suggesting the aft veranda for beautiful views at all times.  We also received the best price on our cruise.
Recommended
By: Not provided
Reviewed on: 04 Apr 2014
we had to cancel the trip due to health reasons.  
Recommended
Very Highly Recommended
By: Pat
Reviewed on: 07 Jun 2014
We have used Pat as our travel agent for 20 years.  She has always been very professional.  She responds quickly to all questions, always provides different options for trips and we feel we get the best price available.  We have also been on trips that she has hosted and she goes out of her way to make sure everyone in her group is happy.We wouldn't consider using anyone else.
Recommended
highly recommended
By: Blanche
Reviewed on: 12 Jun 2014
Recommended
Highly Rocommend
By: Covert adventure
Reviewed on: 17 Jun 2014
The whole holiday was very well planed and the follow up was wonderful.  We had trouble with our luggage on British Airways and Pat was quick to try and solve the problem.  I would not plan any holiday abroad without using Pat.
Recommended
Recommend
By: CJ
Reviewed on: 20 Jun 2014
Pat was extremely knowledgeable and helpful.  Did notice, however, that she contacted us late in the game (after reservations were already made) to suggest changing an excursion to another.  Think this should could have been prevented had she reviewed the itinerary sooner. The only pitfall was the airline reservations that were made for my husband and I.  On a six hour flight the seats her agency selected for us were last row, directly across from two bathrooms and in front of another (on a full flight).  Needless to say, was NOT happy with these arrangements.
Recommended
Outstanding
By: Michael
Reviewed on: 17 Jun 2014
Recommended
expert personal service
By: Jim and Margaret
Reviewed on: 23 Aug 2014
As always, Pat did a wonderful job of making all our arrangements. Our trip was great and any problems before we left were resolved by Pat. We have always appreciated her personal attention to any problem and always go to her for help, suggestions and additional information. She knows us and what we like so she is always looking for trips that interests us.
Recommended
Fabulous Adventure!
By: Chris
Reviewed on: 21 Aug 2014
Our cruise with Celebrity around the British Isles was fabulous! Many thanks to Pat for making all the arrangements for us. Everything went like clockwork. Our post cruise stay in London was wonderful as well. The hotel was posh and lovely. Our car service back to Heathrow was on time and elegant. Thanks Pat! You're the best!
Recommended
friendly service
By: Rabbit
Reviewed on: 04 Oct 2014
Hi Pat. Great trip! The only issue was the flight from Amsterdam to Basil. You probably heard we missed the conecting flight to basil. I was very disappointed that i was not able to see some of basil. But other than that i really enjoyed the trip. I would book with viking again.
Recommended
Pat is our Pro!
By: OldBob
Reviewed on: 04 Oct 2014
Pat is always there from start to finish... to help with everything. She takes the time to give complete answers. It is comforting to know she is working to make it a happy trip.
Recommended
Exhilirating Elbe
By: travelguy
Reviewed on: 15 Oct 2014
My wife and I just concluded a great trip to Prague and up the Elbe on a river cruise. As always, Pat McKenzie did a fantastic job of planning out not only the main events, but details that made the trip very special. Her attention to the "particulars" makes working with her always an excellent experience.
Recommended
Super service and attention!!!!!!!
By: Katrinka11100
Reviewed on: 11 Dec 2014
Pat did her usual amazing job in taking care of us!! When we had questions, she always got answers for us quickly. And she did her best in getting us as best of a flight schedule as possible. We have been lucky enough to have used Pat's services for over 10 years (9 cruises), and hope to continue to do so!!! We have several after cruise issues with Viking, and she is trying to put us in touch with the correct person who can solve our problems.
Recommended
Caribbean Cruise
By: Cruiser Myrt
Reviewed on: 08 Feb 2015
Pros - professional planning, excellent match of dinner companions, personal attention during cruise, baggage shipped from cabin to home wonderful CONS - one hour between flights in Charlottle airport is not enough time to go to next gate when flying American/United Airways.. Gates are too far apart. Great trip except for flights.
Recommended
Fun and so knowledgable
By: Margaret
Reviewed on: 07 Feb 2015
Pat always finds us great trips and it is so much fun traveling with her. She is always available for questions and makes a point of checking on all her fellow travelers. This trip was very well planned and we had a great time. Thanks Pat.
Recommended
Warm and refreshing
By: Ginny
Reviewed on: 09 Feb 2015
It was a wonderful cruise. The food and service were outstanding. The ship always offered something to do. Dinner group was fun. Enjoyed seeing Pat and felt like she was nearby if needed. Weather was special and the memory of it even more so after coming home to cold , rainy days. The valet baggage program was a bonus as it worked as stated. Air travel was iffy as the plane from Miami was overbooked and late leaving so that meant a quick trip through Charlotte. Airline help in the terminals was less than helpful . All in all it was a great trip.
Recommended
Great Trip
By: Congem
Reviewed on: 08 Feb 2015
We had a great trip. Everything was well planned. Pat was able to assist everyone with any concerns. She was very friendly and went out of her way to check on everyone and make sure that things were going well. She checked in on us before the end of the trip to make sure that everyone had checked the return flights and was comfortable with the arrangements. We couldn't have been more pleased. Thank you
Recommended
Outstanding Professional service
By: Sailinrj
Reviewed on: 09 Feb 2015
Pat handled the travel plans for our group in a very proactive manner. Everything came off as expected. Her attention to detail made the difference. Great job.
Recommended
Great Carribean Holiday with our Grandson
By: Rick
Reviewed on: 06 Mar 2015
Our assistant waiter and cabin steward on the Independence of the Seas were the best we have had in over 25 cruises. Shore excursions offered by Royal Crib did not meet expectations created by the descriptions offered by the Line. Ship food and activities met our expectations. Pat at Crossroads was great as has always been the case.
Recommended
Excellent Cruise Consultant
By: Steve
Reviewed on: 07 Mar 2015
Pat and I have done business togther for 30+ years... She has never, ever disappointed me... Always helpful... always knowledgeable... Never found a better consultant.
Recommended
Great ship and itinerary
By: smallshipguy
Reviewed on: 07 Jul 2015
As usual, Pat McKenzie did a great job for us. We had a fine experience on the Pearl Mist ship. the size was perfect, and the amenities and condition of the ship were great. The crew was excellent - that is always a very critical aspect for any trip. The itinerary was well planned, and good port stops. The food was some of the best we have had. We would recommend you work with Pat to take this trip.
Recommended
England, Scotland and Wales
By: Kathy & Dick
Reviewed on: 28 Aug 2015
Great trip! Saw a lot, met very nice people, had wonderful weather and enjoyed the whole trip. Our guide and driver were good. The CIE program could have been better, switching some sites for others, but overall it was very well done. We are looking forward to having Pat help us plan another trip.
Recommended
Great weather and bus tour
By: BOB
Reviewed on: 29 Sep 2015
Pat did every thing just perfect as always. GLOBUS did as well. Beyond our expectations-the best organized tour director, bus driver and the group of travelers ever. We will possibly be disappointed on our next bus trip with GLOBUS. We recommend this trip and company for any one that wants to see the great Our Great National Parks and the west. Especially the GRAND CANYON. All I have to say was WOW every day. Bob
Recommended
Excellent travel agent
By: Pat
Reviewed on: 30 Sep 2015
Pat has been our travel agent for many years. She always does an excellent job with helping us find the perfect cruise itinerary and getting us the best rates. She responds quickly to all questions and any problems that may arise.
Recommended
The best there is!!!
By: KathyJohn
Reviewed on: 23 Jan 2016
She is the most fantastic trip advisor there is...knows everything, and takes care of everything for her clients...wouldn't want to travel without her help and planning!!
Recommended
Master Pools trip
By: Brad
Reviewed on: 21 Jan 2016
Everything was perfect. Great trip. No issues at all. I know it takes a lot of planning to put something like this together and it was a job very well done. We will be using Pat and Crossroads travel again and again.
Recommended
Wonder Service
By: Looch
Reviewed on: 27 Jan 2016
We had a wonderful trip organized by Pat at Crossroads Travel on the Oasis of the Seas ship. Seven great days. Our only complaint is that is was too short ;) Pat is always attentive to ensure you have everything you need. The cruise, 7 night Caribbean with 3 stops, was really nice. The ship, Oasis, is amazing, lots to do and see. You really don't even have to leave the ship. Rock climbing, theatres, ice rink, amazing restaurants and my favourite was central park. Yes the ship has a wonderful park right in the middle of it, complete with chirping birds by day and crickets at night. Thanks to all the staff at Crossroads Travel for making it happen.
Recommended
Great cruise,excellent value.
By: Willy T
Reviewed on: 04 Mar 2016
Recent Grand Princess San Francisco to Mexico cruise.Great food,excellent accommodations ,service and good ports of call.....good value.
Recommended
Wonderful friendly service, as always
By: Marg
Reviewed on: 06 Jun 2016
The cruise itinerary was great. Saw countries that we had never been to before and they were amazing.
Recommended
Wealth of knowledge
By: Michael
Reviewed on: 29 Jun 2016
Pat used her many years of travel experiences to make our trip memorable. She helped prepare us for minor differences in European travel which enabled us to focus on and enjoy the many amazing opportunities that Italy had to offer.
Recommended
evaluation of trip to Italy
By: Fred
Reviewed on: 29 Jun 2016
Our trip to Italy this past May/June was really good! If I had any disappointments it may have been the very first hotel we stayed in on the Amalfi Coast. The food was a disappointment! The accommodations were good everywhere we went, bus was fine, people were fine--we all go along well! When meals were included at the hotel we stayed in, the food was not as good as we got in the restaurants.
Recommended
Great Service!
By: Stu
Reviewed on: 13 Aug 2016
As usual, Pat McKenzie did an outstanding job in planning our trip. She kept us informed of any changes from start to finish. Wouldn't travel without her expertise.
Recommended
Great service and follow-up
By: Sailinrj
Reviewed on: 09 Sep 2016
Pat has always given us great service on our cruises and out of the country vacations. Always ready to step in and take care of any issues that may arise.
Recommended
Leave it to Pat McKenzie
By: Jlowtexas
Reviewed on: 22 Sep 2016
Pat did an awesome job planning our Viking River Cruise. She promptly answered our questions and concerns and helped us plan a terrific Viking experience and the transportation we needed. Highly recommend!!!
Recommended
Great Cruise, Thank you
By: George
Reviewed on: 16 Nov 2016
Had a great trip with only one small snag. When I got to Tampa on return from cruise the hotel had separate rooms booked for my wife and I was not able to cancel the extra room. I was charged twice for the room on my invoice from Crossroads Travel. I have emailed Pat but have not heard back from her so that is a bit disappointing. I of course used a credit card so I can deny the entire cruise payment but that is not my desire. I do insist on a credit for the extra room.
Recommended
Great Trip!
By: Peg
Reviewed on: 18 Aug 2017
Perfect! She explained all details and followed up to ensure the vacation was what I had envisioned.
Recommended
Cruise with Adult Children
By: Lucy
Reviewed on: 29 Dec 2017
It was great to work with Pat. I had used her a few years ago and dug out her name so I could use her again.
Recommended
Celebrity cruise
By: poor boy
Reviewed on: 13 Mar 2018
One of the best in the industry!
Recommended
Delayed trip
By: Jack
Reviewed on: 26 May 2018
My wife became sick and Pat rescheduled the trip for next October. We have been working with Pat for a number of years and we enjoy her expertise and help.
Recommended
Pat
By: M Heflin
Reviewed on: 08 Jul 2018
It continues to be a joy working with Patricia. Because of her vast travel experiences, she has the knowledge to answer most of our questions and has recommendations for activities that we might like. She works hard to ensure that we are prepared and that there are no surprises in our vacation.
Recommended
Crusin the Danube
By: Virginia from Virginia
Reviewed on: 10 Jul 2018
Pat is wonderful to work with, and I would recommend her to anyone travelling here or abroad. She is very thorough, and makes sure you are taken care of. I had trouble with my airline tickets, and she worked with the cruise line to make sure I had what I needed. She is always calm and so easy to work with. We have used Pat many times over the years, and have cruised with her as a group. I highly recommend her for your travel needs.
Recommended
Rainy
By: Rocky
Reviewed on: 07 Sep 2018
Pat is always wonderful to work with. She will patiently listen to me and answer all my questions. She also offers great advice because of all her experience.
Recommended
America Cruise Lines
By: Jack
Reviewed on: 11 Nov 2018
Pat always keeps informed and looks out for our best interests. She has become a friend and we depend on her and her advice.
Recommended
Viking Cruises
By: VicW
Reviewed on: 21 Nov 2018
Pat has been outstanding in helping make our vacations, not only possible, but memorable.
Recommended
Big ditch trip
By: Rick
Reviewed on: 24 Nov 2018
As always ,she is thorough, accurate, and concerned.
Recommended
Panama and Cuba
By: Vic Wukovits
Reviewed on: 08 Jan 2019
Once again Pat has done a great job of facilitating a great vacation and adventure.
Recommended
Cruise
By: K & M
Reviewed on: 29 Jan 2019
Pat is a delight to work with. She is efficient and keeps us fully informed about the upcoming trip. We will continue to plan our trips with her.
Recommended
Pat M review
By: Nikki Hudson
Reviewed on: 27 Jan 2019
As always Pat went above and beyond to ensure our trip was a success
Recommended
March 29/19 Miami to Rome - Jewel of the Seas
By: Ken and Bev
Reviewed on: 20 Apr 2019
We are veteran world travellers and have booked several cruises over the years with Ms. McKenzie and can not recommend her highly enough. Every detail was addressed efficiently and in a very professional manner. The entire booking from start to finish was perfect. There were no surprises and Pat was able to easily answer any questions we had. She also responded to enquires very quickly. We had a great trans Atlantic crossing on this one.
Recommended
Pat Transatlantic
By: BJ
Reviewed on: 27 Apr 2019
She was knowledgeable and helpful in planning our first Atlantic cruise.
Recommended
Alaska Cruise
By: Sojourn19
Reviewed on: 25 Jun 2019
Our primary MVT trip advisor for our recent 11-Day Ultimate Alaska cruise aboard Seabourn Sojourn was Debbie Daniel. She and Pat are a team, great to work with, patient with attention to the smallest details.
Working with Patricia McKenzie, you will have access to:
- An experienced travel guide whom you can rely on before, during, and after the trip
- Exclusive luxury resorts and properties
- Once in a lifetime experiences
Explore with the Best
Virtuoso Advisors are constantly pushing the boundaries in unique travel experiences.
Alliance programs are unique tailored experiences exclusive to travelers working with Virtuoso Travel Advisors.
learn more