Travel Specialties
Interests
Adventure
Family Travel
Food & Wine
Culture, History & Arts
Safari
Destinations
Australia
New Zealand
Antarctica
Botswana
Croatia
Selling Travel Since
1982
My Background
I delight in customizing civilized adventures for the discerning traveler. Three plus decades in the travel industry have allowed me to indulge my passion for small group travel, both professionally and personally. I have visited each of the seven continents, tracing the footsteps of ancient civilizations and early explorers.
My Travel Wow Moments:
An Antarctic voyage, a trek to Machu Picchu, a pilgrimage to the Taj Mahal and the proverbial search for Timbuktu have all provided me with a broad understanding of the realities of travel to the ends of the earth.
My Destination Specialities:
River cruising, especially in Europe and along the Danube. I just sent a group on an Avalon cruise to Vietnam and Cambodia and plan on going there myself soon.
I've lived on three continents, including a two-year stint in Africa working at a safari lodge, which provided me with a unique perspective on travel to the dark continent.
I've visited Australia, New Zealand, and the South Pacific islands numerous times, and feel comfortable planning immersive itineraries to each.
My enthusiasm and genuine interest in cultures, both past and present, allow me to customize trips to meet the needs of each of my clients.
Places I Have Traveled
Reviews and Recommendations for Jackie Matthews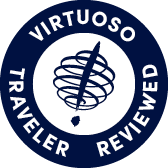 Virtuoso Verified Traveler
All reviews are from confirmed guests sharing exclusive insights
Sort reviews by
Recommended
Highly recommended
By: Shirley 1
Reviewed on: 09 Jun 2013
Jackie organized a great trip for us to Paris and then on the Explore tour group "Greek Islands Wanderer" in the Cyclades. Plane connections all clicked ( although C. De Gaulle airport was more challenging than Frankfort.) This was our third trip with Explore, and outstanding, with a wonderful guide. The tourists haven't gone back to Greece, so we had the islands to ourselves- a real bonus. This is at least our fifth trip with Jackie- she's great!
Recommended
Highly Recommended!
By: Anne Turkey Trip May 2013
Reviewed on: 08 Jun 2013
It was a pleasure working with Jackie regarding my trip. She was professional, always quick to respond, and ensured my holiday was a success. I look forward to booking another trip with her!
Recommended
Highly recommended
By: Alyn & Louanne
Reviewed on: 15 Jun 2013
A very well organized tour. Great informed tour guides and safe drivers. Buses were very comfortable, lots of leg room. Would have liked to spend more time in some of the overnight destinations to get a better feeling of the city and its highlights.
Recommended
The consummate travel professioal
By: ron b
Reviewed on: 27 Jun 2013
Over many years Jackie has arranged our travel to many destinatios world wide. These trips have always been successful and very enjoyable. This is due to her planning and attention to detail. The last trip was no exception. She not only arranges travel to and from the destination but travel and accommodation while there. She consults and works within budget getting best value for budget. Jackie follows up with post-trip debriefing. Jackie, don' even consider retrirement. Thanks--ron b
Recommended
Highly recommended
By: Gerald
Reviewed on: 02 Jul 2013
Feel that Jackie could have been given more up to date information and that the travel documents for her customers should have been sent earlier so that they could have had a chance to use the 10% discounts on Oceania excursions.
Recommended
Highly recommend
By: George 2
Reviewed on: 19 Sep 2013
Jackie is a very knowledgeable travel consultant. She has travelled extensively herself so is always willing to share her experiences. She always returns calls promptly and is available by e-mail. We have recommended her to friends and they are very happy with her service.
Recommended
Highly recommended
By: betcam
Reviewed on: 17 Sep 2013
Jackie is always thorough, professional and a pleasure to talk with. I feel very confident booking a trip with Jackie.
Recommended
By: bucky
Reviewed on: 09 Oct 2013
We wish to thank Jackie for all her hard work in arranging our latest 30 day cruise with holland america. She arranged everything from travel to trip paymennt leaving us with nothing to do but enjoy the experience (the same as our many previous trips she has planned). Thanks Jackie and we can't wait to consult you on the next adventure.
Recommended
recommended highly
By: spalt
Reviewed on: 16 Oct 2013
we found that Jackie did a great job of planning all aspects of the trip in regards to all air and sea connections .She has booked several trips for us and they have always been good
Recommended
would definitely recommend
By: Roy and Jean
Reviewed on: 19 Oct 2013
No problems were encountered with the arrangements Jackie made for our recent trip to Germany, Holland,France and Spain which included hotel reservations, airlines and tours. All went smoothly. Thank you
Recommended
Highly recommended
By: Jack and Jane
Reviewed on: 21 Nov 2013
Our trip planned by Jackie Matthews went off without a hitch. There were no surprises (that were not of our own doing) and our hotels were perfectly situated and within our price range. The cruise through the Baltic was one of our most memorable.
Recommended
By: Garrner
Reviewed on: 23 Nov 2013
We have. over several years, always found Jackie to be most helpfu, and highly efficient in sorting our our requirements. We have npo hesitation in recommending her unreservedly.
Recommended
The Best
By: bucky
Reviewed on: 21 Nov 2013
We had the trip of a lifetime and this was due in large to the planning and management of our trip by Jackie. As in past trips, all facets of the trip were carefully managed including more than one price reduction. Thanks for your profesional expertice. Can't wait for the next one!
Recommended
Highly recommended
By: Elly
Reviewed on: 22 Nov 2013
I certainly like doing business with Jackie. She is a very reliable person and always does the very best for her clients.
Recommended
highly recommended
By: stew
Reviewed on: 22 Nov 2013
Nothing but good results from a from a happy customer. Have passed on her name to some friends.
Recommended
Extremely satisfied
By: laxmom
Reviewed on: 22 Nov 2013
We found Jackie to be extremely helpful and informative. We could ask any question, and she was forthcoming with advice. We would recommend Jackie to our friends for any travel needs.
Recommended
highly recommended
By: Susan
Reviewed on: 21 Nov 2013
Jackie has travelled extensively and brings all that expertise to helping and advising her customers. Jackie is always accessible to us in a efficient and speedy manner. She is great to work with when we are planning a trip.
Recommended
Outstanding
By: Mike
Reviewed on: 03 Dec 2013
Arranged a group price for us saving us a significant amount. When Celebrity tried to change the rules after booking she successfully went to bat for us. I have had the pleasure of working with Jackie for close to 12 yrs and have recommended her to many of my friends. An outstanding travel agent. Mike
Recommended
Definately would recommend
By: Beverley21
Reviewed on: 04 Dec 2013
Jackie has always been a great help when it comes to planning any of our trips
Recommended
Recommended
By: Celtic Centurion
Reviewed on: 03 Dec 2013
We were very happy with arrangements of the time spent in San Fransico which Jackie has made for us. We felt the Shearaton Fisherman's Wharf has a lot of modernization to be done for hotel common areas and Suite washrooms. The site was dated and had some serious problems with amenities through out.Jackie has show her professional expertise and we would definitely use her for any furher travel plans.
Recommended
Excellent service!
By: Virage Senna
Reviewed on: 09 May 2014
Jackie booked our flights and grandstand tickets to the 2014 Grand Prix of Canada in Montreal. As usual everything went smoothly, and I highly recommend her services!
Recommended
the service is always friendly from this expert
By: Pete
Reviewed on: 14 Oct 2014
My trip to Russia & the Baltic countries was awesome. I knew it would be good as I've been dealing with Jackie for about 12 years & she always sends me on good trips.
Recommended
Vienna
By: rb
Reviewed on: 06 Oct 2014
We just returned from the first of 3 trips Jackie has arranged for us in this travel season. Like the many past trips it was enjoyable and went off without any unforseen problems. Looking forward to the next trip. Thanks Jackie.
Recommended
Trip of a lifetime!
By: Joseph
Reviewed on: 12 Oct 2014
The itinerary, including towns/cities visited and side-trips taken, was great. The ship, staff and food were all excellent. The river cruise offers continuous sights and new experiences.
Recommended
Fast, excellent service!
By: Ben Tenuto
Reviewed on: 19 Nov 2014
Jackie arranged an international trip that was needed for a family emergency, on very short notice. She found excellent flights for a good price, all aspects of my trip went very smoothly.
Recommended
Recommend highly
By: Bev29
Reviewed on: 20 Nov 2014
Jackie takes care of all your needs in a professional manner.
Recommended
viking river cruise - China
By: you owe me big bucks
Reviewed on: 20 Nov 2014
Trip fantastic, excellent, overwhelming - would have liked more time at the museum. Must be able to squat.
Recommended
excellent
By: Stew
Reviewed on: 13 Dec 2014
It was a excellent package and Jackie did a great JOB. We Will use her services again.
Recommended
Jackie Matthews
By: Deb
Reviewed on: 06 Jan 2015
She was fantastic. Always followed up with phone calls making sure our trip was perfect. We were not always easy to get in contact with either. Highly recommend Jackie!!! A fantastic trip.
Recommended
galapagos, machu picchu, pervian jungle
By: jamie
Reviewed on: 18 Dec 2014
On a scale we would rate this experience as 10/ 10. we would do a few things differently such as MORE time to relax, climatize in Quito --extra day-- to overcome altitude sickness and jet lag of a long flight. also in Lima....an extra 1 or 2 days instead of a 6 to 9 hour layover on the way home. The jungle was a ONE Time experience, Galapagos with Lindblad / National Geographic ship & crew was fantastic and we want to go again with our Grand daughter who will be 14 this January....so need to book it for 2016 in August !! Plane rides were long in economy so need to consider breaking it up for better comfort and rest such as going to L.A. and doing a day or two before going onward. Peru ruins are out of this world, better then China's great wall in MY Opinion !! OR Egypt's Pyrimids........a lot cleaner, more amazing, fantastic food, boutigue hotels are wonderful. Machu picchu --go in off season is a great strategy, they can get 8000 people per Day !! but it is very touristy.
Recommended
Wonderful service. As good as it gets!
By: Pans
Reviewed on: 13 Dec 2014
Answered my questions and promptly resolved any issues I had.
Recommended
Great service provided an excellent trip.
By: Myrtle Beach Golfer
Reviewed on: 19 Dec 2014
Thank you Jackie for all the you did for us.
Recommended
HAL Cruise connections
By: M & M
Reviewed on: 23 Feb 2015
Good trip, We will use Jackie's services again.
Recommended
best in the business
By: buck
Reviewed on: 19 Apr 2015
great arrangements and thus great trip
Recommended
would highly recommend
By: petunia1
Reviewed on: 15 May 2015
A good trip starts with a good flight. pleasant , quick and easy. Hotel in Auckland was great and people friendly. embarkment was easier then ever and much more organized. 3 days rough seas which caused us to miss last Port in New Zealand. Not enough time in Sydney. disappointed in only one tour. I love ship life so found it fun. sea days coming home seemed long. food. staff was great. didn't loose in Casino as avoided. entertainment was better than most. found schedule of activities lacked variety.thank you
Recommended
expert & friendly service
By: Sha
Reviewed on: 25 May 2015
Was wonderful helping to put together a comprehensive package. All suggestions were appropriate and valuable to ensuring the trip was a one
Recommended
Dependable and great advice
By: travelling seniors
Reviewed on: 09 Jul 2015
Jackie has been planning holidays for us since we retired in 2003. She has been a fountain of knowledge when it comes to planning adventure and small group tours. Over the years she has come to know us both well and what we expect to encounter on our holiday. She knows what I will accept, particularly as I am not as adventurous as my husband, and will let him know if it is something we would both enjoy. She has a lot of expertise in other areas of travel, such as river and ocean cruising. She has not steered us wrong yet! We have recommended her to many friends and they have also indicated their satisfaction with her. Thanks to Jackie we have travelled the globe and look forward to booking many more trips with her.
Recommended
Professional all the way
By: Gcad
Reviewed on: 26 Jun 2015
Our latest trip, travel and cruise was fantastic, all travel, connections, and hotels were great. The cruise was the finest, food and service were first class all the way, can't wait to go again, way to go Jackie, thanks for everything.
Recommended
Caring
By: Mary
Reviewed on: 28 Oct 2018
Have worked with Jackie often. She takes care of the details and does her best to fit the needs of the individual. She knows her job and is flexible.
Recommended
Travel to and from Greece and the U.K.
By: Chris/Isabel
Reviewed on: 07 Oct 2015
As usual, Jackie provided exemplary service in finding and booking suitable flights according to our separate needs. She was. as always, friendly and helpful. In addition, while we were in Greece, she was able to reassure us about the situation and give us the details of the latest developments when it looked as if a Lufthansa strike would play havoc with the scheduled return trip.
Recommended
not only friendly, personable, but knowledgable
By: MJ
Reviewed on: 04 Oct 2015
fabulous trip with Trafalgar. The guide was excellent, giving all the participants lectures on history, economics, art and detailed information on all the places we visited. (Darin Blake)
Recommended
smooth sailing
By: Barb
Reviewed on: 21 Oct 2015
The trip was enjoyable for a lot of reasons, and one was that all the advance planning made all the difference. We were prepared for all our transfers, from airline to bus tour, to cruise ship, back to airline, and it was comforting to know that we had nice hotels to stay in between it all. Thanks to Jackie for making sure we were in the right place at the right time.
Recommended
Great flight choices
By: Angela & Brad
Reviewed on: 12 Oct 2015
Jackie arranged the flights for our recent vacation in Italy and England. At first, I wondered about going from London to Amsterdam to Vancouver. But it was much cheaper than other choices and, as Jackie had noted, KLM was terrific. Comfortable seats for a long flight, good food, helpful staff & good service. Thanks, Jackie. Smart travel planning, as always.
Recommended
Great Service!
By: Bullfrog1
Reviewed on: 01 Nov 2015
All was great with exception that the Air Line screwed us big time by changing the amount of the travel fee by over $400.00 per ticket, in one day due to late booking!!! It was booked, but not confirmed! To bad. I would like to know how to contact British Airlines and inform them of my dissatisfaction with ticketing. There were passengers that were on the flight with me me that only paid $997.00 all in! Other than that, Jackie did an excellent job, even though she to was shocked by the fare increase and totally frustrated! Not Jackie's fault, but Visions should let BA know how terrible that was and it added $800.00 to my ticket!!!
Recommended
Great job - went the extra mile
By: Betsy
Reviewed on: 18 Nov 2015
The trip went very smoothly and was extremely well organized. Although we were a large tour group, Jackie also called me personally to help out with my particular needs. I appreciate her going the extra mile for me.
Recommended
pleased
By: RAWE
Reviewed on: 18 Nov 2015
Jackie was extremely helpful in organizing our travel to and from our tour location. she also made certain we had on hand assistance in connecting with our group (who were travelling separately). The tour we were on was interesting and the local guide was very good. on a tour sometimes organizing and signing into hotels is time consuming and confusing. on this trip it was very well done and seemed painless.
Recommended
Great as usual
By: JandJ
Reviewed on: 28 Nov 2015
Great trip. Well planned and no surprises other than pleasant ones.
Recommended
best in the business
By: buck
Reviewed on: 30 Sep 2016
Not only did Jackie make us aware of the cruise we just completed but made all the necessary arrangements. Everything came off seamlessly and at a great price. thanks Jackie
Recommended
She is our "Go To" travel Agent
By: tripper 49
Reviewed on: 02 Oct 2016
Jackie has been doing our travel arrangements near and far for both big and small trips for years now and has never failed to deliver. She listens, has great attention to detail and we have never had a problem at home or abroad. Best yet, she is ever cheerful and doesn't get rattled.
Recommended
Great advice and service!
By: Prairiewind
Reviewed on: 01 Feb 2016
The itinerary was excellent. BUT the flight out was very problematic d/t circumstances out of your control: the new Alaska plane had insufficient fuel to go from Seattle to Hawaii ("d/t strong head winds"), so we flew to San Jose to gas up. Then as we were ready to leave, were told that a diaper had been put down a lavatory, and that we could not take off until we had the required X number of operating lavatories. After >1/2 hour we finally left, with two lavatories out of order. When we arrived in Hawaii, could not disembark until paramedics removed some poor soul from first class. We were d/t arrive at 1130 p.m., but arrived after 2:30 a.m. Alamo car rental was closed! We rented a car for one day from Budget, then returned after 4 hours sleep for the Alamo car(as we didn't want them to cancel our booking after not showing up). So perhaps better not to book w/ Alamo if a flight is d/t arrive late at night. Took us a couple of days to revive...lost vacation time!
Recommended
Excellent service
By: Irene25
Reviewed on: 21 Feb 2016
Friendly personable and attentive service.
Recommended
An Outstanding Trip!
By: Richard
Reviewed on: 12 Feb 2016
This is the first trip I have ever taken for which everything was arranged by a travel agent; it was successful beyond my wildest expectations. I described my desires to Jackie Matthews and she came up with additional suggestions that made the trip an outstanding experience. A particularly good, and new to me, experience was the use of vouchers that I presented to our accommodation and transportation providers. With everything paid for in advance I was able to breeze through each of the prepaid functions. I can't say enough good things about the support Ms Matthews provided!
Recommended
Excellent in all ways, service, kindness, understanding and so helpful.
By: MJ
Reviewed on: 15 Feb 2016
Jackie always delivers, always considerate, always knowledgeable and if I could rate her on a scale of 1 to 10 she would be a 10+
Recommended
Excellent in all respects
By: D&MA
Reviewed on: 10 Mar 2016
Jackie has done an excellent job for us with a good tours including a good pace, good site selection, good services and accommodations. Included meals have been very good.
Recommended
We went to New Zealand then Australia. We would use Jackie again.
By: Brian D
Reviewed on: 22 Mar 2016
Jackie has the experience of living in New Zealand and Australia so her suggestions regarding our time there were very helpful. Jackie suggested we fly premium economy on the return from Australia....and it was wonderful. We booked too late to get premium economy for a reasonable price for the outward leg.
Recommended
Jackie did a great job!
By: Betsy
Reviewed on: 21 May 2016
Jackie did a wonderful job on booking my flights and getting the seats I requested. Also responded promptly when I panicked, having had trouble confirming my return reservations from my hotel in Iran. Kudos to her!
Recommended
expert friendly advice
By: blanche
Reviewed on: 13 Jun 2016
Very helpful- assisted with planning and great insight into my travel plans and needs - excellent suggestions but never pushy looked out for my interests offered advice I would never think of asking or paying attention -nice to know there was someone there to call if problems arose -excellent service
Recommended
Silver Seas is an amazing cruise line
By: Had fun
Reviewed on: 05 Oct 2016
We had a fabulous trip. Silversea is worth the extra cost - only 365 pasengers and over 300 crew. We were looked after very well. The food was very good and served like a starred restaurant. Not the typical cruise line!
Recommended
very personable on the phone
By: disaster
Reviewed on: 19 Oct 2016
Due to a fall causing a broken hip I landed in Hospital rather than Budapest.
Recommended
garden tour from Cape Town to Pt> Eliz. SA
By: Starfire Convert.
Reviewed on: 12 Oct 2016
we had an awesome trip with no issues at all. Guide was extremely knowledgeable, professional and personal, he looked after us like we were royalty!! Planned events all worked well & we even saw a lot of extra places, nothing was rushed, huge variety of B & B's and farm reserves, wonderful food everywhere....we gain 5 lbs.......we want to go again, took 2800 pictures, weather was perfect for spring, saw much flowers, birds, animals, ocean views--beaches-- penquins, etc Highly recommend to others, just take more days. thanks
Recommended
Consistent excellent service
By: Bob77
Reviewed on: 14 Oct 2016
We are very pleased to have Jackie as our travel agent. Her suggestions and recommendations were extremely helpful in planning our trip and her arrangements were prompt and efficient. We would recommend Jackie to anyone.
Recommended
30+years of service
By: Talldoug
Reviewed on: 19 Oct 2016
We recently returned from our month in Greece. Once again Jackie looked after us with such personal and professional service. I have had Jackie help me with travel services for over 30+ years. We have followed her from company to company, Calgary to Victoria.
Recommended
Helped plan the perfect trip!
By: Tink
Reviewed on: 21 Oct 2016
Thank you Jackie for planning our Italy trip with memories to last a lifetime. You did a great job of working with us, creating a couple of weeks in Italy that were perfect and just just what we wanted. Even the glitch with the hotel having the plumbing issues and getting downgraded...sorted the next day after only 1 phone call. Thank you so much!
Recommended
Good Service with a smile
By: Stu
Reviewed on: 25 Oct 2016
Have had her as our travel person for 10 years and have been more than happy.
Recommended
The customary high level of serivce
By: Algorithmically Generated
Reviewed on: 07 Nov 2016
The trip to Greece was well organised as far as the travel arrangements were concerned; and the Greek travel company Jackie chose to deal with was very good. I have no hesitation in recommending her services.
Recommended
Efficient Travel Service
By: Carol
Reviewed on: 01 Dec 2016
We found Jackie to be very efficient and responsive and also very knowledgeable about air travel and bookings, etc. She is polite and friendly. We enjoyed the trip she booked for us and she even answered a question we had after our return. We would use her services as a travel agent again.
Recommended
Great advice and help
By: HappyTraveller(s)
Reviewed on: 18 Nov 2016
Jackie outdid herself when planning our recent holiday. Many helpful tips were given to us prior to booking and Jackie had SO much patience when dealing with two very particular travellers. Jackie's attention to detail was excellent and saved us having to scramble at the last minute. We will definitely deal with Jackie again and be VERY happy to do so.
Recommended
the best in the business
By: buck
Reviewed on: 20 Dec 2016
Jackie recently booked a trip for us to Cuba. Like all the other trips she has booked it went seamlessly. Thanks for managing all the details.
Recommended
cruise
By: nono
Reviewed on: 24 Feb 2017
years and years
Recommended
South America
By: Roy and Helen
Reviewed on: 19 Mar 2017
Excellent. No problems with any of the arrangements made by Jackie.
Recommended
Morocco
By: Mike
Reviewed on: 15 Apr 2017
Jackie was "on the ball" , a excellent travel agent very knowledgeable and experienced and tuned in to the customers needs. She does not hesitate to go to battle to resolve issues with tour providers.
Recommended
the royal mile
By: bucky
Reviewed on: 12 Apr 2017
we have worked with Jackie for years. She does the work and we get a great vacation. Everything went as she planned and we had a wonderful experience.
Recommended
Ecuador 2017
By: Miles
Reviewed on: 14 Apr 2017
Fine - we always work with Jackie. She is very efficient.
Recommended
Azores Island Adventure
By: Alien Gypsy
Reviewed on: 25 Jun 2017
I have had the pleasure of working with Jackie for several years planning trips abroad. She has always watched over me while on the road , changing flights when airline strikes occur. I have recommended her to several people & all have continued to be loyal clients. Especially when travelling solo it is comforting to know someone is watching out for me , enabling me to relax & enjoy the expierience .
Recommended
NEWFOUNDLAND
By: AR
Reviewed on: 18 Jul 2017
Jackie was very pleasant and efficient.
Recommended
The best
By: Gordon
Reviewed on: 18 Jul 2017
Very helpful. Always goes the extra mile. Very knowledgeable and if she doesn't know the answer will find it. Very personable.
Recommended
walking on water
By: wine
Reviewed on: 26 Jul 2017
Jackie is always there for us.
Recommended
Disney Cruise
By: Karen
Reviewed on: 03 Aug 2017
As always Jackie gave fantastic assistance in planning our trip My advice is to NEVER take a trip without consulting Jackie 👍👍👍👍👍
Recommended
Working with Jackie
By: iona
Reviewed on: 05 Aug 2017
She was very helpful and efficient as she has been over several years
Recommended
Cruise to Alaska
By: ALAU
Reviewed on: 09 Sep 2017
Jackie's advice and service to arrange this trip were excellent, however we had to cancel the trip, because of my wife's unexpected pneumonia illness.
Recommended
Jackie Matthews from Vision Travel
By: Shelley
Reviewed on: 16 Sep 2017
Jackie once again arranged a wonderful vacation for us. We had such an amazing holiday!
Recommended
Northern Spain
By: 60 cents
Reviewed on: 30 Sep 2017
it's been excellent for the last 14 years
Recommended
Great Service
By: Ireland 2017
Reviewed on: 28 Sep 2017
Jackie provided great support in planning and helping out in clarifying an issue the arose on our trip.
Recommended
new england
By: buck
Reviewed on: 01 Oct 2017
everything went as she planned except return from quebec over which jackie had no control
Recommended
my trip
By: traveller
Reviewed on: 13 Oct 2017
The trip was great
Recommended
trafalgar tour
By: Judi
Reviewed on: 08 Oct 2017
Jackie was very organized and everything worked like clockwork
Recommended
Baltic Countries and Russia tour
By: Deb
Reviewed on: 24 Oct 2017
Jackie was excellent in arranging the details for us to connect with this tour she booked for us and getting us back by way of a side trip to Amsterdam. Her knowledge and expertise of airlines, planes, and flights has been proven once again with the relative ease and coordination of this trip. She also helped us with complicated visas and insurance coverage. It's always fun to chat with Jackie about our travel plans. Her input and assistance adds great value.
Recommended
Recommendation
By: Izzie2014
Reviewed on: 02 Nov 2017
Fantastic, she was great to work with
Recommended
Great agent
By: Jiggs
Reviewed on: 31 Oct 2017
Great!! We've been working with her for many years.
Recommended
A wonderful visit to Africa
By: African Adventure
Reviewed on: 11 Nov 2017
Jackie was recommended to me by a friend and she did not disappoint. From our first meeting, to our trip experience, everything was first rate!! Jackie is professional, experienced, knowledgeable, organized and personable. All communication was thorough and prompt and our many questions answered accurately and promptly. Our itinerary was thoughtfully planned and seamlessly executed!. Our entire group thoroughly enjoyed our visit to South Africa, Botswana and Zimbabwe. Thank you, Jackie for planning the trip of lifetime for our group. We will certainly recommend your services to others!!
Recommended
Safari
By: She
Reviewed on: 03 Nov 2017
It was easy. She is. very knowledgable and shares her knowledge in a way you understand
Recommended
Fabulous Africa trip
By: day tripper
Reviewed on: 14 Nov 2017
Jackie asked what my budget was and what my interests were for Africa. We also discussed time there and the wants of my travel companion - who lives in Montreal! She then waved her magic wand and came up with a trip that covered everything we asked for and more. She added a couple of things that she felt we shouldn't miss (Soweto tour and private game reserve). That was all fantastic. The private game reserve was so different than going to National Parks as we could go off the road on our game drives and saw so much more and so much closer. It was really thrilling to sit in the jeep in the middle of a pride of lions and to follow a leopard around on his hunt. I cannot recommend Jackie highly enough. She really knows Africa. We had a safe, fun and adventuresome time. Fabulous for two women in their seventies. I have already recommended her to friends who are contemplating Africa. Yes, it is worth going. Yes - do get Jackie to plan your trip. You won't be sorry!
Recommended
Tour planning evaluation
By: Enid
Reviewed on: 20 Nov 2017
Jackie made very good suggestions and enhanced our trip to South Africa. Arranging a side trip with a lot of detail including a tailored agenda in Johannesburg, flight to Hoedspruit, a tour of the endangered Species Center, two nights at a high quality private reserve and a private driver to take us to join the tour actually " made" the whole trip worth it . Phone calls were fact oriented and respectful. An error in a credit card charge was quickly dealt with and corrected. I would trust Jackie to organize another trip and would recommend her to others. I live in Quebec and distance is a factor but we made reasonable connections when required,
Recommended
royal decameron
By: buck
Reviewed on: 10 Dec 2017
Jackie works hard to ensure everyone has a great time. Despite a few glitches out of her control the trip was excellent. great job!
Recommended
Great trip
By: Taco chip
Reviewed on: 01 Feb 2018
She did not steer us wrong it suited us well we will go back for sure
Recommended
to Quito Ecuador and return
By: glxytrios
Reviewed on: 01 Feb 2018
Jackie always does well for us - she has been our travel agent for many years
Recommended
Jackie Mathews
By: Graham
Reviewed on: 15 Feb 2018
She was helpful, respectful and highly reliable
Recommended
Recent trip to Hong Kong, Vietnam and Cambodia
By: Maureen Bennett
Reviewed on: 16 Feb 2018
Jackie was a pleasure to work with. Her recommendations for our four nights in Hong Kong were excellent. We were very happy with the hotel and it's convenient location. Her attention to detail enabled our travels to go very smoothly
Recommended
Haultuco
By: Dongor
Reviewed on: 25 Mar 2018
The best. Went far beyond what was expected.
Recommended
Two week River Cruise in France
By: Sookabilly
Reviewed on: 11 Jun 2018
When we work with Jackie on a trip (as we have many times) it takes all the stress out of our adventure. We don't worry, we know the details are taken care of. She did a superb job of putting our air, cruise and add-ons together. All we did was hire the dog sitter, pack our bags and have a blast. And most importantly, we know that if there is a problem when we are away, we have someone to call who can help.
Recommended
Oceania Cruise
By: Jo Jo
Reviewed on: 03 Jun 2018
Jackie is a pleasure to work with. She is very knowledgeable & attentive.
Recommended
Going the extra mile!
By: Susan
Reviewed on: 07 Jun 2018
First rate! She is thorough, pleasant and very flexible in her thinking. She's also willing to suggest the unexpected! We found her a joy to work with.
Recommended
Exploring Peru 🇵🇪
By: Gypsy
Reviewed on: 20 Jun 2018
Jackie has taken care of organizing my adventure trips for many years , a professional in every sense of the word .
Recommended
A great Trip! Across the country by rail and home by air.
By: Richard
Reviewed on: 23 Jun 2018
Outstanding! The trip was just what we wanted and she made everything work - I recommend her services!
Recommended
Great Travel agent
By: Mike D
Reviewed on: 27 Jun 2018
I have used Jackie for all of my travel needs for over 20yrs. She truly a professional, in tune with our travel needs has good suggestions and knows the market very well. She has recently booked cruises for a group of friends living in Ontario because of the level of effort and service she provides. She will shop around and find the right holiday for you within your budget. Mike D Victoria
Recommended
McCarthy's Party - Newfound Labrador
By: Pat and Dave
Reviewed on: 30 Jun 2018
Jackie has been a great help to us for many years. She is super efficient and knowledgeable. She is very caring and fun to deal with .
Recommended
Our advisor Jackie Matthews
By: sunshine lady
Reviewed on: 04 Jul 2018
Working with Jackie Matthews is always a pleasure. She is so very friendly, informative and always ready to offer different options to help us make our decisions about our travel plans. All our travel plans have worked out so well due to her detail in planning our trip. She is the best!!
Recommended
Poland
By: red light
Reviewed on: 13 Jul 2018
Nothing but the best
Recommended
Greatest holiday ever
By: Lindy Lou
Reviewed on: 11 Jul 2018
Jackie booked our Viking Grand European river cruise. She also booked our 2 night stay at a hotel in Budapest across the street from the Danube and within walking distance of the chain bridge. We were also able to walk to our boat as it was docked right across the street. Jackie also booked our flights to deviate to England at the end of the cruise.we were treated royally on the cruise. Thank you Jackie.
Recommended
Ireland 2018
By: Sparky
Reviewed on: 12 Jul 2018
Jackie is always so thorough in everything. If she is uncertain about anything she immediately phones airline to make sure for instance that the seats asked for and not shown, were registered for us. From 16 years ago when we dealt with her for the first time, she is so knowledgable in her job and has come up with so many great things to do and ways to travel. She is at the top of her class in our estimation.
Recommended
Jackie Matthews
By: Betsy
Reviewed on: 30 Jul 2018
Very organized and conscientious. I would recommend her to anyone.
Recommended
Grand Scandinavia
By: Pete
Reviewed on: 05 Sep 2018
She's the best of all the Victoria travel agents
Recommended
Reliable and trustworthy
By: Jack
Reviewed on: 06 Sep 2018
Working with Jackie is always a pleasure. Problems or concerns are dealt with promptly and professionally. Jackie has been our travel agent for a number of years and she has never let us down. Her advice and guidance has been first rate.
Recommended
St Lawrence cruise
By: Deedee
Reviewed on: 28 Sep 2018
Very easy, Jackie was well informed and went out of her way to give us the cruise we could afford.
Recommended
The best of the best
By: Sis
Reviewed on: 26 Oct 2018
Wonderful. Jackie is a true professional. She knows what type of travelling I enjoy and recommends things I wouldn't have thought of.
Recommended
Incredible allegence
By: Nancy+Doug
Reviewed on: 21 Oct 2018
Jackie has guided us and set up our travels for over 30 years (she must have started very young :) We started back in Calgary. Our goal is to keep travelling to new countries and to keep the count of countries always more than our age. This Spring I will be 70 and my travel count is still ahead! Jackie has provided superb service and has always found flights or excursions that provide a high level of service at fair value. She knows us well, she is our friend,
Recommended
Highlights of Morocco
By: PeeDee
Reviewed on: 02 Nov 2018
Excellent, very helpful and sound knowledge of the tour and flights
Recommended
Europe river cruise plus pre and post stay
By: Sherry
Reviewed on: 08 Nov 2018
This is the second time we have planned a vacation with Jackie. We find her easy to work with, professional, organized and thorough. She is very prompt with communications. Our vacation was seamless from start to finish. Thanks, Jackie and look forward to working with you on our next adventure.
Recommended
Africa
By: B
Reviewed on: 18 Nov 2018
Jackie was very knowledgeable about Africa. We had an amazing trip.....andBeyond are wonderful safaris.
Recommended
trip to Barbaros
By: Gord
Reviewed on: 18 Nov 2018
i had attempted to coordinate the airfare flights to and from Barbados and after several hours of frustration I contacted Jackie who straightened out the whole mess in aa amazingly short period of time. Mt thanks.
Recommended
recent trip
By: KK
Reviewed on: 05 Jan 2019
Always fantastic!!
Recommended
Mediterranean Holiday 2018
By: Don
Reviewed on: 12 Jan 2019
It was a pleasure to work with Jackie. She's very intuitive and is always suggesting some wonderful side trip or attraction to see. This is the clear difference between booking a trip on your own or having someone who's already 'been there' make suggestions to you about what to be sure and see and what to avoid.
Recommended
New Zealand / Tasmania
By: Doug & Wendy
Reviewed on: 26 Mar 2019
We have worked with Jackie before and would do so again. We value her travelling expertise and knowledge. We had a medical emergency on our trip and Jackie was very helpful.
Recommended
Sri Lanka and Beyond
By: Sandy
Reviewed on: 02 Apr 2019
Excellent....I can always count on her for routing advice
Working with Jackie Matthews, you will have access to:
- An experienced travel guide whom you can rely on before, during, and after the trip
- Exclusive luxury resorts and properties
- Once in a lifetime experiences
Explore with the Best
Virtuoso Advisors are constantly pushing the boundaries in unique travel experiences.
Alliance programs are unique tailored experiences exclusive to travelers working with Virtuoso Travel Advisors.
learn more
Australia
New Zealand
Antarctica
Botswana
Croatia
Ecuador
Hungary
Kenya
Peru
South Africa
Slovenia
Tanzania
Zambia
Zimbabwe
Austria