Stephanie Goldberg-Glazer
ECC
Hollywood, FL United States
Travel Specialties
Interests
Ocean Cruising
River Cruising
Food & Wine
Independent Tours
LGBTQ Travel
Destinations
Italy
Spain
France
Israel
United States - All
Selling Travel Since
2006
My Background
Stephanie started Live Well, Travel Often in 2006 and has since turned it into a full-service travel company, making her client's bucket list dreams come true.
Her clients travel to all seven continents, on trips customized to their needs. Stephanie is an accredited Elite Cruise Counselor with CLIA, the highest level of certification from the Cruise Lines Industry Association. She is an expert in custom travel, and group travel and coordination. She works tirelessly to get her clients the best possible vacations and exceptional experiences, all at great prices.
Stephanie writes an award-winning travel blog, Florida Keys Girl, documenting life in the Florida Keys and Key West and travels around the world.
Contact Stephanie to start planning your dream vacation today.
Places I Have Traveled
Reviews and Recommendations for Stephanie Goldberg-Glazer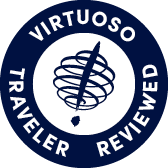 Virtuoso Verified Traveler
All reviews are from confirmed guests sharing exclusive insights
Sort reviews by
Recommended
Mardi Gras
By: Bruce
Reviewed on: 20 Mar 2019
Awesome as always!!
Recommended
The Best
By: cruiseplease
Reviewed on: 21 Mar 2019
Stephanie is always available and will get you the best price and room possible. She is the definition of professional. highly recommend.
Recommended
The BEST Travel Advisor, hands down!
By: Kay
Reviewed on: 11 Apr 2019
WONDERFUL!!!!!!!
Recommended
Hawaii
By: Liz
Reviewed on: 29 Apr 2019
She put together an itinerary that encompassed all of our interests. Spread out our activities to allow us time to relax on our honeymoon.
Recommended
A Dream Trip!
By: Key West Travelers
Reviewed on: 18 May 2019
Stephanie was recommended by dear friends who have used her services to assist them in their many travels. We cannot say enough about how courteous, kind and helpful Stephanie was in all of our pre and post travels. Her suggestions on tours left us in awe, as she helped us navigate to the trusted, knowledgeable guide services that we in turn highly recommend. Additionally, she always went the extra mile to answer our many questions before booking our trip (she even stopped at our home to review our tickets and agenda to make certain we were squared away and ready to go!) Don't walk - run to her for your next travel adventure, I know we will!
Recommended
Budapest to Prague
By: AG
Reviewed on: 28 May 2019
Stephanie is very knowledgeable and thorough. And, she is very easy to work with.
Recommended
great
By: greer
Reviewed on: 06 Sep 2019
Very easy. I called her and she did all the work to make everything go smoothly. Got great credits also!
Recommended
First Class Service
By: DS
Reviewed on: 30 May 2019
Stephanie is a first class travel agent. She's knowledgeable, attentive and had great suggestion for our group of travelers. I highly recommend working with Stephanie on booking your next trip.
Recommended
Spanish Honeymoon
By: Sandy
Reviewed on: 03 Jun 2019
Stephanie was a pleasure to work with. I gave her my budget and she gave me great options to choose from. We were able to visit three cities in Spain, including Madrid, Sevilla, and Barcelona. The tours she recommended really added to our time there and gave us the perfect balance of things to do vs. explore on our own. She booked airfare, trains, etc. which made it so easy for us. We will definitely be using her again.
Recommended
Great work
By: Al B
Reviewed on: 04 Jun 2019
Stephanie continues to do a great job planning our travel. She has great ideas and picks the best hotels, place and tours. I have recommended her to others and they feel the same about her.
Recommended
Fantastic!
By: Anonymous
Reviewed on: 01 Jul 2019
Stephanie is so great to work with! She made everything so smooth and was always available for questions. Highly recommend her to anyone!
Recommended
Norwegian Sky
By: Dee from Fort Lauderdale
Reviewed on: 17 Jun 2019
Stephanie is the best. She has really great ideas and suggestions about trips. I have used Stephanie to help plan a number of vacations from San Francisco to Ireland. The excursions have been a lot of fun! I have recommended Stephanie to a number of family members who are just as satisfied as I have been with Stephanie's planned trips.
Recommended
Put your trust in the best.
By: Like2travel
Reviewed on: 26 Jun 2019
Stephanie is professional, knowledgeable and definitely looks out for your interests. She doesn't overlook even the smallest detail to ensure your vacation will be everything you hoped for.
Recommended
Japan honeymoon
By: Andrea
Reviewed on: 20 Jun 2019
Stephanie was so helpful, professional and easy to work with. She made everything so easy and took the headache of planning a trip away! Everything went so smoothly. She was easy to contact and quick to respond. She made our honeymoon dreams come true! We can't thank her enough! We can't wait for her to plan our next trip!
Recommended
Eshowe Trip
By: Eshowetrip
Reviewed on: 24 Jun 2019
She was extremely helpful and very, very patient as our plans changed several times.
Recommended
40th Anniversary Cruise
By: 40th Anni SMH
Reviewed on: 04 Jul 2019
Stephanie was great. She was easy to work with and took great care of all 30 members of our group. A gem!
Recommended
Great first cruise experience!
By: Chipper
Reviewed on: 07 Jul 2019
Stephanie is wonderful! She answers any questions immediately and she is an abundance of resources. She makes you feel as if you are her only client. We recently went on our first cruise with a group of over thirty people. Stephanie handled all of the arrangements seamlessly and went over and beyond to make sure we were all satisfied before, during and after the trip! It goes without saying that she is our go-to travel guru now! I highly recommend Stephanie. She will make your experience memorable...
Recommended
A restful trip to Italy
By: Andrew
Reviewed on: 11 Jul 2019
After just a few conversation, Stephanie figured out the best itinerary for our (almost last-minute) vacation in Italy. The hotels were top-notch, she suggested great activities, and our travel was frictionless. Highly recommend!
Recommended
Great travel agent
By: juan gonzalez
Reviewed on: 12 Jul 2019
she is professional, knowledgeable and very detail oriented. she makes it all seem so simple and she really gets us incredible deals
Recommended
Simply the best travel advisor
By: Nan
Reviewed on: 13 Jul 2019
How do you feel pampered before you even leave for your vacation? You plan it with Stephanie. She curates the perfect experiences, she finds smart savings and steers you away from silly extras. Once you're on the trip, delightful surprises await. The just-right guides. The secret restaurant. The experience of a lifetime!
Recommended
Romantic Italian Summer Vacation
By: Romantic Italian Summer Vacation
Reviewed on: 22 Jul 2019
Stephanie made the entire process easy and memorable. We didn't have to do much beyond getting on the plane and enjoying a trip that was well-planned, including excellent hotels (at which we got upgraded, due to the association with Stephanie), timely and easy transfers, and fun excursions. We've already started planning our next international trip with her. !
Recommended
Barcelona Adventure
By: SSP
Reviewed on: 15 Jul 2019
Stephanie is truly extraordinary. She planned an adventure on a little more than a week's notice that was both a fantastic vacation and a really great value. She's amazing.
Recommended
Amazing trip expertly planned
By: Krazy family wants to see the world
Reviewed on: 20 Jul 2019
This was our second European adventure planned by Stephanie. I didn't think it would be possible to surpass the 1st, however, it is apparent that the more you work with Stephanie the more she understands what you like and don't like she gets even better! Stephanie is a true professional who knows the world and takes the time to recognize the desires of her clients. I would recommend Stephanie to anyone who wants to enhance their travel experiences!
Recommended
Magical time in Scotland
By: Crysta
Reviewed on: 27 Jul 2019
Our family of six traveled to Scotland, and it was the trip of a lifetime! Stephanie was awesome to work with. It was often a challenge coordinating this trip (especially since we are located in 4 different cities), but she handled it beautifully. She listened to our wishes and worked hard to make adjustments to get us the trip we were looking for. Stephanie was always pleasant and accommodating. Her planning and the travel documents that she provided helped to relieve the anxiety about traveling overseas. I highly recommend Stephanie Goldberg-Glazer!
Recommended
Stephanie
By: Peter and Teresa's trip
Reviewed on: 15 Aug 2019
She was a pleasure throughout.
Recommended
Amazing Peruvian Adventure
By: cfm
Reviewed on: 17 Aug 2019
Stephanie planned a complicated trip for us, which involved many different stops and components, including a service element. She worked with us through our many schedule changes and crazy requests and never lost her patience with us. We had an incredible family vacation and couldn't have done it without her!
Recommended
Great!
By: Alan G.
Reviewed on: 11 Aug 2019
Stefi was great, as usual. I missed a connection on the way when. But Stefi was able to rebook my flight, ensuring I didn't miss the start of my trip. She's a great planner, too, ensuring my two week trip to Peru net all of my objectives! Helpful and available!
Recommended
European River Cruise
By: Carol
Reviewed on: 11 Aug 2019
We met Stephanie almost 2 years ago at the Key West Food & Wine Festival. Originally we wanted an Italian vacation in Tuscany. Change of plans due to friends. Then we booked a Celebrity Cruise for 2 weeks (friends were also on this cruise) with her and truly loved it and all Stephanie had done to get for us what we wanted. We had twice before cancelled European River cruises (not with her). I had researched several companies that provide this type of cruise and Stephanie has said that Uniworld's Boutique Cruises were outstanding so we chose them. There were only 103 passengers on it and how nice it was to remember faces every day and become acquainted. Our friends also came on this trip with us and our rooms were on the same floor. We had recommend Stephanie to another couple that were having trouble booking their trip with another agency and within hours she had everything all set for them. Our trip was wonderful! Thank You!
Recommended
Traveling well
By: Irene
Reviewed on: 19 Aug 2019
Stephanie is a very knowledgeable travel agent. She responds to you immediately and always has suggestions and ideas of must sees. Working with her makes traveling easier and much more interesting.
Recommended
Key west weekend
By: Eddie & Molly
Reviewed on: 24 Aug 2019
Stephanie is awesome, this was a last minute trip I called her up told her what I was thinking and she took it from there and set us up with a great key west weekend. Thank you Stephanie it was great.
Recommended
Excellent service
By: Russia bound
Reviewed on: 26 Aug 2019
She was great. Stephanie followed up with everything, aswered all of our questions and arranged it all perfectly.
Recommended
A Thorough Professional
By: K
Reviewed on: 24 Aug 2019
Stephanie is a pleasure to work with. She is helpful, insightful and totally professional.
Recommended
Excellent agent
By: Gregg
Reviewed on: 26 Aug 2019
Stephanie is awesome to work with and managed to score us a last-minute upgrade on our cruise that made our trip even more enjoyable. She is very thorough and responsive.
Recommended
terricfic
By: cgn
Reviewed on: 06 Sep 2019
Stephanie made all the arrangements and our trip was easy and fun. She also got us credits for our excursions. Working with her was a pleasure.
Recommended
Cruise to New England and Canada
By: Ussteam
Reviewed on: 15 Sep 2019
Stephanie was very knowledgeable and guided me thru my trip with complete professionalism and patience. The cabin she selected was just perfect and the welcoming champagne Hit the spot. Thank you Stephanie.
Recommended
Paradors of Spain
By: John
Reviewed on: 04 Oct 2019
Stephanie made our tour of Spain and Portugal a seamless joy making sure every detail from air travel to the extended stay in Lisbon after the Tauck tour ended allowing us to spend a day in Sintra, a UNESCO community.
Recommended
Excellent
By: Raysa
Reviewed on: 05 Nov 2019
Stephanie was extraordinary, always willing to answer any question or doubt. Her professionalism exceeded 100%!
Recommended
Concierge Travel
By: Nan
Reviewed on: 15 Nov 2019
Stephanie's commitment to her clients is unwavering. From the first suggestion to the departure car for the airport—when we (rather reluctantly) headed home, the experience was phenomenal. She has a knack for booking tours which weave in the must-see stops, along with locals' secrets, all while anticipating our needs. If we're traveling with our children, she delights in finding guides and excursions which are appropriately engaging for all four of us. If we are traveling without the children, she ensures we can see and do exactly what we want.. Always, always - there are food tours--which seem to raise the bar, every time.
Recommended
My trip
By: Buzz
Reviewed on: 07 Nov 2019
Very good. Very responsive agent.
Recommended
Stephanie is extraordinary
By: Lauren Grondski
Reviewed on: 01 Dec 2019
Stephanie is the best, she planned a beautiful stay for us in short notice and everything was spectacular.
Recommended
Larry
By: Larry
Reviewed on: 05 Dec 2019
She was precise, courteous and provided all the info that made my trip exceptional. Would use her again in the future.
Recommended
Always an incredible travel agent
By: Juan C
Reviewed on: 12 Dec 2019
Stephanie has always helped us find the perfect vacations and the perfect deals. For the longest time I would plan all of my own vacations and now I will not go anywhere without Stephanies help.
Recommended
Just book with Stephanie! Best. Agent. EVER!
By: Randy M
Reviewed on: 24 Dec 2019
Stephanie is awesome! She pays attention to every detail, and is incredibly knowledgeable about various cruises and options. She also does a fabulous job arranging special land-side excursions that make a cruise even more memorable. We've worked with a number of travel professionals over 30+ years of cruising. No one comes close to what Steph delivers!
Recommended
Stephanie is amazing!!!
By: Casey
Reviewed on: 21 Dec 2019
Stephanie is amazing at what she does! Stephanie has been my travel agent for a few years now, and it has been a pleasure to work with her. I only use Stephanie now when I need to travel anywhere. Stephanie is always so positive, responsive and helpful. Also, Stephanie is very knowledgeable about cruises and travel. Stephanie always takes the time out of her busy schedule to help me, my friends and my family with any travel questions. Stephanie will go out of her way to help you with all your travel needs. I highly recommend Stephanie to other travelers!
Recommended
Awesome
By: Nanci
Reviewed on: 29 Dec 2019
She is fantastic. Follows up and gets us great deals.
Recommended
Hola Cuba for US Citizens
By: AlanG
Reviewed on: 04 Jan 2020
Stefi set up my entire trip—flights, Intrepid tour, trip insurance, etc. She was great to work with and all of the trip logistics worked perfectly! I've set Stefi for several previous trips and she's always been a terrific organizer and communicator, even when I've had problems like missed connections and lost luggage.
Recommended
Excellent travel agent
By: World Traveler
Reviewed on: 24 Jan 2020
Stephanie works hard to make sure that our trips satisfy our desire for adventure, comfort and good time. We've worked with Stephanie now for almost 3 years and have been very happy with all that she's done for us.
Recommended
Great trip
By: juan
Reviewed on: 30 Jan 2020
she is always a pleasure to work with and she finds us exactly what we are looking for
Recommended
Family Cruise
By: keyskitty
Reviewed on: 10 Feb 2020
I have been working with Stephanie for a few years now she has even helped our friends with their trips upon our recommendations. We wanted to plan a trip with all of our Adult Children as a surprise. We decided on a cruise since we we could all be together and yet do our own thing. We decided on NCL upon Stephanie's recommendation because at the time it was the best bang for our $$$. We had 4 stops on a 7 day cruise and on one of the stops she booked a family Snorkeling Trip together. Stephanie booked all of our dinners including Specialty Dinners. She helped some of our kids with their excursions and booked them as well. Upon our first nights dinner we found out that NCL did not have any reservations for any of our dinners. I worked with the Maitre D' and he managed to get us all of our reservations. I wrote Stephanie upon this problem and she called her NCL Representative and solved it. It was a wonderful time for our family of 8 and for 4 of them 1st. time cruising. Thank You.
Recommended
Praise For A Great Advisor
By: PJ
Reviewed on: 26 Feb 2020
Stephanie has put together 4 vacations for me, and working with her has been quite enjoyable. Her suggestions and recommendations have enhanced each of our trips. She quickly determined our travel style and preferences, and has been able to put together experiences tailored specifically to our personality. She remains available to us for support throughout all aspects of our travel, and has helped us resolve unexpected issues whenever necessary. I wouldn't hesitate to recommend Stephanie to other travelers, and I look forward to working with her again.
Recommended
Our #1 Trusted Travel Advisor
By: Kate Sudol
Reviewed on: 22 Feb 2020
Stephanie is an absolute travel pro to work with throughout the entire process of planning your perfect getaway — from ideating on where to go to executing all the detailed logistics and every point in between. She creates an itinerary that is fully custom to your budget and priorities and is really just a joy to be around. If you work with Stephanie, I guarantee you will never plan a trip without her in the future!
Recommended
Loves Xcaret in Mexico
By: cfm
Reviewed on: 27 Feb 2020
Stephanie always recommends the best places, and Xcaret in Mexico was no exception. When she suggests a hotel, I know it will be a well-maintained property with great food and excellent service. Thanks, Stephanie!
Recommended
a gift of a vacation
By: Sara & Bill
Reviewed on: 01 Mar 2020
Stephanie is without fail the perfect person to work with to make our vacation special. Not only does she understand what we need and want, she works with us to tailor our experience to make it exactly what we hope it will be. She is respectful of budget and creative about making sure that budget doesn't mean cheap, and she finds hotels and recommended restaurants that are unique, truly special and lovely, and the kinds of places you'd love to return to again and again. Stephanie works with vendors who she knows and respects, and makes sure that they offer the perfect complement to your trip, and we've loved every single special tour we've ever added on, too. We feel very lucky to be able to have Stephanie design our vacations. The only thing better would be traveling WITH her!
Recommended
Japan Adventure
By: Lu
Reviewed on: 09 Mar 2020
Excellent. Stephanie demonstrated an investment in our Japan trip. She recommended activities that were consistent with our needs. She was very attentive to us and in communication always about our trip including through email and telephone. She was honest about what realistic for our budget and time-frame. It was a pleasure working with Stephanie!
Recommended
Best agent
By: Lauren G
Reviewed on: 12 Oct 2020
Amazing agent, best vacations always
Recommended
Honeymoon Break to Punta Cana
By: Simon
Reviewed on: 03 Jun 2021
Stephanie was great to work with. With so many options in Punta Cana, which resort do you choose. Well that was easy Stephanie's experience was able to guide us to a superb resort. The itinerary presentation and reminders were thorough, timely and easy to use. Really everything went smoothly and without a hitch. Will definitely be using Stephanie again. Thank you!!!!
Working with Stephanie Goldberg-Glazer, you will have access to:
- An experienced travel guide whom you can rely on before, during, and after the trip
- Exclusive luxury resorts and properties
- Once in a lifetime experiences
Explore with the Best
Virtuoso Advisors are constantly pushing the boundaries in unique travel experiences.
Alliance programs are unique tailored experiences exclusive to travelers working with Virtuoso Travel Advisors.
learn more
Italy
Spain
France
Israel
United States - All
South Africa
Costa Rica
Germany
Jamaica
Portugal
Japan
Thailand
Peru
United States - Hawaii
United States - Alaska