Liana Kraushaar Merriman
New York City, NY United States
Swoon Travel, an independent affiliate of SmartFlyer
Travel Specialties
Interests
Beach & Sun
Culture, History & Arts
Family Travel
Hotels
Safari
Destinations
British Virgin Islands
United States - All
Anguilla
France
French Polynesia
Selling Travel Since
2018
My Background
Liana has been planning itineraries and traveling the world for as long as she can remember. What started as an unlikely obsession with luxury hotels when she was just a teenager, grew into a true passion for the travel industry that has continued in earnest throughout her entire personal and professional life. Liana completed a masters degree in hospitality management from Cornell University, and has had a 10 year career working in luxury hotels in New York City, most recently with Rosewood Hotel Group and Four Seasons. Liana decided in 2018 to make the leap and begin booking travel full time in order to put her lifelong knowledge and passion for travel to work for her clients.
Liana has traveled most extensively through the Caribbean (favorite island: Virgin Gorda) and Europe (favorite city: Vienna) but has visited over 35 countries and continues to discover new destinations every year. When she is not traveling, researching, or planning itineraries, Liana loves spending time at home in her West Village, NYC apartment. She is an avid reader, an animal lover, a perpetual student of art, history and architecture, and an advocate for small, sustainable farming practices, such as those practiced by her family's farm in the Hudson Valley.
Places I Have Traveled
Reviews and Recommendations for Liana Kraushaar Merriman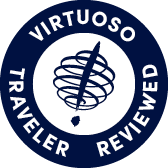 Virtuoso Verified Traveler
All reviews are from confirmed guests sharing exclusive insights
Sort reviews by
Recommended
Upstate trip
By: Devon
Reviewed on: 13 May 2018
Amazing! Liana is truly fantastic. She took care of every detail and planned a fabulous trip that was truly beyond anything I could have come up with.
Recommended
Great trip!
By: J.P.
Reviewed on: 18 May 2018
Liana was so helpful in arranging accommodations and a visit to Edinburgh for both me and my wife this May. As an added bonus, she went out of her way to have a few special notes and surprises in the room for us when we arrived, as it was a bit of a "babymoon" of sorts for my wife. Two big thumbs up, can't wait to plan our next trip with Liana as well!
Recommended
Amsterdam Trip
By: hojo4nyc@me.com
Reviewed on: 23 Jun 2018
Fantastic!! Knowledgeable and committed to exceeding every expectation, however challenging. Terrific follow-up and very focused at every level of engagement. Listens well to learn preferences and makes smart, well-researched recommendations that really hit the mark. Smooth and pain free in every respect. Already at work on trips through 2019. Thanks Liana!!
Recommended
Liana
By: Trevor
Reviewed on: 17 Jul 2018
Fantastic! Liana was such a pleasure to work with. She had great recommendations and was incredibly organized.
Recommended
The Best!
By: Scotto
Reviewed on: 17 Jul 2018
Liana is fantastic -- enthusiastic, resourceful, prompt and extremely knowledgeable. Looking forward to working with her in the future.
Recommended
The New York Edition
By: Corinne
Reviewed on: 17 Jul 2018
I would highly recommend Liana when looking to book a hotel stay or a holiday. She found me and my partner the perfect hotel to celebrate his birthday in NYC. When booking through Liana you also get amazing extra perks that make your stay even more special. Liana is very professional and great to work with. She is that good we have asked her to book our honeymoon.
Recommended
So helpful!
By: Cpteam
Reviewed on: 27 Jul 2018
Liana was exceptionally helpful and so easy to work with! We had to make several changes to our reservation and she was happily able to accommodate us every time. Will definitely use her help again!
Recommended
Great 15 year anniversary trip!
By: TravelHound
Reviewed on: 30 Aug 2018
Had a wonderfully romantic trip to the Amalfi Coast for our 15th anniversary. Liana was very knowledgeable and helpful, and went the extra mile to make sure we had a truly exceptional experience! Great recommendations...! She also prepared a very helpful itinerary including portions of the trip that she had not organized and my wife was probably as impressed by the level or organization as the trip itself! Thanks Liana!
Recommended
Liana Merriman
By: Mm
Reviewed on: 23 Aug 2018
Absolutely amazing. Liana was extremely knowledgeable and friendly. She listened to what we wanted and tailored our trip to our exact specifications. Liana also gave us great ideas and made sure no stone was unturned. She was always in contact with us and our hotels and tours.
Recommended
Excellent service
By: Katz family
Reviewed on: 28 Aug 2018
Liana was great to work with. I would recommend her services highly.
Recommended
An amazing trip I never would've planned on my own!
By: BW
Reviewed on: 03 Sep 2018
I LOVED working with Liana on my trip! I had a few places in mind when I came to her, but I wasn't sure which would be worth the money or how they all compared. She gave such great, honest advice and helped me figure out what exactly I was looking for. And then she hooked me up with amazing perks! The Four Seasons staff literally treated me like a celebrity it was crazy. I never would have booked there on my own without the perks and advice from Liana, but I'm SO glad I did. I definitely recommend!
Recommended
Wonderful trip to Scotland
By: Judd
Reviewed on: 14 Sep 2018
Absolutely terrific from our first conversation. Liana is so knowledgeable and responsive. She put together a fabulous itinerary and really figured out exactly what sights and hotels matched our interests and needs. She reached out during our trip to make sure all our needs were being met. What a lovely partner and so easy to work with! We plan to use Liana for all our travels and in fact are already in the midst of planning our next trip to Spain and France with Liana's help.
Recommended
Wonderful experience!
By: Dayz
Reviewed on: 14 Sep 2018
So wonderful! She was easy to communicate with, so organized and nice!
Recommended
Great Agent
By: Sberrie
Reviewed on: 16 Sep 2018
Lianna is an excellent travel agent. She was patient, creative, and secured us the best possible deal for our amazing weekend trip to Turks and Caico's. Thank you!!
Recommended
5 star service!
By: Christina
Reviewed on: 13 Sep 2018
Liana was incredibly knowledgable and such a pleasure to work with! She had excellent recommendations for our itinerary.
Recommended
Amazing experience
By: Rachel Gray
Reviewed on: 19 Sep 2018
Liana was fantastic to work with. She is very professional, responded promptly, is extreamely organized, but most importantly, she underwood perfectly what we were looking for. She is incredibly knowledgeable and made it easy to make decisions and plan our trip.
Recommended
Paris trip
By: Mm
Reviewed on: 28 Sep 2018
Liana was an excellent trip advisor. She is extremely knowledgeable about traveling and hotels. She had wonderful ideas for excursions and activities for us. Absolutely love working with Liana and would definitely recommend her to anyone.
Recommended
Highly Recommended
By: Lisa
Reviewed on: 11 Oct 2018
Liana found a great hotel for us. It was in a great location, close to many of the sites we wanted to see, but on a quiet street. She responded quickly to any emails we sent, and was able to get reservations at all the restaurants we asked about. She was polite and friendly, and never made me feel uncomfortable calling her. I highly recommend Liana, and I will use her for all of my future trips.
Recommended
Bermuda
By: JP
Reviewed on: 08 Oct 2018
Everything went perfect. Well Done.
Recommended
Trip to Spain
By: R & B
Reviewed on: 12 Oct 2018
Liana was easy to work with understood exactly what we wanted. She planned our 12 day trip to Spain. The trip flowed seamlessly, it was laid out well. Liana scheduled guides for us at all our destinations which on our own we would never have done. The personalized guides really made the trip. All the connections, hotels and transfers worked perfectly. We highly recommend her and will be using her for our next trip
Recommended
Amazing
By: STACEY BPK
Reviewed on: 28 Oct 2018
The best client care. Available all the time. Super knowledgeable. Highly recommend for all travel needs big or small!
Recommended
Great trip
By: Luna
Reviewed on: 29 Oct 2018
Liana is very organized and incredibly pleasant to work with. She arranged a great trip for us.
Recommended
Great trip to Basque Country & Bordeaux
By: Theo
Reviewed on: 01 Nov 2018
Liana is a gem. From our first phone call, Liana listened carefully to our interests, offered a range of exciting travel ideas, and then helped us pick the perfect mix of memorable travel experiences. We knew little about northern Spain and Southwest France, but Liana was a font of knowledge both with respect to the history and culture of the region as well as being a guide to the best hotels, restaurants, and vineyards. Liana exudes passion about traveling and certainly knows her stuff. We've already referred several of our friends and can't wait to plan our next trip. Liana, you're the best!!
Recommended
Business Trip to Israel
By: Roy Kozupsky/Rimon
Reviewed on: 02 Nov 2018
Her work was excellent. Highly professional, extremely attentive.
Recommended
Fantastic customer service!
By: hud1226
Reviewed on: 07 Nov 2018
Wonderful! Liana was extremely responsive before, during and after the trip. She didn't skip a beat when we had to make last minute changes to our trip. Her hotel and restaurant recommendations were excellent. She made sure the hotel knew our preferences and that we were treated like royalty during our stay.
Recommended
Wonderful Adventure
By: traveler
Reviewed on: 27 Nov 2018
Liana is so very personable and easy to work with. She was very responsive to all our questions and needs. She created a detailed itinerary that fit our hopes for our adventure. The trip was really wonderful. We LOVED the SmartFlyer app too!!! We will definitely be calling Liana for our next trip.
Recommended
Bahamas babymoon
By: Jordy
Reviewed on: 16 Dec 2018
Liana was great to work with. She was responsive, professional, answered all of our questions, and worked with us to find and place and a rate that we were very happy with. There were no surprise charges or issues encountered on the vacation. We had an awesome time thanks to her planning!
Recommended
Excellent!
By: SK
Reviewed on: 03 Jan 2019
Always provides excellent and timely assistance
Recommended
Pink Door in Palm Springs.
By: JLB
Reviewed on: 10 Jan 2019
Working with Liana was great. She is extremely knowledgeable and helpful and found us a perfect house for our family vacation.
Recommended
Outstanding attention
By: Stacey K
Reviewed on: 11 Jan 2019
Liana is an outstanding travel consultant. She is on top of everything, super responsive, extremely knowledgeable and simply makes every aspect of travel run smoothly. I would highly highly recommend working with her!
Recommended
Another great trip planned by Liana.
By: Suzanne G
Reviewed on: 28 Jan 2019
This was our third trip planned by Liana. As usual, it was amazing! It doesn't matter if it's a once-a-lifetime trip to someplace exotic or just a quick get away to Turks &Caicos... Liana knows all the right places to send us. We stayed at the Shore Club and loved it! And the room upgrade we got when we checked in wasn't too shabby either! Thanks Liana! Gotta start thinking about our next trip.....
Recommended
Great experience!
By: Devin
Reviewed on: 29 Jan 2019
Liana was fantastic to work with! I was looking for ideas for an upcoming vacation, but didn't have the time to do the upfront research. Liana listened to what i was looking for, researched and summarized various options, and then added personal insights based on her experience to help me make an informed and smart decision. From there, she handled all of the details - and went above and beyond to ensure we had a perfect experience! Can't wait to work with Liana again.
Recommended
The best
By: Stacey
Reviewed on: 18 Feb 2019
Outstanding service. Attentive and knowledgeable. Highly recommend!
Recommended
Great as always
By: J.P.
Reviewed on: 10 Mar 2019
Liana is the best - always super helpful. Our Villa was fantastic, and we even had some complementary champagne waiting for us on arrival. Two thumbs up, as always!
Recommended
Ireland
By: mm
Reviewed on: 21 Mar 2019
We absolutely love working with Liana! She once again planned an incredible trip for us. Liana truly knows about travel and never misses any detail. She is probably the best travel advisor we ever worked with and is always a pleasure to talk to.
Recommended
Los Angeles Trip
By: Kathy
Reviewed on: 23 Mar 2019
Liana was excellent to work with and we will definitely use her in the future.
Recommended
Liana is incredible!
By: Ben
Reviewed on: 04 Apr 2019
I was planning an extremely complicated business trip for approx. 10 colleagues (arriving and departing on different dates), which entailed seemingly endless reservation changes. From start to finish, Liana was friendly, incredibly competent and, above all, patient! She helped me arrange a significantly lower rate than was available online, kept meticulous schedules of the reservations, responded very promptly (usually instantaneously)...the list goes on. I cannot recommend her enough and would work with her again in a heartbeat.
Recommended
Mexico City
By: Luna
Reviewed on: 15 Apr 2019
Working with Liana was a pleasure. She is incredibly knowledgeable and organized. Everything you would want in a travel consultant when planning a trip to a city you have never been to before.
Recommended
Portugal
By: SM
Reviewed on: 01 May 2019
We just returned from an incredible 10 day trip to Portugal. She helped conceptualize our trip from the beginning, guiding us towards which cities and regions to visit and made amazing recommendations for our accommodations. Working with Liana through the planning process was a breeze! She was very knowledgeable, prompt with responses to questions and very flexible with my indecision! Each place we stayed, although reasonably priced, was absolutely top notch in service and amenities and we were welcomed by a nice surprise including chocolates, wine and port (and even upgrades to suites, more than once!) and a personal note from Liana. Even my mom, who is difficult to please, was very impressed!! We will definitely be using Liana again for future trips!
Recommended
An Amazing Trip!
By: Wendy
Reviewed on: 04 May 2019
I loved working with Liana! She is knowledgeable, responsive and very patient. She coordinated a wonderful week in Australia, organizing air, hotel/lodge and restaurants. When we wanted to make a change while we were there, she responded immediately and worked into late hours of the night. This was the first time I worked with her and I will definitely be using her again.
Working with Liana Kraushaar Merriman, you will have access to:
- An experienced travel guide whom you can rely on before, during, and after the trip
- Exclusive luxury resorts and properties
- Once in a lifetime experiences
Explore with the Best
Virtuoso Advisors are constantly pushing the boundaries in unique travel experiences.
Alliance programs are unique tailored experiences exclusive to travelers working with Virtuoso Travel Advisors.
learn more
British Virgin Islands
United States - All
Anguilla
France
French Polynesia
Vietnam
Maldives
Greece
Indonesia
Saint Barthélemy
Sri Lanka
Costa Rica
Israel
Australia
Italy