Travel Specialties
Interests
Honeymoons
Beach & Sun
Family Travel
Culture, History & Arts
Sports & Outdoors
Destinations
Mexico
Jamaica
Dominican Republic
Costa Rica
Italy
Selling Travel Since
2017
My Background
Growing up on an Iowa farm gave me the desire to travel, experience and explore any place different from what I already knew.
My favorite class in school was history so I have always had the desire to find out how the rest of the world lived in the past compared to how they live now, challenge myself to new ideas and be exposed to new places, people and cultures. Travel is a "great escape" from the stress of regular life. Seek what you don't have at home: better weather, gorgeous scenery, exciting experiences and you will return home with the best souvenirs of all – memories of your incredible adventures.
After several years away from the travel industry, I returned to my first love and passion: Travel! So whether you are seeking a romantic "off the grid" secluded honeymoon, a family vacation at a lively and luxury all-inclusive resort in the tropics or a European trip of a lifetime – I can assist with every step to create a travel itinerary uniquely for you!
Places I Have Traveled
Reviews and Recommendations for Marnie Wilkes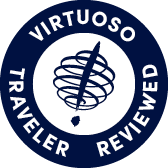 Virtuoso Verified Traveler
All reviews are from confirmed guests sharing exclusive insights
Sort reviews by
Recommended
Sister Trip
By: Ally
Reviewed on: 07 Apr 2018
Marnie was fabulous to work with. She is timely and has an eye for detail. No questions went unanswered. My sister and I were able to take a trip of a lifetime, thanks to Marnie!
Recommended
Cabo
By: Cabo fun
Reviewed on: 29 Mar 2018
Very organized, Knowledgeable and great follow through. We had a great time.
Recommended
Marnie
By: Lori
Reviewed on: 30 Mar 2018
Working with Marnie and Humble Travel always makes our trips stress free as they take care of literally everything for us!
Recommended
Hawaii
By: Sheila
Reviewed on: 30 Mar 2018
Marnie was great. She helped us plan a fun trip to Oahu and Kona in January. We wanted specific experiences and we're very pleased with our tours, our housing and our transportation. Marnie communicated with us well. She explained every detail of our trip well and researched and responded to all our questions. We will consult with her for future travel.
Recommended
A week of fun!
By: Golf Nut
Reviewed on: 30 Mar 2018
Marnie worked extremely hard to plan our vacation. Getting the best deal was important to her, but when I said my mom is 90, Marnie started to plan for an older person. She understood running through airports was not an option. She redid our flight making it a direct one. The effort she put into the planning was more than anyone else would have done. After our trip, she wanted to know how everything went. She wanted feedback to help her with future vacationers.
Recommended
Honeymoon
By: Julie
Reviewed on: 05 Apr 2018
Easy. She was able to accommodate our busy schedules to stay in contact with us in appropriate forms of communication. Helped make sure everything was in place before we left.
Recommended
Awesome
By: Erica
Reviewed on: 06 Apr 2018
Marnie is fabulous! Highly recommend. Our trip was everything we wanted and more. We even had a name mix up with our airline on our tickets and Marnie fixed them right away! This is why we go through a travel agent for now on for all our vacations!
Recommended
Amazing!!
By: Ashley
Reviewed on: 06 Apr 2018
Marnie made vacationing even more relaxing! We didn't have to worry about anything. We told her what we wanted, and she took it from there. Nothing went wrong because of Marnie. We will be going through her again in the future! Highly recommend!
Recommended
Punta Cana
By: Bruce
Reviewed on: 05 Apr 2018
Great! She was helpful with picking a destination.
Recommended
By: FahtahFam
Reviewed on: 05 Apr 2018
It went well. She was very helpful.
Recommended
Pinkerton west coast trip
By: James Pinkerton
Reviewed on: 07 Apr 2018
Wow. There are not many people you can rely on like you can Marnie. Our trip was more complex than most. We had parameters due to my wife's MS. My wife does well, but tires easily. So: Fly out of Minneapolis (no lay overs) Fly into San Francisco for 2 days. Drive no more than 3 hours/day. Stop at scenic high points. From San Francisco we had overnights in California - Bodega Bay, Westport, Ferndale, Crescent City. Oregon - Brandon, Newport, Seaside Washington - Tacoma, Camano Island Marnie worked with us picking stops. Willing to make changes, dealing with changes of vehicle drop off. She was there as a highly trained, caring professional . We were still tired, but my wonderful wife was exhausted. A wonderful trip. I would and will have Marnie help us on our trips. In these modern times, I know a person can do it themselves, but my work and life prevents me from spending time researching. I have already referred others to her. W/ gratitude, Jim Pinkerton
Recommended
Great service
By: KB
Reviewed on: 30 Jun 2018
Excellent. She thoroughly researched prices and options.
Recommended
Trip to Florida July 2018
By: Jill
Reviewed on: 29 Jul 2018
She was easy to work with. I just told her my budget and what we liked to do and she had 4 resorts for us to choose from. Would highly recommend Marnie😁
Recommended
Cabo San Lucas
By: Shannon
Reviewed on: 24 Sep 2018
Super easy to work with and very organized
Recommended
Ireland-The trip of a lifetime
By: Brenda
Reviewed on: 26 Sep 2018
Marnie is so amazing at her job!!! She took care of arranging absolutely everything for us with nothing left for us to do but relax, take it all in and enjoy!! Hotels, flights, rental car and a recommendation of an outstanding tour that she also took care of booking for us. Marnie is a gem to work with and every trip for us from now on will be hands down planned by Marnie with Humble Travel.
Recommended
Trip to Sonoma/Napa
By: Darcy
Reviewed on: 05 Oct 2018
Marnie did a great job helping me plan my 50th birthday trip to Napa/Sonoma California. My sister and I both would highly recommend her to help you with your trip. She helped us take so many options and narrow them down for our first trip. The places we stayed and the organization of the trip was perfect. We didn't have to worry about anything.
Recommended
Honeymoon
By: Katie
Reviewed on: 02 Nov 2018
She was very good about getting our hotel reservation ready for our honeymoon. She also looked into stuff for us to do when we were on our honeymoon! I highly recommend her!
Recommended
Great Experance
By: GW
Reviewed on: 17 Nov 2018
Very professional. Returned calls and was easy to contact. We left everything Her and she did an outstanding job for us. This is the first time we used a travel agent and we were pleasantly surprised at how easy it went. We are planning on using Her again in the future to plan vacations.
Recommended
Awesome trip!
By: Tim
Reviewed on: 28 Dec 2018
Marnie was great to work with. She made everything straightforward and simple, even though it was our first trip out of the country! We will definitely be working with Marnie and Humble Travel again!
Recommended
Marnie Wilkes
By: Barb
Reviewed on: 28 Dec 2018
I would highly recommend working with Marnie Wilkes at Humble Travel when planning your next vacation. I know I will be working with her again! She explained all aspects of our trip thoroughly and I felt comfortable and prepared to travel in a foreign country. Thank you, Marnie, for a great vacation!
Recommended
Beautiful Mexico
By: AliciaBarron
Reviewed on: 08 Feb 2019
Marnie did a spectacular job with our entire trip to Playa Del Carmen Mexico! The hotel we booked was called The Royal but had since been bought by Hilton. Marnie made sure to call and let us know that it changed. We had 2 excursions that she booked for us and those were wonderful. Every part of the trip from the flight, to the transfers and the excursions went just like it was supposed to. I will most certainly be working with Marnie again in the near future!
Recommended
Marnie did great!
By: Lori Jo
Reviewed on: 08 Feb 2019
We had some challenges making this last trip work with a family of 5's work schedules, but with Marnie's help and guidance we pulled off an amazing family vacation that was enjoyed by all!
Recommended
Fun Trip
By: Lynn
Reviewed on: 22 Feb 2019
Very kind and helpful. Timely in responses. Easy to get ahold of and arrange meetings. I don't feel as though she was as knowledgeable about our resort, location, etc. We were told by her that we booked King rooms, and upon arrival our entire group was place in doubles. The paperwork then said King upon availability. This would have been nice to know in advance.
Recommended
Very Professional
By: J
Reviewed on: 22 Feb 2019
Very smooth and informative. Excellent service!
Recommended
Great vacation
By: Bun
Reviewed on: 06 Mar 2019
Marnie was very helpful with planning our vacation. We had a problem with the 1st resort we booked but Marnie was able to get it switched to a different one for us!
Recommended
Birthday trip
By: Rasta
Reviewed on: 26 Feb 2019
Marnie was amazing to work with on our recent birthday trip.
Recommended
Jamaica
By: Schmitz
Reviewed on: 03 Mar 2019
She did a great job and laid everything out for us well. She even answered emails after hours to make sure we were taken care of. We really enjoyed working with her and would work with her again.
Recommended
Dominican Trip
By: Chelle
Reviewed on: 27 Feb 2019
Marnie did a fabulous job for us in finding the best all inclusive resort to vacation with friends in the Dominican. In fact, we had one resort booked and she kept an eye on the reviews that were coming back on this particular resort and decided this resort wasn't in our best interest. She researched other resorts for us and found a better one that rated high. She kept the price in our range as well. We had an excellent time while there and would recommend this resort to others for sure as well as Marnie's services!
Not Recommended
crap
By: Mike Rosteck
Reviewed on: 09 Mar 2019
Vacation sucked Motel 6 room with a patio. Bad bar food and lack of entertainment But the people were nice. total lack of communication
Recommended
The perfect honeymoon!
By: The Brockmeyer's
Reviewed on: 03 Mar 2019
Marnie was absolutely wonderful. She was quite patient with us newlyweds who were a bit indecisive as to when and exactly where to travel. Many quotes were put together and sent to us by Marnie. We feel she kept our interests at heart when making suggestions. She was very timely when responding! Easy to contact. Will certainly book through Marnie at humble travel again!! Hoping rather sooner than later. 🙂
Recommended
Trip to Cuba
By: Pat Harper
Reviewed on: 14 Mar 2019
It was very easy to plan my trip. She had all the answers to make it smooth and stress free.
Not Recommended
Belize-first time using an agent as it was a surprise gift for my husband
By: Cindy Mennenga
Reviewed on: 14 Mar 2019
A very nice person, but attention to detail was lacking. Air travel was good, resort was fantastic, but communication was sketchy. Money is no object for us. If we had known the details of the water taxi and area surrounding the inn, we would have opted for inter-island flights. More information should have been given to us. I am sure Marnie is fine with areas she has actually visited, but no "on the ground" knowledge left us with a less than satisfying trip. We have shredded the $50 certificate mailed to us as compensation. Please use the money for someone who needs it. We have traveled extensively on our own for over 35 years. My husband has been overseas over 50 times and we have traveled to almost every area of the world. We normally plan our own trips without a travel agent. I am sure Humble has a good reputation, but with our upcoming trips including a journey to Italy, Germany, France, and Switzerland this Fall, we will be on our own and using our personal resources.
Recommended
Ok
By: Sue
Reviewed on: 22 Mar 2019
Very good and very helpful
Not Recommended
good then bad
By: stephanie
Reviewed on: 21 Mar 2019
She was very nice and all went well until the week of travel She said she would call and go over the fin al plan. I finally called her the day I left as I had some questions. I was told she was out of town . I would have appreciated her telling someone else to take over.
Recommended
Outstanding Service
By: Becky
Reviewed on: 04 Apr 2019
Wonderful. We were glad for her help as our flight was delayed and we would have missed our connecting flight. By the time we got to the airport Marnie had changed our flight plans and when we printed our tickets we were good to go. No waiting in line at the airport having to figure out what to do about missing the connecting flight. I will definitely use Marnie again and not book a flight through an online discount service. The personal service you get from a travel agent is hassle free.
Recommended
Turks
By: Elcuv
Reviewed on: 10 Apr 2019
Marnie was great to work with. Very organized and accommodating. Pleasure to work with.
Recommended
Marnie
By: Joyce
Reviewed on: 06 Apr 2019
Very personable. Solved any issue that arouse.
Recommended
T
By: T
Reviewed on: 05 May 2019
Easy and seamless.
Recommended
Vacation to Hawaii
By: Frosty
Reviewed on: 29 Apr 2019
Very friendly help in every way and double checked all of our stuff
Recommended
Marnie was wonderful!
By: Jean & Bailey
Reviewed on: 28 May 2019
Marnie was very cordial, well organized and knowledgeable. She was easy to communicate with, answered our e:mail inquiries in a timely manner, and if she didn't know an answer to our questions, she would find out without hesitation. We especially appreciate the detail she put into our travel documents.
Recommended
10/10
By: Sara
Reviewed on: 30 Jun 2019
Fantastic! Very knowledgeable and thorough
Recommended
Well organized
By: Couple
Reviewed on: 08 Jul 2019
Marnie was great at finding the travel plans that best suited us. Easy to communicate with and always addressed any questions with insight and ideas! When our trip was finalized she walked us through highlighting every detail we need to be aware of on our complex itinerary.
Recommended
Las Vegas/Tahoe
By: Monty
Reviewed on: 14 Jul 2019
Excellent! Marnie kept us well informed and up to date on the vacation package. She took care of any changes without hesitation to make sure we were satisfied and communicated through emails or phone calls. She reviewed package thoroughly and highlighted items that we needed to follow up on during the trip. She had our flights and excursions that were planned all separate which made it so easy on our end. There was not a flaw in the package and our trip went smoothly. We appreciate Marnie's time spent planning to ensure our trip was fantastic!
Recommended
Jamaica honeymoon
By: Brandon
Reviewed on: 24 Jul 2019
Marnie was great! She gave me plenty of destination options and worked with me on choosing a great destination.
Recommended
Cape Cod
By: Marie
Reviewed on: 27 Aug 2019
Marnie arranged flights so my sister from Texas and me from Iowa arrived in Boston at the same time. Our luggage even came to the same carasol. She helped us find the perfect inn within walking distance of many restaurants and sites.
Recommended
Happy
By: Brad
Reviewed on: 27 Aug 2019
Marnie took all the time we needed to answer all our questions. She made everything easy for 2 first time travelers.
Recommended
Great job!
By: MollyC
Reviewed on: 03 Sep 2019
Working with Marnie was our first experience working with a travel agent. She was so knowledgeable and helpful--she answered our many, many questions about our land/sea tour of Alaska. We really appreciated her attention to detail--she printed out all of our boarding materials, including our luggage tags, and went through all of the information with us thoroughly. We will contact Marnie again for our next big trip!
Recommended
Bahamas Trip
By: luvcuv
Reviewed on: 12 Sep 2019
Marnie was awesome to work with. She was very helpful and insightful. She made everything so easy. I would definitely recommend Marnie if you are wanting to plan a trip!
Recommended
Jamaica
By: Luke
Reviewed on: 18 Sep 2019
Our experience was excellent and the resort was amazing. My wife and I will go back to the same place again
Recommended
Review
By: Ken
Reviewed on: 02 Dec 2019
Marnie was excellent-- knowledgeable, supportive, hard working, and creative in her solutions. My family really benefited from working with her, and we appreciate her efforts very much.
Recommended
Fun time in HI
By: Bob
Reviewed on: 26 Dec 2019
She was great to work with. Marnie explained everything.
Recommended
Excellent service
By: darrellgreenman
Reviewed on: 09 Jan 2020
Marnie Wilkes was so friendly before and during the booking process. My husband and I felt assured of our holiday plans from the moment we made contact.
Recommended
Organization
By: Cole
Reviewed on: 12 Jan 2020
Everything was set up correctly. Paper work sent to me on time. Answered all questions prior to departure. Will use her assistance again
Recommended
Dominican Republic Vacation
By: TakeMeToTheBeach
Reviewed on: 22 Jan 2020
Marnie is always very quick to respond when working with her on vacation details. She is always very friendly and thorough. Very helpful when you have a specific question about your vacation. We have used her twice while booking big family vacation and everyone has always had a great experience!
Recommended
Great vacation
By: B
Reviewed on: 14 Jan 2020
Easy communication via email. No issues.
Recommended
review for Florida trip
By: Le
Reviewed on: 17 Jan 2020
very accommodating
Recommended
Leave it to Marnie
By: Erica
Reviewed on: 06 Feb 2020
This was my second time going on a vacation planned by Marnie. I would highly recommend her. Everything is organized, and her recommendations are perfect. I had a lot of anxiety traveling out of the country the first time, but the second time I had no worries. I know I can travel confidently when Marnie plans my vacations. It is so nice to know that all of the details are taken care of. We usually travel with a group of friends, so it also takes the hassle out of getting everybody organized to make arrangements together. We also recommend taking out travel insurance. Marnie will explicitly go over it with you, and it gives me more piece of mind that if an emergency were to arise while we are on vacation, we have the resources to call. I highly recommend Marnie!
Recommended
PV
By: FrancisBlair
Reviewed on: 17 Feb 2020
Like working with family. Marnie was, as always, very helpful and understanding of what we wanted on this trip.
Recommended
Dominican
By: Brian and Hope
Reviewed on: 10 Feb 2020
Every aspect of our arrangements were flawless. Top Notch!!!
Recommended
Fantastic Trip to Aruba!
By: Mark & Susan
Reviewed on: 09 Feb 2020
Marnie was a pleasure to work with - she provided us with some options for traveling to the Caribbean based upon our criteria. She was prompt in providing us with several options - just enough to give us some different things to consider without being overwhelming. The trip went off without a hitch - our flights were perfect and we had enough information about Aruba and our resort that we felt very well prepared. Transportation to and from the Resort -- Airport was a breeze. We took a snorkeling excursion - got to see a German ship sunk in WW II, and we did a UTV excursion as well and visited the other side of the island along with the Arikok National Park. Aruba is clean, beautiful and SAFE. Perfect weather every single day. We will go back to Aruba after this experience!
Recommended
Review of Florida trip
By: Ed and Martha
Reviewed on: 19 Feb 2020
Working with Marnie is a very pleasant experience. She is thorough, but also listens to our preferences. She keeps us informed and meets with us again shortly before our trip.
Recommended
Mexico 2020
By: Mexico 2020
Reviewed on: 28 Feb 2020
This is the 3rd time we worked with Marnie and everything went well. We had no issues with the information she supplied us. Marnie was also very quick at getting answers to our questions.
Working with Marnie Wilkes, you will have access to:
- An experienced travel guide whom you can rely on before, during, and after the trip
- Exclusive luxury resorts and properties
- Once in a lifetime experiences
Explore with the Best
Virtuoso Advisors are constantly pushing the boundaries in unique travel experiences.
Alliance programs are unique tailored experiences exclusive to travelers working with Virtuoso Travel Advisors.
learn more
Mexico
Jamaica
Dominican Republic
Costa Rica
Italy