Travel Specialties
Interests
Safari
Ocean Cruising
River Cruising
Escorted Tours
Independent Tours
Destinations
Antarctica
Tanzania
Kenya
South Africa
France
Selling Travel Since
1985
My Background
I began my travel career in Los Angeles in 1985. I relocated to Oregon in 1989 where I joined Journeys Peak Travel (formerly Ambassador Travel), now Direct Travel.
Having traveled across all seven continents, I have experienced all forms of travel, from trekking in Bali to private barges in the South of France. I have cruised the rivers in China, Russia and Europe, been expedition cruising in Antarctica and the Galapagos, and accomplished bare boat sailing in the Caribbean and the San Juan Islands.
In addition, I have sailed on over 50 more traditional cruises (and some not so traditional). My expert travel credentials include Certified Travel Counselor, Master Cruise Counselor, Certified Cunard Travel Expert, Certified Princess Cruise Travel Expert, Certified 5 –Star Celebrity Cruise Agent, Uniworld River Cruise Expert, to name a few.
My vast experience, combined with my first-hand destination knowledge and attention to detail, means I will turn an ordinary trip into an extraordinary travel experience.
My goal is to create seamless, hassle-free travel experiences. I deliver a perfectly orchestrated trip, enjoyable from start to finish, for every one of my clients.
Places I Have Traveled
Reviews and Recommendations for Diana Gardner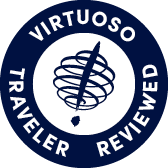 Virtuoso Verified Traveler
All reviews are from confirmed guests sharing exclusive insights
Sort reviews by
Recommended
Our Travel Consultant
By: Dave
Reviewed on: 07 Jun 2017
Diana has been suggesting and arranging travel options for us for over 25 years - need we say more? We don't foresee using anyone else either.
Recommended
Baja2017
By: LindaD
Reviewed on: 09 Jun 2017
We always get excellent personal service from Diana. She knows exactly the type of destinations and related services that we would be interested in and is always eager to get our vacation feedback.
Recommended
When You Want a real 'Pro'
By: Sue
Reviewed on: 08 Jun 2017
Diana Gardner is awesome, with outstanding follow-through and knowledge. We have worked with her for over 20 years, even when we moved, we still rely on Diana for all of our travel needs, She is simply, the BEST!
Recommended
Advisor Review
By: Dave K
Reviewed on: 12 Jun 2017
Diana has always displayed the highest degree of competence in planning my travel. In so far as they are in her control, I can count on flight and ground connections that are convenient, easily doable and as cost-efficient as is practical. She also maintains prompt, friendly and open lines of communication (even once returning my calls while she was on jury duty!). This she does with flexibility and patience, especially evident at those times when I change my mind or experience some confusion. Diana has been able to discern my travel goals and has advised me on many destinations and companies tailored to those preferences. Not only is she a pleasure to work with, but the advice and service I've received from her have resulted in the most memorable travel experiences of my life.
Recommended
Vacation review
By: Bill
Reviewed on: 08 Jun 2017
Diana is the best travel agent in the country in my opinion. I have been using her for over 25 years now. She always ensures everything is in order, both the flight and tour/cruise, bus tour, depending upon what I am doing. I have recommended her to many of my friends and all of them continue to use her. She looks for the best price for me and also vacations that pop up on her screen that she has told me about and I have gone on as a spur of the moment type of trip. She is outstanding.
Recommended
Norwegian Cruise
By: Don
Reviewed on: 08 Jun 2017
Fantastic!!!! Knows her Stuff!!!
Recommended
Love working with Diana Gardner
By: Teresa
Reviewed on: 08 Jun 2017
I love working with Diana! She is knowledgable and honest. On that rare occasion when she does not have personal experience with a destination or hotel, she has resources at her finger tips to turn to for firsthand information. I trust her insights and advice on all aspects of travel. Additionally, Diana is a fun person so working with her is both productive and enjoyable.
Recommended
She knows what we like, and then delivers.
By: hadclan
Reviewed on: 14 Jun 2017
Over the past 12 years Diana has successfully helped us naviagate the world. Despite being her most anxious customer, she continues to answer my calls and emails. On our most recent trip, a river cruise on the Rhine and Moselle Rivers, which included pre cruise visits to London, Paris and Amsterdam and a post cruise stay in Zurich, Diana knew exactly where we should stay and play. All the hotels were perfectly located, had all the amenities we desire, and they didn't kick us out when we tried to break each almost every room. However, the most important aspect of this trip was her recommendation to use Tauck as our cruise line. Tauck was a very good match for us, giving us a good mix of organized travel and enough free time that we were able to venture off on our own from time to time, which was perfect. We also enjoyed the all inclusive aspect of Tauck, which was top notch from the accommodations, to the tour directors, and of course the food. Diana is quite literally the best.
Recommended
Canadian Rockies
By: Don
Reviewed on: 23 Jun 2017
Wonderful. She works like a fine tuned clock. Our flight was cancelled by Alaska Airlines and I called her to make sure the Hotel in Calgary would keep our Room and she did and our Room was available at 2a.m. the next morning and the hotel was aware of our delay because she takes care of business!!! A great asset to your firm.
Recommended
Spain Portugal
By: Herb
Reviewed on: 30 Jun 2017
The overall trip was great. Tour director was well organized and able to take us to several off the road sites. Adequate free time.
Recommended
Advisor was Kathy Rise
By: Quigly
Reviewed on: 05 Jul 2017
Excellent overall service. Only suggestion is a better briefing on what to expect in Eurozone customs. I had expected a briefing on the airplane before arriving in Amsterdam. None was provided. We were totally confused after arriving as to which way to head or what to expect. Finally, after much walking & many questions, we came upon a mega line waiting to clear customs. One hour & five minutes later we finally got through. Fortunately we had changed our itinerary to accommodate such a delay. The original booking had only 55 mins between flights. It takes 15 mins to deplane & get to customs, & another 10 mins after customs to get to the gate at the far end of the terminal. KLM stops boarding 20 mins prior to departure - you do the math. A hint for future passengers with tight connections is that near the head of the line, obscured from view when first getting in line, is an expediter who will refer you to a shorter line (still 10 - 15 min wait).
Recommended
Iceland
By: Dave
Reviewed on: 25 Jul 2017
Diana was great - we really enjoyed the Andersen Hotel in Copenhagen that she suggested.
Recommended
Top notch
By: Blair D
Reviewed on: 26 Jul 2017
Diana, as always, provided all of the information we needed to thoroughly enjoy this cruise, from scheduling airline travel and handling all of the transfers to and from the ship as well as booking the cruise, itself.
Recommended
Best Travel Consultant
By: omom
Reviewed on: 07 Aug 2017
Perfect. Diana is a true professional dedicated to giving her clients the best possible travel experience. We've had many years of working with her and each time it's been a delightful experience as she is always available to answer any questions we have and recommends the best hotels , helps with flights and all in all makes it very easy for us to just pack and go. We know we can always count on her 100% to do the best for us
Recommended
Truely professional cruise planner
By: Wildwoman
Reviewed on: 01 Sep 2017
It is always a pleasure to work with Diana. This was our third or fourth cruise arranged with her. She is so knowledgeable about the ships and lines and knows exactly what each of her customers really wants in a cruise.
Recommended
Azamara Cruise to Italy
By: TravlinMom
Reviewed on: 08 Sep 2017
Working with Diana is always a pleasure. I know she understands just what we want when we travel and I can trust her to take care of all the details for me. I don't have time to plan our trips and Diana always manages to come through with something we love. I look forward to each season when we start brainstorming our next adventure!
Recommended
GU Cruise
By: Cindy
Reviewed on: 21 Nov 2017
Diana was incredibly patient, thorough, helpful and persistent in making sure that we were well organized and ready for our trip.
Recommended
Western Med
By: Blair D.
Reviewed on: 13 Nov 2017
Diana, as always, proved most able to supply the information and connections we needed to optimize this particular trip.
Recommended
Outstanding Advisor!
By: Little Debby
Reviewed on: 27 Sep 2017
We've worked with Diana Gardner for a number of years, on a variety of excursions, both land & sea. A terrific listener, warm as well as energetic, she is a tireless advocate on behalf of her clients (who become friends!). Her experience means that she can suggest ideas or relate her insights from her own extensive time out in the field. She can book trips for the beginning traveler, or those who desire something more exotic. We feel completely secure knowing that Diana has arranged our itineraries, transfers, airline reservations, insurance or hotels. Knowing that we will have a wonderful time at a reasonable tariff, and won't be left high & dry if/when we have a bit of jet lag, a long way from home. She also provides an "app" for your phone, which includes every detail of the travel, plus info about the destinations. Super convenient & helpful to have! It may actually lure me away from carrying all of that paperwork in my notebook!
Recommended
Travel Advisor
By: Karen
Reviewed on: 27 Sep 2017
Diana has always been excellent to work with and this trip is no exception! I wanted to arrive in Europe earlier than when I was supposed to board the ship. She recommended some places to visit, but also sent me some links of day trips for me to decide what to book ahead of time to see more of the area. She had sent me a list of hotels in Zurich for me to check out and decide where to stay and made comments about their locations and whether breakfast was included. She also sent me a choice of flights that would work for me, but also recommended one, too. She has traveled extensively and understands a travelers needs.
Recommended
Helpful
By: Alex
Reviewed on: 29 Sep 2017
Very easy to work with. Answered my concerns. Very helpful.
Recommended
Amazing!
By: K Miles
Reviewed on: 29 Sep 2017
Diana is so great! She helped us plan the trip of a lifetime, cruising the Mediterranean. All of her recommendations were spot on. Throughout all our planning she was always available and very responsive. We are already talking to her about our next adventure.
Recommended
Alaska trip
By: Don
Reviewed on: 02 Oct 2017
Great! She is always aware of our travel needs. She makes sure we don't forget anything.
Recommended
A
By: Gale
Reviewed on: 23 Oct 2017
Good. She was very helpful.
Recommended
Gets things done
By: Larry
Reviewed on: 30 Oct 2017
We have a lot of special request and she gets it done.
Recommended
Fall Cruise
By: Bobo
Reviewed on: 23 Oct 2017
Very Pleasant and Helpful
Recommended
diana
By: Michael
Reviewed on: 03 Nov 2017
Great to work with
Recommended
Advisor Review
By: Newbie
Reviewed on: 06 Nov 2017
Diana was excellent. She helped organize and accommodate our group. The shore excursions she helped plan were very good. I will definitely use Diana again.
Recommended
venice
By: rocky
Reviewed on: 04 Nov 2017
All aspects of her planning for our group was superb.
Recommended
Gonzaga Reunion Cruise
By: Joe
Reviewed on: 11 Nov 2017
Excellent. It was clear she had the mission of herding kittens. With extensive lead time and many first-time cruisers, I'm sure it was difficult to get any of us to respond, let alone agree, on any of the various decisions needed to move forward. From deciding what cruise line, to where to visit, to what cabins to select, to what time to dine, to what tours to take, we were difficult to align. Diana remained patient, but persistent. In my case, she had to repeat things many times over the months of preparation. She also helped significantly with providing Lorraine and me great travel plans to and from Venice. We couldnt be happier, really.
Recommended
Diana
By: STEWART
Reviewed on: 03 Nov 2017
Very helpful and willing to listen.
Recommended
Superb!
By: Carlo
Reviewed on: 12 Nov 2017
Easy to work with, very knowledgeable, great sense of humor. Diana is top-drawer. I'll call for one of our next trips.
Recommended
Travel advisor, Diana Gardner
By: Dave K
Reviewed on: 04 Jan 2018
Diana is the absolute best when it comes to fulfilling my travel needs. Her awareness and intuition regarding my personal travel tastes has steered me to unforgettable destinations and experiences that I may not have otherwise considered. In planning my trips, she has always been exceptionally thorough, often making recommendations that have enhanced my experience and comfort. As far a events are in her control, I never experience any unpleasant surprises. I especially appreciate the way she maintains close communication during the planning process, always responding promptly to my questions and double checking with me to insure that my mistakes are kept to a minimum. In addition to her high degree of professionalism and competence, my collaborations with Diana have always been a real pleasure. She is unfailingly friendly, approachable and enthusiastic. She makes the whole process less like work and more like fun.
Recommended
India trip
By: Vicky
Reviewed on: 22 Jan 2018
Diana has a great sense of humor. I always enjoy visiting her to discuss my travel plans. She made great suggestions to help me book long flights to India. Her recommendations helped me by reducing jet lag and preparing me to get into touring right away. Her knowledge of world travel is a great asset for me and for Direct Travel, she is the best.
Recommended
Koningsdam cruise 1/14/18
By: Bill
Reviewed on: 12 Feb 2018
Wonderful, Been working with Diana for close to 30 years, I always tell her she is the "Worlds best travel Agent" . She is always professional, punctual and looks out for me.
Recommended
Frustration
By: JBL
Reviewed on: 03 Mar 2018
Diana was not able to do the planning for this trip, which was VERY frustrating. First, because I know her and she has planned other trips for us. SeconD, and most important, she has been to Vietnam and it seemed she might help us make better informed choices. But she turned us over to one of her co-workers who had not been there. I will forever wonder if we would have had a better experience if we had sought out an agent who had been to our destinations. Which doesn't mean we had bad experiences, just I wonder if they could have been better.
Recommended
Southeast Asia Cruise on Celebrity Constellation
By: Don
Reviewed on: 12 Mar 2018
Diana was great. Still working with insurance company for me. Has been extremely helpful from the beginning of the vacation details to the end. Very knowledgeable made all arrangements.
Recommended
Spring Break Maui
By: Aimeep
Reviewed on: 08 Apr 2018
Diana was very helpful in securing reservations for us for Spring Break in Maui. She was able to fine us flights, car rental and hotel all within our budget. She provided us with options which she reviewed with us and helped in the decision making process. She checked in a few times leading up to the trip ensuring we were well prepared.
Recommended
Viking river cruise April
By: Sweetiepie
Reviewed on: 25 Apr 2018
She is great at taking care of details! Always looks out for us.
Recommended
Holland of America Cruise.
By: Bill M.
Reviewed on: 25 Apr 2018
I always love working with Diana, I have been working with her as my travel agent for close to 30 years. There are many travel agents, but I always tell everyone she is the Best. She knows what kind of trips I like, where I like to sit on a plane, she finds specials that I could never find on my own. Obviously now days it is easy to do it on your own, but why would I want to do that, she hardly charges much at all, I don't have to sit on the phone all day waiting for someone to answer my questions, she does all of that. She is the best, it takes all of the worrying and stress off of me and she does it so well. If you want the best, that is Diana. Bill
Recommended
cruise
By: Don
Reviewed on: 19 May 2018
Wonderful as always No problemd.
Recommended
Later
By: Larry
Reviewed on: 03 Jun 2018
I will call you next week.
Recommended
Travel Agent
By: Lovetravel
Reviewed on: 15 Jun 2018
Always outstanding. She was foes her homework, organized and fun to work with. She never minds questions and always return calls or emails promptly.
Recommended
Travel arrangements
By: Casey
Reviewed on: 10 Jun 2018
. No matter what the question, she cheerfully answers. She worked out every detail of our trip. As first time travelers to Europe, Diana saw to every detail.
Recommended
Travel advisor
By: Karen Menke
Reviewed on: 27 Jun 2018
Diana is an excellent travel agent. I have worked with her for many years and she always treats me with respect and is concerned about my wants and needs regarding my travel plans. She is very knowledgeable about the places I want to travel and gives me tips of things to see and do. She has traveled to many of the places I have been so her knowledge is first-hand and I like that!
Recommended
Our cruise
By: Kimberly Taylor
Reviewed on: 25 Jul 2018
Ultimate customer service! Very knowledgeable and offered great ideas on how to make our cruise a wonderful experience with memories to last a lifetime. Answered every question and helped us above and beyond from the planning stages to our final arrangements. Would definitely recommend asking for Diana to assist with any type of travel planning! So appreciate Diana!
Recommended
Excellent Attention to Detail, Personable
By: DKB
Reviewed on: 03 Aug 2018
Diana provided spot-on service, answered all questions quickly via email, gave great travel advice. Zero complaints. Would definitely recommend her to friends.
Recommended
She is a Saint!
By: Katy
Reviewed on: 04 Aug 2018
We have worked with Diana on several occasions and I would never work with anyone else. She is the best!! So kind, so patient, so organized. I won't cross the street without her guidance! We have recommended her to several people and they all swear by her too. I can't say enugh about her!
Recommended
Practically perfect!
By: Kevin
Reviewed on: 05 Aug 2018
Diana is incredible! She went so far as to take nearly the same trip a while before ours just to make sure we'd enjoy it. There is no length she won't undertake to ensure her customer's satisfaction. Diana is a consummate professional, and I would not hesitate to recommend her. She is marvelous!
Recommended
Great Service
By: Kei
Reviewed on: 13 Sep 2018
She was a great planner.
Recommended
Diana
By: Rhombus
Reviewed on: 01 Oct 2018
Great. Wouldn't do a cruise without her advice and highly recommend her to my friends and acquaintances.
Recommended
Diana
By: RAG
Reviewed on: 20 Oct 2018
Outstanding. Working with her 15 years, and have had top notch service.
Recommended
American Queen Steamboat, Memphis, Nashville
By: Lorna
Reviewed on: 15 Nov 2018
Great! Diana is enthusiastic, thorough & fun! If she doesn't have the answer she quickly researches it. Very good follow through & availability.. We had a grand trip on the Mississippi River, as well as our extra stays in Memphis & Nashville!! Thanks Diana!!
Recommended
Peru and Galapagos
By: Traveler
Reviewed on: 23 Oct 2018
Diana has been our travel professional for over 25 years - need I say more?! We have three more trips already scheduled with her help.
Recommended
New England tour
By: Karen
Reviewed on: 27 Oct 2018
Diana is a wonderful travel agent and I always enjoy working with her. She is always so helpful and will answer all questions and offer suggestions when I ask for any.
Recommended
Paul Gauguin
By: Me
Reviewed on: 12 Dec 2018
Wonderful cruise line recommendation!
Recommended
Exceptionally talented Travel Advisor
By: Blair
Reviewed on: 04 Dec 2018
We've been using Diana Gardner's services since 1993 and she has performed beautifully each time we've worked with her. She takes the time to determine our likes and dislikes and has recommended many thoroughly enjoyable trips that have met and exceeded our expectations time and time again. I don't hesitate to recommend Diana whenever the subject of travel comes up.
Recommended
Botswana trip
By: Sandy
Reviewed on: 24 Dec 2018
We've worked with Diana for many years. Always reliable, matches trips to our preferences, listens to us. This trip was no exception. She is invaluable in helping us make our trips successful. We had never been to Africa, and didn't know where to start. So she linked us with African Travel, and we worked together to make a great itinerary, going to three different Botswana camps with different environments. A GREAT trip.
Recommended
Great trip
By: DK
Reviewed on: 22 Dec 2018
She was awesome. Answered ALL my questions. Always called me back and made the trip happen with great style. I would highly recommend her to anyone.
Working with Diana Gardner, you will have access to:
- An experienced travel guide whom you can rely on before, during, and after the trip
- Exclusive luxury resorts and properties
- Once in a lifetime experiences
Explore with the Best
Virtuoso Advisors are constantly pushing the boundaries in unique travel experiences.
Alliance programs are unique tailored experiences exclusive to travelers working with Virtuoso Travel Advisors.
learn more
Antarctica
Tanzania
Kenya
South Africa
France
Switzerland
Germany
Portugal
China
Russia
Indonesia
Greece
Netherlands
India