Travel Specialties
Interests
River Cruising
Independent Tours
Ocean Cruising
Escorted Tours
Family Travel
Destinations
Mexico
Jamaica
Dominican Republic
Cuba
Fiji
Selling Travel Since
2003
My Background
I've been in the travel industry since 1999 and can truly say that this is more than my "job" – I truly enjoy making people's travel dreams come true! I specialize in Ocean and River cruising (having sailed with Holland America, Celebrity, Voyages to Antiquity and Avalon Waterways). I am also happy to help plan any sort of vacation you wish. Whether it's a picture-perfect destination wedding, a family getaway to an all-inclusive resort, a hassle-free escorted coach tour of Europe or a private tour, I am here for you!
My clients tell me they like my attention to detail, my enthusiasm, and my knack of recommending those special, unforgettable experiences: that special restaurant, that charming hotel or great little town.
I am a Certified Travel Counsellor with the Canadian Institute of Travel Counsellor and also an Avalon Waterways river cruise specialist and I have visited more than 15 countries. While I am based in Canmore, Alberta (about 100 kms/60 miles from Calgary), I am happy to advise you, no matter where you live. Et je parle francais aussi!
I look forward to hearing from you!
Places I Have Traveled
Reviews and Recommendations for Francoise Campbell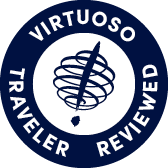 Virtuoso Verified Traveler
All reviews are from confirmed guests sharing exclusive insights
Sort reviews by
Recommended
Francoise is awesome!
By: Ian
Reviewed on: 18 Feb 2018
She is conscientious, comprehensive, considerate, enthusiastic, flexible, hardworking, personable, intelligent, knowledgeable and helpful. In short she is excellent. I have never had a better travel agent. I recently traveled to India and when I had to return early she bent over backwards to get me home quickly. she insisted that I go to Agra while in India to see the Taj Mahal which was literally a momentous event. What a great day that was! She knew about the food, about hotels and how to get around. She arranged my ground transportation and hotels as well as my flights. I can say without a doubt I would highly recommend Francoise to anyone and everyone.
Recommended
A pleasure to deal with
By: J. Wnpox
Reviewed on: 22 Nov 2017
Francoise is so helpful, she has thought of the little things that you have not.
Recommended
Europe
By: Marilyn
Reviewed on: 27 Nov 2017
Francoise is a pleasant woman to plan my trips. She's efficient, organized and very helpful. She has a lot of patience and listened to my concerns about traveling in certain areas of the world. I highly recommend her. I'm booking my next trip to Africa with her!
Recommended
Duormo Valley Cruise
By: Melanie
Reviewed on: 25 Nov 2017
Francoise was extremely helpful at all stages of planning our trip. She help us select our cruise and cabin, and advised us of everything we needed. She also reminded us of our deposits and payments in a timely manner. She is a very knowledgeable and personable advisor.
Recommended
Alaska cruise
By: moemoe
Reviewed on: 22 Nov 2017
Francoise is a very friendly lady, and not afraid to answer questions, even though they might sound silly at times.
Recommended
Alaskan Cruise & India Tour
By: Margaret
Reviewed on: 26 Nov 2017
I would highly recommend Francoise to anyone seeking a travel advisor/guide extraordinaire! Francoise is a gem to work with. She manages all travel details with finesse and makes sure any problems are dealt with swiftly and professionally. Francoise has lots of great suggestions for how to make one's trip even more memorable. She truly takes care of her clients. On my Alaskan Cruise Francoise was quick to get in touch with me about an upgrade she felt I should take advantage of and on the India tour I was lucky enough to see her in action as she guided a group of ladies through what was certainly a trip of a lifetime. I do not hesitate to recommend Francoise to friends and family when they are considering planning their next trip.
Recommended
Would Recommend
By: rabbit
Reviewed on: 25 Nov 2017
Working with Francoise was a pleasure. She was quick to follow up on any requests or change of plans. Before leaving on our trip we went over any questions we had and she made sure that we understood all the details. After the trip she followed up on how everything went and any problems that we had. She also asked our opinion on hotels and transportation that we used. We would not hesitate to call her again for our next trip.
Recommended
Always Excellent
By: Gregor
Reviewed on: 20 Nov 2017
We have used Francoise many times for many different kinds of trips. She has always come through with itineraries that suit our needs. She does this by having an interest in what we do, that interest makes her ask the right questions. Perfect every time. We had a missed flight incident once when flying out of India, a quick call to Francoise and she had us on the next flight out with no charge. Would highly recommend.
Recommended
Alaskan Cruise
By: Grandma B.
Reviewed on: 19 Nov 2017
Francoise has planned several trips for me and I've never been disappointed. The latest was an Alaskan Cruise with my granddaughter. We both had a wonderful time. It is so nice not to have to worry about the details - Francoise took care of that,
Recommended
professional, calm, efficient
By: loveEuro
Reviewed on: 19 Nov 2017
totally enjoyable, and she saved my trip due to an error on my part, at the midnight hour!
Recommended
First Cruise
By: Ray & Pat Ryan
Reviewed on: 24 Nov 2017
Francoise was a joy to work with and always readily available to answer any questions. We are in our seventies she was conscientious of our needs. She prepared our itinerary exactly as we wanted it and then provided us with a detailed copy of it . The cruise information and the accommodations she booked, including a number of shuttles, all worked out for us. We had a wonderful trip which we felt was due largely to Francoise being such a knowledgeable and helpful agent.
Recommended
Emerald river cruise
By: Sarge
Reviewed on: 29 Nov 2017
This was our third or fourth trip arranged by Francoise. We have followed her as she moved to different travel companies through the years. Francoise gets to know her client's likes and preferences and works diligently to find the best possible tour, flight arrangements, accommodation, etc. that best suits our needs. Francoise has learned the trade first hand as she is an extensive traveler herself. Her love of travel is truly evident and infectious. She is genuinely interested in her clients' travel experiences and her desire for feedback is real. Whether traveling herself or enjoying travel through her clients, she is enthusiastic and interested. Top this off with her friendly, accomodating and trustworthy attitude and you have a great travel advisor.
Recommended
Helpful
By: Slim
Reviewed on: 26 Nov 2017
Francoise is very personable and goes to great lengths to make sure that all avenues of transportation, accommodation, and services have been looked into making sure that your trip is pleasant with no hitches. She is very considerate in planning your trip within your financial means.
Recommended
Vegas, Baby!!
By: Mortimer
Reviewed on: 19 Nov 2017
Francoise booked our trip to Las Vegas so we could get married. Everything was done the way we wanted, and it turned out the same. We were extremely happy with the service she provided and we had no problems on the trip.
Recommended
Travel
By: Flowet
Reviewed on: 02 Dec 2017
Great! Always on top of everything.
Recommended
Mexico 2018
By: Stretch
Reviewed on: 15 Jan 2018
Very good over the past few years
Recommended
Club Med, Ixtapa
By: Sandy
Reviewed on: 13 Mar 2018
Francoise is an excellent travel advisor to work with. She is honest, prompt and knowledgeable. I have been booking trips with her for many years now, and will continue to do so in the future!
Recommended
Excellent travel advisor.
By: Christine
Reviewed on: 07 Feb 2018
She is very helpful and competent.
Recommended
Ecuador and the Galapagos
By: Jenn
Reviewed on: 21 Mar 2018
Francoise was terrific to work for our trip to Ecuador and the Galapagos. She worked hard on finding the best tour companies in the area and help us design a perfect itinerary for our 3 week trip. Always one step ahead of us in planning and answering our questions, she was always available to help and we found her quick and responsive to all of our needs prior to and during our wonderful adventure. Thank you Francoise to helping to make our trip of a lifetime so special.
Recommended
Amazing experience
By: Cooks
Reviewed on: 09 Feb 2018
Francoise goes above and beyond to make sure your trip is a total success. She was so patient with us while deciding where we wanted to go, providing numerous options and possibilities. Her care and attention to detail is really appreciated. I would highly recommend Francoise to everyone when booking a vacation!!!!!
Recommended
Trip to Indio, CA
By: Heath
Reviewed on: 04 Mar 2018
I wanted to go somewhere warm for a couple of weeks and golf, sightsee and relax by a pool. Francoise suggested Terra Lago which is located beside 2 golf courses. The accommodation was great and we were approximately 20 minutes east of Palm Springs. Francoise has also planned my next get away and I know it will be great!
Recommended
Ixtapa, Mexico
By: Jocelyne
Reviewed on: 12 Mar 2018
I enjoy working with Françoise for my travel arrangements. She's efficient and knowledgeable. Thanks again for all your help Françoise..
Recommended
Trip
By: Noname
Reviewed on: 24 Mar 2018
Francoise is a very knowledgeable and helpful Agent that works with you to ensure you have the perfect trip.
Recommended
Trip to Las Vegas
By: Chilly
Reviewed on: 30 Mar 2018
Our trip to Vegad was very well handled. Everything went according to plan.
Recommended
Cruise
By: Donna and Kevin Heath
Reviewed on: 11 Apr 2018
Francoise was awesome in organizing this trip. She looked after all the details from start to finish. Any questions or concerns we had she was there for us. Would definitetly recommend her to anyone who is loooking to book a trip.
Recommended
Francoise is a caring and very competent travel agent.
By: Chyink
Reviewed on: 08 Apr 2018
She is fantastic
Recommended
Celebrity Cruise
By: DTC
Reviewed on: 31 Mar 2018
Francoise was great at getting our trip organized. Everything was clear. There were no surprises.
Recommended
Tulip review
By: anonymous
Reviewed on: 31 May 2018
Francoise was extremely helpful with our plans. I cannot but recommend her to anyone planning a river cruise.
Recommended
New Zealand
By: Kathryn
Reviewed on: 13 May 2018
Francoise booked great flights for us, with very little time waiting in airports. Although the return connection between Queenstown and Auckland was very tight in terms of catching our flight to Vancouver, we made it and even landed a few minutes early in Vancouver. Thanks, Francoise!
Recommended
best
By: Ken
Reviewed on: 13 Jun 2018
excellent best agent I have worked with
Recommended
AWESOME DISNEY TRIP
By: jelly
Reviewed on: 03 Aug 2018
SHE WORKED VERY HARD AT MAKING OUR TRIP VERY MEMORABLE.GOT US A FABULOUS ROOM AT AN AWESOME HOTEL. DID ALL THE LEG WORK FOR US, GETTING US GREAT PRICES ON AIR AND ROOMS. FINDING THE BEST DEAL FOR OUR TRANSPORTATION. ANSWERED ALL OUR QUESTIONS AND IF SHE COULDN'T SHE LOOKED INTO IT AND GOT US RESULTS. IT MADE IT A VERY WORRY FREE TRIP. SHE REALLY LOOKS AFTER OUR INTEREST SO WE COULD HAVE A FABULOUS HOLIDAY.
Recommended
Recommend
By: Dalyce
Reviewed on: 31 Aug 2018
Excellent agent
Recommended
Working together to create a wonderful vacation
By: Lynn
Reviewed on: 16 Sep 2018
Francoise and I hit it off right away. We were able to identify a cruise on a line I hadn't tried before through Francoise's efforts - including a comparison of the line I usually use and the new one. Silversea was perfect for what I wanted in a cruise. Francoise worked with Silversea to get me excellent flights that suited my needs. And she negotiated a lovely shipboard credit. Will be working with Francoise again on my next cruise!!
Recommended
Koningsdam cruise
By: Kazi
Reviewed on: 25 Sep 2018
Excellent and knowledgable
Recommended
Ireland
By: Wings
Reviewed on: 28 Sep 2018
I always enjoy working with Francoise, she does her best to give you what you want.
Recommended
River Cruise Southern France
By: Ellen
Reviewed on: 22 Oct 2018
Francoise is great to work with. She knows her products and her clients. We have now done two cruises through Francoise and both were completely what we were looking for.
Recommended
River cruise
By: Heath
Reviewed on: 21 Oct 2018
I have known Francoise for a number of years. Her love of her job is reflected in how she works. The river cruise was planned beautifully with all my thoughts and wishes taken into consideration.
Recommended
Cruise
By: Pat
Reviewed on: 29 Oct 2018
Awesome 👍everything was arranged very professional and when we got excited and had questions, she answered them to the best that she could and found the answers right from the source!
Recommended
Trip of a Lifetime to Africa
By: Jane
Reviewed on: 13 Nov 2018
Amazing! Francoise went the extra mile to ensure we got the best trip possible. She worked with us as a group, listened to our individual needs and requests thereby, provided us with a customized trip. She communicated with our African tour groups when we were not able. She made herself available to us which meant the world to us. Francoise is very professional and extremely personable. She met with us before and after our trip to get feedback. I would highly recommend her to friends and other travellers wanting to plan a trip. Thank you Francoise!
Recommended
UK Trip
By: dboitard
Reviewed on: 29 Nov 2018
Working with Francoise Campbell to arrange my recent UK trip was excellent, everything I had requested was taken care of, including help with my luggage. I will absolutely contact Francoise for my future travels.
Recommended
Advisor review
By: Poppy
Reviewed on: 24 Nov 2018
Always a pleasure
Recommended
Nautica 18
By: A&M Canmore
Reviewed on: 20 Dec 2018
Excellent service and advice, does the extra things to make travel less stressful.
Recommended
Trips to Mexico
By: Christind
Reviewed on: 21 Dec 2018
Francoise is always helpful and thorough and takes extra time to find out all the information I need for the best price. I have been interested in doing other trips and she has the necessary books and facts for me..a friend and a reliable travel agent!
Recommended
Panama Canal Cruise
By: D&S
Reviewed on: 20 Dec 2018
Francoise did a great job looking after all of our arrangements - from air transportation to hotel, shuttle and the cruise detail itself.
Recommended
Worth every penny
By: ch
Reviewed on: 22 Jan 2019
Fantastic- very helpful and knowledgeable. Highly recommend!
Working with Francoise Campbell, you will have access to:
- An experienced travel guide whom you can rely on before, during, and after the trip
- Exclusive luxury resorts and properties
- Once in a lifetime experiences
Explore with the Best
Virtuoso Advisors are constantly pushing the boundaries in unique travel experiences.
Alliance programs are unique tailored experiences exclusive to travelers working with Virtuoso Travel Advisors.
learn more
Mexico
Jamaica
Dominican Republic
Cuba
Fiji
Thailand
Italy
France
Austria
Netherlands
Germany
Greece
Malta
India
Costa Rica