Andrew Butler
Houston, TX United States
Andrew Butler Travel, an independent affiliate of CSB Travel
Travel Specialties
Interests
Family Travel
Safari
Food & Wine
Culture, History & Arts
Ocean Cruising
Destinations
United Kingdom
Ireland
France
Ecuador
Costa Rica
Selling Travel Since
2016
My Background
I have had a life-long passion for travel. As a physician, I have come to realize the importance of travel as a resource for personal growth, for escape, for strengthening my relationship with my wife, and for providing time to focus on my relationship with my children. I understand the value of one's limited personal time and money, and the need to take these into consideration in providing the best utilization of both for my clients.
Whether you would like to privately tour the Crown Jewels or attend the Royal World Premiere of a film at the Royal Albert Hall while visiting London, watch the sun rise over the ruins at Macchu Picchu in Peru, or take a dhoni cruise to a private sand atoll in the Maldives for a champagne lunch with a loved one, I will work hard to make your dream travel experiences a reality!
As a father of two young children, I understand the unique opportunities and challenges that can be presented by travelling with kids. I also appreciate that travel experiences and a love of travel provide an education and a connection to the world that cannot be fully garnered in the classroom. Travel provides life experience that cannot be gained in any other way. Travel is a legacy and inheritance that we can provide to our children now and share with them as parents. I have a passion for curating life-enhancing travel experiences around the world that will engage, entertain, and educate all age groups.
My training and practice as a physician have taught me to be organized, empathic to the needs of my clients, and relentlessly detail-oriented. I will use these skills, as well as the incredible resources and value provided by my affiliation with River Oaks Travel and Virtuoso, to custom-build your next unforgettable, life-enhancing travel experience!
Places I Have Traveled
Reviews and Recommendations for Andrew Butler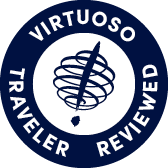 Virtuoso Verified Traveler
All reviews are from confirmed guests sharing exclusive insights
Sort reviews by
Recommended
Planning every step of the way
By: Koach
Reviewed on: 19 Jan 2017
Andy helped us plan every step of our trip by asking the questions that we never thought to ask ourselves. This greatly enhanced our trip by offering us experiences we might have missed otherwise. He was a great help and look forward to working with him again in the future.
Recommended
Great Trip
By: Sachin
Reviewed on: 13 Feb 2017
Excellent service, Tailored the trip to our needs. This was the exact vacation we were looking for.
Recommended
Excellent Disney trip!
By: Anne
Reviewed on: 02 Mar 2017
Thanks to Andrew Butler for helping us put together a fantastic Disney trip! He answered all of our questions beforehand, made excellent restaurant recommendations, and even was in touch during the trip to help navigate through some last-minute changes. We would definitely use his expertise on our next adventure!
Recommended
Nickelodeon Punta Cana
By: Justin Kolterman
Reviewed on: 24 Feb 2017
Mr. Butler provided me with a number of good options based on the requirements I provided. Once I made my resort selection he made sure everything was set up including transportation. As the departure date got closer he sent out any pertinent information about the resort and activities that were going on. On the day of departure I noticed an issue with the transportation from the airport and he took care of it immediately. The trip went smoothly from that point on.
Recommended
Spring Break Vacation
By: Michelle
Reviewed on: 28 Mar 2017
Fantastic! Andy was quite helpful in researching and answering our questions regarding our travel inquiries. Very quick response time and attentive to our travel requests. We had a wonderful vacation and will most definitely use Andy again.
Recommended
New Zealand Roadtrip
By: chris
Reviewed on: 06 Apr 2017
Andy was great. Helped us plan our two week road trip though both the North and South Islands, recommending sites to see and things to do along the way. His advice made the trip much better.
Recommended
Personal recommendations, Very helpful suggestions
By: Texas traveller
Reviewed on: 09 May 2017
Andy was a great help in planning our trip to Ireland and helped us make reservations at a popular, 5-star hotel for a very reasonable rate and even arranged an upgraded room. He also helped with scheduling of activities and dinner reservations for the visit. From his personal experience, he shared a number of excellent suggestions for navigating the island as well as offering helpful tips about packing for the trip. We had a wonderful vacation and are grateful to Andy for helping make it so special.
Recommended
Amazing trip
By: Toni
Reviewed on: 26 May 2017
Andrew Butler did a spectacular job creating our vacation! He truly listened to my requests and found the perfect matches to create a priceless adventure! I will always value the memories from our trip and I am super grateful for his meticulous attention to the details that made this trip unforgettable!
Recommended
Northern Europe Trip
By: Stacy
Reviewed on: 16 Jul 2017
Andy was informative, helpful and responsive.
Recommended
Ritz Paris Hotel Experience
By: Mark
Reviewed on: 18 Aug 2017
His knowledge and expertise regarding a vast array of vacation locales in combination with his prompt response make working with Andrew a pleasure. Because of Andrew, not only did I receive an upgrade but a triple upgrade that landed my wife and I in an Executive Suite at the Ritz Paris Hotel, undoubtedly one of the most luxurious hotels in the world. It was an amazing experience and certainly enhanced our time in this historic city. Thanks Andrew.
Recommended
Excellent Advisor
By: Matt
Reviewed on: 12 Sep 2017
Working with Andrew Butler was great. He really put our minds at ease when taking our first European vacation with kids. Andrew was very responsive and helpful with our questions. His choices were excellent. Can't wait to plan another trip with him.
Recommended
Andrew Butler, my travel advisor
By: Mary
Reviewed on: 11 Oct 2017
Working with Andrew Butler was an absolute pleasure. From the very beginning Andrew actively listened to what my wishes were for a special vacation. I and a friend took a cruise to Alaska. It was so wonderfully planned by Andrew. Everything went smoothly, from having our air flight plans put in place to choosing a cruise line that was best suited to our tastes. Andrew actively listened to our questions, then gave recommendations for seeing sights that he thought we'd find exciting. And we did, from traversing a glacier garden mountain, to experiencing the wonder of seeing icebergs up close, our senses were stimulated by such beauty. Andrew even went out of his way to put together special packages on the cruise ship that made for a pampered experience. I would highly recommend Andrew Butler as travel advisor. He listens, responds in a timely manner, and prepares a dream vacation!
Recommended
New England
By: Peggy
Reviewed on: 23 Oct 2017
Andy was a delight to work with planning this trip. We knew where we wanted to stay in some destinations but not all and he found us two great hotels. XV Beacon is a wonderful small boutique hotel with outstanding personnel. The rooms are very attractive and roomy. It is well located for where we wanted to explore in Boston. The Commanders Inn in Chatham was charming. The owners are very helpful, the rooms are big and comfortable. Lovely breakfast is included
Recommended
Disney Done Right
By: WAK
Reviewed on: 06 Nov 2017
Butler was fantastic. He anticipated our needs and was responsive. He checked in regularly, and even found additional discounts later in the booking process. Would highly recommend and use again!
Recommended
Disney
By: Alisha
Reviewed on: 24 Jan 2018
Trip was fantastic, I really enjoyed working with Andy. He planned every step of our trip. Working a full-time job and trying to plan a trip can be stressful but he took care of the details so I could focus on the important things. His help was truly a blessing. I look forward to working with him in the future.
Recommended
Disney Debief
By: Zebeta
Reviewed on: 14 Jan 2018
So easy and he communicated thoroughly and immediately!
Recommended
Amazing experience from beginning to end
By: Annie
Reviewed on: 14 Mar 2018
We feel so fortunate to have come across Andrew. He is exactly what we were looking for and he was beyond our expectations. We were surprised by the reasonable cost thinking that this type of personalized touch was very expensive. He listened intently for what we were looking for and designed a once in a lifetime experience. We felt well cared for when in Thailand and Cambodia. The personalized service we received from these individuals was unbelievable. They became our friends and it was so sad to leave. I would recommend Andrew in a heartbeat!
Recommended
leo, China
By: leo
Reviewed on: 29 Mar 2018
Very easy and efficient.
Recommended
Dubai Experience
By: Nikki Perry
Reviewed on: 25 Apr 2018
Andy did an AMAZING job planning our trip to Dubai! He was very helpful in researching and suggesting activities that we should partake in to get the full "Dubai" experience. He was very responsive and patient with all of my travel requests and more importantly, he made sure that we stayed within our budget! As a first time customer, I had a lot of questions pertaining to arrival day, but he put me at ease by answering all my questions and concerns beforehand. I look forward to planning my next vacation with Andy!
Recommended
Awesome
By: Mikee
Reviewed on: 25 Apr 2018
Working with Andrew was awesome, simple, quick and efficient. He did an amazing job and once we arrived at our destination everything was smooth- all we had to worry about was being where we were supposed to be at the time.
Recommended
Wonderful trip
By: Bordelon
Reviewed on: 09 Jul 2018
Great. Andrew is extremely knowledgeable about Ireland and knows the absolute best places to stay. His hotel recommendations were absolutely spectacular and the recommendations for falconry and archery were perfect. Andrew went out of his way to help and was always responsive to our many minor requests.
Recommended
Perfect
By: koach
Reviewed on: 20 Jun 2018
The trip was great. Andy set us up in the room we wanted with the cruise and meal plan we wanted. We especially appreciated the drinks included in the cruise package. It kept me from feeling like I was being nickeled and dimed the whole cruise.
Recommended
Italy Summer 2018
By: Jenny
Reviewed on: 26 Jul 2018
Wonderful! He was incredibly helpful and knowledgeable and helped us decide what the "must see" spots were in every city. He also set us up with tours that I feel were tailored towards our interests and suggested activities that we would have never thought of. Andrew also worked with us on price point and helped us figure out which hotels were ones we could save a bit on here and there. All of the properties we picked were stunning!
Recommended
FRANCE
By: APH
Reviewed on: 23 Aug 2018
Andrew saved me! I was busy with back to school & a bathroom model so I had not thought about our trip to France. I called Andrew the day before & he kindly helped me with all of my travel needs. He was very knowledgeable on the city and hooked us up with a driver for the day & a train ticket to the next destination;)
Recommended
Great trip
By: Bill N
Reviewed on: 29 Sep 2018
Andy helped us with a Baltic cruise and some private guiding .Our guided two days in St Petersburg, Russia with Annina and Slava the driver were unbelievably rich and rewarding. Great job Andy
Recommended
China Land Tour
By: Tom
Reviewed on: 08 Oct 2018
Andy is a pleasure to work with! We were on aWorld Cruise with Viking. We emailed him out of the blue to set up an excursion from Shanghai to Beijing, including the Terra Cotta warriors. Additionally, we were trying to match our friends, who were using another Virtuoso Agent. It was also fairly short notice. Andy handled everything flawlessly and all by email! This trip was one of the highlights of our 5 month cruise. Andy's knowledge and skill was impressive! We had amazing guides, outstanding accommodations, and tours that were fantastic. We had only a few days in China, but the itineraries and tours Andy arranged gave us s real taste of Chinese life, culture, and history! It was as near perfect as it possibly could have been. He is currently working on two more trips for us. I highly recommend him!
Recommended
Best vacation
By: JTM
Reviewed on: 10 Dec 2018
With little more to go on than "we want to go someplace warm and quiet," Andy put together several wonderful options for us. Great service, responsiveness, and creativity!
Recommended
Disney
By: Pam
Reviewed on: 30 Nov 2018
Very easy. Answered all questions . Very knowledgeable
Recommended
Disneyworld 2018
By: Amy B
Reviewed on: 05 Dec 2018
Andy was extremely helpful in all aspects of the planning process! He took care of all the hotel details, ticket ordering, dining suggestions, and other helpful suggestions on rides, shows, etc. He suggested an app to help notify me of sought after dining reservations as they came available. I will definitely be using Andy again for future travel planning!
Recommended
Best Vacation of My Life
By: Koach
Reviewed on: 24 Feb 2019
Andy was a pleasure to work with. His suggestions were dead on and as a result we had an absolutely fantastic time. He also responded to our concerns and any issues we had immediately and professionally.
Recommended
Caribbean Disney cruise
By: ABasford
Reviewed on: 21 Mar 2019
Andy was very helpful and informative in all aspects of the Disney cruise! Everything was arranged via email or phone calls and all my questions were answered to complete satisfaction! Absolutely the best family trip yet and look forward to the next cruise which we've already booked and future Adventures with the help of Andy! I highly recommend Andrew Butler for your next vacation!
Recommended
Tuscany excursions
By: Ed X
Reviewed on: 19 Jun 2019
Working with Andy was a breeze. He is enthusiastic and helpful with excellent suggestions. He was prompt in responding to all questions and organized great experiences. Everything went smoothly and according to our agreed upon plan.
Recommended
Italy 2019
By: BearDon
Reviewed on: 22 Jun 2019
Andrew was fabulous!
Recommended
travel fun
By: winstons mom
Reviewed on: 05 Aug 2019
Andrew was amazing1 the trip was planned perfectly. when we did have a question he answered promptly. All the details were taken care of and we just had to show up and enjoy!
Recommended
Italy Trip
By: Scott B
Reviewed on: 26 Jul 2019
Andy was great to work with. Very attentive and patient as we made several revisions to our original plan. Would definitely recommend.
Recommended
GREAT JOB!
By: The Caves
Reviewed on: 13 Aug 2019
Amazing!! His attention to detail was incredible. Felt like he really cared about making our trip as relaxing and enjoyable as possible. As if he would for his own trip
Recommended
Vacation in Hawaii
By: MaryButler
Reviewed on: 23 Sep 2019
Andrew was very professional and easy to work with. He provided my friend and I an upgrade on our room at the Royal Hawaiian in Wakiki, which gave us an ocean view balcony. The trip, thanks to Andrew was a dream come true. Thankyou Andrew Butler, I will contact you for all future trips
Recommended
Alaska and the Far East
By: T
Reviewed on: 28 Oct 2019
Working with Andy was a pleasure! He is very attentive and has great suggestions and advice to enhance our trip. He took care of every little detail and is relentless with service providers make sure everything is right. He took all the worry out of the travel details!
Working with Andrew Butler, you will have access to:
- An experienced travel guide whom you can rely on before, during, and after the trip
- Exclusive luxury resorts and properties
- Once in a lifetime experiences
Explore with the Best
Virtuoso Advisors are constantly pushing the boundaries in unique travel experiences.
Alliance programs are unique tailored experiences exclusive to travelers working with Virtuoso Travel Advisors.
learn more
United Kingdom
Ireland
France
Ecuador
Costa Rica
Switzerland
Tanzania
United Arab Emirates
Maldives
Egypt
Uganda
Australia
New Zealand
Turkey
Bhutan