Travel Specialties
Interests
Food & Wine
Culture, History & Arts
Air Travel
Escorted Tours
Ocean Cruising
Selling Travel Since
1982
My Background
I have been in the travel industry for over 32 years, 30 of them with Sanborn's Travel. I hold the CTC (Certified Travel Counselor) and DS (Destination Specialist) designation in multiple areas of the world. Not only have I completed extensive training as a Virtuoso Agent but I am a Virtuoso Specialist for Hawaii having been to the destination over 30 times. Cruising and International Travel are two specialties that I sometimes combine to make me a Mediterranean cruise specialist. My knowledge and experience with ships, cabin types and ports of call is unmatched.
Places I Have Traveled
Reviews and Recommendations for Kay Jones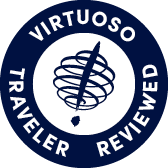 Virtuoso Verified Traveler
All reviews are from confirmed guests sharing exclusive insights
Sort reviews by
Recommended
Highly recommended InterContinental Le Grand Hotel, Paris
By: my5729
Reviewed on: 17 Sep 2013
Kay booked us for three nights at the InterContinental Le Grand Hotel in Paris. Our room was very spacious and comfortable. The concierge service was excellent, WiFi was free and the fastest I have experienced in a hotel, the club on the top floor was very nice, enjoyed breakfast there each day and tea two afternoons. Would definitely stay there again.
Recommended
Highly recommended!!!!!!!!
By: Nancy
Reviewed on: 17 Sep 2013
Kay plans the best trips and helps with any problem that comes up!!! Always does a great job!
Recommended
Recommend her highly
By: SMG
Reviewed on: 11 Oct 2013
My trip to Australia was very well planned by Kay. I was very pleased. Indeed she does a great job with all my trips.
Recommended
I recommend Kay highly
By: Not provided
Reviewed on: 19 Nov 2013
I have been very satisfied with the way she takes care of my travel arrangements
Recommended
highly recommend
By: cathyapu
Reviewed on: 19 Nov 2013
Kay has been our travel agent for many years. She has given us the best ideas for travel both domestically and abroad and made them reality. We never go anywhere without Kay's planning.
Recommended
By: Not provided
Reviewed on: 19 Nov 2013
Kay does a wonderful job for us Thank you Kay
Recommended
highly recommend and have recommended to friends
By: Not provided
Reviewed on: 19 Nov 2013
Excellent work. She worked very hard to get us the exact trip we wanted with great airline connections. She does all of this in a short period of our time due to her vast experience. My wife and I have used her many times over the years. She really takes care of us old folks!
Recommended
I loved it!
By: Joe
Reviewed on: 19 Nov 2013
I had an awesome time on this vacation--my third time to Europe. The rooms were awesome, the restaurants were amazing. I must become a better traveller!
Recommended
Highly Recommended Hawaii Expert
By: JoeRetired
Reviewed on: 19 Nov 2013
I contacted Kay and asked her to try to schedule a trip for us with the constraint that my wife would receive dialysis treatments on MWF. I trusted Kay's judgment on hotels, tours, rental cars, everything really. I was not disappointed in any of the arrangements. We especially enjoyed the Old Lahaina Luau which Kay booked. We want to return to the Islands for our 50th anniversary. I definitely plan to use Kay Jones again if we get to make that trip.
Recommended
Good and bad
By: Waid
Reviewed on: 22 Nov 2013
Kay did a excellent job as always on the arrangements for our Holland American cruise from Argentina to Boston. Unfortunately the cruise was a disaster and we are not likely to cruise on Holland American again.
Recommended
highly recommended
By: murry
Reviewed on: 19 Nov 2013
Kay, as always, did a fantastic job, and got us the cabins we wanted. Super agent!
Recommended
By: charlie
Reviewed on: 23 Nov 2013
Very highly recommended. The dates and times scheduled suited me very well. This isn't the first time she has planned my travel which have always turned out well.
Recommended
Delightful Canadian Cruise
By: Dottie
Reviewed on: 19 Nov 2013
Excellent, just as presented and more! Love the small ship. Montreal Fairmont QE hotel superb. Concierge - excellent
Recommended
Excellent Service; Highly Recommended
By: SGGLGG
Reviewed on: 10 Dec 2013
Very knowledgeable with any location we inquired about; very friendly and helpful.
Recommended
Delightful time in Charleston
By: Not provided
Reviewed on: 19 Nov 2013
We could not have been any happier with our accommodations in Charleston, South Carolina for the wedding of John McBroom and Courtland Crosswell. The hotel was delightful, very well situated and surely lived up to expectations. The whole weekend was magical and we appreciate Kay Jones being a part of the team that made this happen.
Recommended
Highly recommended!
By: Red
Reviewed on: 19 Nov 2013
She was very pleasant to work with. It was my first experience with Kay. I have used Sanborn's for many years and have always been happy with them.
Recommended
ONE OF A KIND
By: WHIP
Reviewed on: 19 Nov 2013
My family and I took a family vacation to Disneyland in July.And from the very start, Kay went the extra mile to make sure my family and I had the best deals and rates. She made sure that our needs and wants were a priority to her. Kay made things more convenient for me to complete the purchase thru emails and fax. This was a huge help to me. I would definitely recommend Kay to any and everyone whose planning a vacation. Kay is definitely one of a kind. A keeper!
Recommended
HIGHLY RECOMMEND KAY
By: LOLA
Reviewed on: 19 Nov 2013
KAY HAS PLANNED MANY FOREIGN TRIPS FOR US OVER THE YEARS. SHE IS FABULOUS. THE PRIVATE TOURS AND TOUR GUIDES ARE AMAZING. THE ACCOMODATIONS WHETHER HOTELS OR CRUISES ARE ALWAYS EXQUISITE. THIS YEAR SHE PLANNED OUR 18 DAY SPUR OF THE MOMENT VACATION TO EUROPE, AND IT WAS ALL PERFECT. WE TRUST HER IMPLICITLY!
Recommended
Highly Recommended
By: Corey/Kristen
Reviewed on: 24 Dec 2013
We recently booked our honeymoon with Kay Jones at Sanborn's Travel. We only knew we wanted something tropical with romance and adventure when we walked in the door. After only a few minutes she had a spot for us...Costa Rica...that we loved and was already making calls. We had it booked in no time. From the moment our plane landed, we had the best time. She made all our dreams come true and then some! We will definitely be returning to book our next trip!
Recommended
she is wonderful
By: Bob
Reviewed on: 24 Nov 2013
Kay is VERY prompt and responsive, I feel like she appreciates my business, even thought it is most often just an airfare. I have worked with others in her office when she isn't there and they can't hold a candle to her.
Recommended
The Princess that came home early
By: Broke 70
Reviewed on: 02 Feb 2014
To bad the ship had to go back to Houston a day early.  One Hundred sixty sick and fog in the port.  Both good reasons to return one day early.  I do wonder if it was the fog or the need to sanitize the ship for the next cruise.Activities onboard were fun.  Food,  OK.  Roatan was wonderful.  Princess is owned by Carnival and I would say it is a couple of steps up from Carnival, but it didn't  meet our expectations.   That being said, I do think we got our money's worth.
Recommended
Local
By: Jax
Reviewed on: 05 Mar 2014
Local versus an 800# or web site.
Recommended
Highly recommended
By: Janet
Reviewed on: 05 Mar 2014
What I enjoy about working with Kay is:  1.)  First of all, she is quick to respond to my emails and 2.) Secondly, she always gets me the best international connections (where there is adequate time for transfers but NOT excessive time) and lastly 3.) Kay always know what seating I prefer and therefore my flights are comfortable and ideal.
Recommended
Highly recommended
By: mdeleon690
Reviewed on: 06 Mar 2014
We recently used Kay for our 25th anniversary to Capella Pedrigal in Cabo San Lucas. Her trip planning was flawless and her knowledge of how and where to travel are unparalleled.
Recommended
HIGHLY RECOMMENDED
By: Not provided
Reviewed on: 18 Mar 2014
SHE MAKES PLANNING A TRIP EASY AND WORRYLESS.
Recommended
Yes Kay goes the extra mile to insure that the trip you plan goes smoothly.
By: TPM
Reviewed on: 27 Mar 2014
Kay has a great understanding of the travel industry and takes this knowledge to insure  your trip comes off without any problems. All special needs that we have had or seen to with no problems.  Kay makes certain  the air portion of any trip has the best connection time possible. We would not book any trip that Kay was not involved in planning,
Recommended
Expert, very helpful
By: Berny
Reviewed on: 15 Oct 2015
Such a help with free advise concerning a tour package.
Recommended
Great Visit to Amsterdam
By: Dr. D
Reviewed on: 04 May 2014
Kay is the best!!  We could not have had a better time in Amsterdam,Netherlands. The hotel, Amstel Intercontinental, is a Virtuoso hotel.  It was easy to get around the city from the hotel.  We felt pampered  by all the amenities including a Michelin rated restaurant, full spa and beautiful room.   Thanks to Kay for all her help!!  Would not travel without Kay's input and advise!!!
Recommended
highly recommended
By: murr
Reviewed on: 14 Jul 2014
Kay is a total professional, who is very thorough, and when a glitch happens, she is very much on top of things and solves the problem.  A great person to have working with you.
Recommended
Highly recommended
By: Pheebs617
Reviewed on: 16 Jul 2014
Kay did an outstanding job planning our Canadian trip. The Tauck tour was grand, and airplane flights were on time.
Recommended
Great time in Vegas and Wyoming
By: Loretta0208
Reviewed on: 17 Aug 2014
Flights went well with one delay due to weather. Vegas was great, of course! Went to see Jersey Boys, what a great show. Even made it to the World famous gold and silver Pawn Shop where they film Pawn Stars. On to Wyoming for a visit to see my brother and his family. All on time. Went on a scenic river raft tour on the snake river, easy for me even with back issues. Folks at Mad River outfitters did a great job. Wort hotel in Jackson hole was remodeled in last few years, our suite was breathtaking. Great service.
Recommended
unforgettable anniversary Las Ventanas
By: Deleon
Reviewed on: 02 Sep 2014
Just like 26 years ago when we first met her, our travel experience has been extraordinary. Can't think of vacations without Kay's advice and recommendations. She always has great ideas and has never been wrong. She is the best.
Recommended
always excellent
By: deleons
Reviewed on: 12 Oct 2014
Last mintue trip to Costa Rica due to unforseen reasons. Trip was perfect, all transfers were arranged, the hotel was great and the best fishing company. got plenty of mahi mahi for a great dinner and caught sail fish both days. Great father son memories. Thanks Kay
Recommended
The Ultimate in Service!
By: D&D
Reviewed on: 24 Nov 2014
We are always pleased with Kay's prompt, friendly and thorough professional service. She goes above and beyond in effort and expertise. She appears one step ahead in assisting our travel plans - we appreciate her efforts immensely! Thank you to Kay and Sanborn's!
Recommended
Good friendly service
By: Lacho
Reviewed on: 27 Nov 2014
Trip was great for both myself and my son Oregon is a very pretty state or atleast in the hill country haha Thanks Kay
Recommended
Family Trip to Peru
By: Bob1334
Reviewed on: 12 Jan 2015
We took our family (9 people, 3 generations including 3 teenagers) on the Kensington Machu Picchu and Amazon Signature tour over the recent holidays. We were very pleased with the arrangements including the tour guides and the accommodations. At each stop, we were met by the guides and they were well organized. The buses they used (mostly Mercedes) were very comfortable and the drivers were cautious and competent. All the luggage was handled well and none lost during the internal trips. When we were informed that the next leg of the trip would begin at a particular time, it did. Since we have lived in South America before, this was a real surprise! All the hotel rooms were excellent - first class. Even the one in the jungle was quite pleasant even if not air conditioned. However, the fan was very nice and we did not experience any significant number of mosquitoes. The exception was the food servers at the Tambo del Inka at Urubamba. They need some professional training.
Recommended
Carribbean Cruise
By: Lou
Reviewed on: 05 Feb 2015
Had mix-up on hotel reservation going. Hotel settled it. Cruise was good.
Recommended
spring break steamboat
By: 27years
Reviewed on: 28 Mar 2015
flawless, outstandind vacations. all perfect. all according to plan.
Recommended
Kay Lynn is the best. Best advice and info.
By: Jackie
Reviewed on: 25 Nov 2015
Over the years (20 years or so) Kay Lynn has booked all our trips. She is very professional and helpful. As my husband and I are in our late 70's it is so wonderful to be able just to call or go see Kay when we plan a trip or just ask advice, etc. We have referred her any time we can to our friends or family. I will continue to refer her and use her anytime we travel. No trip is too small and/or too large.
Recommended
Best service!
By: ckk
Reviewed on: 06 Oct 2016
Kay is wonderful to work with, she always provides the best options for our needs and has delivered miracles on more than one occasion. Thank you Kay for all you do!
Recommended
Pearl Harbor visit.
By: Bob
Reviewed on: 14 Jan 2017
Kay, Will give you a personal report. Bob
Recommended
San Miguel
By: Bob
Reviewed on: 17 Feb 2017
she handles all details to a tee,no guessing whats next
Recommended
Booking on Seaborn through Kay
By: Ellie
Reviewed on: 02 Apr 2017
Always delightful except felt a disconnect with her being out of town. For instance the Cruise Booklet for our cruise was at Sanborns with our boarding information and our luggage tags etc. and she thought there was no such thing and when I went over to inquire they said it was in her box and had been for some time. Felt we should have had more imput about which hotels at pre cruise and post cruises (we had no input) and had wished to be somewhere else in Bali Also did not even have a cabin assignment when we arrived in Sydney as we should have had.
Recommended
Ohio Trip
By: Janet Vaughan
Reviewed on: 26 Nov 2017
Fabulous arrangements—always gives me my FAV seats in flights and picks the best connections ever. Makes traveling a breeze. Accommodates me on changes—if and when they occur. Gives me excellent advice on a variety of topics. LOVE WORKING WITH KAY—her expertise is most evident.
Recommended
Hostess Review
By: Ben
Reviewed on: 04 Apr 2018
She is a very vivacious, outgoing and helpful hostess.
Recommended
Italy
By: Russ
Reviewed on: 08 Jul 2018
Great , all went as planned!!
Recommended
Awesome
By: Lacho
Reviewed on: 30 Aug 2018
Mrs K is awesome every time I call she does all the work for me with no worries...
Recommended
Hostess Review
By: John
Reviewed on: 14 Sep 2018
I am her husband and was co-hosting with her on the cruise. Great cruise.
Recommended
Albany NY trip
By: Berny
Reviewed on: 27 Oct 2018
She has helped me for over 25 years. It has been a pleasure to work with her.
Working with Kay Jones, you will have access to:
- An experienced travel guide whom you can rely on before, during, and after the trip
- Exclusive luxury resorts and properties
- Once in a lifetime experiences
Explore with the Best
Virtuoso Advisors are constantly pushing the boundaries in unique travel experiences.
Alliance programs are unique tailored experiences exclusive to travelers working with Virtuoso Travel Advisors.
learn more