Travel Specialties
Interests
Family Travel
Adventure
Hotels
Honeymoons
River Cruising
Destinations
United Kingdom
Spain
Portugal
Czech Republic
France
Selling Travel Since
2016
My Background
I am no stranger to travel. Having grown up in the UK, with a Czech Father, languages and travel were always a part of my life from the day I was born. My father worked in the sugar mill industry and often traveled to exotic places such as Africa, Indonesia and the Caribbean with the family in tow. Growing up in Europe meant traveling to different countries often. Every year was a new road and boat trip crossing borders to different destinations. It was only natural that I went on to study languages at university and obtained a BA Honors degree in French and Hispanic studies from the very prestigious Kings College University in London. Part of this degree involved living in France and Spain for a year where I immersed myself fully in the life and culture discovering amazing history, beautiful locations, new foods and lifelong friends with whom I still return for visits. During the long summer breaks from studying, I often took jobs in France and Spain to fund my love of traveling.
Following University, I fell into the entertainment industry and was fortunate enough to work for the next 16 years as a Production / Travel Coordinator traveling to many different countries.
Whilst working on a movie in Prague, I met my future husband, who whisked me back to Los Angeles to get married. We now have two children (6 & 9) who have also traveled extensively throughout Europe and North America.
I am thrilled to see the love and excitement my children have for traveling and discovering new cultures and I'm ecstatic to be able to pass these experiences on to other people through my meticulous travel planning services. Having traveled with my children since they were infants I especially understand the distinctive needs of families and parents to be. However, whether you are traveling solo, with children or with a multi generational group, I will work with you to custom design a trip that everyone will love.
Places I Have Traveled
Reviews and Recommendations for Jessica Hart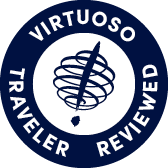 Virtuoso Verified Traveler
All reviews are from confirmed guests sharing exclusive insights
Sort reviews by
Recommended
Itinerary was detailed and our experience followed it to a tee
By: DNagel
Reviewed on: 07 Oct 2016
Everything was tip top!
Recommended
Trip of a Lifetime
By: DG
Reviewed on: 05 Jul 2016
Jessica is PRO all the way -- We needed a European vacation planned for five adults and two children coming from two different cities in the USA and one in Ukraine. Jessica deftly handled this -- she was informative, offered options, and tailored the trip according to our tastes, all the while being patient and charming and generous. I was blown away by her app, which outlines the entire trip and allows 24-hour communication with Jessica, and she responds promptly. The app contains copies of all of your travel documents, everything right there at your fingertips. The places we stayed were amazing, seemingly tailor-made -- beautiful, well-appointed apartments and hotels either right in the thick of things, or just on the fringes when we wanted something quieter.
Recommended
Kind and helpful, providing invaluable service
By: Aleiss
Reviewed on: 28 Aug 2016
When I hit a wall trying to find the best destination for my family trip, I called Jessica who immediately got to work asking questions to determine what our family would love. We started with the idea of a cruise, and she told me about some very nice options, but because we were booking somewhat last minute, there weren't too many larger cabins left on the sailings we wanted with lots of time onshore for our family to play on the beach--things that were musts. That's when she told us about Beaches-Turks and Caicos and we were dazzled. It was perfect! She found and booked us in a large and comfortable family room with bunk beds for our kids in the Italian Village. She thoughtfully put together the flights, and set us up with a helpful traveler's app preloaded with our info that we faithfully used. The insurance she recommended was great as well. Throughout, she answered our questions and gave us great tips. We'll definitely call Jessica again for our next trip and highly recommend her.
Recommended
Expert Service -5 Stars!!!
By: Lara
Reviewed on: 11 Oct 2016
Jessica helped make my mother daughter getaway super special. Booking through her provided us with special perks and upgrades that I would not have otherwise been able to get had I booked on my own. Jessica is an expert travel service provider and is absolutely lovely to work with. It was an amazing experience working with her and we will definitely use her services again in the future!
Recommended
Bora Bora Honeymoon
By: A&M
Reviewed on: 07 Oct 2016
We had the most amazing honeymoon, all thanks to Jesssica Hart! She is the best! Such a pleasure to work with. She listens to what you want and need, and even gives great suggestions for the things your not sure about. And goes above and beyond with the quality of her services. You truly feel like a VIP. I can't imagine what planning this trip would have been like without her. She took care of everything from the flights to the hotel and even fun activities to partake on the island. She does it all! And with all her connections, she gets great deals on just about everything you can imagine. We got to fully relax and enjoy our honeymoon without a care in the world because everything was already taken care of by her. We'd recommend her in a heartbeat to anyone!
Recommended
Amazingly friendly service!
By: Latif77
Reviewed on: 10 Nov 2016
Jessica is the most helpful and kind travel advisor ever! Even when i was being difficult on making my final decisions (haha). It was the the best vacation I've ever had. I will definitely use Travel by Hart again soon!
Recommended
AMAZING HONEYMOON
By: Kaniel
Reviewed on: 09 Nov 2016
We had the most amazing honeymoon trip to Hayman Island in Australia. We couldn't have had a better honeymoon trip without Jessica. We knew we wanted to go to the Whitsundays in Australia. Jess helped us find the exact hotel and the best deal. When we arrived she was able to get us upgraded to a one bedroom suite. They had printed two of our wedding photos and had a chilled bottle of champagne waiting. The personal touches really meant a lot to us. She also got us a private island escape where we snorkeled with turtles. When we returned to Sydney we stayed at the Langham. Upon check in we were upgraded to a better view room as well and they had a welcome fruit basket waiting for us as well. Jessica attention to details and making the trip feel special really shown through. Not only does she do great work but she is great to work with. She was always very quick to respond over email or texts. I would highly recommend booking trips with Jess. I know we will!
Recommended
Five Star Travel Agent!!!!!
By: ROBERT44
Reviewed on: 25 Oct 2016
Jessica Hart was so friendly yet extremely professional from start to end. Jessica booked a trip for my wife and I to Dreams in Tulum Mexico. She took care of every detail including private transfers and trip insurance. I had a lot of questions about our trip and she was always happy to help and always got back to me quickly with answers. I have recommended her to all our friends and family and we are already to plan our next trip! Robert
Recommended
Detail Oriented, Luxury Hotel Arrangements
By: Amy
Reviewed on: 26 Oct 2016
Jessica turned a quick, one-night stay into a memorable experience for my family. As a result of her relationships, The Plaza upgraded us to a suite and provided us with personalized and thoughtful amenities (e.g., desserts and Eloise-themed gifts for our kids). Jessica was very quick to respond to all booking questions and requests during the planning process, and forwarded hotel confirmations right away. This was our first time working with Jessica -- we will be working with her again!
Recommended
Jessica/Travel By Hart took EXCELLENT care of us!
By: CatJ
Reviewed on: 04 Apr 2017
If you are looking for someone to take care of every detail and forecast what you might want/need well in advance so you don't have to think about a thing and just get away from it all, look no further. Jessica at Travel By Hart is the person to trust with your precious vacation time. She's fantastic and really understands the ebb and flow of coordinating a big activity day, then a relaxing day so you still get both rest & relaxation as well as adventure. We have found our go to travel agent!!
Recommended
Whist World Tour
By: Joel Whist
Reviewed on: 26 Jan 2017
Jessica was a pleasure to deal with ..... all good
Recommended
Jessica is fantastic
By: jimboro
Reviewed on: 31 Jan 2017
Smart, prompt, knowledgable. and just British enough to irritate me. i will use her forever!
Recommended
Perfect Family Vacation
By: MB
Reviewed on: 27 Mar 2017
Working with Jessica was a dream! Jessica planned the perfect family vacation for us based on a few short conversations .. everything was taken care of! We couldn't of had a better time!
Recommended
Well planned trips in your budget!
By: Hollanddiaz
Reviewed on: 03 Apr 2017
Jessica was very thorough in finding out all of your likes and dis likes! Which makes your trip perfectly tailored for you and your families vacationing needs. She is definitely the best travel agent I have ever worked with and I highly recommend her to anyone, with any budget range. We love travel by hart!
Recommended
Pleasure to work with
By: ermom23
Reviewed on: 19 Apr 2017
Jessica was very pleasant to work with and was well informed about the resorts.
Recommended
Always ready to offer advise and help
By: AL
Reviewed on: 29 Apr 2017
This is the second time my family called on Jessica to help plan a trip. She was great and easy to work with. She has great contacts and is always ready to offer advice. A few weeks before the trip, we needed to switch a name on our reservation (which I thought would be prohibited) but she managed to make it happen. I don't think I would have been able to swing that if I had gone through the cruise line directly. She checked in before we left to be sure we were good. She's thoughtful and thorough.
Recommended
Jessica is awesome!
By: Baiano
Reviewed on: 14 May 2017
2nd time in a row working with Jessica. Extremely friendly and easy to work with on getting your dream vacation!
Recommended
Travel Agent
By: Martha
Reviewed on: 03 Jul 2017
Jessica was wonderful. She was very thorough and also on top of deadlines and all important information about the trip
Recommended
Wonderful Experience!
By: Suzanne
Reviewed on: 26 Jul 2017
Our trip from beginning to end was easy, relaxing, and first-class. Jessica was extremely knowledgeable about our (and many other) resorts and destinations, to help us ultimately decide on the Chileno Bay Cabo. Our warm welcome in our gorgeous ocean front/view room was complete with a fabulous spread of goodies and a lovely bottle of wine. We can't say enough about Jessica and her ability to give us a wonderful wonderful vacation! Can't wait to plan the next one :)
Recommended
Fantastic Experience
By: Carla
Reviewed on: 10 Aug 2017
Jessica was perfect. She was imaginative and creative with her recommendations. If we had a question, she found the answer in record time. Every detail was covered --and repeated as needed as we went along. Her sense of humor and patience made the whole process comfortable and fun. I could not recommend her more strongly. We're looking forward to working with her again for our next adventure.
Recommended
Alaska Cruise
By: Traveler100
Reviewed on: 12 Aug 2017
Jessica was wonderful to work with. She was knowledgeable and helpful. Also, very prompt in replying to any questions I had.
Recommended
Thanks, Jessica
By: Carolyn
Reviewed on: 13 Nov 2017
She was knowledgeable, helpful and got me the information I needed in a timely fashion. She answered all my questions
Recommended
Excellent
By: Judi
Reviewed on: 30 Dec 2017
My daughter worked with Jessica. Everything was great
Recommended
LA Trip
By: Charlie
Reviewed on: 08 Jan 2018
Easy to get information and results
Recommended
Best Trip Ever!!
By: E & M G.
Reviewed on: 21 Feb 2018
I was in the midst of planning a "Bucket List" trip for my wife and was getting overwhelmed by all of the details to consider. I mentioned this to my cousin, a producer in Hollywood who travels the world for business. He referred me to Jessica. The best decision ever!. She took immediate control and began the process. She even created a brief introduction video that I played during my wife's 50th B-day party announcing the trip. From flights to LA to Tahita to Bora Bora, to resort stay, excursions; she handled it all. All we had to do was show up at the airport. The rest is history. We loved the St. Regis. What a magical place. Intimate, personalized service - a little bit of heaven on earth. We look forward to booking all future vacations with Jessica. She has earned our trust.
Recommended
Working with Jessica was easy and beneficial
By: Anna
Reviewed on: 26 Mar 2018
Jessica came highly recommended from a cousin. Having never worked with a travel advisor before, we weren't sure what to expect. We're so glad we reaced out to her! Jessica was warm, knowledgeable, responsive and detail oriented. She listened to our preferences and helped our family plan a smooth, enjoyable and memorable international trip. Our time together as a family was surely made better by Jessica's impeccable services.
Recommended
Planning honeymoon
By: Julie
Reviewed on: 14 Apr 2018
Working with Jessica was easy and very convenient. She always got back to me in a timely manner and was very helpful when I had any questions.
Recommended
Costa Rican Adventure
By: Mr. Collins
Reviewed on: 15 May 2018
Working with Jessica was amazing. She listened to everything I was looking for and built a memorable vacation. It is something my daughter will remember and talk about for the rest of her life.
Recommended
Jessica is awesome!
By: Baiano
Reviewed on: 12 Jun 2018
As always, it's an absolute pleasure to work with Jessica. She is extremely dependable, friendly, fast, and Caring. All of my trips through her have been absolutely amazing
Recommended
Meadowood
By: ask Mom
Reviewed on: 16 Jun 2018
Wonderful! Jessica was very helpful and clued us in about opportunities in Napa and at the resort we may not otherwise have discovered. We hope to consult with her when planning future vacations. Choice of hotel was ours, not hers.
Recommended
California Coast Trip
By: California Traveler
Reviewed on: 26 Jun 2018
Jessica was super helpful and enthusiastic about making our trip special for our family. She was creative - suggesting ideas for activities, and provided great insight on the hotels she recommended. We had a great time - and would definitely work with her again.
Recommended
Hawaii Vacation
By: Sweet Pea
Reviewed on: 21 Jun 2018
Jessica was remarkable! I'd never used a travel agent. I've always handled planning on my own, but since this was "the trip of a lifetime" for me and my kids, I wanted it handled right. She went above and beyond my expectations with every detail accounted for. She was readily available to answer any questions I had before the trip and during the trip. She made sure I felt at ease and had my best interests at heart. I couldn't have picked a better advisor anywhere! She's absolutely THE BEST!
Recommended
She is kind, patient and considerate
By: Momisfit
Reviewed on: 12 Jul 2018
Jessica was so easy to work with. She planned a lovely trip in a very short period of time. She was professional, courteous, understanding and flexible. We loved our trip!
Recommended
Jessica hooked us up
By: GJ
Reviewed on: 09 Oct 2018
Costa Rica can be a bit overwhelming when choosing when and where to go. Jessica helped us filter through a lot of the options and dialed in what was a wonderful family vacation. We traveled with our 2 kids (9&11) and we found a great balance between family fun, maximizing our budget and even a touch of romance too. Tabacon water features are unmatched by any other hotel we have been to. Glad we were able to get a room during high season. Thanks Jessica
Recommended
Another great trip planning by Jessica Hart
By: Michelle
Reviewed on: 18 Aug 2018
Jessica is so easy to work with. She is there every step of the way...from quotes to the day you leave for your trip and after! She is knowledgeable and responds to emails quickly. She treats her clients wonderfully and books each and every trip like she is booking it for her own family. Detail orriented and a pleasure to work with! Thank you Jessica!
Recommended
Trip to Montage Kaupalua Bay
By: Fred Safahi
Reviewed on: 14 Feb 2019
Jessica was extremely knowledgeable and helpful in arranging our destination wedding trip to Kaupalua Bay, Hawaii. We stayed at Montage resort and enjoyed it very much. Thanks to Jessica, we received credit for daily breakfast allowances at the resort plus an additional credit which we used for a massage at the SPA center. Jessica sent us personalized cards and welcome gifts upon our arrival in hour hotel, which we appreciated very much. My wife and I both recommend Jessica Hart very highly and will be using her expert advice on all future trips. Thank you. Fred and Claire Safahi
Recommended
TravelByHart has a permanent place in my heart!
By: CrystalRose
Reviewed on: 09 Aug 2018
She got us a Dolphin Lanai suite at the illustrious Kahala Resort in Oahu, Hawaii. Our room was right next to the dolphin lagoon! It was absolutely breathe-taking to walk outside of our door, and hear/see the dolphins at play. The beach was just a few moments walk from our room as well, way beyond my expectations, but happily so! Jessica also made sure to follow up with me at every point in the process to confirm reservations and checked in while we were there to make sure that we had everything we needed. I will not only be booking with Jessica again in the very near future, but I've already begun recommending her to all of my friends and colleagues. This was my mom's first trip to Hawaii, and I wanted to share this special experience with her for my birthday. Thank you Jessica for making this the best vacation I've ever had.
Recommended
Best Trip Ever!!!
By: Lucy Riles
Reviewed on: 25 Aug 2018
Jessica was an absolute rock star travel agent! My husband and I used her to help plan our 10th wedding anniversary trip to Europe. The entire experience was absolutely fanstatic. From the hotel accomodations to the day trip vouchers to rental cars... it could not have gone smoother! My husband and I shared the most memorable trip together and kept saying "This was better than our Honeymoon!" All thanks to Jessica Hart!!!
Recommended
The most beautiful resort I have ever seen.
By: Jillian
Reviewed on: 30 Aug 2018
Jessica was so amazing and kind when helping us plan the trip of a lifetime. She was so helpful and the perks we received from the resort really made this such a special trip. If you are looking for a place that has breath-taking views and sunsets, amazing atmosphere and impeccable service than the Four Seasons Punta Mita is for you. The resort was very kid friendly if you are looking to bring your kids, but is also so romantic and relaxing. Booking with Jessica was such a breeze. She made sure everything seamless and easy. We will absolutely use Jessica again when booking another vacation.
Recommended
enchanted cottage
By: loml95
Reviewed on: 27 Sep 2018
fantastic! couldn't be better. easy to reach by email. great amenities.
Recommended
A fabulous honeymoon journey
By: Honeymooners
Reviewed on: 28 Oct 2018
Jessica was an incredible asset to us from start to finish! She worked within our budget to find us the absolute most luxurious honeymoon we could imagine. From ensuring that we had upgraded hotel rooms in every one of the fabulous places we stayed in France, to discovering tours that fit perfectly within the parameters we wanted, Jessica clearly listened to our needs and desires, then far surpassed them. She was incredibly prompt in her communication and handled any hiccups that we encountered during our trip (all our own fault!) swiftly and professionally. We are so incredibly lucky to have discovered Jessica and we can't wait to plan another trip with her. Can't recommend her more highly!
Recommended
Cabo
By: Chris M
Reviewed on: 05 Nov 2018
Fantastic! She was extremely helpful and made the entire booking process effortless. We absolutely loved our resort and all the little extras she included for us. Top notch!
Recommended
Great to work with!
By: JoGo
Reviewed on: 13 Dec 2018
Jessica was amazing. Easy to work with, understood our needs, tried to work within our budget and find places that accommodated us on short notice. The place she found and suggested was right on point for our family vacation with two toddlers! Would highly recommend her.
Recommended
AMAZING
By: Karen
Reviewed on: 08 Jan 2019
Easy! Jessica is very Thoughtful, responsive, and knowledgeable.
Recommended
living life to the fullest
By: rubyJ
Reviewed on: 15 Mar 2019
so great. i love doing everything with text or email. hate talking on the phone. so loved working with jess. i also love all the virtuoso hotels and amenities. breakfast is my favorite meal across the atlantic. love that it was included!
Recommended
Jessica Hart on Ireland
By: Julia
Reviewed on: 13 Apr 2019
Working with Jessica was smooth from beginning to end. She answered emails in a timely manner, found hotels to our liking and created an itinerary that was perfectly suited to our needs. We gave her a list of wants and I can honestly say that everything we did during our time there accomplished our wish list of goals. I would wholeheartedly recommend Jessica to anyone looking to book a vacation that requires additional planning and research.
Recommended
Hotel Californian
By: Coco
Reviewed on: 30 Apr 2019
Thank you Jessica for always taking such great care of all our vacation needs. Working with Jessica to book your stay-cation or trip of a life time is definitely a win win situation, her attention to details goes above and beyond. We look forward to booking another trip with her.
Working with Jessica Hart, you will have access to:
- An experienced travel guide whom you can rely on before, during, and after the trip
- Exclusive luxury resorts and properties
- Once in a lifetime experiences
Explore with the Best
Virtuoso Advisors are constantly pushing the boundaries in unique travel experiences.
Alliance programs are unique tailored experiences exclusive to travelers working with Virtuoso Travel Advisors.
learn more
United Kingdom
Spain
Portugal
Czech Republic
France
Austria
Germany
United States - All
Costa Rica
United States - California
Mexico
Canada
Australia
New Zealand
United States - Hawaii