Josh King
Leawood, KS United States
Travel Specialties
Interests
Adventure
Safari
Independent Tours
Family Travel
Honeymoons
Destinations
South Africa
New Zealand
Australia
Maldives
Mexico
Selling Travel Since
2016
My Background
Do you enjoy exploring the world as much as I do? I believe life is an adventure and here are a few I've experienced around the world: white water rafting on the Futaleufu River in Patagonia; climbing Mt. Kilimanjaro in Tanzania; and snorkeling on the Great Barrier Reef with a marine biologist. While others were learning cursive I was busy spotting the Big Five on safari 3 times (And you guessed it - I don't like to write in cursive). I've played tag with sea lions in the Galapagos; tried to get the guards at Buckingham Palace to smile; climbed the Eiffel Tower in Paris; sampled gelato in Rome; and survived the hairpin turns on the Amalfi Coast. I saw the remnants of the Holocaust in Poland and celebrated Independence Day in Jerusalem, Israel. Of course, I love our country and have visited many of our 50 US states. So, what do you say? I know you and I will create your adventure filled with priceless memories. Let's get started - where do you want to go next?
Places I Have Traveled
Reviews and Recommendations for Josh King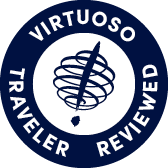 Virtuoso Verified Traveler
All reviews are from confirmed guests sharing exclusive insights
Sort reviews by
Recommended
Great Follow Up
By: Erik
Reviewed on: 17 Nov 2016
Josh did a great job setting up my cruise and his follow-up was exceptional
Recommended
Great GetAway
By: PJN of Texas
Reviewed on: 21 Nov 2016
Josh suggested for a weekend getaway The Inn & Spa at Loretto in Santa Fe, along with some other places. The area and property in Santa Fe looked to meet our wants and style and he made the arrangements. It was a great weekend and the benefits that came from booking with Virtuoso made it even more enjoyable.
Recommended
Prompt and exceptional service
By: Aruba girls
Reviewed on: 05 Dec 2016
We were looked after on all accounts. Any questions we might have had he was very prompt in answering. Very personable and if he wasn't sure of an answer, he found out and let me know straight away... A pleasure to work with. Great job!!! Thanks Josh. Great holiday!!
Recommended
Unforgettable Greece trip!
By: Philadelphia Newlyweds
Reviewed on: 06 Dec 2016
We had not worked with a travel agent before and were hesitant to do so, but with all the details leading up the wedding we decided to look at Virtuoso for our honeymoon. Josh reached out right away and very conveniently communicated with us over chat, email, phone and text on our terms. He understood our idea of a perfect honeymoon and put together really personalized proposals for us to consider. We chose to split our time between Santorini and Crete per Josh's recommendation and we are glad we did! We had a good experience before the trip but we realized we made the right choice once we landed in a Greece. From the airport to the hotel and beyond, we were treated like royalty, enjoyed upgrades, unbelievable service and experiences that we will always remember. We plan to reach out to Josh for our next trip now that he has raised the bar!
Recommended
Barcelona & Florence
By: Gay
Reviewed on: 15 Apr 2017
Working with Josh was great, he made our vacation memorable for all. He's easy to work with, conscience and listens to your every want. I highly recommend Josh & will call him in the future for all my trips!
Recommended
Paris and Loire Valley
By: Susan
Reviewed on: 05 May 2017
He was very nice and did a great job of following our trip and checking on us with email and phone call from his French assistant That was very helpful! Josh found great airfare for us as well
Recommended
Ease and Saved $$$
By: Michel
Reviewed on: 15 Aug 2017
Extremely easy, helpful, and saved us a lot of money!
Recommended
Excellent, Professional and Responsive
By: ashkan
Reviewed on: 01 Dec 2017
Josh was great. I emailed him for a last minute Bali trip after reading about him online. He exceeded my expectations by quickly responding to my emails and assisting me in booking my reservation. There were some last minute changes but Josh was great in accommodating me. I am currently in the process of planning my next getaway with Josh. I strongly recommend him to anyone wishing to plan a memorable vacation.
Recommended
New Zealand Honeymoon
By: Koch
Reviewed on: 10 Apr 2018
Josh was fantastic to work with. We talked about what we wanted to see or do and he worked it into a wonderful itinerary. He kept us up to date with any chances that came up and answered all of our questions. When we had flight interruptions due to weather, he helped rearrange our flights and that helped minimized stress. Our trip was a memorable one for sure and we are very pleased with everything. Thank you Josh for everything you have done for us.
Recommended
Great trip
By: JD
Reviewed on: 02 May 2018
Outstanding service
Recommended
TEN STARS --->Incredible!
By: Angela J Jones
Reviewed on: 25 Sep 2018
The time that we landed at the Beijing airport, we had a person that greeted us to walk us to a secret location within the airport to leave in our already waiting Rolls Royce. The royalty treatment began the moment we walked off the plane, and it did not end till we checked out from The Peninsula. This hotel was off the charts fancy! I have never stayed in such a place that walked you into your room to check you in, and then proceeded to go over all of the super techy things that go along with their rooms. Everything was hands down the most amazing experience I have ever had in a hotel room. The service, the staff, the attentiveness, the food, the drinks, the live music, the feeling of being on cloud nine is nothing short of spectacular! In love with The Peninsula and all that it stands for...
Recommended
Best Trip Ever
By: Bebe
Reviewed on: 10 Jun 2018
Josh was a pleasure to work with. He was knowledgeable, responsive and efficient. This was our first trip to Asia and beyond. Josh's recommendations of hotels and tours were just want we a perfect fit for us. Josh helped us make this trip enjoyable and memorable. We are looking forward to working with Josh on our next trip.
Recommended
New Zealand
By: New Zealand
Reviewed on: 22 Jun 2018
Josh was amazing to work with when planning our honeymoon to New Zealand! I would highly recommend working with Josh, he was well organized, always responded in a timely manner, and planned a trip of a lifetime for us.
Recommended
Great trip to Alaska
By: Family Travels
Reviewed on: 16 Jun 2018
Josh was wonderful to work with and I highly recommend him. He is knowledgeable and very helpful when we planned our vacation to Alaska. He got to know us and what we were looking for, gave us options, and made the planning process so much easier. We had a great trip and and will definitely contact Josh again!
Recommended
Fantastic!
By: Alisha
Reviewed on: 04 Sep 2018
Josh was extremely helpful, efficient, and informative. He was able to quickly answer my questions about the property, and took care of everything for me! My husband and I had the most relaxing, life-giving time away in large part because of the perks and service we received thanks to Josh.
Recommended
Incredibly accessible and communicative
By: Liza and Alex
Reviewed on: 11 Aug 2018
Josh was so knowledgeable about the area but also incredibly patient with us and our millions of questions. We changed plans a lot throughout the course of the process and he was always flexible and understanding. He "got" us and understood perfectly what we as a couple were hoping to achieve on the trip. I didn't feel like he was giving us the canned tourist package that was a safe bet. We loved working with him and know how much we asked of him. Highly recommend !!
Recommended
Kenya Safari
By: David D
Reviewed on: 15 Aug 2018
Josh was very helpful and responsive. I was pleased with his service and will use King Travel again.
Recommended
seamless travel
By: Louie
Reviewed on: 31 Aug 2018
Always a pleasure to work with Josh. He is responsive to every query and always has knowledge and experience to share. I can count on his advice and suggestions re: any aspect of my trip. My last trip was flawless in every way.
Recommended
Great job
By: Max
Reviewed on: 10 Sep 2018
Josh did a great job of making the booking process as easy as possible. Super responsive and knowledgeable.
Recommended
AMAZING! Super Attentive!
By: Angela J Jones
Reviewed on: 25 Sep 2018
Josh King is the most attentive travel agent I have ever worked with, I always knew if there was any problem at all, I could email and he would respond in seconds (literally seconds). When I would request certain rooms that I have seen on Google, he will make every attempt at getting me exactly what I want. I feel as if I have a magic genie at my finger tips, eager to make traveling easy and comfortable, anything that I want, within reason of course, he would find a way to make it possible. I will never travel without him, that's for sure!
Recommended
Israel, Jordan
By: Todd
Reviewed on: 06 Oct 2018
Josh was exremely helpful and available with planning and coordinating our trip to Israel and Jordan. Highly recommended and we will use him again for sure
Recommended
Five star luxury in Italy
By: Louie
Reviewed on: 09 Oct 2018
We have worked with Josh on several trips to date and they have all been fabulous . I always prefer to do some research on my own and then approach Josh for his expertise and advise. He is attentive to details and always responsive to our requests for advise or direction. On this last trip Josh suggested the Villa Cora in Florence Italy. It actually surpassed our expectations in terms of beauty, service and location. Our only regret was not having more time at the hotel before we had to continue our itinerary. Josh is always available for consult or assistance even while we travel which is a great comfort in case an unexpected issue arises. We are already planning our next excursion with him and bringing along 8 friends!
Recommended
Excellent!
By: Audra
Reviewed on: 08 Oct 2018
Thank you so much Josh! You made my trip, my concerns, and my epic vacation the BEST EVER! Thank you for ensuring my family and I were comfortable, confident, and taken care of well in advance. Thank you for providing the reminders needed to have this entire experience be easy and excellent. You're great!
Recommended
Montage in Cabo
By: gholt
Reviewed on: 23 Oct 2018
Great. Very helpful and knowledgable. Explained all of the perks and amenities of Virtuoso. Quick turnaround times on all email correspondence.
Recommended
Kauai trip
By: JD
Reviewed on: 17 Nov 2018
Great, as usual. He was very helpful in getting us booked with the room we wanted and the package we wanted.
Recommended
Spain trip
By: Terri
Reviewed on: 21 Nov 2018
Josh was great Very thorough and professional Good advice on trip On the downside He went away during summer and was not reachable and left no out of office message This wasn't good as I was alarmed when the internet stayed his agency had closed
Recommended
Amazing trip
By: Ashkan
Reviewed on: 04 Dec 2018
This is the second time we've planned a trip through Josh and it was amazing. He was very patient with all our requests and answered all our questions.
Recommended
The Savoy
By: savoythebear
Reviewed on: 15 Jan 2019
Josh was wonderful to work with. He was seamless and easy and got the job done. Using a travel agent makes the experience significantly better.
Recommended
Knowledgeable and Quick
By: Nelie
Reviewed on: 19 Mar 2019
He was very helpful and knowledgeable with planning my vacation. He was quick with getting back to me with information I requested.
Recommended
Excellent care
By: Karen &Kelly
Reviewed on: 19 Apr 2019
Josh was thorough and knowledgeable. He readily responded to all of our questions and helped us make choices that made for a terrific trip. He continued to follow up until we were safely on our way, and we knew we could contact him if we needed any help.
Recommended
Banyan Tree
By: gholty
Reviewed on: 05 Jun 2019
Great. Very responsive and attentive. Great ideas and suggestions! Even if an idea did not work, he was cool with that and gracious. Much appreciated. The property upgraded us upon arrival because of Josh and Virtuoso and we had an amazing 3 BR Villa on the beach!! So pretty and so great! We loved our time at the villa because it had a pool and a hot tub and that made it great! Definitely made it extra special. Had great dinner reservations thanks to Josh and overall we would highly recommend him.
Recommended
Fantastic
By: Van
Reviewed on: 24 Jun 2019
Very responsive. Fantastic attention to detail. Incredibly thoughtful as to price vs. value.
Recommended
Josh is so helpful and recommends beautiful places.
By: JJ
Reviewed on: 06 Jul 2019
Working with Josh is a pleasure. He always responds promptly to emails and he is never bothered by frequent requests. Any trouble at the hotel he will address with his team.
Recommended
Hotel booking
By: Devin
Reviewed on: 21 Sep 2019
Super easy and responsive. Answered all my questions quickly and throughly. Very helpful! Will use Josh again in the future
Recommended
Four Seasons Hualalai
By: Hawaii 2019
Reviewed on: 21 Oct 2019
Josh was very responsive to my email inquiry and kept in touch to ensure our stay was seamless. We will definitely work with Josh again.
Recommended
I love AUS!
By: gh
Reviewed on: 31 Oct 2019
Great. Lots of options, ideas, and flexibility. So patient and quick to give us information and expertise. Very impressed with his knowledge.
Recommended
Efficient
By: Jake Donovan
Reviewed on: 24 Nov 2019
Attentive and responsive to our requests. Would recommend Josh.
Recommended
Excellent Trip
By: Emily
Reviewed on: 30 Dec 2019
Josh helped us to plan our honeymoon. We wanted to go somewhere we could relax and not have to worry about anything!! Josh helped us to find a wonderful all inclusive resort, set up the flights and helped to set up a car service to and from. Any questions we had regarding the trip, Josh was able to answer promptly. Honestly would 10/10 recommend. Thanks to Josh's help, I was able to focus more on my wedding planning and had time to relax after. Thanks Josh!!
Recommended
Flawless Holiday...
By: Angela J Verbeck
Reviewed on: 06 Jan 2020
Working with Josh is more than just easy, he makes it so that you can talk to him like you are talking to one of your close friends. Josh does not miss a thing, not the slightest detail goes unnoticed - he is precise and attentive.
Recommended
Great Family Trip to Thailand!
By: Adriana
Reviewed on: 15 Jan 2020
When starting to plan our trip, we started working with another travel agent who was not responsive and left us concerned about planning a trip half way around the world with them. We decided to switch agents - and we are definitely glad we did! Josh was a pleasure to work with and always responsive. All his recommendations are great from tours to accommodations. Our local tour guides also were amazing! I would highly recommend Josh for your upcoming trip (we are already planning our next one with him!).
Recommended
Josh is very responsive
By: Jake Donovan
Reviewed on: 31 Jan 2020
We really like the fact that Josh responds quickly to our questions and gets us the information that we need. We have been very happy with his service.
Recommended
Memorable New York City 21st Birthday Trip!
By: Priscilla
Reviewed on: 08 Feb 2020
Josh King was a responsive, friendly, and knowledgeable travel agent who secured the Virtuoso discount for our daughter's 21st birthday trip to New York City. Josh secured our stay at a 5 Star luxury hotel in Manhattan for the price of 2 nights with the 3rd night being free and there was complimentary (free) continental breakfast every day! He made restaurant and other celebration suggestions. He made an afternoon tea reservation for us and was willing to make any and all reservations or other arrangements for us. I recommend Josh King to other travelers because he will listen to your requirements for your trip and he will work hard to ensure that your trip is memorable.
Recommended
First time but not the last
By: Christian
Reviewed on: 05 Feb 2020
I'm a first time Virtuoso member who saw a referral for Josh through a travel blog. Josh answered all of my questions and was generally quite helpful. I like the service and Josh as well, and will be back in contact next time.
Recommended
Josh makes the best recommendations!
By: JJG
Reviewed on: 24 Feb 2020
Josh is great to work with and makes awesome recommendations. I have never been disappointed with his recommendations. He replies to emails quickly and is thorough.
Working with Josh King, you will have access to:
- An experienced travel guide whom you can rely on before, during, and after the trip
- Exclusive luxury resorts and properties
- Once in a lifetime experiences
Explore with the Best
Virtuoso Advisors are constantly pushing the boundaries in unique travel experiences.
Alliance programs are unique tailored experiences exclusive to travelers working with Virtuoso Travel Advisors.
learn more
South Africa
New Zealand
Australia
Maldives
Mexico
French Polynesia
Italy
Tanzania
Kenya
Rwanda