Travel Specialties
Interests
Culture, History & Arts
Adventure
Family Travel
Beach & Sun
Festivals & Events
Destinations
Australia
New Zealand
Spain
United States - All
Mexico
Selling Travel Since
2008
My Background
My life and career choices have been shaped by my curiosity about other cultures, and I love to see that spark of interest in my clients. I view the arts (followed closely by food) as central to how a society expresses itself. These perspectives inform my travel planning paradigm. Every country offers multiple aspects of itself - ancient & contemporary, tangible & intangible, natural and man-made - that I help my clients discover.
To me, travel at its best - beyond experiencing adventure in beautiful, iconic sites - imparts meaningful connections with a community, an understanding of culture and heritage of a place and of the local peoples' stories. Travel is undeniably a force for good, for empathy and understanding. I intend that my clients' trips be purposefully additive experiences for both them AND their destinations: I seek to make every journey matter.
A former banker and international non-profit professional, I'm a collaborative consultant at my core. I've seen six continents; sent clients to all seven; and my heart remains tied to my adopted 2nd home of Australia, where I spent 10 formative years, obtained dual citizenship, and forged lifelong connections. Oceania & Asia are regions I know well and love, but my global bucket list is both endless and ever-changing. Isn't yours?
People don't take trips. . . trips take people. - John Steinbeck
Places I Have Traveled
Reviews and Recommendations for Stacy Luks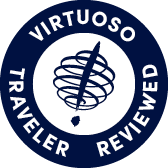 Virtuoso Verified Traveler
All reviews are from confirmed guests sharing exclusive insights
Sort reviews by
Recommended
Very Highly Recommended
By: Hester
Reviewed on: 20 Nov 2013
Stacy did an excellent job planning several trips for our family. Her travel experiences and interests are broad and deep. Her excellent attention to detail provided experiences that matched our expectations.
Recommended
Fantastic service
By: Spingirl
Reviewed on: 05 Aug 2015
Stacy was extremely helpful in planning our trip to the San Diego area. She suggested that we stay at the beautiful Hotel del Coronado, made all the bookings, ensured that we received special amenities (such as late check-out and points as Virtuoso travel customers). We were treated like special guests, thanks for Stacy's contacts at the hotel. Stacy also created sample itineraries for the days that we stayed - keeping in mind that we were a multi-generational group. There was something for everyone. Her responsiveness and customer service are unparalleled. She helped us have a truly memorable trip. I highly recommend Stacy.
Recommended
Expert and Personalized Service
By: Bandanna8
Reviewed on: 02 Oct 2015
Stacy planned a 2-week trip for my extended family of six to Spain. She was able to take our diverse interests and plan a trip that was perfect and stress-free. The trip was planned around my dad's 80th birthday and with Stacy's help, it was a trip that we will have many fond memories of for years to come! Thank you Stacy!!
Recommended
Great help
By: Liz
Reviewed on: 28 Mar 2016
Stacy reviewed options for our vacation with us and looked into several possibilities. She made arrangements for us at Dove Mountain that were perfect. We would definitely use Stacy again for future trips.
Recommended
Awesome choice!
By: Karen
Reviewed on: 14 Jul 2016
I can not say enough about Stacy's ability to insight what we should look for in a hotel with her "spot on" recommendations. We just returned from Seattle after staying in a virtuoso property and were delighted with every aspect of the hotel. Our experience was wonderful and Stacy was a big part of that. She is helpful and professional in every way, and someone we will consult again for future travel.
Recommended
Expert Friendly Service
By: Booger
Reviewed on: 05 Sep 2016
Very helpful w/ all aspects and details including airfare in our recent trip. Will definitely continue to use her in the future.
Recommended
Expert, Friendly and Responsive
By: Violet
Reviewed on: 08 Jan 2017
Stacy listened to what we wanted from our Spain trip and put together a fabulous itinerary that included a great mix of guided tours and leisure activities. She was attentive and responsive, checking in frequently to make sure all was going as planned. I would highly recommend Stacy as a travel advisor and will be using her services again.
Recommended
Galapagos & Ecuador
By: H & L
Reviewed on: 04 Apr 2017
The trip Stacy planned for us was awesome!! Within budget, no hassles, everything went as planned. A trip fantastic advisor!!!
Recommended
India 2017
By: Cha
Reviewed on: 01 Sep 2017
This was the most positive travel planning experience I have ever had. Stacy spent an enormous amount of time and energy researching several travel options/itineraries for us. She tailored our trip to meet all of our needs and wishes. Every detail was considered and executed flawlessly! We were so very pleased with the entire experience!
Recommended
The great Stacy
By: Schoman
Reviewed on: 27 Aug 2017
Superb. I told her the trip outline and she did everything to make it work. There were absolutely no problems or misunderstandings.
Recommended
Awesome adventure
By: PuraVida
Reviewed on: 25 Sep 2017
Stacy listened to my needs and was able to very quickly put an incredible all expense package together that fit my families needs. She then stayed with me to the final steps of planning, offering her expertise and assistance. She is very personal and attentive.
Recommended
First Anniversary Trip to Italy
By: Laura
Reviewed on: 23 Oct 2017
It's hard to put into words how amazing it was to work with Stacy. From the beginning, she took the time to get to know us and our travel preferences to be able to direct us to the best properties for our needs. She was flexible in meeting over the phone and in person, she always seemed to be available for us. She helped us narrow down the properties in a manageable way and helped us choose the most amazing places we have ever stayed. She handled pricing and sourcing every logistic from transport to hotels to touring options. She passed them along in a digestable way, like a "menu" that made it clear and concise for us to choose what we wanted. The travel app she set us up on was amazing! Everything we ever needed was included in that app. The other thing that was incredible was that she followed along with every day of our trip behind the scenes making sure things were going smoothly. I cant say enough about working with her and cant wait to work with her again.
Recommended
Stacy Luks - Travel Consulant
By: HSR888
Reviewed on: 23 Oct 2017
Exceptional Travel Adviser! Stacy is knowledgeable, efficient, creative, and fun to work with.
Recommended
Excellent
By: ejgroninger@gmail.com
Reviewed on: 04 Jan 2018
Very easy. She found a perfect place for our family after listening to our wish list. Stacy offered a range of support. We were very happy with her advice. This is the second time she has discovered just the right situation for us.
Recommended
Kerela
By: Soozi
Reviewed on: 15 Jan 2018
Stacy was fabulous, she came up with multiple alternative options and was incredibly responsive
Recommended
Quick Trip
By: L & H
Reviewed on: 03 Mar 2018
Last minute arrangements were made by Stacy a week before we departed. Everything went smoothly. Highly recommend her services!
Recommended
Long weekend in Miami
By: Paul
Reviewed on: 12 Mar 2018
Stacy's support and attention to detail is always off the charts and our most recent trip was no exception. She always invests the appropriate amount of time upfront to clearly understand what we want to get out of a trip and then she brings us outstanding options to consider. Stacy will be our travel agent as long as she will allow us the privilege of being her clients.
Recommended
Stacy is wonderful to work with
By: pgoodpasture
Reviewed on: 13 Mar 2018
Stacy is wonderful to work with. She is a great listener, the most important quality for a travel advisor. She asks great questions, the next most important quality for a travel advisor. And she communicates wonderfully, both with me and with the property. We could not have been more pleased and are planning another trip with Stacy next month!
Recommended
excellent as always!
By: heaternestor
Reviewed on: 31 Mar 2018
🙌🏻 wonderfully rewarding 🙌🏻
Recommended
Spring Break Europe
By: Susan
Reviewed on: 11 Apr 2018
Stacy is a great trip advisor. I was so pleased with Stacy's communications with me before, during, and after our trip. It helped me to be able to relax, in what could otherwise could have been very stressful. Our connection from Paris to Florence was canceled due to a French Strike. Stacy found us a very nice and welcoming boutique hotel within walking distance the The Louvre and many other sites which added to our adventures!
Recommended
just what we wanted
By: momof2
Reviewed on: 22 Apr 2018
Stacy was a delight to work with, offering several (but not too many) options for our consideration. She honestly weighed pros and cons of a few all-inclusive resorts, and we were happy with our choice. She hand delivered some documents, and from her own vacation texted to be sure we had arrived and checked in happily.
Recommended
London/Paris anniversary trip
By: Kristin
Reviewed on: 22 May 2018
Stacy was enthusiastic, flexible, informative & inquisitive. She asked questions to better tailor our perfect trip. How much did we want to squeeze in? Day trips or wander city at leisure? On what details did we want to spurge or save? She gave options for hotels, but not too many. She was realistic about planning enough but not too many activities in each day. When I frantically texted about a time conflict for two tours, Stacy contacted the tour providers, made suggestions for plan changes and followed up afterwards, even getting a refund for the tour whose time caused a conflict. Grateful to have had Stacy plan both this trip and a trip to Italy... Contact her, you'll be glad you did!
Recommended
Excellent - again!
By: Heather
Reviewed on: 11 Jun 2018
I've planned multiple adventures with Stacy. This time, I took my neices to Florence. Stacy areanged an amazing private group food tour. My nieces said it was the highlight of the trip!
Recommended
Stacy is great
By: Schoman
Reviewed on: 18 Jul 2018
I gave her a broad outline of my travel plans and preferences and she handled the rest. She gave me appropriate options and kept me informed as needed.
Recommended
Sedona and Grand Canyon
By: Stacy's fan club
Reviewed on: 25 Aug 2018
The only reason our trip was as amazing as it was is entirely due to Stacy's exceptional advice and guidance. We started with a thought that we wanted to take our teenage children to the Grand Canyon. Stacy suggested we split the trip and spend some time in Sedona at a resort we most likely never would have considered if planning this trip on our own. She then suggested some amazing side adventures like guided tours and a hot air balloon ride that resulted in this trip being what can only be described as an amazing lifetime memory we will cherish. I can't imagine ever planning another family trip without Stacy. She is an amazing professional that has consistently exceeded all our expectations.
Recommended
Hurricane in Hawaii
By: L&H
Reviewed on: 07 Sep 2018
Stacy was very concerned about our well being while being in Hawaii during Hurricane Lane. She reached out to us constantly to check on our safety, and even contacted the hotel to be assured there was no danger to us. She booked our spa appointments before our arrival and ensured we received the room location we requested. Would never travel without her service and expertise. Makes us smile whenever we speak!
Recommended
Stacey is great
By: John
Reviewed on: 22 Sep 2018
Easy to work with. I just gave her the dates of travel and the tickets I would need were quickly taken care of. This is the second trip she has prepared for me and it won't be the last.
Recommended
Highly recommended travel advisor
By: EGJC
Reviewed on: 26 Sep 2018
Stacy has a natural curiosity and Interest in different experiences around the world, and makes very engaged and helpful suggestions for your itinerary.
Recommended
Fantastic
By: Lainie Rachelle
Reviewed on: 20 Oct 2018
Stacy was so helpful and made sure every aspect of our trip was amazing. I would definitely recommend working with Stacy!
Recommended
Park Hyatt St. Kitt's
By: Elizabeth Fisher
Reviewed on: 02 Dec 2018
We loved having Stacy to help us figure out what to do for our "mini moon." She made the process easy and even when dubious reviews surfaced about our original choice she quickly came up with a fabulous alternative.
Recommended
Trip to Australia November 2018
By: Jennie
Reviewed on: 17 Dec 2018
We needed a somewhat specialized itinerary and Stacey worked with me until we obtained all of the elements required for a successful trip. She was very accommodating, taking the time to understand our needs and advising where necessary. This trip was difficult to book online without assistance and I would use Stacey again.
Recommended
Perfect vacation
By: Elisabeth
Reviewed on: 09 Apr 2019
Stacy was patient, accommodating with changing ideas for our family trip and, in the end, it was perfect. Couldn't have been better - unless it had been longer!
Recommended
Never travel without her!
By: Elizabeth Fisher
Reviewed on: 03 Apr 2019
My husband and I have discussed it - we will never take a big trip without Stacey's help again. She makes it so easy and so fun - all the great things about travel with none of the stress. I recommend her to others all the time!
Recommended
trusting and easy experience
By: Bonnie
Reviewed on: 14 Apr 2019
Stacy was wonderful - what I valued most was her opinion on the cities, timing, hotels, and more. It was so reassuring to work with someone who had not only personally traveled to our destination, but who also deeply understood what our desired experience was. Would absolutely work with her again, and highly recommend!
Recommended
Fantastic Care
By: MMullins
Reviewed on: 18 May 2019
Stacy is fantastic to work with. She really listened to how we like to travel and mixed activities we requested with great suggestions. She has detailed knowledge of traveling in New Zealand and Australia. Additionally she checked in to ensure our trip was proceeding well. She was so valuable to the success of our 25 day journey.
Recommended
Primland
By: Shari
Reviewed on: 16 Jun 2019
We had a great time and Stacy saved us $1000!
Recommended
Turks and Caicos
By: Liz
Reviewed on: 27 Jun 2019
Wonderful! She was always available and gave me good solid advice. Our trip was perfect!
Recommended
Highly Recommended
By: dpn64
Reviewed on: 18 Jul 2019
Stacy was a pleasure to work with. She listens carefully to her clients requests and makes every effort to execute on all of them. Her attention to detail in planning came through on each leg of our trip. We look forward to working with her again.
Recommended
Norway Trip
By: MOM
Reviewed on: 12 Jul 2019
Working with Stacy was a delight! We enjoyed everything that she suggested. We were happy with the options that were suggested! We will certainly use Stacy Luks again for any future trips!!!!!!! We loved meeting Katie in Bergen!
Recommended
The Best
By: Lainie Rachelle
Reviewed on: 03 Aug 2019
Stacy is always so helpful and understanding with our travel requests. She will always take the time to listen to you and make sure you are getting exactly what you need out of your trip. I can't recommend Stacy enough!
Recommended
Very helpful!
By: SGG
Reviewed on: 03 Jan 2020
Stacy was great, very helpful and had lot of good ideas She was very upfront with what her services would provide Loved working with her
Recommended
Travel during uncertain times
By: Monty & Ashley
Reviewed on: 11 Oct 2020
Stacy is excellent. We were planning an anniversary trip to Italy in 2020. She worked with us through all the places, venues, travel, etc. it would have been fabulous. We'll, you know what happened. We / she pivoted to a week in Charleston and Bluffton. It was exceptional. We would highly recommend her. Italy 2021!
Working with Stacy Luks, you will have access to:
- An experienced travel guide whom you can rely on before, during, and after the trip
- Exclusive luxury resorts and properties
- Once in a lifetime experiences
Explore with the Best
Virtuoso Advisors are constantly pushing the boundaries in unique travel experiences.
Alliance programs are unique tailored experiences exclusive to travelers working with Virtuoso Travel Advisors.
learn more
Australia
New Zealand
Spain
United States - All
Mexico
Italy
Morocco
Costa Rica
Peru
Vietnam
Thailand
French Polynesia
Japan
Canada
France