Our site is currently being upgraded with new features. Editing, adding, and deleting functionality has been temporarily disabled.
Travel Specialties
Interests
Beach & Sun
Family Travel
Food & Wine
Meeting & Incentive Travel
Honeymoons
Destinations
Mexico
France
Italy
Saint Barthélemy
Greece
Selling Travel Since
2015
My Background
I began my career in travel as a Luxury Travel Advisor after 11 years in the urban planning field. You could say though that I started my travel career at the age of 4, when I accompanied my father, who has been in the travel field for over 35 years, on a site visit of the Four Seasons George V in Paris. From that point on I enjoyed searching out the best hotels all over the globe.
Having visited over 45 countries and counting, I am so excited to help my clients explore the world. I think of every last detail, so you can relax and enjoy knowing that you are in good hands, whether you are sitting on the beach with a pina colada and a good book or zipping around Paris.
I continue to travel extensively with my husband, toddler, and baby, so I am well trained on the ins and outs of family travel.
I have lots of great tips that can make your vacation extra special and truly luxurious!
Places I Have Traveled
Reviews and Recommendations for Alisa Cohen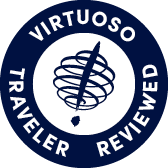 Virtuoso Verified Traveler
All reviews are from confirmed guests sharing exclusive insights
Sort reviews by
Recommended
Friendly, Fast & Efficient
By: HoneyMooners
Reviewed on: 01 Mar 2016
Alisa was so efficient in helping my fiance and I plan our honeymoon. Just give her the information and she can take the reins.
Recommended
Such good advice!
By: MM
Reviewed on: 29 Mar 2016
The information Alisa provided was exactly what we needed. She was able to quickly get a handle on what we were going for when we decided to try to take a last minute family vacation. She hit all of our requirements and gave such good advice. Doing a last minute beach trip for spring break, she came back to me with multiple options within minutes of reaching out to her - it was so great! After we made a decision, she took care of every detail and thought of important questions and got them asked and answered. Up until the last minute, she was providing us with additional information (like about kids events, etc.) She reached out to find out if we wanted dinner reservations and then was helpful to us while we were en route - there was a question about the hotel car service and she jumped right on it to sort it out. We travel a lot and have only used travel agents or outside help on trips like Africa and Egypt, but I will definitely work with Alisa again and recommend to friends.
Recommended
Wonderful trip advisor!
By: Rachel
Reviewed on: 19 Apr 2016
Alisa was instrumental in organizing a trip for me and a group of friends. She was attentive, professional, and thorough on her hotel search. She took initiative to research aspects of the hotel that I had never mentioned, but that she knew would be an important part of the trip. Although I knew we were not her only clients, I never had to wait long to hear back from her regarding our most recent conversations or reservations- which I very much appreciated. She was even able to handle a last minute change in location quickly and effectively. I would highly recommend her!
Recommended
Expert Friendly Luxurious Family Friendly Service
By: LP
Reviewed on: 29 Apr 2016
Alisa did a fabulous job taking the needs of our family into consideration when she planned our trip for Winter Break. Not only did she book our hotel rooms for us, she also went over and beyond the call of duty - providing restaurant recommendations, activity recommendations for children offsite and even a list of local playgrounds for our kids! She deftly helped us get the best room configuration available, even though we booked late in the season, and, overall, made our very first family vacation to a hotel a tremendous success! Luxurious yet family friendly. Bravo Alisa! Already using her again (this time for a trip without the kiddos!) and would encourage others to do so as well!!!! You could book a hotel yourself, but Alisa provides so many bonuses - no reason in the world to do it without her help.
Recommended
Great trip planner!
By: KarinW
Reviewed on: 29 Apr 2016
Alisa helped us plan a trip with 10 days notice and lots of parameters! She came up with a few great options and helped us pick a great hotel, we had a great vacation experience complete with some perks and deals from Alisa. I would definitely ask Alisa to plan a trip again, we were very happy!
Recommended
Knew Exactly what I needed!
By: AmyT97
Reviewed on: 05 Jul 2016
I needed a hotel in New York for just one night, but I told Alisa I wanted something funky and different in a "cool" neighborhood. She nailed it! Trying to figure out when to go back just so I can stay there again! She found exactly the right place for the price that my company would approve! Can't wait to use her again!
Recommended
Unforgettable experience, amazing travel advisor!
By: Christy
Reviewed on: 29 Apr 2016
Our experience with Alisa and Virtuoso was incredible. Relatively last-minute, Alisa expertly organized part of my 40th birthday trip to France. We were greeted at the hotel with a bottle of champagne and in our rooms we found delectable sea salt caramels, scented candles, and a tray of French pastries and petit fours along with lovely messages from Alisa. The hotel itself was truly amazing, luxurious and authentic. My whole family (5 adults + child, seasoned luxury travelers) agreed that the best breakfasts of the trip were at the hotel. Each item - house-cured meats, homemade yogurts, exotic fruit salad, local pastries - was over-the-top gourmet and delicious. We could not believe that those breakfasts were a free perk! We had great massages using the spa credits that Alisa got for us. Overall, we cannot recommend Alisa highly enough. She is professional, friendly, efficient, and thoughtful on personal touches. We look forward to booking another trip with her at a Virtuoso property!
Recommended
A Pleasure To Work With
By: STB
Reviewed on: 02 May 2016
This was the first time I have ever used a travel advisor and I have no idea what has stopped me all these years. Working with Alisa was a real pleasure. She was attentive, responsive, and just made the whole trip planning so easy and enjoyable. She made sure to keep me in the loop, but saved me hours of looking though Trip Advisor reviews to make sure I made the right choice. I am already working with Alisa on two more trips!
Recommended
Exceptional luxury trip planner
By: Hilary11
Reviewed on: 30 May 2016
Alisa planned our first weekend trip away from our infant son. She was extremely knowledgable on luxury getaway options in the Northeast. She made trip planningso easy and took away any stress. We received an amazing room upgrade which was a very special treat. We look forward to working with Alisa for our next family vacation.
Recommended
Alisa is my go to!
By: Hallie
Reviewed on: 22 Jun 2016
I now don't plan a trip, even a one night stay, without Alisa. She recently booked my girlfriends and I for a night at the Ludlow in NYC. I previously stayed there at Alisa's suggestion and absolutely loved it, so I of course had her book it again. She worked her magic-getting us an early check-in, late check-out and a spacious room (essentially a two bedroom-unheard of in NYC). She also sent up a chilled bottle of Rose with a sweet note. She made sure to check in before our trip to see if we had any special requests and checked in again once we got there. She also responded in minutes when I asked about good places for blowouts and bars to check out late night. I've sent countless friends to Alisa because she is so responsive, goes above and beyond no matter where you are staying or for how long, has amazing recommendations and insight and knows how to work with all different kinds of parameters and budgets. Alisa is definitely my go to girl when it comes to travel!
Recommended
Friendly and efficient!
By: Annie
Reviewed on: 01 Jul 2016
I loved working with Alisa! She was quick, friendly, and helpful!
Recommended
Made My Trip
By: Travis77
Reviewed on: 03 Jul 2016
Alisa worked with us on our anniversary vacation and she made our trip. All the suggestions she sent fit us perfectly, both with budget and style. Once we decided on the hotel, she worked with us on private excursions and restaurant suggestions. When we arrived at the hotel, we were treated like true VIPs, from an amazing upgrade to welcome treats in the room, all on her behalf. It was just so nice to feel so pampered and well taken care of.
Recommended
Amazing service and great perks!
By: TG24
Reviewed on: 05 Aug 2016
Alisa was amazing! She knew exactly what kind of trip we wanted without much guidance from me. She made everything so easy from the list of suggested places to booking - she provided us with a complete itinerary and we could even download an app so we had it with us all the time. She set everything up for us in advance to things were seamless. This was particularly important since we were traveling with two young kids. We ended up at the Half Moon Resort in Jamaica. She got us an amazing room upgrade, free breakfast and a spa credit. Alisa also followed up with us when we returned to make sure all went ok. I would highly recommend her and in fact, already have!
Recommended
She thought of everything!
By: David B
Reviewed on: 17 Aug 2016
Alisa planned this trip for myself and my 13 year old daughter. Alisa thought of everything. Welcome chocolates for my daughter, a rum tasting for me. She planned a fantastic snorkoling excursion that was the highlight for my daughter. The hotel was wonderful!
Recommended
Such great travel help!
By: kw
Reviewed on: 22 Aug 2016
Alisa is awesome to work with, gave great advice, and booked us a lovely suite at the Hyatt that included a lovely welcome snack and bottle of wine. We had an amazing trip!
Recommended
Perfect luxury family vacation destination
By: Hallienoelz
Reviewed on: 30 Aug 2016
Alisa suggested the perfect spot again. The Cloister in Sea Island, Georgia did not disappoint. It was exactly what we were looking for: somewhere luxurious, but also family friendly. I've literally been telling everyone they need to go. This resort is absolutely beautiful and has everything-it's a breathtaking property with a fabulous beach, pools, spa, tennis, golf, kids club, tons of activities, great restaurants, stellar service...I could go on and on. And with the Virtuoso amenities, we had breakfast included, a $100 resort credit and arrived to an amazing basket of snacks and wine. I can't wait for Alisa to plan our next vacay, she is my go-to for all travel now.
Recommended
My New Business Travel Pro
By: Trav321
Reviewed on: 14 Sep 2016
For my business travel I wanted to find someone that would take more time and care than our in-house travel team, and Alisa Cohen has done exactly that. She knows exactly what I like, and always finds me the best hotels while still staying within my corporate budget. It is the little extras that are really nice as I am traveling for business so often. After a day of meetings it was nice to come back to my upgraded room to find a nice cheese plate and a welcome note from Alisa. I only thought travel advisors were for leisure travel, but now I have my new go-to for business needs.
Recommended
The Upgrade Queen!!
By: AmyT
Reviewed on: 26 Sep 2016
Alisa booked me room at the Palomar in Chicago for a short work trip. She got me a great rate, and then an upgrade to a big, beautiful suite with a relaxing bathtub that was so wonderful when I got home from meetings each night.
Recommended
Attention to Detail!
By: DCTraveler
Reviewed on: 14 Oct 2016
Alisa helped plan a fantastic trip, and most importantly it was the the attention to detail (gifts upon arrival; early check-in; late check-out; amenity credits; upgrade) that made our trip so memorable! Highly recommend! We can't wait for Alisa to plan our next family adventure!
Recommended
Honeymoon in Paradise
By: sheldons71
Reviewed on: 21 Oct 2016
Alisa helped us plan a honeymoon in paradise---Hawaii! She found the best flight for us, hotels and excursions. I didn't have to do a thing in terms of planning---just make selections! We flew 1st class from DC to the Big Island and stayed at the beautiful Fairmont Orchid. Our 1-bedroom suite was amazing---right on the water and 2 huge lanais. Everything was there on the resort---no need to leave---beach, pool, bars, music, dining, spa....I had the most amazing spa treatment outside near the mini waterfalls. Alisa booked us a one-day excursion of a tour of the Big Island. It was a great experience to see all the landscape on the Big Island and in a small tour instead of those large groups events. We left the Big Island and headed to Maui. This part of our trip we decided to do more excursions and activities. We stayed at the Montage in Kapalua Bay. Alisa made planning our honeymoon stress-free and a memory we'll never forget!
Recommended
Amazing service!!!! Alisa made our vacation perfect!!
By: Eliza1009
Reviewed on: 24 Oct 2016
Alisa went above and beyond to make our Chicago weekend getaway great!! Thank you for everything!!
Recommended
Always above and beyond expectations!
By: AmyT
Reviewed on: 31 Oct 2016
Alisa helped us plan a trip to Florence. She booked a fantastic hotel in a great location, with spectacular service! I would tell anyone going to Florence to go to the Art Hotel. She also booked a small wine tour of Chianti and we had a fantastic guide who was a sommelier so he answered all our questions and was such a great host for all the tastings. The lunch at the organic winery was amazing, we never expected such a delicious and well-prepared lunch "on the road." Alisa also booked "skip the line" passes for the museums which was very satisfying as well saw all the long lines we bypassed!
Recommended
Excellent Recommendations
By: ACarrillo527
Reviewed on: 21 Nov 2016
Alisa really helped us make the most of our mini-moon. We only had a few days to celebrate after our wedding and she provided great suggestions for hotel, wineries and restaurants. Can't wait to book our next trip with her!
Recommended
Amazing!!
By: Kelly
Reviewed on: 23 Nov 2016
Alisa took such good care of us during my son's special birthday weekend! We received an incredible upgrade to an oceanfront suite that simply blew us away. My son was thrilled to be greeted with his favorite dessert upon our arrival with many birthday wishes. She found restaurants that fit our needs perfectly and even made my spa arrangements for me. Alisa took care of all the planning so that we could just sit back and enjoy the trip!
Recommended
The Perfect Birthday Surprise!
By: Hallie
Reviewed on: 05 Dec 2016
Alisa is my go to any time I am travelling, so of course I reached out when I was trying to figure out what to do for my mom's 65th. After giving me a number of great options we decided on the Ritz Philadelphia. The hotel is gorgeous and in the perfect location. Alisa made sure we were treated like VIPs from the minute we checked in-from the beautiful room with the perfect view of City Hall and the tree lighting, to the champagne and chocolate covered strawberries, to the personalized photos of my mom with her kids. It was the perfect gift! Thank you so much for all of your help in making my mom's big day so special!
Recommended
Great Business Trip
By: SCo
Reviewed on: 11 Feb 2017
I recently worked with Alisa Cohen to help plan a business trip to San Francisco and I was so impressed. First off, she was so responsive. I felt like I was a top priority to Alisa and she always made me feel like my questions were important. Second, I had read about Virtuoso amenities, but I had no idea the real value of these. Alisa was able to provide probably about $500 in extra amenities and her personal connections at the hotel were amazing. I felt like a real VIP! I feel like such a sucker that I have been booking with Amex and on my own all these years..a new client for life.
Recommended
Amazing!
By: CAB
Reviewed on: 18 Feb 2017
Alisa was incredidle to work with! She is very professional, friendly, helpful, attentive, and definitely made a huge impact on the success of our trip! Alisa is a great communicator & responded very quickly to all of my many questions. She has a ton of insight and ideas for different trips and hotels, she always seems to come up with the perfect fit for our family! You can tell that she really loves what she does and that she wants her clients to be thrilled with their travel experience. Alisa was on top of our itinerary and made sure everything was extra special with personal touches. By keeping track of our itinerary and arrival/departure she caught a huge change in our flight that I was unaware of until she brought it to my attention! When we arrived we had a special note and champagne from Alisa. Through using Alisa we were upgraded at arrival and also received amazing credits to use at the hotel! She made our travel experience smoother & feel much more luxurious!
Recommended
Amazing!
By: Lauren
Reviewed on: 03 Mar 2017
Amazing! Alisa was incredibly helpful and booked an incredible vacation for us. Every last detail was taken care of!
Recommended
Recommending Alisa
By: LP
Reviewed on: 13 Mar 2017
I have used Alisa many times to book fabulous, luxurious family vacations (hard to believe that can all be in the same description but with Alisa its really true!). She is a great listener, more than happy to help with even the smallest concern and a very organized planner! I've recommended her to many friends who say the same.... Definitely give Alisa a call for your luxe travel needs!!!!
Recommended
Dominican Republic trip
By: Greg
Reviewed on: 13 Mar 2017
Alisa was great! She helped us with every aspect of our trip and was always available if we needed anything. We will be using her again and recommend her most highly.
Recommended
Fantastic, Highly Competent, Travel Agent
By: Mark A. Axmacher
Reviewed on: 30 Mar 2017
Working with Alisa was amazing. I am notoriously bad at planning trips, and Alisa helped me plan a surprise trip for my wife from A to Z. She literally helped me every step of the way. I cannot recommend her highly enough, especially to people who are intimidated by researching hotels, coordinating flights and creating itineraries for a family vacation. I trust her fully and her connections and expertise in the industry made the trip smooth and successful. I will work with Alisa anytime I plan a trip for my family or company.
Recommended
Another fantastic recommendation from Alisa
By: Hallie
Reviewed on: 18 Apr 2017
I don't book a hotel without Alisa! This was another perfect recommendation for a girls night in NY. Perfect location, incredible customer service, absolutely gorgeous room with equally gorgeous views of Manhattan. And on top of that Alisa made sure we were upgraded, what seemed like multiple levels above what we paid for, and made sure we were greeted with treats and champagne and a $100 credit. I can't wait to book my next trip with Alisa, she is my go to girl for all travel!
Recommended
Perfect last minute trip
By: HilaryK
Reviewed on: 25 Apr 2017
Alisa was awesome! I decided to go to SF last minute and Alisa was quickly able to find me an awesome hotel. Once at the hotel we were treated like royalty. I highly recommend Alisa!
Recommended
Perfect NYC trip'
By: Tammy
Reviewed on: 25 Apr 2017
As always, Alisa chose the perfect hotel for our trip to NYC. The location was perfect for us to hit all the sights we wanted to see and it was a very cool place with great service. Alisa has continuously recommended the perfect place no matter what type of trip we take!
Recommended
Successful Family Vacation
By: Hilary B
Reviewed on: 27 Jul 2017
Alisa helped us plan our first hotel stay vacation with our then 17 month old son. We were a bit nervous but Alisa took care of everything! Since we were traveling with my in-laws she secured connecting rooms, our crib, and of course the added Virtuoso benefits. We had an amazing trip and look forward to using Alisa for our next family vacation!!!
Recommended
Santorini
By: Amy T.
Reviewed on: 30 May 2017
Amazing as always! Alisa offered us several great options for Santorini, but the Chromata hotel was first rate! The staff was amazing and of course, Alisa helped get us a fantastic upgrade!
Recommended
Santorini
By: David B.
Reviewed on: 26 May 2017
Alisa is a tireless advocate for her clients. She provides Excellent service, great ideas, and always goes the extra mile !! I love working with her and highly recommend her for your next trip. Our trip to Santorini was wonderful. She was able to secure us an upgrade to a beautiful room and their wares champagne and strawberries waiting for us when we checked in.
Recommended
Ireland trip
By: RachelF
Reviewed on: 14 Jun 2017
Alisa Cohen was excellent from start to finish! She organized a fabulous trip to Ireland with attention to detail and an understanding of what we were looking for in a hotel. I would highly recommend her!
Recommended
Italy
By: Jenn
Reviewed on: 01 Aug 2017
Working with Alisa was amazing! Planning our 2 week trip to Italy was a detailed process and required extensive coordination with multiple people in my family. We could not have done it without Alisa! She took care of every single detail, from finding the right accommodations to planning private city and winery tours. I cannot recommend her enough!
Recommended
Another great trip
By: KG
Reviewed on: 22 Aug 2017
Alisa is so easy to work with; she even helps direct me when I have a hard time making decisions. Her own travel experience leads to great insights when helping me plan trips. She's always thinking two steps ahead and has always been so knowledgeable about the properties I'm staying at. She consistently goes the extra mile, and my husband and I laugh that every time we go on a trip we find ourselves saying out loud "why would we ever book a trip without going through Alisa?"
Recommended
Amazing!!!
By: Caryn
Reviewed on: 06 Sep 2017
Always the very best with Alisa! She always makes sure everything is perfect and worked really hard to get us upgraded to a fabulous room! She really made our anniversary get away extra special! 5 plus stars!!!!
Recommended
10 Thumbs Up for Alisa!
By: LP
Reviewed on: 17 May 2018
The best part of working with Alisa is that she takes care of EVERYTHING! From the surprise goodies in the room to making sure we had everything we needed to make our family vacation a luxe success, Alisa was on top of it all! She has helped us man times before and we will use her many times going forward....
Recommended
Amazing Trip!
By: Eliza
Reviewed on: 17 May 2018
Alisa was a pleasure to work with! We told her what we were looking for and our budget and she set up a wonderful vacation!!
Recommended
Always a great experience
By: kbethdc
Reviewed on: 10 May 2018
It is always fun and easy to work with Alisa. She is so knowledgeable and has great ideas and insights on places to stay. Honestly, the best trips we've had are when we've stayed at places we haven't stayed before, because that's when I go with her recommendation and she always wows us. I know I can always trust her to create an amazing trip. I highly recommend working with Alisa.
Recommended
Easy stop-over in San Francisco
By: Greg
Reviewed on: 20 May 2018
We stopped in San Francisco after an *amazing* Napa weekend and Alisa took care of everything. Everyone in a 5 couple group received an upgrade and check-in was seamless and easy (which was much appreciated after 3 days of wine tasting)! A great end to to a great trip! Thank you, Alisa!
Recommended
Amazing Birthday Trip
By: kelly
Reviewed on: 16 May 2018
Alisa planned a great birthday trip for my son in NYC! We stayed at the Carlyle and they took great care of us. They made our son feel very special on his birthday. Alisa had the hotel send a cake and balloons to celebrate. She also made sure that they sent cocktails and champagne for the parents! We also received a great upgrade with a terrace to enjoy the beautiful view of the city. It was a very special and very luxe trip!
Recommended
Always above and beyond!
By: Amy T
Reviewed on: 15 May 2018
Amazing AS ALWAYS! Alisa is so great at suggesting hotels, activities etc. And I love arriving at any hotel she books for me, she goes out of her way to add special touches and surprises! I never got that when I used to use the internet to book! Can't wait for my next trip!
Recommended
Always amazing!!! The Best!!!
By: Caryn
Reviewed on: 10 May 2018
I use Alisa to book all of my trips, ranging from family trips to large groups! She is always very responsive, professional, and on top of everyone's itineraries. She is always very detail oriented! We have always been given upgrades and the hotel amenities and credits are amazing and make for an extra special experience! Alisa makes you feel like you are traveling in style! Her special relationships with the hotels make for extraordinary service during your stay! Highly recommend!!!! 🌟🌟🌟🌟🌟
Working with Alisa Cohen, you will have access to:
- An experienced travel guide whom you can rely on before, during, and after the trip
- Exclusive luxury resorts and properties
- Once in a lifetime experiences
Explore with the Best
Virtuoso Advisors are constantly pushing the boundaries in unique travel experiences.
Alliance programs are unique tailored experiences exclusive to travelers working with Virtuoso Travel Advisors.
learn more
Mexico
France
Italy
Saint Barthélemy
Greece
Jamaica
Turks And Caicos Islands
Croatia
Argentina
Japan
Portugal
United States - All
Spain
China
Bermuda