Travel Specialties
Interests
Beach & Sun
Ocean Cruising
Adventure
Entertainment
Culture, History & Arts
Selling Travel Since
2015
My Background
My Love for travel, culture, and new destinations lead me to a career in the travel industry. I have been lucky enough to have explored many destinations like South Africa and the Mediterranean learning about its cultures, soaking in the architecture, cliff jumping in locations like Dubrovnik, and shark diving in Cape Town. Mexico remains my favorite sun and sand vacation destination, I can show you the most authentic places to visit… where the locals would go. Recently, Peru stole my heart and I got to embrace in a life changing adventure through the Andes and of course the lost city of the Incas, Machu Picchu. These memories, and many more, fuel my passion to plan personalized travel experiences for others. I'll collaborate with you to make sure your travels tailor to your preferences, and then use insider tips and industry connections to help you discover the world; because I believe that when you discover the world, you discover yourself.
Places I Have Traveled
Reviews and Recommendations for JoAnna Gonseth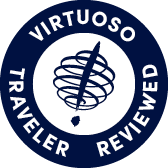 Virtuoso Verified Traveler
All reviews are from confirmed guests sharing exclusive insights
Sort reviews by
Recommended
Viking Danube cruise
By: GreenGirl
Reviewed on: 27 May 2016
We so enjoyed the Viking Danube cruise! The organization was perfect! The tours were on time,informative,and fun. The food was excellent and creative! The ship was clean , tidy and well run! The crew was most helpful The only negative was the timing of the trans Atlantic flight.We were given only 1.5 hours to get off the plane,try to find our way thru the odd and confusing Charles De Gaulle airport,wait in line for customs , and try to fight our way to the correct gate. Horrible1 the only thing that saved us was the connecting flight was late. More time is needed for these connections.
Recommended
Very helpful
By: MJ
Reviewed on: 13 Sep 2016
JoAnna went out of her way to make the trip to Milwaukee a great experience.
Recommended
Super helpful
By: Meg13
Reviewed on: 03 Nov 2016
JoAnna was great! She listened to us and taylored our honeymoon for us. We didn't want a typical honeymoon and chose Japan. And it was perfect for us. JoAnna made sure we were doing things that we wanted to do. She made the trip amazing for us!!
Recommended
Exceptional Service
By: Monica
Reviewed on: 01 Nov 2016
JoAnna was very courteous, professional and helped us with exactly what we needed for our trip. Thanks JoAnna!
Recommended
GrammyG
By: GrammyG
Reviewed on: 25 Feb 2017
Very pleasant to work with.
Recommended
Trip
By: Jackie
Reviewed on: 13 Mar 2017
Great working with JoAnna. All my flight arrangements were perfect....I thought I maybe wouldn't have time to get thru customs quickly enough to catch my connection, but she assured me I would, and I did. It was a great trip. I hope to go again next year and will most certainly call JoAnna for my arrangements!
Recommended
Trip Overview
By: lovetotravel
Reviewed on: 17 Mar 2017
She was great to work with, always responded really fast to emails and was very helpful. We had a group of people that we needed to coordinate our stay so she was great to help with giving different location possibilities before we finally decided on which resort to stay at. I would greatly recommend working with her again.
Recommended
Riviera Maya Trip
By: Brandon
Reviewed on: 03 Jun 2017
JoAnna did a great job helping us find a vacation that fit what we wanted. She made the process very easy. She was able to answer all of my questions and concerns about the whole trip. All in all, it was a great experience and I will definitely look to JoAnna to help set up my next trip.
Recommended
Playa Trip
By: sara.watts1@gmail.com
Reviewed on: 05 Jun 2017
Wonderful!! Answered emails/questions in timely manner. Best travel agent experience we have ever had!!
Recommended
SC trip
By: andy
Reviewed on: 26 Jun 2017
very professional. did not try to be over and done with it and move on to the next costumer
Recommended
Awesome trip
By: JP
Reviewed on: 08 Jul 2017
JoAnna put together a great family vacation. From beginning until the end, she was great to work with.
Recommended
Excellent assistance
By: Merrill
Reviewed on: 30 Jul 2017
My family's trip to Milwaukee was great. We appreciate JoAnna Gonseth's help in making the trip even better.
Recommended
Review
By: Eliza
Reviewed on: 31 Jul 2017
I loved my experience with this company my trip was everything I wanted I will be returning to set up my next trip very soon
Recommended
vacation
By: Sunshine
Reviewed on: 31 Jul 2017
She was wonderful, I changed and added people to my trip and she was able to find what I needed.
Recommended
Trip to Europe
By: Lynette
Reviewed on: 12 Aug 2017
JoAnna was excellent and provided us with the guidance needed for our dream vacation!
Recommended
Amazing
By: Sami
Reviewed on: 12 Aug 2017
Joanne was great!! She was so patient and gave me all that information I needed. She listened to exactly what I needed and wanted. I would definitely refer friends and family to her!! Thank you for everything you did for me and making my trip less stressful!!
Recommended
JoAnna
By: Roger
Reviewed on: 30 Aug 2017
Very knowledgeable. Gets you the best airfares available. Keeps in contact with you.
Recommended
Washington DC Bound!
By: Omaha travelers
Reviewed on: 17 Sep 2017
Working with JoAnna was wonderful! We provided her with our list of places/monuments we wanted to see and she quickly put together an awesome itinerary. We could not have planned such a great trip without her. We will suggest her as a travel agent to all of our family and friends.
Recommended
Great!
By: Amanda
Reviewed on: 28 Sep 2017
JoAnna was great!! She was always available for questions. She answered them quickly and accurately. She was amazing! I would recommend her to everyone!!
Recommended
Playa Del Carmen
By: Perfect
Reviewed on: 09 Oct 2017
The service provided by JoAnna Gonseth was excellent! One phone call as to what we were interested in and she handled everything in a kind and helpful manner and responded quickly. JoAnna provided a trouble-free travel experience. We would highly recommend JoAnna!
Recommended
Great Service
By: Norm DeCastro
Reviewed on: 16 Oct 2017
JoAnna was professional, polite, and extremely helpful. One thing that surprised me was a follow up just prior to the trip letting me know that everything was on schedule and looked good for departure. I would certainly look forward to working with JoAnna again.
Recommended
Now Amber Puerto Vallarta
By: Connie
Reviewed on: 23 Oct 2017
JoAnna gave us a stress free vacation. She had every detail of our trip worked out, from the airline tickets to the transportation to our resort. She was always prompt answering my questions prior to the trip. I would highly recommend JoAnna and plan on using her for our future vacations.
Recommended
Best trip evwr!
By: Jreynolds
Reviewed on: 20 Dec 2017
She was amazing. Helped with every little piece of information along the way. I would highly recomend her to anyone planning a trip abroad. She is very intelligent and answered every question before i even thought of them. It was my first trip out of the county and she made my experience very easy.
Recommended
Australia bound
By: Joma
Reviewed on: 26 Jan 2018
Was great to work with and made arrangements to match up a trip already planned by my parents. Will definitely use again for my next trip!!
Recommended
Recent trip to the midwest
By: Merrill
Reviewed on: 28 Aug 2018
Re: JoAnna Gonseth To Whom it May Concern: She consistently helps my family and I plan a richer vacation experience. Even when things don't go as they are original planned, JoAnna is there to make things better. In 2018, JoAnna (Travel and Transport) assisted us on 3 different occasions. We would encourage everyone to seek her expertise when it comes to travel.
Recommended
Interior Alaska
By: Jodie
Reviewed on: 03 Sep 2018
I called Joanna told her we wanted to go on an interior trip to Alaska, she researched it gave me three options a 4 day, 6 day and 10 day. We chose the 10 day option, we wanted to see everything, she handled everything got us our information packet and paperwork in plenty of time she was great.
Recommended
China 2018
By: China Visitor
Reviewed on: 12 Aug 2018
Very good! Provided various itinerary options in a very responsive and timely manner.
Recommended
?
By: Me
Reviewed on: 12 Aug 2018
Worked to meet our needs and requests.
Recommended
Great experience!
By: Andrea
Reviewed on: 23 Aug 2018
She was great! Very helpful with the whole process and super easy to contact- responded promptly!
Recommended
JoAnna rocks!
By: Ireland lover
Reviewed on: 07 Sep 2018
What a friendly and professional person JoAnna is! I was nervous trying to pick an international fight because there were just too many choices online but nothing looked very good. Plus, I wanted some control over seating for such a long flight. JoAnna found a better price than any I had seen online, and got us the seats we wanted as well. Plus, she was very knowledgeable about other aspects of foreign travel (transportation, booking day trips, etc.). Working with her was a 100% positive experience and I would definitely do it again!
Recommended
New England Pats Football Trip
By: Merrill
Reviewed on: 30 Oct 2018
JoAnna, She did a wonderful job of coordinating our recent trip to see the New England Pats Football game. Her work makes a good vacation, great!!!
Recommended
Well thought out
By: Flatlanders
Reviewed on: 24 Oct 2018
It made planning our trip stress free. JoAnna spent time asking questions about our likes and comfort levels regarding so many aspects of our trip. It particularly helped my husband, who is an extremely anxious traveler.
Recommended
Maui
By: Mike & Penny
Reviewed on: 30 Jan 2019
Joanna was absolutely amazing. She was able to match our seats with our travel partners (who booked online) and was able to keep us together through multiple airline changes. She was patient and thorough throughout the entire process. GREAT JOB JOANNA!!
Recommended
Very good....
By: LJ
Reviewed on: 01 Feb 2019
She was very responsive and helpful. I enjoyed working with her and would have her help us with our travel plans again for sure.
Recommended
Great Experience
By: J.S.
Reviewed on: 25 Feb 2019
JoAnna was very easy to work with. She was extremely knowledgeable, she took care of everything. We would definitely work with her again on future travel plans.
Recommended
Cabo
By: MAS
Reviewed on: 09 Mar 2019
She is on top of everything and responded to questions promptly. Would recommend her for you travels.
Recommended
Advisor
By: Jill
Reviewed on: 05 Mar 2019
JoAnna took over from our previous advisor. JoAnna was great and we communicated through email. She answered all my questions in a timely manner.
Recommended
Amazing vacation
By: Sara
Reviewed on: 01 Apr 2019
JoAnna did an amazing job in helping my family plan our first trip out of the country. She was patient with all of our questions regarding what was needed to go out of the country and how things would work when traveling. She provided us with all the information we needed to ensure we had a smooth vacation. Because of the thorough job she did, all we had to do was show up and enjoy our vacation. My family had an amazing vacation. It was exactly what we needed. We can't wait to start looking at where we are going next.
Recommended
trip to Florida
By: jsheitz1979@gmail.com
Reviewed on: 14 Apr 2019
She did a very good and efficient.
Recommended
JoAnna
By: Carol Ziegelbein
Reviewed on: 27 Apr 2019
Very detailed. Answered all of my questions.
Recommended
Jamaica Man
By: JoeCaz
Reviewed on: 25 Apr 2019
Very Helpful and knowledgeable! Had to rebook and utilize travel insurance, was understanding and ensured we had the best accommodations. Was even helpful with special billing needs.
Recommended
Thank you JoAnna Gonseth !
By: Shari
Reviewed on: 07 May 2019
JoAnna Gonseth was a joy to work with from the moment she said hello. She is a professional who is dedicated to fulfilling all the details a client requests. I am very appreciative to her efforts and most importantly her follow up and kindness throughout the requests. Thank you for hiring the right person to take care of my travel needs. Shari
Recommended
Great Experience - Glamping Zion National w/Under Canvas
By: Bob
Reviewed on: 05 Jun 2019
JoAnna was great to work with. Even though this was the first time she had sent anyone to 'Under Canvas' she worked with them to make our trip as smooth and seamless as possible. She even had a guided hike rescheduled to only be for my wife and I. She always kept us informed and was so easy to work with. I would recommend JoAnna to everyone. Thanks again JoAnna,! Bob and Karen.
Recommended
outstanding
By: David
Reviewed on: 22 May 2019
JoAnna, was outstanding. Everything was great. No problems at all. She handled everything for us on our trip and We were very happy with the service she provided.
Recommended
Japan Honeymoon
By: Emilie
Reviewed on: 29 May 2019
JoAnna was absolutely amazing. She was very knowledgeable in the country we went to. Listened to what we wanted to do and made suggestions on other activities. Whenever we had a question or concern, she was very fast in responding to us. Also helped us while on our trip when we had last minute questions or when our flights got delayed. Cannot recommend enough.
Recommended
Family vacation
By: International Girl
Reviewed on: 24 Jun 2019
JoAnna was wonderful to work with. Very responsive and easy to contact. We communicated alot by email, so that made it very convenient. She got you excited about your vacation and was a wealth of information. JoAnna helped me plan the perfect vacation that was kind friendly and affordable. I will definitely use her again.
Recommended
Our Trip
By: JIMNSALLY
Reviewed on: 24 Jul 2019
JoAnna was great to work with, it made the planning a lot easier. It would have cost us a lot time in planning our 40th anniversary trip
Recommended
Professional, friendly...gets the job done!
By: Pepper484
Reviewed on: 03 Sep 2019
Very enjoyable experience. She is professional, friendly, and has done some traveling so she can relate to some things you may face when traveling. I was recently in Brazil and I needed some info for an upcoming flight. She got me what I needed! I would recommend using her and will look at using her again in the future.
Recommended
Exceeded all expectations
By: Seidshow
Reviewed on: 22 Sep 2019
What a terrific relationship we developed with Joanna. Great for offering advice and suggestions. Everything she told us was spot on
Recommended
Amazing
By: DebLyn
Reviewed on: 31 Oct 2019
Jo Anna was awesome to work with. To me, she went above and beyond in helping us plan out this trip. I threw in a few things for her to navigate around and she made them happen. Thank you JoAnna for all you did for us!
Recommended
Airline tickets
By: Matthew
Reviewed on: 31 Oct 2019
JoAnna is prompt and dependable.
Recommended
Maui
By: Iceman
Reviewed on: 31 Oct 2019
Working with JoAnna was great. She found the perfect resort and had a full package for me.
Recommended
Yes I would highly recommend JoAnna Gonseth!
By: Lynn Jones
Reviewed on: 05 Nov 2019
I emailed JoAnna 10 months prior to the time I wanted to travel advising her this trip was "special" because my husband and I would be celebrating our 35th Wedding Anniversary. I gave all info of what we wanted to do, the time we wanted and our budget. She immediately came back with suggestions and we finally decided on this cruise and the whole trip was fantastic and went smoothly, no wrinkles at all. JoAnna was attentive and followed up with me when payments were due. I was just so thankful for her helping me with this. Even though I am also a travel consultant, I did not have the time to research and book this trip for myself. She also contacted me after I returned to see how it went. I cannot thank her enough!
Recommended
Great for unique experiences and service
By: Dan
Reviewed on: 05 Nov 2019
She was very attentive. Listened to what we were hoping to see/do and collaborated along the way to make sure our honeymoon was smooth, enjoyable, and filled with unique experiences. Additionally, when there was a need for changes a week out due to some travel restrictions, she was able to make the changes needed.
Recommended
Travel review
By: Bobbie
Reviewed on: 11 Nov 2019
We had no idea what we wanted, and JoAnna was patient with us. We greatly enjoyed our vacation.
Recommended
awesome
By: ger
Reviewed on: 18 Nov 2019
She knew exactly what I wanted after I told her and she got exactly what I wanted with her proposal. Everything went smoothly. JoAnna was very pleasant and helpful. She is the only one I will use from now on.
Recommended
hawaii review
By: butch
Reviewed on: 03 Dec 2019
JoAnna was very knowledgeable about the location and made reservations exactly as I requested. Also, the price was very reasonable . I would highly recommend her to anyone planning a leisure trip
Recommended
Great Trip - Great Support
By: Rick F
Reviewed on: 06 Dec 2019
JoAnna was a great help in putting a London/Paris trip together for my family and I. All flights, Hotels and connections worked great. Thanks so much!
Working with JoAnna Gonseth, you will have access to:
- An experienced travel guide whom you can rely on before, during, and after the trip
- Exclusive luxury resorts and properties
- Once in a lifetime experiences
Explore with the Best
Virtuoso Advisors are constantly pushing the boundaries in unique travel experiences.
Alliance programs are unique tailored experiences exclusive to travelers working with Virtuoso Travel Advisors.
learn more