Patrick Millard
Fernandina Beach, FL United States
Travel Specialties
Interests
Adventure
Beach & Sun
Family Travel
River Cruising
Hotels
Destinations
Spain
Canada
United Kingdom
United States - All
British Virgin Islands
Selling Travel Since
2011
My Background
The Travel Maestro is a luxury travel agency started in July 2015. President and Founder, Patrick Millard, sought to create a travel agency focused on delivering unparalleled customer service while creating unique and personalized travel experiences. Patrick has worked in the hospitality and travel industry since 2005 including more than 10 years with The Ritz-Carlton Hotel Company.
He began his career at The Ritz-Carlton, Washington, D.C. in February 2005 and worked at four Ritz-Carlton properties around the United States as a member of each properties' respective guest services and front office team before joining The Ritz-Carlton, Amelia Island Sales and Marketing Team in February 2011. Over his career, Patrick has worked for 13 luxury hotels and resorts throughout the United States, Caribbean and Mexico. Prior to starting The Travel Maestro, Patrick was the Senior Area Sales Manager for The Ritz-Carlton Hotels of the Caribbean & Mexico.
Places I Have Traveled
Reviews and Recommendations for Patrick Millard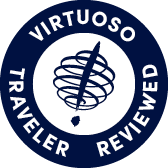 Virtuoso Verified Traveler
All reviews are from confirmed guests sharing exclusive insights
Sort reviews by
Recommended
Prompt, Courteous, and Supportive Service
By: JHG
Reviewed on: 14 Mar 2016
Patrick continues to provide a value-added service for our travel needs.
Recommended
Superb Service and Follow through
By: BK
Reviewed on: 21 Mar 2016
Patrick did everything he said he would do (and more) quickly and accurately. He really knew the hotel we were going to and added real value Very reassuring to have Patrick involved.
Recommended
Review of Patrick Millard
By: Dan
Reviewed on: 03 Apr 2016
Patrick did a great job planning our trip and handled some issues we had while we are there promptly and with expertise. His service is invaluable and we will continue to use him for our future travel needs.
Recommended
1st Class service
By: Happy Camper
Reviewed on: 01 Apr 2016
Patrick provided outstanding service. He was very responsive and attentive. I highly recommend Patrick and his team.
Recommended
Superior Expertise and Fantastic Service
By: Andrew
Reviewed on: 18 May 2016
Patrick planned and arranged a complex trip for my wife and me as well as another couple. It included airfare, hotel stays in multiple European cities, a river cruise, specialty tours, and car rentals. He provided super service with a variety of alternatives and guidance allowing the decision making process to be fun and easy. He found great airfares for us; booked us in terrific hotels with upgrades and extras at no cost; picked the perfect cruise; and, the car rental process was the smoothest we've ever experienced. He communicated with us to check on things during the trip as well as afterwards. I would highly recommend him!
Recommended
Great service
By: love2travel
Reviewed on: 28 Aug 2016
Patrick provided excellent service and even took time to visit us at the Ritz, Amelia Island. He has arranged a number of trips for us and we highly recommend him.
Recommended
Legendary Experience
By: Gaylen
Reviewed on: 07 Oct 2016
Patrick was nothing short of amazing! His recommendations were perfect and his attention to detail was impeccable. Our hotel arrangements included special amenities at no additional cost (exceptional value) and the excursion tours were the best we have ever experienced. I particularly appreciated the small group tours that he recommended which gave us an opportunity to have a more personal experience. Through his travel app we were kept informed of every detail of our trip (hotels, excursions, and airline and train arrangements). Updates (if any) were seamlessly sent to us through the app which became our "go to" trip tool. Thank you, Patrick, was making our Italy experience exceptional in every way. We look forward to working with you for many years to come.
Recommended
Professional Exceptional Service
By: Extremely Satisfied Customer
Reviewed on: 26 Oct 2016
Patrick made our trip to Europe (Italy) the trip of a lifetime. He planned every aspect (transportation, hotels, tours, etc), which could not have been better. He recommended and booked the best personalized tours and had our ground transportation (rental car, train and personal driver) details organized flawlessly. We can't wait to schedule our next trip and, of course, we will be contacting Patrick to help us with all the details.
Recommended
Professional friendly service
By: Zootsuit Riot
Reviewed on: 14 Dec 2016
The recent trip to Europe that Patrick planned for me was perfect. He listened to what interested me and used his contacts in the area to plan a great trip. It was effortless - on my part.
Recommended
Excellent customer service!
By: DSG
Reviewed on: 18 Jan 2017
Patrick is courteous, professional, yet friendly, and his response time could not be any quicker. He makes everything simple and I will continue to count on his expertise when I travel again.
Recommended
The best travel advisor ever!
By: Zman
Reviewed on: 07 Feb 2017
Patrick was terrific. My trip was complicated by knee surgery so suddenly I needed assistance getting around. Patrick stepped in and made my travel seamless. Everything from being met at the steps of the plane with a wheelchair to securing a great ocean front room near the elevators with things like a shower chair-Patrick was great!
Recommended
Best travel agent
By: Zman
Reviewed on: 22 Mar 2017
Patrick is terrific. Flexed with our plans, secured the perfect room for us with everything we need. Never used to use a travel agent because they were never very helpful. Patrick is the exception...he's our guy!
Recommended
Patrick is fantastic!
By: Nancy B
Reviewed on: 26 Mar 2017
Patrick is fantastic! He booked us an amazing trip to Grand Cayman. It was everything we hoped for and more. When I had a last-minute glitch with one of my passports on the weekend helped me sort through the problem. Everything was perfect everything he organized was top-notch! One of the best travel professionals I have ever worked with. I would highly recommend him to plan a trip.
Recommended
Awesome
By: ES
Reviewed on: 10 Jun 2017
Working with Patrick was fantastic. Highly recommended!
Recommended
Another great trip thanks to Patrick!
By: Alan and Joanne
Reviewed on: 24 Jun 2017
Once again Patrick went above and beyond to help us choose the perfect resort and set up all the accommodations we needed for a perfect trip!!!!
Recommended
Great Trip
By: Eric
Reviewed on: 20 Aug 2017
I found Patrick via a google search while looking for a travel agent that could offer certain hotel program benefits. He responded to my initial inquiry right away and even responded to followup emails right away while he was out of office. My trip went smoothly and Patrick was even nice enough to send a bottle of wine and some snacks to my room. I'd highly recommend using him if you have the chance.
Recommended
Paris and London
By: Dubee
Reviewed on: 23 Aug 2017
Working with Patrick was fantastic. Patrick was thorough, courtesy and professional. He went out of his way to check on us and be available during our trip as well. I have already have him working with family and friends for their trips
Recommended
Patrick
By: Charlie
Reviewed on: 16 Oct 2017
He was excellent? Understood our preferences and researched options. We will use him again and recommend him to our friends.
Recommended
Travel Agent
By: PVB
Reviewed on: 21 Nov 2017
Excellent attention to every detail. Highly recommend working with Patrick Millard.
Recommended
Wonderful experience in New Orleans
By: Megan C.
Reviewed on: 24 Nov 2017
Patrick made our stay in New Orleans effortless. He took care of every single detail and made us feel like royalty! He went above and beyond our expectations and we had a wonderful time.
Recommended
Patrick Millard - Four Seasons Orlando
By: Arsh
Reviewed on: 03 Dec 2017
Patrick books all of our trips and he is always on top of the details, both in booking ahead of time and leading up to the trips. If anything happens to go wrong, he is also great at helping correct things on the fly. I couldn't think more highly of him.
Recommended
Ritz Aruba
By: Andy T.
Reviewed on: 19 Jan 2018
I worked with Patrick, The Travel Maestro, to set up a family trip to the Ritz in Aruba over the holidays this year and I can not say enough about this very positive experience and the level of service that he provided. All of the trip details from start to finish were perfect. The extra perks like comp breakfast daily, arrival gift and resort credit was a bonus! When my flight home got cancelled due to weather I went to the front desk to request to stay an extra night. I was told that the hotel was full and they had no rooms available. I quickly contacted Patrick and within a half hour received a confirmation from him that we in fact could stay another night and we didn't even have to move rooms. All in all, great service, great communication and great attn. to details.
Recommended
Excellent experience
By: Zman
Reviewed on: 19 Feb 2018
Once again Patrick arranged the perfect escape for us to the Cove at Atlantis Bahamas! From pick up at the airport to VIP treatment at departure, the vacation went exactly as planned. We require some special arrangements due to mobility issues and as usual, Patrick made the experience seamless. Best travel agent we have ever had!
Recommended
Amazing trip!
By: AM
Reviewed on: 13 Feb 2018
Patrick arranged a trip of 18 people to Mexico with amazing results. Everyone was extremely pleased with the travel arrangements and Patrick saved the day at the last minute when one of the guest's mother passed away and he had return flights and airport travel arranged for them within 30 minutes! Thanks Patrick!
Recommended
Awesome Weekend
By: BR
Reviewed on: 31 Mar 2018
Easy booking and amazing experience
Recommended
Tremendous, personalized service
By: SteveP
Reviewed on: 12 Apr 2018
Patrick is a consummate travel and journey professional. He understands quickly the nature of the traveler and makes appropriate suggestions, recommendations and books everything with accuracy and assuredness. I highly recommend Patrick, I will continue using him for all of my business and personal/family luxury travel needs.
Recommended
awesome advisor
By: Tofol
Reviewed on: 15 Apr 2018
Great advice and responsiveness
Recommended
Oahu Trip
By: Texas5
Reviewed on: 04 May 2018
Patrick was excellent, he handled all of our reservations and requests. He was fantastic!
Recommended
Patrick is the best!
By: Zman
Reviewed on: 03 May 2018
Working with Patrick is seamless. He knows our requirements, our likes and dislikes and never disappoints
Recommended
Another Amazing Stay
By: Eric W
Reviewed on: 22 May 2018
Patrick was able to book a last minute trip for me to Greece at an amazing rate. He knew the hotel personally and reached out to the staff to make sure that I had an amazing stay. He secured an upgrade for us that really set the stage for an amazing trip. We enjoyed the hotel so much that we rarely left the resort. I can't say enough good things about the resort or Patrick.
Recommended
Best travel agent
By: GREEKMBA
Reviewed on: 09 Jun 2018
Patrick Millard is a true travel professional. He has arranged drivers and tours for us on multiple continents, and always delivers the best. Our upgrades to suites in Ritz-Carlton and Starwood properties are one of the many benefits of doing business with Patrick. I highly recommend Patrick as a world-class travel agent.
Recommended
Seabourn cruise
By: Cody
Reviewed on: 28 Jun 2018
Patrick did a good job and in the end all worked out well, however for this trip working directly with Seabourn May have been easier.
Recommended
Great trip to barcelona
By: tofol
Reviewed on: 17 Jul 2018
Working with Patrick was great. Super fast response time, and great recommendations and service. Thanks!
Recommended
Responsible and helpful
By: DK
Reviewed on: 08 Jul 2018
Patrick responds quickly to any question or concern we have prior to booking hotels and as issues arise during the trip. He is an amazing fixer!
Recommended
CA Trip
By: George A.
Reviewed on: 25 Jul 2018
Patrick is, by far, the best travel consultant I have ever encountered. His knowledge and influence are unparalleled, and those qualities guarantee an excellent experience. He was able to book a fabulous room for us on short notice at the Ritz Carlton Half Moon Bay, CA. We thoroughly enjoyed a fantastic, memorable stay.
Recommended
Great Trip planned
By: Steve.P.MIA
Reviewed on: 30 Jul 2018
Patrick, is a tremendously insightful travel planner. We have worked with him on a few occasions now and he seems to instinctively understand our appreciation for finer things but also our desire to be adventurous at the same time. He is highly recommended in every way.
Recommended
Super helpful
By: Cris
Reviewed on: 11 Sep 2018
Very good insights and advice
Recommended
Great planning, Great Recommendations
By: SteveP
Reviewed on: 07 Oct 2018
As a repeat client of Patrick's, I continue to and will continue to trust his judgement and his network of travel professionals for both business and personal travel and recommendations.
Recommended
Trusted Advisor
By: zootsuit riot
Reviewed on: 05 Nov 2018
Patrick listens to what you need, offers suggestions and then makes the perfect arrangements. My last trip was perfection.
Recommended
Amazing planning
By: BR
Reviewed on: 02 Dec 2018
Great to work with and made Planning so easy
Recommended
Cuba cruise
By: Sue
Reviewed on: 27 Dec 2018
He was fantastic to work with!
Recommended
A great trip
By: Badu
Reviewed on: 01 Jan 2019
Everything about our trip, from the visit to Iguazu Falls to the cruise around Cape Horn, was perfectly planned and executed. A good time was had by all.
Recommended
Outstanding
By: Derek
Reviewed on: 29 Dec 2018
Excellent customer service and communication before the trip. Followed up afterwards to see if we enjoyed it and for any feedback about our experience he could pass along to future customers.
Recommended
Patrick is Awesome
By: DHK
Reviewed on: 25 Mar 2019
Great. Responsive, attentive, and always trying to get us the best.
Recommended
Another Great Stay
By: Eric
Reviewed on: 14 Apr 2019
As always, Patrick was responsive and quickly booked a room for me when I sent him a last minute request. The hotel was great and the benefits received from booking with Patrick made it even better.
Recommended
Great coordination and timely response
By: htravel
Reviewed on: 08 May 2019
Patrick was great to work with in obtaining hotel reservations and ensuring additional benefits were provided. Helped coordinate requests with hotel concierge and staff prior to trip. Was a professional and timely in all communications. Will work with Patrick on future travel needs.
Recommended
Excellent choice of hotels!
By: Alan M
Reviewed on: 19 May 2019
Patrick helped us pick an amazing hotel in Washington, DC. Through him, we got free breakfast and $100 food credit (not available online even though it was the same price) which made for an even better stay. Thanks!
Recommended
Italian Honeymoon
By: AK
Reviewed on: 04 Jun 2019
Patrick was extremely helpful and a pleasure to work with. He understands the vibe/type of vacation we were looking to plan and he suggested hotels and experiences that aligned to our vision. Further, he gave us a manageable number of suggestions and options. It's incredibly helpful that he is able to do that, since the primary reason we started working with a travel agent was to avoid the analysis paralysis you can get if you try to tackle planning the trip yourself via travel websites and other traveler's reviews.
Recommended
Dependably outstanding service!
By: Zman
Reviewed on: 07 Jun 2019
Patrick is more than just a travel agent. He's a travel savant. He has learned what we like and what we need. And he consistently delivers experiences that exceed our expectations. Thank you Patrick for our best vacation yet!
Recommended
Ferrari Experience in Maranello
By: Corinna
Reviewed on: 24 Jun 2019
Patrick was very responsive and conscientious. Great to work with.
Recommended
California trip
By: Hawaii1819
Reviewed on: 30 Jun 2019
Awesome! He is wonderful to work with.
Recommended
Nailed another one
By: SP
Reviewed on: 07 Jul 2019
Patrick nailed another one with a spot on recommendation to combine location, style preference and knowledge. We have used Patrick for many trips, business and family, and each one is spot on, excellently perceived.
Recommended
Amelia trip
By: mateo
Reviewed on: 13 Jul 2019
Work with Patrick was very satisfactory
Recommended
Incredible. Not much more I can say.
By: Brendan
Reviewed on: 13 Jul 2019
Working with Patrick was a fantastic experience. He was not only incredibly prompt and informative, but he was also beyond helpful in securing us the best possible experience we could have had. Truly fenomenal service and expertise. I would say that it would be hard to find someone more qualified to have found us a dream vacation in such a short time, but then again, I don't have to. Patrick is the guy you want, and the travel advisor that we'll continue to come to. I highly recommend at least checking in with him before going to someone else - if you don't, you could be missing a deal/trip of a lifetime.
Recommended
excellent service
By: SP
Reviewed on: 11 Aug 2019
Patrick is always a pleasure to work with.
Recommended
Yet another well designed plan
By: Steve
Reviewed on: 29 Sep 2019
Patrick is ever-consistent in assisting my business and personal travel plans. His choices are always well thought out and he seems to understand instinctively what it is that I seek in my work travels and family adventures. Always highly recommended.
Recommended
Excellent service!
By: Alan
Reviewed on: 12 Oct 2019
Got us a last minute reservation while he was on HIS vacation for the Four Seasons with awesome amenities! Thanks Patrick!
Recommended
Advisor Review
By: Vinnie DiIorio
Reviewed on: 07 Nov 2019
Patrick answered all of our questions, responded in a timely fashion, expedited payments the way i wanted and notified guides immediately when we made changes. Could not be happier with the service!
Recommended
Awesome working with Patrick!
By: CarlyM
Reviewed on: 16 Nov 2019
Patrick took care of us and got us tons of upgrades at the Ritz. Thanks so much and we will DEFINITELY book with you again!
Recommended
50th birthday
By: Shelton
Reviewed on: 19 Nov 2019
It was a pleasure to work with Patrick and his staff. From day one to our arrival to the Ritz Carlton was flawless. His recommendations and communication with the hotel made it so easy to plan and book. It was a surprise 50th birthday for my wife and with Patrick's help, she was surprised, amazed and totally satisfied. Job well done Patrick!
Recommended
Great advisor
By: sr
Reviewed on: 08 Dec 2019
I would like to thank Patrick for planning 2 trips to Mexico. He did a fantastic job.
Recommended
First impression
By: JB
Reviewed on: 08 Dec 2019
Our First impression of anything is so important!! Patrick was amazing right out of the gate, a true pleasure to work with and we look forward to building a great relationship.
Recommended
Perfect mountain getaway
By: Zootsuitriot
Reviewed on: 16 Dec 2019
Patrick booked an incredible getaway for me. He listened to what I was looking for and made the perfect arrangements. It was easy and seamless.
Recommended
Disneyworld Trip - Kelly and Lisman
By: Kathryn Kelly
Reviewed on: 20 Jan 2020
Fabulous, prompt, responsive, customized. Best recommendation of all was the VIP service for the theme parks - made the vacation.
Recommended
Amazing!
By: BR
Reviewed on: 18 Jan 2020
Patrick and his team are amazing
Recommended
Antigua trip
By: John Ryan
Reviewed on: 01 Feb 2020
Very easy. He's a total professional and makes sure he know everything about wherever you planning on going.
Working with Patrick Millard, you will have access to:
- An experienced travel guide whom you can rely on before, during, and after the trip
- Exclusive luxury resorts and properties
- Once in a lifetime experiences
Explore with the Best
Virtuoso Advisors are constantly pushing the boundaries in unique travel experiences.
Alliance programs are unique tailored experiences exclusive to travelers working with Virtuoso Travel Advisors.
learn more
Spain
Canada
United Kingdom
United States - All
British Virgin Islands
Cayman Islands
Greece
France
Italy
Saint Barthélemy
Iceland
Aruba
Antigua And Barbuda
Costa Rica
U.S. Virgin Islands