Travel Specialties
Interests
Escorted Tours
Ocean Cruising
River Cruising
Independent Tours
Family Travel
Destinations
Turkey
Vietnam
Cambodia
Israel
China
Selling Travel Since
1986
My Background
I have had the privilege of escorting groups around the world since 1986. My favorite place to visit is Israel because it makes the Bible come alive but I have never visited a place I did not like. Other interesting places include Bhutan, Myanmar, Sri Lanka.
I enjoy researching any place in the world, I love to learn and help my clients enjoy amazing travel experiences.
Places I Have Traveled
Reviews and Recommendations for Eiko Yamamoto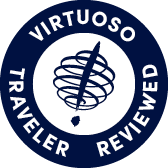 Virtuoso Verified Traveler
All reviews are from confirmed guests sharing exclusive insights
Sort reviews by
Recommended
Eiko MADE our trip sublime!
By: Bill
Reviewed on: 11 Jul 2015
WIthout the expert guidance of Eiko -via our friend Bob King- we would NEVER have had the extraordinary experience we had. Her expertise and advice proved invaluable. I'll hooked on Eiko! Madelyn
Recommended
Am thankful for the advanced research and reservations made.
By: Fran 8067
Reviewed on: 04 Aug 2015
Had a wonderfully great time. All planned excursions worked out well. Loved the pre- and post-cruise extended stay.
Recommended
Fantastic trip
By: Chris
Reviewed on: 05 Sep 2015
Dear Crystal Cruise, Kudos to Eiko Yamamoto for her part in arranging a most memorable and fantastic cruise. From beginning to end I have nothing but positive and wonderful things to say about the experience on the ship. The food, help, friendliness, cleanlness, activities, entertainment etc. were all anyone could ever wish for. Our group was with David Benoit who performed with energy and professionalism beyond one's wildest dreams. One is never bored as there is something to do for everyone. You don't need to go to shore to have a good time as there is enough to do on board. I can't say enough about the entire trip and you will see me again, very soon I hope. Thank you for the terrific time. Good Wishes, Fumiko Christine Naito
Recommended
dance cruise
By: danceguy73
Reviewed on: 22 Sep 2015
This was a good cruise. I went as part of my dance class members to get in some dancing while at the same time experiencing the cruise on the Crystal Symphony. We did most of our dancing in Palm Court and enjoyed the band and singer there. Our dancing was after the show at the Celebrity theater. The band played very danceable music. The Ambassador Hosts were also helpful once they found out we were from a dance class. They gave us tips on how to improve our dancing. There was also a dance instructor couple from Australia (part of Crystal) that gave us private dance lessons by request from us in Palm Court. They were very good and easy to understand. I still remember the rumba moves they taught us. Of course the other parts of the cruise was very enjoyable as always. This was my second cruise on the Symphony and my third cruise with Crystal. My first Crystal cruise was the last cruise of the Harmony before it was sold.
Recommended
Impeccable service
By: World Traveler
Reviewed on: 20 Oct 2015
Eiko planned our trip as if she were going herself. At the pre-tour meeting, she answered our travel questions about some of the customs and what to expect at our destination, and allowed us to meet some of our fellow travelers. She also saved us money by not booking through Globus, and arranged all our airport transports. Prior to our departure, she emailed us with the airline baggage info, saving us the trouble of looking it up ourselves. Because of her careful planning, I plan on booking future trips through Eiko.
Recommended
Fabulous!
By: Marilyn62
Reviewed on: 15 Jan 2016
How fortunate to be able to take a cruise, how absolutely decadent to take a 28 day cruise on a fabulous ship like Crystal Serenity! Excellent food, great service, wonderful entertainment and a variety of enrichment programs throughout the sea days. Crystal did not disappoint at all. Loved every minute of the cruise and looking forward to another great adventure on the Serenity.
Recommended
Wonderful!
By: GED
Reviewed on: 30 Dec 2015
Eiko, again, has arranged a terrific cruise! I couldn't think of anyone else I would trust to make the reservations and put up with our questions! I look forward to my next cruise that is now being arranged through Eiko. GED
Recommended
Happy traveler
By: Senior65
Reviewed on: 13 Apr 2016
Can't think of enough good things to say. Everything so far has been great - food, crew and fellow travelers!
Recommended
Wonderful expert service
By: Mari
Reviewed on: 11 Dec 2016
Eiko Yamamoto is a wonderful person. As a world traveler, I love the way Eiko shares her knowledge with everyone she meets.
Recommended
Rhine River Cruise & Switzerland extension
By: Ewagirl
Reviewed on: 02 May 2016
I thought we had a great trip, though a little hard for those with disabilities. The cities and activities we were offered were good. The cruise ship was clean and smooth. The staff was outstanding on the cruise ship. Food was good. My limitation is with seafood of any type so i was limited in my choices. The places we visited, shopping and people were all great. We had outstanding guides for all our local tours (Germany, France and Switzerland). The trip home was long and very tiring. JFK airport was a mess, going through customs in one area, down to baggage claim, rechecking in our bags, then going through security again and having to go to this other terminal, up flight of stairs where we had to board a shuttle to get back to the original terminal we landed at to board our plane to LA. Hotel in Switzerland was centrally located and there was easy access to shopping areas and food.
Recommended
Super Travel Agent
By: First Time River Cruiser
Reviewed on: 23 Apr 2016
Eiko's organization was impeccable, including a pretour meeting to meet our fellow travelers. Her use of red pompoms to identify our luggage, grouping us in 4's to facilitate accounting of everyone, and planning our post cruise excursions in Switzerland, are a reflection of her experience. Prior to the trip, she kept us up to date with the predicted weather report, and we were able to conveniently peruse & book the optional excursions ahead of time. Eiko's professionalism is why I booked with her again, and will be booking yet another trip with her in the future.
Recommended
Expert friendly service
By: Susan
Reviewed on: 29 Apr 2016
Eiko is the perfect travel advisor because she has been everywhere! She is attentive to our needs and handles everything expertly and quickly. She has assisted us since 1999 and we have never been disappointed in anything she has suggested or arranged. We have become personal friends since that time. A few years ago she helped me with group travel for over 60 friends and we traveled to four countries! Components for all were flights, hotels, tickets and a seven night river cruise as well as land transportation and meals. We hope Eiko stays in business for many more years!
Recommended
Great Planning and Arrangements
By: T.E.
Reviewed on: 06 Oct 2016
This cruise was a great way to celebrate Independence Day and also get in a pre-cruise extension in New York City to view and enjoy the sights there. The ship also has a great history behind it, suitable amounts of soace, great excursions and detail suited for discriminating travelers, and a lot of activities. I had great company, and these wonderful travel partners taught me much. As always, a top notch vacation.
Recommended
Crystal Cruise - Italy
By: Jan
Reviewed on: 09 Dec 2016
The people on Eiko's tours are always nice. And the Crystal personnel are very nice too. Enjoyed the cruise.
Recommended
Fantastic Service
By: PSKcruiser
Reviewed on: 07 Dec 2016
Had a great time thanks to Eiko. She always lets us know when there are special trips that we would enjoy. She suggests tours and helps us book them. I especially appreciate that she returns phone calls and emails when I have questions or concerns. She lets us know what to expect so we are prepared and don't have any bad surprises. She is friendly, and we enjoy traveling with her and the people she has on the tours.
Recommended
Wonderful, friendly, efficient service!
By: Sammyglitter
Reviewed on: 10 Dec 2016
Eiko was always cheerful and helpful whenever I had a question. She would express what her experience was with that country and would say, Don't worry it will all turn out! And it did! The people in our group were all very nice. I enjoyed their company throughout the trip. Even become wonderful friends with some. Crystal is the best! I would definitely travel with Eiko again!
Recommended
Professional knowledgeable service with a touch of kindness
By: Travelin' 5270
Reviewed on: 05 Dec 2016
Eiko always returns phones calls and emails promptly with detailed information requested. She is transparent, honest and understanding of concerns and issues presented. Always the consummate professional yet down to earth advisor. She wants everyone to enjoy the trip and will offer tips to enjoy the trip even more. I will never book a cruise with anybody else. she spoils us. Great people skills, vivacious, friendly, spontaneous but most of all caring and compassionate. She is truly a gift to Crystal!
Recommended
Superb Service!
By: George
Reviewed on: 12 Dec 2016
Eiko always provides prompt, expert service. Always a pleasure to plan cruises with her. Looking forward to the next one!
Recommended
Review Advisor
By: NN
Reviewed on: 09 May 2017
Excellent. Good selection of tours and attention to details; esp older adults and people with special needs. Obtains "perks" for her clients when available. Looks ahead to set up/coordinate trips/transportation so no or minimal waiting when the time comes. Lots of experiences to draw from.
Recommended
Crystal Cruise New York to Iceland
By: susie
Reviewed on: 24 Jun 2017
Eiko has always been excellent, attentive and helpful, arranging our travel since 1999! She has been more places than most agents and has much to share about every place we want to go! She is a Crystal Cruise expert and all our cruises aboard these ships have been well planned The Virtuoso level attention of her agency has always impressed us.
Recommended
Memorable cruise
By: 1st CCruise
Reviewed on: 01 Jul 2017
Very thoughtful, great recommendations and her cruise expertise was so helpful. She took all the uncertainties away and made the booking and decision making so easy. I really appreciate her friendliness and advice.
Recommended
Baltic Sea Cruise
By: Kathy
Reviewed on: 30 Jun 2017
Perect! Lots of information and answers to questions.
Recommended
Fulfilling a bucket list item
By: yepee
Reviewed on: 10 Aug 2017
Eiko was a great resource and advisor in planning and executing our trip. She understood our needs and anticipated situations with clear communication. Thank you!!
Recommended
Cruise review
By: Isa
Reviewed on: 06 Sep 2017
Eiko was very helpful always.
Recommended
Danube Crystal cruise
By: Linda Thompson
Reviewed on: 27 Sep 2017
Eiko is the best travel advisor ever. We've loved every trip she has helped us plan. There is no one better. We've directed many friends in her direction for planning vacations.
Recommended
Eiko is the best
By: Kingo
Reviewed on: 09 Oct 2017
Eiko made our trip seamless. She is the best. I didn't think I would enjoy a small boat after several cruises on the Symphony and Serenity, but it was wonderful. Eiko got us the perfect cabin, took care of everything that might have been a problem, and we had a great time aboard the Crystal Mozart.
Recommended
Eiko: One Fantastic Travel Advisor
By: Diane
Reviewed on: 27 Oct 2017
Eiko was outstanding! It was so evident how much time and effort she put into making our trip the vey best it could be (and was). She took time to explain and go over any questions I had. She researched and made sure we were given all the financial credit of which we were entitled. She sent information on possible shore excursions. She helped us get the room location that we requested and followed through on all our requests. I don't know how she manages to do everything she does within her job and home, and still make us feel like we are important and a priority. We look forward to our next trip with Crystal and in working with Eiko. Thank you, Eiko! You are the greatest!
Recommended
AMERICAN Queen River Cruise
By: No Name
Reviewed on: 07 Nov 2017
The Very BEST! The service, the details, making sure everything was in order, on schedule, answering all questions!
Recommended
Great Southern Hospitality
By: Red wine
Reviewed on: 13 Nov 2017
She is easy to work with and seems to find the good in every person she meets.
Recommended
American Queen cruise
By: Eiko 2
Reviewed on: 07 Dec 2017
She is a wonderful person to work with, any problems she took care of immediately. She was always available for everything and everybody.
Recommended
Vienna-Budapest
By: Hi-chan
Reviewed on: 10 Nov 2017
I liked working with Ms. Eiko Yamamoto because she responds quickly to my questions and gives good advices. Would love to work with her in the future. Thank you, Lillian
Recommended
yes
By: happy traveler
Reviewed on: 16 Nov 2017
was helpful in answering my questions prior to trip
Recommended
Holland America to Australia/New Zealand
By: Travel happy
Reviewed on: 13 Nov 2017
Thank you for the Virtuoso benefits!
Recommended
Always a Great Experience!
By: Giorgio
Reviewed on: 29 Nov 2017
Eiko is above all agents! She gets things done and always watches for the best for her clients. I most highly recommend her!
Recommended
Myanmar with A&K
By: jaye
Reviewed on: 14 Feb 2018
Eiko is very attentive and made sure we get the best possible experience.
Recommended
Eiko is the best
By: Kingo
Reviewed on: 27 Feb 2018
Working with Eiko is easy, and always works out well. She is caring, loyal, and makes sure you are well taken care of. My wife, when asked about Eiko says one word...."fantastic"! She is able to do the impossible. When a cruise, or other venue is 'fully booked' she always finds us a spot. She really is " Amazing"
Recommended
Cruise to Polynesia
By: Charlie
Reviewed on: 13 Mar 2018
Always enjoy working with Eiko when planning a trip.
Recommended
Israel & Jordan
By: world traveler
Reviewed on: 02 May 2018
Eiko is the ultimate professional. She not only provides you w/ pre-tour info, but always gets together the best group of people to travel with.
Recommended
Our Crystal River Cruise as arranged by Eiko.
By: Murt
Reviewed on: 04 Jun 2018
Working with Eiko was a sheer delight. She handled all of our travel plans with the dedicated care and detail that only a seasoned professional could do. I never once had to worry that something hadn't been attended to. Everything we arranged with her was delivered as promised. She is without question the most reliable and trustworthy travel agent we have ever dealt with.
Recommended
alaska
By: rocky
Reviewed on: 11 Jul 2018
Very helpful. This was our first cruise, b/c my husband gets seasick. So it was possibly, also, our last one. Eiko was very accommodating re offering to meet with us to answer questions, letting us know about optional tours, weather, etc. She also made arrangements on board. The cruise itself was very smooth -- no seasickness, and the service and amenities excellent. We are looking forward to cruising again.
Recommended
Perfect cruise planned by Eiko
By: Stephanie
Reviewed on: 12 Jul 2018
Eiko and her team were wonderful and booked the perfect cruise for our family! They listened to what we wanted and we got exactly what we asked for! We will definitely work with them again!
Recommended
Eiko is a gem!
By: Ralph
Reviewed on: 09 Jul 2018
Eiko is a true expert in the travel industry. She is responsive, savvy and knowledgeable. She helped make our trip a true memory! Thank you Eiko!!
Recommended
American Duchess cruise from Chicago to St. Louise
By: Clliff
Reviewed on: 06 Sep 2018
Eiko was on top of everything, including a last minute change regarding an extra night in Chicago.
Recommended
Great trip
By: Ireland traveler
Reviewed on: 04 Oct 2018
She was very accommodating and helpful when needed
Recommended
Personal service
By: world traveler
Reviewed on: 03 Oct 2018
This was my 6th trip planned by Eiko, and as always, the company & itinerary were the best.
Recommended
Tour GP 909
By: Alaskaman
Reviewed on: 26 Sep 2018
Eiko is very accommodating and is easy to get along with on all of our previous trips. She is very thoughtful and starts the trip off with a bog of treats.
Recommended
Crystal Cruise Advisor ...Eiko Yamamoto
By: Shopper
Reviewed on: 12 Dec 2018
Eiko has been and will always be a wonderful friend and helpful, knowledgeable guide, full of information and enthusiasm for travel and seeing the world.
Recommended
Cuba
By: frequent traveler
Reviewed on: 06 Feb 2019
This was my 8th trip booked through Eiko, and as always, the arrangement for air, transport & tour were all taken care of to the last detail. All I had to do was pack my bags. She also arranges for me to travel w/ the best group of people.
Working with Eiko Yamamoto, you will have access to:
- An experienced travel guide whom you can rely on before, during, and after the trip
- Exclusive luxury resorts and properties
- Once in a lifetime experiences
Explore with the Best
Virtuoso Advisors are constantly pushing the boundaries in unique travel experiences.
Alliance programs are unique tailored experiences exclusive to travelers working with Virtuoso Travel Advisors.
learn more
Turkey
Vietnam
Cambodia
Israel
China
Japan
Germany
Switzerland