Michael King
ATC, DS, LS
Overland Park, KS United States
Travel Specialties
Interests
Adventure
Honeymoons
Sports & Outdoors
Safari
Independent Tours
Destinations
Australia
New Zealand
United Kingdom
Antarctica
Botswana
Selling Travel Since
2004
My Background
I AM A WANDERLIST SPECIALIST
Now on the National Geographic Expedition team to assist clients. Do you ever truly wonder what's around the bend of the road or just over the horizon? For as long as I can remember, I've had a sense of adventure.So, it's no wonder I love designing and planning adventure vacations!
While home is a suburb of Kansas City, Missouri, I roam the world spotting the Big 5 in Africa, experiencing New Zealand, exploring Patagonia, or strolling with penguins in Antarctica,
Passionate about Africa, traveling there twice a year, I've introduced many clients to its magic and I'm recognized by the South African, Botswana, Tanzania, and Kenya Tourism Boards for my expertise.
Staying south of the Equator, another favorite destination is New Zealand and I am a certified Kiwi Specialist. Care to see the Milford Sound by Helicopter, jet boat the Dart river, golf or take a Hobbit or Lord of the Rings adventure?
I invite you to experience the world a la Michael King, a guaranteed adventure!
Places I Have Traveled
Reviews and Recommendations for Michael King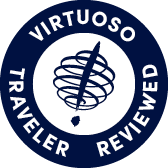 Virtuoso Verified Traveler
All reviews are from confirmed guests sharing exclusive insights
Sort reviews by
Recommended
highly recommended
By: florida tom
Reviewed on: 24 Jun 2013
never lets you down. inevitably, even the best plans sometimes go awry. Michael makes it good. this was our fourth trip with his planning and we will do more. first class all the way. expensive, but worth it.
Recommended
Super
By: happytraveler
Reviewed on: 30 Jan 2013
Mr. King seems to have been everywhere and is knowledable about all the trips we have taken. He is able to find us good deals and always follows up to make sure he has done all he could to help us.
Recommended
Very highly recommended
By: Stuart
Reviewed on: 11 Oct 2013
Michael is the consummate professional. Every aspect of your trip is planned and ready if you want. His specialty is Africa. We just returned from a trip to Zanzibar and Tanzania. He went on the safari with us. We'd go again is a heartbeat. He's also planned our past holidays and we are looking forward to our vacation in Vietnam next year.
Recommended
Highly Recomended
By: J & S
Reviewed on: 18 Oct 2013
Michael was extremely helpful and on top of everything, even when there were unexpected problems. He was knowledgeable and also a great fried.
Recommended
Highly recommended
By: Not provided
Reviewed on: 07 Nov 2013
Superb job. Very well planned out.Will use again.
Recommended
Highly Recommend
By: John
Reviewed on: 07 Nov 2013
Trip of a lifetime! My big bucket list trip. Michael did a fantastic job.
Recommended
Another great trip - this time to China.
By: D2
Reviewed on: 03 Dec 2013
We just returned from a another great trip planned by Michael in conjunction with in country partners that he has personally vetted. His personal knowledge of the destinations, attention to detail, followup and knowing his clients travel preferences results in trips that exceed our expectations. We continue to recommend him to friends and have another extensive trip planned with Michael in 2014.
Recommended
By: Steve
Reviewed on: 13 Jan 2014
Michael did a great job putting this trip together for us. Great attention to detail in thinking through all the different options and nuances to make sure the trip went smoothly for my whole family. We had a blast, despite some of the external elements (the weather, etc.) that we had to contend with during the trip.
Recommended
My Expert!
By: Dr. Marc
Reviewed on: 13 Feb 2014
I put my trust in Michael to configure the vacation of a lifetime for my wife and me upon my retirement.  Billed as an expert on Australia and New Zealand (among a few others), Michael put together four weeks of unparalleled visual, sensory, gustatory and relational experiences, not to mention the (hoped for) physical challenges, luxury beyond expectation, and personal oversight during the entire trip.  I have very high expectations for people I work with.  Michael blew past them at every step.  My one "problem" is that my wife is demanding we start planning our next trip with him.  I'm not objecting...
Recommended
Creative planner
By: Worldie
Reviewed on: 10 Feb 2014
Multiple trips by Michael, with contacts all over the world.  He is able to solve routing issues, arrange side trips, etc. He can send you anywhere.
Recommended
Highly recommend
By: Not provided
Reviewed on: 21 Feb 2014
so far it has been seamless. Great accommodations and tours
Recommended
Highly recommended
By: aepmd
Reviewed on: 21 Feb 2014
I have worked with Michael for roughly 2 years now and highly respect him and appreciate his abilities. My travel requirements are specific and often times require complicated planning in a short period of time with very little flexibility. Michael and his team have always accomplished this goal- no matter how remote or complex my travel destinations. I have been able to reach him anywhere and anytime,and he has made sure my travels are successful and stress- free. I have recommended him to multiple friends who have also had great experiences thanks to him. I have nothing but good to say about him and his agency, and look forward to working with him in the future!
Recommended
Highly recommended
By: Not provided
Reviewed on: 25 May 2014
Vicki25My husband and I enjoyed our vacation in France very much.  The guided tours to Versailles and Loire Valley were wonderful.  The Esprit St Germain hotel was lovely and the service was excellent. Everything was well planned and went very smoothly.
Recommended
Fantastic. Easy to work with. A stickler for details
By: Scott 3728
Reviewed on: 09 May 2014
Recommended
Stockholm, Sweden
By: Kevin & Amy Fox
Reviewed on: 12 Jul 2014
After travelling to Dublin, Ireland we took a side trip to Stockholm, Sweden for 4 nights.  Mike booked us a group of rooms at the Grand Hotel, the finest and best located hotel in the city.  Due to our association with Virtuoso, upon arrival our rooms were upgraded and we were given a credit of 700 SEK (approx. $100) per room for spending in the hotel's restaurants, bars, & shops.  The hotel was exquisite, the service impeccable and the location was unbeatable.  From the front door you could catch a ferry, a bus or walk to the old city.  Stockholm proved to be one of the top 5 european cities we have visited, all of which Mike has booked for us. If you are considering a holiday abroad, I would highly recommend Great Getaways, especially Mike and his associate Becky who is very accomplished at travel planning.
Recommended
Once in a lifetime
By: Old Mom
Reviewed on: 02 Oct 2014
I have traveled all over the world, on many group and private tours, and this was the grandest. It was my first time to sub-Saharan Africa, and on safari. The entire experience was planned with great care and attention to details; the season, the accommodations, the variety of camps, the transportation and the breadth of experiences. We were in Botswana and Kenya at the best times for game viewing and boy, did we ever view game. We saw everything in the kind of detail we had wished. I have some limits to my mobility and I was able, with enthusiastic help and patience from everyone, to participate in and enjoy every aspect of our trip. The guides were very knowledgable and proved very willing to go into the detail we wanted. We were able photograph and bird to our content as well as viewing the dennings, the crossings, the kills, and even a takedown. Michael King made all this possible. We got invaluable advice and support. He is not only a great agent, he is fun.
Recommended
In-Depth South African Expertise
By: ShawnK
Reviewed on: 06 Aug 2014
We recently had the opportunity to go on a South African Safari that Michael helped us plan. The trip turned out to be excellent almost all the way around - the overall schedule, transfers and the destinations were all fantastic and in fact they generally exceeded our already high expectations. Our trip started in Cape Town where we stayed at The Cape Cadogan hotel - which turned out to be a great choice. It's an ideal location for exploring the city, the staff was exceptionally friendly and the hotel had a lot of charm (and a great breakfast). The one slight down day on the trip was the day trip to do Whale Watching in Gansbaai...and really the issue was primarily just bad luck in not really getting to see anything on that particular day. Having lunch in Hermanus and a beautiful drive back on the scenic coastal road certainly helped improve the day. Finally Michael did a great job in selecting the Game Lodges we stayed at. Lion Sands and Madekwi Safari Lodge were both excellent.
Recommended
michael
By: Bob
Reviewed on: 17 Jun 2017
It is always a pleasure to work with Michael. I can be a bit demanding and michael is always patient and able to accomodate my requests.
Recommended
Review of Michael King
By: Me
Reviewed on: 03 Jul 2017
He is great to work with - very responsive and knows my personal needs and designs the trip around those goals
Recommended
Fabulous!!!
By: laurarobi
Reviewed on: 02 Oct 2014
This was a trip of a lifetime and could not have been planned nor executed any better. The attention to detail was incredible, for example, we never waited more than 5 minutes for customs! Talk about a nice surprise. Then there were the small connecting flights which were always on time, but for once. Even then, they sent another plane and it was there within a couple of hours and took us straight to the other camp instead of stopping at another airstrip. The guides, hosts, tours and accommodations were all well above par and I would highly recommend this company to anyone. In fact, I am in the process of booking another trip for next year! Thank you, Michael King, for such a fabulous trip.
Recommended
what a trip
By: safari
Reviewed on: 29 Oct 2014
amazing time in Africa, 5 start hotels, 5 star safari, personal driver, never stressful
Recommended
Expanding your world with precision focus
By: JNJ
Reviewed on: 06 Nov 2014
Michael combines the art of designing the overall vacation itinerary with the skill of managing the discrete travel details, thereby ensuring a wonderfully "Great Getaway." His personal site visits and evaluations of venues in advance of the trip help assure that everything is up-to-par, and enable him to provide accurate pre-trip communication. For our recent trip to southern Africa, the sequence of locations, the variety of experiences, and the pacing of events were perfect for our group. Michael understands his customers.
Recommended
great
By: sandi
Reviewed on: 12 Feb 2015
great trip. room was a little small but i guess most rooms on ships are very small. silver seas did a good job in taking care of us.
Recommended
Always on top of things
By: Dr. G
Reviewed on: 19 Jun 2015
Michael has arranged several trips for my wife and me and we have several more with him cooking for the next 1 1/2 years. He anticipates our interests, needs and preferences for hotels, restaurants, travel arrangements and touring. His choices of guides has been fabulous. He manages the whole trip with our input, putting everything together for memorable experiences.
Recommended
Exemplary customer service
By: Happy Mari!
Reviewed on: 28 Jul 2015
Michael is a total dream to work with. My partner and I were truly delighted with the amazing first class service we received for a recent overseas trip. I had very specific requests and Michael was able to fulfill those for me and more. In fact, he went way above and beyond to help me in a pinch change my return flight whilst I was overseas. Definitely two thumbs way up. I'd highly recommend Great Getaways Travel to anyone looking for a superior travel experience at super reasonable costs.
Recommended
Our Dream Vacation
By: Vicki C
Reviewed on: 03 Aug 2015
Michael What an amazing time we had, we are sold on Great Getaways and IC Bellagio. We felt like royalty throughout the entire trip. The service of the meet and greeters, the drivers, the tour guides were so professional, friendly and ran like clockwork. Everyone was at their post each time they were supposed to arrive and helped us feel so comfortable with their advice to integrate into a new country. Our favorites were Monica in Bellagio, Guido in Venice, Filipo in Florence (biking in Tuscany) , Cynthia in Florence, Monica in Rome and Lorenzo in Rome for our Vespa tour! Stephano was an amazing guest host in Bellagio and we could not have asked for a better home than Villa dei Sogni, the hotel JK Place in Florence was outstanding. All of the restaurants that IC Bellagio suggested were wonderful. Our tour guides, in Bellagio, Venice and Rome were outstanding with one exception (Vatican tour) which we can discuss later. We will go back to Bellagio, Florence and Tuscany again!
Recommended
Expert, detailed - personal service
By: bob s
Reviewed on: 14 Aug 2015
Once again Michael set up a wonderful trip for us, this time to Paris. He is the consummate professional, detail oriented, and follows through in a timely manner. It is always a pleasure to work with him on our vacation travel needs.
Recommended
Never Fails To Deliver
By: Stu311
Reviewed on: 19 Aug 2015
once again michael and damien at great getaways provided a fantastic experience. They never fail!
Recommended
A Fabulous Trip!
By: KCbridger
Reviewed on: 27 Aug 2015
We had a beautiful trip & loved both of the hotels that Michael booked us into. Our cruise on Seabourn was first class all the day. We loved all the perks of early check-in, dinners, breakfasts & the credit we received by being a Virtuoso Member onboard! Wonderful!
Recommended
Another Great Getaway!
By: Dale72
Reviewed on: 31 Oct 2015
Just returned from a 3+ week trip to Eastern Europe. Everything was perfect - itinerary, hotels, private transportation/tours and ships. Typical of a trip planned by Michael at Great Getaways.
Recommended
Great Planning and Execution!
By: Dr. Marc
Reviewed on: 23 Oct 2015
Michael set up a dream week in Paris and the Loire Valley for my wife and me. It was our first trip to France. The quality of the tours, hotels, service and communication was exemplary. The flexibility of the people Michael enlisted in France and their performance was wonderful. We toured, viewed, photographed, and (most importantly) learned about the people and places we visited. THANK YOU MICHAEL!
Recommended
Custom adventure!
By: BrianG
Reviewed on: 20 Oct 2015
Michael created a wonderful Australian adventure for my wife and me. It is a pleasure to work with a travel advisor who knows your preferences and can tailor the details to your specifications. Michael has always done a first class job for us and we highly recommend him.
Recommended
Great Trip
By: JAW
Reviewed on: 04 Nov 2015
We had an excellent cruise, flights went well, Oceania was wonderful and we could have sailed longer.
Recommended
Great Family Christmas Trip
By: Steve
Reviewed on: 01 Jan 2016
Michael planned a great trip for me and my family (and extended family) to gather in Vail, Colorado the week of Christmas. The house he found for us was great, and the planning for ski rentals, masseuse, dinner reservations, catered food on Christmas Eve, and more was all very well done.
Recommended
Expert Coordination!
By: Dr. G
Reviewed on: 18 Feb 2016
My wife and I had asked for a learning trip through the Far East, specifically Cambodia and Vietnam. Michael combined a small pre-planned group program with individual stops and learning tours (both before and after the group part of the expedition) to complement and add to the content of the pre-planned tour. His expertise and judgment made our three weeks much more enjoyable and educational. Despite our relative lack of travel expertise, Michael's plans and people made us very comfortable during our travels. He made our explorations a great success!
Recommended
Trip of a lifetime
By: MZ & BZ
Reviewed on: 04 May 2016
THANK YOU MICHAEL!!!!!!!!!!!!! We have done a lot of traveling but this was truly a once in a lifetime experience and Michael made it easy for us. From the first time we spoke it was evident that Michael understood what we wanted and his background made it easy for him to fit our desires into an amazing trip. Whether it was what to wear, how to pack, what we needed for medical precautions, etc Michael knew what was required and helped us to plan accordingly. Michael had everything planned out: from folks meeting us at airports and getting us to the next plane to the 3 great resorts he arranged for us, it all went like clock work. It was great to actually meet Michael and Barbara at Lion Sands and to thank them both in person. As we live in Michigan and Michael is based in Kansas City we hadn't expected to be able to meet in person. Thanks again Michael from your friends in Michigan
Recommended
Amazing Trip Plannned by Great Getaways
By: Dee Dee
Reviewed on: 03 Jul 2016
Michael King provided us outstanding service and support in planning our trip to Europe, as well as throughout the trip that he put together. He made outstanding hotel, tour, itinerary, transfer, and restaurant recommendations, which all turned out perfect; and was very patient and willing to work with us when we wanted to change proposed itineraries, tours, or hotels. Everything was so organized. Our itinerary was very detailed, and Michael and his team provided step by step instructions in our written itinerary on which trains to take, where to pick up tour tickets, where to meet tour guides, etc. I was amazed that they didn't miss one step on a 2 1/2 week very detailed itinerary. Michael King came highly recommended to us from friends. The services Michael and his team provided to us were flawless and I will be highly recommending Michael and Great Getaways Travel! We had a fabulous vacation, thanks to Michael King and his team, Great Getaways Travel, and their partners.
Recommended
The trip of a lifetime!
By: Dr. Marc
Reviewed on: 01 Oct 2016
Michael and his wife Barbara created an extraordinary opportunity to see what may be a vanishing opportunity: to see the legendary animals of southern Africa in their native environment. From the travel to the accommodations, from the highly trained and competent guides to the perfect weather (I think Michael set that up too!), from the wonderful people on the trip to our hosts at each stop everything - and more importantly everyone - just worked! The animals showed up because the guides knew how to find them. And find them they did, including a lion pride's take down of a 1200 pound Cape Buffalo right in front of us. We got sensitized to the plight of elephants and rhinos at the hands of poachers and how our presence and contributions help. The beauty of southern Africa set the stage for all the players. Congratulations to Michael and Barbara for a series of unforgettable experiences!
Recommended
Fantastic planning
By: Meme
Reviewed on: 02 Oct 2016
Michael planned my dream vacation to Africa and exceeded all of our expectations! He had everything arranged down to birthday cakes champagne and seranading by the Maasai. Unbelievable service by Great Getaways.
Recommended
Great service!
By: BrianG
Reviewed on: 07 Oct 2016
As always, Michael and his team provided excellent service in arranging our stay at the Bellagio. The Virtuoso amenities were very much appreciated and the property was wonderful.
Recommended
A Trip Over the Top!
By: DrMarc
Reviewed on: 05 Jan 2017
Michael configured and led our intrepid band of African explorers on a magical trip to southern Africa. He laid out travel and a series of stops in places I've always dreamed about. We saw two extraordinary cities in South Africa, wildlife in the real wild in two incredibly comfortable, informative and culturally connected lodges in Botswana, and a third in South Africa, with the awesome Victoria Falls in between. The guides were knowledgeable and friendly, the food and accommodations marvelous, and all the other people worth the trip to meet. Our gang of ten made new friendships, with each other and the people we interacted with. And the photo ops were unequalled. Great work, Michael!!!
Recommended
Another excellent trip in the books
By: Elyse W.
Reviewed on: 03 May 2017
Micheal King has planned several trips for us ... our trip to Spain was EXCELLENT ... a trip we will all remember for a lifetime. Michael listened to our travel wants and needs and found us the perfect balance between between active touring and relaxation. He planned several activities that we would not have planned if we planned this trip on our own, and those activities were perfect for us. I highly recommend Michael -- he's professional, knowledgeable and reliable.
Recommended
Trip West
By: Dale
Reviewed on: 24 Jun 2017
Excellent as always! I guess that's why we keep working with him.
Recommended
The Spa
By: The Spa
Reviewed on: 08 Jul 2017
Michael is always a pleasure to work with. This was the simplest trip we've worked together on, given the Chatham Bars Inn is only about 40 minutes' drive from my house. Proximity aside, Michael's ability to set up a wonderful suite and activity choices made the (short in this case) trip a long weekend escape.
Recommended
China trip
By: Bob
Reviewed on: 17 Aug 2017
Excellent service, friendly approach, very knowledgeable expert.
Recommended
China trip
By: Travel novice
Reviewed on: 10 Aug 2017
Wonderful! This was our first trip out of the country. Michael really listened when discussing our trip: our budget was tight, timeframe was tight, we sort of knew what we wanted (a tour group with days tacked on to visit a relative), but it was broadstroke. He found the right tour for us and guided us through the visa process. He met with me right before we left to be sure I had all the documents I needed, answer any lingering questions and to be sure I knew how to contact him if I needed help. Once the trip started, he quickly responded to questions I emailed him: flight delayed, missed connecting flight, what do I do? Luggage lost, does my travel insurance cover clothing purchases? How do I connect with the tour group now that we're a day late? Nothing fazed him and these things quickly became a side note to an amazing trip. I would highly recommend Michael King to anyone scheduling a trip.
Recommended
MIchael King
By: Me
Reviewed on: 16 Sep 2017
Michael is a great advisor who takes care of all the details and allows me to fully enjoy my trip in the most luxurious fashion possible
Recommended
Review of Michael and Josh
By: Cjmicallef
Reviewed on: 02 Oct 2017
Michael and Josh were excellent to work with. They were easy to communicate our needs and desires and provided solid recommendations for our travels.
Recommended
Knowledgeable and Easy to Work with
By: HJB
Reviewed on: 18 Oct 2017
Michael was very professional and patient with our deliberation process. I'd recommend him highly for your next couples or group travel adventure.
Recommended
hawaii trip
By: leawood
Reviewed on: 18 Nov 2017
excellent services - loved the trip.
Recommended
Tasmania
By: JW
Reviewed on: 04 Dec 2017
Michael kept us informed along the way as we planned our trip. Easy to,work with.
Recommended
Michael King
By: Jim
Reviewed on: 06 Dec 2017
Very professional, knowledgeable and understanding. Great job !
Recommended
Recent trip
By: Buckwheat
Reviewed on: 19 Dec 2017
As usual, Michael made things easy, got us very good deals and was very helpful.
Recommended
Advisor
By: Jyoti
Reviewed on: 09 Jan 2018
It was very easy to work with Michael. He was immediate with his response to our questions. He was very very helpful in explaining what to expect, how & what to pack. He went over the entire iternary page to page. Everything was very clearly explained including our flights.
Recommended
Made travel planning a breeze
By: Gina
Reviewed on: 12 Jan 2018
Michael was very easy to work with and made planning a trip on short notice during a busy travel season come off without a hitch. Michael had incredible connections in both Paris and London. The tours and schedule were ideally set up to make sure we were able to see all the major sites without feeling rushed.
Recommended
A great time at Esperanza
By: Bryan
Reviewed on: 14 Feb 2018
Great! Michael is a first-class agent and everything went well.
Recommended
Isles of Volcanoes
By: Dr. Marc
Reviewed on: 18 Mar 2018
Wonderful as always. That's why I keep working with him! He knows the area, his recommendations are spot on, and his support is consistent. I was going to say always consistent, but that is redundant. My hobby is photography and Michael seems always able to make suggestions that result in great photos and an exciting time!
Recommended
Robson's Trip to Hawaii
By: Simon
Reviewed on: 02 Jul 2018
Michael put together a very good itinerary for Hawaii (4 islands in just 12 days but not too hectic with some amazing experiences) and also he was extremely helpful and responsive when we missed one of our flights between the islands. A couple of comments on our Hawaiian experience - 1. All the activities organised by Michael were exactly what we wanted with the exception of the Waimea Canyon activity. The Waimea Canyon experience was too touristy - Being driven round in a big bus, stopping off at very touristy locations (20 minute rest at a shop full of tourist tat etc). Much preferred smaller, intimate and 'real' activity experiences which the rest of the activities fortunately were. 2. We dropped off our Alamo rental car 2 hours after our deadline in Kauai, as we had ended up getting an earlier flight out to the island initially. Alamo charged us a full day's rental. Time was tight so didn't have time to argue but it was a terrible customer service!
Recommended
Africa
By: Cathy Dunn
Reviewed on: 15 May 2018
My first trip to Africa was unforgettable and one I would do all over again. Thanks to the thought, care and knowledge Michael put towards planning my adventure, it was a perfect experience. He provided helpful advice and guidance while showing enthusiasm and a personal love for Africa. Each of the five selected destinations offered a different experience in the landscape, wildlife and people. The international travel and transfers within Africa were trouble free and well designed. It was a remarkable journey made possible with the help and organization provided by Michael King.
Recommended
Seattle
By: Curdeb
Reviewed on: 12 May 2018
He's the best!!!!
Recommended
Cruise
By: client a
Reviewed on: 11 Jun 2018
Mr King handled arrangements for cruise after we approached him with possible trip. Booking included several valuable benefits on board. (Specialty dining, laundry, gratuities). He notified us during the trip of a flight number change on return flight. Pre-cruise hotel mix up, with reservation not made. (Luckily they had rooms available when we arrived). He used booking service (wholesaler – ABC Global ), so unsure where the mix-up occurred.
Recommended
Michael King
By: Me
Reviewed on: 03 Jun 2018
Michael is a great travel advisor - he takes care of all details of the travel and knows my preferences and dislikes and plans my trip around that. The trip was exactly what I had hoped it would be.
Recommended
Beautiful anniversary trip to Hawaii planned by Michael King
By: Lisa K
Reviewed on: 03 Jul 2018
Michael King was an excellent travel advisor. He is very knowledgeable about the Hawaiian Islands. He would always get back to me in a timely manner no matter what the question was. Michael's recommendations were always spot on, whether it was for resorts or restaurants or excursions. We will definitely use his services again in the near future ( I hear he has expertise in most places in the world!). We highly recommend Michael to others!!!
Recommended
Great trip southern Africa
By: Graham
Reviewed on: 10 Jul 2018
MIchael was very knowledgeable of the places we wanted to go. Gave us lots of tips in how to prepare for safari. Arrangements were spot on throughout the entire trip.
Recommended
Great Organizing!
By: The 50th Trip!
Reviewed on: 06 Aug 2018
Michael and I have been working together for four and one-half years now. He understands our needs and wants, organizes our trips and transportation very well, and is a pleasure to strategize with! I anticipate many more years of our relationship.
Recommended
Excellent multicity trip to Europe
By: JN
Reviewed on: 22 Aug 2018
Michael was fantastic- reliable follow-up, end-to-end service, perfect recommendations and arrangements with local guides and hotels. We could not have been happier with the trip. Thanks Michael!
Recommended
Tanzania Trip
By: CURDEB
Reviewed on: 16 Aug 2018
There are only two words to describe Michael King...the best! He is the consummate travel advisor. This is the second African safari that he has planned for us. His knowledge of Africa is unsurpassed by other travel advisors and his recommendation of camps and activities made our trip to Tanzania another fantastic adventure.
Recommended
Ireland
By: Gina
Reviewed on: 20 Sep 2018
Excellent. Michael is easy to work with. He is very responsive to any and all questions. He has impeccable taste and found interesting hotels and guides for our trip
Recommended
Exceeded my wildest dreams
By: Little Safari Lover
Reviewed on: 28 Sep 2018
Michael took great care to make sure I had the best experience possible. He understood what I wanted to see; and knowing me - he also knew what I didn't know I wanted to see, but needed to! He answered ALL my questions in a timely manner. I knew I was in good hands every step of the way.
Recommended
Michael King review
By: Kansas City traveler
Reviewed on: 06 Oct 2018
Michael was great to work with - very attentive to details and sensitive to my needs and wishes
Recommended
Italian Adventure
By: JRF
Reviewed on: 22 Oct 2018
Responsive, informative, good listener, and makes great recommendations for hotels
Recommended
China tour
By: Keith
Reviewed on: 01 Nov 2018
It was very easy working with Micheal. He provided a nice template from which there were several options. The private educational tours were wonderful. I would definitely work with Michael again.
Recommended
South Africa Fall 2018
By: EddyG
Reviewed on: 02 Dec 2018
Michael was great to work with in every way. He was extremely experienced and knowledgeable while still sharing in the enthusiasm of our new experience. He was always available with responses to any questions or requests and anticipated any problems or concerns we may have as first time travelers to the area. We would, and will, definitely use his services again, and will recommend him to others as he was recommended to us by friends.
Recommended
RSSC
By: Sue
Reviewed on: 13 Dec 2018
Very capable and always on top of things
Recommended
Great 5 days spent in NYC at Christmas time!
By: Lisa K
Reviewed on: 14 Jan 2019
Michael King booked our hotel at the St. Regis NYC. The hotel was wonderful, and thanks to Michael King for all of the extras we received by booking through him.
Recommended
Michael King
By: Me
Reviewed on: 30 Dec 2018
Michael, as usual, has been great to work with - he worked with all his contacts in South America to set up a trip that was memorable and great. He has been very helpful in answering my myriad of questions as well.
Recommended
Big Island 4 seasons
By: Hawaii Lover
Reviewed on: 23 Feb 2019
Michael made all the arrangements and everything was very smooth. I love the big island and he set up this trip at the last minute and I really appreciate it.
Recommended
Mekong River Cruise
By: Una
Reviewed on: 06 May 2019
Michael knows exactly what is to be done. He arranged and documented everything thoroughly. Strongly recommend him.
Recommended
Sweden Finland
By: Frequent traveler
Reviewed on: 03 Jun 2019
Michael was great in planning this unique trip. I had a problem towards the end of the trip (due to a tour operator problem) and he got it fixed right away. This was a trip of a lifetime.
Recommended
Israel/Jordan
By: Stone
Reviewed on: 20 Jun 2019
Michael is excellent to work with; we have done so for several trips and recommend his services.
Recommended
Got Just What I Asked For!
By: Dr. Marc
Reviewed on: 17 Jun 2019
I have worked with Michael for over five years now, with one or two major trips each year. That should tell you how working with him is - rewarding. The latest trip, to Yellowstone and Grand Tetons national parks, was picture perfect. Pun is intended, as I wanted a guide with photographic experience, as photography is my hobby. So I got an experienced, talented, personable, and helpful guide who is also a professional photographer. Michael arranged everything beautifully, even to the snowstorm (but just some snow where we were) enabling me to photograph two two year old grizzly cubs in the snow. What more can you ask? Great accommodations and restaurants also!
Recommended
Trip
By: Buck
Reviewed on: 26 Jun 2019
As always, Michael did an excellent job in planning our trip and helped us with any questions or concerns. He is super and we will continue to use him for all our travels.
Recommended
Michael King
By: Bill Carrier
Reviewed on: 12 Jul 2019
Experienced travel agent who provided accurate info after listening to my needs
Recommended
River Cruise
By: john
Reviewed on: 18 Jul 2019
Great, once he understands how much you want to spend
Recommended
Advisor paid attention to details
By: Traveler
Reviewed on: 27 Jul 2019
After selecting a cruise and contacting Michael, he arranged pre and post hotels, and Virtuoso benefits were nice. Our original flight was delayed, and he sent me text and informed our limo in Vancouver of the delay.
Recommended
Russia
By: Brian G
Reviewed on: 29 Jul 2019
Michael was attentive and exceptionally helpful as always. He and the tour company Exeter worked with us to customize the tour to our desired pace and amount of sight seeing.
Recommended
Copenhagen & The Fjords of Norway
By: OP Residents
Reviewed on: 26 Aug 2019
This is our second time working with Michael. The trip planning was very smooth and very easy.
Recommended
Michael King
By: Traveler
Reviewed on: 23 Sep 2019
Michael helped us plan a perfect trip to England. His recommendations for hotels, tours, and things to do was absolutely perfect!!
Recommended
Trip to Sedona AZ
By: Lisa K
Reviewed on: 07 Nov 2019
MIchael is always easy and effective to work with. He's very responsive and gets it right every time!
Recommended
The Can't-Top-This-Trip Trip
By: Dr. Marc
Reviewed on: 07 Nov 2019
Michael worked with my wife and me to set up a comprehensive private tour of China. We wound up with eight locations connected by four in-country flights and three bullet trains (not counting the last Maglev!) My wife and I traveled together (alone), meeting guides arranged by Michael and Gerald Hatherly of Abercrombie and Kent Hong Kong. Our itinerary was ambitious (given my age of 74) and challenging - just what we wanted! The guides were outstanding, the hotels likewise. The choice of restaurants created culinary heaven over three weeks. Our activities, which ranged from city sightseeing to walking the Great Wall to a camel in the Ge be desert (Gobi is anglicized), to climbing Mount Huangshan (our iPhones logged 68 stories in one hour), to walking in rice paddies (near water buffalo), to surveying Shanghai from the second tallest building in the world, to, most importantly, meeting wonderful people at every stop. We'll never reach this level of travel again!
Recommended
Panama Canal
By: Sue
Reviewed on: 07 Nov 2019
Michael is always easy and rewarding with whom to plan vacations. The trip was excellent, the Mariner, a very fine ship, the airline good. Our only issue with the whole trip was that we got bronchitis. And Michael has nothing to do with that. We are thrilled with the education we got on board regarding the transit through the canal. Not only did we have lectures, we had an official onboard walking us through every step. We were in very good care throughout the trip.
Recommended
Maui Montage Kapalua Bay
By: hawaii lower
Reviewed on: 24 Nov 2019
Michael was great in setting up a great resort that was perfect. It was nice and relaxing and the remote location really helped - the peace and quiet was very much appreciated. Michael has great contacts and knows a lot about Hawaii and Maui - I could have never done this myself.
Recommended
Lanai
By: Lanai traveler
Reviewed on: 04 Jan 2020
Michael is always great to work with, helps trouble shoot problems that come up along the way. Would not use anyone else.
Recommended
Helped us when we needed it most
By: Elyse
Reviewed on: 15 Jan 2020
Michael planned another wonderful trip for us -- this time to Morocco. But when we had a medical emergency and needed to cut the trip short, Michael was a lifesaver. I cannot say enough good things about him.
Recommended
Professional Travel Advisor
By: Frank
Reviewed on: 25 Mar 2020
Always good to work with Michael. Reservations all well done. Somewhat close connection in MSP made closer by security overload, slow lines.
Working with Michael King, you will have access to:
- An experienced travel guide whom you can rely on before, during, and after the trip
- Exclusive luxury resorts and properties
- Once in a lifetime experiences
Explore with the Best
Virtuoso Advisors are constantly pushing the boundaries in unique travel experiences.
Alliance programs are unique tailored experiences exclusive to travelers working with Virtuoso Travel Advisors.
learn more
Australia
New Zealand
United Kingdom
Antarctica
Botswana
China
France
Italy
Kenya
Namibia
Rwanda
South Africa
Tanzania
Zambia
Zimbabwe