Michelle Cowell
Pacific Palisades, CA United States
Travel Specialties
Interests
Adventure
Beach & Sun
Family Travel
Sports & Outdoors
Independent Tours
Destinations
Peru
South Africa
New Zealand
Turks And Caicos Islands
Costa Rica
Selling Travel Since
2015
My Background
After growing up in San Diego near the border of Mexico, I gained an appreciation and awareness of different cultures at an early age and yearned to see more of the world. Road trips in California, shopping in markets in Morocco, and adventures through Southeast Asia confirmed that travel truly enhances your life. My family—including the dog—moved to New Zealand for two years and have traveled around the world together. I am a lifelong student and have studied and taught yoga since I was 16.
My attention to detail, resourcefulness, and desire to help others translates into planning custom trips for travelers. I listen carefully to my clients' needs and wants so that I can create a trip that they will enjoy and reminisce about for years to come. I believe that the more one sees and experiences, the more one's life is enriched. Travel opens the eyes, hearts, and minds of people, and I hope to create amazing trips for my clients. Why do you travel? Let me help you answer that question.
Places I Have Traveled
Reviews and Recommendations for Michelle Cowell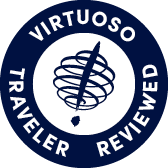 Virtuoso Verified Traveler
All reviews are from confirmed guests sharing exclusive insights
Sort reviews by
Recommended
Hard working, friendly, knowledgable and diligent
By: RABASB
Reviewed on: 13 Apr 2016
Michelle is hard working, knowledgeable, diligent, always available and very personable. We had the distinct impression that she cared as much about our trip as we did. She spent untold hours researching options and activities, talking to local providers and organizing schedules. Our trip was quite complex with six people, intercontinental flights, two countries, three locations, two arrival dates and three separate departure dates. Michelle organized everything quite well and presented everything to us in a professional manner. One of the key flights was cancelled at the last minute causing a missed connection for one of our travelers. Michelle and her team quickly altered the arrangements and minimized the interruption to the trip. We had a truly wonderful trip and can't wait to book another big one through Michelle.
Recommended
Outstanding travel planning
By: Anne
Reviewed on: 05 Sep 2016
I highly recommend Michelle to do your travel planning. Michelle planned a fun, adventurous travel package for us in Costa Rica. The trip was flawless. She recommended wonderful hotels which were exactly what we wanted, from level to activities to food, and had many activities from which we were able to choose. Her network of resources was also a great asset, as anything she did not have an answer to, she was quickly able to find within her network. I will most definitely be using Michelle for my next trip!
Recommended
Really a good advisor!
By: asd
Reviewed on: 04 Dec 2016
We met Michelle through our daughter. She is working on a trip for Christmas for our entire family. I just happened to mention that if she could find us a room at the Casa de Sierra Nevada in San Miguel de Allende, Mexico, we would go for Thanksgiving. Only minutes passed when we received a call from Michelle with a room for Thanksgiving. She was very thorough and gave good advice. She is now our travel advisor! asd
Recommended
Comprehensive Service and Advice
By: JSIMS
Reviewed on: 09 Jan 2017
This was our second trip that Michelle planned for us : 18 days in Patagonia! Every detail of the trip was well thought through from timing of transfers to precise clothing requirements. There was even a cake presented to our son on his birthday. When the airlines fouled up the outbound connection, I was required to do very little to adjust the trip (we arrived 3 days late). It was all handled behind the scenes by Michelle.
Recommended
Grand Cayman
By: CHRISTIAN
Reviewed on: 27 Mar 2017
Michelle is always "on top" of things and works hard to make sure we have a fun vacation.
Recommended
Baja California and the Sea of Cortez: Among the Great Whales
By: Barbara
Reviewed on: 28 Apr 2017
Michelle was amazing to work with. She was a great resource of information about the Lindblad company, answered all of my questions, thought of things that never occurred to me to ask, related to me her experience of traveling in the same area, set up an online app that made the travel almost effortless - the list of what she did as my travel agent could go on and on. Michelle made a fantastic and life changing trip/experience that much more enjoyable. I look forward to having Michelle book my next Lindblad adventure.
Recommended
Michelle is a gem!
By: Charman
Reviewed on: 20 Apr 2017
Michelle is efficient, knowledgeable and listens to your needs. She went above and beyond to make sure we were making the right choice for our family with regards to location. We went to a pretty small and remote resort in Costa Rica and we have an only child. I was worried she'd be the only kid there! Michelle called the hotel to make sure there would be other children staying at the same time before we made a final decision. Turns out there were nine kids under the age of ten scheduled to be there. We loved the resort and our 9 year old daughter had a blast and met new friends. I've already recommended Cowell Travel to many people and will definitely utilize Michelle for all my travel needs.
Recommended
costa rica
By: kim
Reviewed on: 02 May 2017
Michelle was great offering a variety of lodging options and really listened to what our family needs were. She was responsive and quick to put together our trip.
Recommended
NYC Trip
By: buzz
Reviewed on: 08 Jun 2017
She always anticipates every need
Recommended
Best Trip Ever!
By: Kathy
Reviewed on: 25 Jun 2017
My husband and I are not ones who regularly utilizes a travel agent. I decided that I would with this trip with my daughter since I was planning it on my own. I will never travel again with Michelle's help. It was so seamless. It was so hassle free and perfect. Her suggestions for both hotels/cities and add on's were spot on and made this mother/daughter adventure absolutely perfect!!
Recommended
It's Not What You Know . . .
By: Reluctant Sojourner
Reviewed on: 23 Jul 2017
It's who you know. Pardon the cliche, but in my situation it couldn't be more on the money. In all seriousness, I entered the process of planning my trip to Thailand with all encompassing ignorance and crippling trepidation. (I'm a serious homebody) I was overwhelmed by the logistics of such a trip, to the point that I seriously considered scrapping it outright. Enter Michelle, who was recommended to me by a mutual friend. In the course of one phone call she moved me from anxious to excited. Michelle is everything you want in an advisor of any kind: patient, funny, responsive, knowledgable and sympathetic. Within days of that first call she formulated an itinerary for a 3 week trip that drew rave reviews from my son and old friend, both of whom live in Thailand. Justifiably so, it truly was the trip of a lifetime. I will wholeheartedly recommend Michelle to anyone I know who is planning a trip that has any "moving parts".
Recommended
Above and Beyond
By: Ginny
Reviewed on: 01 Oct 2017
Working with Michelle is amazing! She takes care of details you didn't even realize needed taking care of . She made arrangements for a number of our family in hotels all over town and was in touch with each hotel and on top of everyones comings and goings over our daughters wedding weekend. She made a personal visit to the bride and groom's hotel to make sure they had everything they needed. She arranged for theater tickets as well. Everyone is so impressed with her service, they are planning on booking with her again!
Recommended
Bowery Hotel
By: Shea
Reviewed on: 01 Oct 2017
Michelle went above and beyond; she made sure we had the best suite in the Bowery Hotel and notified them of our super early arrival. We were able to get right into bed after a red eye flight which made our trip so much more fruitful. She let the staff know of our wedding which we were in town for and they sent up a wonderful welcome gift, and Michelle herself delivered our favorite snacks on occasion of the event. ABOVE AND BEYOND! Everything was seamless and easy and I cannot thank Michelle enough for her communication and thoroughness.
Recommended
New York visit
By: Sonja
Reviewed on: 02 Oct 2017
She was like a best friend taking care of me! We were booked at an incredible hotel that we loved. She arranged a special welcome for us upon arriving. She has a special flair for detail and wanted to be sure we were comfortable.
Recommended
Paradise
By: Ginny
Reviewed on: 08 Nov 2017
Michelle is amazing. She listens to exactly what you want and goes out of her way to find accommodations that fit the bill. She does copious research to make sure you have all the options and makes arrangements down to the last detail. As soon as you land, you know exactly what to expect and any special requests are taken care of ahead of time.
Recommended
Beautiful Stay in Meadowood arranged by Michelle
By: Ivana
Reviewed on: 13 Nov 2017
It was so nice to work with Michelle! While I was traveling, with limited time to organise my stay in California, she was on the top of everything, arranging one of the best trips in Napa with all personal touches during our stay. She recommended us best wineries and suggested us what to do and see. Would happily recommend Michelle to anybody who would travel to Napa and Sonoma and what to experience best of the best! Thank you !
Recommended
California trip
By: Christian
Reviewed on: 10 Dec 2017
Great, she is always so responsive and caring about our trips. Michelle always takes the time to find out what we are looking for and does her best to match that up with hotels, flights, and tours or things to do.
Recommended
New York Trip
By: Reade
Reviewed on: 16 Dec 2017
Michelle helped us tremendously in our first trip to New York. Everything was planned out and reservations for food were spot on. She always was there to help with any questions and had great suggestions. Would absolutely use her again.
Recommended
Michelle was lovely
By: Cali Traveler
Reviewed on: 06 Jan 2018
Michelle was lovely. So helpful and upbeat, and very attentive to our needs at each place we stayed on our trip. We had to make some last minute changes due to the wildfires in Southern California and she was indispensable and unflappable in her approach to re-arranging our trip. I would absolutely work with her again - she is delightful.
Recommended
Great person to work with!
By: Sbm
Reviewed on: 10 Feb 2018
Super easy and efficient! She was very professional and very responsive to all of my requests and questions!
Recommended
Great suggestions!
By: Charman
Reviewed on: 15 Apr 2018
Michelle is knowledgeable and if she doesn't know something, she finds out. She made great suggestions for our family and made sure our trip to multiple destinations went well.
Recommended
Uncruise trip to Alaska
By: Jo
Reviewed on: 15 May 2018
Michelle is so nice and full of great information! We have used her for several trips it's always been good and exactly what she explained beforehand.
Recommended
excellent experience
By: JT
Reviewed on: 14 May 2018
Michelle is fantastic! She made sure everything was taken care of, was great to work with, and ensured that we had a wonderful time! She was very patient with me, as I can be hard to get a hold of with my schedule, and she was exhibited flexibility working with me. She really looks out for her clients. I highly recommend her and will be using her services again in the future!
Recommended
Ladies in Barcelona
By: Tigger
Reviewed on: 20 Jun 2018
It was wonderful working with Michelle. There were 7 women traveling and it was like herding cats. Michelle handled the changes, concerns and a flood of emails beautifully
Recommended
Michelle
By: Sonja
Reviewed on: 18 Jun 2018
Michelle was great to work with. She was very organized and helped make sure everyone was well taken care of. I will recommend her to friends.
Recommended
Another stellar family vacation
By: John and Suzanne
Reviewed on: 21 Jun 2018
This is our third trip coordinated through Michelle (Hawaii, Patagonia were first two). We have already scheduled Santa Fe, New Zealand, and Italy. Need we say more?
Recommended
Use Michelle!
By: Canada
Reviewed on: 06 Aug 2018
Michelle is fantastic to work with. Michelle is professional, prompt, and well organized. Based on these qualities alone I would recommend Michelle; however, what really makes her special is her enthusiasm to create a truly customized, memorable vacation for her clients. Our Canadian honeymoon was unbelievable and we plan on using Michelle as our travel advisor again!
Recommended
Highly recommend!
By: Apdx
Reviewed on: 14 Jul 2018
Michelle is awesome – I found her kind of by accident – ( via Google search). I was planning kind of a last minute trip – she was super helpful, very easy to work with and paid great attention to detail. She followed up with me a few times – checking in to see if we needed anything else for our trip etc. I found her by a "happy accident" but will definitely use her in the future and I highly recommend that you do as well !
Recommended
Scotland and Switzerland
By: Jojo
Reviewed on: 19 Oct 2018
Michelle is very professional and nice and very easy to work with. Everything was smooth and seamless. I recommend her to my friends and everyone that has used her as as a travel consultant has been happy.
Recommended
Nyc
By: Linda
Reviewed on: 28 Oct 2018
Easy and efficient
Recommended
Easy
By: Simmons
Reviewed on: 29 Oct 2018
5th trip Michelle has planned. Another flawless execution. So easy.
Recommended
Uncruise
By: Jojo
Reviewed on: 23 Nov 2018
Fabulous she's easy to work with and very organized. We would work with her again.
Recommended
Cowell Travel review
By: JFC
Reviewed on: 20 Nov 2018
Really good. Michelle was always extremely prompt to reply and was seemingly unlimited in her resourcefulness. She listened carefully and always made sure that the trip embraced all of our concerns and desires. Her ability to anticipate our needs and always stay within budget made things even easier. We'd absolutely work with her again, in fact we can't wait to plan our next trip of a lifetime with her!
Recommended
Fabulous to work with
By: Olivia
Reviewed on: 07 Dec 2018
Michelle is fabulous and sincere. She is easy to work with and very organized. She tried her very best to find the tours that will fit into our "picky" requirement which I wholeheartedly thank her for being so very patiently with us 😊 She also put our itinerary into an app which we downloaded to our phone. Frankly, this is the best thing that ever happen. We don't have to bring piles of hotel confirmations with us anymore. Highly recommended!
Recommended
trip to Santa Monica
By: Phyllis
Reviewed on: 12 Dec 2018
She does the most thorough job. She researches the different hotels and presents this choices - which I like. When I got to my hotel - I had a room upgrade and all of my special requests (which are many) fulfilled. And a nice note and a bottle of wine awaited as well. She made all of our restaurant reservations - all wonderful. I could not have been more pleased
Recommended
Michelle gets it right!
By: Charman
Reviewed on: 21 Jul 2019
Michelle's own experience traveling all over the world is helpful. By having done so, she understands her clients wants and needs. I love talking with her about different locales and getting her opinion on places I've never been. Even if she'd never travelled to a location, she finds a person in her large network who she trusts to call for more information for the client. I love that.
Recommended
Paris in 72 hours
By: Simmons
Reviewed on: 02 Aug 2019
We only had 3 days in Paris. Michelle put us in the perfect boutique hotel in a charming (and quiet) part of the city.
Recommended
Madeira Honeymoon
By: Alex
Reviewed on: 08 Aug 2019
I've worked with Michelle several times and she is always incredibly responsive and helpful. We had a beautiful honeymoon in Madeira - the hotel was so perfect and we loved the island. Michelle always makes sure we have everything loaded in the app so our trip is as seamless as possible. I would recommend her and the Belmond Reid's Palace to anyone!
Recommended
Honeymoon to The Netherlands, South Africa & Mozambique
By: Hillary
Reviewed on: 10 Jan 2019
Michelle lead my husband and I on the honeymoon of our dreams. My husband has never been out of the country so he was leaving his comfort zone and she made sure we felt safe and taken care of everywhere we went. We greeted at every airport and hotel we stayed at. Warm and friendly welcomes, one hotel had balloons, champagne and a photo Michelle must have sent of our wedding. We felt like royalty the entire time. We knew traveling to three places would be a bit difficult to maneuver through and it was so incredibly easy because Michelle and her team made it so. We had candlelight dinners by the ocean, in the Kruger National Park bush, under the city lights of Amsterdam's canals.. we truly did it all. The planning part was such a breeze and Michelle completely took care of it. I would recommend Michelle over and over again to strangers, friends, family and we are already talking about our next trip that she can plan for us! It was so incredible. The trip of a lifetime. Thank you Michelle
Recommended
Golf Trip to Palm Springs
By: Olivia
Reviewed on: 31 Dec 2018
Friendly and efficient. Second trip in two months.
Recommended
Full service travel advisor!
By: Alex
Reviewed on: 11 Jan 2019
Michelle was wonderful to work with! She helped me plan a trip to Thailand and was extremely responsive, detail-oriented, and in tune with what we wanted. The transportation and guide services were seamless and took the pressure off me in terms of managing logistics. I'd recommend anyone work with her!
Recommended
Amazing Trip to Palm Beach
By: Alice
Reviewed on: 26 Jan 2019
Michelle is the best! She plans all our family trips. Highly recommend her.
Recommended
New Zealand Family Adventure
By: John and Suzanne
Reviewed on: 09 Feb 2019
Outstanding, as usual. Michelle understands our family's like's/dislikes before the planning process begins. We are able to quickly zero in on the agenda.
Recommended
Relaxation in Beverly Hills
By: Simmons
Reviewed on: 07 Apr 2019
Awesome, as usual. She knows our family presences and puts us in the perfect places.
Recommended
San Antonio
By: Buzz
Reviewed on: 10 Apr 2019
Michelle always tends to the finest details. We always like working with her. Our trip was perfect! Thank you
Recommended
Perfection!
By: C
Reviewed on: 15 May 2019
Michelle is organized, listens and has great resources. Our family will use her again and again!
Recommended
The Dewberry Hotel
By: cls
Reviewed on: 22 May 2019
It was a great experience. Knowledgable and efficient. All went unbelievably well and with such ease. The stay was excellent and added greater enjoyment to my trip.
Recommended
Honeymoon in Playacar
By: RME
Reviewed on: 30 Jun 2019
It was a pleasure letting Michelle take care of the research and planning for our honeymoon in Cancun/Playacar. While we were busy with the details of our wedding, Michelle found the perfect beach resort for us, and, at a great price. Michelle has the experience, knowledge and personal contacts to help you put together a vacation that is just right for you. She asks all the right questions and works hard to personalize the experience. We stayed at the Royal Hideaway Playacar - an adult-only, all-inclusive resort that was beautiful, high quality, personalized and romantic. We hope to go back every year! Thank you Michelle, outstanding work!
Recommended
Jojos review
By: Jojo
Reviewed on: 24 Jun 2019
Michelle is so nice and easy to work with at the same time very professional. She made the trip easy and fun. She got us guides in Kyoto and in Tokyo that was perfect and very smooth. The whole trip went exactly as planned!
Working with Michelle Cowell, you will have access to:
- An experienced travel guide whom you can rely on before, during, and after the trip
- Exclusive luxury resorts and properties
- Once in a lifetime experiences
Explore with the Best
Virtuoso Advisors are constantly pushing the boundaries in unique travel experiences.
Alliance programs are unique tailored experiences exclusive to travelers working with Virtuoso Travel Advisors.
learn more
Peru
South Africa
New Zealand
Turks And Caicos Islands
Costa Rica
Denmark
France
French Polynesia
India
Italy
Japan
Nepal
United States - All
Australia
Mexico