Kristen Meckem
DS
Lake Oswego, OR United States
Travel Specialties
Interests
Family Travel
Honeymoons
Food & Wine
Safari
Beach & Sun
Destinations
Australia
Canada
France
Brazil
Mexico
Selling Travel Since
2015
My Background
After driving through South America and Europe in a VW camper as a child, travel was in my blood. Since then, I have taken cooking classes in Rome, yachted the Panama Canal, and consulted the Oracle at Delphi. It was only natural for me to turn my passion into my profession.
I graduated from Northwestern University with a concentration in the Medill School of Journalism. I spent the next 20 years raising my children, working in PR, and running a boutique design business. In 2006, my husband and I pulled our children out of school, took off for a year, and drove through 22 countries in Europe. Sharing my love of the world with my children is one of my favorite travel experiences, and I love to help other families create special memories through travel.
I work side-by-side with my clients, creating custom itineraries and VIP-ing them prior to their arrival. Let me help you see the world in a new way. Life is meant to be lived well.
Places I Have Traveled
Reviews and Recommendations for Kristen Meckem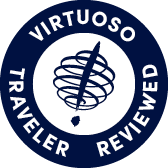 Virtuoso Verified Traveler
All reviews are from confirmed guests sharing exclusive insights
Sort reviews by
Recommended
5 Star Service and Experience!
By: Odette A.
Reviewed on: 10 May 2016
We cannot thank you enough for planning our family trip to Maui! All of our expectations were blown away, from the upgrades at the hotel, to the special notes and baskets you provided! We all felt it was the best vacation we have ever had! Your follow-up and attention to detail were unmatched! Truly an exceptional experience with an exception Travel Advisor.
Recommended
Best Vacation Ever!!!
By: Marie G
Reviewed on: 13 Apr 2016
Very thankful that we put our family vacation in Kristen's hands. Every question or concern was answered quickly with specific detail. No Stress at all!! Just an amazing resort could have not asked for a better Spring Break with our teenage daughters.
Recommended
So well cared for on our "Trip of a Lifetime"!
By: MDM24
Reviewed on: 19 May 2016
Our fabulous "Trip of a Lifetime" started with Kristen's well thought out planning of our 3 days in Paris. We did the right things for our time there. Loved our darling hotel and restaurants. Next our stay in charming Brugges was fabulous starting with the effusive welcome given by staff at the Chateaux & Relais hotel. They suggested the perfect restaurant and helped with our visit there. Onto Amsterdam and another wonderful hotel booked by Kristen. Canal view, boutique hotel, we were in heaven! Then into our amazing 10 day river barge cruise down the Rhine on a Viking boat. Wow. Having Kristen taking care of all of that planning was a boon. Everything about the cruise was 5 star. We were so well taken care of we felt spoiled! This was a "trip of a lifetime", but hopefully the first of many more. Huge thanks to Kristen for making this happen so seamlessly. Her professionalism, knowledge and follow through are 5 star +.
Recommended
Expert Trip Planning
By: DMW64
Reviewed on: 26 Aug 2016
Kristen did a fantastic job of vetting our resort property in Roatan, Honduras and was quite helpful in helping us to identify the activities we wanted to pursue. I was very impressed with her attention to all of our need and would highly recommend using her services.
Recommended
China Business Trip
By: GeoffS
Reviewed on: 07 Oct 2016
Kristen, Fabulous job as always! Hotels, transportation, and interpreter were fantastic!!!! Thanks so much for putting this trip together for me.
Recommended
Excellent all around!
By: ktv
Reviewed on: 06 Jan 2017
Kristen was fantastic from start to finish. Never having used a travel advisor before, we were not sure what to expect. We had definite ideas about what we did and didn't want to do. She listened carefully and asked us even more questions. She was very conscientious about our kids and wanted to know exactly what they did/didn't like. She was thorough and efficient! She even sent Christmas gifts to our hotel in Sydney on Christmas Eve! It was very thoughtful. I highly recommend her!
Recommended
Kristen is terrific!
By: maura
Reviewed on: 24 Jan 2017
Kristen is always looking for ways to make your trip special and personal. She responds quickly to requests both during the travel booking stage and if we've needed any help while we were travelling. She is excellent to work with!
Recommended
Amazing wine trip
By: Jennyhcox
Reviewed on: 11 Feb 2017
We had an amazing wine trip the the Allison Inn and Spa. 7 girls and loads of fun. We would use Kristen Meckem again in a heartbeat. Thank you for the red carpet amazing time!
Recommended
Shopping/Wine tastings get away
By: Jim
Reviewed on: 19 Mar 2017
Phenomenal!! Kristen knows the Oregon Pinot Wine Country well and organized a wonderful get away. She goes above and beyond to make sure her clients vacations are suited for them.
Recommended
She is the best!
By: kv
Reviewed on: 16 Feb 2020
She is a joy to work with. Very thorough and thoughtful about every detail.
Recommended
Effortless, perfect travel with Kristen
By: MM
Reviewed on: 23 Apr 2017
Working with Kristen Meckem is easy, breezy and perfect! Kristen intuitively knows what we want. I think that this comes from her innate sense of style, her intelligence, her own travel experience (vast), her professionalism, her follow through, her contacts, and her joi de vie! So wonderful to have her plan a trip. Her enthusiasm is contagious as she sets the wheels in motion for yet another adventure in ny life. Can't wait for my next Kristen trip! So happy to have her as my "Travel Team Leader"! Thanks Kristen!
Recommended
Amazing!!
By: Jennyhcox
Reviewed on: 10 Jul 2017
Kristen planned the trip of a lifetime for us! Everything was incredible!
Recommended
Russia!
By: Betsy
Reviewed on: 07 Aug 2017
Amazing! She is a delight and pays attention to every detail. She is incredibly prompt responding to all emails which is fun because part of the fun is the excitement leading up to a trip. She is knowledgeable and thorough and will exhaust all options to make your trip unforgettable. I feel like I have the most detailed caring travel agent ever!
Recommended
Incredible last minute trip!!
By: Jenny
Reviewed on: 19 Sep 2017
Kristen is absolutely amazing. My husband and I feel so lucky to have found her. We planned a very last minute trip to punta de mita and Kristen arranged everything! We had the most fantastic time!
Recommended
Santa Monica Viceroy
By: susan hall
Reviewed on: 08 Oct 2017
Excellent! Very helpful
Recommended
The best!
By: No I C
Reviewed on: 04 Nov 2017
Fabulous! The best!
Recommended
The Best
By: Jeka
Reviewed on: 08 Nov 2017
Perfection. Responds immediately to your calls, texts, and emails. Answers and explains all your questions with utmost patience. Extremely professional, knowledgeable, and well traveled. If you consult Kristen, you will never travel again without using her services.
Recommended
Kristen
By: Mary jo
Reviewed on: 17 Nov 2017
Amazing and organized She made the trip wonderful and soecial
Recommended
A+
By: MDM
Reviewed on: 27 Nov 2017
What a perfect trip Kristen planned for us! From transportation to tours to hotels. It all went smoothly and was fabulous. Her attention to detail and follow through certainly showed. I feel like I pushed not just the EASY button, but the HAPPY button as well!
Recommended
Maui Thanksgiving Vacation
By: Molly Brundage
Reviewed on: 11 Dec 2017
Excellent from the first phone call we made. Easy, smooth, professional, honest and overly accommodating!
Recommended
Galapagos cruise
By: T
Reviewed on: 18 Mar 2018
Kristen was great - responsive to questions, proactive with ideas. Crystal clear communications. Great follow-up.
Recommended
best agent ever!
By: Betsy
Reviewed on: 09 Mar 2018
Kristen is the best travel planner ever! She pays attention to the smallest detail. When we arrived at the lodge, there were balloons, gifts, and a cake for my daughter's birthday. She is helpful in every way possible!
Recommended
Loved working with Kirsten!
By: Nicole
Reviewed on: 11 Apr 2018
Wonderful. The best! So organized and accommodating.
Recommended
Fabulous Service
By: Jill K.
Reviewed on: 02 Jun 2018
Kristen provided top notch service and accommodations. She went the extra mile to have extras for us at every step of the way. Working with Kristen is easy and she handles all the details making it easy for us.
Recommended
Lovely grand hotel we would have never found on our own!
By: juliecrispin@yahoo.com
Reviewed on: 11 Jul 2018
Kristen has exquisite taste and a wonderful understanding of how to pair hotels, restaurants, and experiences with her clients, based on extensive advance conversations, and an innate feel about what will best suit their needs. Thank you for the lovely, off-the-beaten path suggestion that became a highlight of our European vacation, Kristen!
Recommended
Travel
By: D.H.
Reviewed on: 08 Jul 2018
Awesome experience!! Kristen Meckem is a fabulous person to work with. Very organized and professional. Easy to communicate with and very responsive. Would highly recommend her and plan to use her for future travel.
Recommended
best trip ever
By: Betsy
Reviewed on: 30 Jul 2018
Working with Kristen is so fun! and easy! She is patient and receptive to questions, emails, feedback. She plans a seamless trip tailored for what you need. Somehow she manages to plan a trip my daughters, my husband, and myself all find perfect!
Recommended
Love Kristen Meckem!
By: Maura
Reviewed on: 12 Aug 2018
Kristen puts a personal touch on everything she organizes and books. She has high standards and makes sure our stay is easy and memorable with great amenities. We look forward to planning future trips with her. Thanks Kristen!
Recommended
Another slam dunk trip!
By: MDM
Reviewed on: 13 Nov 2018
Easy and fun. Always well cared for. Kristen is like having a mom or a personal assistant!
Recommended
Cabo trip
By: Catie
Reviewed on: 15 Jan 2019
Kristen was a pleasure to work with. Very knowledgeable and professional.
Recommended
Advisor Review
By: Kris
Reviewed on: 14 Jan 2019
Very easy to work with, responsive and courteous.
Recommended
Over the top
By: Jill King
Reviewed on: 07 Mar 2019
Kristen provides over the top exceptional service in a timely way. She offers options and looks for the best scenario without me asking for it. Seamless and perfect !
Recommended
Amazing birthday trip
By: Jenny Cox
Reviewed on: 16 Mar 2019
My husband and I had a fabulous trip to Santa Barbara. Kristen plans every detail for us.
Recommended
Grand Cayman
By: Jill
Reviewed on: 07 Apr 2019
Kristen was fabulous to work with. The resort was amazing and our room had a beautiful view of the Carribean. Thank you Kristen for planning a wonderful vacation.
Recommended
Always easy!
By: MDM
Reviewed on: 13 Apr 2019
It is always so easy to work with Kristen! She makes travel life simple with her thoughtful help. She is always one step ahead so nothing goes awry. Her cheeriness is just a bonus! Thanks to Kristen I travel with a light heart.
Recommended
Enchantment of the Danube
By: Ken
Reviewed on: 26 May 2019
Very satisfactory. Seamless. Spot on.
Recommended
Great service
By: Nickname
Reviewed on: 01 Jun 2019
Very responsive, great options given for our trip ideas, great follow up/through.
Recommended
Vacation
By: Doc
Reviewed on: 30 Jun 2019
She was very helpful and quick to respond. She was patient with us as we tried to figure out where to go. I felt she put a lot of thought into our trip.
Recommended
Fabulous trip to Indonesia!
By: Maura
Reviewed on: 01 Aug 2019
Kristen was organized, had great ideas, easy to work with, and created not just a trip but an EXPERIENCE. We spent most of our trip in Bali and a few days scuba diving at Wakatobi. Our accommodations were amazing and she did a great job finding places that could meet our dietary needs with delicious healthy food. (We are vegetarian.) We highly recommend Kristen, have already referred her to friends, and look forward to working with her on future trips. Thanks Kristen!!!
Recommended
Incredibly adaptable
By: MS
Reviewed on: 16 Aug 2019
I loved working with Kristen. She was so generous with her time, always quick with a laugh and had incredible follow through. I imagine she is someone that everyone would want to have as a friend. I would recommend working with her to anyone who asked.
Recommended
Honeymoon Trip
By: Lauren
Reviewed on: 07 Oct 2019
Kristen helped us book our hotels for our honeymoon in Hawaii and she was so great to work with! We loved getting the Virtuoso benefits at the hotels, the included breakfast buffet was probably our favorite! Kristen was also prompt in her email responses, gave us a great overview of what to expect and helped us find a package that fit our budget. We will definitely be working with Kristen again!
Recommended
Awesome!!
By: Jeff
Reviewed on: 14 Oct 2019
I can be a VERY tough client with all my need but Kristen handles them with ease. Her knowledge is extraordinary and her contacts make my Four Seasons stays great. My stay was perfect thanks to her. I could not recommend her more highly and I am totally happy with her service. Mahalo Jeff
Recommended
She thought of everything!!
By: Lisa Duggan
Reviewed on: 09 Oct 2019
Kristen was amazing to work with. My husband and I were planning a 50th birthday/25th wedding anniversary trip to Europe but didn't know where to start. Kristen asked all of the right questions to help us determine which destinations were right for us. Every stop was wonderful and felt exactly right. After the craziness of London she had us make a pit stop in Tuscany to recharge and enjoy the countryside and then we returned to Florence for an amazing end to our journey. She even had the hotel staff leave rose petals in our room to celebrate our anniversary. The details were taken care of to a "t". I will always use Kristen when planning any vacations for my family. She is the best!
Recommended
Italy Honeymoon
By: Penny
Reviewed on: 23 Oct 2019
From a friend's referral, I called Kristen about the planning of my son's honeymoon in Italy. Within 5 minutes, I knew Kristen was a well informed professional re travel. Based on her astute questions about my son and his fiancé, she helped me narrow the 9 day honeymoon to two cities. Amazingly, Kristen navigated discussion among my son, his fiancé and me (mother). My input was necessary as the honeymoon was a gift thus prices were considered. The happy couple had a magnificent trip to Positano and Florence which included airfare, hotels, transfers, and activities. That is a lot to plan and coordinate. Kristen nailed it! I would recommend her with total confidence and will be using her for all travel in the future.
Recommended
LOVED THE PRAGUE 4 SEASONS!
By: Maura
Reviewed on: 04 Dec 2019
Kristen is so responsive and attentive to her clients. I was traveling with my 81 year old mother and wanted to make sure our hotel was well located with lots of amenities to ensure a restful, beautiful and adventurous stay. Kristen made sure we were well taken care of at the property and checked-in with us to make sure everything went well. I highly recommend Kristen!
Recommended
My India dream became a reality!
By: MDM
Reviewed on: 27 Nov 2019
Kristen is so easy to work with. Always cheery, upbeat and helpful. She made my bucket list trip of India a fabulous reality!
Recommended
Great trip planning
By: Eric
Reviewed on: 08 Dec 2019
Kristen was fantastic to work with helping plan our trip to Japan. Highly recommend working with her!
Recommended
London Trip
By: NC Traveler
Reviewed on: 10 Jan 2020
Kristen was wonderful to work with in planning our trip to London. She was so knowledgeable about the area and sightseeing opportunities. Any and all questions were answered, no matter how small. We had an incredible, top notch experience, thanks to Kristen. We would recommend her to anyone!
Recommended
Ski trip of a lifetime!
By: Suzanne
Reviewed on: 12 Jan 2020
Kristen is wonderful to work with! She is professional, knowledgable and is receptive to our wants and needs.
Recommended
SOS on short notice
By: Kathy
Reviewed on: 14 Jan 2020
I was left high and dry with a reservation with an Airbnb owner 6 days before by trip with my daughter to Cabo San Lucas. I reached out to Michelle who works closely with Kristen for help. She and her team jumped in the day after New Years to secure a spot for us. Not only that but upgraded us to VIP status. The resort could not have been more beautiful nor the staff more friendly. We certainly ended up with a better experience than what I had originally booked on my own!
Recommended
Kristen
By: Kris
Reviewed on: 04 Feb 2020
Kristen is great! She is helpful and prompt with her replies and information.
Recommended
Fabulous!
By: Cameron
Reviewed on: 21 Feb 2020
Working with Kristen could not have been easier. She made it so easy to get away with friends. The house, staff, food and view was amazing as well as the VIP treatment with Club Mobay. Club Mobay is a MUST when traveling to Jamaica. Transfers to and from the resort were easy breezy. Will definitely be returning to Tryall Club and using Kristen to facilitate.
Recommended
Shutters Stay
By: amesalicia@yahoo.com
Reviewed on: 29 Feb 2020
Fantastic. They sorted me out quickly and the hotel stay was great!
Working with Kristen Meckem, you will have access to:
- An experienced travel guide whom you can rely on before, during, and after the trip
- Exclusive luxury resorts and properties
- Once in a lifetime experiences
Explore with the Best
Virtuoso Advisors are constantly pushing the boundaries in unique travel experiences.
Alliance programs are unique tailored experiences exclusive to travelers working with Virtuoso Travel Advisors.
learn more
Australia
Canada
France
Brazil
Mexico
Italy
Netherlands
Switzerland
Austria
United States - All
Belgium
New Zealand
Spain
Belize
Costa Rica