Travel Specialties
Interests
Family Travel
Ocean Cruising
Beach & Sun
River Cruising
Honeymoons
Destinations
Italy
France
Japan
China
Czech Republic
Selling Travel Since
1992
My Background
My Background:
My entire professional career has been in the travel industry, giving me diverse experiences that literally span the globe! I started on the corporate side as a marketing coordinator for one of Russia's largest travel companies, progressed to arranging trade missions for U.S. and Russian Federation officials and entrepreneurs, and organized Ambassadors' receptions. From there, I decided to focus on a completely different challenge - running adventure expedition travel to the remote corners of the Russian Federation and Central Asian countries. My background in handling unique travel logistics prepared me to own and operate Houston's premier luxury, concierge travel advisory company - River Oaks Travel, which provides our clients with the best in class concierge travel advisory and support services.
Travel Experience:
Moscow born, and now Houston based, through my extensive background in the travel industry I have been fortunate to explore many incredible places in the world. My favorite travel destinations are as varied as they are many, though I have a particular fondness for active, adventure, and luxury expedition travel. I love experiencing new destinations firsthand with family and friends, but always view each new journey with our clients in mind. By combining on-the-ground experience with extensive educational training, I am able to create private guided itineraries worldwide that take our clients behind the scenes and to locations others would only dream of. Whether it be England, France, Portugal, Italy, Eastern Europe, African Safaris, Japan, Canada, China, the Caribbean, Mexico, and (of course!) Russia, I happily and excitedly personalize these travel destinations for all my clients.
How I work:
My team and I work exclusively for our clients, not for suppliers - we truly believe that your interests come first. The process begins with a simple interview to learn more about your travel wishes, and after our collaborative process you end up with a unique travel portfolio curated to your travel style. Whether you're looking for help on a single trip or exploring how to turn your dreams into a long term Wanderlist travel plan, I would love to learn more about you.
We charge travel planning fees based on the complexity of the travel design project, both to maintain transparency and cover the extensive time that we dedicate to every itinerary. Planning fees start from $350 per trip, or we offer our yearly membership subscription that gives you unparalleled access to my team's extensive travel planning and concierge services. Regardless of where you decide to travel, our unique process is designed to provide added value, time management, unique ideas, peace of mind, destination knowledge, and personal industry contacts to make your experience one-of-a-kind.
Places I Have Traveled
Reviews and Recommendations for Daria Westerfield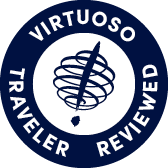 Virtuoso Verified Traveler
All reviews are from confirmed guests sharing exclusive insights
Sort reviews by
Recommended
Amazing vacation
By: ariste24
Reviewed on: 02 Apr 2015
Our family has decided to spend our Spring break in Costa Rica, after Daria from WU travel has arranged a wonderful vacation trip to Tambor, Pacific side, small resort called Florblanca. Her expert guidance was spot on and thorough, an amazing fit for us. A great place to stay at for a week, and we enjoyed the sunshine, lush surrounding of this secluded, yet pristine resort which is full of exotic plants and animals along with crystal clear waters, sandy beach and two pools. They offer a lot of fun private tours that were so easy to arrange a day before, and all were very good. The guides spoke good English, and we did a fun zip-lines, waterfall & lake swimming and ATV tour that was awesome. My daughter 10, really loved learning to surf so we took two surf lessons, and the wave were just perfect for the beginners like us. The property staff was exceptionally friendly, great food, and villas were spacious, clean, wonderfully set up and always filled with fresh flowers.
Recommended
Very helpful
By: Don
Reviewed on: 24 Apr 2015
Daria was very helpful with the planning of our recent trip to Singapore and Beijing, China. We ran into a couple of glitches while on the trip and she answered our questions quickly and the problems were solved. I would recommend West University Travel to any of our friend. Don
Recommended
Very prompt to act on requests
By: T
Reviewed on: 09 Jul 2015
We were very pleased with the way that Dasha handled our trip. She responded to everything that we needed and was able to answer all of my questions. While our trip was rather simple I felt as though she was giving me the attention that she would to someone taking a much more involved and elaborate vacation. I would recommend her to my friends gladly and look forward to working with her in the future.
Recommended
Italy Trip
By: Guttersen Family
Reviewed on: 21 Jul 2015
Villa Aminta was fantastic! St. Regis Florence was also great.
Recommended
Expert advice
By: ariste
Reviewed on: 02 Aug 2015
WU Travel agency has provide us with excellent advice for our trip to Istanbul, Turkey. The hotel stay was the right fit for our family with great location that enabled us to visit the Old City and famous sights. We would highly recommend their services to other families.
Recommended
Wonderful Vacation
By: katcrene
Reviewed on: 04 Aug 2015
We had a wonderful vacation and despite a few hiccups here and there with flight cancellations, traffic, etc., we were able to make a call or send a text and have things modified as needed so we had no worries. We felt we were in very capable hands.
Recommended
Excellent Customer Service!
By: mg23
Reviewed on: 04 Aug 2015
Daria was always around to answer my calls and emails in a timely manner, even on weekends. She provided good advice on the property I was looking to stay at, and went above and beyond to help me secure the best deal possible for our vacation. She followed up regularly to make sure we received all our documents, and was helped to ensure everything was taken care of for our trip. Great overall customer service!
Recommended
European Vacation
By: Shana
Reviewed on: 01 Sep 2015
Daria Westerfield at West University Travel made our trip so much more relaxing by coordinating our travel in Europe by rail and air. We loved the One Fine Stay flats that she helped us select. We highly recommend using her and her company for your travel needs.
Recommended
Amazing Trip!
By: Anthony B
Reviewed on: 22 Sep 2015
Daria "Dasha" took what was an overwhelming trip with all of the potential flights and booking options, simplified it into something that I could digest in minutes, and then booked it for us over the phone. She even surprised us by having our return trip upgraded to business class! A very welcome gesture on a long return trip from Spain.
Recommended
Great Service
By: starver
Reviewed on: 24 Oct 2015
I loved the Miami hotel suggested to me by Daria. It was quiet and hip with excellent service. Exactly what I wanted.
Recommended
Great experience
By: RobertE
Reviewed on: 06 Dec 2015
I was so pleased with the service and attention Daria provided. If I had any questions or concerns, they were answered immediately. Pre-trip reminders were also very helpful. I highly recommend using Daria and her company.
Recommended
Wonderful experience - thank you Daria!
By: Matt60
Reviewed on: 06 Dec 2015
Daria helped plan our family cruise. She was always available and responsive anytime we reached out. I highly recommend Daria and will definitely use her for future trips. We really appreciated the extra effort she went through to make us feel special on our vacation.
Recommended
Excellent trip
By: Janna
Reviewed on: 08 Dec 2015
The trip was perfectly planned, and Virtuoso amenities were wonderful - great compliment from the company. Fully satisfied. Definetely use the service again. Special thanks to our advisor, Ms. Westerfield, for her professionalism and customer-friednly approach.
Recommended
Professional & Experienced
By: JeanG
Reviewed on: 31 Jan 2016
Dasha did an excellent job coordinating our trip. She is thoughtful, professional and experienced. These qualities greatly enhanced our trip. Thank you!
Recommended
She takes stress out of planning
By: Ed
Reviewed on: 31 Jan 2016
She takes stress out of planning and tailors the trip to exactly what you want. She is very professional, reliable and makes traveling that much more enjoyable and seamless. It also really helps that she is so well traveled herself. I would highly recommend Daria for all your travel needs! She really is the best. My entire family was very happy.
Recommended
Great Hotel Selection
By: Starver
Reviewed on: 17 Jan 2016
I loved the boutique hotel in NY that Dasha selected for me. It was small and chic and close enough to the places that I needed to go but far enough away to be on a quit street. Just perfect!
Recommended
No detail was missed
By: BrandB
Reviewed on: 12 Feb 2016
Dasha did a great job planning our cruise. Her advice in planning is invaluable, and she is great fun to work with!
Recommended
Great service
By: B&G
Reviewed on: 21 Feb 2016
Exceptional. Everything was very well organized. Daria Westerfield provided superb service. Very pleased
Recommended
Great Hotel Suggestion!
By: starver
Reviewed on: 23 Feb 2016
We loved our hotel suggestion and great deal will received with West U Travel!
Recommended
Great travel agent
By: gabe
Reviewed on: 01 Mar 2016
Very helpful and informative above traveling and any sort of hotel and event coordination in Asia (which is where we were traveling).
Recommended
A&K
By: B&G
Reviewed on: 22 Mar 2016
Exceptional. Well planned, great service. Highly recommended
Recommended
A Pleasure - Knowledgeable and Responsive
By: Msm2624
Reviewed on: 05 Apr 2016
I very much enjoyed working with Dasha, who was very timely and responsive, and patient with some last-minute questions and requests, and followed through on everything we discussed. She was a pleasure to work with.
Recommended
Thailand Trip April 2016
By: Paige Moreland
Reviewed on: 25 Apr 2016
Chang Mai was awesome! Dusit D2 was great. The staff really made you feel welcomed and served 5 star service. The markets, Tigers, elephants, sognkran, etc were amazing!! Phuket was a let down. Our resort staff was very rude and didn't even hold the door open for us. The katathani resort was 40-45 minutes from Phuket town. We spent over 200 dollars in taxi fees just to get where the main town was. The beach was just ok and not like the pictures. Snorkeling has not been the same in Thailand since the Tsunami in 2008. Bangkok was great! Our hotel was exquisite and in the center of the town. Our temple/ floating market was just ok. The floating market does not sell fruit nor produce like the pictures online. The trip was incredible and life changing. I would recommend people to stay at Chang Mai and Bangkok for sure!!
Recommended
Excellent Service!
By: CWY
Reviewed on: 22 May 2016
Excellent! Would HIGHLY recommend Daria! Very professional, friendly and prompt/timely Highest recommendation.
Recommended
Dasha is awesome!
By: BnM Schenk
Reviewed on: 14 Jun 2016
We literally cannot say enough positive things about our honeymoon! In short, Dasha planned the whole thing while we were busy planning a wedding, transferring cities for work and buying a new house. There was absolutely ZERO chance that I could have planned the perfect honeymoon myself - but a couple of meetings with Dasha and voila! The perfect honeymoon it was. We had a few short conversations to narrow down where we wanted to go and the STYLE of travel we wanted (I don't like agenda-filled getaways). EVERY detail was arranged perfectly, everything (transport, tours, even a xooking class in Rome) was SUPER easy and super smooth. Dasha also has great follow-through...I was SO busy during planning, but she stayed on me about what decisions needed to be made by when and I NEEDED that. Overall the best travel agent experience I've had!
Recommended
Perfect!
By: CarolW
Reviewed on: 23 Jul 2016
Everything was planned perfectly.... This was the first we had help planning a trip, and we cannot imagine going back to doing it all on our own ever again.
Recommended
Super organized and efficient
By: SBran
Reviewed on: 22 Jun 2016
As always great service with a caring manner .
Recommended
Idea generator!
By: Roger60
Reviewed on: 28 Jun 2016
When I canceled travels plans to South America out of Zika concerns, Daria did a great job of helping me generate new ideas for time away. The National Geographic trip was a great experience start to finish. She's also got some ideas for my next adventure.
Recommended
Expert and friendly travel agent
By: Gabe
Reviewed on: 01 Jul 2016
The services at west university travel were above and beyond what I could ask for. My fiancé and myself had a trip planned for a month in Asia. We were clueless on how to proceed, however, when we ask for Dasha from West U travel to help it was easy and stress free. She planned our entire trip and it worked just beautifully. I cannot thank them enough for the help and amazing trip!
Recommended
Excellent trip planner!
By: ZachH
Reviewed on: 01 Oct 2016
Dasha made the entire experience enjoyable, relaxing, fun, and personal. Her travel tips, advice, and recommendations are on point every time.
Recommended
Amazing Service, wonderful itinerary
By: AnnB
Reviewed on: 23 Jul 2016
Dasha did a fantastic job of mapping out our trip. From the hotel selections - both amazing - to the day trips, we could not be happier. Great job of highlighting things to see and do. We will be using her for our future travel without question!
Recommended
Total Professional
By: Boppa49
Reviewed on: 11 Jul 2016
We were very much pleased with how professionally Daria handled all of our travel arrangements for a recent trip through various cities overseas. Our accommodations were fantastic and for the only exception to that accolade, she immediately came to our assistance on one leg of the trip to secure better room arrangements in a non-Virtuoso hotel that she had been obliged to utilize due to monetary constraints placed on her by the organizers of the group travel. She did not let that keep her from making sure that we were treated properly by the hotel, even gaining us a suite for a non-suite room which was totally unexpected. We will definitely utilize her in the future for any travel requiring such attention to details.
Recommended
Outstanding and Knowledgeable
By: Art
Reviewed on: 17 Jul 2016
Daria, of West University Travel, set up a complicated trip for me and my wife, involving long-term travel to Rome plus side-trips to Vienna and Bratislava. Numerous hotels, including the famous Sacher Hotel in Vienna, were involved, as was air and land travel. Things couldn't have been smoother or better, plus there were extra touches, such as a suite upgrade at the Sacher, complimentary meals, etc. We couldn't have been more pleased with her recommendations, and will definitely recommend her to our corporate and private travel associates.
Recommended
Useful info and a superb guide to Bulgaria
By: David57
Reviewed on: 01 Aug 2016
Daria Westerfeld and West U Travel did a good job of providing guidance and answering questions about a two-family trip to Bulgaria. It became a special, self-guided archaeological tour to see the tombs of Thracian kings and the origin of Western Civilization in the gold-producing region of Varna, Bulgaria, on the shore of the Black Sea. Daria helped us tailor our hotel reservations and travel planning with a local travel agency, Tradesco. The best part of the trip was a superb local guide, Georgi Valiavicharski, who served both as driver and travel-partner. Georgi secured tickets for us to see the opera TURANDOT in a theater in Plovdiv, Bulgaria built during the Emperor Hadrian's Roman peace. The setting was beautiful and the marble seats were comfortable. Archaeologists have shown that Plovdiv is the world's oldest continuously lived-in town. Georgi led us through ruins dating back before the Trojan War and local restaurants in the Valley of the Thracian Kings. A great guide!!!
Recommended
Great Experience
By: EMC
Reviewed on: 17 Aug 2016
Can't recommend enough!! WOW. Would use again and have already referred to a number of friends. Thank you
Recommended
Responsive and Responsible
By: Sookie
Reviewed on: 29 Aug 2016
The service provided by Daria on my recent trip to Vancouver and Alaska was excellent. She organized my hotel and cruise making sure my requirements were communicated and confirmed by the providers. My baby was traveling with us so there were a number of special requests which she made on our behalf. I am very happy with the trip. She got us some good deals too!
Recommended
Very Satisfied Customer
By: GG
Reviewed on: 07 Sep 2016
Well planned trip and matched our budget and expectations. We will certainly use her again!
Recommended
Perfect Vacation
By: TexasMD
Reviewed on: 21 Sep 2016
Truly a perfect vacation for me and my significant other. Seamless in every way, from departure to arrival, IAH, SFO, Tahoe, Yosemite and back. We had the best accommodations. I couldn't have asked for a better trip. And don't even get me started on the South Africa trip we took earlier this year. There isn't enough room to express what a pleasure it was to travel with Micato under Daria's guidance. Thank you, Daria... you are a gem and you've changed the way we travel. I won't ever use Expedia or try to plan a trip by myself again.
Recommended
Great family trip
By: Janna
Reviewed on: 17 Oct 2016
Thanks again to Daria and her team. My family enjoyed our stay at the Hill Country.
Recommended
Flawless Experience
By: E & E
Reviewed on: 14 Jan 2017
As with our other travel experiences with Daria, no detail was left unattended. From start to finish, the vacation went without a hitch. Thank you, Daria! Can't wait to plan the next one. E & E
Recommended
Great Business Trip
By: Another great business trip!
Reviewed on: 27 Feb 2017
We had another great business trip planned by Dasha! It is so nice to know that we are in good hands and can focus on work with we are traveling.
Recommended
Nickelodeon Punta Cana
By: Kat
Reviewed on: 23 Mar 2017
Daria did a fantastic job of helping us with our trip to the new Nickelodeon Resort in Punta Cana. From assisting with reservations to stepping in to offer help when things didn't go as planned, we felt we were in good hands.
Recommended
Attention to every detail
By: Eric M
Reviewed on: 06 May 2017
Daria's attention to detail makes for a very relaxing and carefree vacation. This is exactly why we continue to use her to plan our vacations. Thank you, Daria!
Recommended
Dasha
By: Pat
Reviewed on: 08 Nov 2017
Very easy to work with, gave advice on travel but also listened and incorporated our specific requests.
Recommended
Europe
By: Gabe
Reviewed on: 04 Nov 2017
It was great and the people working for her were great
Recommended
Our Trip to Almalfi, Florence and Rome
By: Jared
Reviewed on: 17 Jun 2017
We had an amazing trip planed by Dasha. Dasha was extremely helpfully in the planning process since we hadn't been to Italy before and were looking for a lot of guidance. The accommodations, tours and logistics were all amazing. We couldn't have asked for nicer hotels and Dash had personal knowledge of many of the hotels which we found helpful. I've already recommended Dasha to two of my clients because I know they'll have a great experience!
Recommended
London
By: Scott David
Reviewed on: 23 Jun 2017
Excellent. And good team to work with.
Recommended
Smooth Travel
By: NM
Reviewed on: 29 Jul 2017
I had a great experience working with Daria. She was timely in helping me plan my trip, make changes, send me itinerary etc. Her recommendations for hotels were excellent. Had a great trip because of her services.
Recommended
italy trip
By: BC
Reviewed on: 14 Aug 2017
fantastic, from start to finish.
Recommended
Lisbon
By: Sandy
Reviewed on: 21 Aug 2017
Great - everything was planned 100% and all we had to do was enjoy!
Recommended
Fantastic, friendly, and professional
By: Bel
Reviewed on: 23 Aug 2017
We had a wonderful trip to Italy! It was so easy on our end. We told Daria what we wanted to do and where we wanted to visit and she was extremely helpful in coordinating the right trip for our family. She set everything up for us so all we had to do was pack. She was efficient, friendly, detail oriented, and professional. We loved having the trip app on our phone. We are already contemplating our next trip for Daria to assist us with! We highly recommend using West University Travel.
Recommended
Daria with West U Travel
By: Diana
Reviewed on: 10 Sep 2017
If I had to choose one word, it's Easy! Daria was a delight to work with. Her attention to the details made our trip trouble free, relaxing and enjoyable. With her guidance and planning , this was the easiest trip we have ever taken.
Recommended
Santa Fe
By: REY
Reviewed on: 24 Sep 2017
Daria has been helpful and responsive in arranging travel plans that meet my requirements. It is a fairly new relationship but she is working to understand my preferences and act accordingly.
Recommended
Knowledgeable, Professional, Accessible
By: KP65
Reviewed on: 02 Oct 2017
Daria provides personal insight into travel plans, providing a well organized trip itinerary. She is very professional and always available to help.
Recommended
We Love The Surrey in NYC, and We Love Dasha
By: Eric M
Reviewed on: 04 Oct 2017
Fewer words is best. We loved our stay at The Surrey, our favorite hotel in NYC. And we really appreciate Dasha.
Recommended
Helpful and competent
By: Ken
Reviewed on: 03 Oct 2017
Daria did a great job arranging our trip. The suggestions that she offered for lodging and other services exceeded our expectations. Looking forward to Daria helping us with our next adventure.
Recommended
So worth it!
By: Robin
Reviewed on: 17 Oct 2017
Daria was fantastic! After just one phone call and a few questions, she put together a very memorable "once-in-a-lifetime" vacation for me. I was traveling alone and she made sure I felt safe and comfortable the whole way! The stress of planning, organizing, and coordinating everything was simply not there. Everything happened just like Daria said it would with no surprises! I definitely will be calling Daria again!
Recommended
Last Min Booking
By: Elliot Castillo
Reviewed on: 23 Oct 2017
I booked a trip to Playa Del Carmen, pretty last minute with Daria and Samantha, upon their suggestion to Unico. What a wonderful trip, everything was very easy and well coordinated. All the smaller details that I would've forgotten were taken care of and I did not have to worry. I would definitely recommend using West University Travel!
Recommended
Trip to Paris/Berlin
By: Vikki
Reviewed on: 28 Oct 2017
Excellent, wonderful experience and the trip went well. Could not have asked for better.
Recommended
Too good to pass up
By: Anthony
Reviewed on: 22 Nov 2017
This is the third vacation that I have had the privilege of booking through Daria and West University Travel. Each vacation plan has been exceptional with price points and accommodations tailored to my specific tastes. Booking your own vacation through the internet can be overwhelming at times. Using Daria and West University Travel to research vacation options best suited to my needs saves me time (my most precious commodity) and ensures that the process will be more enjoyable both in the short and long term.
Recommended
EAsy to work with
By: Imran
Reviewed on: 30 Mar 2018
Excellent working with her. Very flexible. Was ablr to accomodate myany changes...i really appreciate
Recommended
Southeast Asia Trip
By: Jim
Reviewed on: 02 Apr 2018
Excellent collaboration to construct this journey. She had her recommendations and we had our recommendations. When the two did not match we discussed our thought processes to arrive at our recommendations, enabling me to make the best decision. Her team's responsiveness to every question was a great calming effect for the usual anxieties arising with any intricate journey. We will be using Dasha and her team for our next journey, Machu Pichu!!!
Recommended
Italy Trip
By: Martha
Reviewed on: 13 Apr 2018
Daria was great! Very informative and had plenty of great tours to send us on in Italy. We will definitely be back for sure and will use Daria again. She helped make our 25th Wedding Anniversary very special. Many thanks!
Recommended
Advisor
By: Jackie
Reviewed on: 19 Apr 2018
We worked well with Daria. She and Taylor were very nice to us. We did go back and forth on our plans a few times and they just rolled with the punches. We even had them change countries as Thailand was going to be much to hot for us. We added on China instead and were happy with our choice. The airlines were great and our connections worked out fine in the end. The first way was too many changes of planes. The girls never were upset with us and very accommodating. I would suggest this trip plan to anyone.
Recommended
Hurricane issues were no problem
By: Ken
Reviewed on: 09 May 2018
Daria booked our cruise and airfare well before the hurricane hit St Martin. After the devastation of the island Seabourn, out of an abundance of caution, rerouted the cruise to leave out of Barbados rather than St Martin. Daria rearranged our air to accommodate the change and our trip turned out great. It is the kind of service that everyone should expect from a travel agency.
Recommended
Daria was awesome!
By: Laura
Reviewed on: 16 May 2018
We got really overwhelmed trying to plan our 10 yr wedding anniversary trip to Italy by ourselves. I am so glad I found Daria- she found great hotels within our budget that had great locations & also had the amenities we needed. She planned every train ride & had private drivers waiting for us at the train station to pick us up & take us to our hotels. Our experience with the few cabs we took weren't good so I am really glad we had experienced, reputable drivers to help get us to our hotels and back the airport/train stations. The group tours she arranged were well worth the money. We were paired with experienced historians who spoke great English and were knowledgeable about the history of Rome & the Vatican- and we didn't wait in any long lines. Our Tuscany day trip to Siena, San Gimingiano ending with a wine pairing dinner in Chianti was just a dream. And the Capri day trip was gorgeous. We also loved the mobile app which had all our conformations on it. Daria is an expert!
Recommended
Great experience in Boston
By: Kerry
Reviewed on: 14 May 2018
Dasha recently helped me plan a birthday event for my mother. She gave great recommendations for Boston hotels and quickly got me prices for comparison. Once we settled on a hotel, she assisted with introductions to the staff so that all details could be arranged. It was a very special weekend and everything went smoothly.
Recommended
fabulous trip.
By: em
Reviewed on: 22 May 2018
She provided us with all the tools necessary to have a wonderful trip. From flight info to checking up on us once we arrived at our destination the service was top notch.
Recommended
Rhine River Cruise
By: Jed
Reviewed on: 03 Jun 2018
Dasha was extremely professional and informative. We would recommend her to plan your trip or vacation.
Recommended
West U Travel booked a fabulous vacation for my family.
By: KB3834
Reviewed on: 18 Jun 2018
Dasha was professional, knowledgeable, and extremely helpful - both before and during our vacation. Her planning was organized and first-rate - a real accomplishment because I was not at ALL organized. And when we encountered travel difficulties due to a weather delay, Dasha was ready and able to rebook us on a route that delayed us only about two hours (which was remarkable, considering the airline wanted us to wait 24 hours for the next plane to our destination). Moreover, when I had small, simple questions while traveling, Dasha responded immediately every time. At West U Travel, service continues throughout the vacation - not just in the planning stages. I found the whole operation thoroughly satisfactory.
Recommended
A glorious trip to Spain and London
By: Mickey
Reviewed on: 12 Aug 2018
Absolutely first rate. She skillfully balanced what we thought we wanted to do with what she knew made the most sense. She gave us good advice and options for hotels in every city we visited. The tour guides she arranged for us were fabulous. She was efficient and effective. Very detail oriented, which was really helpful, since we were traveling for three weeks and there were LOTS of details to be managed. We have already recommended her to several friends and will continue to do so. And, of course, when we travel again, she'll be the first person we'll call.
Recommended
Dasha
By: GJ
Reviewed on: 12 Jul 2018
Dasha was very easy to work with and made great recommendations.
Recommended
West Coast vacation
By: ChrisManske
Reviewed on: 05 Jul 2018
thank you for all the help!!
Recommended
Italian Vacation
By: Melissa
Reviewed on: 06 Jul 2018
Dasha was very knowledgeable and easy to work with. Our trip to Italy was amazing! Thank you Dasha!
Recommended
Trip to Prague and Rome
By: Tx Traveler
Reviewed on: 20 Jul 2018
Daria was very nice and worked to get what my wife and I wanted for our trip. Like all things new we ran into some bumps along the road but Daria was patient and explained many things that we did not understand. This was our first trip to Europe for pleasure so there was much we did not know. Overall we had a positive experience.
Recommended
Daria
By: Jeff
Reviewed on: 31 Jul 2018
Fantastic!! Easy going-customer service oriented.
Recommended
Excellent travel advisor
By: MM
Reviewed on: 13 Aug 2018
Have worked with Dasha multiple times and have been extremely pleased with her recommendations and execution - she is thorough and knowledgeable.
Recommended
Great planner
By: Travelmaestro
Reviewed on: 12 Aug 2018
Dasha and her team are very professional And Timely. I would recommend them to anyone
Recommended
Vacation to Italy
By: Michael Desbiens
Reviewed on: 24 Aug 2018
Dasha is very professional and friendly and really helped me with planning my summer vacation to Italy. Took care of the "finer details" that you may forget which are important! Highly recommend!
Recommended
Trip of a Lifetime!
By: Tbone
Reviewed on: 27 Aug 2018
Excellent - smart, efficient, knowledgeable, pleasant.
Recommended
Professional service
By: Mbeach
Reviewed on: 06 Sep 2018
Dasha (Daria) has helped us with several trips and we depend on her expertise. She is quick to respond to inquiries and pleasant to deal with.
Recommended
Review
By: Pansey
Reviewed on: 06 Oct 2018
Helpful. Accessible.
Recommended
London 2018 Christmas
By: Bobby C
Reviewed on: 07 Jan 2019
Fantastic. She really listens and then knocks it out of the park!
Recommended
Thumbs up from Manske
By: Chris Manske
Reviewed on: 28 Mar 2019
Thanks for all the help
Recommended
Attention to Detail
By: Jim
Reviewed on: 10 May 2019
Samantha did a fabulous job working with us to develop the overall plan. The few hiccups that occurred during the trip she not only remedied, but the actions the hotel took exceeded any expectations. She truly is an inspired travel agent!
Recommended
London and Munich Trip
By: Bobby
Reviewed on: 09 May 2019
fantastic! she is a great listener and we will continue to work with River Oaks Travel
Recommended
Attentive agent
By: Martha
Reviewed on: 10 May 2019
Daria has always responded quickly to us and answered all our questions. She gives helpful advice:)
Recommended
River Oaks Travel
By: Emily
Reviewed on: 21 May 2019
Dasha was wonderful to work with. She booked everything and made it all so easy for us to enjoy our vacation. Upon returning home she called to make sure everything went well with our trip.
Recommended
Hawaii.
By: Happy Traveler
Reviewed on: 30 May 2019
Working with Daria on our Hawaii trip was great. After an initial meeting to share our goals we were kept in the loop at every stage. Moreover, we wanted hotels with easy access to golfing and her recommendations were spot on for both Kauai and Maui.
Recommended
Europe 2019
By: Harry
Reviewed on: 31 May 2019
Excellent and experienced.
Recommended
Advisor review
By: Betsy
Reviewed on: 20 Jun 2019
Dasha was very attentive and worked hard at integrating her contacts with ours.
Recommended
Simply the best
By: Tbone Monster
Reviewed on: 15 Jun 2019
Dasha has assisted us with numerous trips thus far, and has always made even the most grueling itinerary pleasant, interesting, and effortless. She is a gem.
Recommended
Amazing
By: Shawn
Reviewed on: 25 Jun 2019
Amazing service!!
Recommended
Excellent Service
By: AMF
Reviewed on: 21 Jun 2019
Daria was exceptional. We began sharing with her where we wanted to go and do. In a short time she had artfully crafted a plan that included all of our wishes. She then meticulously master minded the organization of the travel from the beginning to end. We were immediately welcomed in Italy by the car service, welcomed by hotel staff, guided by private tours and brought to and from everywhere by private cars. It was white glove treatment and all at the design of Dasha. She was always made herself available for questions or new ideas. She is wonderful to work with. We will absolutely use her services again and welcome everyone else to her offices.
Recommended
A Wonderful Itinerary
By: RickP
Reviewed on: 08 Jul 2019
Dasha provided us with a number of excellent options for hotels and transportation when touring Santa Margherita Ligure, Cinque Terre and Siena and helpful in booking our cruise. We have worked with her on a number of memorable trips, and she is always responsive and helpful. She has traveled extensively and has personal knowledge of many international destinations.
Recommended
Eu
By: Lisa Schroeder
Reviewed on: 15 Jul 2019
Daria was a pleasure to work with. She is professional, detail oriented and an expert in her field. She is highly respected by her peers and travel contacts. She planned an excellent itinerary for me and my family. I couldn't have done it without her expertise and planning. She is flexible and responded quickly to all messages while we were traveling in Europe. I highly recommend her and River Oaks Travel.
Recommended
June 2019 trip
By: waichengmckenzie@gmail.com
Reviewed on: 15 Jul 2019
Daria is very organized, which is very important to us. She booked a big part of our trip for us and we booked some on our own. She also booked a business class flight for me which was less expensive than what I found online for same airline. She co-ordinated and made sure all details and dates all flowed seamlessly. This is important because we had planes, trains, rental cars, hotels in different places, cruise, etc.
Recommended
London / Munich trip
By: bobby
Reviewed on: 06 Aug 2019
Fantastic listener and great at making our dream vacation happen.
Recommended
Best Travel Agent in the Business
By: Arthur
Reviewed on: 14 Aug 2019
Working with Daria is always a delight. She not only finds good deals and makes arrangements, but she offers intelligent choices, and often recommends things that I'd never have known or thought of myself.
Recommended
Great Alaska & Denali
By: Donna
Reviewed on: 28 Aug 2019
Daria was extremely responsive and helpful and really listened to my wants and needs. When at first my travel choices were not available, Daria kept checking with the cruise line and obtained for me exactly what I wanted.
Recommended
Great Advisor
By: John Geiss
Reviewed on: 28 Aug 2019
We loved working with Daria. She gave us all the information we needed to make an informed decision on which cruise line to pick for our 2019 Alaska cruise.
Recommended
Happy Traveler
By: Non
Reviewed on: 01 Sep 2019
Easy working with Dasha, as most by email with she and Samantha Collum, both of whom answered emails promptly. Received our travel packet in plenty of advanced time for review. Only criticism was that I think they could have been a little more proactive in reminding us of upcoming deadlines for shore excursions" reservations, specialty restaurant reservations, dates to begin making spa appts., as Cruise ship website was difficult to maneuver and find information such as these dates readily, as well as making any of our own reservations. But once I found the appropriate dates, when asked, they graciously reserved what we needed. They, also, responded quickly to a necessity to cancel our shore excursion due to a course change because of high seas. They are very professional women in their field and will use them again. Appreciated the perks they gave us through hotel reservations, gratuities and special snack at the hotel and on the ship.
Recommended
South of France September 2019
By: Wai Cheng
Reviewed on: 04 Oct 2019
She is very organized and accommodating
Recommended
Always there
By: Joedogger
Reviewed on: 03 Oct 2019
Trip scheduled eight months in advance. Wife had to cancel. Samantha found the best solution to the situation. There was a time change on second leg that would have had me at the airport for many hours. Samantha changed flights to minimize delays. Great job.
Recommended
Highly Recommend!
By: Jana
Reviewed on: 31 Oct 2019
Daria works hard to meet her clients' expectations and thinks ahead to meet our needs. Highly recommend.
Recommended
Unforgettable Honeymoon
By: Anonymous
Reviewed on: 06 Dec 2019
Dasha was phenomenal. She organized one of the best trips we've ever had. We can't wait to work with her again.
Recommended
Very helpful with last minute request
By: SSW
Reviewed on: 09 Dec 2019
She was very helpful finding us a last minute Thanksgiving Cruise.
Recommended
NYC Trip
By: Copeland
Reviewed on: 05 Jan 2020
Dasha was fantastic! My sisters and I were planning a NYC trip for my dad's 70th birthday. Dasha kept us on track and organized. All three of us work and have families so it was nice to have her assistance. She helped us plan an amazing trip that we were all remember!
Recommended
Danube Christmas Market Cruise
By: Brewster Shaw
Reviewed on: 08 Jan 2020
Daria is very friendly, knowledgeable, and professional. She made arrangements that satisfied our desires and gave us valuable advise in setting up the trip. Travel and accommodations were first class and the trip went very smoothly with one transfer exception that was out of her control. The whole family, including five grandchildren, had a wonderful time. I would do this again. I plan to use Daria's services on the next adventure we undertake.
Recommended
Fairmont Mayakoba
By: Clark
Reviewed on: 16 Feb 2020
Very pleasant. She helped us understand that a holiday in Costa Rica was NOT what we wanted, then pointed us to the perfect destination in Mexico. Quite patient, quite helpful. Certainly will recommend.
Recommended
Excellent & Very Pleasant Service
By: Alison
Reviewed on: 06 Oct 2020
We really appreciated the travel advice & the pre-arrival service that Dasha provided for us on our Bachelor Gulch stay. Thank you so much!
Working with Daria Westerfield, you will have access to:
- An experienced travel guide whom you can rely on before, during, and after the trip
- Exclusive luxury resorts and properties
- Once in a lifetime experiences
Explore with the Best
Virtuoso Advisors are constantly pushing the boundaries in unique travel experiences.
Alliance programs are unique tailored experiences exclusive to travelers working with Virtuoso Travel Advisors.
learn more
Italy
France
Japan
China
Czech Republic
Croatia
Iceland
India
South Africa
Portugal
Russia
Spain
Costa Rica
Mexico
United States - All